16 BEST BATHROOM VANITIES FOR YOUr NEXT Bath REMODEL in 2022
These are the most popular bathroom vanities, chosen because of their beautiful design, superior craftsmanship and quality hardware. Whether you need one sink or two, painted or stained, these beauties will make your remodel shine.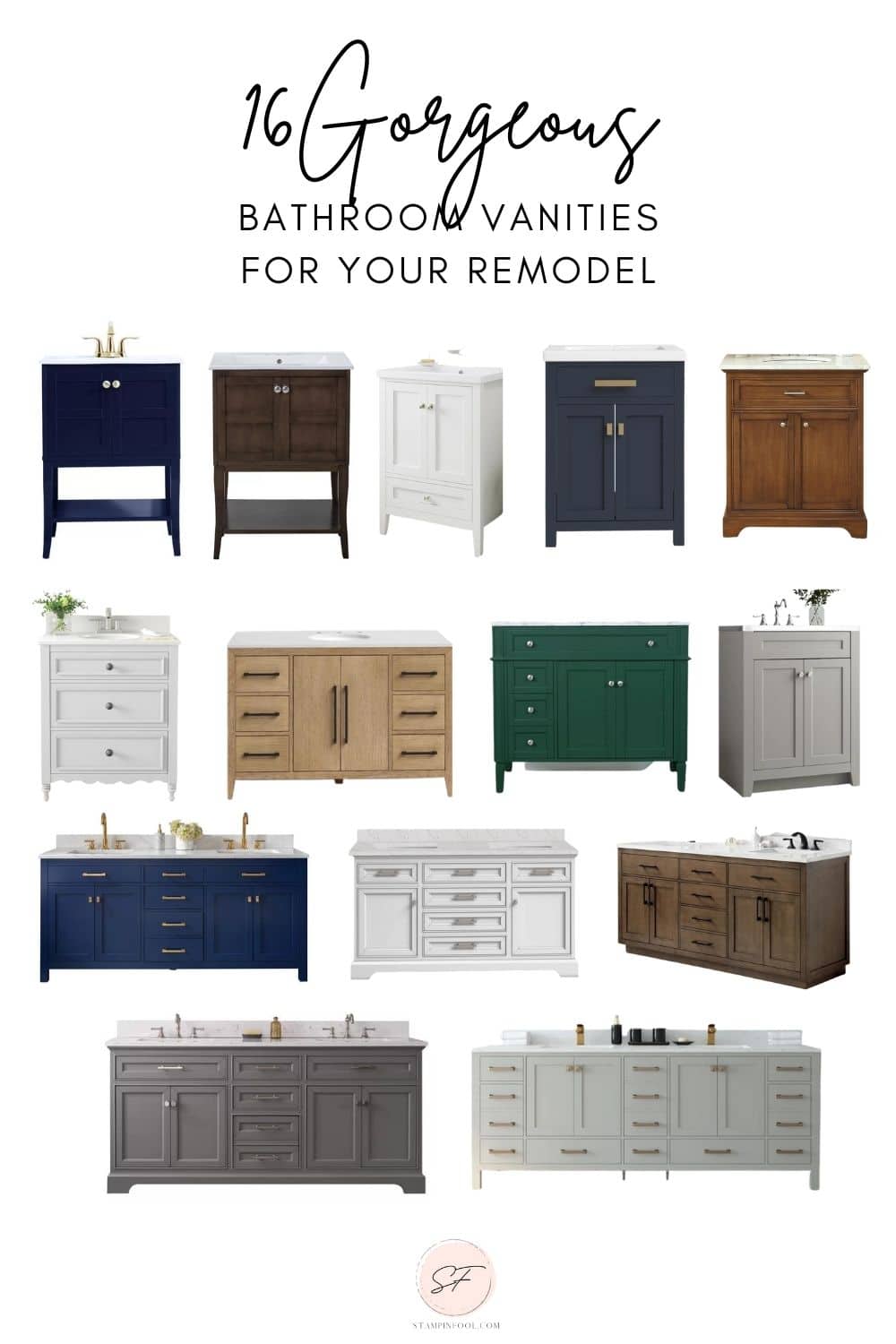 what size Bathroom Vanity do you need?
Before you order a bathroom vanity online, make sure you have done proper space planning. Whether you use an online floor planner tool or you tape it out on the floor, or if you are upgrading your current vanity, you want to make sure it will physically fit into your bathroom.
You should also make sure that the size you are ordering will fit your space needs the best that it can given the size.
Once you have narrowed down your selection, print out the "Spec Sheet", located under the Specifications tab. It may be called "Dimensions", Installation Guide, Specs or Specifications. It is a PDF that will contain detailed drawings and dimensions.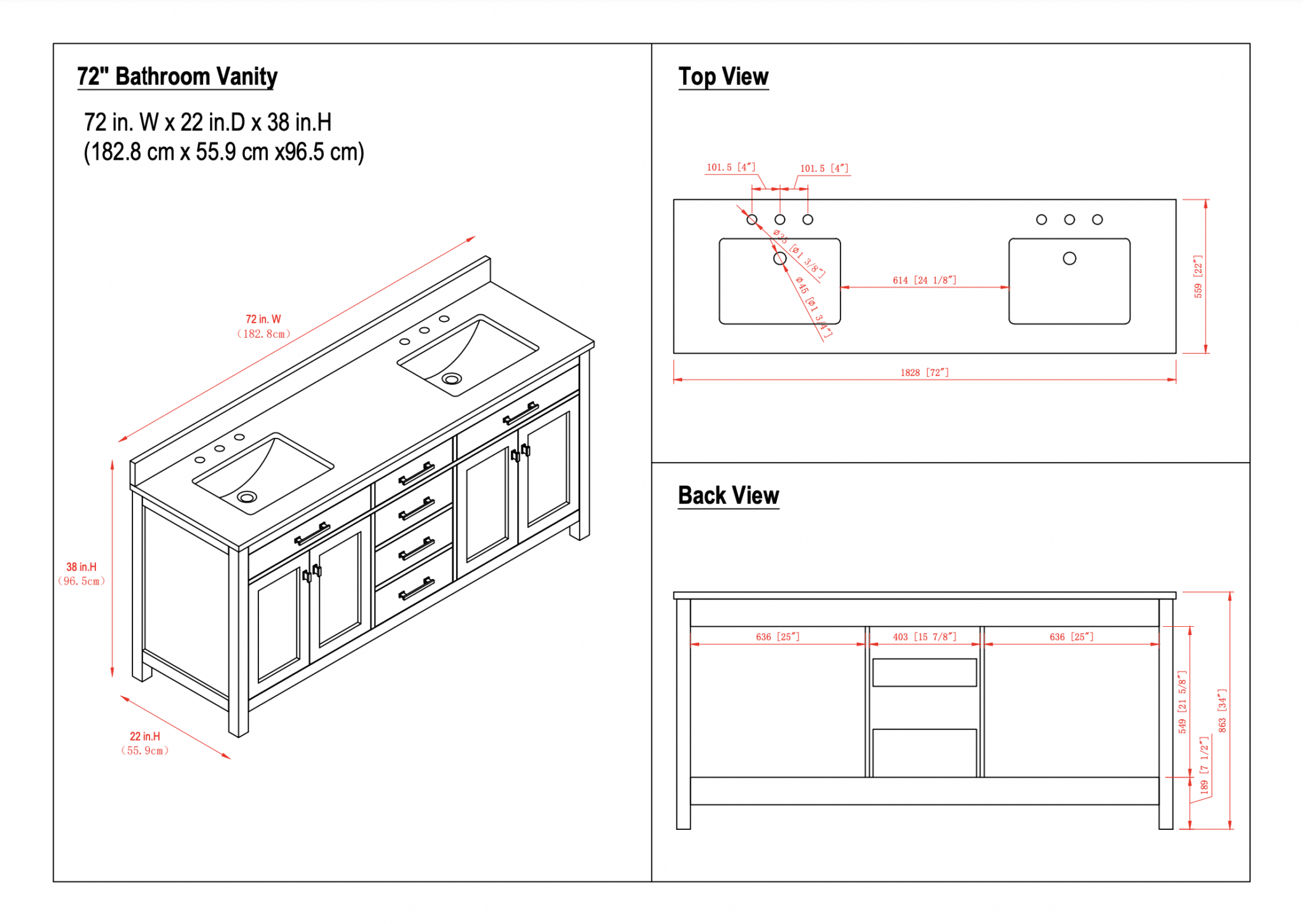 Lastly, confirm with your contractor that it will fit, that the plumbing will line up correctly and that the countertop won't make it too wide.
what Color Vanity do you love?
Luckily, there are a ton of choices for your bathroom vanity color or stain. Here are some options to choose from:
walnut stain
espresso (dark stain)
white
light gray
navy
green
dark gray
two sinks or one?
Whether or not you can fit two sinks or one will largely depend on the size and layout of your bathroom, but even if you have a large space, you may only want one sink. There are many options for size and configuration.
Nice bathroom vanity features
When deciding on a bathroom vanity, the way they are made and with what materials will determine the quality.
Generally, with lower price comes lower quality, but that's not always the case. Here are some things to look for when reading the descriptions to determine whether it is a quality piece or not.
plywood vs particleboard
corner blocked
dovetail joints vs staples/brads
full extension drawers
soft close drawers and doors
OTHER FEATURES
countertop
All of the vanities in this post come with a countertop and undermount sink which is a great feature to have. This is one less decision that you have to worry about sourcing when it comes to your remodel.
The most common countertop types will be marble, quartz, granite or laminate. Typically, in a bathroom you will want a natural stone or quartz.
Marble– soft, porous and stains easily; best for primary bathrooms or guest, not children's. Gorgeous, luxurious material.
Quartz- easy to maintain, cleans well and is affordable. Great for any bathroom countertop.
Granite – affordable and very durable, but often in dated stone patterns that don't match the updated look of the new bathroom.
faucet holes
Pay close attention to the number of faucet holes in the countertop when choosing the vanity so that you can choose the right faucet.
The choices are: single handle or widespread (sometimes called mini widespread).
hardware
The hardware is the last detail to pay attention to on vanities. Luckily, this is the easiest thing to change.
So if the hardware is less than desirable, it can likely be swapped out for something more unique or in the finish you want.
Are you ready to see the vanities I have picked out for you? Here we go!
Bragenham 30″ Single Bathroom Vanity Set with scalloped detail
I love this one because of the scalloped detail at the bottom! It also comes in blue, white and gray.
This one sells out fast, so if it's sold out, click the "notify me" button and get an alert when it is back in stock- usually 30 days or less.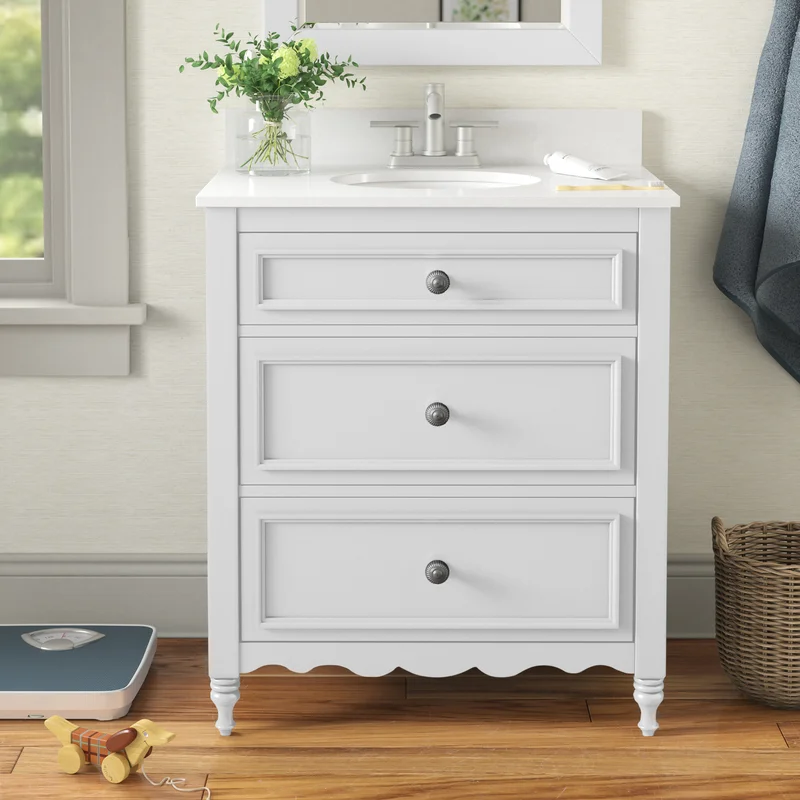 Modena 24″ Single Bathroom Vanity Set
Another narrow single sink vanity, available in blue, white, gray and wood stain. It has simple and modern lines with a little bit of storage perfect for a powder room.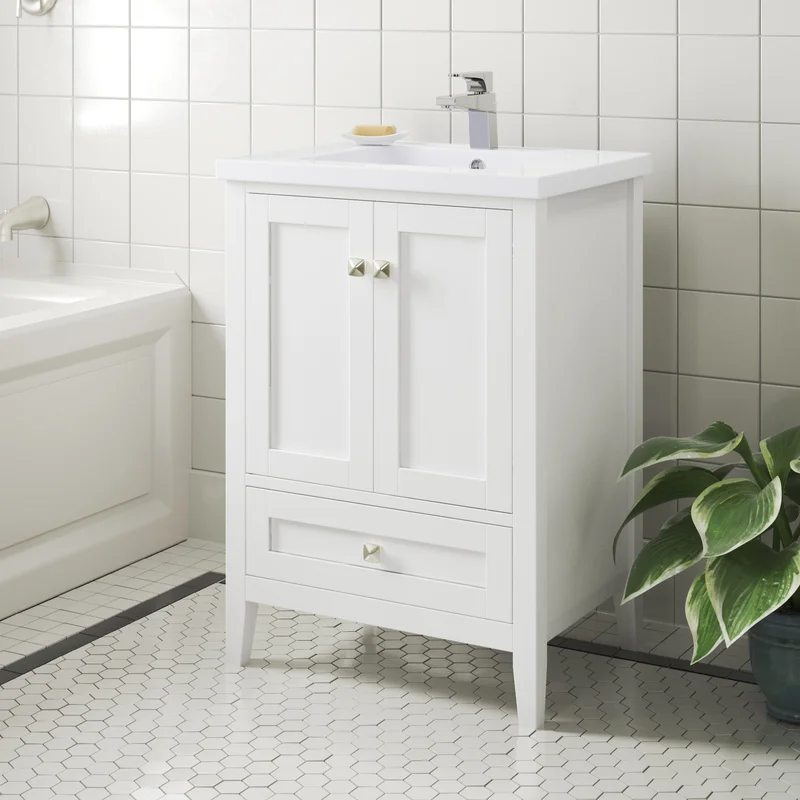 Adriano 24″ Single Bathroom Vanity Set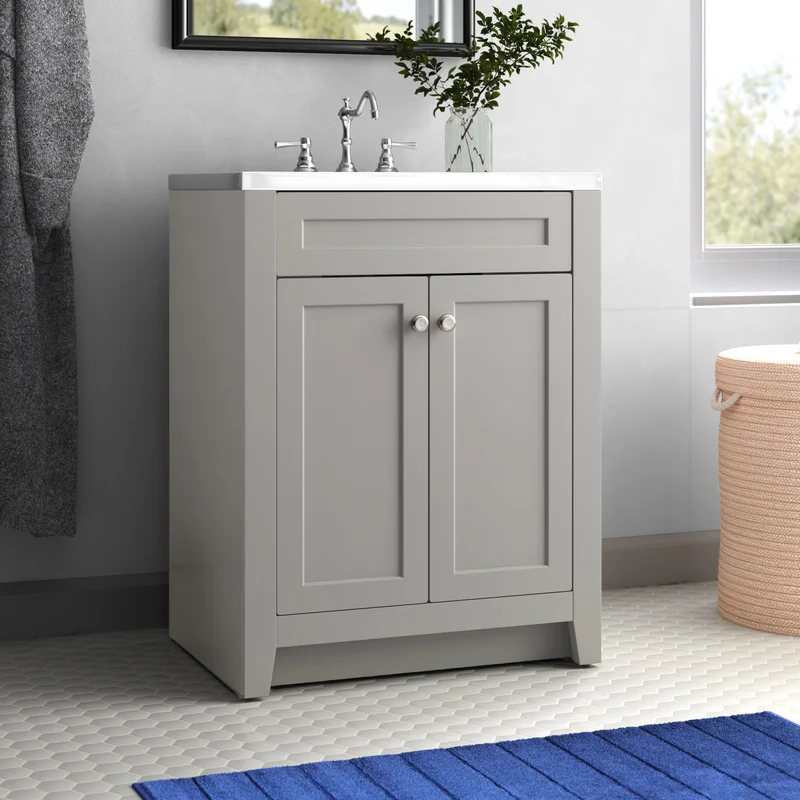 Casandra 29.88″ Single Bathroom Vanity Set
The first of the wood stained options, this vanity has detailed wood trim that really makes an impact.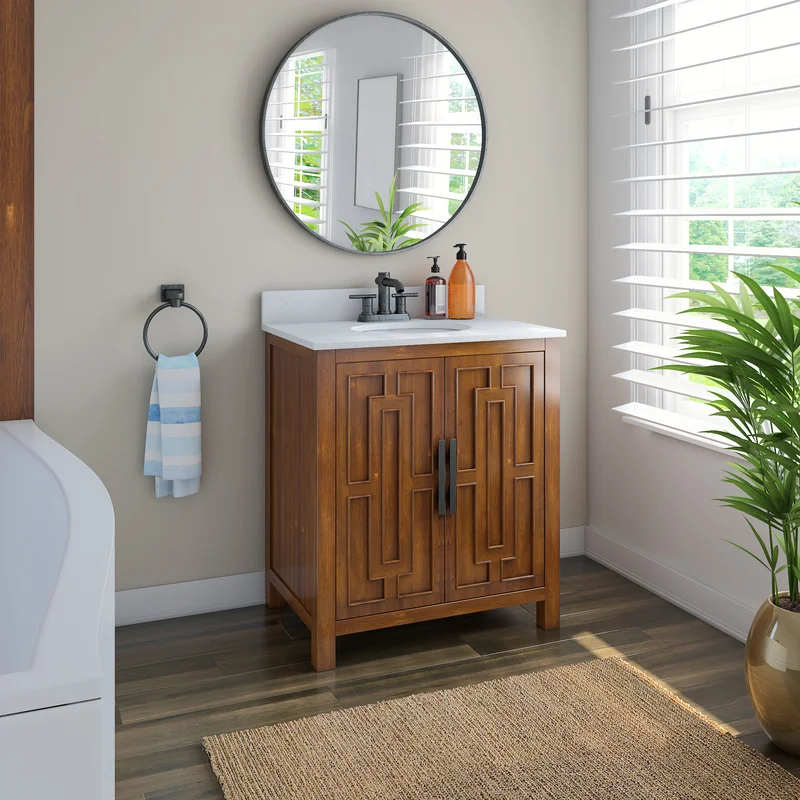 Wynkoop 24″ Single Bathroom Vanity Set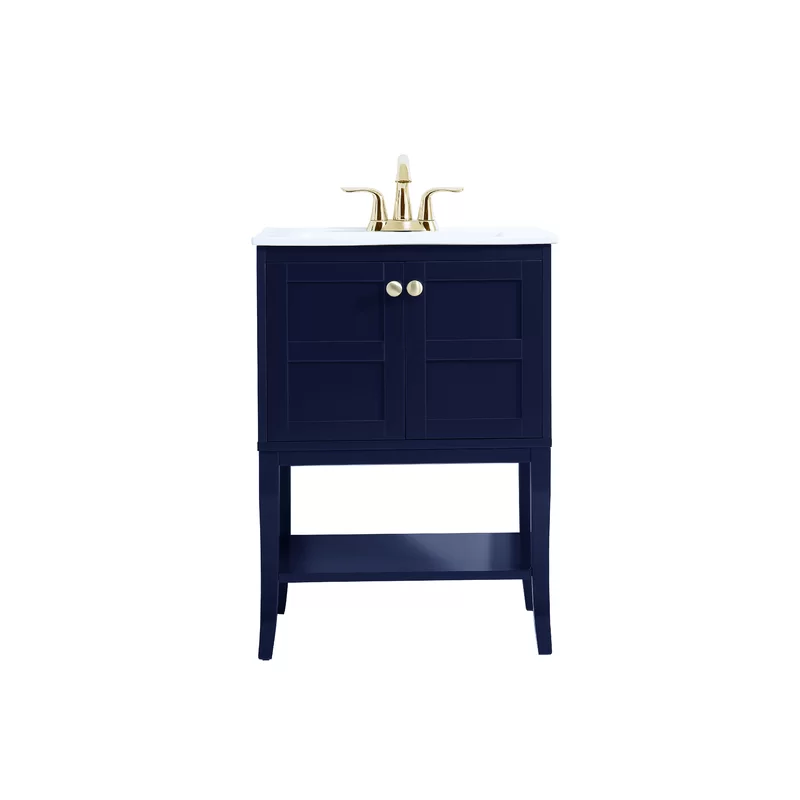 Rossi 30" Single Bathroom Vanity Set
This 30″ vanity also comes in green, blue, white, gray and a variety of wood stains.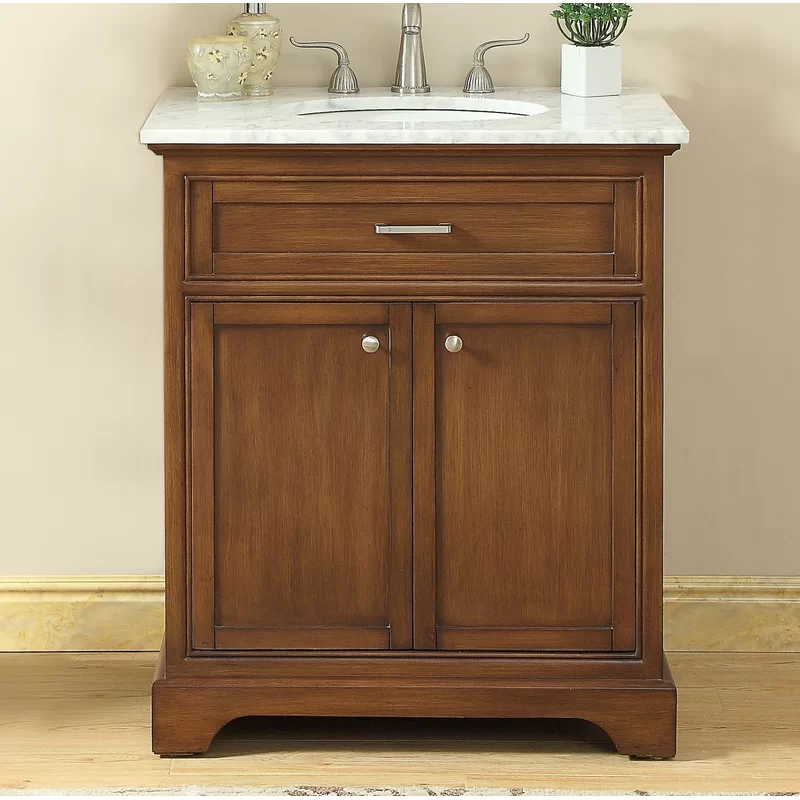 Antionette 40″ Single Bathroom Vanity Set
At a slightly larger width, this 40″ single sink vanity has ample storage and also comes in multiples colors and finishes.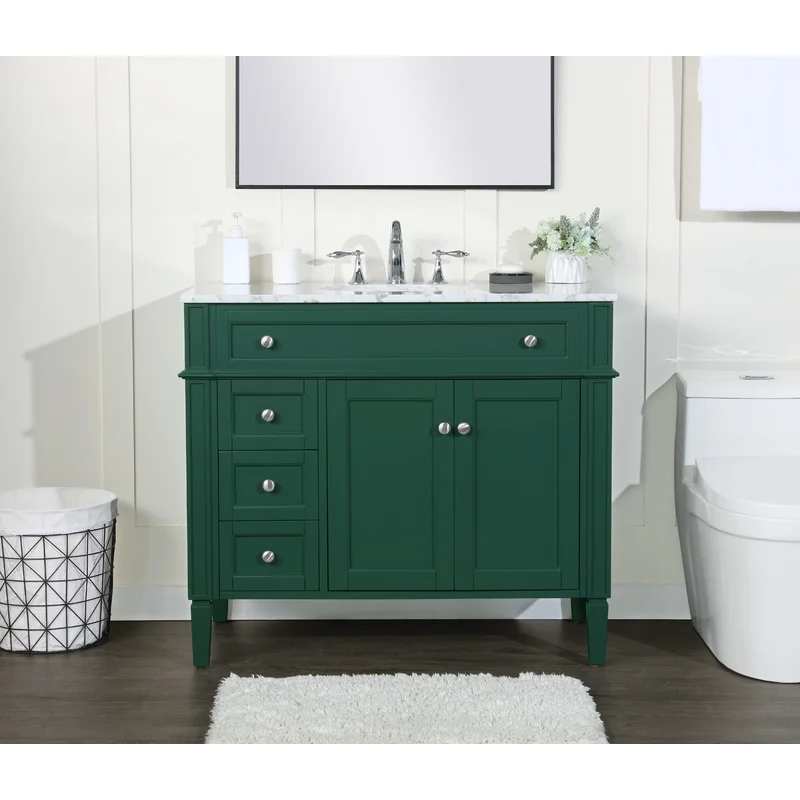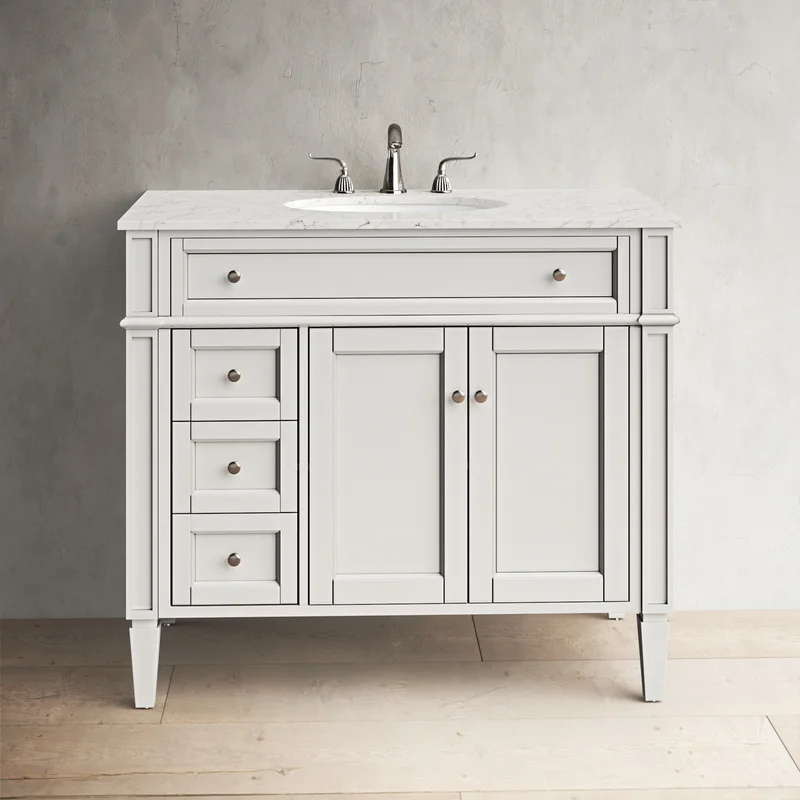 Alsup 48″ Single Bathroom Vanity Set
I love that this vanity has a calacatta quartz top with a beautiful natural oak colored wood finish. It's really a wonderful modern vanity.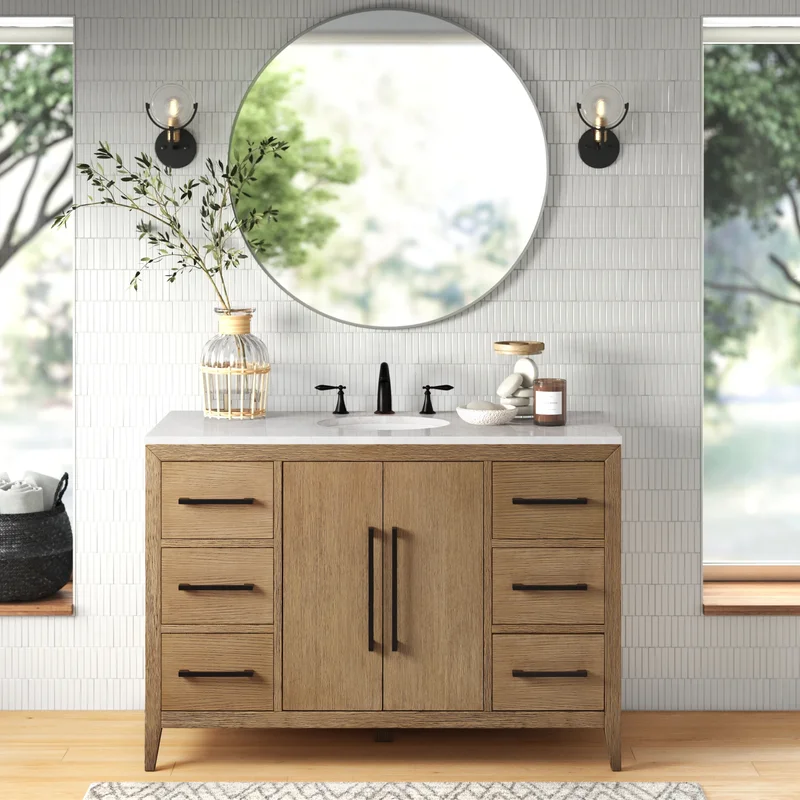 Shannon 84″ Double Bathroom Vanity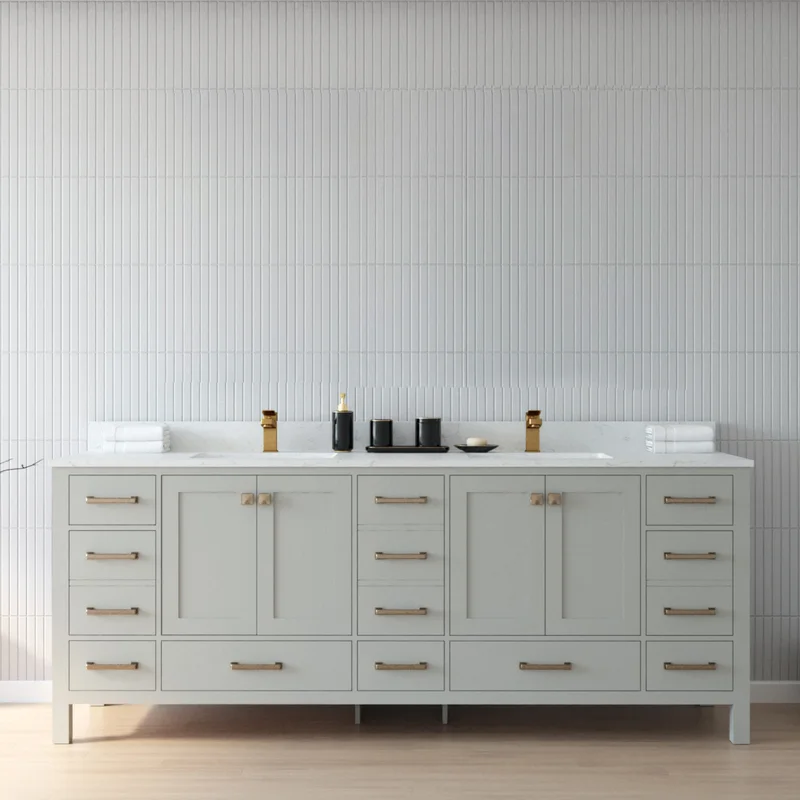 Sauget 72″ Double Bathroom Vanity Set
Another great option when you love having a stained wood vanity. The black hardware, inset doors, and sleek top give it a modern feel.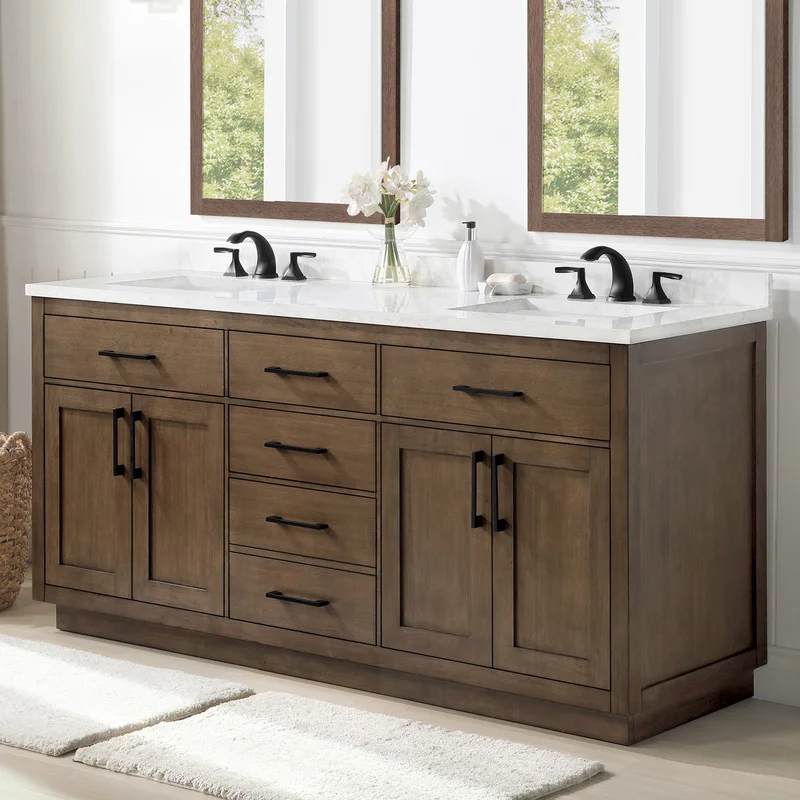 Currahee 72″ Double Bathroom Vanity Set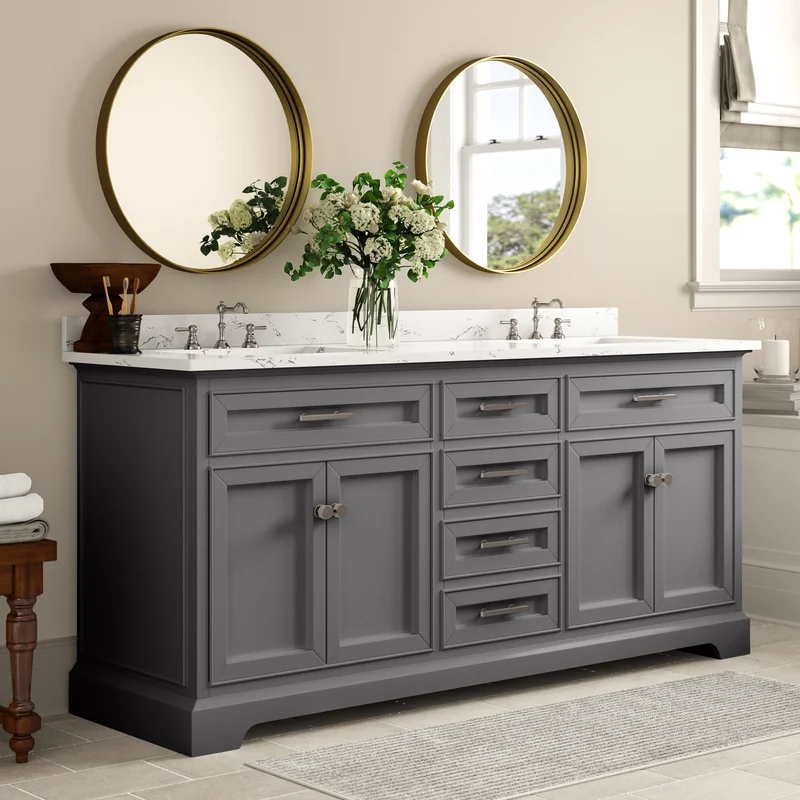 Currahee 60″ Double Bathroom Vanity Set
Coming in at 60″ this double vanity is great for smaller bathrooms.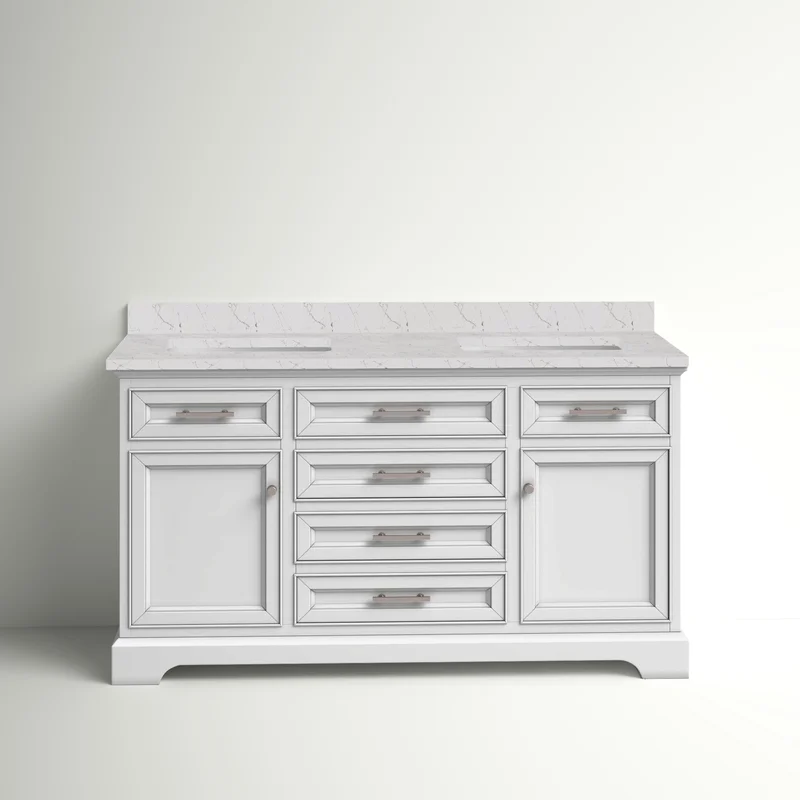 Atencio 72″ Double Bathroom Vanity Set
We love that this double vanity is blue and has both doors and drawers for storage!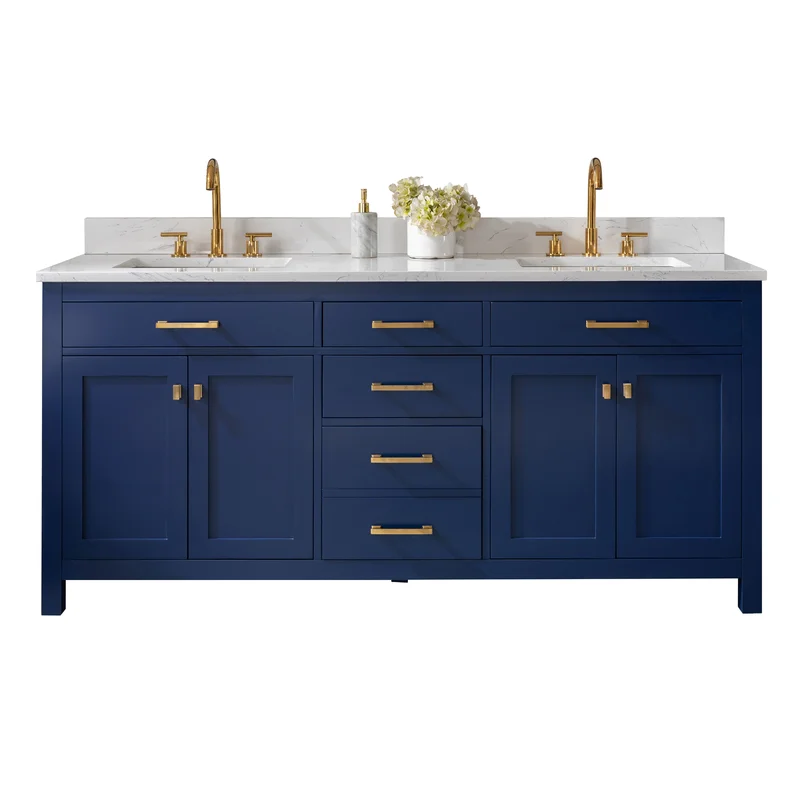 QUICK LINKS FOR EASY SHOPPING
As always, here are the links for the vanities above, plus a few other wonderful vanities. These 16 vanities will be perfect for your next bathroom remodel.
This post may contain affiliate links- meaning when you purchase through the link and I receive a small commission. It feeds my Starbucks addiction & for that I thank you! You can see my full disclosure policy here.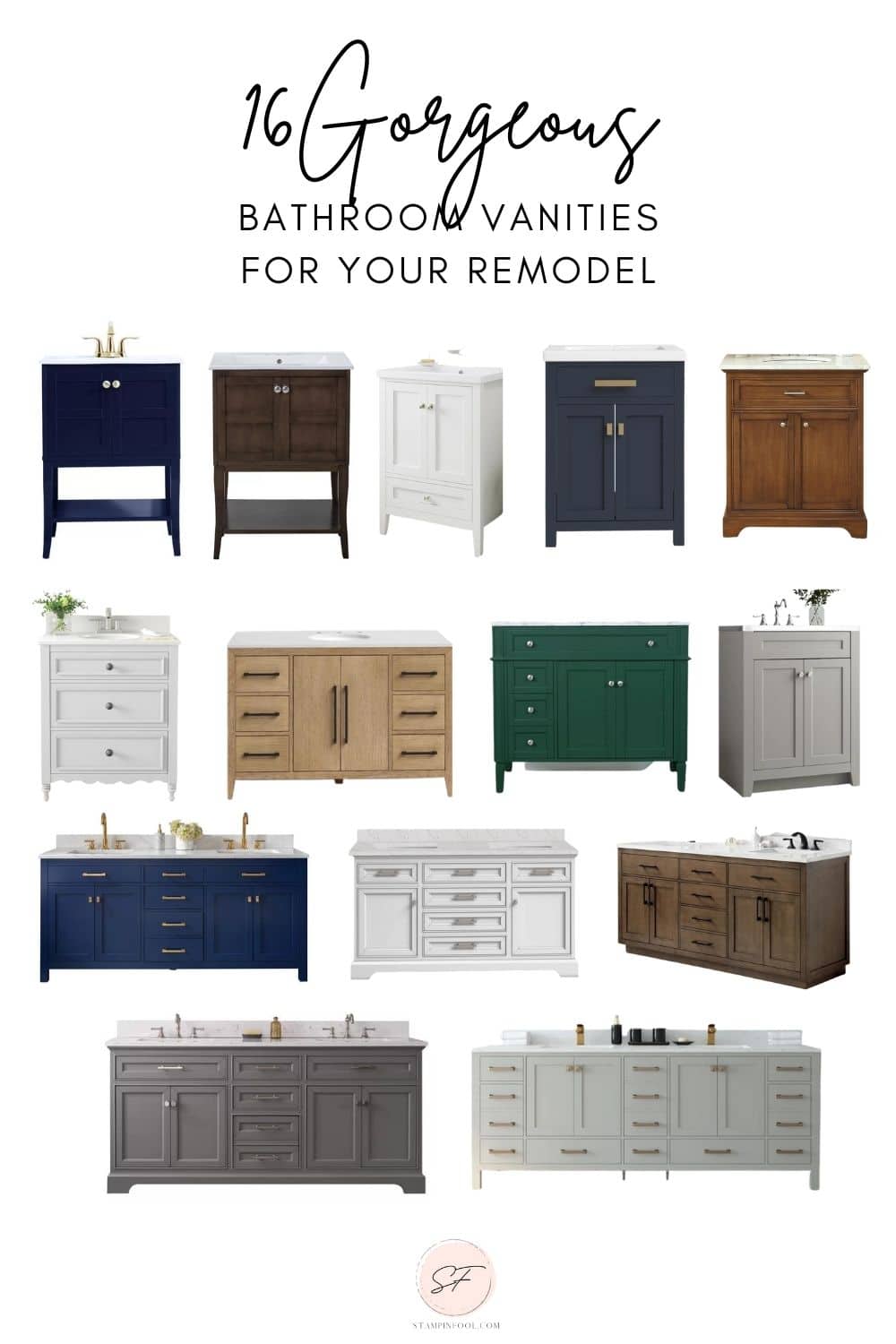 ---
Posts You'll Love