17 DIY Countertops to Instantly Upgrade Your Kitchen In 2021
DIY Countertops are a great way to update a kitchen or bathroom without spending a fortune. See these 17 ways to update your countertops quickly and cheaply in one weekend.
DIY COUNTERTOP IDEAS
There are 6 main categories for DIY countertops that I'll be sharing today.
I've broken up each of these DIY countertop projects into the 6 categories so that it's easy to find the type of countertop you want to undertake.
I'm excited to share these posts with you because they are the best of the best when it comes to do it yourself counters.
After scouring Pinterest and my DIY blogging groups, these 17 DIY countertops look so good you won't know they are faux.
I've read every article to ensure that they are thorough and provide details and photos.
Additionally, I've limited it to 17 articles so you don't feel overwhelmed.
It's a good sampling of ways to update your counters and you can choose the style you like best and check out the article related to that type of DIY.
The 6 Types of DIY Counters
Here's a quick breakdown of the types of counters I'll be highlighting in this post:
Faux Granite Painted Countertops
Soapstone Countertops
Faux Marble Countertop kits
Wood Countertops
Poured Concrete Countertops
Contact Paper Covered Counters
FAUX GRANITE DIY COUNTERTOPS
1. Faux White DIY Granite Countertop Paint Kit + How it Looks Years Later
First up is the classic painted countertop tutorial. This post includes a follow up about how well it held up.
It made a huge difference in how this wood toned kitchen looked before to the white granite painting countertop kit after.
Why I chose this project: Aside from it being a food blog full of delicious Keto recipes (which I currently subscribe to), not the traditional DIY blog, which makes it unique.
Hayley also uses a warm beige DIY countertop faux granite paint in a world full of white countertops.
If you've been reading my other posts, you'll know that a crisp white color doesn't always look good with other elements in the room and you may been to lean into the beige.
On top of that, I have to say that this countertop color, Silicon Sand, takes the stigma away from your usual beige. It's a stunner!
A full view of the Health Starts in the Kitchen kitchen. Paired with the light cabinets and butcher block section, the painted counters look amazing.
3. DIY GRANITE PAINT KIT
One of the most popular countertop painting kits is like the one below. You can choose the colorway that best matches your existing kitchen elements.
4. Painted Faux Granite DIY Counters from HoneyComb Home
Another way to achieve that DIY granite countertop look is showcased in this countertop painting example.
Honeycomb Home has done a great job of really layering in the different colors for a natural stone look.
Faux Soapstone Countertops
I love the rich color of soapstone. In fact, I am partial to black countertops with bold veining.
Something about committing to black countertops is radical and exciting. For this reason, I chose to highlight soapstone countertops.
5. Soapstone Remnants are a DIY Countertop Dream
I am obsessed with these soapstone remnant countertops which made for a great DIY kitchen project.
By ordering smaller remnant pieces of real soapstone, you can piece them together for a natural stone countertop kitchen without the cost of fabricated pieces of stone.
The deep black soapstone color grays over time. To renew the deep color, you simply oil the counters to bring back the color.
Here, I especially like the veining in the vertical waterfall edge side pieces.
6. DIY FAUX SOAPSTONE COUNTERTOPS
Next, this DIY Countertop paint kit is a quick and easy way to transform your kitchen overnight.
Not only are the counters painted a deep black soapstone color, but the walls are also a faux marble.
It takes formica counters and turns them into an amazing Pinterest-worthy DIY countertop hack.
7. DIY PAINTED SOAPSTONE COUNTERTOPS
Lastly in the soapstone category, these diy painted countertops have a soapstone appearance.
If I didn't know this was a DIY home project, I would have been fooled. In fact, I have a bathroom countertop that could use this kind of treatment.
Marble Painted DIY Countertop Kits
Undoubtedly, marble is taking the decor world by storm. Whether painted counters or quartz that looks like marble or even marble tiles parsed together, marble is hot.
Marble dates back to ancient roman and greek times when it was used in architecture like the Parthenon (438 BC), Pantheon (125 AD) & Pisa (year 1063).
Later structures like the Taj Mahal crafted in 1653 and the Washington Monument completed in 1888 mark the significance of marble in creating majestic works of art.
Did you like that history lesson in marble? Nonetheless, if you don't want to pony up for marble at this stage in your life or for such a huge project like kitchen counters, here are some really great faux marble DIY countertop tutorials.
8. DIY Countertop Marbling Tutorial
First up is The Beauty Revival tutorial on painted marble counters because it includes a video which is extremely helpful if you learn best by seeing it done.
It's a systematic process of paint the in layers and dropping in feather streaks to look like real marble veining.
9. DIY EPOXY MARBLE COUNTERTOP KIT
Epoxy painting Countertop kits have taken the market by storm.
They are great because it provides all of the materials and directions for the weekend DIYer. You get the box shipped to you and get to work.
You'll clean the counters and prep them for priming.
After applying the special primer, it's time to mix your epoxy and pour a flood coat.
Product: STONE COAT COUNTERTOPS
10. PAINT POUR DIY MARBLE COUNTETOP
Another success story of poured DIY marble countertops is from this farmhouse dream. The painted gray veining makes it look natural. These counters could definitely pass for stone.
How to DIY Wood Countertops
Next on the list of do it yourself countertop upgrades are swapping out formica for wood or butcher block.
They add a natural warmth to any kitchen.
Additionally, since wood is relatively easy to cut, you can fabricate any shape or around any strange kitchen elements.
11. DIY BUTCHER BLOCK COUNTERS
Jennifer at Le Bois Home knocks it out of the park with this DIY wood counter tutorial.
First, you will never believe what she used to make the butcher block countertop.
Secondly, she really too the time to make it look professional by adding an ogee routed edge, which sounds complicated, but is actually very easy to do with the correct bit for your router.
The ogee is the design of the countertop edge.
Her wood countertops turned out simple gorgeous!
And for $40 in supplies, you cannot beat this DIY kitchen project.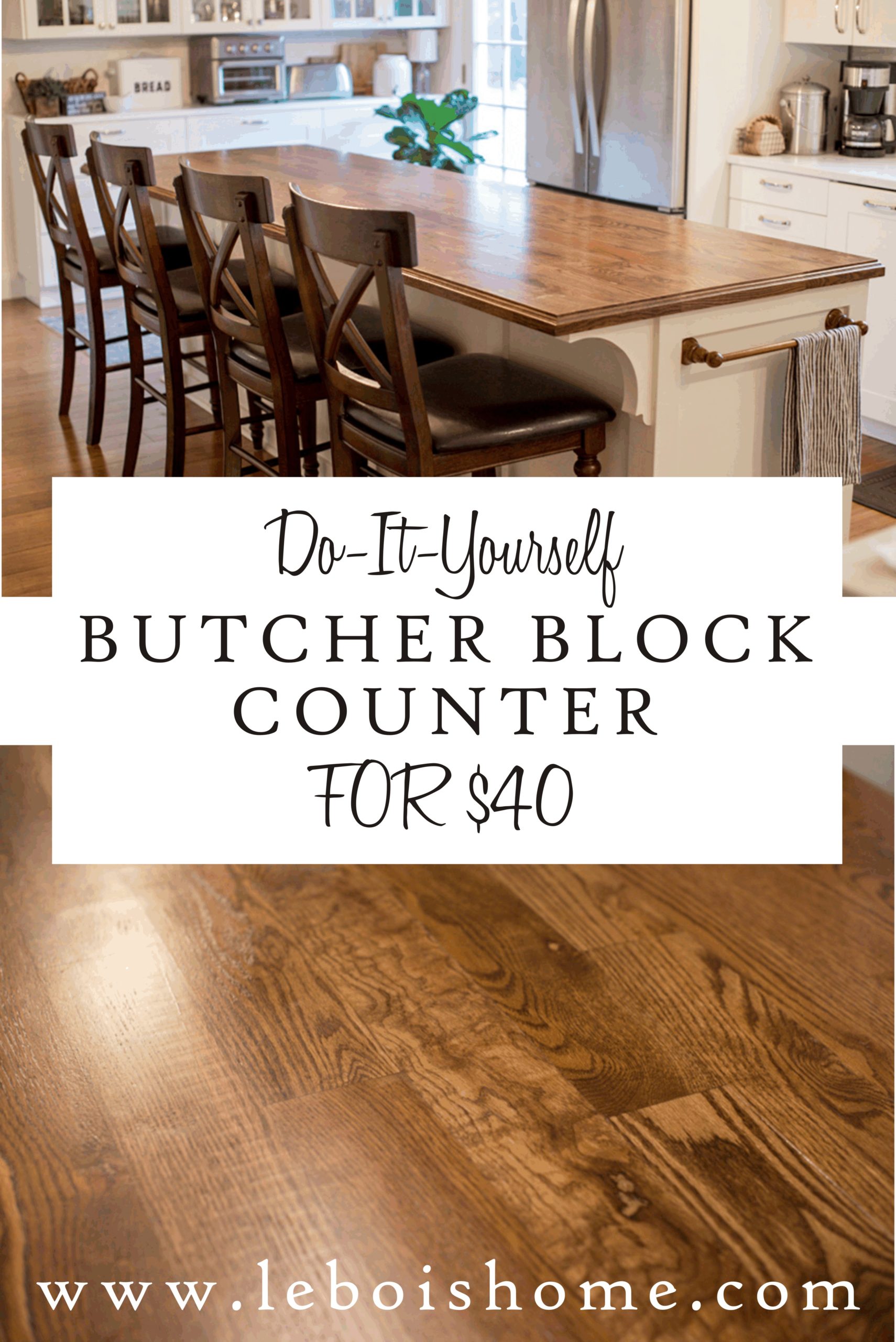 I also wanted to include an example of the ogee routed countertop edge. It sounds a little strange to describe if you have never custom ordered countertops or cabinet fronts.
But this photo does a great job of showing different wood routing options. The ogee is a classical style ("type") and the routed edge is the "what", e.g. an orange (type) is a fruit (what).
I know you can't live without that lesson in woodworking and countertop fabrication, haha!
12. DIY WOOD FABRICATED COUNTERS
Next, I love this take on a do it yourself wood counter because it is not only inexpensive to make out of birch wood, but the stain choice is phenomenal.
Here we have a deep stain that almost looks black and against all of the the white shipload and cabinetry it really stands out.
It's quite beautiful in this kitchen. I know it would make a great DIY kitchen project.
DIY Concrete Countertops
Now that we've touched on the faux countertop creations and wood fabrications, let's talk about another popular countertop fabrication, the concrete countertop.
I wouldn't say this is new, it's been around in DIY circles for quite some time, but it is certainly becoming more popular.
More and more couples are tackling this DIY.
13. DIY POURED CONCRETE KITCHEN COUNTERS
For an inexpensive kitchen counter overhaul, Hannah, from We Lived Happily Ever After blog used the Ardex Feather finish countertop kit to skim coat the counters with concrete.
And while I don't usually love modern farmhouse vibes, these countertops look great paired with the shiplap.
If you are considering concrete countertops check out the gorgeous, bad, and ugly to see the longevity of this DIY project.
14. Cara's Pour in Place Concrete Countertops
The most common type of concrete countertop is the poured countertop. Here you make a mold out of wood, mix the concrete, pour and smooth it into the mold.
After it has set, you remove the mold, smooth and seal.
The Inspired Workshop gives a great tutorial on pouring concrete counters.
15. CONCRETE SKIMMED KITCHEN COUNTERTOPS
I'm sharing a second skimmed concrete countertop tutorial because I like how the counters warm up the space.
Usually, white on white can feel cold, but these light gray countertops warm up the kitchen and give it a cozy feel, despite being cold to the touch!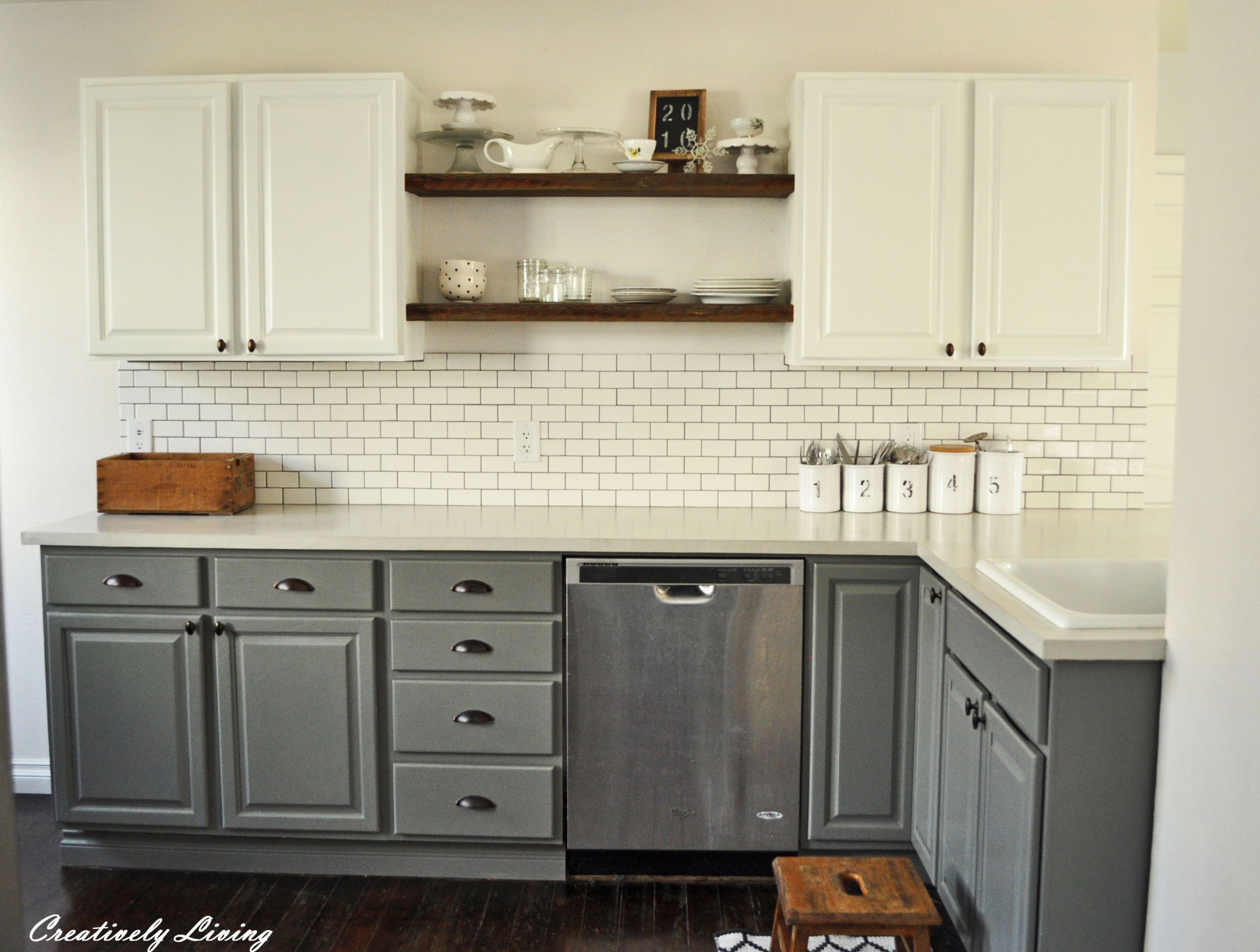 Contact Paper Covered DIY Countertops
I've arguable saved the best for last with these contact paper covered counters.
While they may be the least durable or long term, they are great for both rentals and an immediate update.
The contact paper is actually a sticky backed vinyl that's easy to apply. I used it on my fireplace surround a few years ago.
The vinyl sheets can easily be purchased on Amazon (affiliate links included).
I have rounded up my favorites here, as well as a few tips. The larger the width the less seams you will have.
Measure the counter depth and choose one that is larger so you can trim it down rather than seam it.
Run it longways if possible
Use clear waterproof caulk at the edges and seams for a good seal & to prevent lifting
A plastic smoother gets out the bubbles and creates a firm seal
Use a cutting board or hot pad when cooking
Great for both kitchen and bathroom counters
My Favorite Marble Contact Papers (affiliate links):
16. MARBLE CONTACT PAPER KITCHEN COUNTERS
What I love about this instant kitchen update is how it the contact paper is carried up the wall and backsplash lip.
It gives the kitchen a clean feel and makes it look a little less DIY. It's hardly noticeable that it isn't real stone. And that's a win in my book.
17. DIY Faux Marble Contact Paper Countertops from Tracey at Porch Daydreamer
The last project I am sharing today is Porch Daydreamer's office contact paper covered counters.
This is proof that adding contact paper can change any space. Whether you apply if to furniture fronts or tops, it makes a dates space look modern and fresh.
I love the clean look it gives Tracey's office. She is an exceptional DIY blogger.
DIY COUNTER CONCLUSION
There you have it, 17 ways to instantly update your ugly kitchen counters. With the different types of DIY's shown here, you are bound to find one or even two that you can apply to your own kitchen and bathrooms.
If you need an instant solution, the contact paper vinyl works great to hold you over until you can make your own wood countertops or buy a countertop painting kit.
The possibilities are endless and can be suited to your perfect taste.
Comment below to let me know which countertop you decided to try!