50 Best Quality Spring Wreaths for Your Front Door (2022) Plus Everything You need to KNow about wreaths
These are the best spring wreaths for your front door, that will make the neighbors stop and ask where you got that gorgeous wreath. See my favorite wreaths in every price range for Spring 2022. Add a floral wreath, boxwood or citrus wreath to your door decor.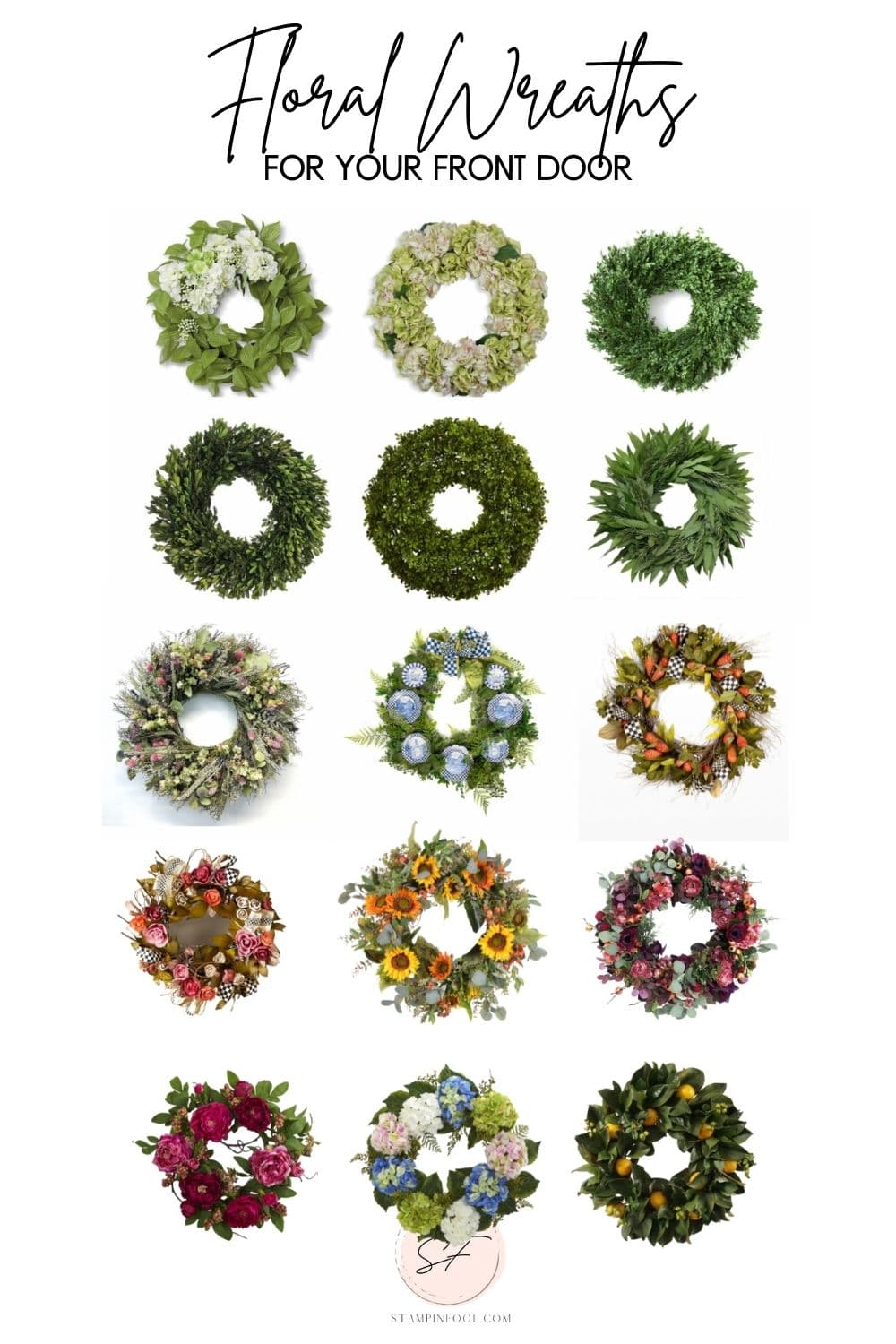 This post may contain affiliate links- meaning when you purchase through the link and I receive a small commission. It feeds my Starbucks addiction & for that I thank you! You can see my full disclosure policy here.
Types of Wreaths
Wreaths can be made out of many different materials and there is an assortment for every occasion. From spring wreaths with florals and leaves, to winter wreaths with fresh fir branches and magnolia leaves. Here are a few common types of wreaths:
Grapevine
Floral
Boxwood
Eucalyptus
Holly
Pine/Cypress/Fir
Magnolia
Lavender
Citrus
What size wreath do i need?
A front door wreath should cover 2/3 to 75% of the door's width. For windows, aim for 1/2 to 3/4 width of the window. So, for a standard 36 inch door, a 25″ to 28″ wreath will be the best size.
As with lighting and most other things, bigger is better. It's always better to have a too large wreath than not large enough!
how are wreaths measured?
The diameter of the wreath is measured across the front from one side straight across to the other.
How to Hang Wreaths on your front door
There are a variety of ways to hang a wreath on your front door, but the simplest way is to use an over the door wreath hook. Below are some quality wreath hooks to easily decorate your front door.
how to hang wreaths on windows
To hang wreaths on windows, hang the wreaths with a magnetic hook. One piece of the hook is on the outside of the window, and the other magnetic part holds it from the inside of the window.
how to hang wreaths with ribbon
Cut a 3-inch-wide satin or grosgrain ribbon long enough, when doubled, to hang your wreath at the desired height.
Loop ribbon around the back of the wreath form. Join the ends, and fold them over 1/2 inch. Then, secure it to the top of door with thumbtacks.
where to hang wreaths indoors
Interior doors
kitchen cabinets
mantle
over a large mirror
on backs of dining chairs
over headboard/bed wall
how to hang wreaths on kitchen cabinets
Simply wrap the ribbon around the wreath, join the ends of the ribbon and fold over about a half inch, and secure at the very top of the cabinet door with a thumbtack.
How to Hang wreaths on Brick
Hanging wreaths on exterior brick is easy with a brick hanger. Simply hook the bottom of the brick hanger underneath the bottom edge of the brick, and then using your thumb stretch and hook the top of the hanger to secure it to the top of the brick.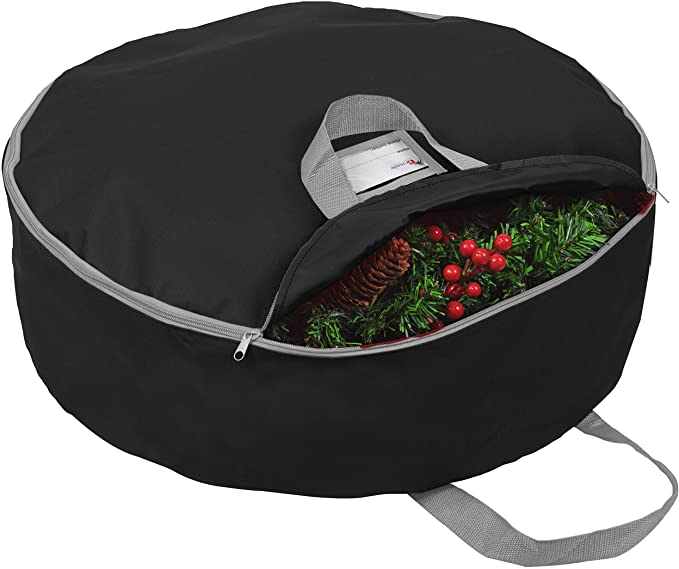 how to store wreaths
Grab one of these wreath bags or boxes on Amazon to keep your wreath from being smooshed. Alternatively, I hang some of my seasonal wreaths in eaves or coat closet so that I can easily swap them out.
where to buy wreaths For your Front Door
There are many places you can purchase the perfect wreath, but I have had the best luck with:
Etsy
Crate & Barrel
Frontgate
Grandin Road
Horchow
how to make big bows for wreaths
We love a ribbon bow to hang a wreath on doors, windows and chairs (for seasonal dinner parties) or even hosting book club. To get the look, grab your favorite 2″- 4″ ribbon.
Cut 2 lengths of ribbon and tie a bow with one ribbon. You can use the over, under method to ensure the front has a square knot center and isn't twisted.
Then with the remaining length of ribbon, loop it through the middle of the wreath and back up to the top. Tie a double knot so that the ribbon has formed a loose circle around the wreath.
Hang the wreath by the ribbon!
MY FAVORITE ETSY SHOP FOR HANDMADE WREATHS
ETSY Favorites + 10% off code just for you: APRIL10
Quick Links to Best Front Door Wreaths
Here are a few quick links to buy one of these gorgeous spring wreaths to brighten up your front door!
How to Hang Wreaths on your front door
Now that you have some gorgeous wreaths to choose from, here are my favorite wreath hooks and tools for hanging wreaths on front doors, windows and cabinets.
Over the door hooks are best for hanging wreaths on the front door. Window suction or magnetic hooks are perfect for window wreaths at Christmas.
Lastly, these brick hangers work on exterior brick to hang wreaths from the brick.