9 Must Woven Laundry Baskets for 2021
Are you on the search for a woven laundry basket like the La Jolla from Serena & Lily, but don't want to spend hundreds of dollars? Here are the best 9 must have baskets!
I'm a hot slob! There I said it. It's no secret that housework is not my strong suit.
I struggle to stay on top of the laundry and get tired of picking up the kids toys off of the floor 1000x a day. And who wants to pick up their clothes off the bathroom floor.
MY LAUNDRY HABITS
To be honest, my laundry habits are terrible. It's just not something I like keeping up with and that I make time for daily. But, I found the Podcast: A Slob Comes Clean and she suggests 1 laundry day a week instead of trying to do a load daily, which has never worked for me.
Life changed! Now we have laundry day- usually Saturday morning – the kids bring everything down and I get 2 loads done before breakfast, we have fun all day and I fold in the evening.
Then it's done, caught up and I don't have to worry about it all week, school clothes are clean and we have clean socks. If you struggle with being a slob or knowing where to start, I highly recommend A Slob Comes Clean.
In addition to the laundry day, we adopted the "run the dishwasher every night" and empty it in the mornings and now I never have a sink full of dishes. It's truly magical. Everything else falls into place when the kitchen is clean and it only takes 5 mins to clean it up.
THE KIDS & LAUNDRY
Enter laundry baskets. This isn't a reinvention of the wheel. You know laundry baskets help control the clothing chaos.
To keep everyone in our house on the same page, everyone gets a laundry basket in their room. Then on Saturday mornings, they bring them down and I get to work.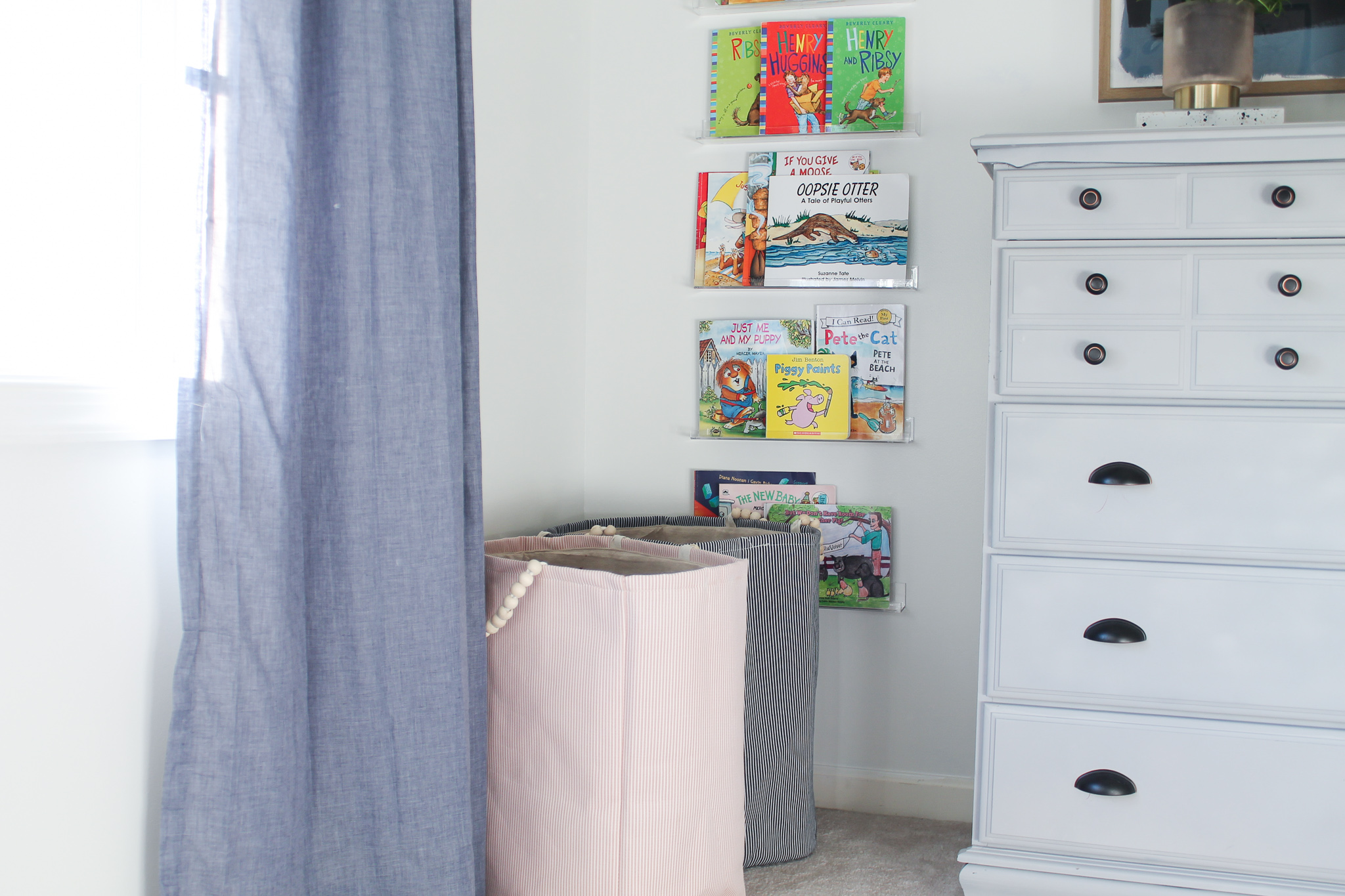 BUT that's not the only thing we use laundry baskets for– toys! In addition to a clothes basket in each room, each of the kids rooms also have an extra laundry basket to catch stray toys. (And not the plastic laundry baskets with holes)
We use the woven or canvas baskets for toy storage. When it's time to pick up their rooms, we can toss everything into the basket and clean up is a breeze.
LAUNDRY BASKETS FOR TOY STORAGE
And since the laundry baskets are an attractive way to store toys in the kids bedrooms, we adopted this storage method throughout the entire house. So, in our family room we have a woven basket for toys and then in the playroom we also have a basket for stray toys.
This way of storage works wonders. It's simple to throw everything in, and you can cover it with a lid. Plus, the woven baskets look nice and don't look utilitarian.
Now I've done the hard part of finding the best 9 must have woven laundry baskets that you need right now! My favorites include the La Jolla and the double hamper (this post includes affiliate links for your convenience).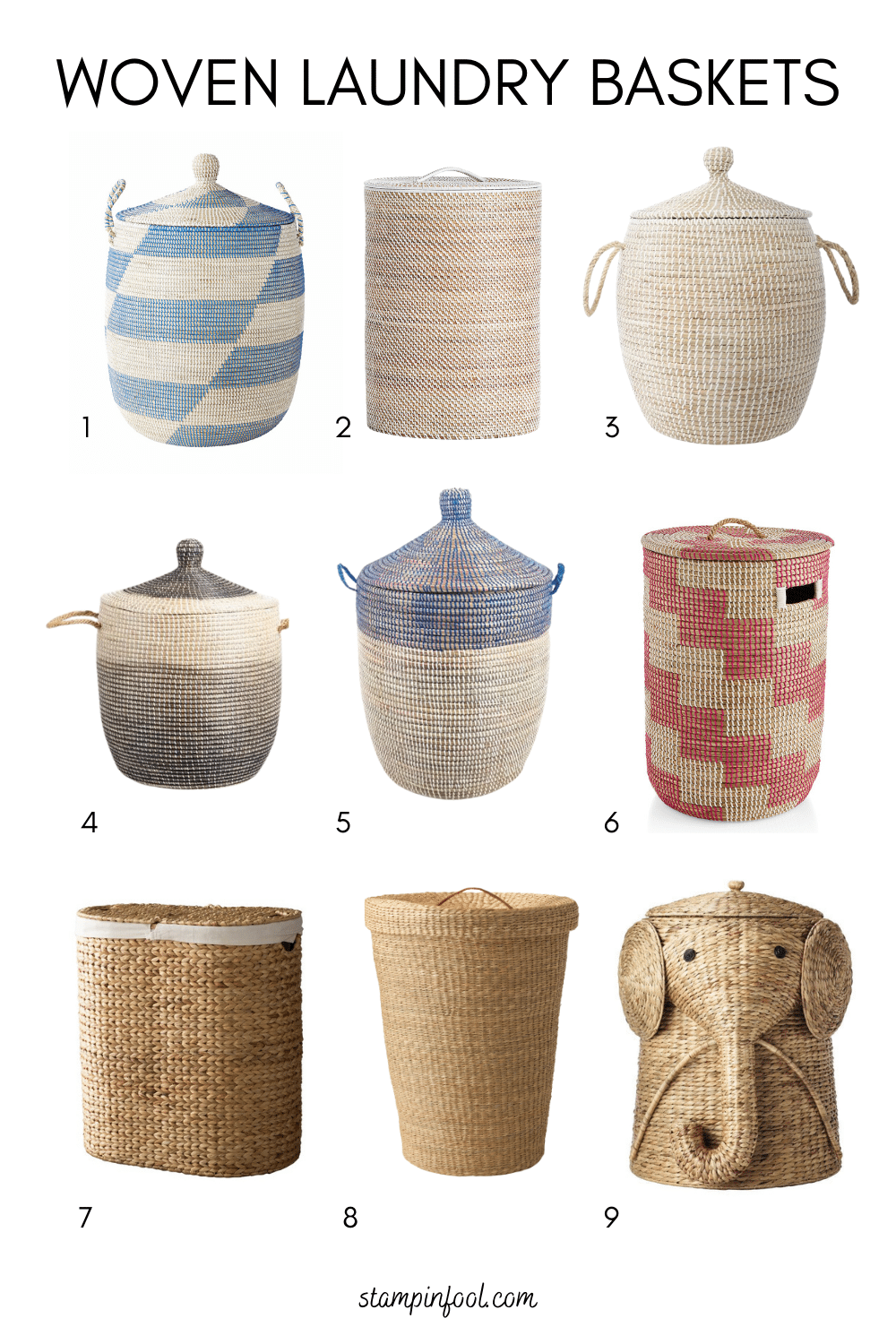 BEST WOVEN LAUNDRY BASKETS
1. Serena & Lilly La Jolla | 2. Sedona White Hamper | 3. Calabasas Seagrass Basket | 4. Ombre Amelia Hamper | 5. Tilda Navy Two- Tone | 6. Merchant Pink Hamper | 7. Double Woven Hamper | 8. Modrn Natural | 9. Elephant Hamper
OTHER USES FOR WOVEN BASKETS
Secondly, laundry baskets are for just that, but you can also use these woven basket all around the house. Personally, I have three woven laundry baskets in the living room for throw blankets, toys and children's books respectively. There are also another 2-3 baskets upstairs to catch random toys.
PRO TIP: GET YOUR HOME GUEST READY ANYTIME
TIP: My pro tip for keeping the house looking doorbell ready at any time is to keep a laundry basket (the pretty woven ones) downstairs in the living room. Then when guests unexpectedly drop by or call on the way, you can throw any stray item into the basket and put them away later.
Lastly, I then take the laundry basket around to each room to replace the items where they belong. Using a laundry basket as an organizational tool has really been a game changer.
I hope this woven laundry basket roundup post helps you find the perfect basket for all of your uses. These baskets range in price from $20+ so there's something for everyone!
OTHER POSTS YOU'LL LOVE