BUCKEYE BROWNIE COOKIES – CHRISTMAS COOKIE SWAP
These Buckeye Brownie Cookies combine the best of both worlds…peanut butter, chocolate and brownies! If you love brownies + peanut butter you'll love this easy cookie recipe!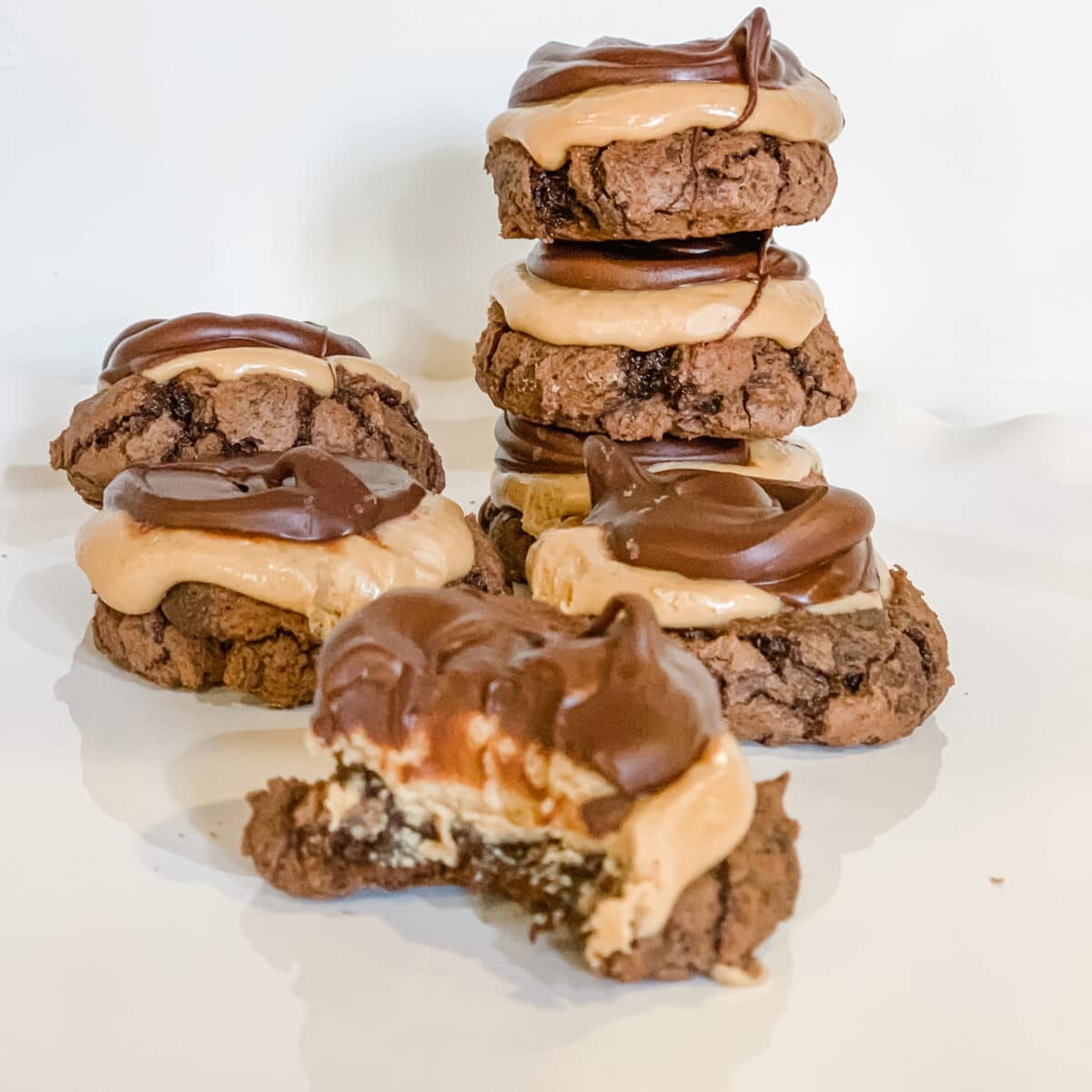 What are Brownie Buckeye Cookies?
Imagine a brownie plopped into a rounded cookie shape, then take a soft peanut butter ball and press it on top. Finally, pipe a large covering of chocolate on top. After the chocolate hardens, you have a buckeye brownie cookie.
These are so good they are known to not last past day one. In fact, I make them every year for our household and then gift some as well. After they have hardened, I put them on a large plate inside of a gallon ziplock bag and leave them on the kitchen counter.
It has proved to be dangerous, every time anyone walks into the kitchen they grab a brownie bite because they are truly irresistible.
They make the perfect Christmas Cookie Exchange recipe (as long as there are no nut allergies).
Why are they called Buckeyes?
Buckeyes are similar to peanut butter balls, which are completely covered in chocolate. Historically, they were named for their resemblance to the nut of the Ohio buckeye tree.
The Buckeye tree is the state tree of Ohio, so as you can imagine, they take the name Buckeye versus peanut butter balls there. Plus, if you know any Buckeye fans, they love all things Buckeye!
Without further ado, let's get down to this super easy to follow recipe. The best part? You make them from a box of brownie mix, so it cuts down on time and ingredients.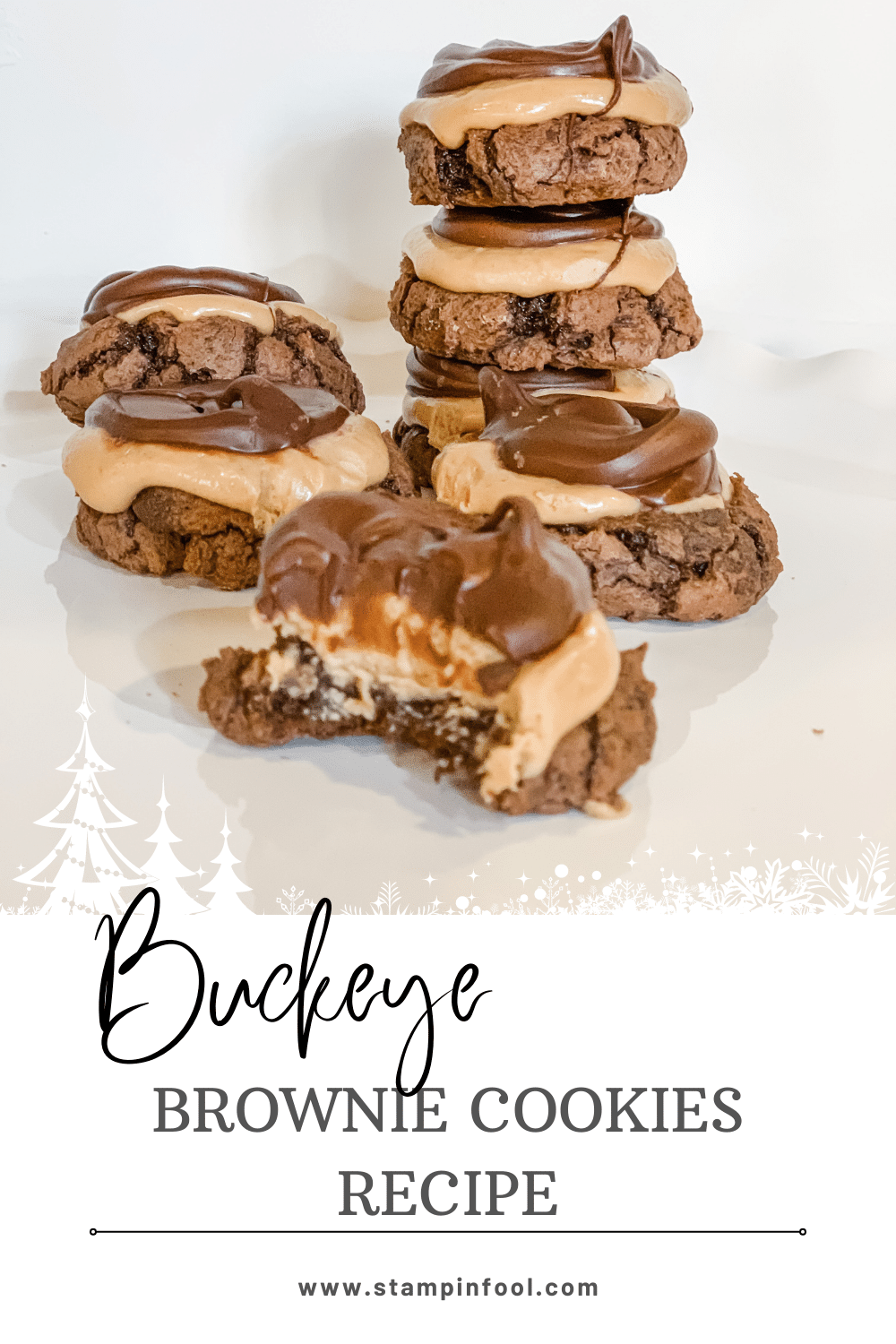 Chocolate Peanut Butter Brownie Cookies
INGREDIENTS
1 box fudge brownie mix (19.5 ounce or family size)
1/4 cup butter melted
4 ounces cream cheese, softened
1 large egg
1 cup powdered sugar
1 cup creamy peanut butter
4 ounces semi-sweet chocolate chips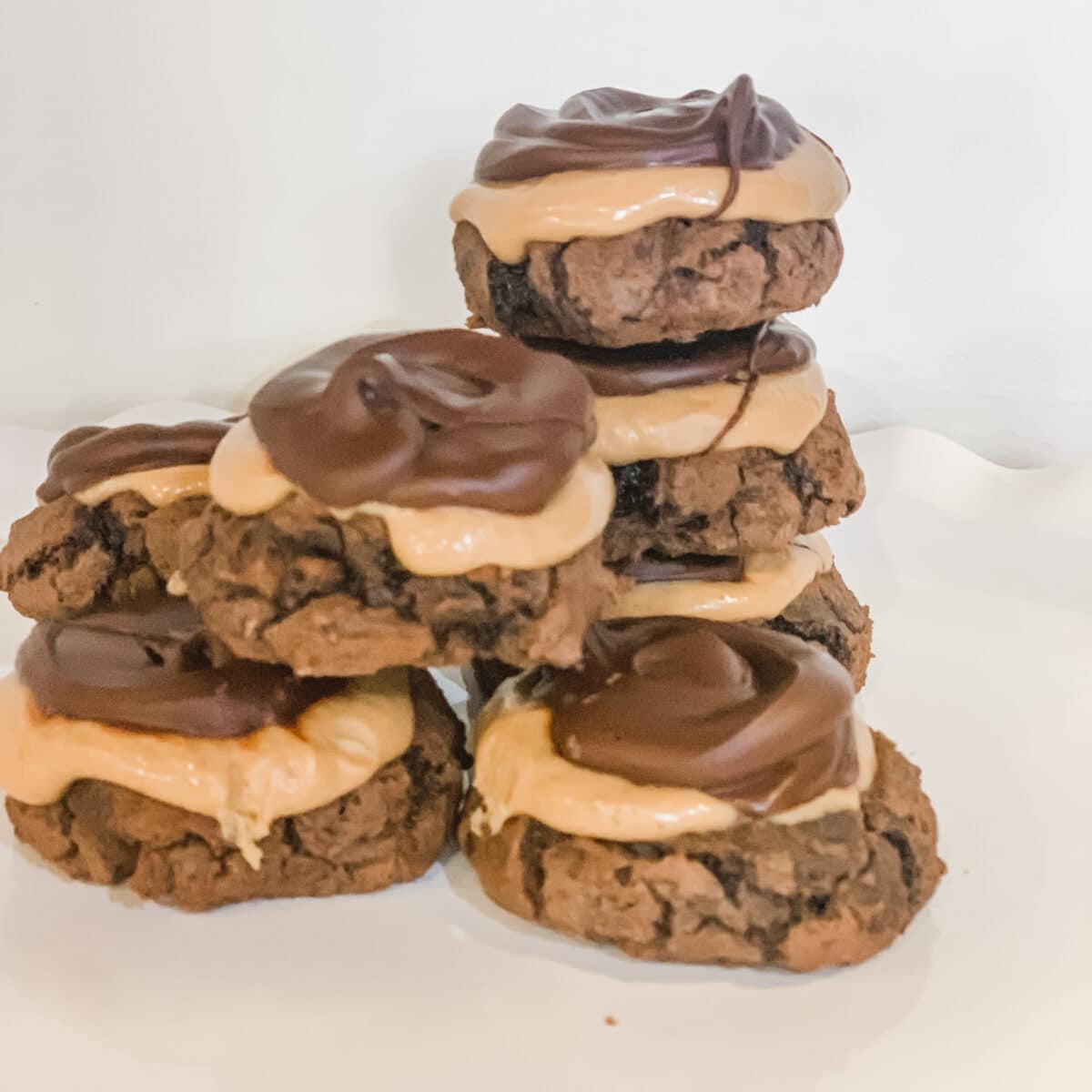 DIRECTIONS
Heat oven to 350 degrees.
In a medium bowl, beat the brownie mix, butter, cream cheese, and egg. The dough will be a little sticky. Scoop the dough onto an ungreased cookie sheet, making about 24 cookies. Smooth the edges of each to form a round cookie.
In a separate bowl, mix the powdered sugar and the peanut butter until it is completely combined.
Form the mixture into about 1 inch balls. Make sure you have one ball for each cookie. Set aside.
Bake for the cookie dough 12 minutes, keeping an eye out to make sure the cookies doesn't overcook or undercook.
As soon as the cookies come out of the oven, press a peanut butter ball lightly into the center of each cookie. The peanut butter mixture will soften slightly, but that's the goal.
Let the cookies cool for 5 minutes, then transfer them to a wire rack to cool completely.
Melt the 4 ounces of chocolate chips in a microwavable bowl for 30 seconds. Stir the chocolate and melt for additional 15 seconds or until the chocolate is completely melted. Transfer to a piping bag or gallon ziplock and cut the tip.
Pipe the melted chocolate on top of each cookie so it covers the peanut butter ball. Let the chocolate harden (I pop the trays in the fridge). Store in an airtight container or ziplock bag.
PRINTABLE RECIPE CARD