INTERIOR DESIGN: WHAT DOES AN OFFICE REMODEL LOOK LIKE? BEHIND THE SCENES OF A PROFESSIONAL OFFICE RENOVATION
Are you curious what the interior design process looks like for a small business office? Looking for ideas for your office remodel?
Are you as curious as I am about behind the scenes on interior design projects? I recently started a small business renovation for a local professional office.
They purchased a building that was a good size, but the room layouts didn't fit their needs. To make better use of the space, we brought in a contractor to discuss removing walls and adding new ones.
THE PLAN
The plan: To complete this office remodel, we needed to take out two walls to create a conference room and a file storage room, create a doorway for the conference room and close off 2 entrances to the space.
It was a former doctor's specialty offie, so each room also needed plumbing and cabinets removed. Here is the short list of things that will happen in this office remodel.
Task List
Demo walls/doors
Remove & cap plumbing; replace water heater
Replace recessed lights/new lighting plan/move switches
Move HVAC return and duct
Remove wall and patch ceiling/doorways
Replace trim & molding
Path floors
Get info on replacement flooring
Select paint & hire out painting
Create furniture plan & purchase
Hire movers and coordinate move in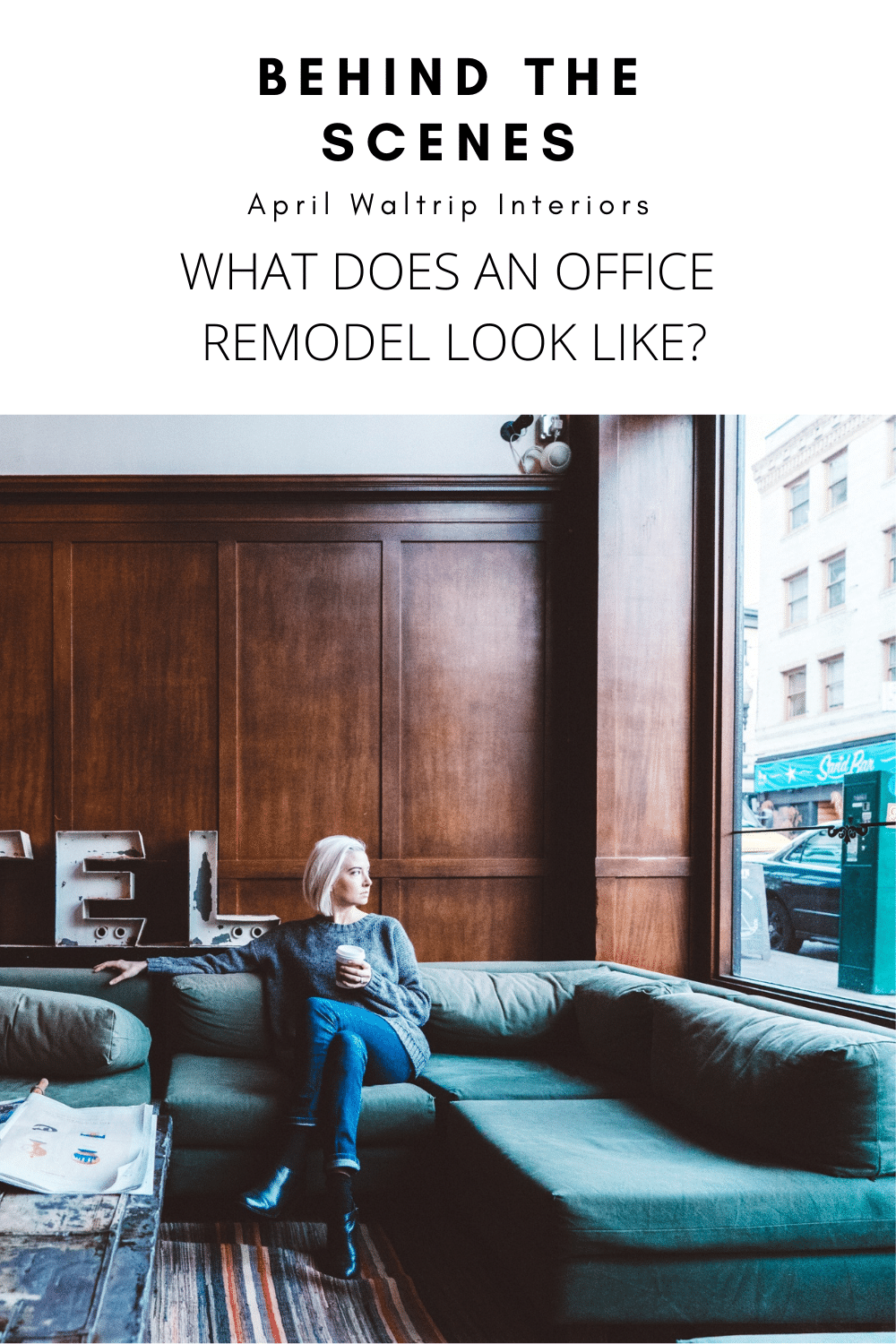 FLOOR PLAN/SPACE PLANNING
You can see from the short list of things we need to accomplish in the office remodel that the updates to the office requires planning before the construction begins. Although there are always some unknowns with walls and wiring, a plan needs to be in place so that contractors and subs can quickly and efficiently do their jobs.
So to have a game plan for everyone, we actually start with the space plan/floor plan. The business owners will decide what their needs are, we (interior designers) space plan the area which includes removing and adding walls. Then we add a proposed lighting plan on top of that.
Once we know how each room will be used, we know what lighting and plumbing is best. We can more easily make split second decisions during the construction phase if something needs to be moved because we know where furniture will be, where you will enter each room, etc.
Those things are important especially for placing light switches, recessed lights (you want them symmetrical), outlets and ethernet receptacles. You want to be able to reach them from a natural position.
DEMO
Day 1 is always demo day for any office remodel. That's when we open up walls and see what's hiding. It inevitably adds to the list- in this case, move HVAC and move electrical that we thought may be hiding, but weren't 100% sure until we opened it up.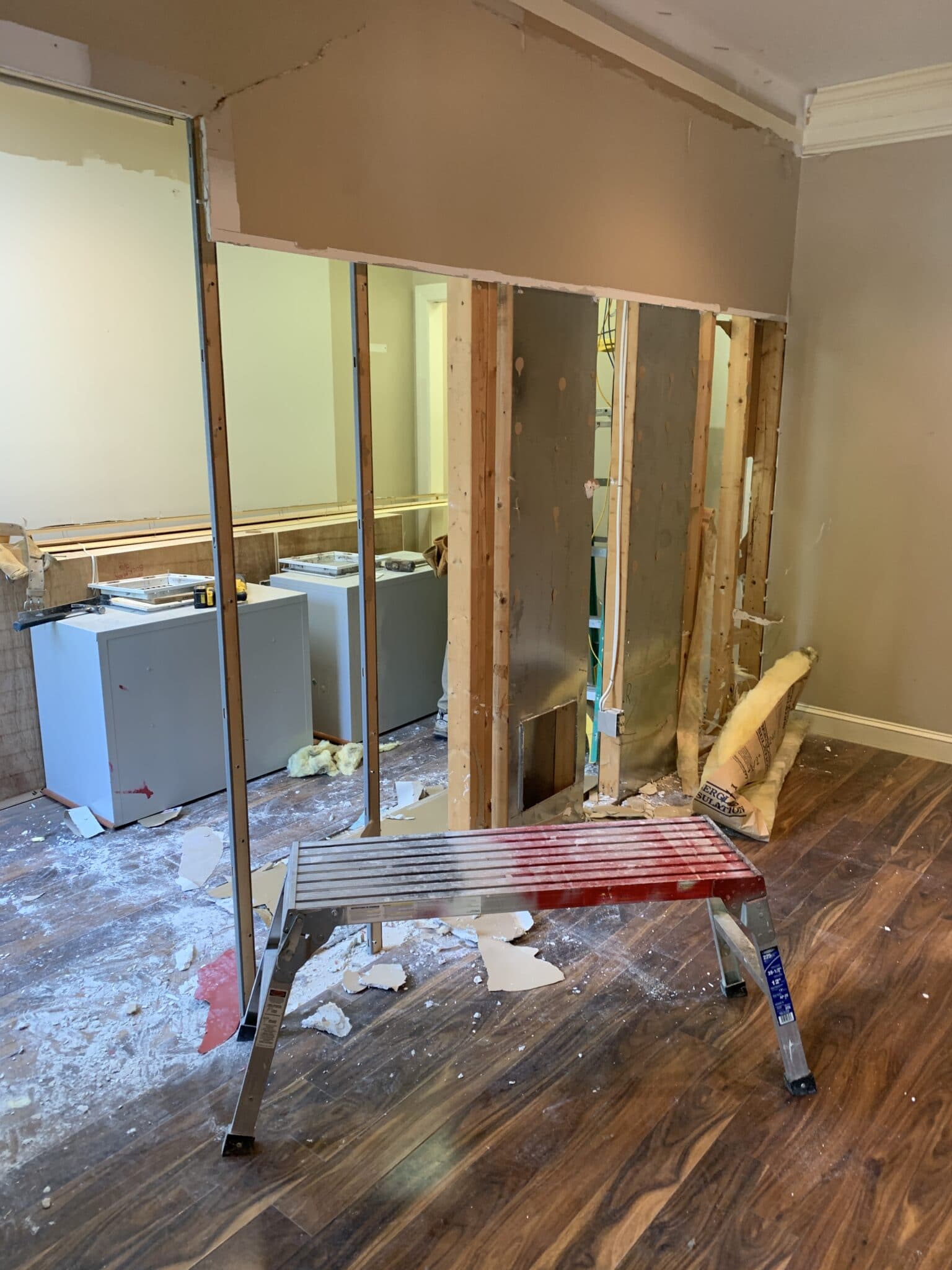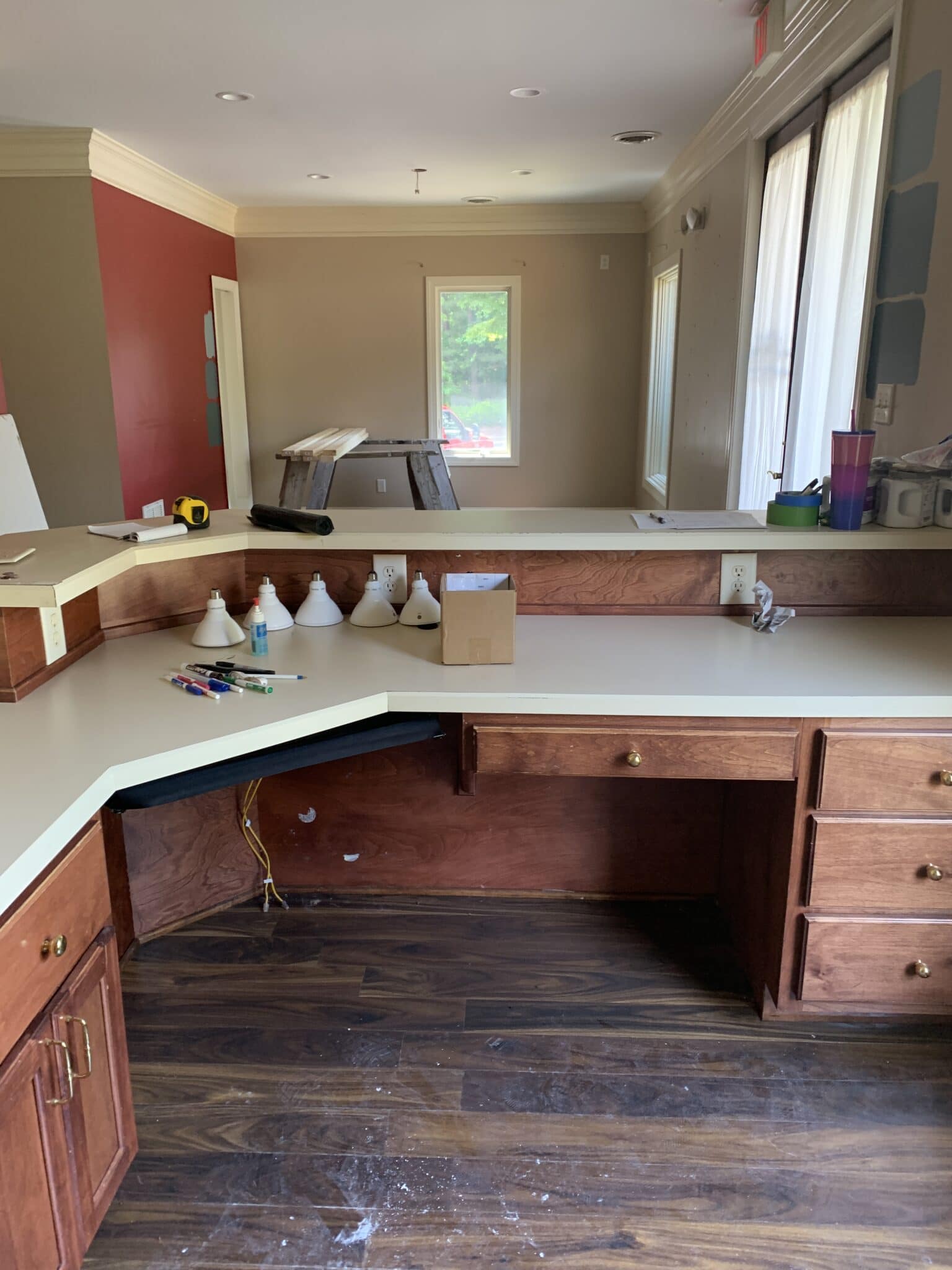 PLUMBING & LIGHTING
After and during demo, I have the plumbing and lighting guys get started.
Plumbing will be capped off in each room, we will make sure the main water valve is accessible and not located where it could easily be bumped or broken.
At the same time, the lighting included outdated can lights and fluorescent panels on the ceiling. We would swap out the recessed lights for a newer LED which will save in energy costs and have a more streamlined modern look.
Newer model LED recessed lights have different trim profiles. That is the steel part that goes around the light and makes it look flush with the ceiling. They make many different styles and finishes (colors). We opted for the 4″ canless LED lights with thin rings in a bright white trim.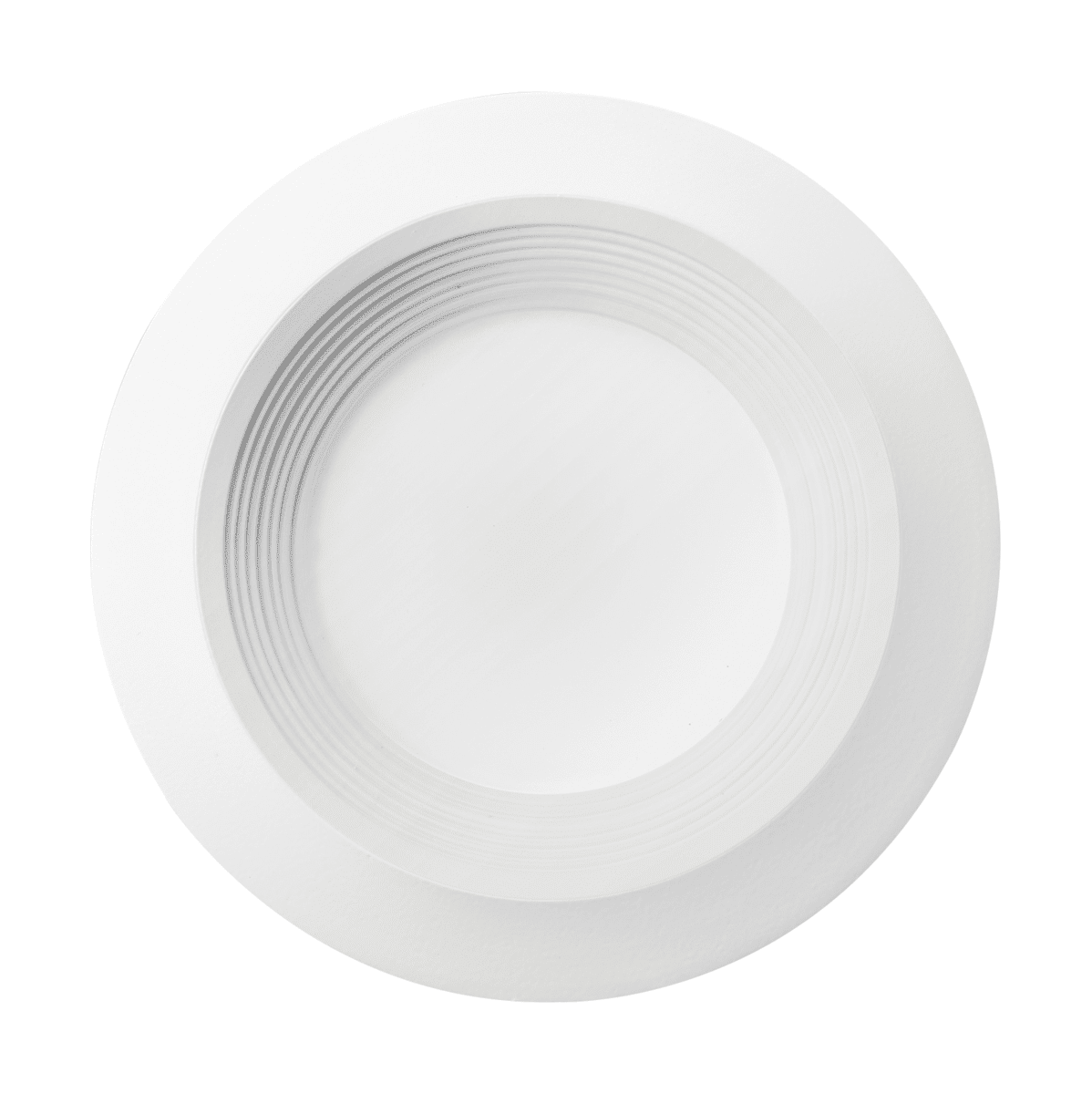 As for the lightbulbs themselves, we specified 3000K which is a warm white, but not too yellow, which is also dimmable. Worth noting is that LED's come in a variety of color temperatures that range from yellow to blueish tints (2700K-5000K respectively). You need to choose your color temperature at the time of purchase and use the same brand for consistent color throughout.
A NOTE ON RECESSED LIGHTING
A little recessed lighting goes a long way. You don't want to feel like you are on a runway or under a spotlight. Plan the lumens needed for each space (the are charts for this) and don't overdo it. You can add in floor lamps and desk lamps.
Adding 4 recessed lights to a small 10×10 office is overkill. Also, ALWAYS put them on dimmer switches.
REPAIRS
After all of the demolition, plumping, lighting, and HVAC are done repairs can begin. This will include framing new doors and walls, patching drywall and ceiling holes from lights, patching walls where cabinets once were and replacing crown molding and trim.
After all of the construction is completed, a construction clean is done. This is removal of trash, materials, tools, sweeping and maybe a light vacuuming.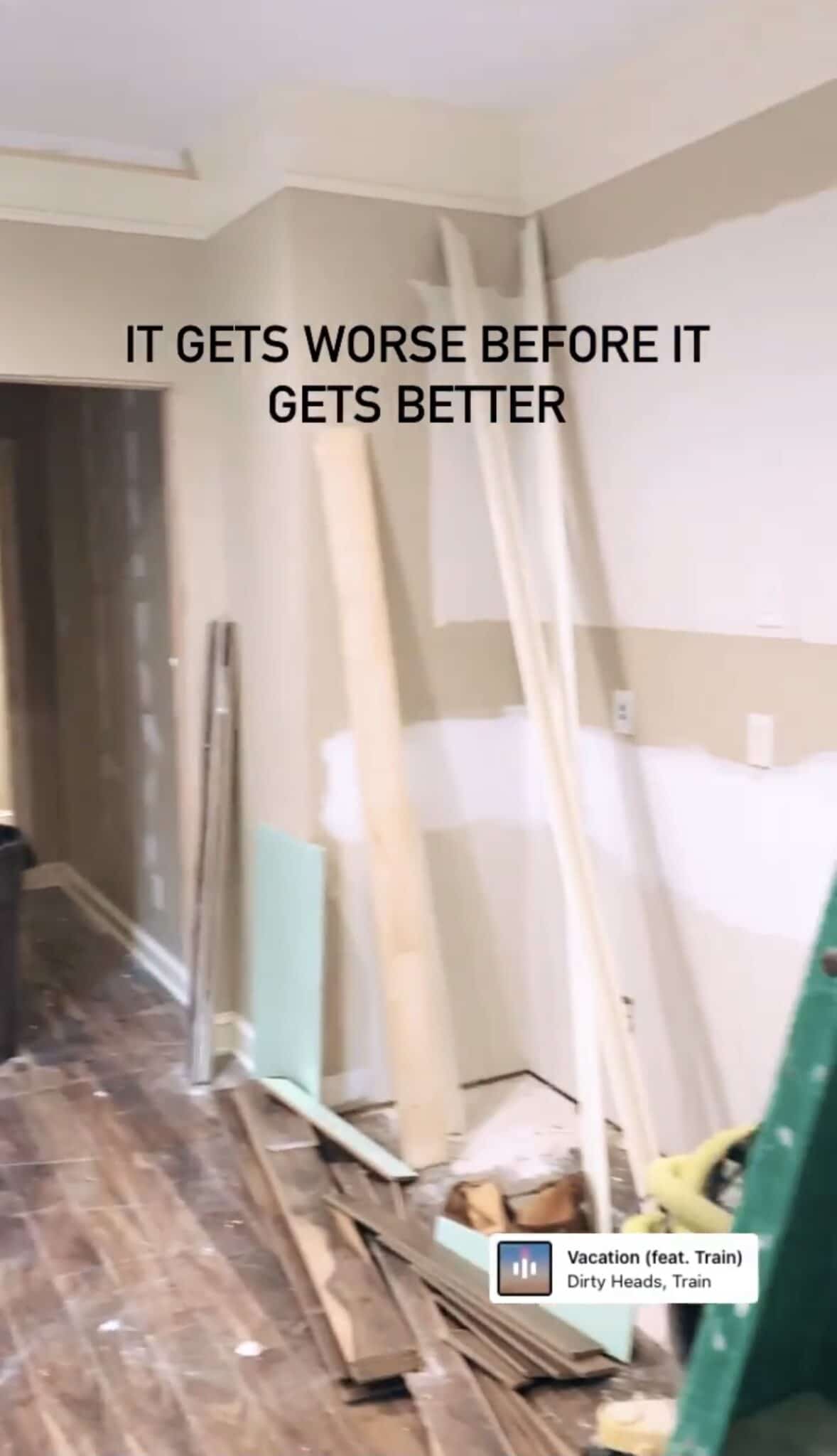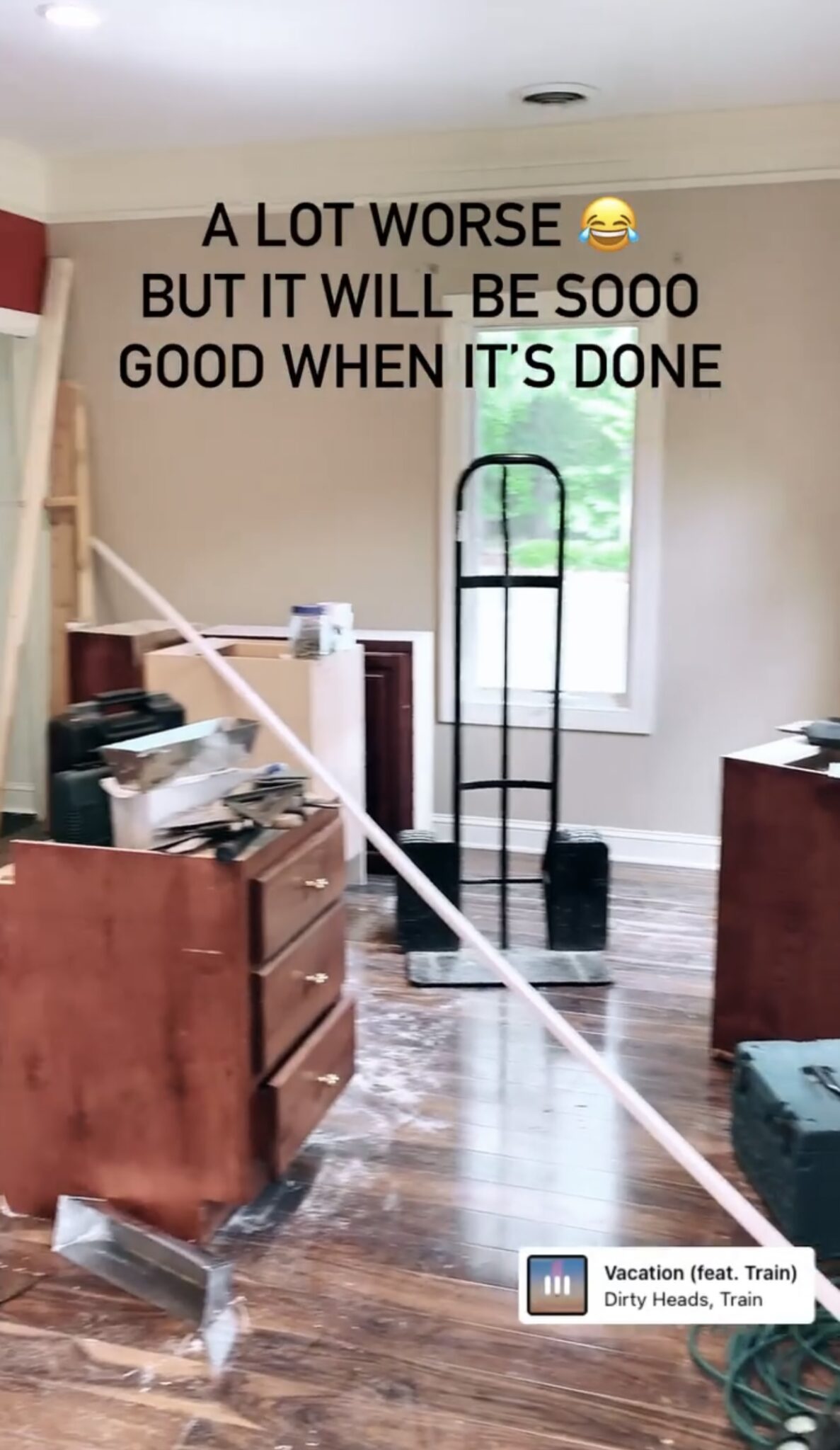 PAINTING & FURNISHINGS
Once the construction phases are done, interiors and decorating will bring the space to completion.
That would include painting walls, ceilings and trim, replacing flooring (this can also be done in the construction phase), ordering custom signage, door signage, door hardware, and furnishings.
In this case, flooring will be planned, but due to long wait times for materials the flooring will be done after the majority of construction is complete.
Paint samples have been tested on large boards, then painted swatches on the walls. The paint contractors will have already been scheduled so that they can begin once the construction clean is complete.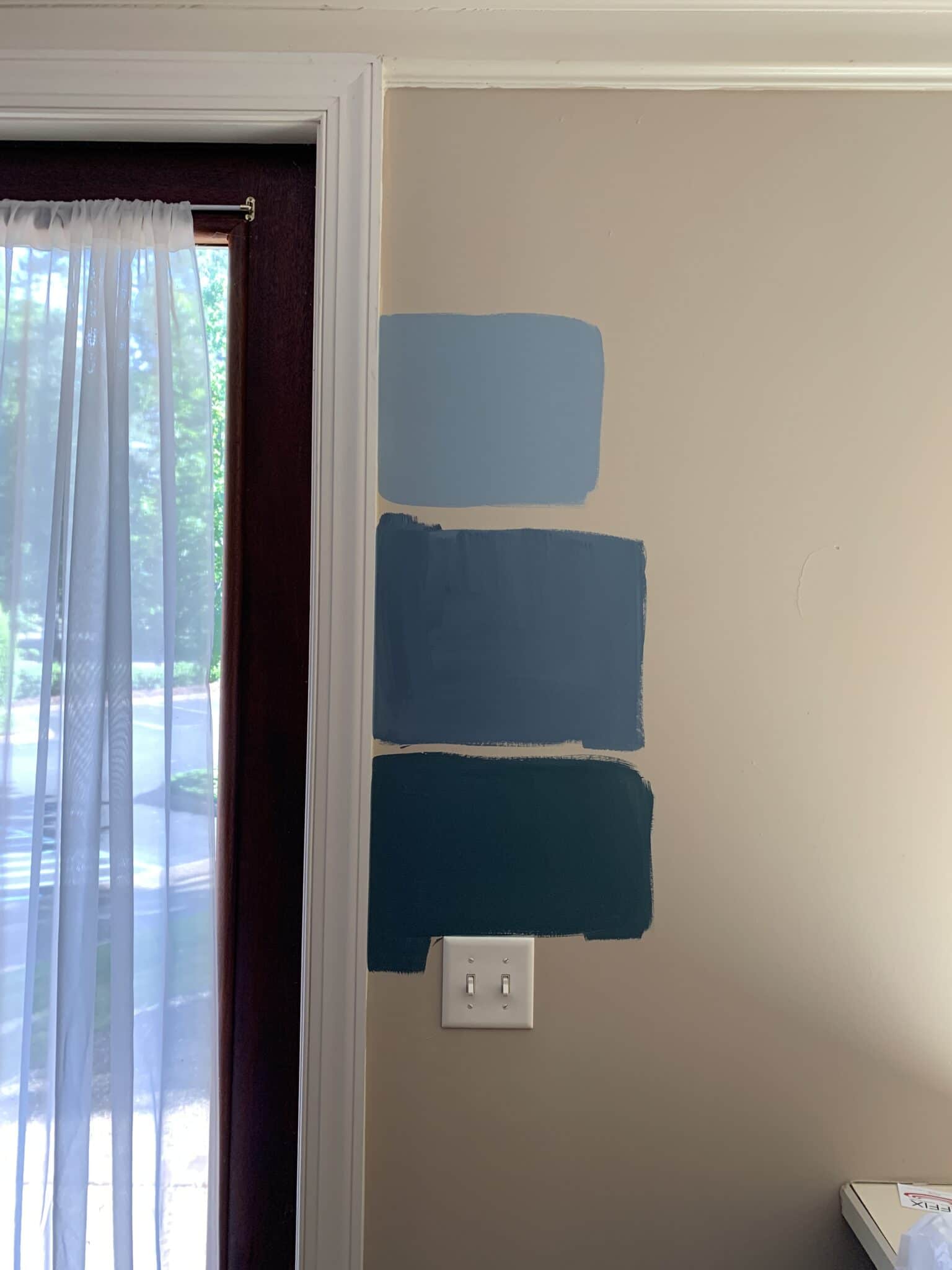 FURNISHING AN OFFICE REMODEL
The last step is to have the final furnishing selections made and ordered. We often have all of these details worked out in the planning phase.
We present a full furnishings plan to the clients, make any reselections if needed, and begin ordering the furniture. It is shipped to a warehouse where it is held until moving day. The warehouse inspects each piece for damage or missing parts.
Once construction, painting and flooring is complete, we confirm the date with movers and get ready for moving day. Copies of the floor plan are on site so that we can assist the movers as to where furnishings will go.
Rug pads and rugs go down first and everything is placed on top of that. Art, curtains and signage are hung last as the finishing touches to the space.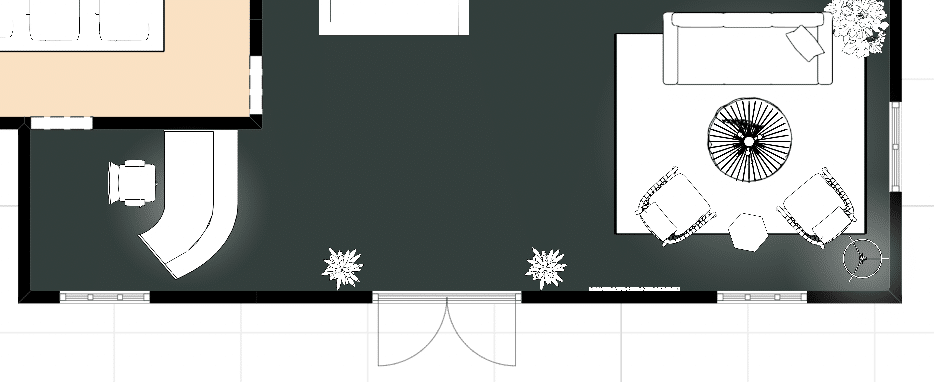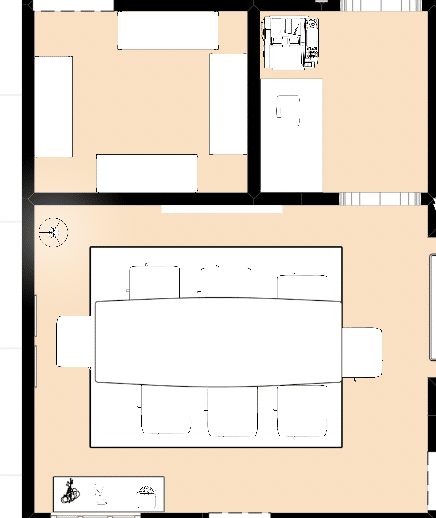 DESIGN SERVICES FOR SMALL BUSINESSES
Need an update? April Waltrip Interiors LLC is heading up the renovation for the new Williamsburg, Virginia office design for a multi-user Professional Services Building for a local law office.
Our Interior Designer services set out to create a modern take on classic offices that allows for collaboration, a comfortable client experience & meets the needs of the growing business.
To ensure construction costs remained within the budget and to enable a quick renovation period (4 weeks), some existing items were re-used including the wood flooring, some office layouts and restrooms, and a handful of light fixtures.
Continue following along for the final renovation photos after the project is completed.
DOES THE INTERIOR DESIGN OF YOUR RETAIL LOCATION EFFECTIVELY DISPLAY YOUR PRODUCTS? WE CAN HELP– Book a full service design consultation today.