Are you looking for a way to make the most out of your kids' room while maximizing space? Bunk beds are an excellent addition to any small bedroom and can offer fun, functional sleep options for children of all ages.
Not only do bunks provide extra space in bedrooms, but they also give your child a unique style that is sure to be the envy of every playdate! In this blog post, we'll cover what makes bunk beds an ideal choice for kids rooms and discuss how to pick the best bunk bed for your needs. Read on as we dive deep into everything you need know when choosing a bunk bed for your little one's bedroom.
Bunk Room Inspiration
Bunk beds and bunk rooms are trending in design right now. You've seen the builtin bunk beds on instagram that are painted the same color as the room with gorgeous brass rails. WOW!
While we can't all afford built in bunks, they are a great place to gain inspiration. So we'll look at some of our favorite bunk layouts below & inspiration.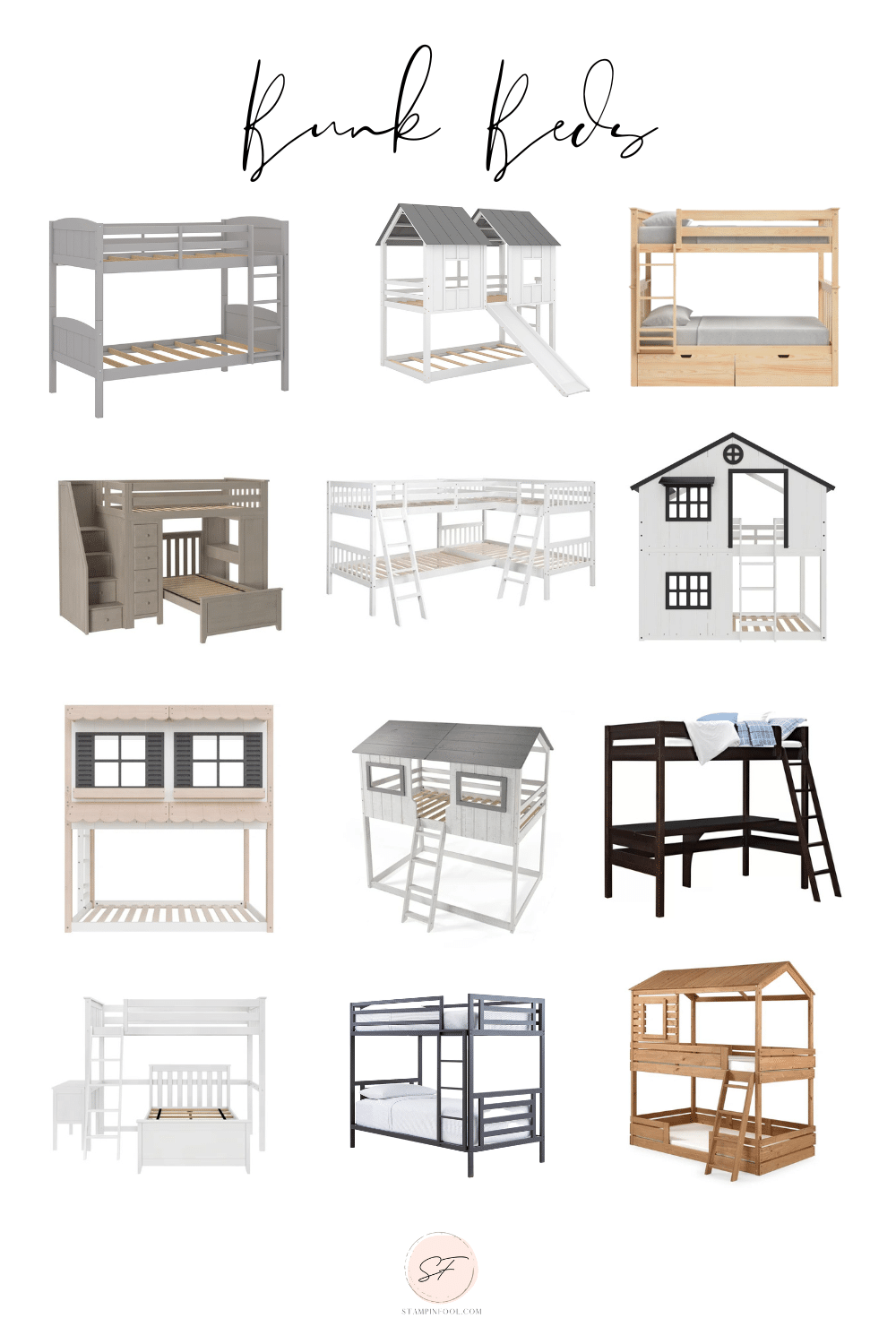 Ways to make your bunk bed look built in
A lot of our inspiration photos show built in bunk beds, but we know that doesn't work for everyone's budget, room size, or timeline. So I'll give you my designer advice on how to value engineer your bunk room so that it has great design and looks expensive for less.
Paint white or wood bunk the same as a wall color (not white on white)
Color makes everything look custom and expensive
Have a contractor (or DIY) use 1×6's to frame in beds bought from a store/online- this saves in labor $$ because the beds are already built, contractor will just add trim to make them flush with the wall and built in
Lower pile carpet looks more expensive
Wallpaper the entire room and paint the bunks a coordinating color
2-3 decorative pillows make it look intentional
Updated semi flush mount for 8′-9′ ceilings and chandeliers for 10-12′ ceilings make a statement
Wall sconces (even plug in) and art inside the bunks
Make sure you have plenty of storage to keep clutter clear since bunks are visually heavy (bookcases with doors- IKEA Billy, chest or drawers can store clothes and toys, trunk for toys, storage ottomans
This post may contain affiliate links- meaning when you purchase through the link and I receive a small commission. It feeds my Starbucks addiction & for that I thank you! You can see my full disclosure policy here.
BUNK BEDS UNDER $1,000
BUNK BEDS UNDER $500
BUNK BEDS WITH STORAGE & A DESK
COLORFUL BUNK BEDS
Here are my top picks for colorful bunk beds. Get them here: