How to Mix and Match Cabinet Hardware Finishes
Can hardware finishes be mixed in the same house, room or space? Here's how to mix finishes like a designer.
Mixing hardware finishes is sometimes out of necessity to have your favorite fixtures in the same space and every vendor has a slightly different color.
When to mix hardware colors
For example, the faucet you love may only come in polished nickel or shiny yellow brass and you want all brass hardware in your kitchen.
In this case, you would want to choose brass cabinet hardware and use a polished nickel faucet in the style you love. All other lighting and hardware could be the same brass repeating the cabinet finish.
Can you mix nickel and chrome hardware or finishes?
I am going to break the internet and tell you that in most cases YES, you can mix chrome and polished nickel.
Chrome is typically "colder" and has a slight bluish tone, where as polished nickel has a warm almost taupe undertone.
You shouldn't be mixing polished nickel with chrome knobs and faucets.
But you can mix faux nickel light fixtures with chrome hardware. Chrome is likely the cheapest silver color (besides brushed nickel and we want to skip that) so you will often want to use chrome faucets and hardware. but finding chrome lighting is impossible.
But, when you look at lighting that is labeled silver or nickel, most lights will actually be a plated shiny silver that isn't real polished silver (you'll know if because it will be $$$$). So the finish on the light is "Nickel", but it won't have that deep taupe undertone and will look closer to chrome.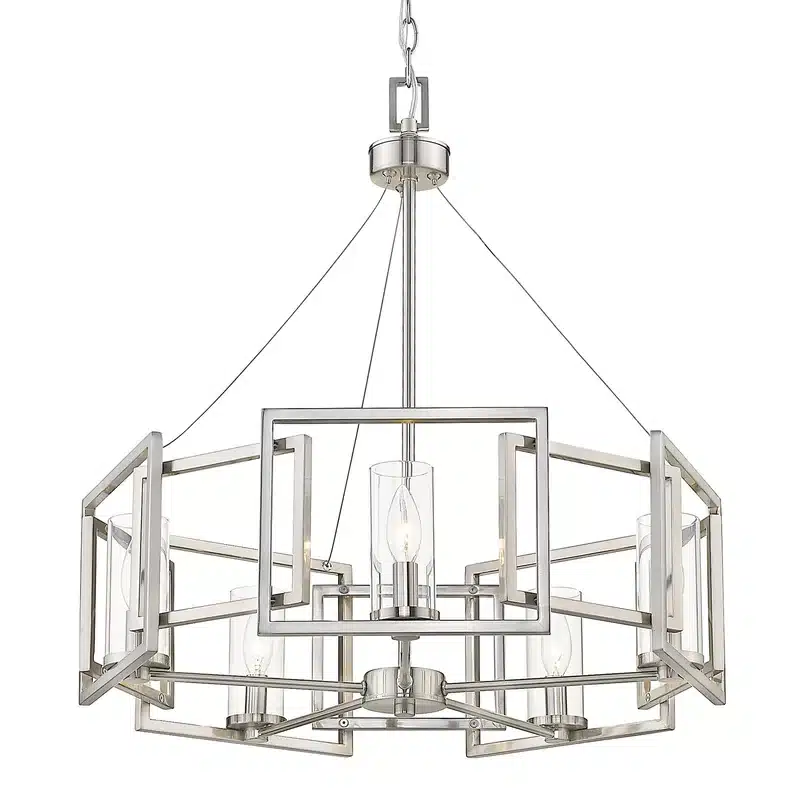 So if you are searching high and low for light fixtures to go with your chrome faucet or hardware, you can choose anything in the shiny nickel or even aged nickel range.
White and black light fixtures also pair well with chrome hardware.
When to Break the Rules
Typically in an average home, it's fine to mix the hardware as above.
The exception to this is in high end homes. If you home value is in the $750,000+ range, you should be using all polished nickel on faucets and hardware and not mixing chrome. (You can also use all brass or black, etc, just skip the brushed nickel and chrome).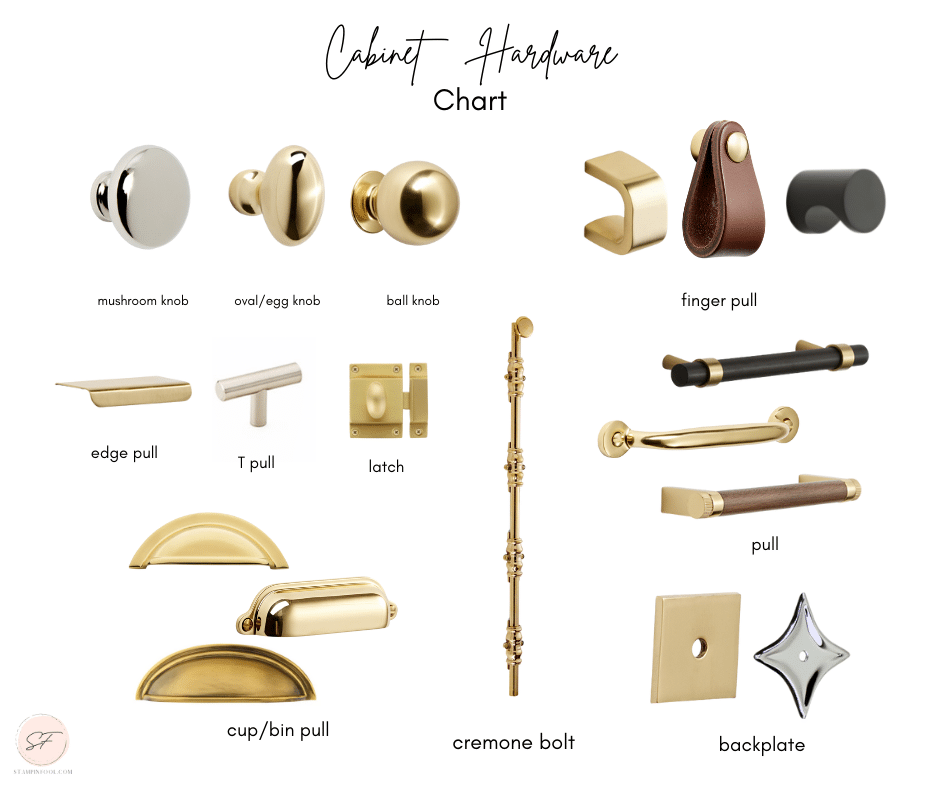 WHAT IS THE MOST POPULAR HARDWARE FINISH COLOR?
Brass is back in style, but we want to avoid the shiny fake gold and lean into antiqued, aged or unlacquered brass for a warm, naturally aged look and feel. Brass is heavy and durable which will make your kitchen or bathroom look expensive.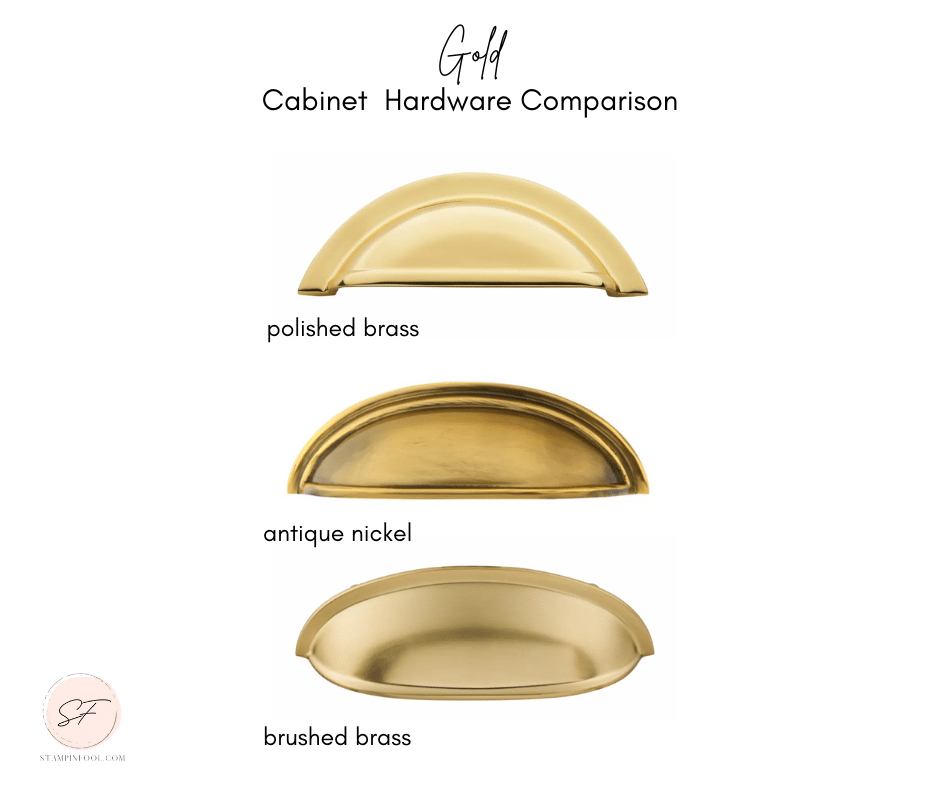 IS Brass Hardware OUT OF STYLE 2023?
Never! Real brass hardware is always in style. Polished, unlacquered brass will always look expensive. Antiqued brass is also a gorgeous finish that is growing in popularity, despite it being around forever.
The plated 90's brass, well you can skip that. Choose an unlacquered, PVD or Antiqued brass finish for your hardware.
If you despise brass, opt for polished nickel which is real nickel, has a little shine and a lot of warmth and depth.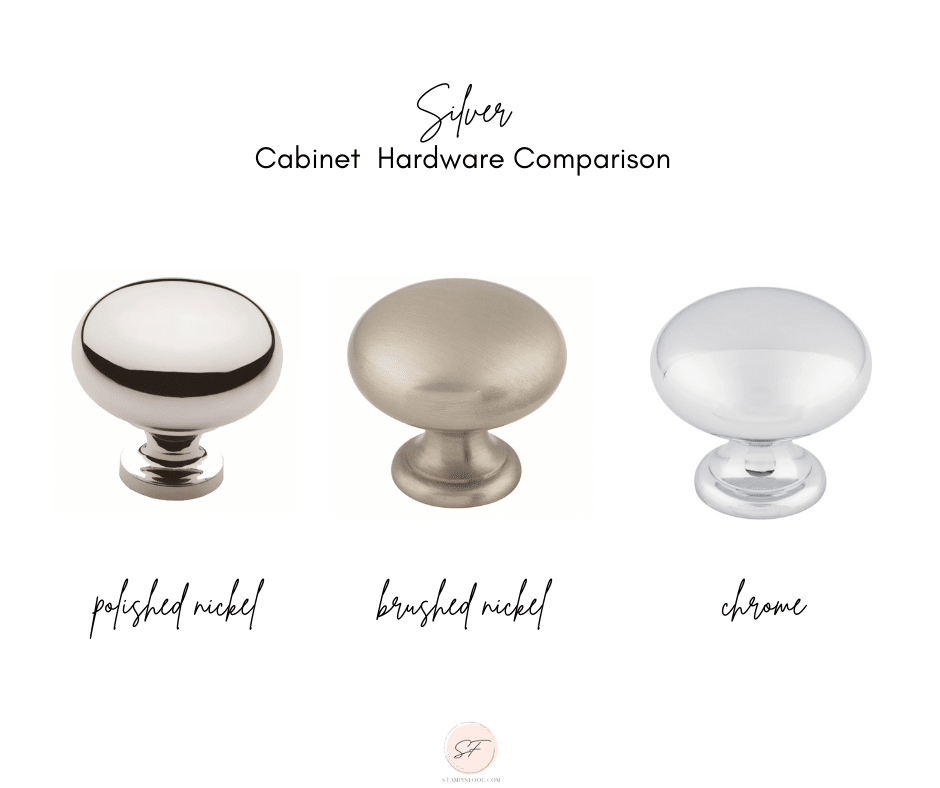 IS BRUSHED NICKEL hardware OUT OF STYLE 2023?
Yes, brushed nickel hardware is out of style because it looks cheap. Instead of brushed nickel, we use polished nickel which has a natural depth and warmth to it.
Below is a comparison between polished nickel, brushed nickel and chrome cabinet hardware.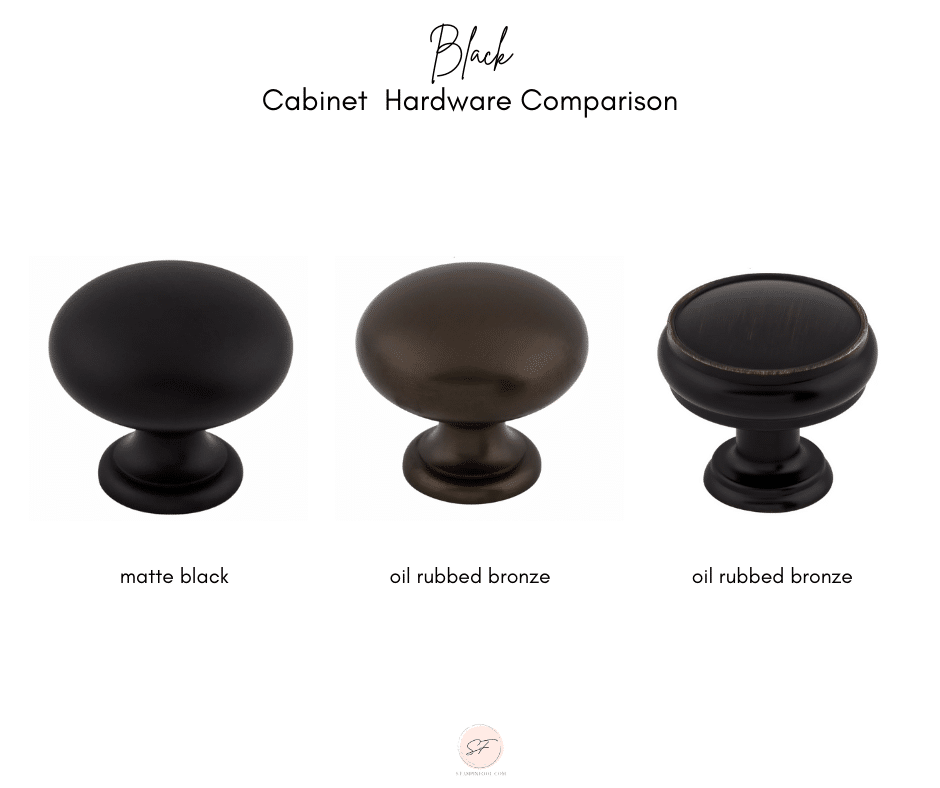 IS OIL RUBBED BRONZE OUT OF STYLE 2023?
Oil rubbed bronze tends to date a kitchen or bathroom or give it that tuscan feel, which is not in style anymore.
IS MATTE BLACK HARDWARE OUT OF STYLE 2023?
Matte black hardware is still going strong in 2022. While it typically screams modern farmhouse, it can read transitional, industrial or contemporary if the shape is correct.