Best Wood Stain Colors for Cabinets & Floors
These are the best 2023 Cabinet Wood Stain Colors for your kitchen for timeless kitchen cabinets.
If you're planning on giving your kitchen a makeover in the near future, you're probably wondering which wood stain color to use on your cabinets.
CHOOSING KITCHEN CABINET COLORS
There's no doubt that choosing a cabinet color can be a stressful decision because it's a big, expensive commitment. Start by gathering inspiration.
Here are a few things to ensure the process is smooth and you are confident in your decision:
browse and pin inspiration images
search/explore colors and styles that you don't think you like (you may be surprised or notice details you love)
decide the finish you like most (matte, satin, semi, high gloss)
choose countertop and backsplash selections
pick 3-5 wood finishes that you like
get samples of those stain colors
hold the samples upright in the space where the cabinets will be (to see how they look in the space)
narrow down your choice by comparing the countertop & backsplash, floor with the cabinet options
order one of each hardware as a sample
choose a complementary wall color
look at everything together & take a photo in natural light
step back and look at it all (plus the photo) to make sure you are happy with selections
commit and own it!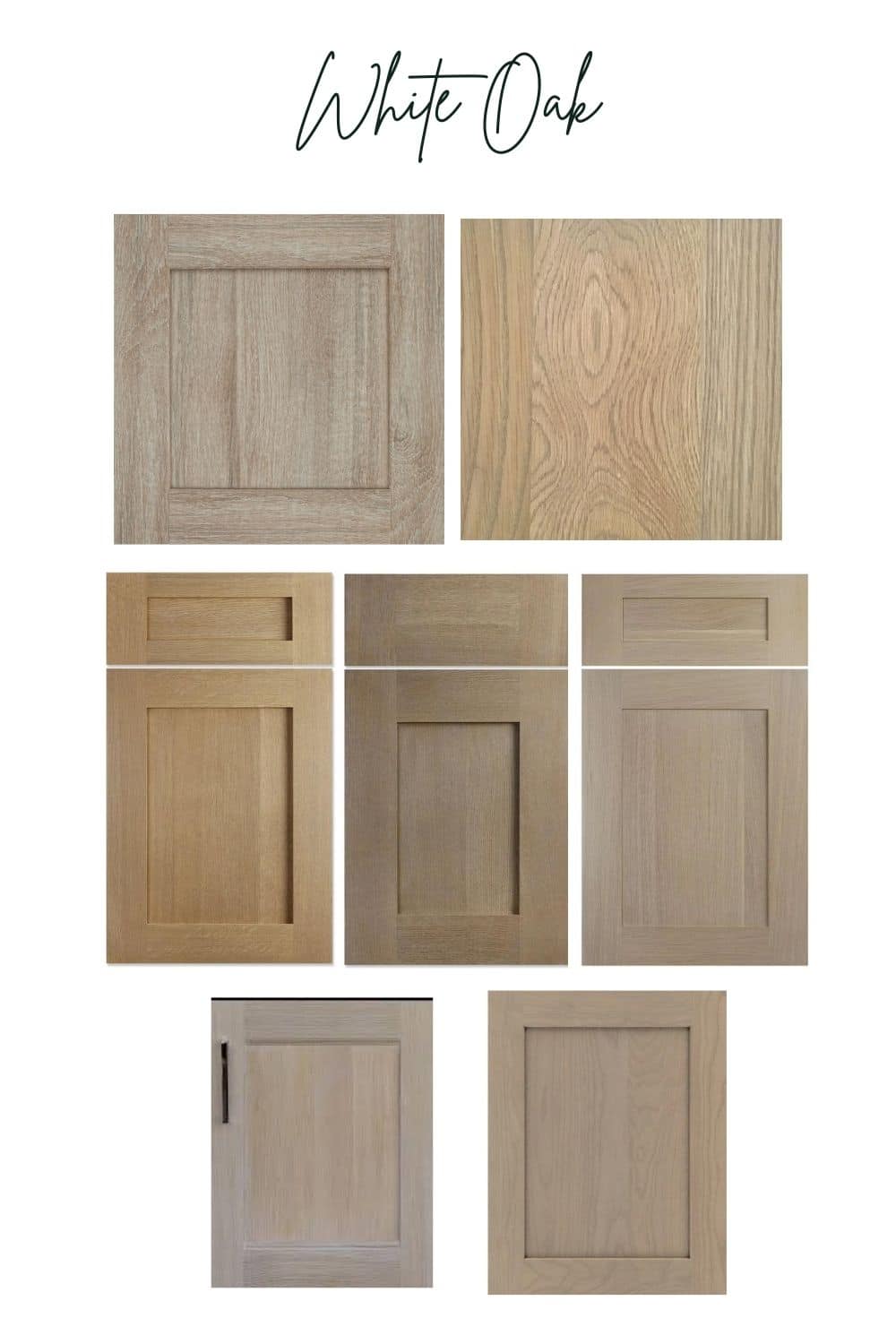 NATURAL WOOD STAIN CABINETS
Clients are trending towards rift sawn oak cabinetry with a clear, water-based protective coat over top of the wood without adding pigment.
Occasionally, a little bit of color is added with a penetrating stain like Minwax Fruitwood, Classic Gray or Simply White.
POPULAR OAK CABINET stain COLORS
Oak cabinets are making a comeback, but not the builder grade orange oak with heavy, open wood grain. Instead we are seeing natural water based stain applied to rift sawn and quarter sawn oak panels.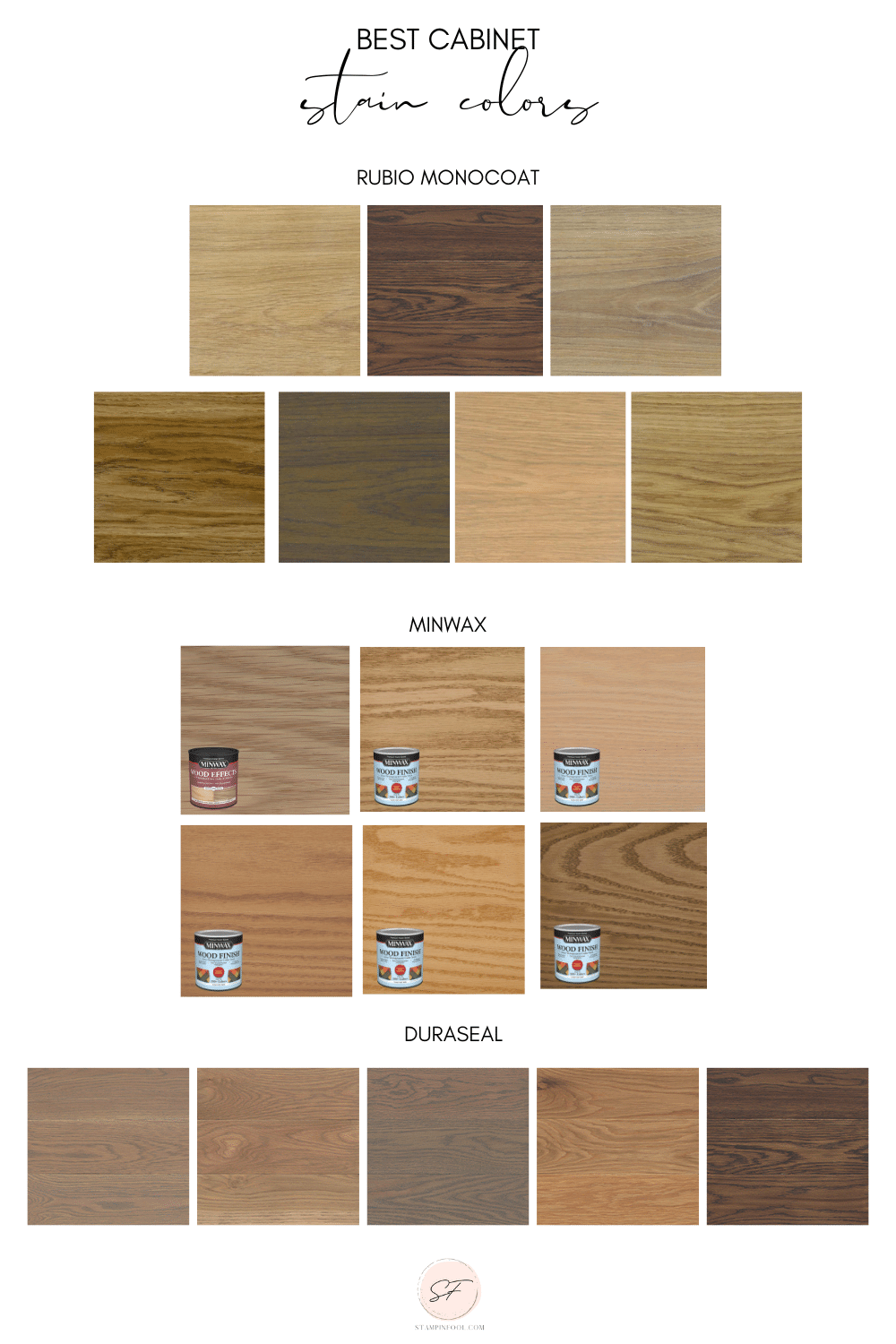 Rubio Monocoat
Rubio is taking the design world by storm. The penetrating stain is easy to use, doesn't smell terrible and is a high quality product. Here are the top stain colors from Rubio:
Oil Plus 2C Colors:
Natural
Mist 5%
Pistachio
Smoke 5%
White 5%
Walnut
Savanna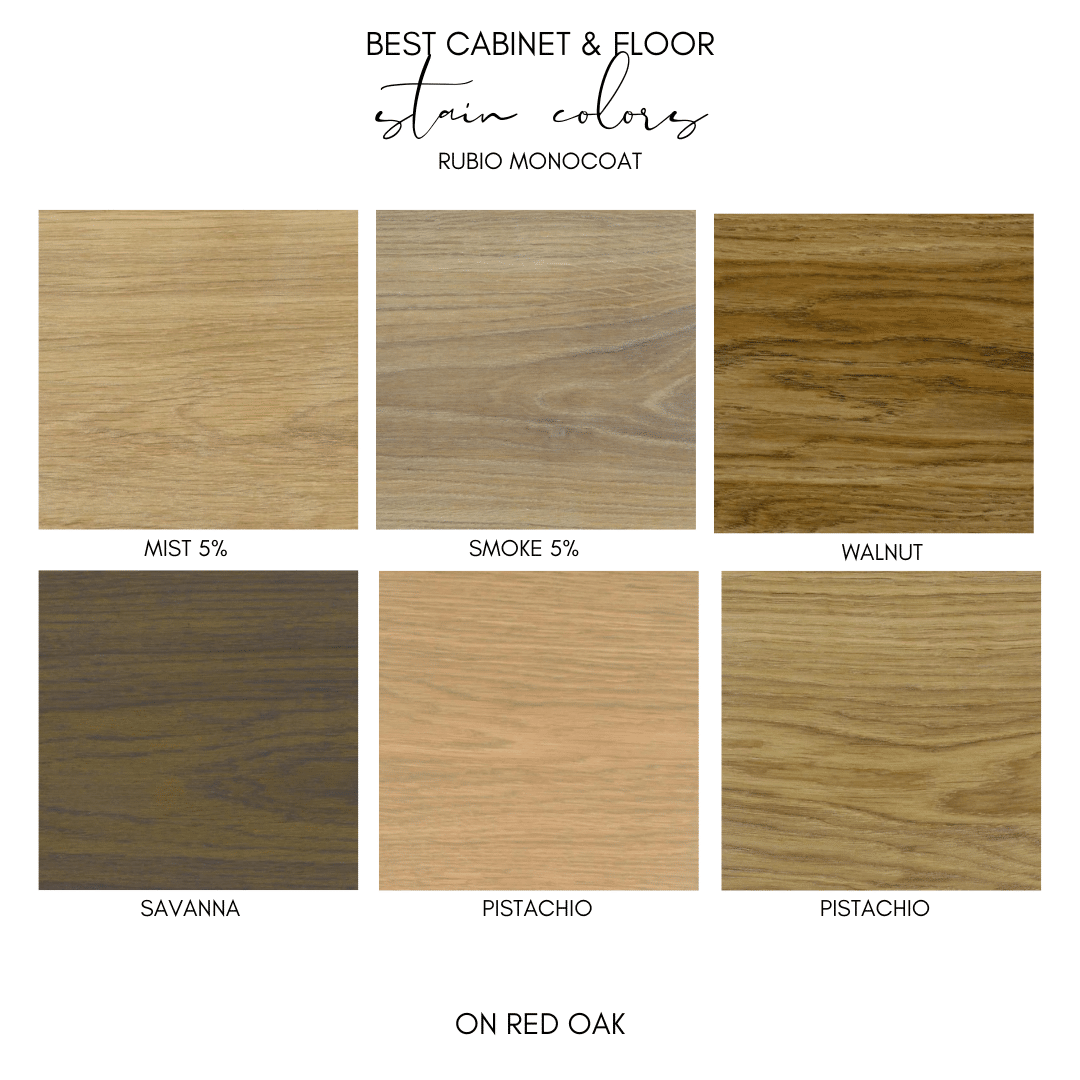 Minwax
Minwax wood stain is popular with many contractors because of the price. The downside of Minwax is the color choices are not as modern as Rubio and contractors who use Minwax primarily use oil based stain.
Driftwood
Fruitwood (water based)
Rustic Oak
Acorn Brown
Walnut
DuraSeal
Weathered Oak
Rustic Beige
Neutral
Medium Brown
Dark Walnut
These are my top rated wood stain colors for cabinets (and floors). As always, make sure to test out the stain colors and look at them in different lighting conditions to see what they will look like in all settings.
Need help making your builder grade oak cabinets work without replacing them, read this article.