BEST LEATHER COUNTER STOOLS FOR 2023
Find the perfect counter height barstool for your kitchen with these gorgeous leather options.
Counter stools
Counter stools are designed to be paired with a standard-height counter, which is 36″ tall. So a counter stool's seat ranges in height from 24 to 26″.
This is an island that is the same height as your outer counters. It isn't taller than the other surfaces. Counter height stools are the modern kitchen aesthetic.
Bar stools
Bar Stools are used at the portion of a kitchen counter that is stepped up (usually by 6″) from the rest of the counter.
This portion is 42″ high rather than 36″. Bar-height stools are also the most common match for pub tables. Their seat height is normally 30″.
HOW MANY BAR STOOLS WILL YOU NEED?
How many stools can you fit at a kitchen island? You may find yourself in a situation with 5 family members and only 48″ of counter space.
So, grab your measuring tape and measure your island or peninsula where the stools will sit. We are going to use this easy formula to see how many counter stools will fit.
Your counter stools will need 22″- 25″ inches of space each. Divide the counter length by 25″.
If the widest part of your stool is 16″-18″ allow 21″-22″ of space per stool.
If the widest part of your stool is 19″- 22″ allow 24″ to 25″ of space per stool.
If you choose stools that swivel and/or have arms, you'll need to add a bit more space between stools.
If you have a small island, opt for narrower stools without arms or even backless stools to provide a place to perch, but not sit for long periods.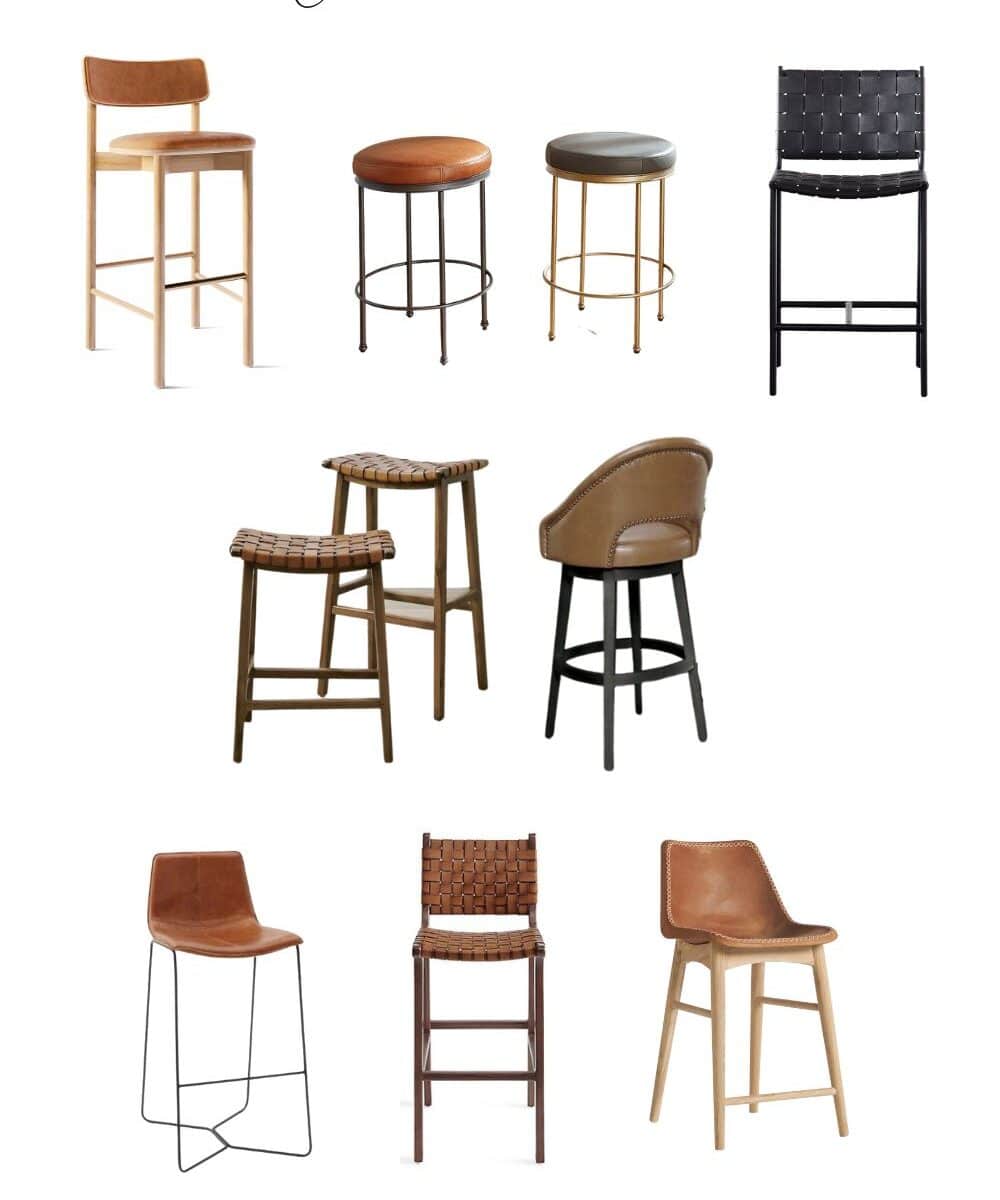 TIPS ON USING COUNTER & BAR STOOLS
Whether you use your bar stools for eating meals, doing homework, or just chatting while you prep dinner, choose the style and size that's right for your kitchen.
Warm up a white or gray kitchen with leather or natural woven stools
Use clear stools for a small kitchen
If you want stools that swivel, opt for 30″ per person for comfort
Choose a stool that suits the style of your kitchen
For kitchens where you will eat most meals at the counter, choose stools with fabric or extra padding for comfort
If you fall in love with fabric stools, Scotchguard them, because – food stains happen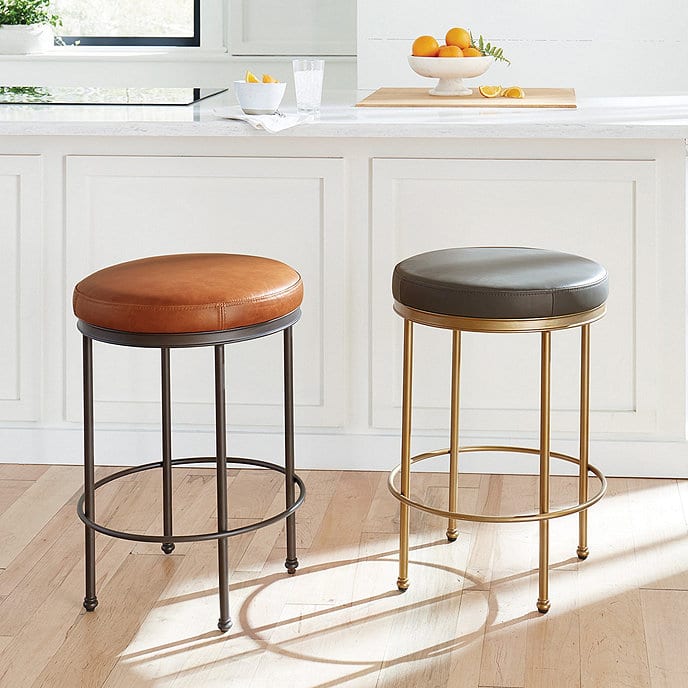 BEST LEATHER BAR STOOLS
Now that we've covered how to choose the right height and size bar stools, let's get into the best leather counter stools in each of these categories as well as some other favorites of mine.
Best Affordable leather counter stoolS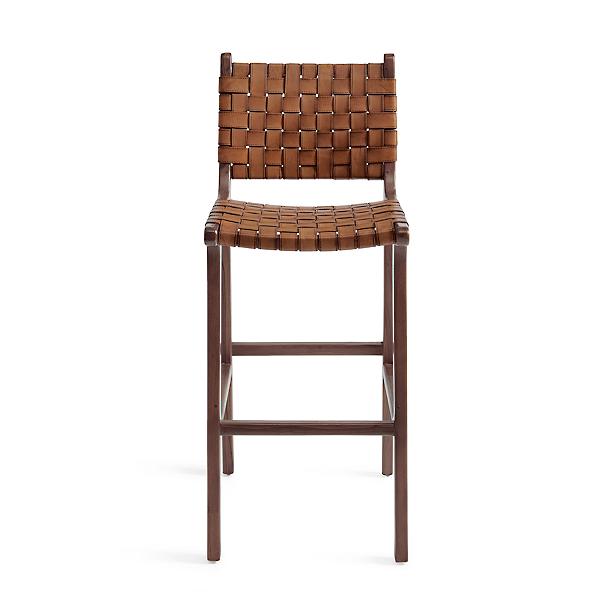 My number one pick is the Augusto woven leather stool because the straps create texture and the cognac leather color is gorgeous. You won't be disappointed with this pick.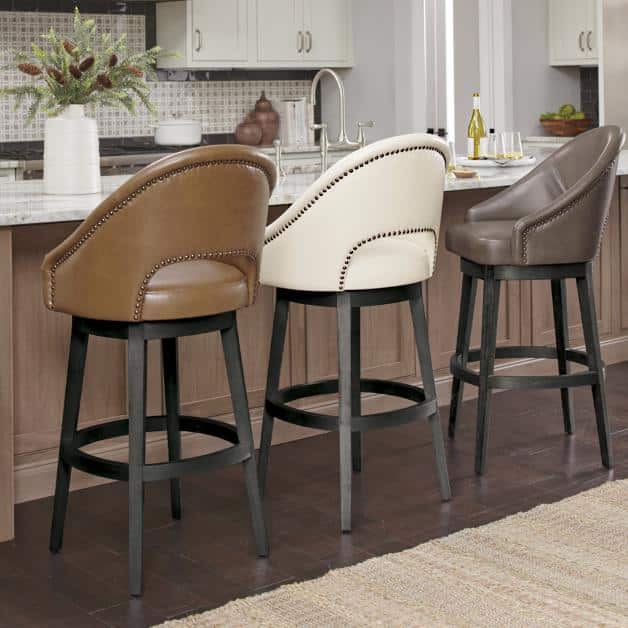 If you are looking for a heavier stool, and one that swivels, these Lusso stool are great for counters or your basement bar. The nailheads add a nice detail.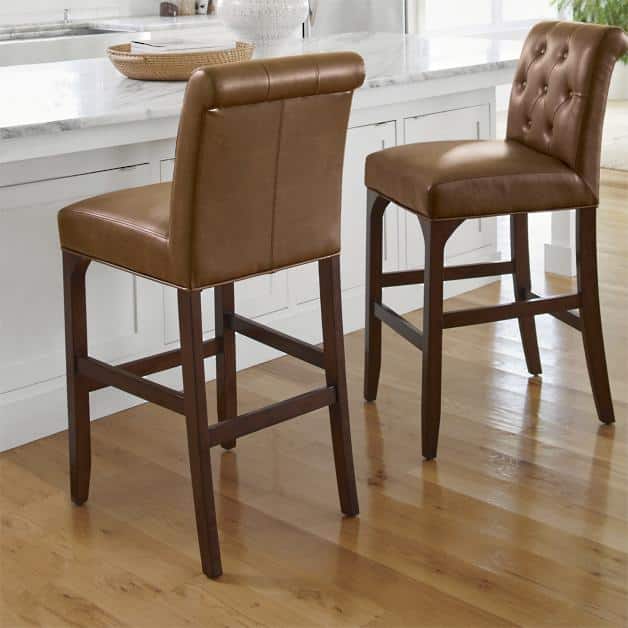 We love the Emmett tufted stool because of the little rolled edge at the top. The leather is gorgeous and the size is perfect for perching at the counter.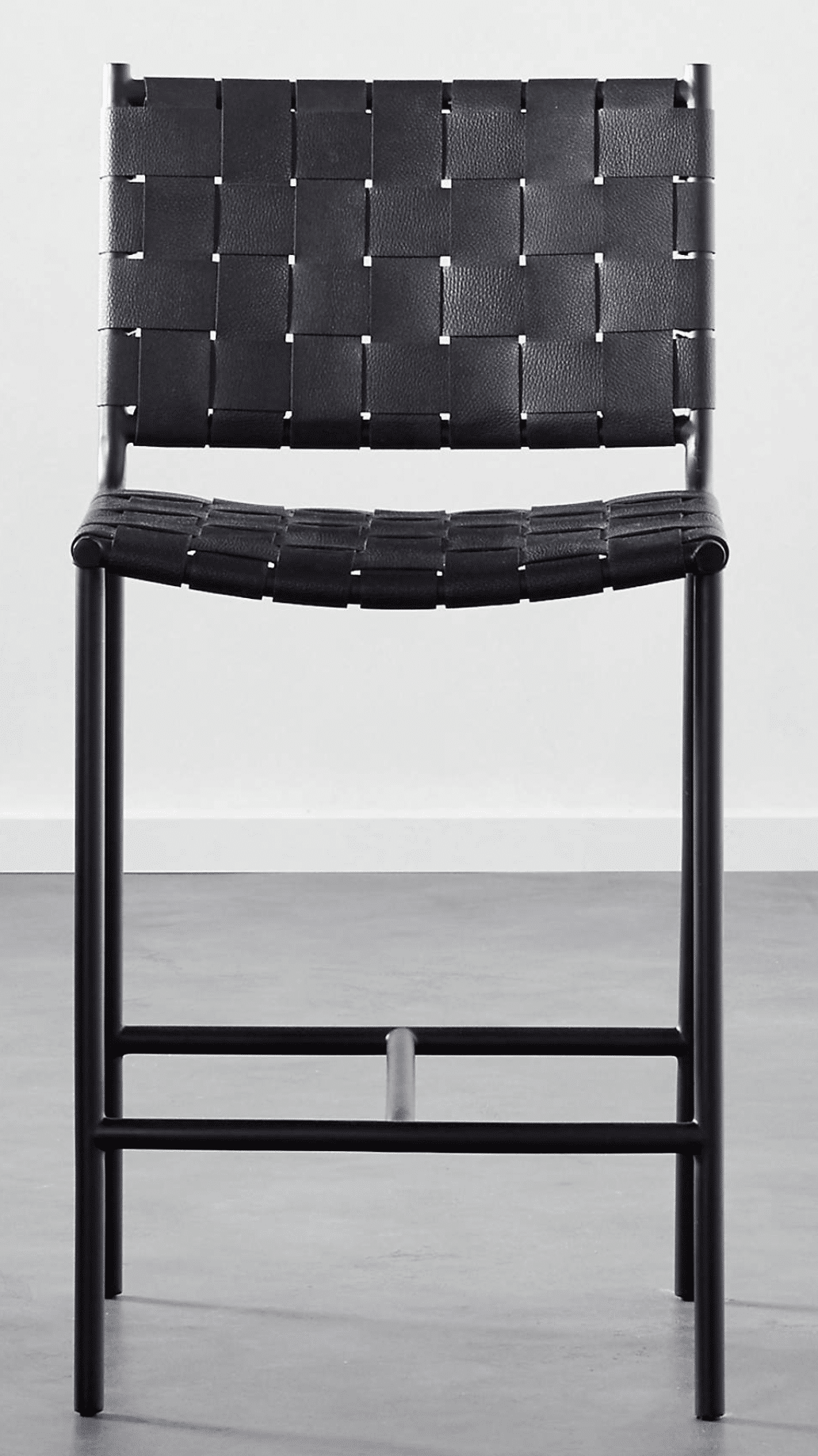 We've included the back leather and metal bar stool/ counter stool in our roundup because black stools are hard to come by! The weaving makes them look more expensive than they are and avoids that cheap shiny faux leather look.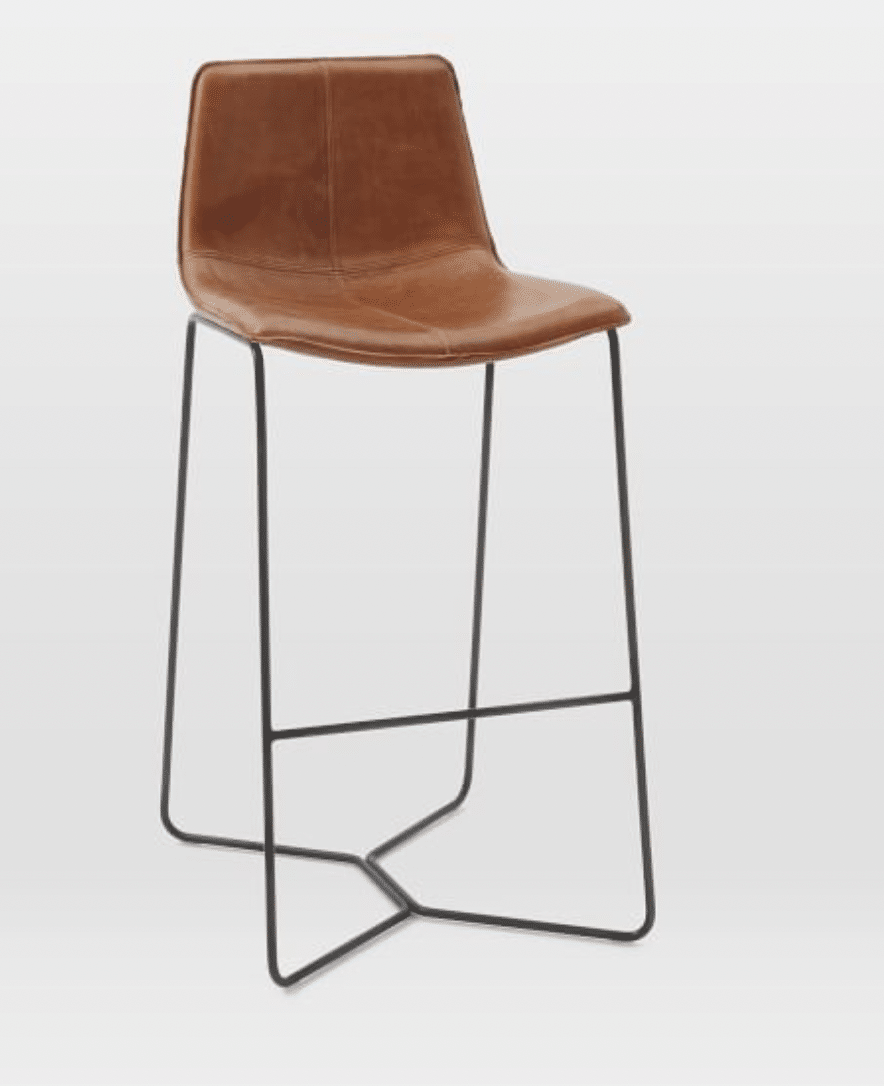 The West Elm Slope chairs are one of my favorite warm brown leather stools- they look great in almost any space and the slope is so comfortable to sit in.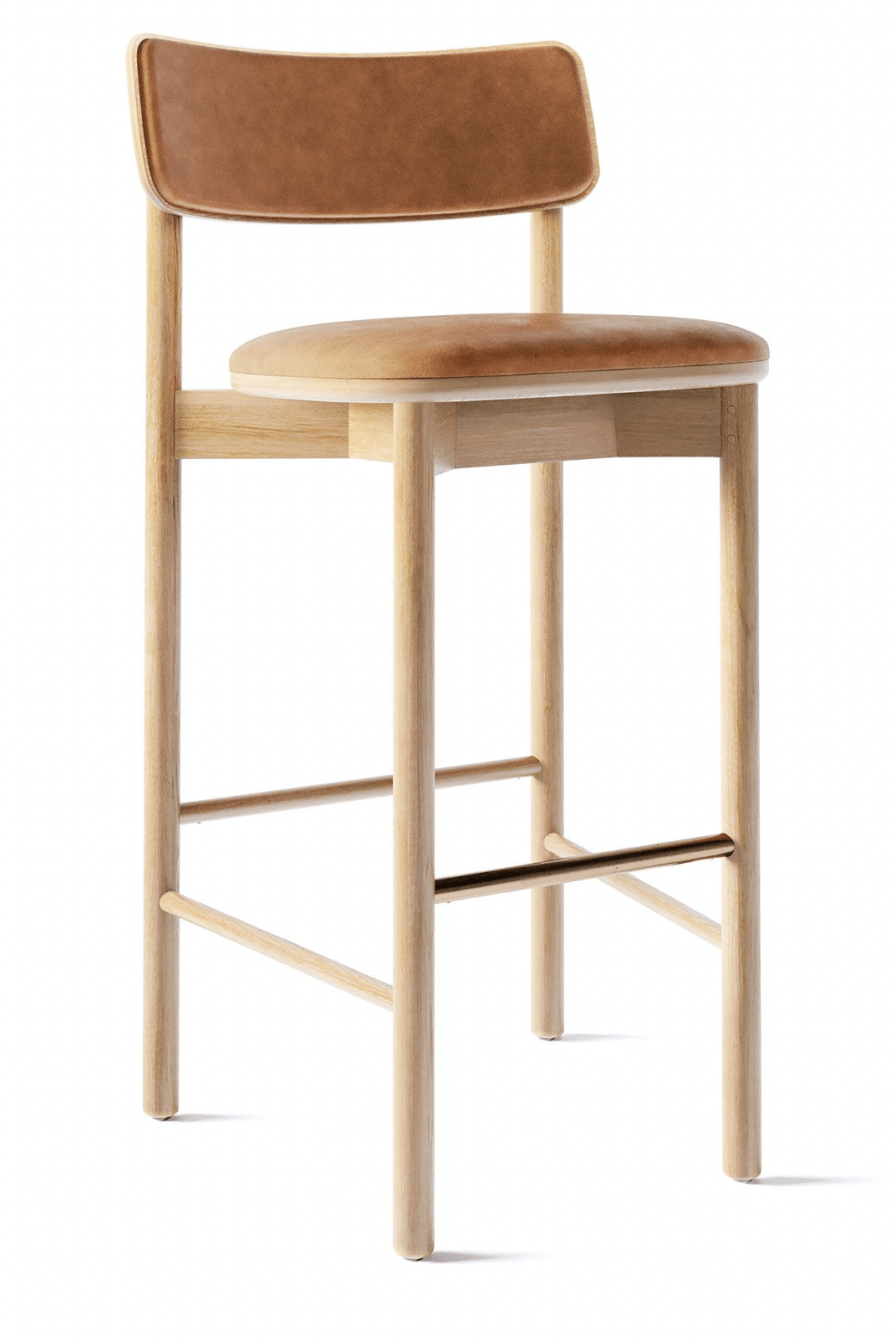 The Sadove bar stool is a great option when you love that organic feel that natural wood provides and the slim back creates an open profile that doesn't interfere with your view from the kitchen to the family room.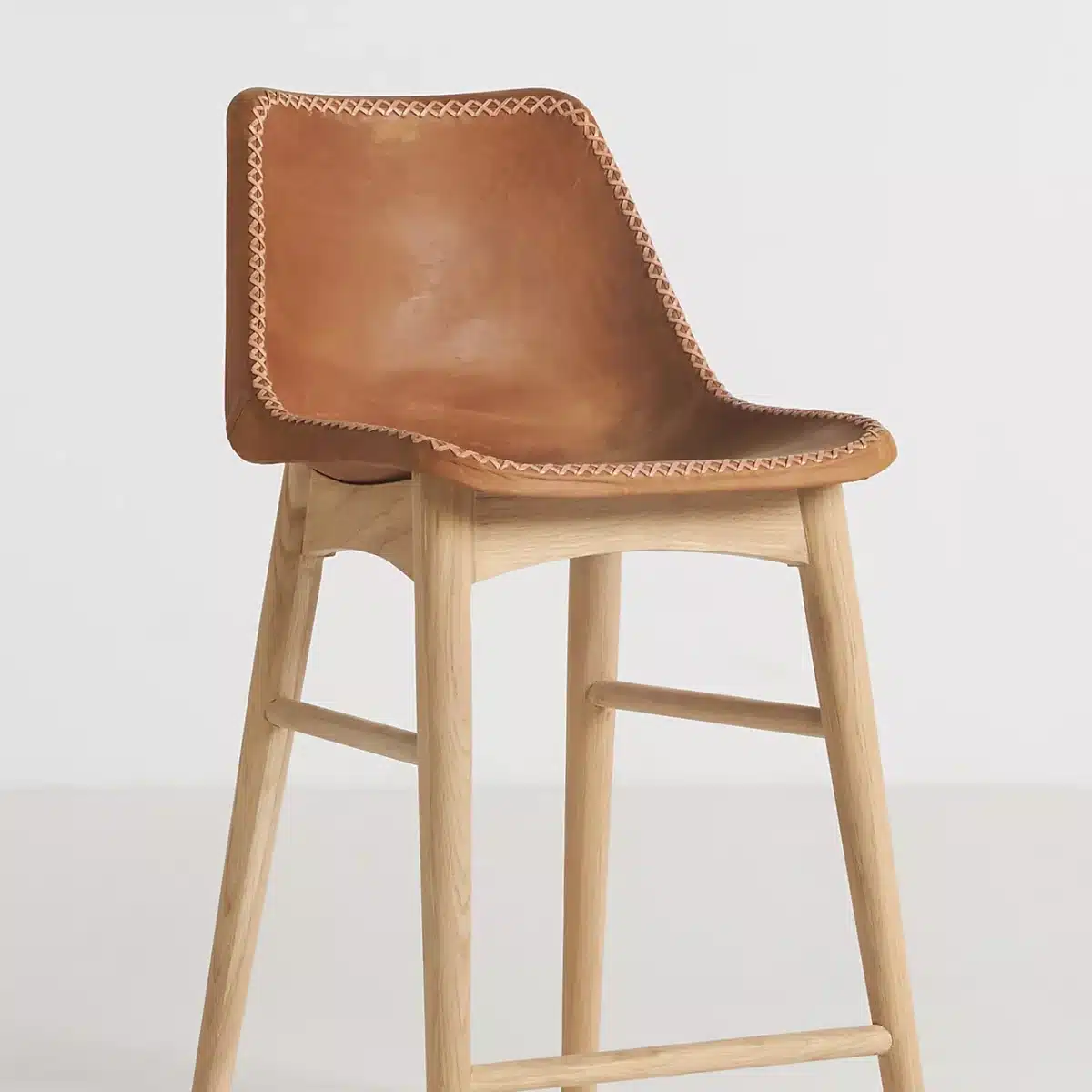 Backless Leather Counter stools
Sometimes you need a backless counter stool. Whether it's to save space, preserve the view, or hurry your prevent lingering (kidding), these backless stools will look great in your kitchen, bar or in a movie room.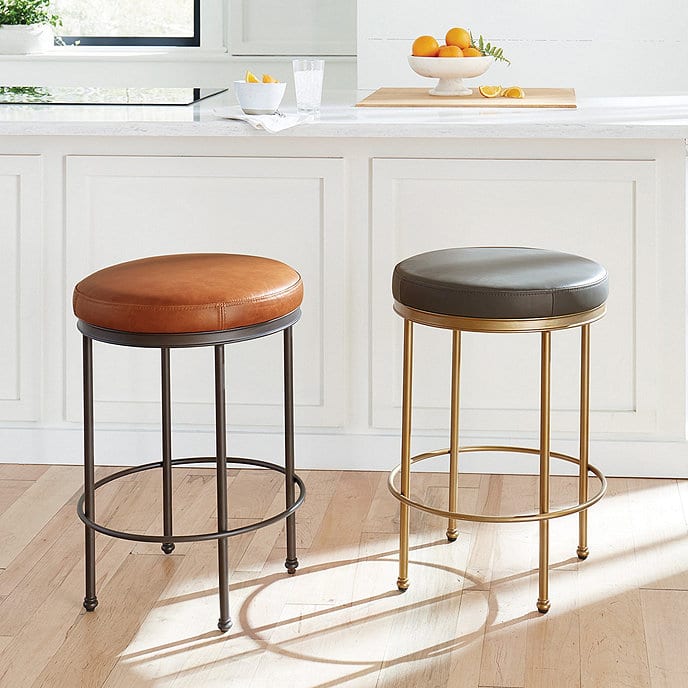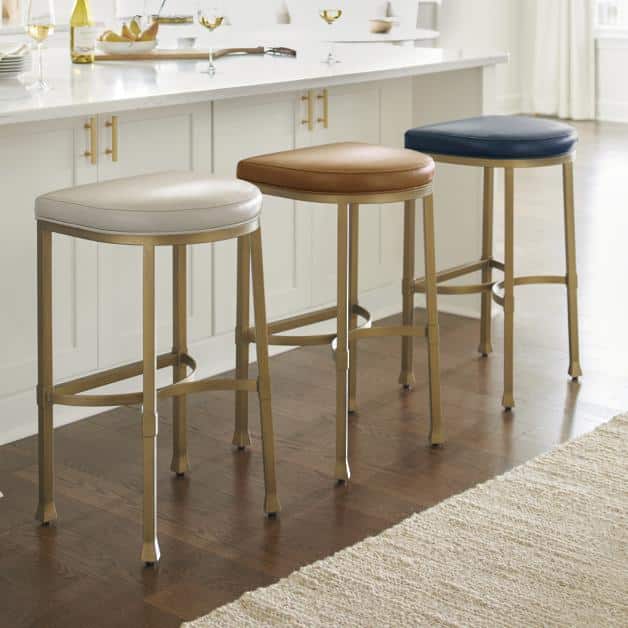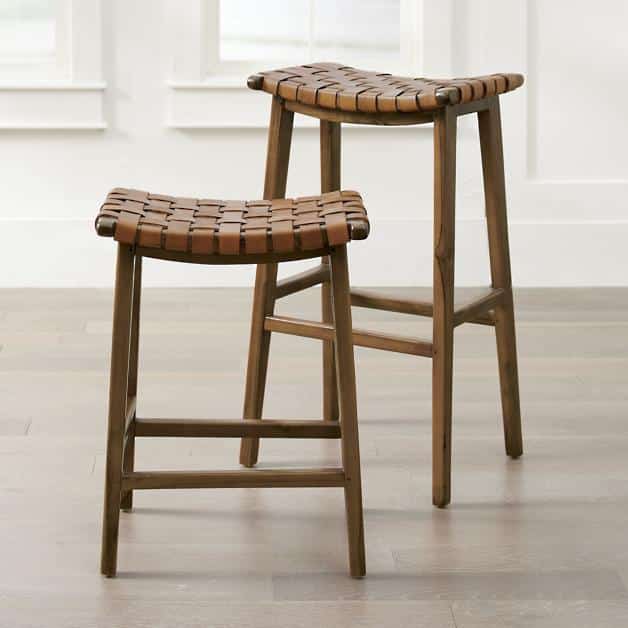 These are our favorite leather counter stools for your home! They provide the warmth and texture of leather and have an organic feel with the wooden legs. We know one of these will be the perfect fit for your space.
Stuck on stools?
Need help finding the perfect selections for your home, become a client. Online or in person.