THE TIMELESS LOOK OF A DUTCH DOORS + OUR GORGEOUS DUTCH DOOR & MORE
Are you thinking of building or buying a dutch door? After reading this post you will be sold on the beauty of dutch doors for your home.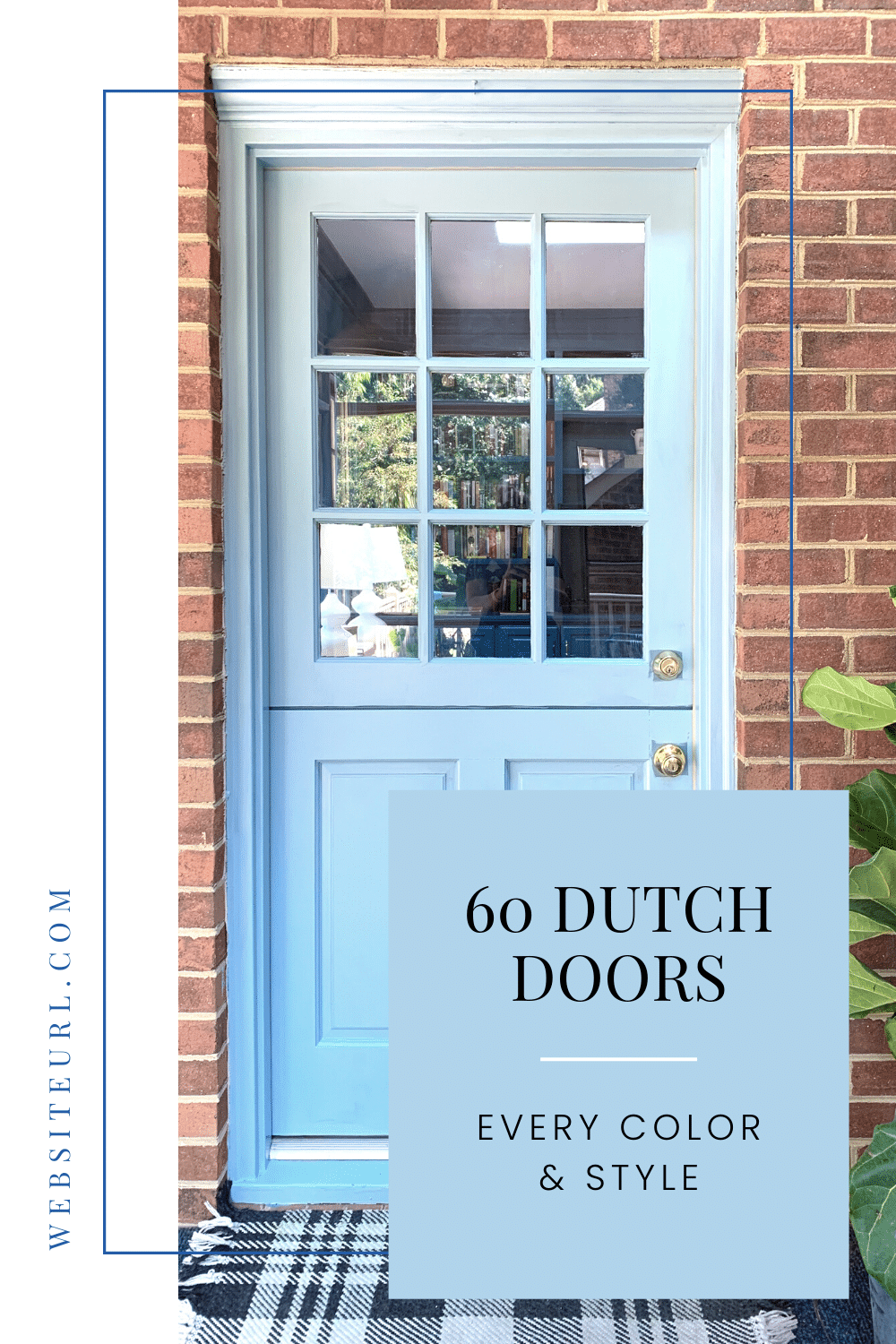 This post contains affiliate links- meaning when you purchase through the link and I receive a small commission. It feeds my Starbucks addiction & for that I thank you! You can see my full disclosure policy here.
What is a dutch door?
A dutch door, half door, also called a "stable door" is a door that is divided so that the bottom half can remain closed, while the top half is open. This is much like casement windows (hinges on the sides and they open outwards instead of up and down).
It can be either a single door that opens on the top and bottom or a set of double doors that both open outward on top and bottom- hence the reference to stable doors.
Can you guess why dutch doors were necessary in Europe in the 17th century?
The History of Dutch Doors
These old world beauties, stable doors (half doors), were first used in the Netherlands in the 17th century on working farms. They kept animals out, children in, and air moving through the barns and stables.
Dutch doors were then placed in farmhouses for the same purpose.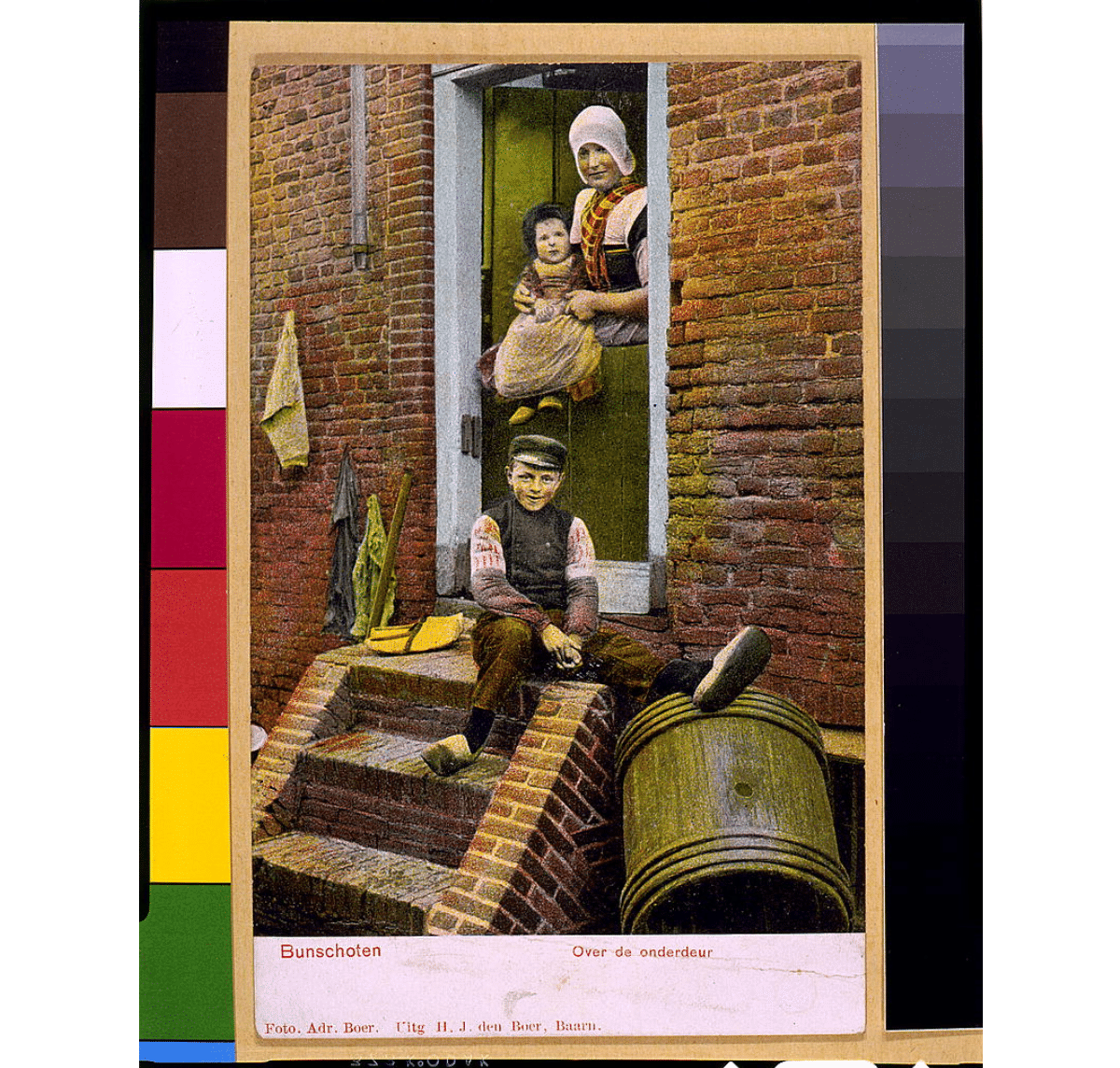 Title: Bunschoten — Over de onderdeur / Summary: Woman standing at Dutch door with baby and boy. Created / Published [between 1890 and 1920]; via: Library of Congress no. 92522709
As the Dutch settled in America, rural and agricultural, the dutch door was worked into architecture and is still often seen today in homes with a colonial influence.
Benefits of a dutch door
Let light in
A breeze and fresh air can blow through the room
Cuts down on dirt blowing in
Keeps animals and small children in or out
Farm animals can't come inside
Allows you to interact with others without entry
Aesthetically and architecturally interesting and beautiful
Our Blue Dutch Door
Recently (about 9 months ago) we moved into our current home. And if you followed along you'll know what sold me on this house.
In fact, we had toured a handful of homes (4-5) and considered putting in an offer on 2, but just weren't ready to commit to something that wasn't the best fit.
Then, when this house hit the market, I fell in love online. And even moreso when we came to see it in person (you can read all about it and take the tour here).
Can you guess what the number one selling point was?
You guessed it- I had an emotional reaction to the dutch door. I could see our family having a fire going in the fireplace with the door open to the covered porch, drinking coffee while looking outside.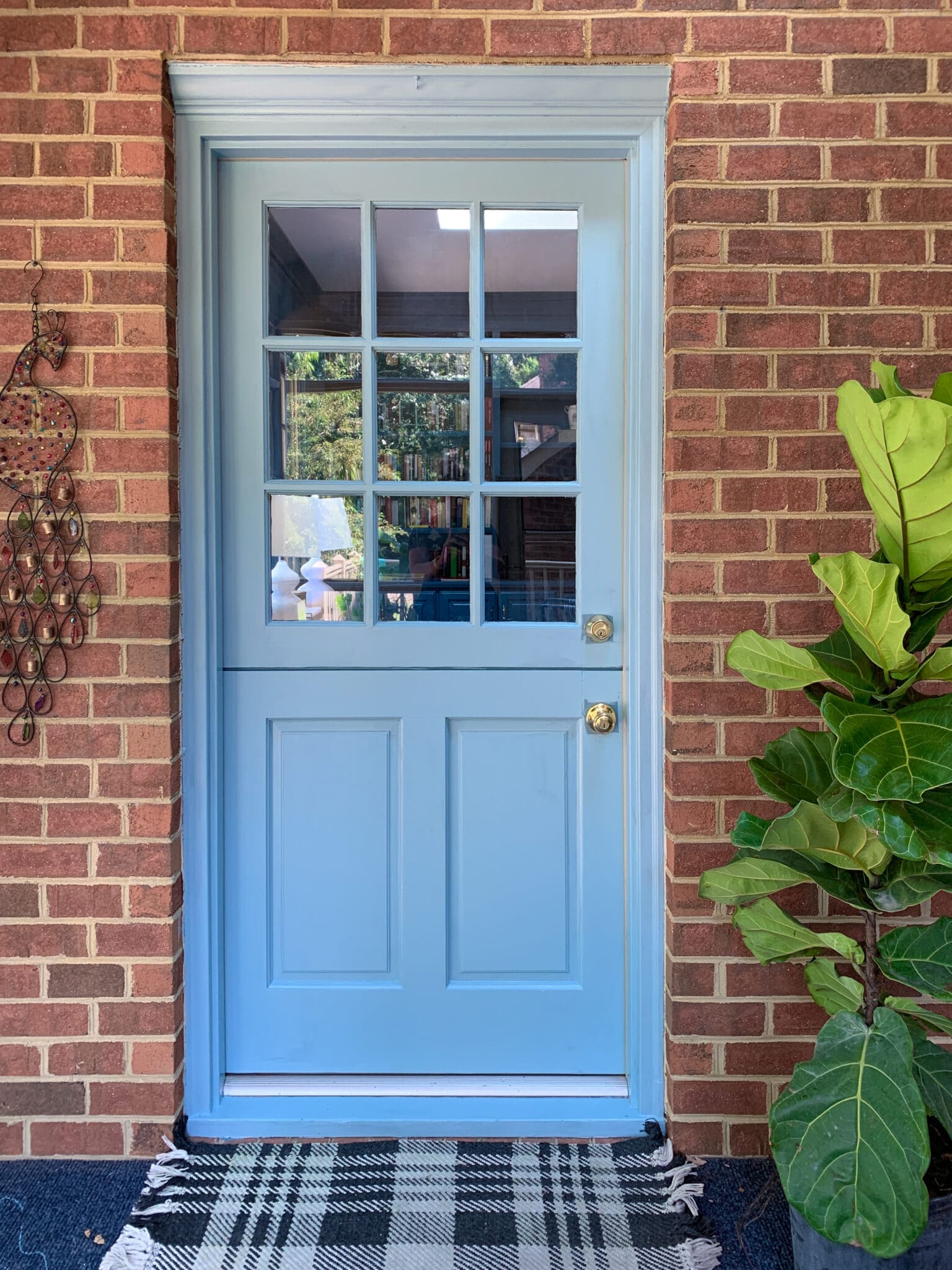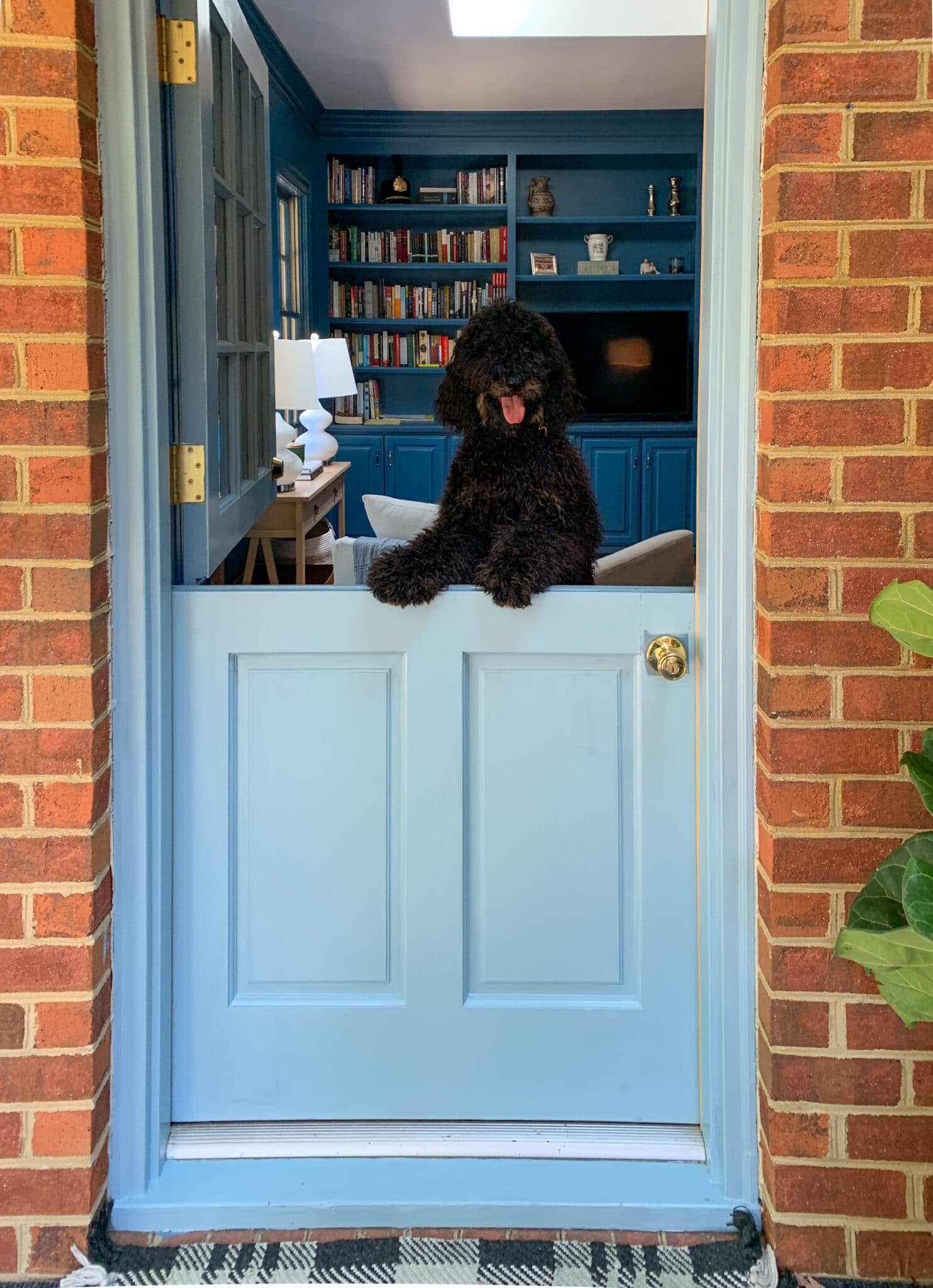 OUR DOOR SOURCES
Ours was custom made prior to us moving here.
However, you can find similar Dutch doors online HERE.
DUTCH DOOR HARDWARE:
Dutch door latch: Deltana MyKnobs
Door knobs: Emtek Classic Brass Knob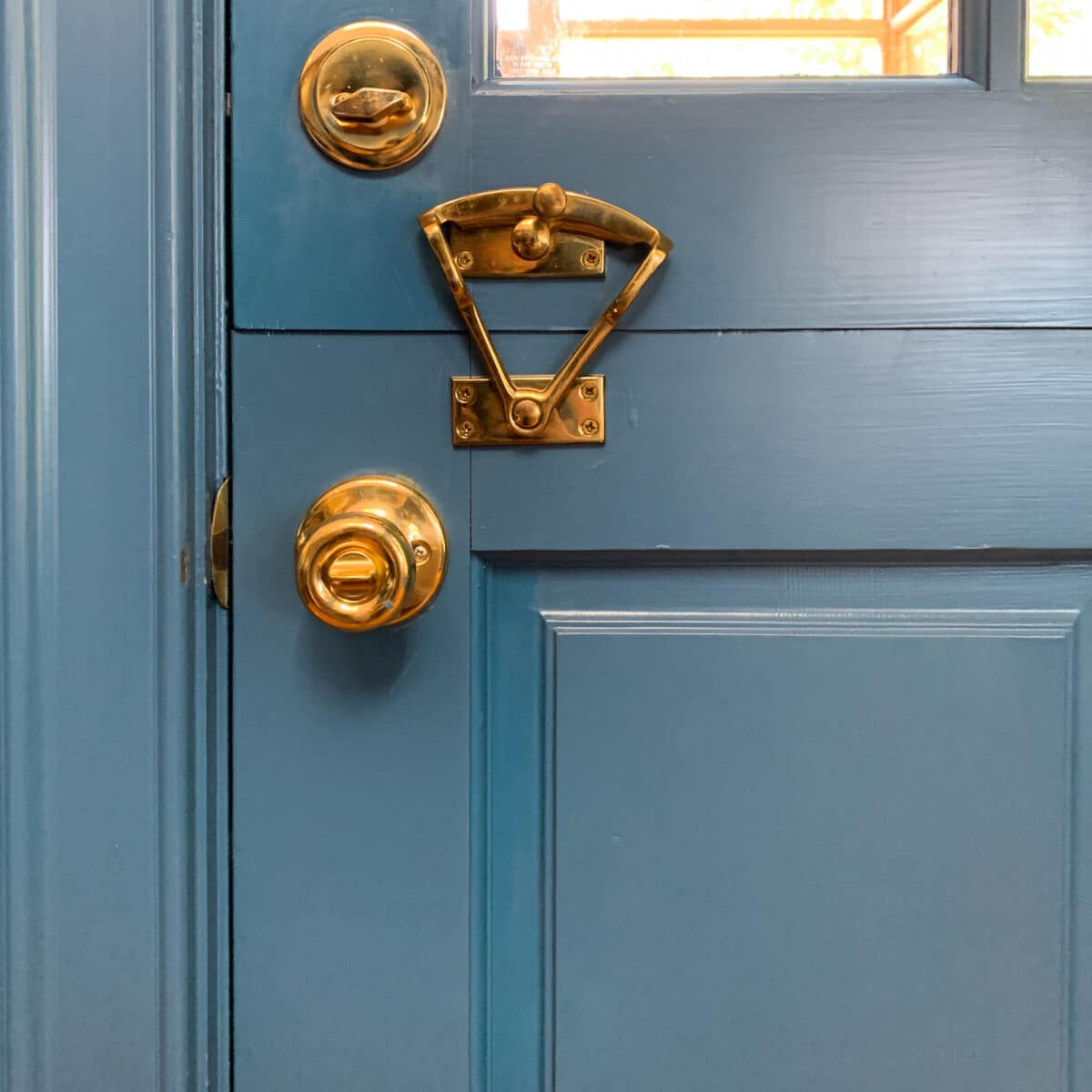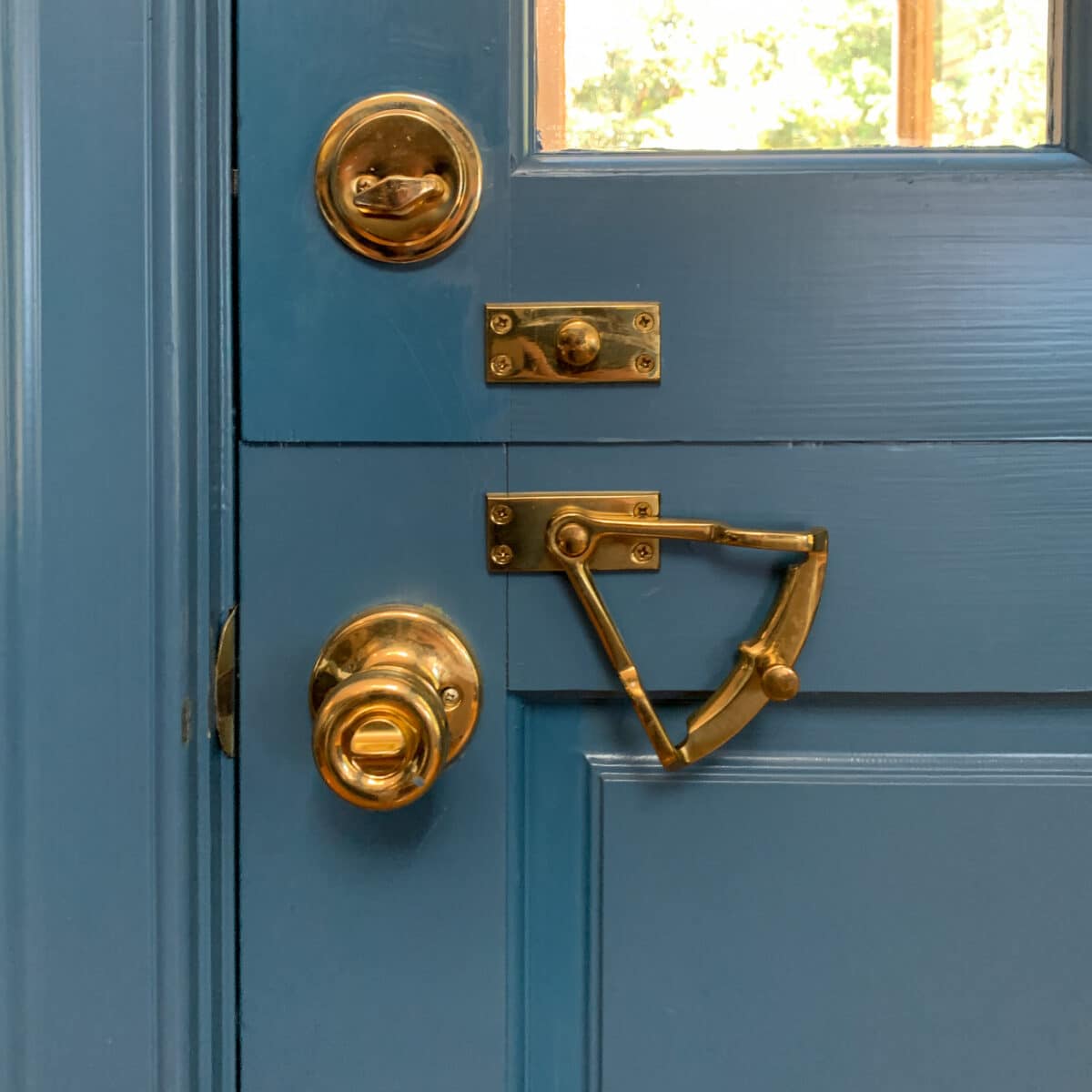 Gorgeous Dutch Door Hardware + Latch
I like that the door latch rotates upward and secures onto the small knob.
For this hardware, the moveable quadrant piece (looks like a piece of pie) is attached to the bottom half of the door. The knob is then attached to the top portion of the door so that the quadrant can connect with it.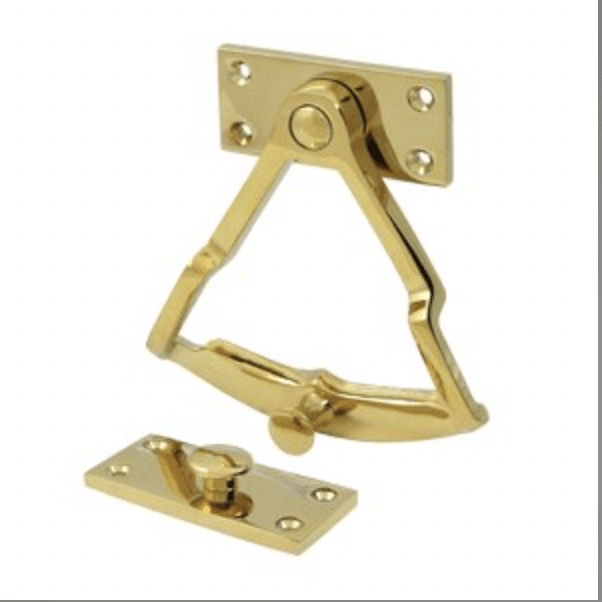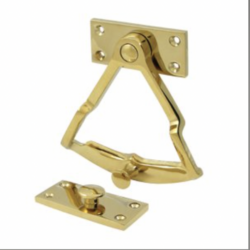 You will also need a regular exterior, locking door knob on the bottom half of your dutch door.
Optionally, you can add a dead bolt to the top half also as an added safety measure– in fact, I recommend this be done for an exterior door.
Do Dutch doors require special hardware?
Here's the scoop on dutch door hardware:
Hinges: You'll need a minimum of four hinges, two for the top half and two for the bottom half. Standard door hinges can be purchased as long as the spec sheet (download that from the vendor website) says that the weight the hinges can hold is more than the weight of your door.
Knobs and Locks: For the doorknob, you will want to purchase an exterior locking door hardware set that has a separate deadbolt.
The door knob is installed on the bottom half of the door and the deadbolt on the top, like with a traditional door.
Latch: The latch is a special piece of hardware that connects the top to the bottom section of the door. When the door is closed, close the latch.
To let in a breeze, unlatch the top and open it. Conversely, if you want to open the entire door at once, leave the door latched and open the deadbolt and knob- it will open like a regular door.
Hardware Finishes: You can have as much fun with the hardware finishes as you want- brass, polished nickel, black, or bronze, but stay consistent. Keep the knob, latch and deadbolt the same finish.
Weatherstripping: While this isn't technically hardware, you will need weatherstripping on all outer edged of the door frame as well as a strip in between the top and bottom halves, attached to the door itself.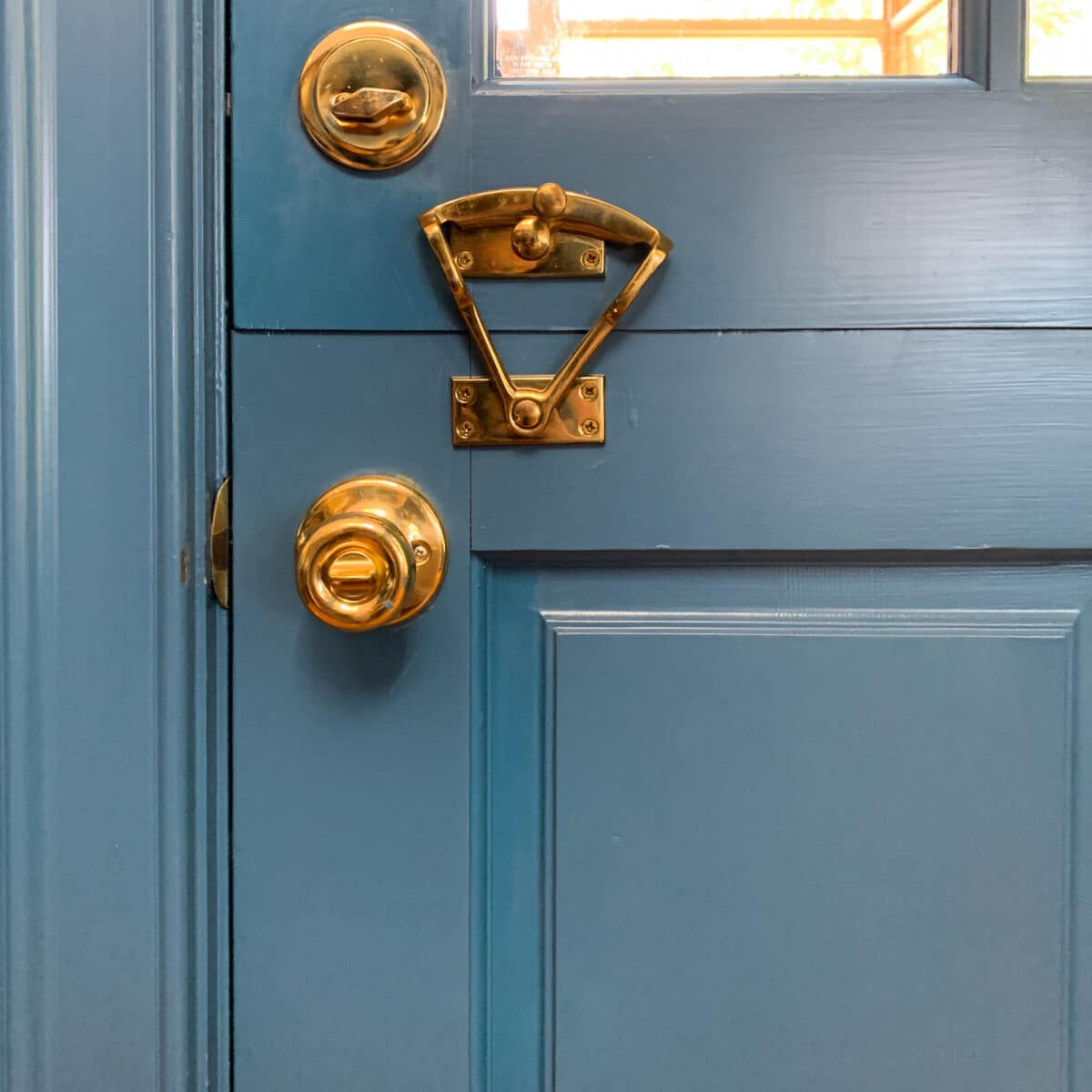 WHERE TO BUY DUTCH DOORS
You can purchase dutch doors from Home Depot (online) or a local woodworking company. Alternatively, you can special order them online through a vendor like Rustica or Etsy.
Exterior Dutch Doors
Most examples of these half doors are exterior doors that allow light and air into the home and keep children and pets safely inside.
They have an heir of history and tradition, with colonial or craftsman that make adding a dutch door to your home the right choice.
Here are my favorite examples fo dutch doors.
I love that the door below is painted black on the outside and a creamy, white on the inside. Paired with the black door hardware and entry lighting, it makes a perfect little nook.
This glossy blue dutch door, with brass hardware and multiple recessed panels and trim surrounding the door is likely the most classic, colonial example you will see. It is stunning!
Below, the vintage wooded split door is the perfect traditional farmhouse addition to the space.
Keep reading to see more dutch door examples in every color!
Interior Dutch Doors
Less common are interior half doors. But don't discount these door for the inside of your home.
They make great baby gates, pantry doors and practical pass through spaces.
Wood Dutch Doors
It's worth sharing a few doors that are stained and the grain of the wood is showing as opposed to only painted doors.
This style door lends itself to craftsman doors, sleek modern doors, and mid century modern, while painted doors tend to fit in better with traditional homes.
Besides the stunning glass sidelights, this modern dutch door struck me because of it's clean lines, neutral and matte stain color and the coordinating portico beams which tie the space together beautifully.
This is an example of a craftsman dutch door, as it has the large frame, arched window and the additional trim protruding along the break line. The black hardware completes the craftsman feel.
Mid Century Modern is best used to describe the door below with the black hardware, slim frame and angled wood detailing on the front panel.
In this particular entryway, the natural stain pops against the dark exterior paint color.
Painted Dutch Doors in Every Color
Now for the fun part of this dutch door roundup– the painted doors in every color!
Not only do dutch doors make a statement, paint them a fun color for an even more unique take on this tradition.
Blue dutch doorS
I'm partial to blue doors- I've had navy doors, light blue, dusty blue and now a bold blue and french blue door.
Blue paint is definitely a neutral in most people's book. Think about it- when you want to venture out and add color to your home, blue is a safe bet.
Why? Because we wear blue jeans, a blue suit, a blue blazer, blue shoes, blue jewelry, and we are accustomed to seeing a lot of blue everyday.
It is a comfortable choice that coordinates with almost every other color, therefore making it a safe choice- a neutral color in decor.
I adore this dutch door paired with the floral wallpaper in this classic mudroom.
Double doors are always a yes in my book!
Yellow Dutch doorS
Next up is the yellow front door. To be honest, I wasn't sold on yellow doors. I didn't think I would find any to share, but was I ever wrong.
While I don't typically spring for yellow, these yellow doors blew me away.
Paired with modern house numbers, this door is a modern dream.
A citron color to die for.
Now this door stopped me in my tracks. I was STUNNED by its beauty against a white cedar shake house with black window casings and modern house numbers.
Plus that white picket fence and cute pup.
Bold, but good.
Pink, red and Orange Dutch Doors
I was surprised that they're are not more pink dutch doors. Given that millennial pink was a trending color for so long I though more doors would be pink.
However, I have a few classic pink, red and orange door examples for you below.
Light pink is what I was envisioning for doors.
But you know I love this hot pink door with the topiary planter next to it. What a cute little shop.
Is it red? Is it orange? Persimmon is the best descriptor for this door.
A cute shed or chicken coop mini dutch door.
HOT PINK and black for the win. While I'm not sure I could pull this off, it is stellar. I love that the owner went bold and really embraced the entryway.
Green Dutch door
There were fewer green dutch doors than I expected. With the doors being exterior and close to nature, I assumed I would see more.
And if you remember, my house had a green dutch door when we moved in. In fact, that door sold me on the house. I liked it- but once I saw the door, I loved it.
The green door has since been repainted blue, which I also knew I would do before we even put an offer on the house.
Nonetheless, here are a few charming green doors to envy.
The door below is unique in that it is wider than the average front door, and the top half has interesting woodworking details.
How to Build A DIY Dutch Door
Lastly, I don't have the skill to build a dutch door myself, but I have found the best articles out there for you to use as a guide to DIY your own door.
This Dutch Door baby gate was worth sharing as a stair gate alternative.
How to make a dutch door from a regular door
And I found a few more articles where already installed doors were converted into dutch doors by the owners.
This Old House was one of my favorite shows to watch on the weekends with my dad. He was a builder at one time, so he related to the projects and woodworking.
FREQUENTLY ASKED QUESTIONS ABOUT DUTCH DOORS
What hardware do you need for a Dutch door?
You will need to purchase a locking exterior door knob and dead bolt set as well as a quadrant latch (dutch door latch) and four hinges.
How do you keep Dutch doors together?
A latch is attached to the bottom half of the door which swing up and connects to the top half of the door, keeping the door halves together when you open the door.
How does Dutch door hardware work?
A quadrant latch keeps both sections of the door together, while the exterior lock set and dead bolt function exactly like a single door. The latch is attached to the bottom half of the door and a small knob to catch the latch is installed on the top half.
Can you make a Dutch door from a regular door?
Yes, you can split a regular door in half to build a dutch door, but you will need to add additional hinges, weatherstripping, latch and possibly wood to finish the raw edge.
How much does a Dutch door cost?
If you build the dutch door yourself, you will spend around $200 for the hardware, whereas purchasing a door and having it installed will cost between $750 to $3,000.
What do you call a door that splits in half?
A door that splits in half is called a dutch door, half door, or stable door, named after the doors originating in the Netherlands in the 1600's on farms.
Is there another name for a Dutch door?
Dutch doors are also called split doors or stable doors, as they originated from the Dutch who were primarily agrarians with family farms. These doors are great for keeping animals out and letting air and sunlight in.
Why do they call them Dutch doors?
Dutch doors get their name from their origin which started in the Netherlands (the Dutch) in the 17th century when family farming was the way of life. The doors then followed the colonization of the Americas, wherein we still have strong colonial influences in architecture today.
What is a surface bolt?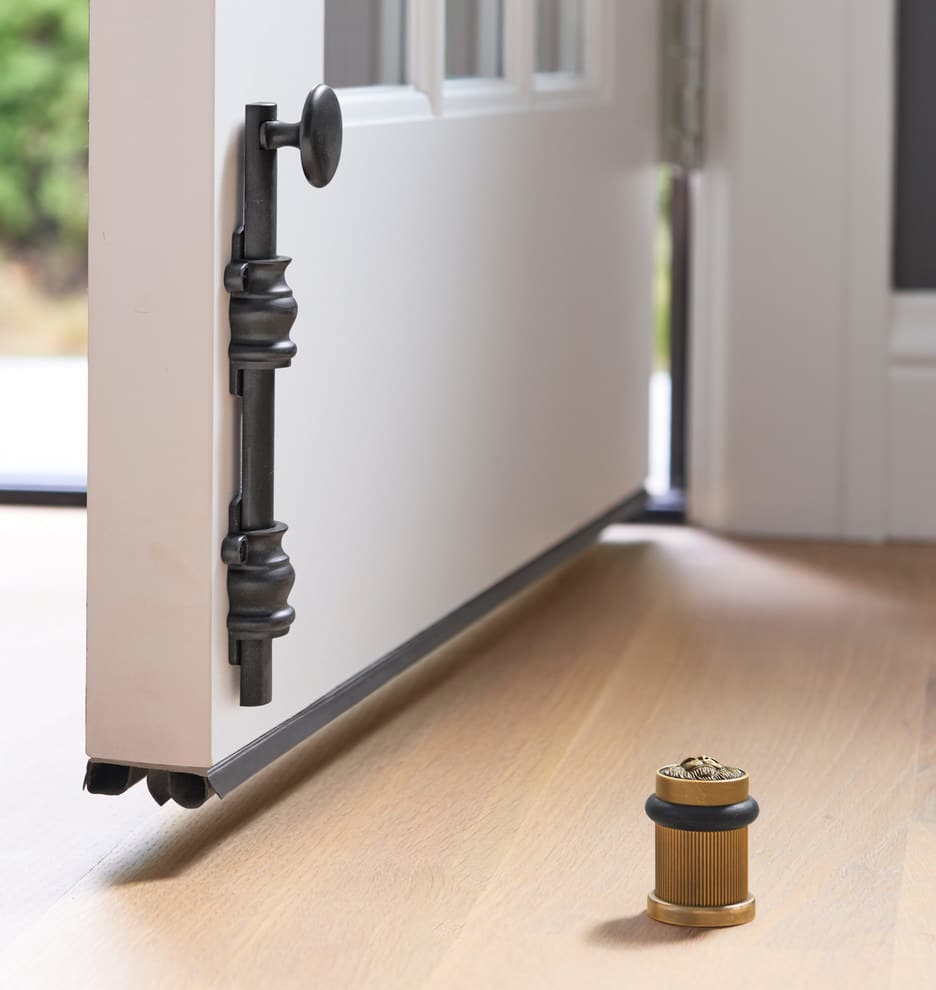 CONCLUSION ON DUTCH DOORS
Are you convinced you need a dutchie in your life?
Whether traditional or bold, a dutch door can improve your quality of life by letting in fresh air and sun light, while keeping your pets and little ones safe.
Recap:
Called half doors or stall doors
Let in light and air
Keep livestock out of the house
Add architectural interest
Have gorgeous hardware
Need 4 hinges, 1 locking door knob set, 1 deadbolt set and a dutch door quadrant latch + weatherstripping
Can be stained or painted
You can purchase or DIY a dutch door.