How to Freeze Green Beans that are Fresh from your Garden
This summer our garden has kind of been a flop. While the cucumbers and squash didn't grow as well as they usually do, the green beans flourished. We picked and ate them multiple times with our dinner and decided to pluck and freeze the rest for later use. I am going to share a quick and easy way to freeze green beans from your garden so that you can enjoy them all year long.
Why Freeze green beans?
Why freeze green beans? Well, you have three choices: eat them, freeze them, or can them. I prefer frozen vegetables to canned because they remain firm. Luckily, I've cooked mostly fresh vegetables for the majority of my adult life and really prefer them firm and bright green over slightly soft. I also like to control the saltiness, which can be overpowering when canned. It is total preference here. If you love canned green beans, let me know in the comments and give me your secrets!!
the Garden
Here is a photo of one of the eight raised garden beds we grew veggies in this year. Silas is hard at work picking the beans so that I can cook them. (This particular variety is Yellow Wax bush bean, which tastes like green beans even though they are yellow. They have a very earthy flavor).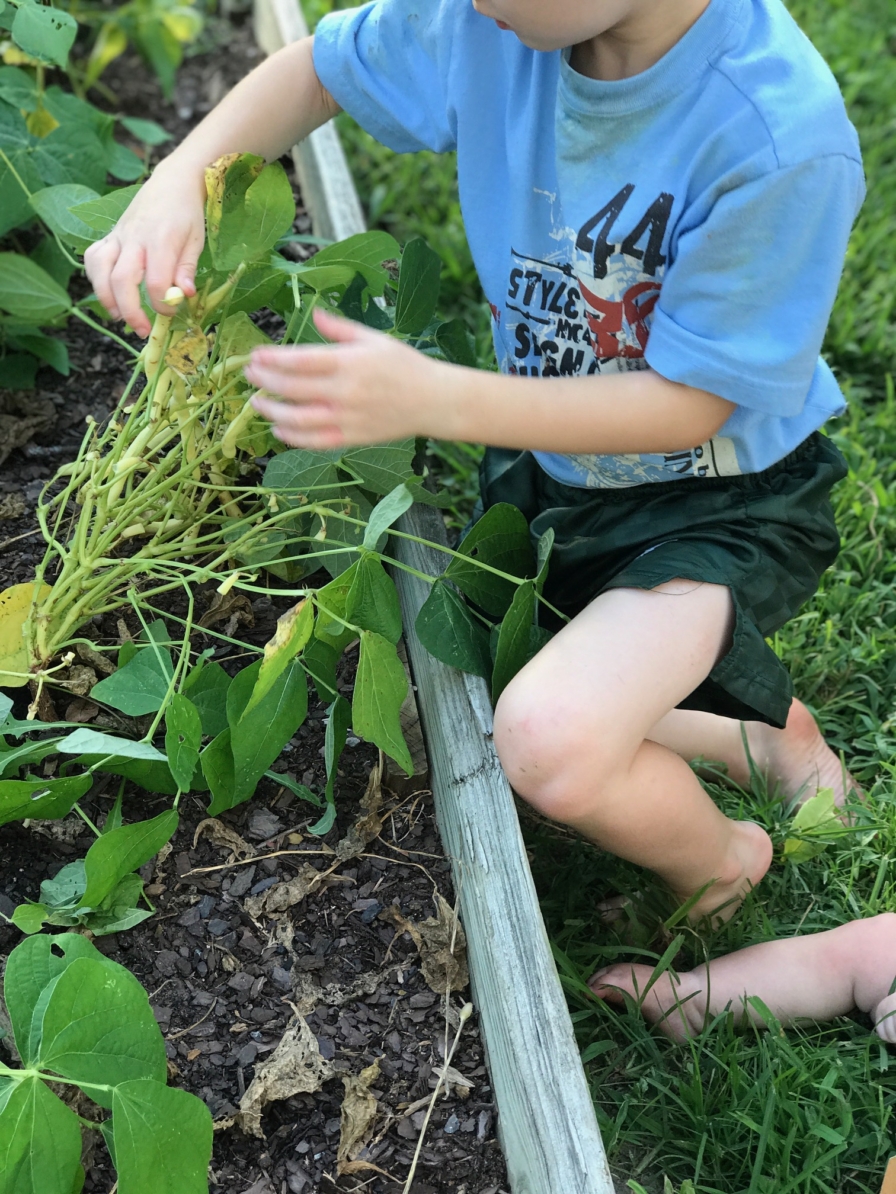 Alright, grab your supplies and let's get started.
What you'll need to freeze green beans:
How to Freeze Green Beans from the Garden
Wash beans. Trim or snap off ends.
Boil water in large dutch oven.
Once boiling, drop beans and boil for 2 minutes.
Remove beans from water and place in ice cold water bowl to stop the cooking process. I do this in the sink.
Pat green beans dry.
Place beans single layer on a cookie sheet and place in freezer until frozen. Place desired serving size in ziplock freezer bags.
Don't forget to date the frozen green beans before placing them in the freezer. *Best eaten within 6 months.
How I cook them:
Boil water, drop in frozen beans, boil for 3 minutes until bright green, drain and add grass fed butter and salt.
What do you think? Pretty easy isn't it! Will you and your family try freezing green beans this year? Lastly, I'll share this sweet green bean face?
Happy Gardening, friends!
SaveSave
SaveSave