Quick and Easy Handmade Nautical Thank You Cards
Do you want to make a handful of super quick and easy handmade Nautical Thank You Cards? I've got the perfect DIY for you. I made 20 of these handmade cards in just ten minutes with a few supplies and a little bit a prep work.
Now I am always looking for an easy craft that doesn't take a lot of time. For these cards, I needed some masculine (or non feminine at least) thank you cards. Since my time is limited to when the kids are sleeping, I came up with this quick and easy handmade nautical thank you card.
I grabbed my Land to Sea stamps and came up with a simple, easy to reproduce card that could be made assembly line for the hundreds of Thank You cards I will be needing in the near future to send out to donors, customers, and friends who are invaluable to our family.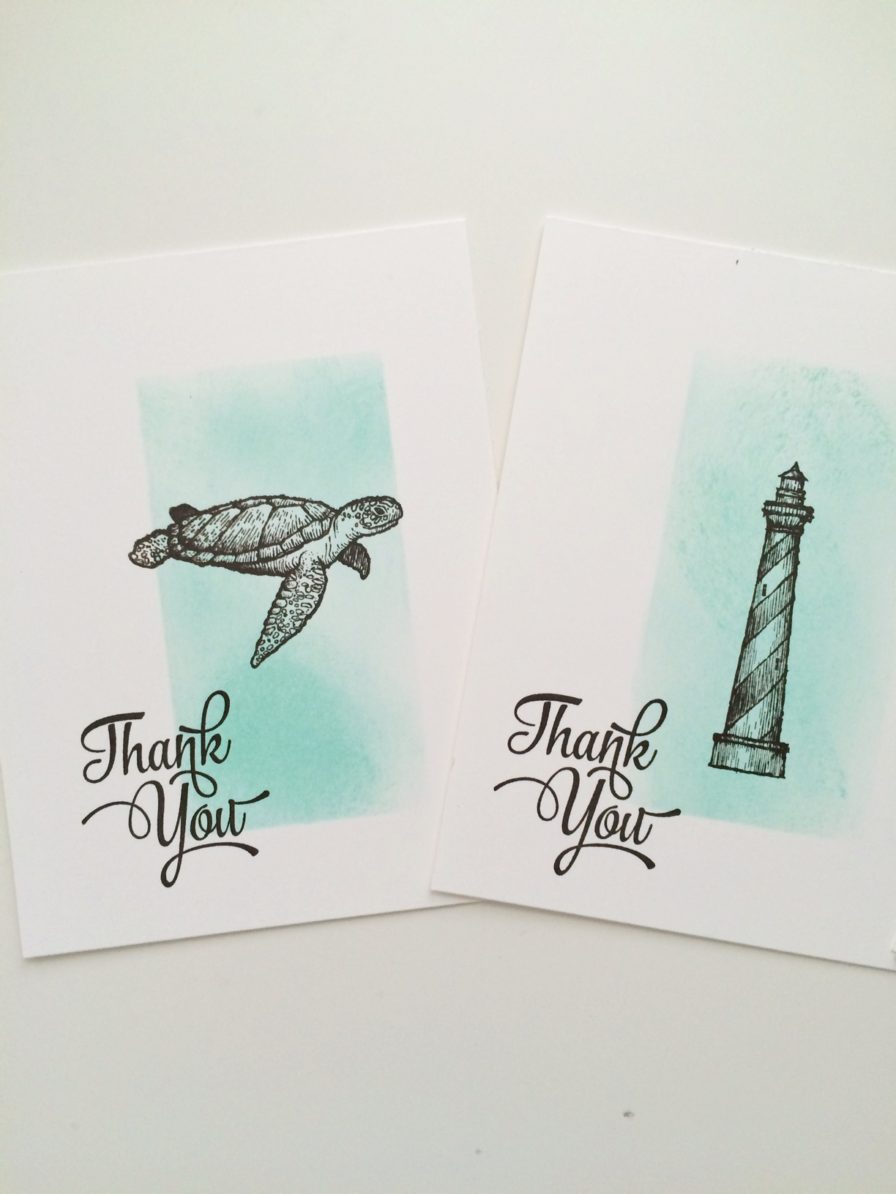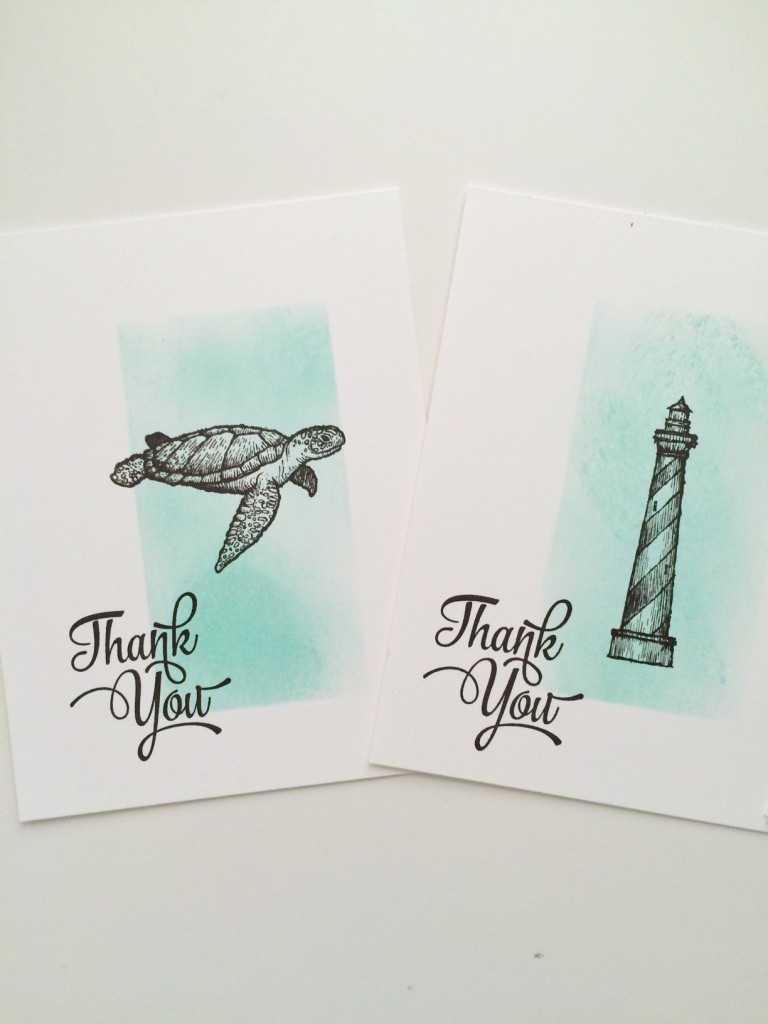 Simple, But Beautiful
Here is what I came up with: a light blue sponged block with the images stamped in Espresso stamped images. I used one of each large image from the stamp set and added a Thank You sentiment. (The supply list is below for your convenience).
Are you ready to start making a batch of these Nautical thank you cards?
Supplies
sheet of 8 1/2″ x 11″ White card stock
light blue ink
sponge
heavy card stock (for making a frame)
Sentiment stamp & dark ink
Nautical stamps of your choice
Paper trimmer
Directions
Cut card stock in half at 4 1/4″ (short 8 1/2″ edge at the top of trimmer).
Score the two card stock pieces at 5 1/2″. Fold in half.
Create a Frame to Sponge
Cut a piece of scrap card stock that measures 3″ X 5″.
Measure in 1/2″ on each side and cut out the center to form the negative space to form a frame that you will sponge. Start with the 3″ side along the top of the card stock Trimmer. Begin the blade at 1/2″ and cut down to 4 1/2″mark.
Then flip the card stock over to its back and repeat at the same 1/2″ measurement. You will have two vertical lines.
Turn the card stock 90 degrees so that the 5″ side is along the top of your trimmer and connect the two cut lines which start 1/2″ from the top.
Flip the card stock to its back and connect the remaining two lines.
This gives you a sturdy frame template to sponge within on each card.
Sponge the background
Dab the sponge on the ink pad to pick up light blue ink.
Press the frame tightly to the front of the white card stock.
With the inked sponge, press firmly and move the sponge in a circular motion to ink the paper.
Repeat on as many cards as desired.
Stamp the images
Using a dark ink, stamp the nautical fish or lighthouse image on the card, over the sponged area.
Ink the Thank You stamp and stamp the front of each card.
Grab an envelope and you're done.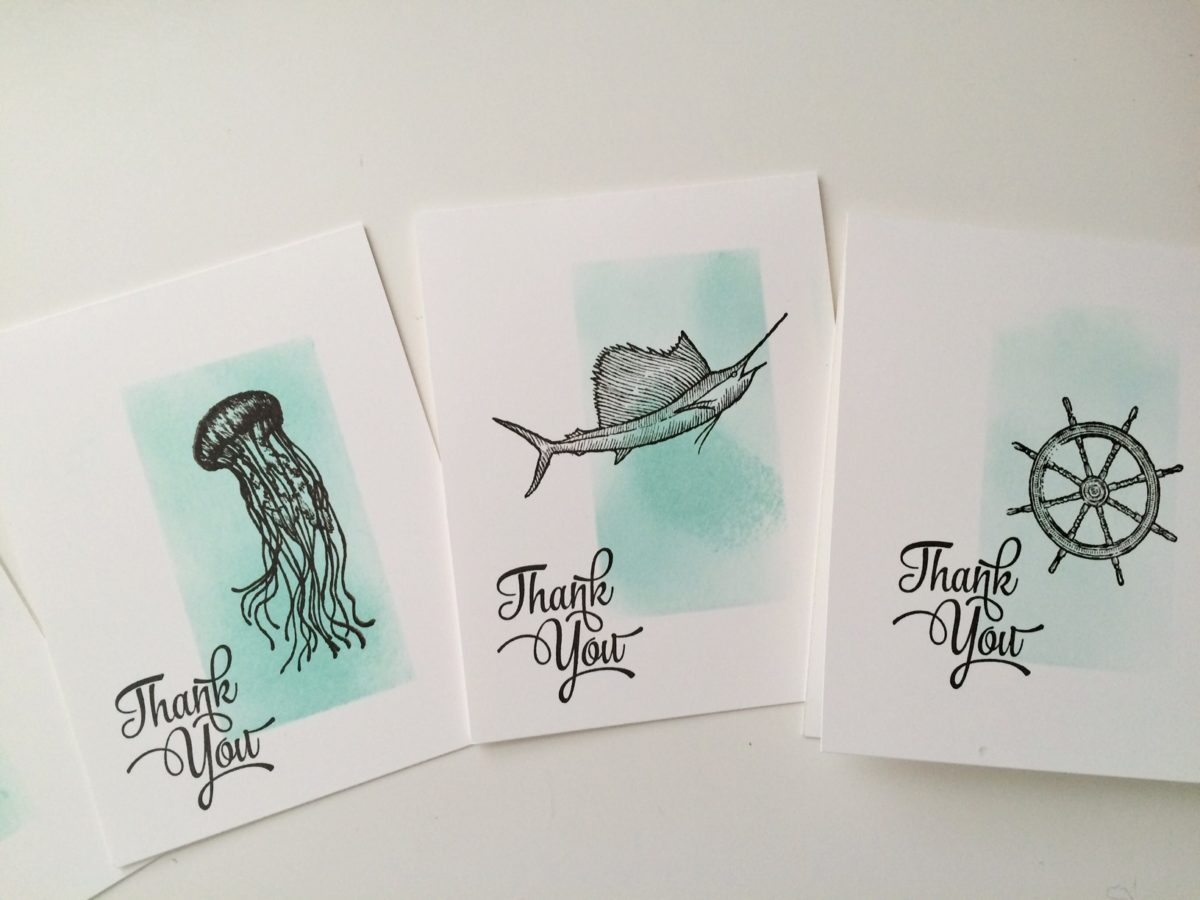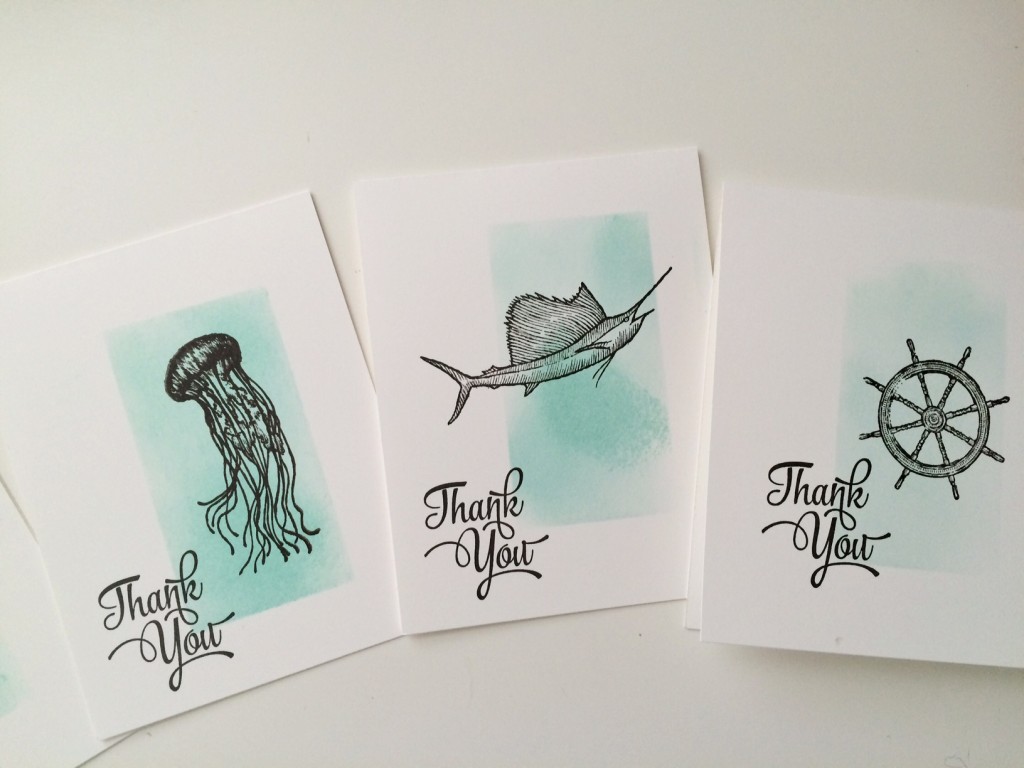 Lastly, here is the entire set, because card sets are amazing! How beautiful did these turn out?!? The simplicity of this card makes it easy to duplicate and because it is a single layer, it goes even faster.
Tips for making a Set of Thank You Cards
Score all Whisper White paper at 5 1/2″, then cut all pieces at 4 1/4″ first.
Then sponge each card front (I did 20 at once) and set them in a pile.
After you have sponged every card, stamp the image on each card (I started with 4 of each image, i.e. stamp four turtles, stamp four jellyfish, etc.).
Lastly, stamp the sentiment on each card.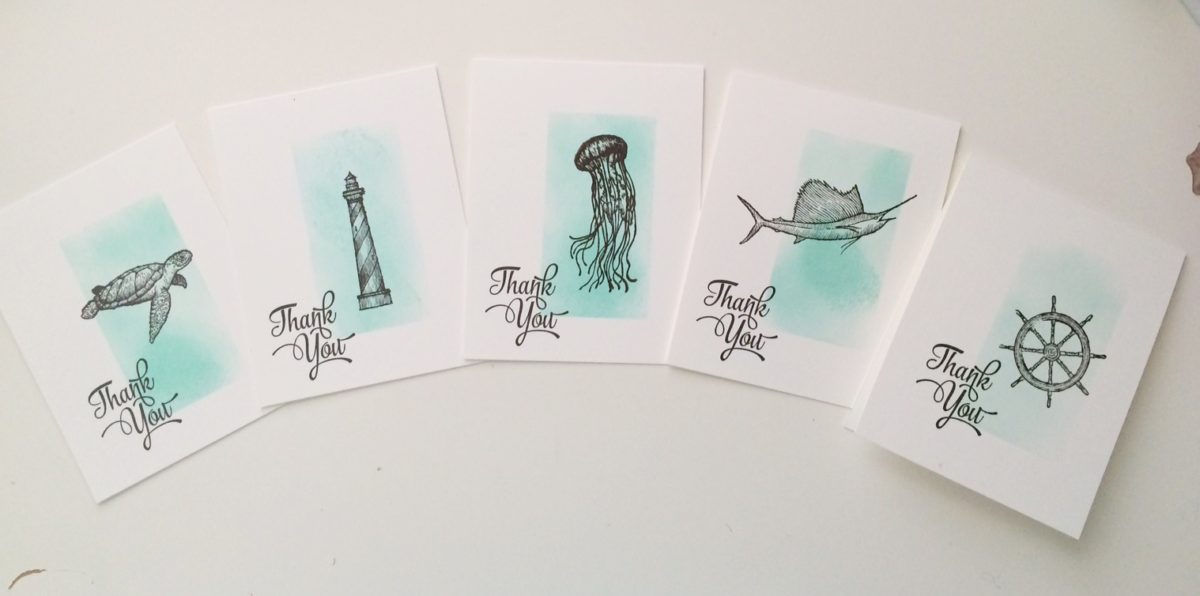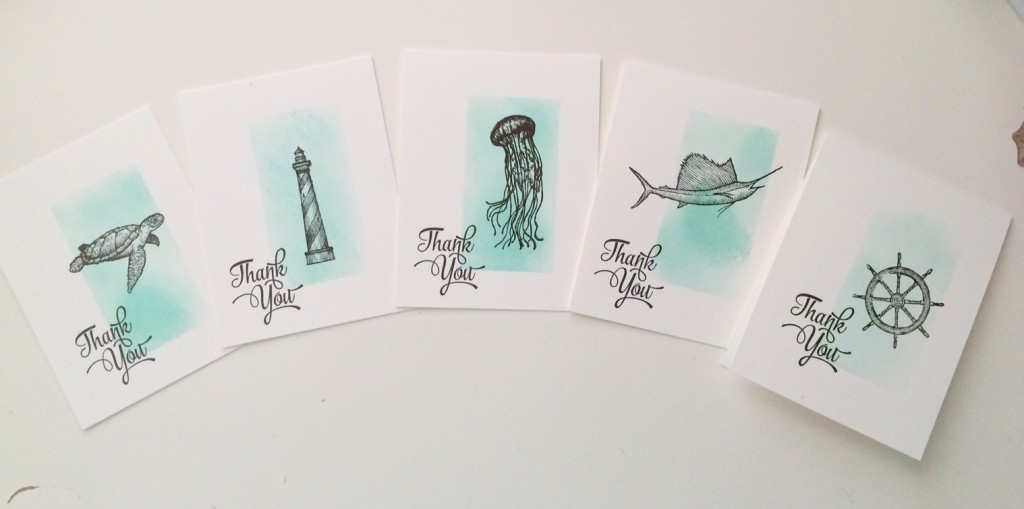 As promised, here is the supply list.