Learn how to mix pillow patterns for your living room sofa with these designer tips. I'll show you the simple formula for getting it right every time.
How to Mix Pillow Patterns Like A Pro
Are you looking to give your sofa a touch of style? Nothing beats the impact that new pillows make in creating a fresh look for any room, and when done well, mixing and matching patterns will give you a designer look.
In this blog post, I'll explain how to mix and match patterns for bold results that still work together harmoniously. We'll cover everything from choosing coordinating color schemes to deciding which sizes and shapes will be best suited for the desired effect. So keep reading if you're ready to take on the challenge of adding personality with pattern play!
FORMULA FOR MIXING PILLOW PATTERNS
Let's start with this simple formula to mix and match patterns like a pro! Then we will get into the specifics of what each part of the formula means and how you can translate that into specific patterns.
Formula = Large Scale Organic + Geometric + Texture + Small Scale
Another way to look at this formula is to pick a Floral + Stripe + Solid + Block Print

Large Scale Organic
You want to start with that bold fabric that you fell in love with. It should have color (probably more than one or two) and a large pattern that takes up most of the face of the pillow.
To get an idea of these, do a quick search on Etsy for "designer pillows". Some examples are fabric you will see will be from Thibaut, Schumacher, Kravet.
Geometric
The next pattern you will mix in will be a geometric. This is a repeating pattern; it can be a stripe or windowpane/check, but doesn't have to be perfectly in a line to fit this category.
The examples below are a good demonstration of this concept- they are in a line and repeating, but not a straight stripe.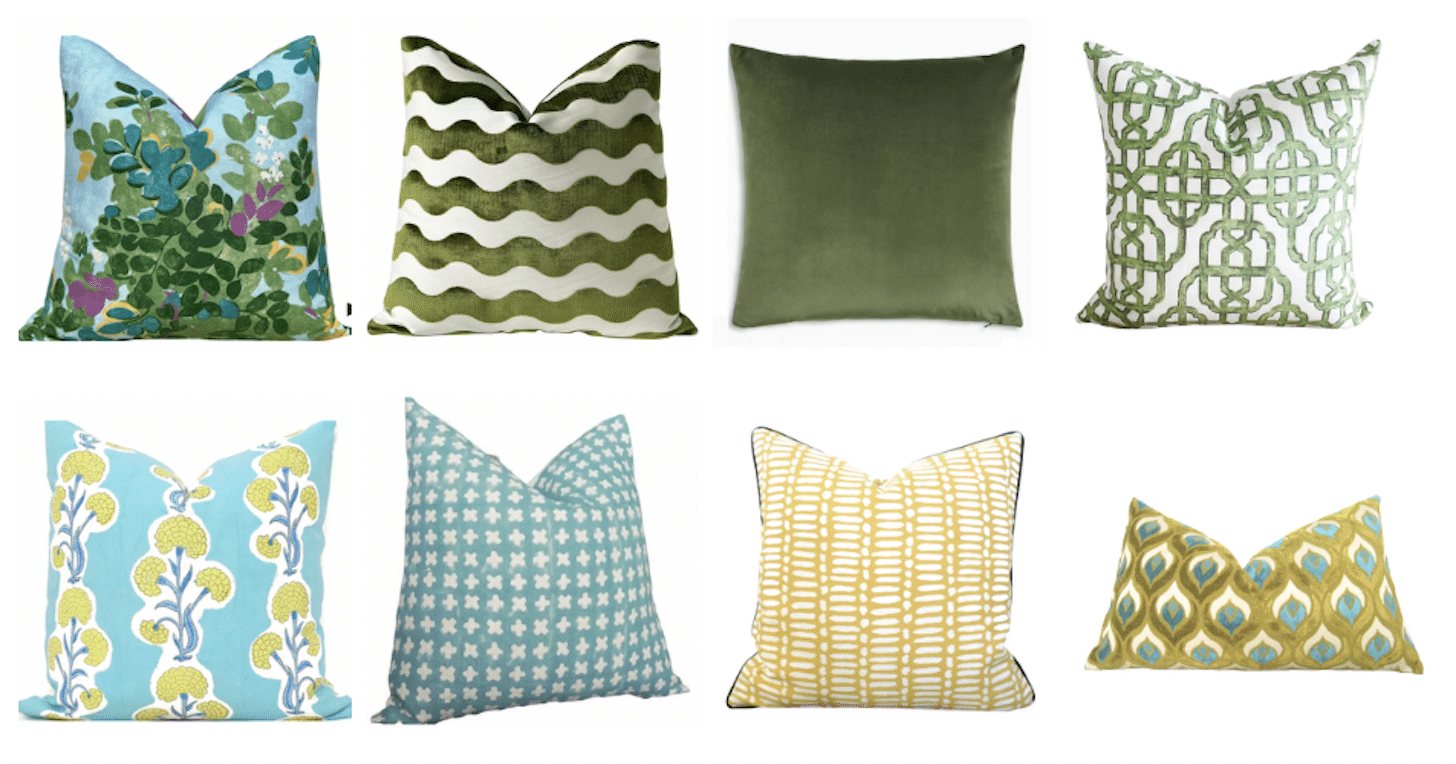 Texture
Adding in texture is a way to tone things down with a solid color that coordinates with the main fabric. Textures that will provide some variation are velvet, leather, nubby linen, a solid with fringe around the edges, or a contrasting color welt.
Small Scale
The last category for pattern mixing of pillows is to choose a fabric that has a smaller scale than the main pillow, but incorporates the same colors.
How it Works
Here are some tips on why this formula works and the how behind it:
Vary the Scale- choose a large scale pattern for your main pillow, opt for smaller patterns on the other pillows and a solid as well; you can do a thick stripe and a skinny stripe to mix things up
Mix Subject Matter- floral, landscape, chinoiserie scene, large abstract pattern
Carry One Color Throughout- take a color or two from your main pattern and repeat it in the other pillows to carry a common theme throughout
Use Designer Companion Fabrics- search for the companion fabrics from the same company that they have paired together which is like using a cheat sheet to find the perfect matching pattern
Add a Solid with an interesting texture- like velvet, nubby linen, or leather which helps tone it down since its solid
Use Different Backgrounds- choose fabrics that have slightly different backgrounds, a white, coordinating color, tone-on-tone
Coordinating COlors

Types of Patterns
When mixing and matching patterns, here are some options that you can search for when creating the perfect pillow pairing.
Floral
Scenery
Chinoiserie
Geometric
Stripe
Trellis
Ikat
Block Print
Palm/frond
Texture
Animal
Abstract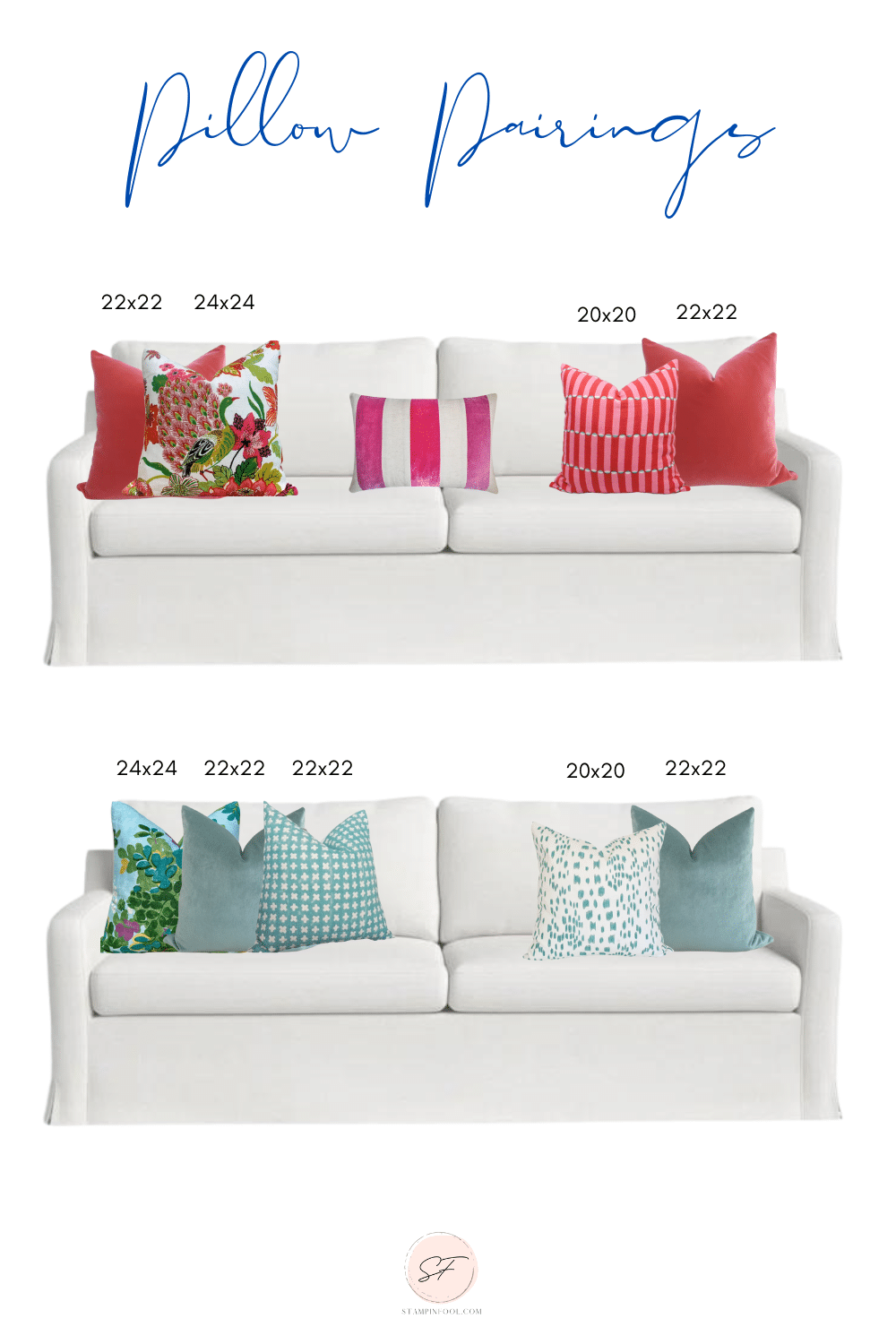 PILLOW SIZING
Once you have selected that perfect fabric for your sofa pillows, you want to make sure you have the correct sizing. In my world, bigger is better, so we start large and scale down as we go.
I tend to use 26×26 for a sectional because it is such a large piece of furniture. For a regular sofa, start with 24″x24″ pillows (with a 26″ insert for fluffiness) and layer in 22×22 pillows.
Examples of Pattern Mixing on Pillows
Now that you have the pattern mixing down for your sofa pillows, here are 12 examples of perfectly paired pillows that have common color, varied texture, and a bold pattern to set the tone.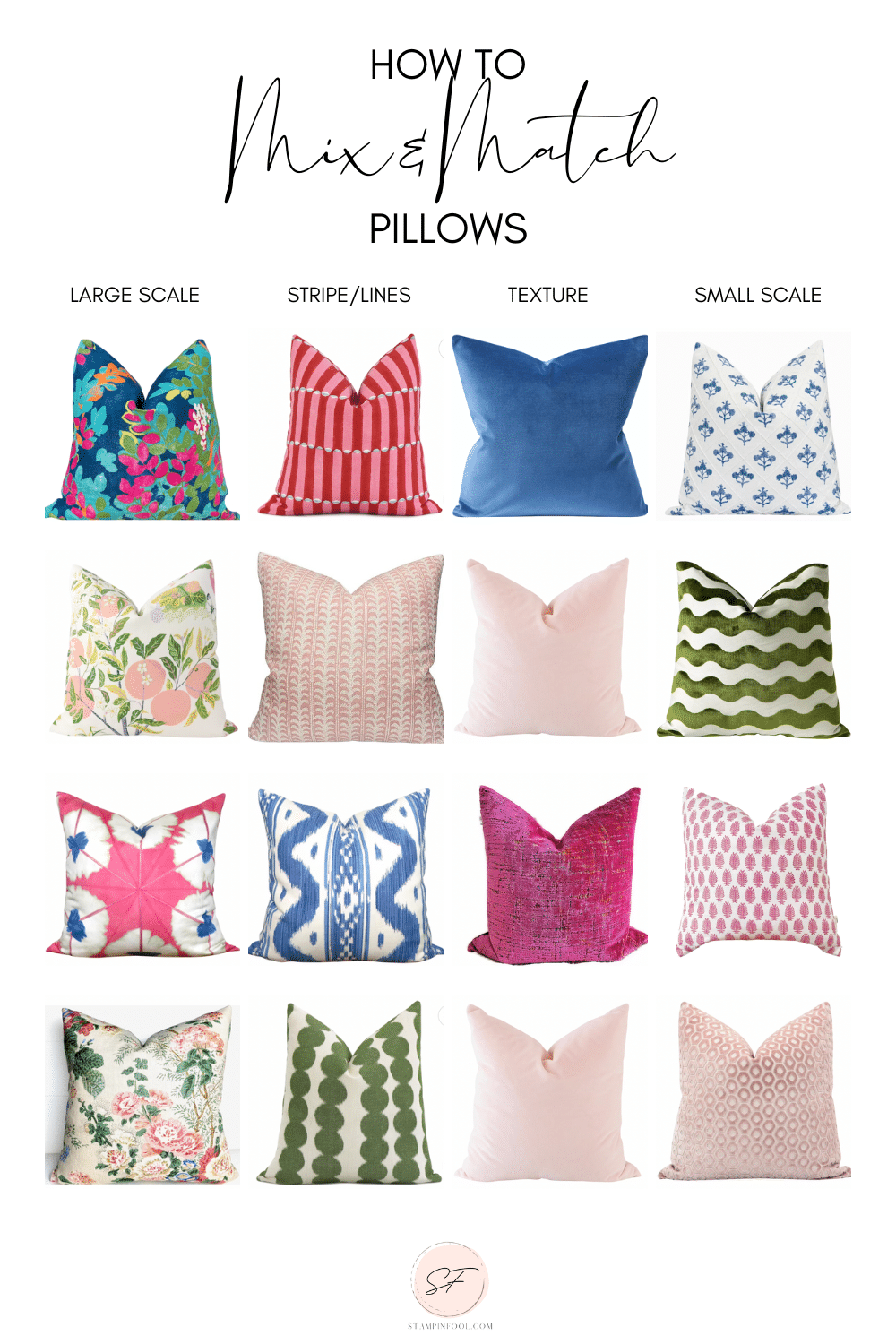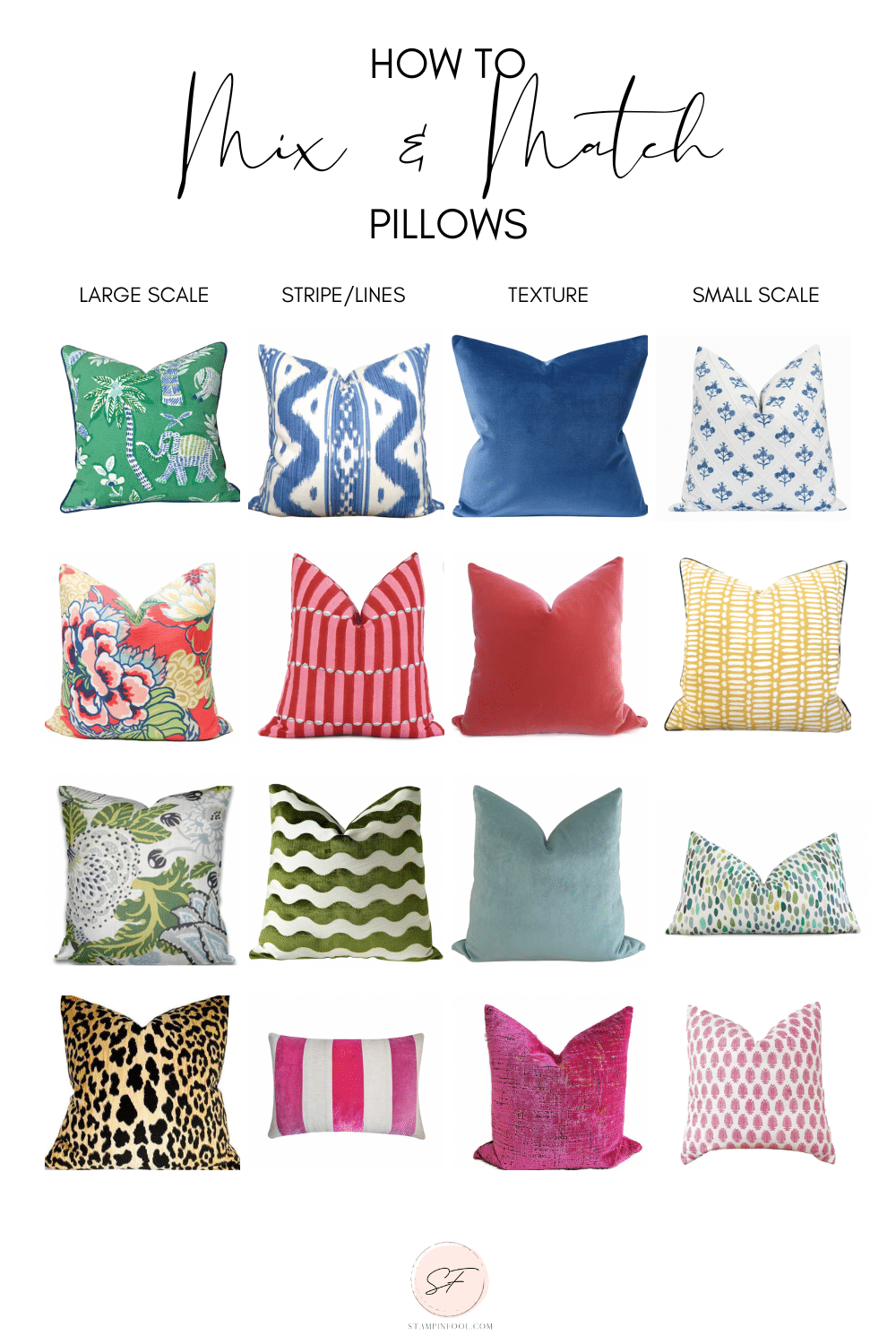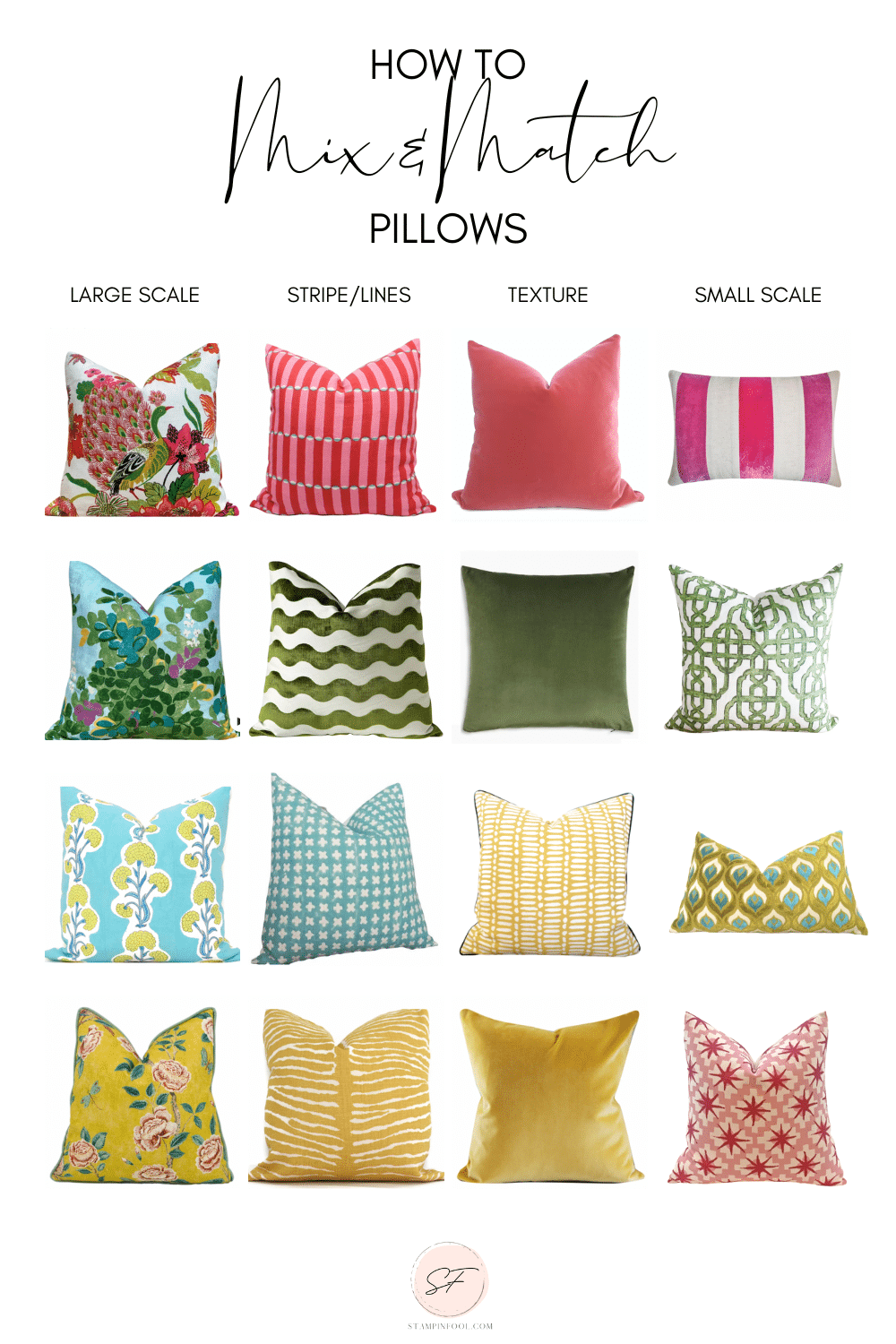 My Favorite Etsy Shops for Pillow Covers
All of these pillows in the above arrangements can be purchased on Etsy. It's my favorite place to go for high quality, well sized sofa pillows.