How to Style a Round Entry Table: STEP BY STEP GUIDE + 10 Photos
How to Style a Round Entry Table
Are you wondering how to style a round entry table? You're in the right place. My step by step guide to styling an entry table will give you all of the information you need to rock a round table.
We will also discuss:
When to use a round entry table
Where to put it
What size table to buy
What color table to use
How to style it
Plus, tons of photos of round entry tables in use
ELEMENTS OF TABLE STYLING
When we discuss how to style it, we will include these elements in each styling and talk about why and how they work together.
SOMETHING TALL
SOMETHING ALIVE
SOMETHING SCULPTURAL
SOMETHING TEXTURED
COLOR
Are you ready to get started with this DIY decorator's table styling guide? Here we go.

I get asked for the link to this gorgeous black and white bone inlaid round entry table– it's a custom table available on Etsy (affiliate link).
WHEN TO USE A ROUND ENTRY TABLE
The first use for a round entry table will be if you have a large foyer entryway. A large square entry is the perfect opportunity to add something round. Next best use for a round entry table is if you have a curved or cascading staircase. Round tables will fit nicely into the niche the stairs create.
My last tip for using a round entry table has nothing to do with an entryway at all. I'll give you a great example. If you have a large space between your eat in kitchen island and the living room that backs up to it, you need to fill the space.
You already have a formal dining room and don't need another eating area, that this dead space typically suggests. Or you have a back door and there's a hallway/open space before the doorway that isn't actually a designated room.
In these instances, using a round entry table with ottomans below or chairs for a reading nook nearby will be the perfect filler.
WHERE TO PUT A ROUND ENTRY TABLE
Since we just talked about when to use a round entry table versus a console table, you have a pretty good idea of when it works. You'll need a large square (or octagonal) entryway or a dead space that was intended to be a pass through room, but lacks purpose.
These will be your best uses for the round entry table.
WHAT SIZE ENTRY TABLE SHOULD I BUY
There are two main purposes for a round entry table: the side table & grand entry. For the side table, you'll want to purchase a table anywhere from 19 to 30 inches across. As for the grand full size round entry table, it should measure in at around 50 to 60 inches across.
When you are sourcing a round table, if online, pay attention to the size and height. If you are shopping at vintage stores or in retail, take a tape measure and have the estimated size you need already jotted down to help you remember.
To choose the best fit, make sure you have at least 24″-36″ all the way around for traffic to flow comfortably. This is especially true if it is near the front door.
Want to learn more about sizing? Read this post about the perfect chandelier size.
WHAT COLOR TABLE SHOULD I USE?
Now is your chance to shine as a DIY decorator. You can choose any entry table you want, dark wood, brass, glass, ash wood, acrylic, painted, a bold color, medium wood tone. The possibilities are endless. Have fun choosing a table that represents your style and home. And coordinate the rest of the entryway accordingly.
HOW TO STYLE A ROUND ENTRY TABLE
Since you now know the what's what on round entry tables, it's time to start styling. We will use this simple formula to have a well designed look every single time.
Entry Table Styling Formula = Something tall + alive + sculptural + texture + pop of color
SOMETHING TALL
Start the styling by choosing your tall item. The simplest tall objects to add height to your table styling are a lamp or large vase with tall greenery. Place towards the back or to one side.
DESIGNER TIP: Use HUGE tree branches. Aim for full 36″ clippings. If the branches feel too large, go bigger. The higher your ceilings and more open the space, the larger you can go.
These large branches will have a huge impact that is show stopping every time!
WITH SOMETHING ALIVE
Next, you'll want something living. If you chose a vase for your tall object, fresh greenery works perfectly to tick both boxes.
GO BIG! Like I mentioned above, opt for oversized branches or greens. Simply clip branches straight from maple tree, magnolia tree, eucalyptus, or leafless branches in the winter. These branches act as a sculptural element that draws the eye upward and makes the space feel grand.
If big is not where you are styling your plants- smaller orchids, aloe plants, or any vase of your favorite flower will do. For the biggest impact, use multiples of the same flower as opposed to a mixed bouquet.
USE SOMETHING SCULPTURAL
Now that you have tall and living items, you can begin selecting something sculptural. Make sure this object is a different height than both the tall and living items. If it is a small object, place it on a stack of 2-3 books. If it is large, it can stand alone to one side or in the middle to create a pyramid with different height items.
PLACE SOMETHING TEXTURED
If you used books to stack the sculptural object, you're in luck. You've already added nice texture. Other ideas include hand thrown vase or bowl, woven Rwanda basket, clam shell catch all, trinket tray, something shiny or metallic.
USE COLOR
Lastly, now that you have tall, small and living, you can add in the last pop of color. If you are going for a neutral look, use only one colorful object or book. But, if you are a color lover, like me, use color in all of your items to make the entryway shine.
STYLING IN A QUAD
If you are having trouble arranging the items you can start with them in a quadrant pattern. Four things grouped in an X. If this feels off, try starting with a high point and moving the other objects around so that they descend naturally.
Below are a few great examples of round entry tables, styled with these elements and most of which are in a quad pattern.
10 Examples of Well Styled Round Entry Tables
I love that the tall piece of this round table is a lamp. The black shade contrasts the light walls so that it stands out. The books ground the table with sculptural items atop.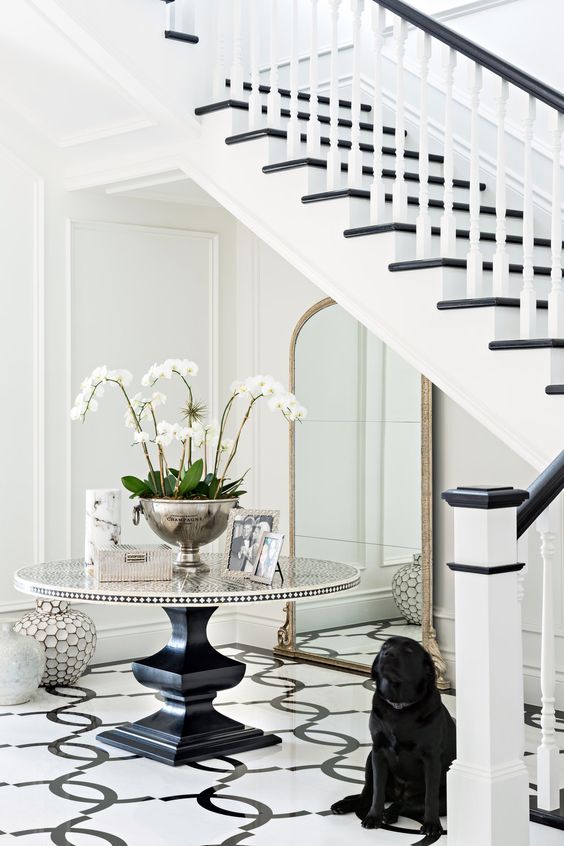 For the styling of this gorgeous black and white bone inlaid, round entry table, the tall orchid floral arrangement is the winner. The simple box, frames and marble vase sit quietly, while the orchids scream. The contrast of this space is perfection.
Link to the round black and white table above (affiliate link)
No round entryway table is complete without huge greenery. I learned from Steve Cordony that the large the branches the more impact it will have. So go minimal on everything else and clip HUGE 36″ branches for the centerpiece.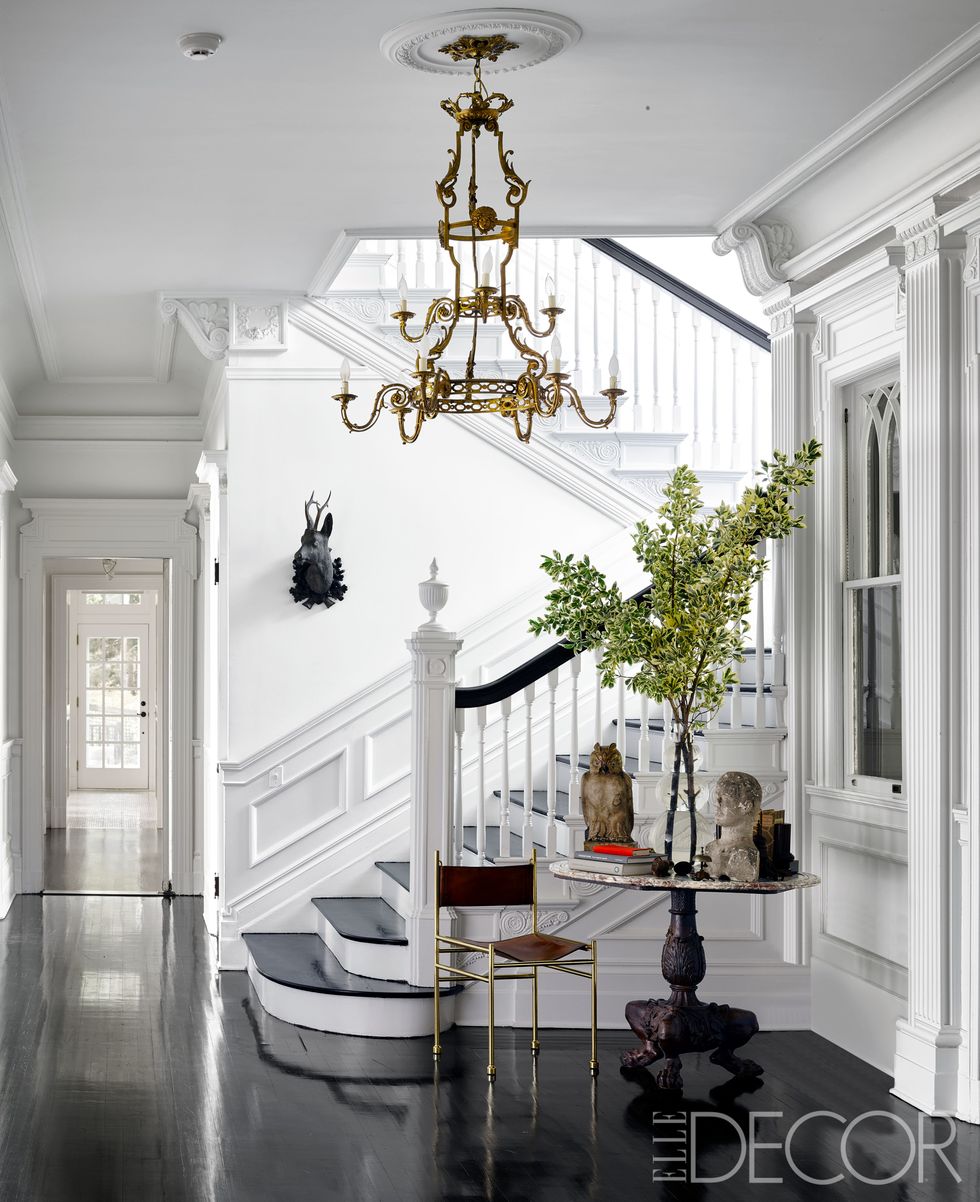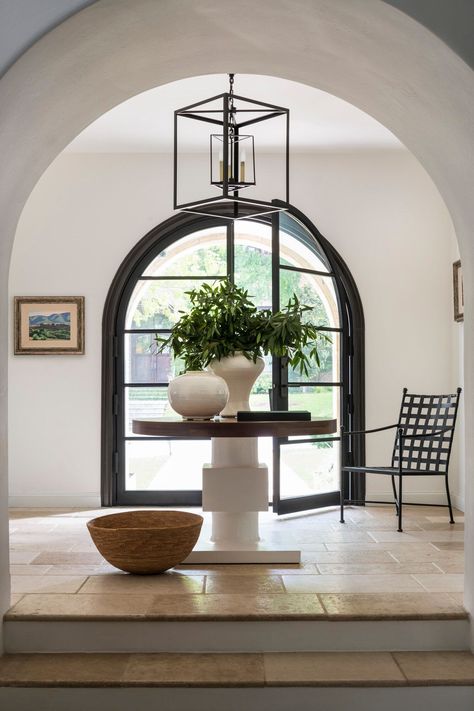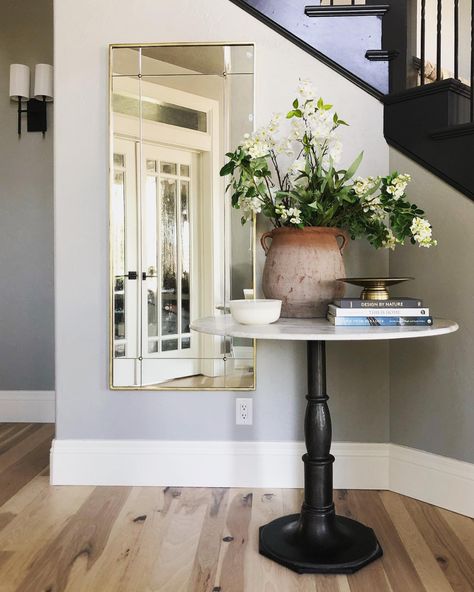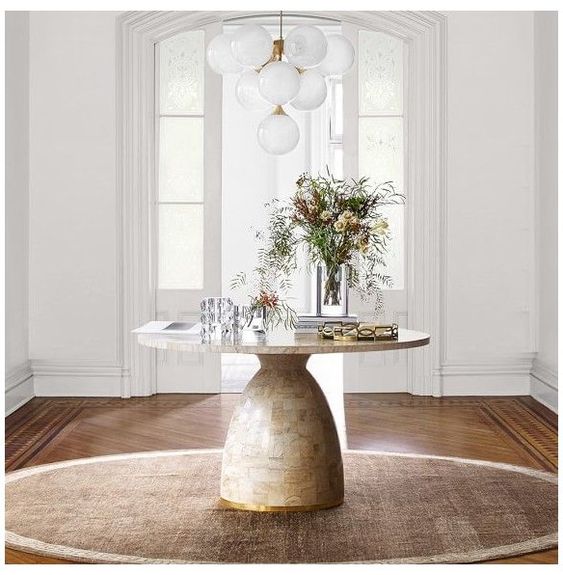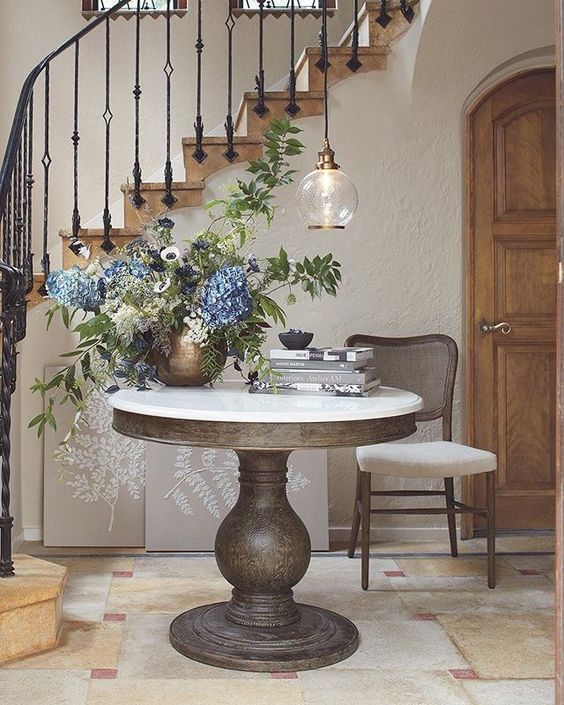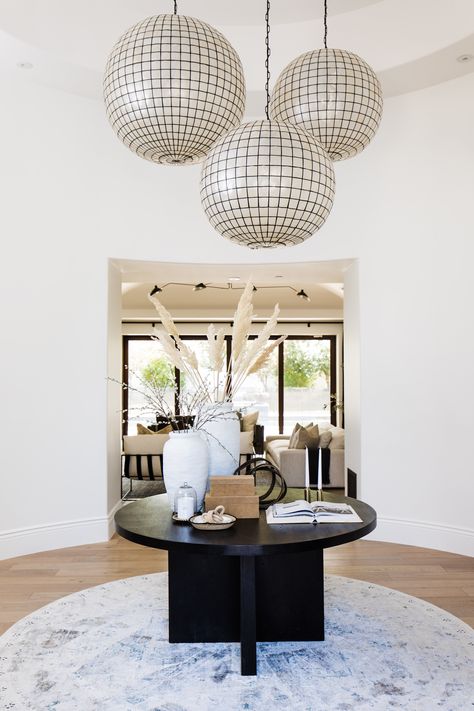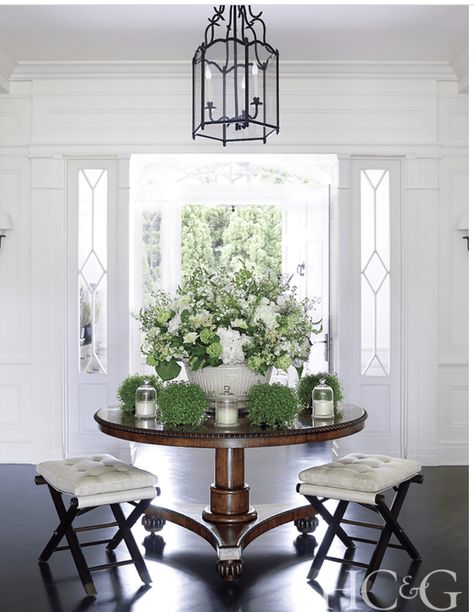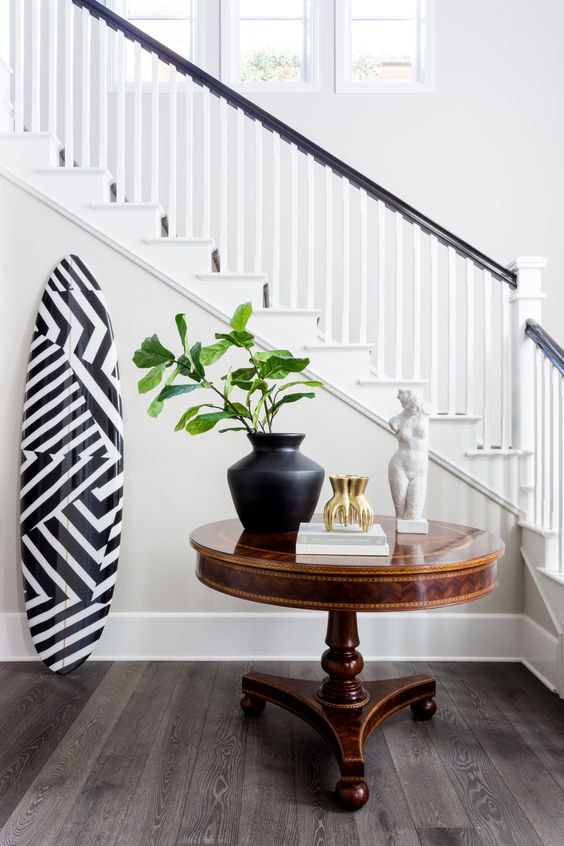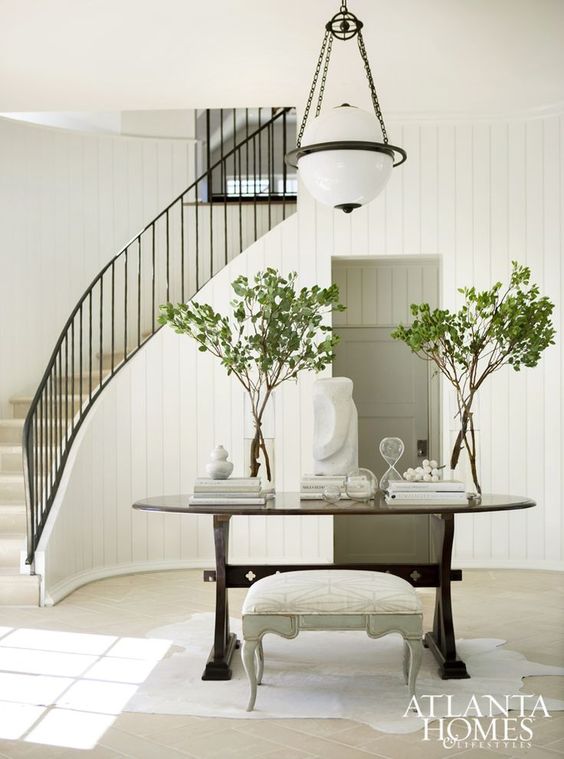 OTHER USES FOR ROUND ENTRY TABLES
desk
dining table
breakfast nook table
side table
reading nook
stair accent
loft decoration
STAMPIN FOOL'S FAVORITE ROUND ENTRY TABLES
The benefit of using a round entry table or round table in a wide hallway/foyer is that you can broaden your search to include "round dining tables".
Because you are looking for a 25″- 36″ round table for the entryway, a small round dining table will meet those dimensions and also be a great fit. So don't be surprised or confused when you see the terms dining table come up!
Happy Styling!