HOW TO MAKE A BEDROOM LUXE FOR LESS WITH THE MACY'S LABOR DAY SALE
Do you like a good sale? Macy's is known for quality home items such as bedding, linens and kitchen wares. I've scoured their website for the best deals this Labor Day sale.
How To Get A Luxe Look in THE Bedroom
Isn't it everyone's dream to have a bedroom that is comfortable and luxurious while feeling intimate and peaceful.
Well, here's a list of tips to get your bedroom going.
Soft Sheets
I'm a woman who loves to sleep on luxurious sheets. Cotton percale and linen are soft, but breathable so you won't get too hot.
Thread count is the number of threads woven together within one square inch. The higher the thread count, generally speaking, the better quality sheet you're buying.
Fluffy Pillows
Add in down pillows that you sink into when your head hits the pillow. There are a few great pillow options linked below at the bottom of this post.
Plump Down Duvet
To make your bed as comfortable as possible, make sure you have an oversized down filled duvet insert.
Soft Rug
Finally, you'll want a soft rug underfoot to tie the room together and have a warm spot for your feet to hit the floor when you wake up in the mornings.
Tuck you slippers next to the nightstand and your day is off to a great start.
Place to Land
Another part of having a luxury feel to your bedroom is having quiet spaces to enjoy. This can be a comfortable chair or chaise.
Whether you are curling up with a book or sipping your morning coffee, it's an added bonus to have a cozy chair in the corner of your bedroom.
Clutter Control
Last, but certainly not least is clutter control. You guessed it, you will want ample storage space to keep clothing off of the floor and bed and in dressers.
So, to achieve that luxury hotel feel, make sure you have enough dresser drawer space for your clothes and at least one if not two nightstands for your night routine items like a glass of water, book, charging station and dish for jewelry.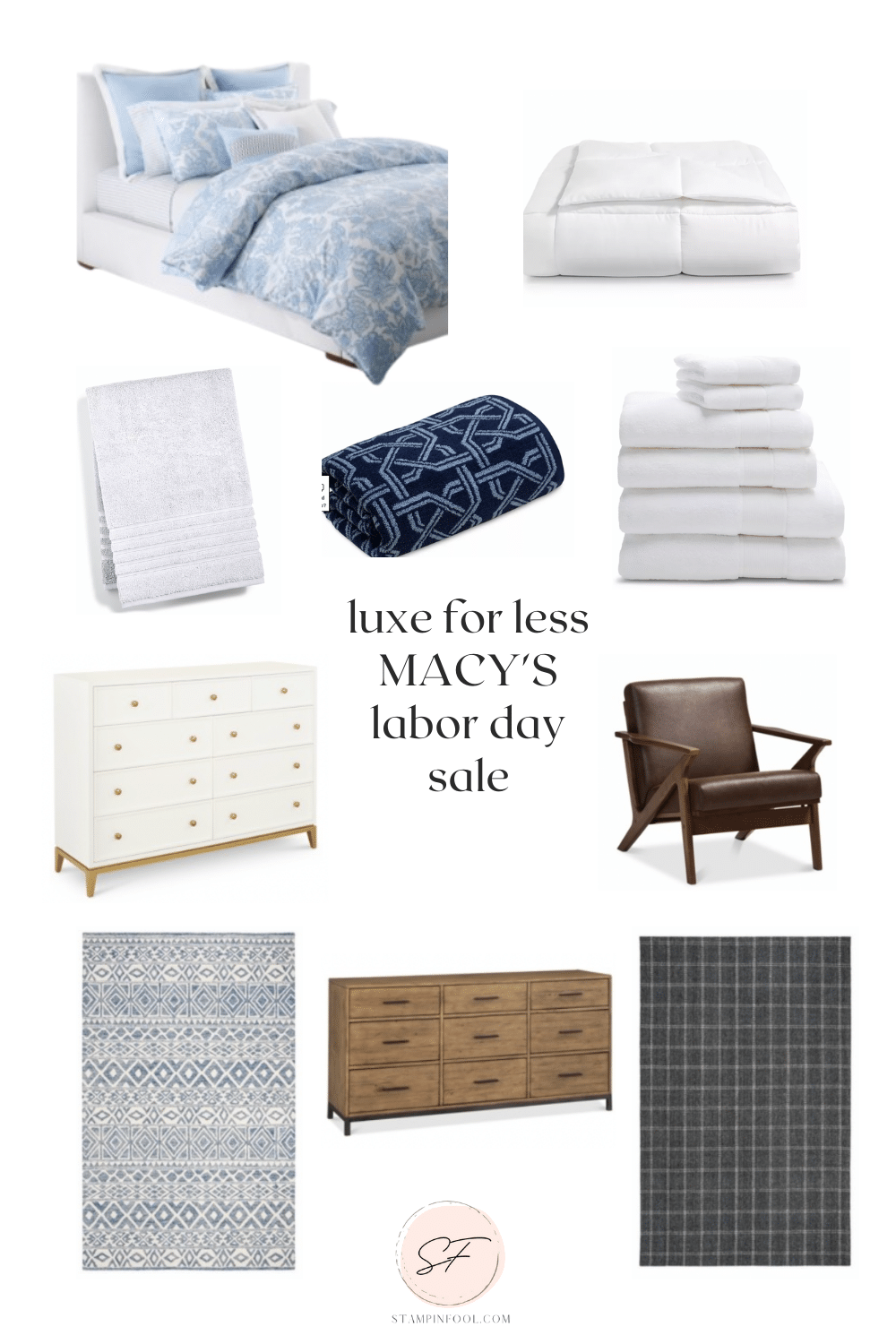 ARE YOU READY FOR IT?
Now that you know what you need to get that hotel bedroom feel in your own home, I've done the hard work for you.
Here are the links to my favorites from the Macy's Home sale.
Aspen 1000 Thread Count Sateen 6-Pc. Solid Queen Sheet Set | Reversible Down Alternative Twin Comforter | Hotel Collection Bath Towels|Sharper Image Electric Tabletop S'mores Maker for Indoors, 6 Piece Set |Cotton Bath Towels |Ralph Lauren Bath Collection Set |Green Pan pink cookware set
QUICK LINKS FOR THE SALE