Pottery Barn Leather Sofa DUPE
This Pottery Barn Turner Leather Sofa dupe will blow your mind. It's on par with quality and is less than half the price. It's an "add to cart" kind of day!
This post may contain affiliate links- meaning when you purchase through the link and I receive a small commission. It feeds my Starbucks addiction & for that I thank you! You can see my full disclosure policy here.
Living room furniture can be so expensive, especially sofas. And because you sit on them everyday, your kids probably jump on them and they have to hold up to wear and tear, you need a good sofa that will last.
You probably don't want to spend $5,000 on a sofa that might get destroyed by your kids or your friend's glass of wine.
And don't get me started on the quality of PB sofas (we'll get into that later). I'm going to give you permission to buy the less expensive sofa and it's still going to be an amazing purchase for your family without having to pay for the PB name.
Things to Consider When Buying a Sofa
Everyone's budget is different and where you want to spend and save will vary. So, grab a cup of coffee and lets talk about what's important to consider when buying a new sofa.
Quality

frame material
construction
springs

Price
Upholstery
Delivery
Reviews
Quality
We know quality can suffer as price goes down, but the price going up doesn't necessarily mean the the quality is great. Often times the product is value engineered to meet the price point consumers are willing to pay + the overhead of stores, staff and the cost of returns.
Frame Material and Construction: I'll give you a few bullet points for a quick lesson in furniture construction:
Wood

kiln dried removes moisture and makes for wood that won't warp
hardwoods are stronger than composite or engineered wood (although they are getting better)
engineered wood- look for 11-13 layer plywood frames rather than 5-7 layer frames

Joinery

mortise-and-tenon and dovetail interlock and are best to last forever
corner blocked help support the frame
screws, dowels and staples are for added support, but should not be used alone – it will fall apart

Seat Support

8 way hand tied- known as "the gold standard" but VERY expensive
Steel springs are the next best, and if they are drop in coil they can provide comfort and even seating
sinuous springs are "S" shaped lengths of spring that are attached at the front and back on frame- can lead to breakage from frame
As you can see there is a lot to know about construction, but these are the quick tips. You should read the details of a sofa before buying it, and if they don't list any info- that's not a good sign.
Price
Price is usually an indication of quality, except with big name brands, sometimes you are paying for the name and not the quality. They have a big overhead and value engineer the pieces so they are cheap to make and they can resell for $$$ more.
When you choose a lower priced sofa, read the details as these are value engineered as well, but at least there is price savings.
Upholstery
There are so many choices for sofa fabric with pros and cons for each- leather, linen, faux leather, performance fabric- the higher the quality the higher the price.
Delivery
Wayfair typically has free delivery and sometimes you can upgrade to white glove delivery (it's so worth it because they place it where you want it and take away the trash packaging).
You can also see the estimated shipping date and I have had good experiences with the shipment happening on time.
I cannot say the same for PB- I have heard many horror stories of delivery being pushed back time and time again without a firm timeline. (I will give a small pass because in the time of post CVD everything has slowed down and workers are hard to find).
But for me, it's the unreliability that is unacceptable. If they were honest in the expectation that there is a months long wait, you could make an informed decision on your purchase.
Reviews
But, be sure to read the most current reviews and look for real life photos of the decor pieces before you buy. I want your expectations to be realistic & for you to have the best experience.
I'll note that PB no longer has reviews on their website and you can speculate that a lot of reviews are negative and customer service cannot keep up with the feedback so they remove the ability to leave reviews.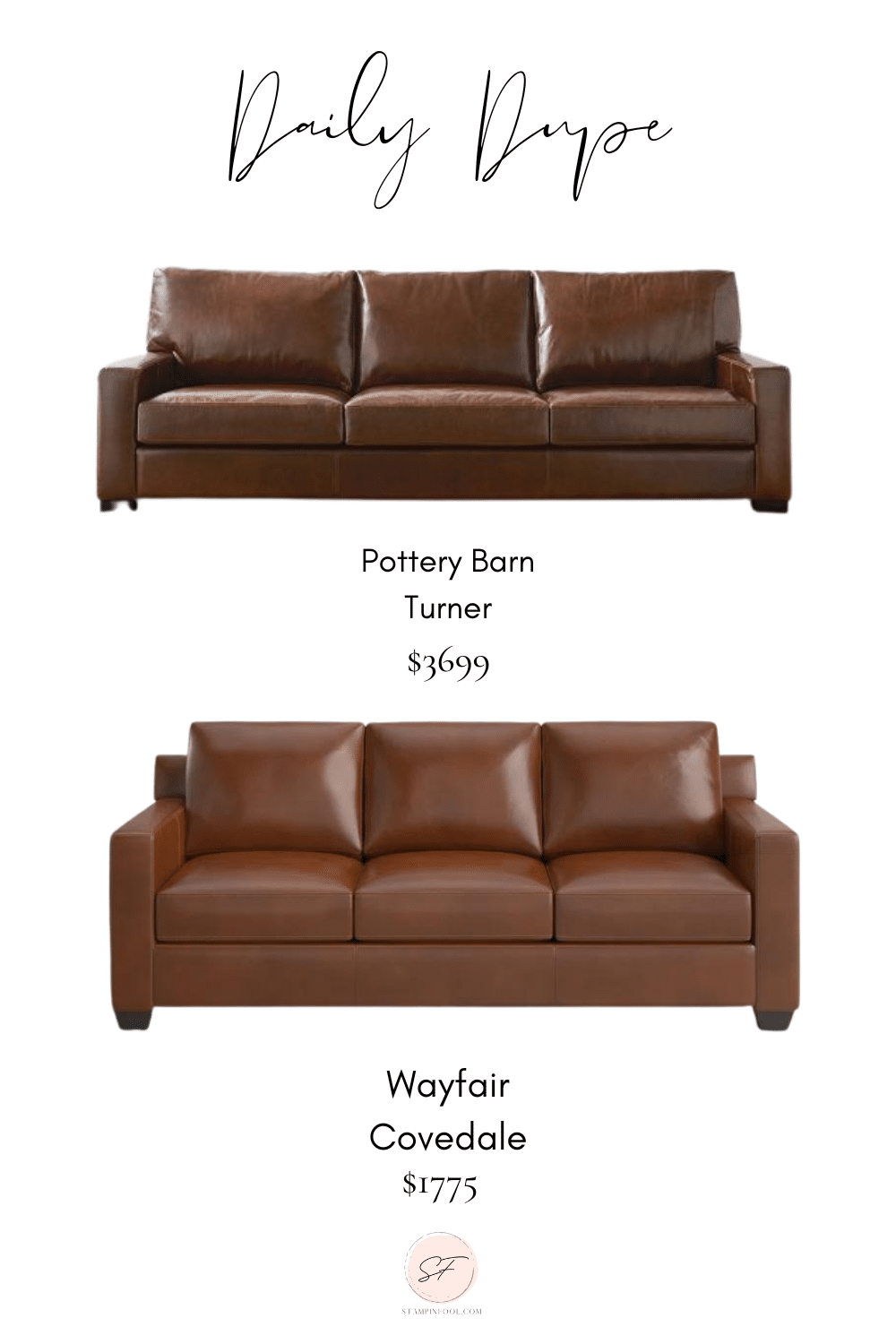 Leather Sofas
For this week's splurge vs steal, we're talking about leather sofas. Usually I pick two or three similarly styled tables, beds, chairs, etc. But today, I've found comparison dupes to the Pottery Barn Turner Leather Sofa.
As always, I recommend using a space planner (like this one), check the measurements of your space, and double check the dimensions of the sofa before you buy.
Wayfair Leather Sofa Dupes
I've looked through a ton of options and these are the best looking leather and faux leather sofas. Note that some are backordered depending on the color, but it may be worth waiting or reaching our to see if there is an estimated date.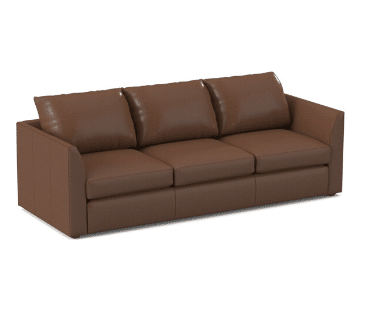 CASUAL WOODEN COFFEE TABLE
You can pair your new leather sofa with a Pottery Barn dupe coffee table as well. If you are looking to save a few dollars, but still get that Pottery Barn look, this PB Lorraine dupe is a great alternative.

Splurge: Pottery Barn Lorraine Table
Steal: Wayfair Pottery Barn Dupe Coffee Table
CONCLUSION
These designer leather sofa dupes are great alternatives to the Pottery Barn Turner Sofa if you need a more affordable version.
Always check the dimensions before ordering! Here are a few more good looking leather sofas!