MY Pink WALLPAPERED Dining ROOM INSPO: SHOP THE LOOK
Are you looking for bold dining room wallpaper suggestions? I've made a dining room space plan and sourced a few really great pieces to pull it all together.
Have you been following along recently? We moved in November and because it was quick and largely unexpected, we didn't do any work before moving in.
We found a great home on a whim, and put in an offer. It was accepted and we sold our first family home.
So here we are in our new house, it's a center hall colonial, with a lot to do to make it our own. Luckily, I'm an interior designer so my dreams are only limited by my budget, ha!
But I'm here to tell you that you can have beautiful spaces and a home that feel like you without having a huge budget.
WHAT YOU NEED TO DECORATE YOUR DINING ROOM:
Here's an outline of the furniture you will need to redecorate your dining room from top to bottom:
Chandelier
Drapery + hardware
Dining table
Dining room chairs (8-12)
Sideboard
Rug
Large wall art + mirror
Table lamps
Bar cart/accent piece
Tree/large plant + planter
Styling Accessories
Wallpaper or paint
BUDGETING FOR A DINING ROOM REMODEL
If you're like most people, the thought of a new dining room is exciting. But it can also be overwhelming.
Where should you start? What are some things to consider before you get started? How do you know if your budget will work for the project or not?
We want to help make this process easier and more enjoyable by giving you tips on how to decorate your dining room with style!
This blog post will give ideas on where to spend money in a remodel, where to save money, what types of furniture pieces would look great in your dining room and so much more!
You'll have the information information you need to help you make informed decisions about designing your dream space.
No one loves home decor than us! So sit back and relax because we've got this covered for you. All that's left is for us to enjoy the final product together after everything has been completed!
Where to splurge in a dining room remodel
There will certainly be places to splurge for your dining room decorating project. I like to take the overall budget for a room and then choose the pieces that make the most impact, like a chandelier or wallpaper or rug first.
Then I will work in other items like the dining table, chairs and sideboard or console table with budget friendly options.
This way, you are able to splurge on the really important, showstopping pieces and fit the other pieces in around the remaining budget.
In my own design firm, when we present a design to a client, I like to tell them to focus on the overall design and how we met the budget goal in mind. And not to focus on how much we allocated to specific pieces.
Because, if they loved the design plan and were blown away by how amazing we know it will look and feel, we don't want to walk it back by having sticker shock over a $7500 chandelier and only $1200 on a table.
You can apply this same logic to your own home. Choose those big, magazine worthy elements that make or break the room and splurge on them.
Dining Room Furnishings to Splurge On:
Chandelier
Drapery in designer fabric
Wallpaper
Wool rug
where to save on a dining room remodel
After you've chosen the real winners of the room, you can move on to sourcing the remaining pieces. I typically look for more budget friendly items in the dining room like:
Dining table
Dining chairs
Sideboard
Bar cart
Accessories
Window hardware
Rug (if I went bold on wallpaper)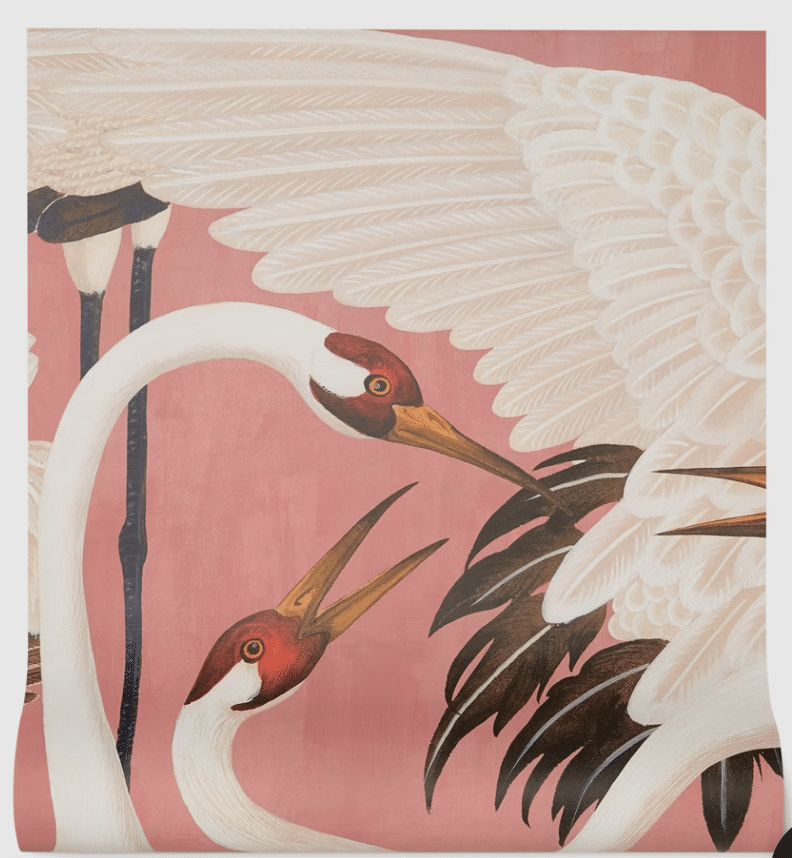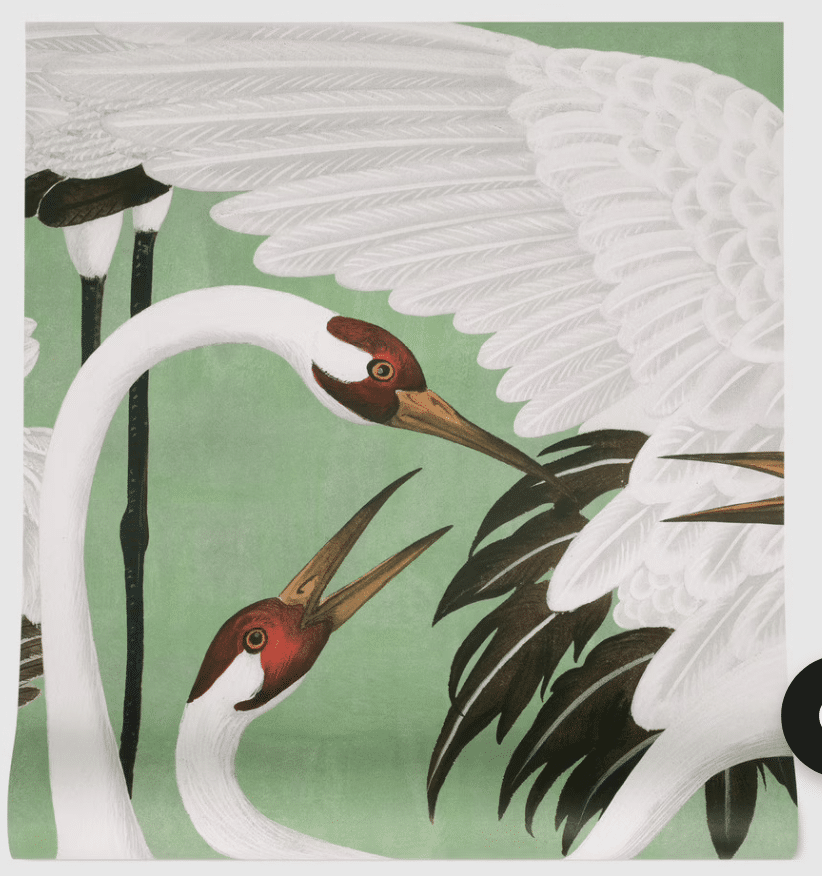 DINING ROOM LAYOUT
When designing your dining room, think about what you want the space to do for you. Do you want it to be a place where people can come together and play games, do homework and enjoy their meals or will it be strictly for entertaining at holidays?
Consider how you walk through the room and the flow of traffic from entry points. You'll want to orient the room in a natural walking pattern.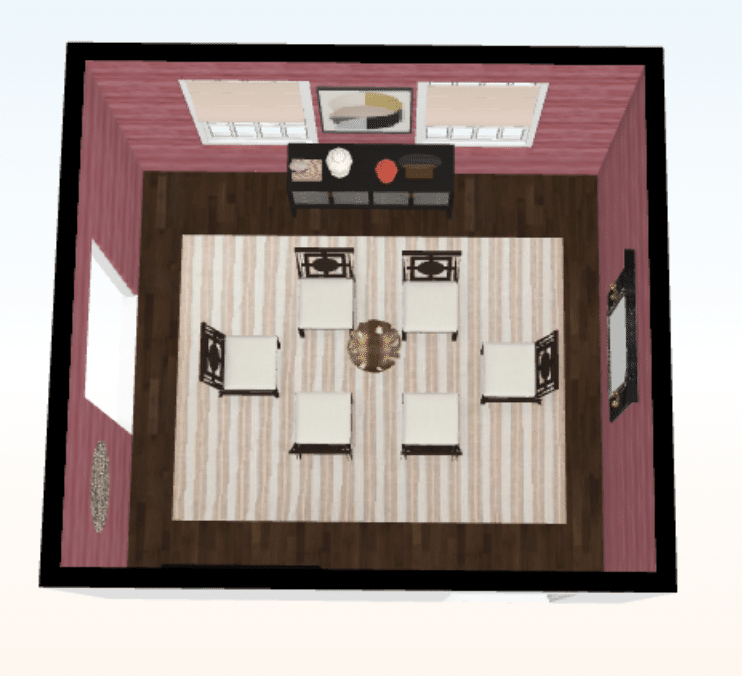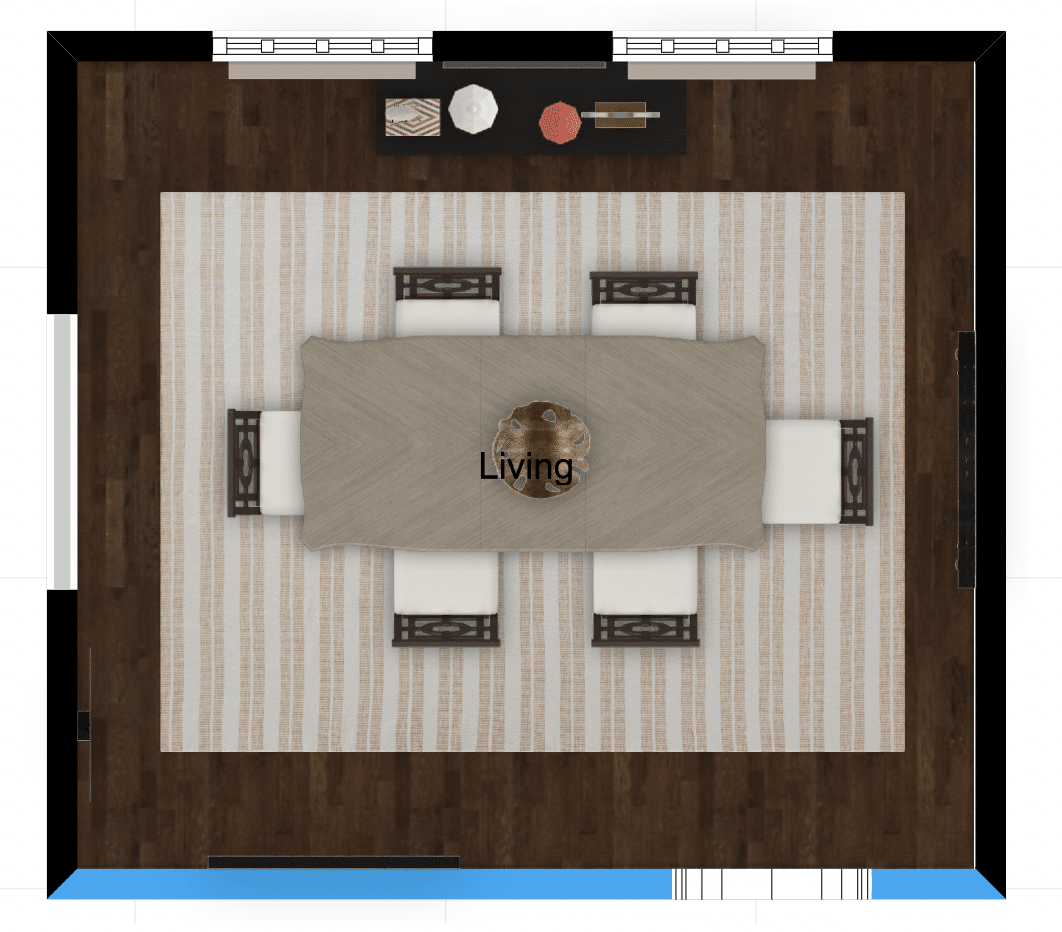 In addition, the wallpaper options for a space like this are awesome! I have included a few of my favorites that would look just as good as the pink grasscloth shown below.
GET THE DESIGNER DINING ROOM LOOK
Here are some other last thought and tips I have on creating a perfect dining room for your needs.
Look at the shape of the room – consider a round or oval table to soften the edges in tight spaces
Consider your dining furniture options – do you want to have chairs around the table, a banquette, or bench + chairs
Choose a color scheme and paint colors that will complement each other well
If you're going with chairs, think about what type of chair material is best for your space (i.e., wood vs upholstered)
Add in some decorative touches like fresh flowers, candles, and interesting artwork to make your dining area feel more inviting and personal.
Don't forget to add in an area rug under the table! It'll help protect any flooring from spills while also adding texture and warmth to your space.
Lastly, here are the items I've sourced for the perfect transitional, but bold dining room design.
This post may contain affiliate links- meaning when you purchase through the link and I receive a small commission. It feeds my Starbucks addiction & for that I thank you! You can see my full disclosure policy here.
Need help finding the perfect selections for your home, become a client. Online or in person.