Studio McGee New at Target 2023 Launch
Don't miss out of the new Studio McGee line of home decor at Target- get it in stores and online launching now through January 2023.
It's no surprise that Studio McGee has taken the decor world by storm, especially the Target launches, because the price point is affordable, the pieces are neutral and homey, and they come together perfectly to create a casual California style in any home.
This month, they launched a ton of new styling accessories, lamps, greenery, art and furniture at Target. But, it sells out fast- some of it within minutes.
A lot of the products are likely to restock, so make sure you click the Notify Me stock alert button. It's a lifesaver if you are on the hunt for something.
Studio McGee hack: You'll also want to check your local store and the surrounding store (check inventory on the app for nearby stores).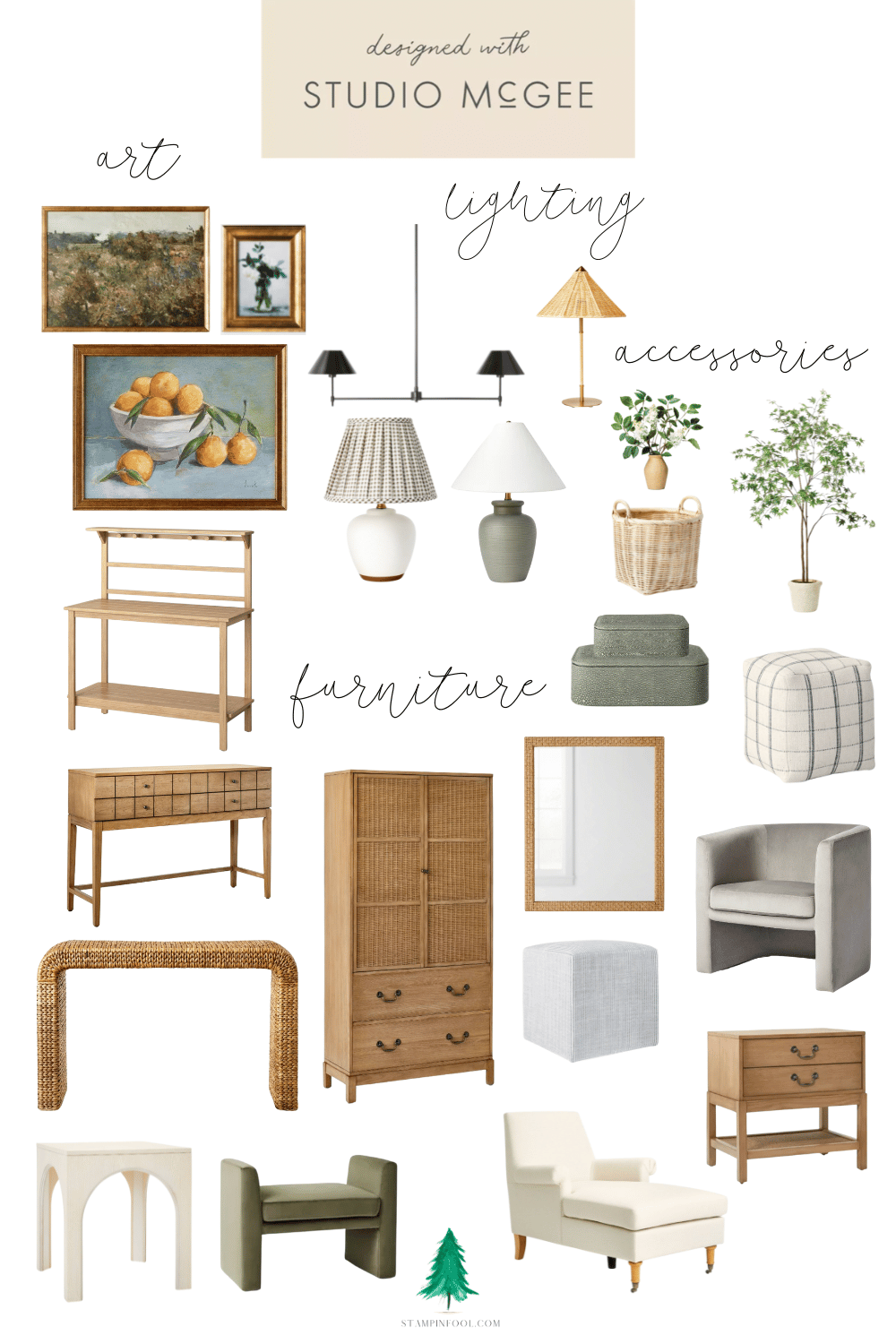 How to Style your Studio McGee x Target finds
Below are three ways you can mix and match the new Studio McGee line from Target. You can swap out your own accessories and lamps or use your furniture and SM accessories for styling.
Entry welcome: Woven console table with a lamp, greenery and shagreen boxes + art
Sitting area: Velvet chair & ottoman, side table with a lamp + potted tree
Reading moment: Chaise with a large end table, lamp + artwork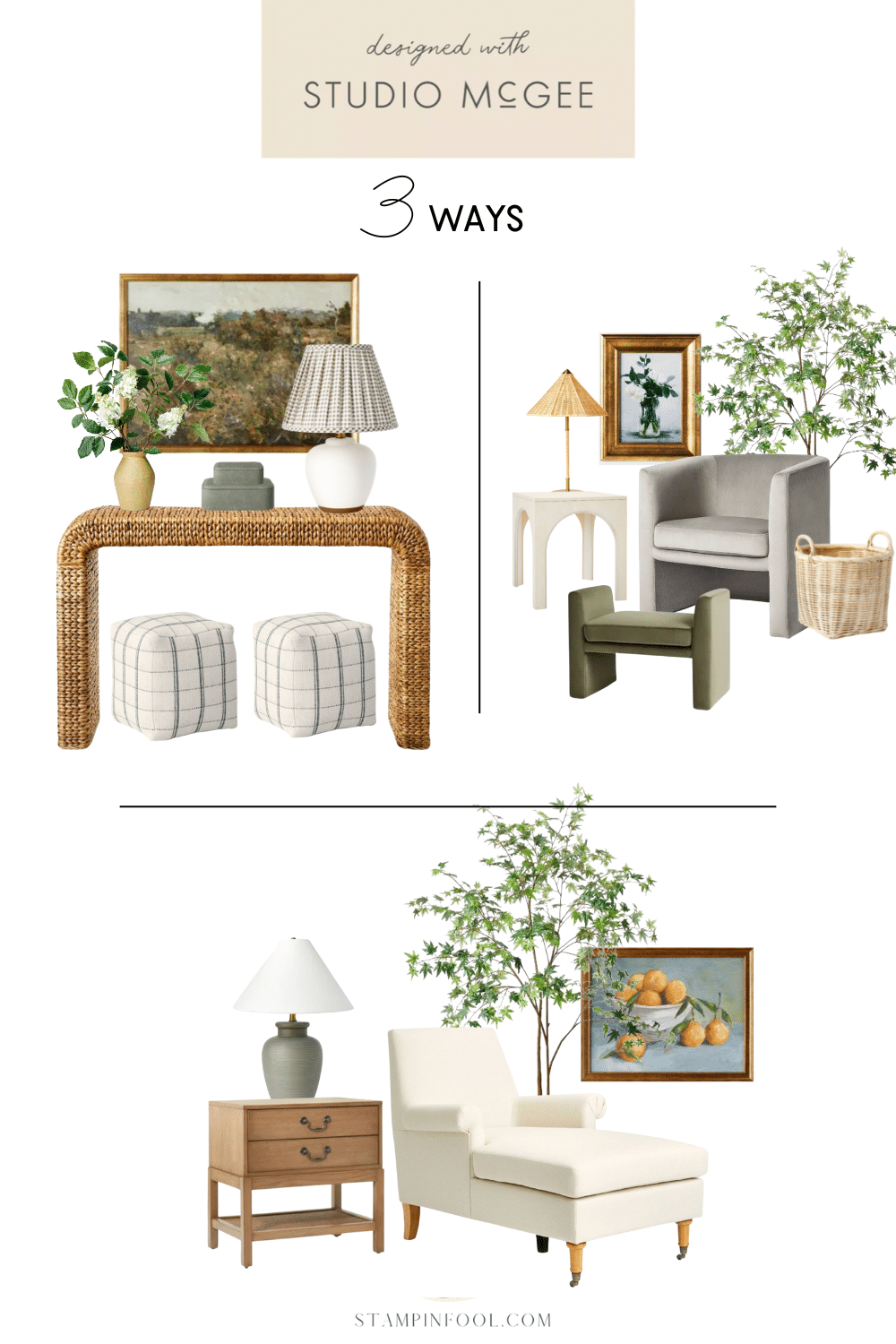 Pros & Cons of Studio McGee x Target
When buying home decor, we want to consider the price, quality, size and style. These things will help you make wise investments with your hard earned money.
Handcrafted, made local products are usually higher quality than imported, machine made items, but there are still great finds in some decor categories.
The furniture tends to run small, low to the ground and cheaply made. This isn't great for high ceilings, open floor plans with lots of space, and longevity.
Some of the casegoods (designer word for shelves, tables, chests, dressers) are well scaled enough to be a gorgeous piece in your home. You will want to choose pieces that won't get a lot of high use touching, opening drawers, and jumping on (I'm looking at you ferrel children).
Lower quality items last longer when used in low traffic areas versus things like sofas and coffee tables that get a lot of activity.
But, the accessories, art and lighting are great choices.
Pros
Affordable home decor
Neutral color palette
Casual, cozy look
Target is easily accessible
Inventory is listed online
Nice art selection for bare walls
Greenery and plants are 10/10
Make great pottery styling pieces
Some timeless, some trendy
I LOVE LAMP
Cons
Imported furniture isn't high quality
Upholstery/seating pieces are too small scaled
Neutral, not a lot of color/personality
Some timeless, some trendy (pro and a con)
Studio McGee art & Accessories at Target
Our favorite new styling and accessories from Studio McGee at Target are:
lamps
scalloped lampshade
wicker lamp
large art
tree
pottery
faux florals
decorative boxes
ottomans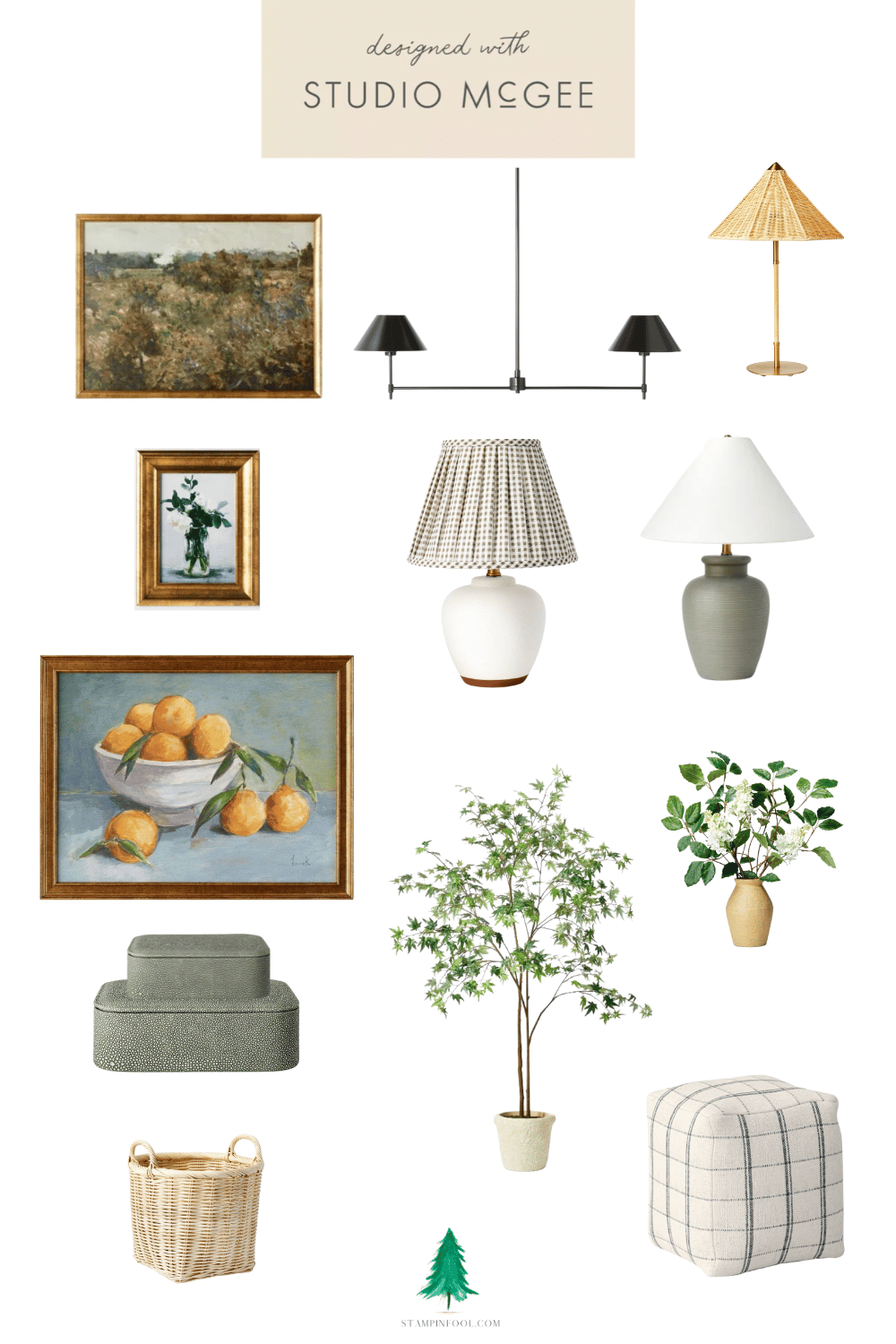 Furniture from Studio McGee
These pieces of furniture will work great as accent pieces or in small nooks. Homes with lower ceilings and less open spaces will be in better scale.
Get the Studio McGee Look from Target
Here are the quick links for the adorable Studio McGee x Target home decor products. Tips for shopping:
They sell out fast
You can check local inventory of your store and stores near you in the app
If you missed out on something, use the "Notify me" button for stock alerts
Some of the products are dropping January 1 & 5, 2023