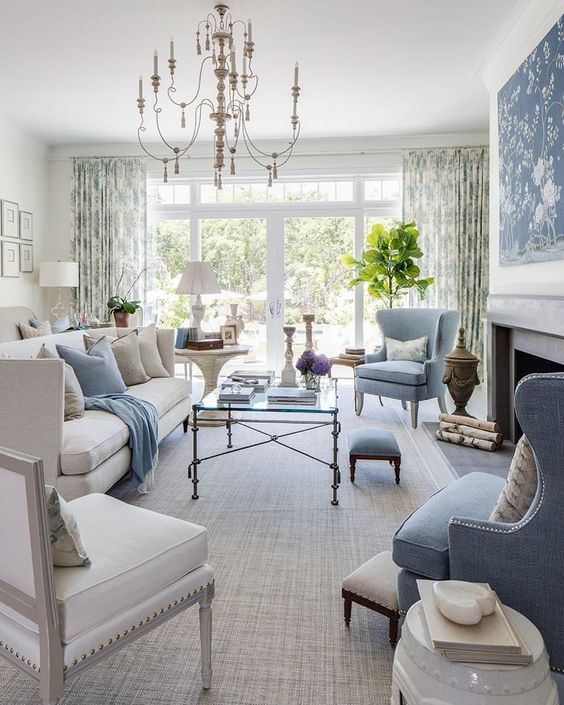 Types of Window Treatments
We're going to discuss tons of types of window treatments to get you familiar with your choices. This break down will be easily digestible so that you can get a feel for each of the categories and options available to you as well as the uses and price points for each. My goal is to simplify the topic so that you have a starting point that you can use to help form your next window treatment decision.
Before we get started with the individual window treatments, I want to answer a few questions about whether using a designer or distributor is right for you and where to find professionals.
Then, we will get into the two types of window treatment categories that encompass all of the rest: Hard types of window treatments and Soft types of window treatments.
Finally, I will wrap up with sources and links with more information for your research.
Should I use a designer?
There are a couple of factors to consider when deciding on window treatments. The first is your budget. If you can afford $30 for curtain panels, a designer is not going to be the way to go. And that's okay. Everyone has a different price point. If you are going to purchase and install window treatments yourself, install them like a pro with this post on how to buy and install window treatments. Additionally, if you enjoy DIY projects, you can measure and order standard or custom fabric window treatments & hardware and install them yourself.
Lastly, you don't want to fuss with choosing the right pattern or size, opt for a designer. Using a designer will save you the hassle of searching for options and measuring accurately. They take the work out of it for you, for a fee, and save you the headache. And, if you are accustomed to having custom window treatments or grew up with them, you're going to notice a difference if you opt for store bought curtains.
Here's a short list of reasons to do it yourself or to hire a designer.
DIY'er:
has a small budget
likes DIY projects
can mix and match patterns well
has sewing skills
wants to improve their home
Designer:
larger budget available
has had custom window treatments before
doesn't want to deal with installation themselves
no DIY skills
wants a designer to present the perfect selection
wants magazine worthy window coverings
needs to cover an odd shaped window or non standard window sizes
When to Use a Distributor
If you are able to afford custom window treatments, but don't need a designer to complete the project the next best thing is a window treatment professional. A lot of designers have relationships with workrooms and will direct you to them as well.
The benefit of using a professional is that they can take all of the hassle out of the it because they know all the things about wind treatments. What type, how you will use it, what fabrics are available, best fit for odd windows and more. It is second nature and so you will get the benefit of all of their knowledge while having beautiful window coverings installed.
So when should you call in the pros:
If you have more than 1 room to cover (over 5 windows)
If you can afford custom window treatments
When your designer uses a professional to implement their vision
Odd shaped or oversized windows
Want designer fabric for your window treatments
Don't want to DIY
Want someone to handle all of it for you
These are a few great reasons to hire it out to the professionals.
Custom vs Ready Made
A quick note on custom versus ready made window treatments. If you are a DIYer and you have a smaller budget, you'll probably land on ready made window coverings.
Blinds, shades and curtain panels are within your ease or ordering. Most home improvement stores will cut blinds down to size. After measuring your window, you can order the appropriate window curtain panels.
Remember to hang them HIGH and WIDE- account for this when you measure. They should touch the floor or be 1″ above, not 12″ above the floor.
If you have 8′ ceilings, opt for 90-96″ panels. If you have 9′ ceilings you must go with 108″ panels or they will fall short.
Let's talk custom. If your budget is a little heartier and you think you want custom window treatments, contact your designer or window professional. They will survey the windows and you can start choosing the options you want.
Custom window treatments will be installed for you. They will be trained to open and close correctly and the pleats and seams will be perfect. Custom panels won't be wrinkled and the bottom will hit at the perfect spot. These custom window treatments will give a professionally designed look to your room.
WCAA
(Window Coverings Association of America)
To find a window treatment workroom or installer near you, visit WCAA for a free directory.
Where to buy window treatments?
Now that we have talked about custom and ready made window treatments, you want to know where to purchase them.
For ready made panels, I opt for Pottery Barn, Ballard Designs, West Elm, and Anthropologie. These are just a few retailers that have decent panels at an affordable rate. They will look better than the standard BBB or Amazon panels.
Next, blinds and shades, your local Home improvement store is a great start for regular window coverings for privacy and light blocking.
Lastly, for custom window treatments, I recommend going through a designer or workroom. If you choose to install them yourself, the next best thing would be to order semi-custom window treatments from an Etsy shop or window treatment tailor.
Are you ready to get started with the two category types of window treatments: Hard and Soft.
Hard Window Treatments
When you think of window treatments, you probably think of blinds or curtains. The most basic difference is the purpose. Hard window treatments are functional, they provide privacy and block out light. I'm going to address the types of hard window treatments such as blinds, shades and shutters.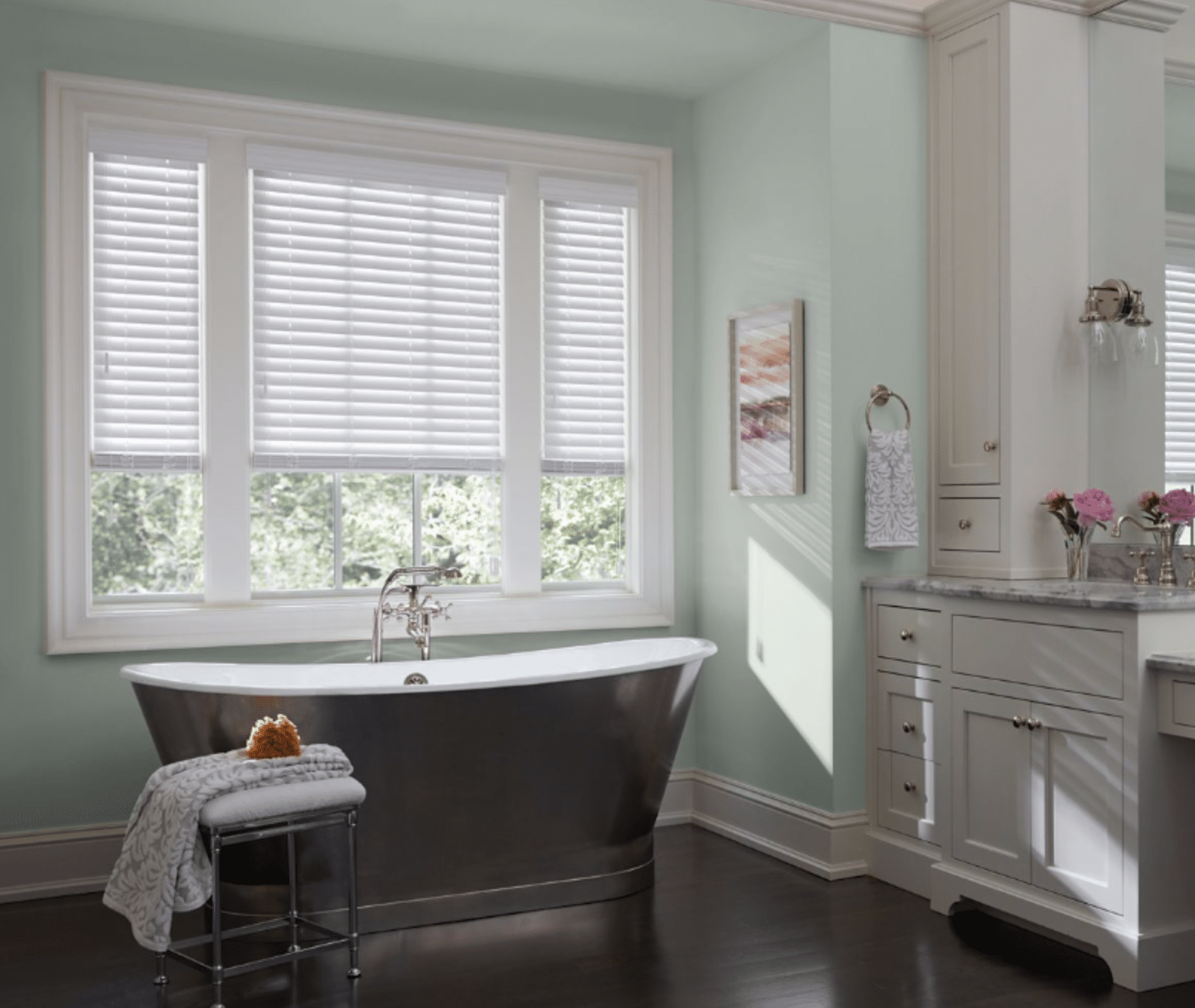 Blinds
Blinds are the entry level window treatment. They provide privacy & functionality on a budget. Blinds can give your rooms privacy from street traffic. In a neighborhood, they will prevent those walking or driving by talking and pointing into your home, even if they are admiring it, it can be awkward. Blinds also block out close by neighbors, but still give your rooms natural light & a view of greenery outside.
Choosing blinds is a great base for your window coverings. You can easily measure the windows and get them from a home improvement store.
Pros: they tilt open to let in the right amount of light, not just move up or down
Cons: blinds are a cleaning nightmare; they collect dust and aren't easy to clean the individual slats regularly.
Common types of Blinds:
Aluminum Blinds
Faux Wood Blinds
Real Wood Blinds
Vertical Blinds
Motorized
Shades
Next, are window shades. Shades provide coverage and privacy. They also come in at a reasonable starting price point. Lets discuss the types of window shades:
Roller
Honeycomb
Dual shades/silhouette
Woven wood
Motorized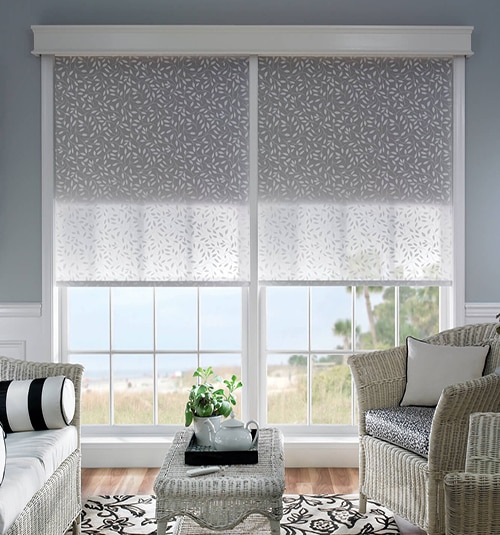 Roller Shades
Your basic roller shades used to be vinyl and plasticy looking. While you can still purchase them, they come in as entry level window treatments with a low price tag.
Now, you will find hundreds of options of plastic, bamboo, burlap and fabric shades for custom motorized shades. These motorized shades have brought roller shades back in style for privacy and room darkening in high end design. Roller shades come down from the top of the window, by remote control, and are customized to your taste and aesthetic. Motorized shades can be custom and quite expensive.
Hundreds of options for color and fabric
Can blend in and disappear for sleek spaces
Range from light filtering to blackout
Can be motorized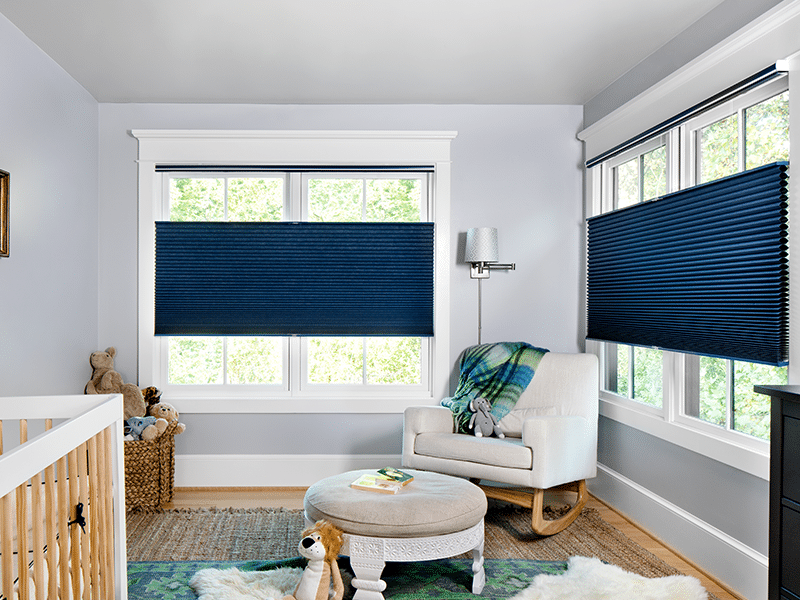 Honeycomb Shades
Largely consumer based and less used by the trade (i.e. interior designers), honeycomb shades are affordable and can provide continuity throughout your home. They are made from one single sheet of fabric in a cellular construction and roll up or fold up. Honeycomb shades are constructed with honeycomb shaped pockets. These shades can also be motorized.
Cellular or honeycomb shades are also know as top down bottom up.
They are installed at the top of a window and can be drawn up like standard blinds.
There are cordless styles of honeycomb shades, which as a parent of young children is huge pro.
Can be made with different pleat sizes: the larger the window, the larger the pleat.
Cellular construction helps insulate homes and reducing heating and cooling costs.
Sound absorption helps make surrounding quieter.
Hundreds of color options from neutrals and bold colors to exclusive prints.
Multiple cell size options, including 2" pleat, cover small to large windows.
Fabric opacities can range from sheer and semi-sheer to blackout.
Can be made to fit octagon, round or arch window shapes.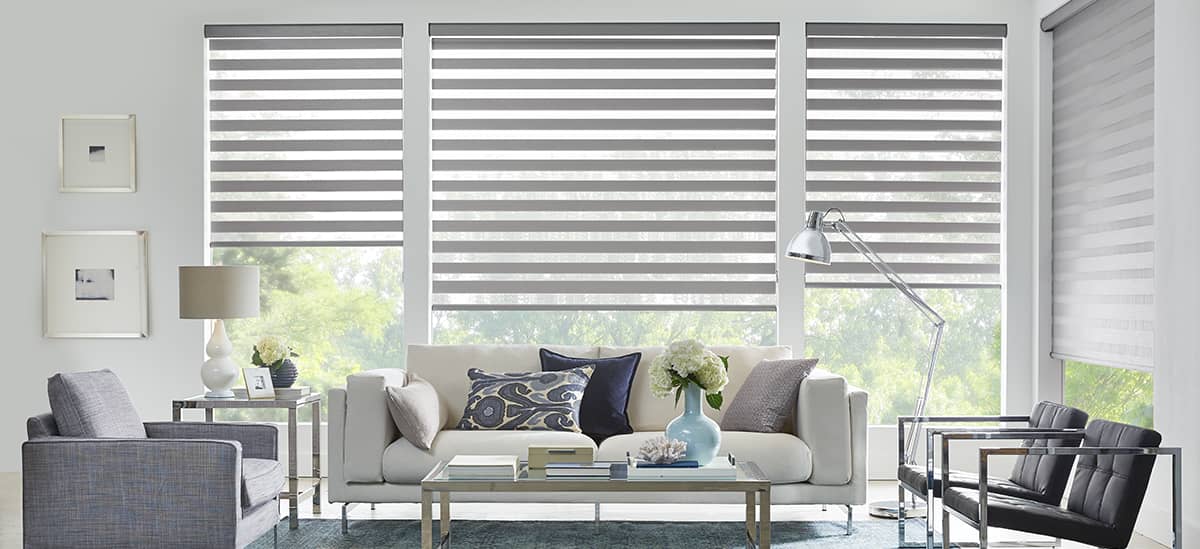 Dual (Silhouette) Shades
Dual shades, are a combination of a shade & blind. They are made of 100% fabric, and can be tilted open or closed, while a sheer fabric panel extends over the entire window covering.
In open position, a sheer fabric panel covers the entire window.
In between the sheer panels, are vanes that tilt open or closed for more or less light.
Best for not often used rooms to let light in and see out, while protecting furniture from UV.
Constructed on a continuous cord loop.
Con: while the fabric is easy to clean, it can trap small outside critters over time. To clean, use compressed air (for your computer keyboard) to get them out of the pockets. Don't use hot heat or it can melt the shade.
Not ideal for opening and closing multiple times a day, or in locations difficult to get to, but commonly used.

Woven Wooden Shade
Also know as a matchstick shade, these bamboo woven shades are made of natural material woven into a roman shade with a large valance at the top. Woven shades are very popular in 2019/2020. Because there are affordable options, they are a great choice to warming up a room and adding a layer of texture.
Made of natural material and warm up a room.
They are constructed like a roman shade, and can be cordless.
You can layer curtain panels or valances over these shades.
They can be cut to measure at the hardware store for lower end shades and woven to measure for customization.
A typical 29″ x 60″ woven window shade will start around $100 at your local hardware store.
Designer quality, high end shades can be found at- Hartman and Forbes, Conrad, Presidio Classics, which require a distributor to order.
Custom woven shades give you more color choices, but you will go thru a distributor to order them.
For inside mount shades, they are anchored to the inside top of the window frame.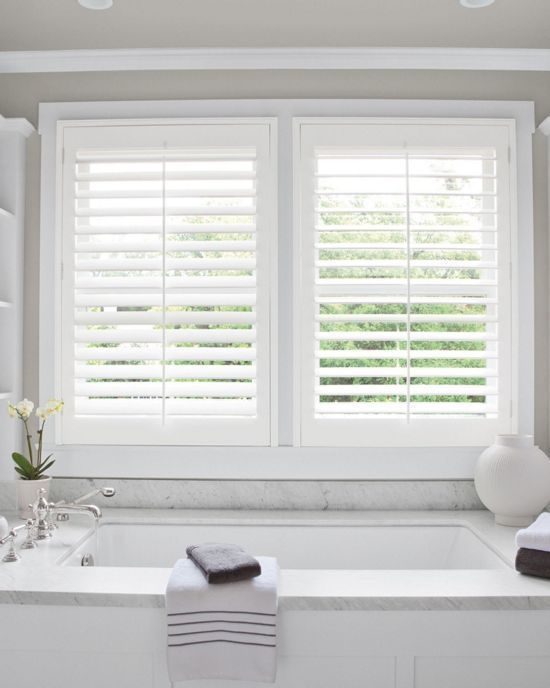 Plantation Shutters
Originally used in the South, plantation shutters were placed on windows as protection from sun and heat. These shutters have a clean architectural look, like crown molding and built ins. They can be used all over house for a congruent look. You do not adding soft treatments over shutters.
The louvers, or slats, of plantation shutters are moveable, allowing you to adjust them to regulate the amount of light that enters the room.
The most common louver widths are 2 ½, 3 or 3 ½ inches.
Plantation shutters are usually made of wood, but can be vinyl or composite construction.
Wood shutters are available in a choice of colors, depending on the manufacturer, but are typically white.
They can also be purchased in a variety of paints or stains, as well as in bare wood that you can paint or stain yourself.
Because they can take up space to the sides while in the open position, they are best suited for standard sized windows.

With large windows, the shutter doors are larger and therefore have to have somewhere to go when opened. This means they take up space to the sides of the window.

It's best to use them if your window treatments normally stay closed. They are not best for opening every day.

Be aware that furniture can get in the way- i.e. not easy to access behind a sofa in the living room, not good behind the nightstand.

Vinyl are the most affordable .
Composite shutters are faux wood are sturdy and weather resistant, while maintaining a classic wood look.
Prices for faux wood start around $100 for a 29″ x 36″ window.
So, if you are looking for a rich, architectural look without the need for constant adjusting, plantation shutters are the way to go. If you have a large southern plantation home, I can't think of a better window treatment for your first floor.
We have covered the hard window treatments which serve a functional purpose, but some can be used in conjunction with soft window coverings for an aesthetic appeal as well.
Soft Window Treatments
Moving on to the second of the 2 types of window treatments are the soft window treatments. These are the icing on the room that can serve a function, but truly add aesthetic value to a well designed room.
They soften the room and can be the focal point or minimal in the background to keep with the design on the room. Soft treatments can set the tone for the room, elegant, formal, causal, cozy, dramatic, colorful, neutral.
Well made soft window coverings are generally a higher cost than a simple hard shade, but can be range from affordable store bought panels to very costly for custom treatments with motorization.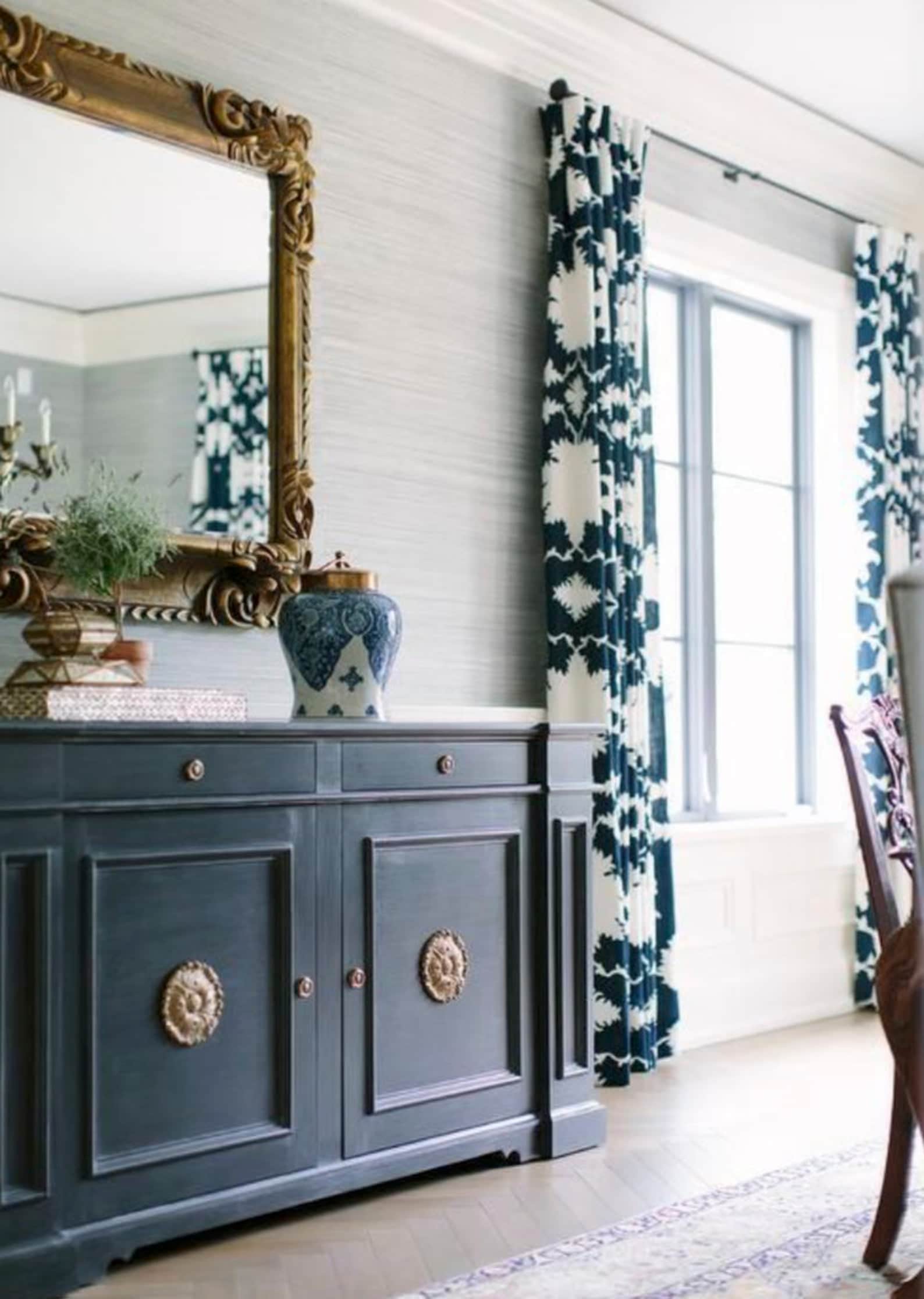 Drapery panels/Curtains
The most well known soft window treatment are drapery or curtain panels. You know what they are without explanation. So let's talk specifics. These are the jewelry on the room. They soften it up and are a way to incorporate color and pattern into a room. If needed, they can fade into the background. Still they are functional for privacy and light filtering.
Using draper panels can make the window look wider that it is & make rooms look taller
Construction: Rod at the top, Panel all the way down the side to the floor
How to Hang Curtain Panels
Hang them HIGH and WIDE
They should graze the floor and not be more than 2″ from the floor- no floating mid wall
Versatile and the price point varies from DIY to affordable to custom window treatments
Can be dressed up with trim, pompoms, embroidery and more
Blackout lining can be used for room darkening
Thin cotton lining is great for filtering harsh light, but still allowing natural light in
Fabrics choices are endless and add personality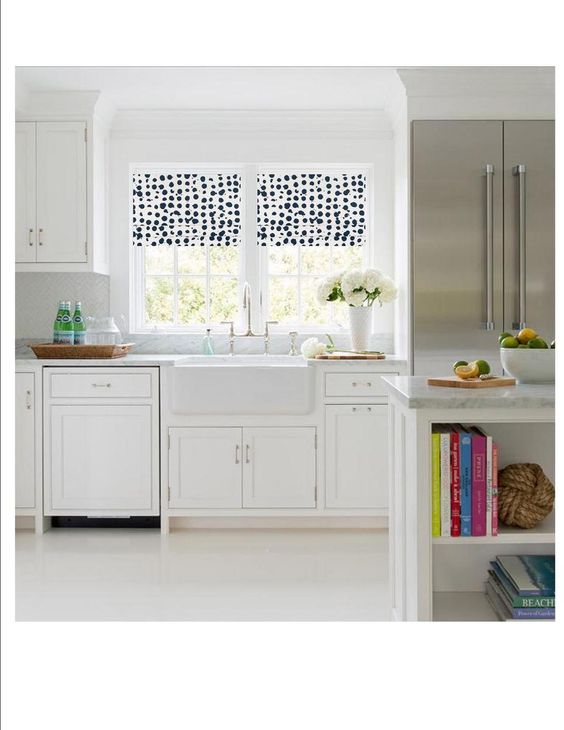 Roman Shades
Roman shades are another soft finishing that is common in the window treatment world.
Pros: These are best used when you can't go all the way to the floor. We never want to see short, floating draperies so if you have an obstruction on the wall, opt for the roman shade.
They are also common in bathrooms, as you don't want fabric draping the floor or weighing down a small powder room, plus germs. Eww.
Cons: Until fabric is trained, the sides get bunched and don't lay perfectly flat and folded. You have to use them and adjust them until they are trained, which can be as long as a year of readjusting it frequently.
I don't recommend for young children because kids can be really rough on them and break the delicate rings and pulley system. At this price point, you don't want ruined shades.
Best when you can't go all the way to the floor, we don't want to see short draperies.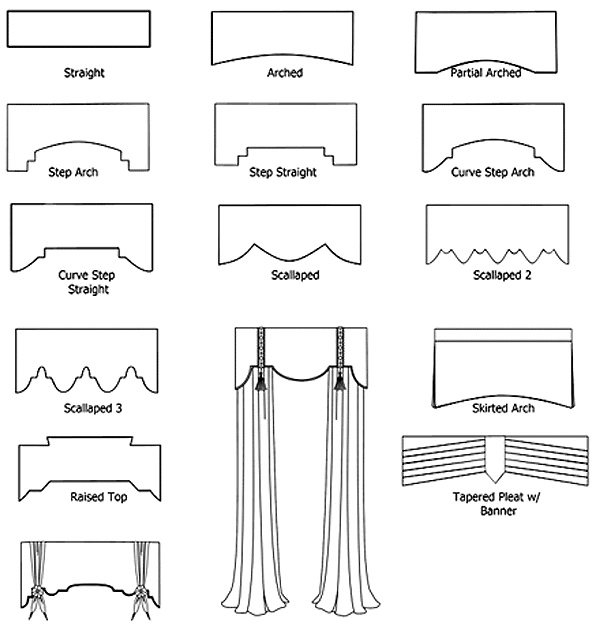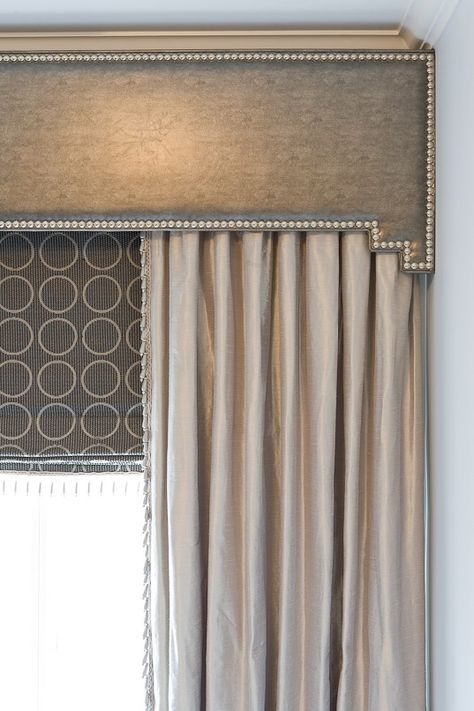 Cornices
Cornices are hard pieces placed atop the window horizontally. Typically they are crafted from wood, but can by plastic or composite. While they are decorative, they also function to hide or cover the top of the window treatment hardware or motorization parts.
The difference between cornices and valances is the construction of the piece. A cornice is made of a hard backing that can be covered in padding and upholstery, while a valance is mostly fabric.
As shown above, valances can be made in many different shapes.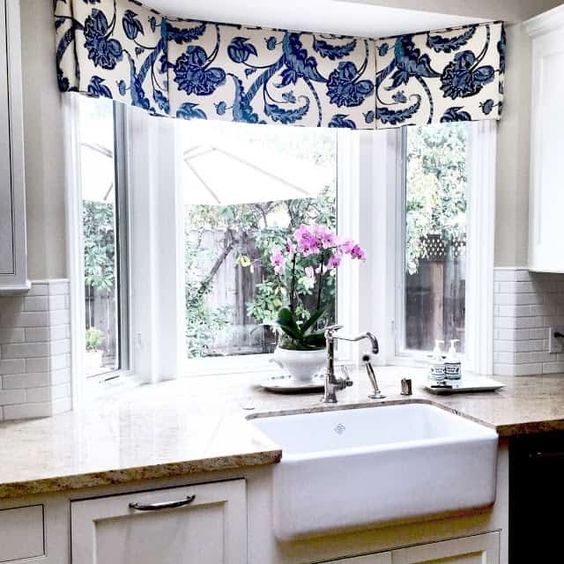 Valances
Valances are the short, fabric counterpart of the cornice. They are often made of soft finishes and placed at the top of the window, for decorative purposes or to again hide the hardware. They can be paired with hard window treatments such as blinds for added functionality. While valances are typically all upholstery, they can have a front board made of wood. This differentiates them from a cornice, which is hard construction on all sides.
Cornices and valances can be used to add interest and color to the room without blocking a great view with blinds or curtain panels.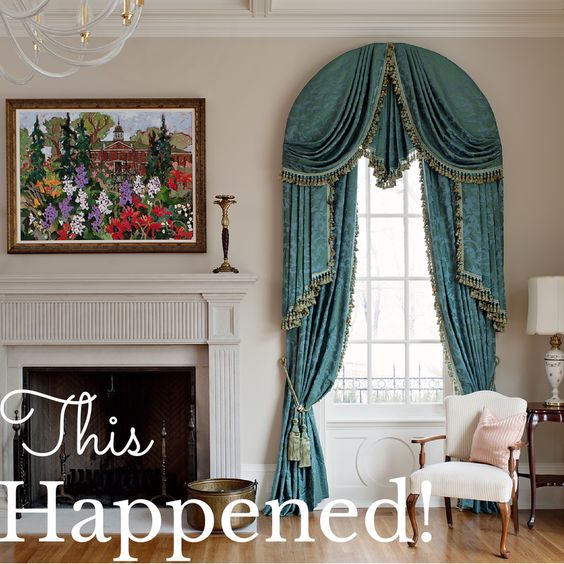 Swag
The swag. You know it. Your grandmother probably had it. It looks like the Queen of England. Large swashes of fabric rolled over the top of the draper rod in any number of twists and swoops. The swag can hide a multitude of odd window situations. Largely outdated, there is a time and a place for them.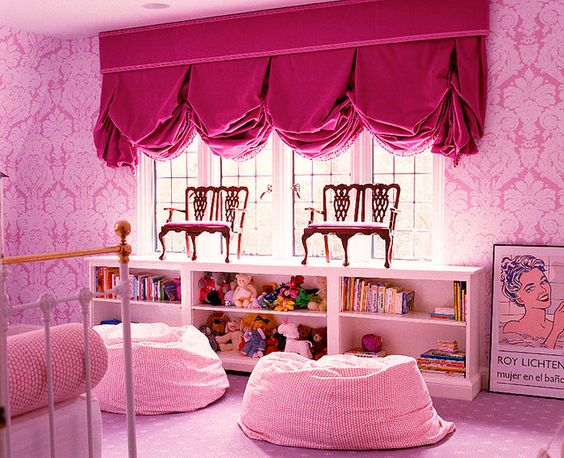 Balloon
Balloon shades look like a cross between a roman shade and a swag that's half way down the window. They lay flat when down, but scallops when pulled up and raised into the open position.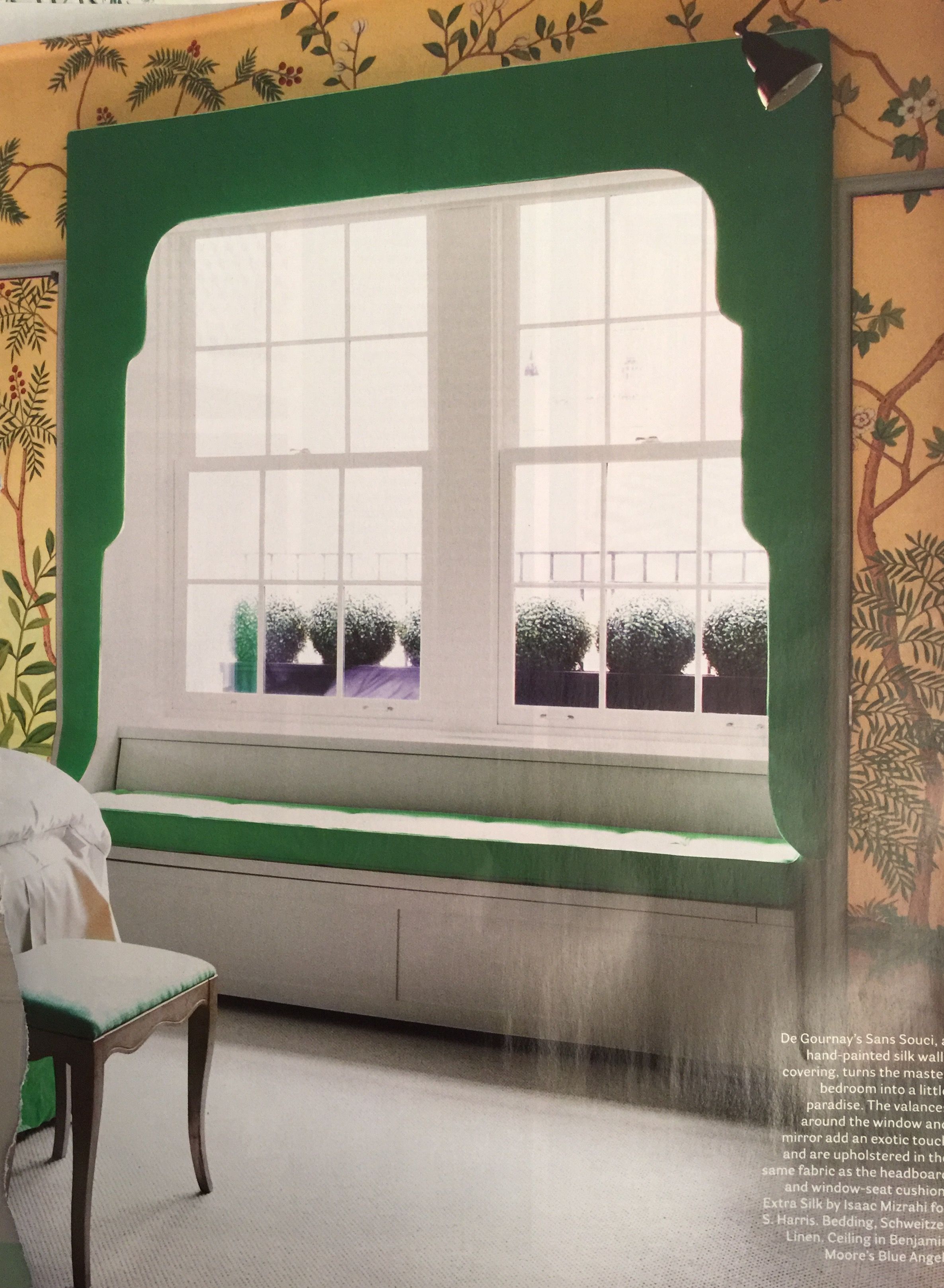 Lambrequins
Pronounced lam-breh-kin. These fabric treatments are like a cornice, but the fabric goes all the way to the floor or sill. Lambrequins were used in traditional period decor, think castles. Because of the length, they lend themselves to interesting shapes which can add wow to a room.
Conclusion
We've covered it all friends. I hope you are now well versed in the types of hard and soft window treatments as well as the pros and cons for some of them. As well as a good grasp of which treatments to use when and the affordability of coverings.
To recap, we discussed the following types of window treatments:
Hard window treatments

blinds

Aluminum Blinds
Faux Wood Blinds
Real Wood Blinds
Vertical Blinds
Motorized

shades

Roller
Honeycomb
Dual shades/silhouette
Woven wood
Motorized

plantation shutters

Soft window treatments

drapery & curtain panels
roman shades
cornices
valances
swags
balloon
lambrequins
There you have it. I hope you've learned a lot and go into your next window treatment project well informed and ready to make a decision for your home.
Sources: I have linked these additional sources about types of window treatments from which I pulled important information for this post.
How to Hang Window Treatments + Plus FREE Printable Worksheet
Window Coverings Association of America