I won $1,000 Wayfair Gift Card & Here's How I Spent It

Back in November of 2019 I received an email saying Congratulations! You've won a sweepstakes to Create & Cultivate and $1,000 in Wayfair gift cards. I have to admit, I googled it because I didn't remember entering, and I never win anything.
After a quick search, I found the original website and entry rules and it turns out it was legitimate. How exciting!
So, I eagerly emailed the sweet staff back and graciously accepted. I promised to let them know what I bought with the gift cards.
THIS IS NOT A SPONSORED POST
It's worth noting that often times, as bloggers we will publish sponsored posts or affiliate links (and disclose them). But, this post is not sponsored and I didn't "win" in order to promote Wayfair.
This was a genuine sweepstakes and somehow I lucked out with the one in a million chance of winning. To say I was surprised was an understatement!
SO HERE'S WHAT I BOUGHT
$1,000 WAYFAIR GIFT CARD: HERE'S HOW I SPENT IT
Alright, now that we've talked about the details of when and how we can get on to the fun part. The shopping spree!!
There are a few problem areas in my house. Okay, a lot of problem areas that still need work. To name a few, the entryway, two bathrooms, a kitchen gut job, master bedroom, upstairs hallway, bonus room, the laundry room, and half of the living room.
So basically, half of the rooms in my home need updates or have projects on the to-do list. And that's okay. It takes time and money to buy quality products and complete a room fully.
But, for this freebie, I wanted to make it count and use as much of it in one space as I could. If I could finish off one space, it would make a huge impact.
BLUE ENTRYWAY CONSOLE TABLE
The first thing I bought with the $1,000 Wayfair gift card was this narrow, blue console table. It would be a perfect fit for the entryway to hold a basket for keys and a shoe bin beneath for all of the kid clutter.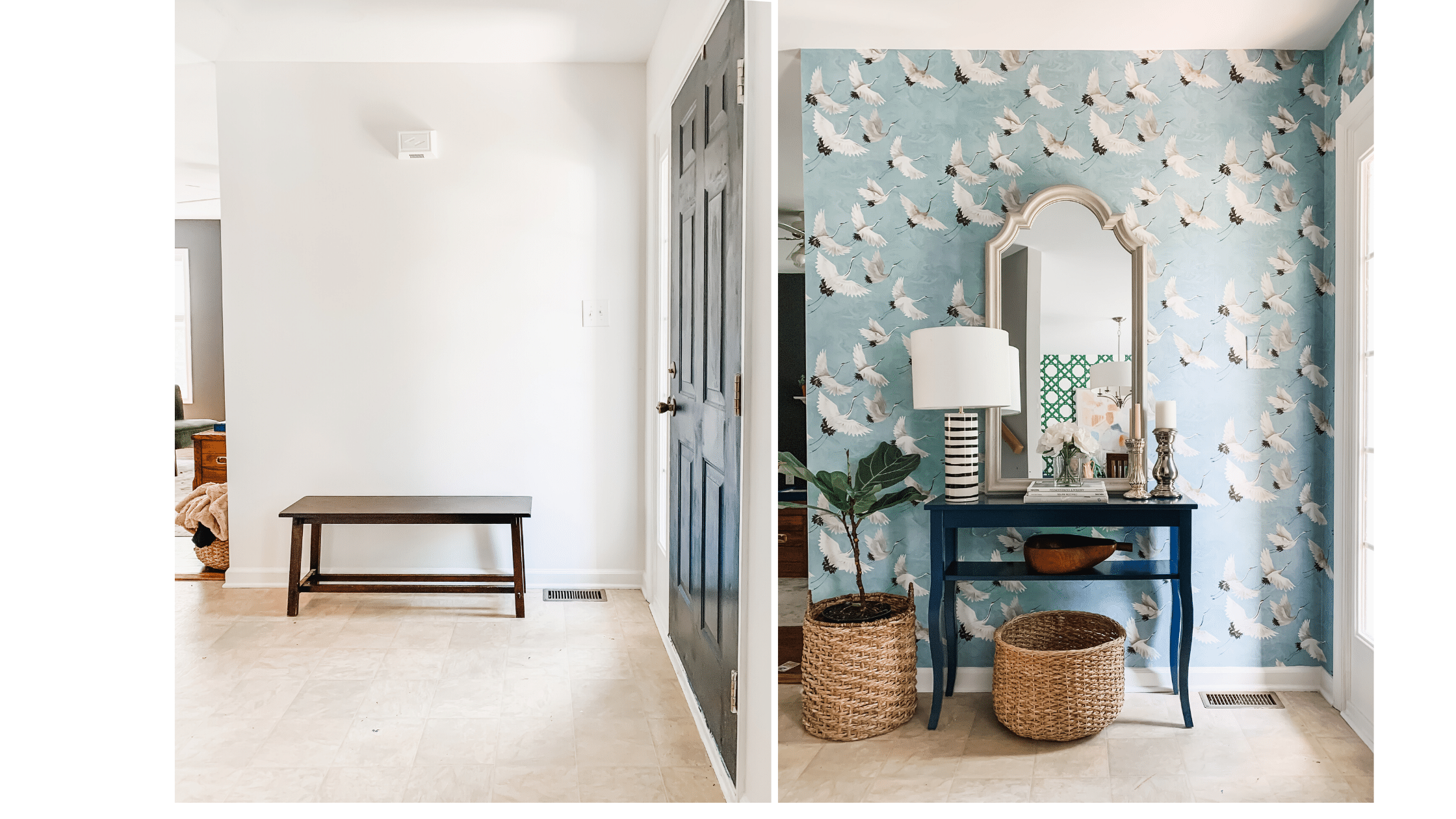 BLUE CRANE PEEL AND STICK WALLPAPER
Next, I chose this light blue peel and stick crane wallpaper to line the entryway walls with something fun and light.
To be honest, at first my husband was skeptical, my taste is certainly bolder than his, but after it was installed he couldn't stop raving about how great it looked and what a difference it made in the space.
It's definitely the right choice for our family's personality.
Black & White Patio Set
Lastly, since the entryway had the main things it needed to be complete, I used the last of my gift card to but a mini patio set of two black and white chairs and a little side table stool. T
hey are the perfect lightweight pieces to move around the yard while the kids are playing or my husband is gardening.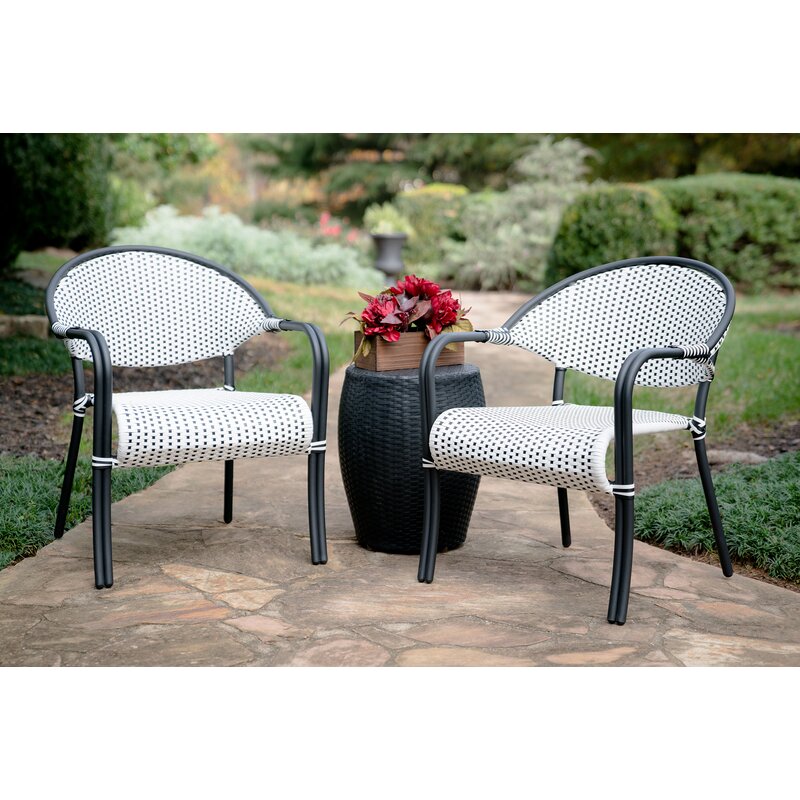 Linen King Size Nailhead Upholstered Headboard
Next, we were in need of a new headboard, so I set out to find an upholstered nailhead headboard. I liked the look and feel of linen and this one fit the bill perfectly.
It looks new traditional which fit perfectly with our style.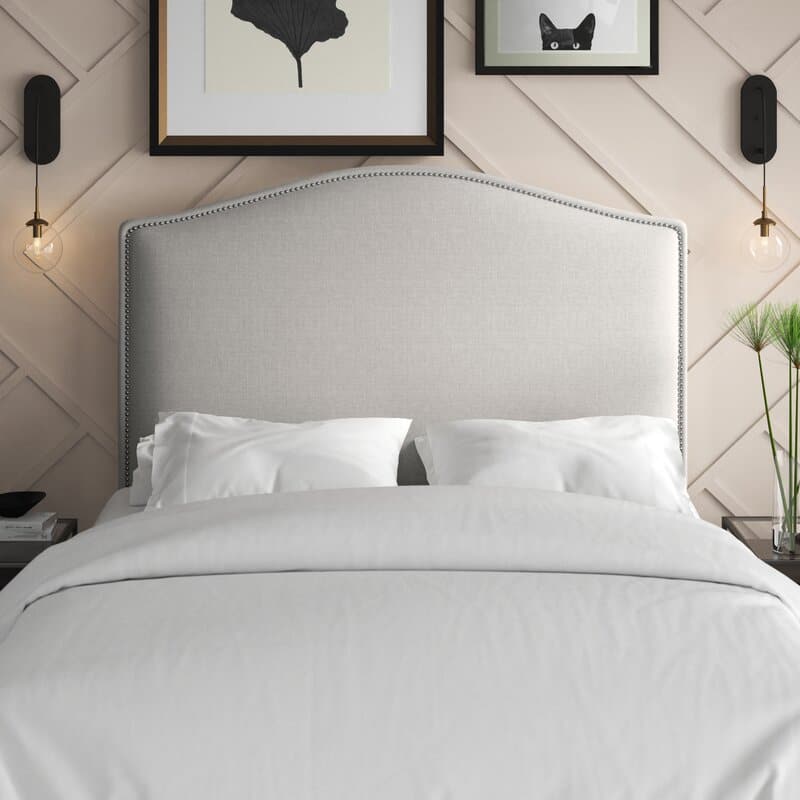 There you have it. I stretched the $1,000 to have outdoor seating and a gorgeous, vibrant entryway that we enjoy every day.
If you won $1,000 to Wayfair, what would you spend it on? Tell me in the comments below!