WE'RE ENTERTAINING! HERE'S WHAT'S ON THE TABLE: Hostess with the Mostest
Get your table ready for entertaining with these designer tabletop & servingware favorites from Crate & Barrel.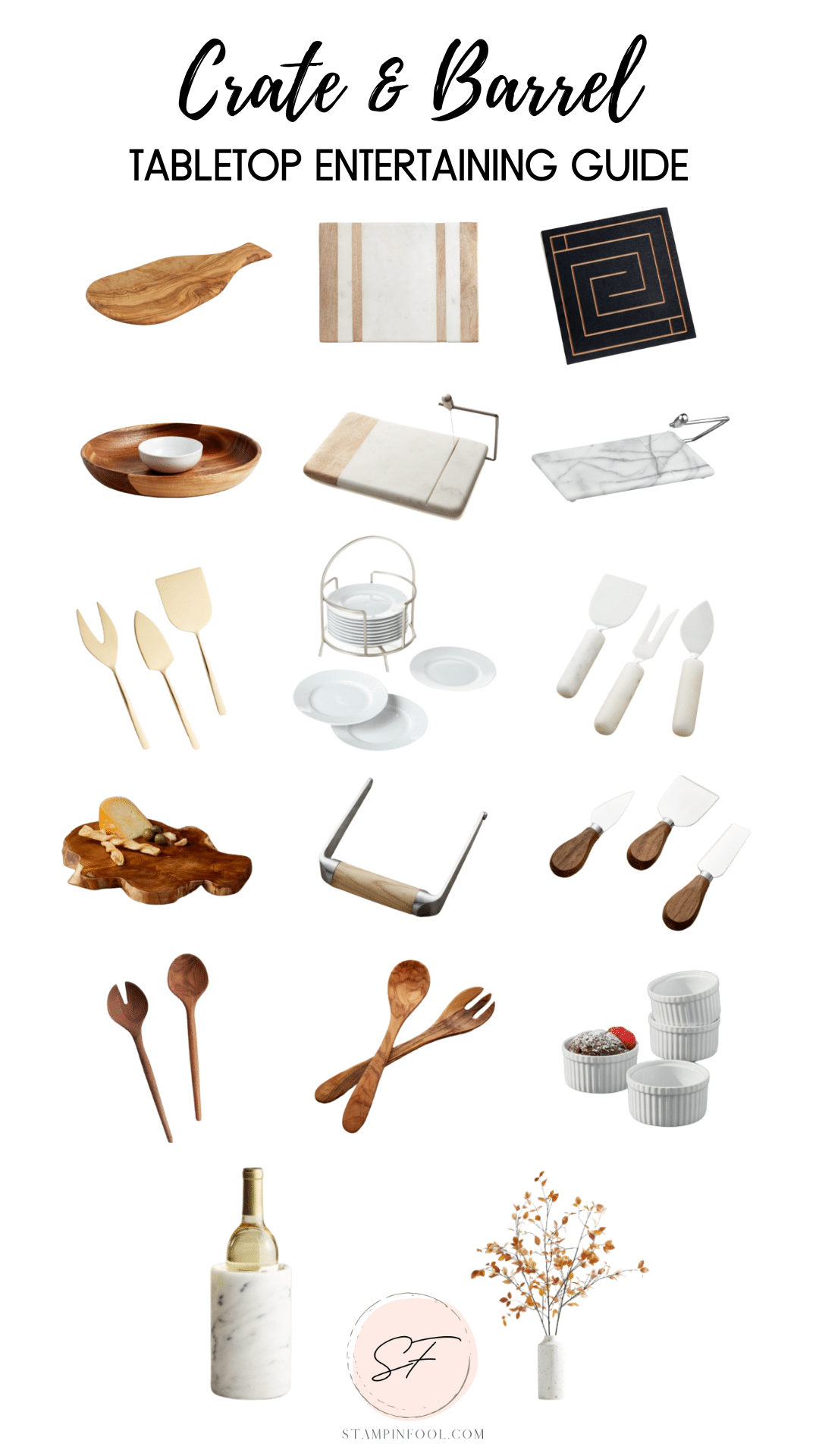 Tabletop Entertaining guide to hosting dinner parties
When you're ready to host a dinner party, the first thing that comes to mind is probably how will I set my table? How can I make it look nice and what serving pieces do I need?
We'll walk you through what you need to set the perfect table and how to entertain your guests at the dinner party. Once you have your dining room all set up with beautiful plates and serving ware, you can turn up the music and enjoy the fun!
Plan Your Menu + Servingware
You will need to plan a fall themed menu for your dinner guests. Along with your main dish, you should include side dishes and a fall dessert.
Here are some menu ideas for your autumn dinner party menu.
Main Course
Pork chops with Balsamic Reduction
Seared Scallops with Browned Butter
Rack of Lamb
While all three of these options are delectable, the rack of lamb is truly special. I recently used this recipe to make it for my family and it was phenomenal.
It was easier than I imagined; who isn't a little nervous to ruin a $26 rack of lamb? But, it turned out beautifully and the directions were easy to follow.
It is a real crowd pleaser and your guests will be impressed.
Side Dishes
You can pair those seared scallops or rack of lamb with one of these fall oriented side dishes as part of your dinner party menu.
mashed potatoes
glazed carrots
roasted sweet potatoes
brussel sprouts + bacon
Dessert
Lastly, we can't forget to include dessert with our dinner party. So pair one of these decedent desserts with your autumn meal.
Pumpkin Spice cupcakes
Apple Crisp
Carrot cake
Now that you've planned your menu, you will need to think about what kind of platters and bowl you'll need to serve the dishes.
For the main course, you will want a large serving platter for the pork or lamb. If you chose the seared scallops you will want a lidded ceramic serving piece to keep them warm until you plate them.
For the side dishes, classic white serving bowls are the perfect presentation pieces.
And last but not least for dessert, you can use ramekins to cook individual portions of each of the desserts (or pop the cupcake into a ramekin and frost it).
Don't forget to account for serving utensils like salad servers (I love olive wood sets) slotted spoons, large serving forks and a carving knife.
FOR THE GUESTS: Entertaining
You're done with the menu planning and you have planned the servingware, it's time to set the table.
Confirm how many guests you will have (plus the host or hostess + family) and you will need place settings for that number.
Here's where you can really be creative with a decorative placemat, charger, table runner or place card. In addition, each place setting should have:
drinking glass
wine glass
salad fork, dinner fork, knife and spoon
butter knife
napkin
salad plate
dinner plate
how to create the prefect cheeseboard
Congrats! Your menu is planned, your dinnerware is prepared and now you can think about the most fun part- the cheese board.
My hands down favorite part of any party is the cheeseboard. In fact, I often make them for birthday gatherings as something savory to snack on when all else is filled with sweet.
Things you'll need to set up the prefect cheeseboard:
cheese board or slate board
cheese knives
cheese cutting block
ramekins for dips/sauces
appetizer plates for guests
HOW TO MAKE A SHOWSTOPPING Cheese Board
I've made a lot of cheeseboards- at least once a month I don't feel like cooking dinner, so I whip up a cheese plate. Cheese boards are the perfect entertaining appetizer.
Trader Joe's has the best selection for your cheeseboard. I like to include:
green goddess cheese
stilton with apricots
rosemary asiago
brown mustard cheddar
honey goat cheese
aged gouda
almonds
blackberries
dry salami
peppered salami
prosciutto
banana peppers
olives
grape tomatoes
fig crackers
assortment of crackers
pretzels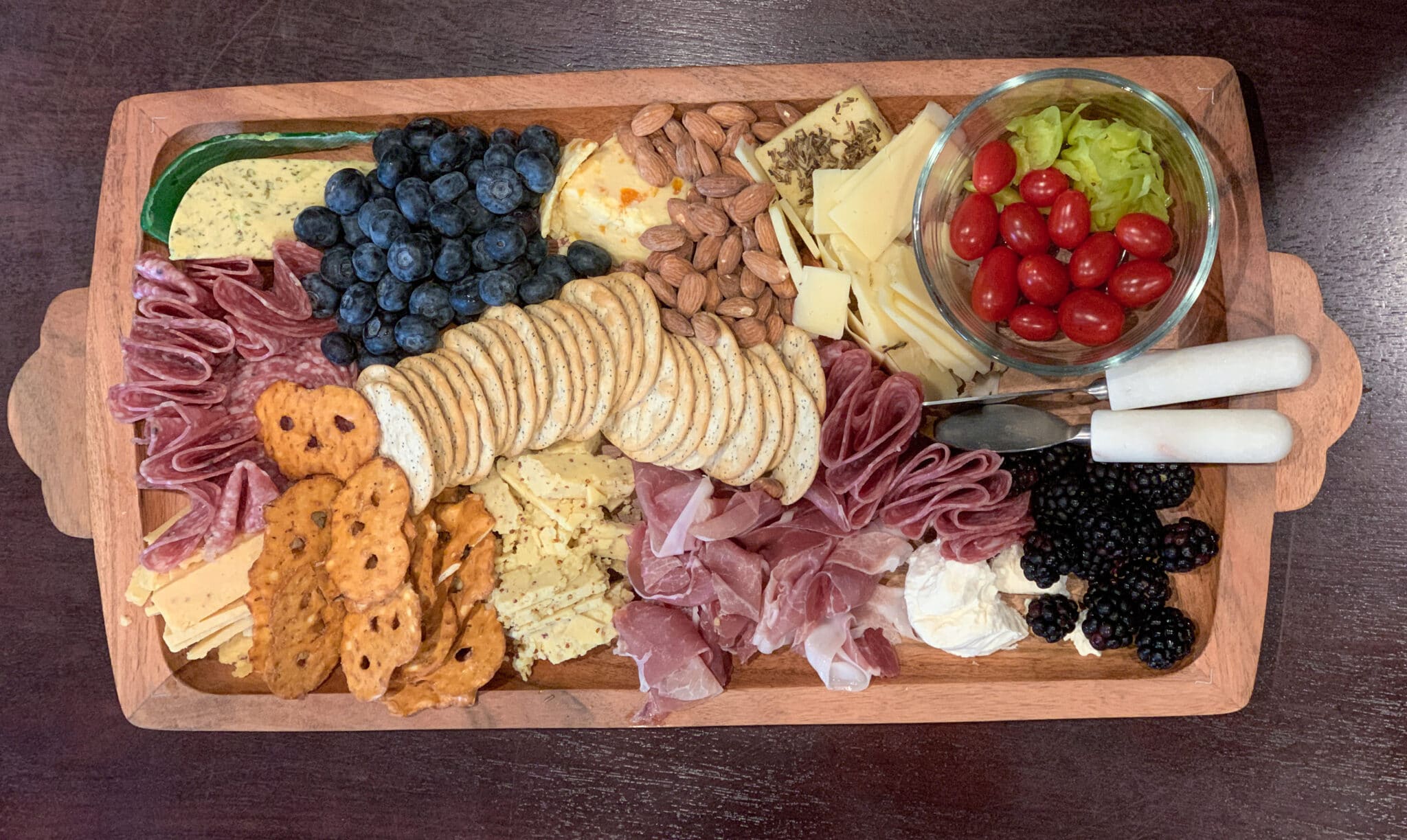 Your guests will be able to snack and chat before dinner is served. There's something for everyone with this cheeseboard.
Set the Playlist
Choose your favorite tunes on Spotify or Pandora and tell your Alexa to play the music. It's time to party!
Here's What You need to host a Fall Dinner Party & FALL ENTERTAINING GUIDE
Fall TableWare FOR ENTERTAINING GUESTS