2023 Best Kitchen Cabinet Colors
These are the best 2023 Cabinet Colors for your Kitchen, from blue to green, and these oak wood stain colors for timeless kitchen cabinets.
If you're planning on giving your kitchen a makeover in the near future, you're probably wondering what cabinet colors will be popular in 2023.
2023 Kitchen Cabinet Color Trends
Cabinet color trends come and go, but there are always a few classics that remain stylish year after year. Here are a few cabinet colors that are predicted to be popular in 2023:
–White: White cabinets are classic and timeless, and they never go out of style. They can make a small kitchen feel brighter and more spacious, and they're easy to pair with other colors and materials.
–Blue: Blue is a popular neutral that works well with many different styles. It's perfect for adding contrast to a mellow kitchen kitchen.
–Green: Green, earthy tones are back big time in terms of cabinet color. For those looking to add a little mood to their space, green is the way to go.
–Mushroom: The term mushroom is being thrown around a lot to describe off white, ivory, sand and taupe color cabinets. This is a refresh from the traditional cream colored cabinet that leans earthy, but not to ornate.
–Natural wood: Natural wood cabinets are making a comeback in recent years, and they're predicted to be even more popular in 2023. If you want a warm and inviting kitchen, natural wood cabinets are the way to go (we'll talk about the best way to achieve that look below).
These are the kitchen cabinet colors that are expected to be popular in 2023. When choosing cabinet colors for your kitchen, it's important to consider your personal style and the overall aesthetic you want to create.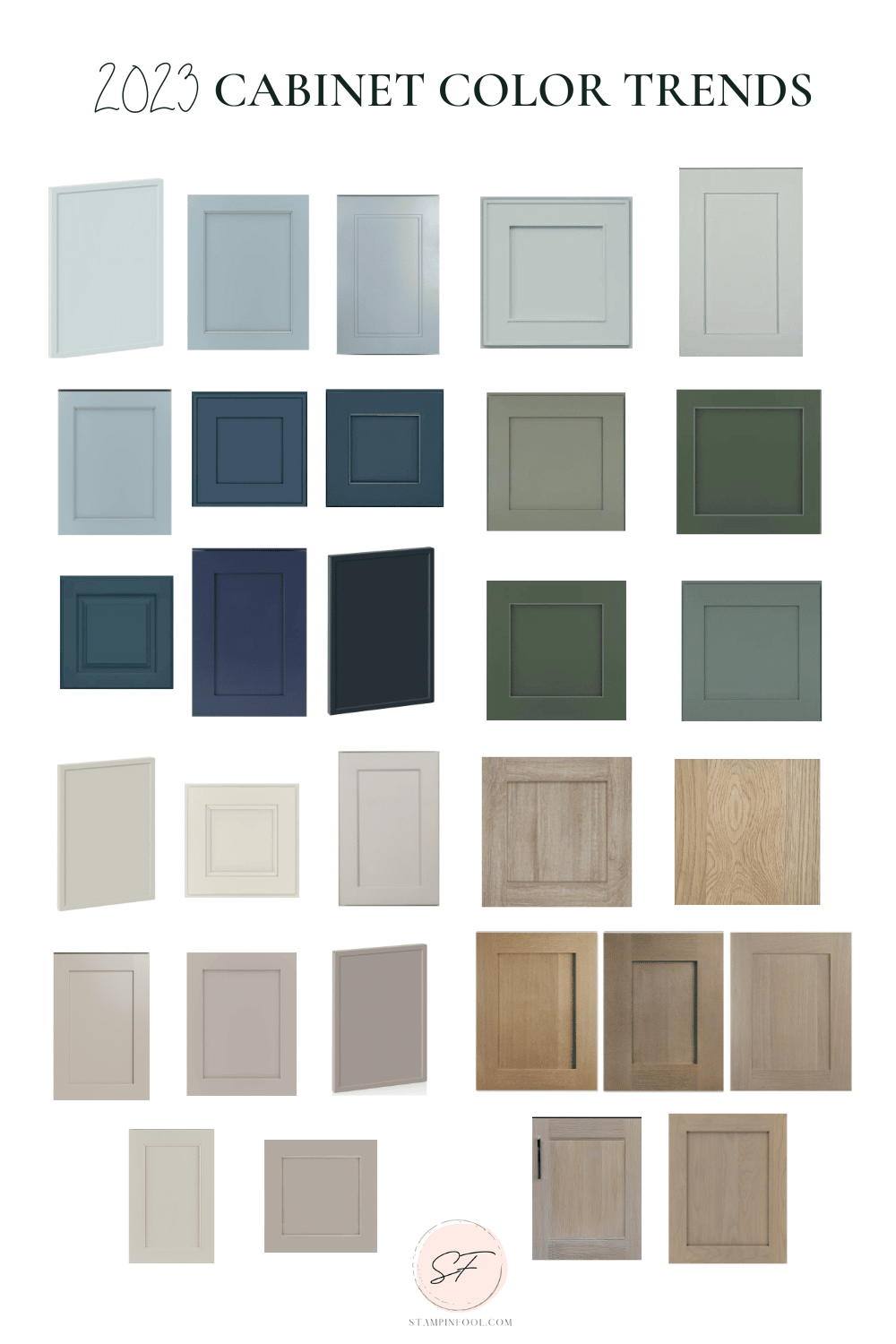 Choosing Kitchen Cabinet Colors
There's no doubt that choosing a cabinet color can be a stressful decision because it's a big, expensive commitment. It will be the main color in the space, it needs to relate to the other rooms around it, and to the style of the home.
Here are a few things to ensure the process is smooth and you are confident in your decision:
browse and pin inspiration images
search/explore colors and styles that you don't think you like (you may be surprised or notice details you love)
decide the finish you like most (matte, satin, semi, high gloss)
choose countertop and backsplash selections
pick 3-5 paint colors or wood finishes that you like
get samples of those colors
hold the samples upright in the space where the cabinets will be (to see how they look in the space)
narrow down your choice by comparing the countertop & backsplash, floor with the cabinet options
order one of each hardware as a sample
choose a complementary wall color
look at everything together & take a photo in natural light
step back and look at it all (plus the photo) to make sure you are happy with selections commit and own it!
2023 Kitchen Cabinet Color Trends
blue
green
mushroom/taupe
warm whites
natural oak wood tones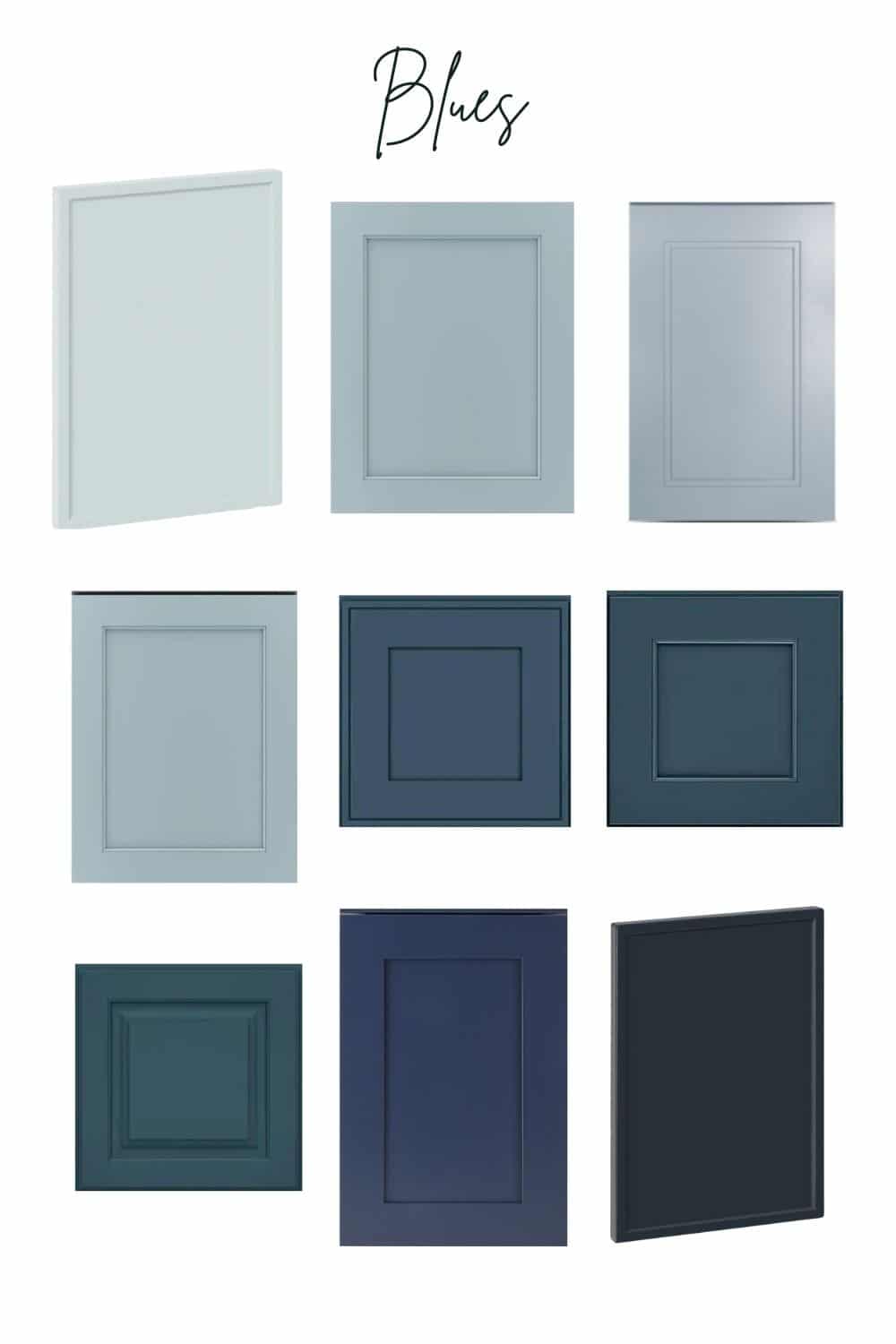 Blue Cabinets
While blue cabinets have been around for awhile, they are still going strong. Frankly, I think there will always be a place for them.
Blue is a neutral. We see it everyday in jeans, a blue suit, that favorite blue blazer. It feels comfortable when you want to add a little interest, but are too scared to go bold.
Here are a few suggestions for your cabinet color: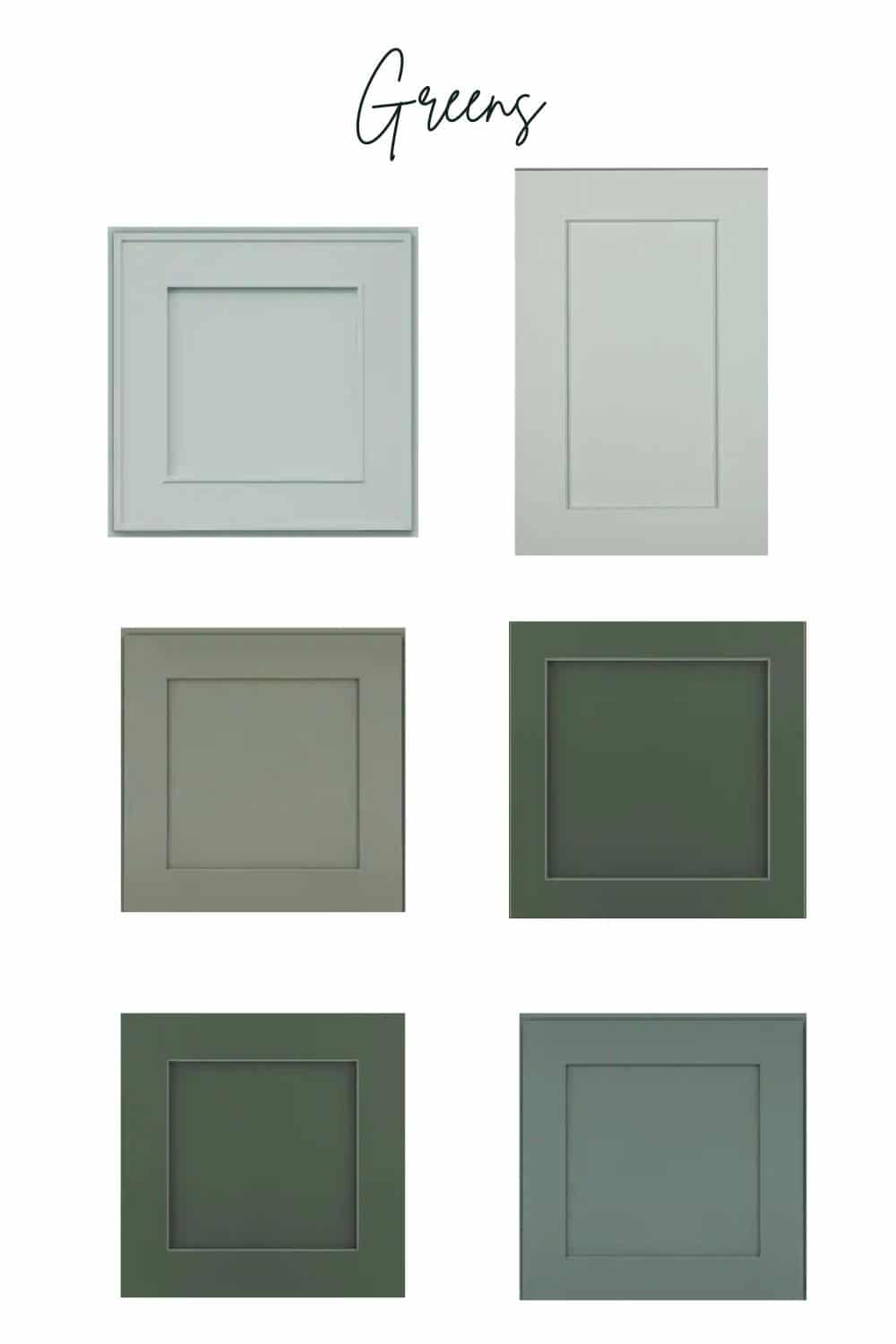 Green Cabinets
Green is trending strong in the cabinet community because it is earthy and warm. It works well in contemporary (often called modern, inaccurately) kitchens. Stronger colors are often used in more traditional, colonial style homes.
Here are a few suggestions for your green cabinet color: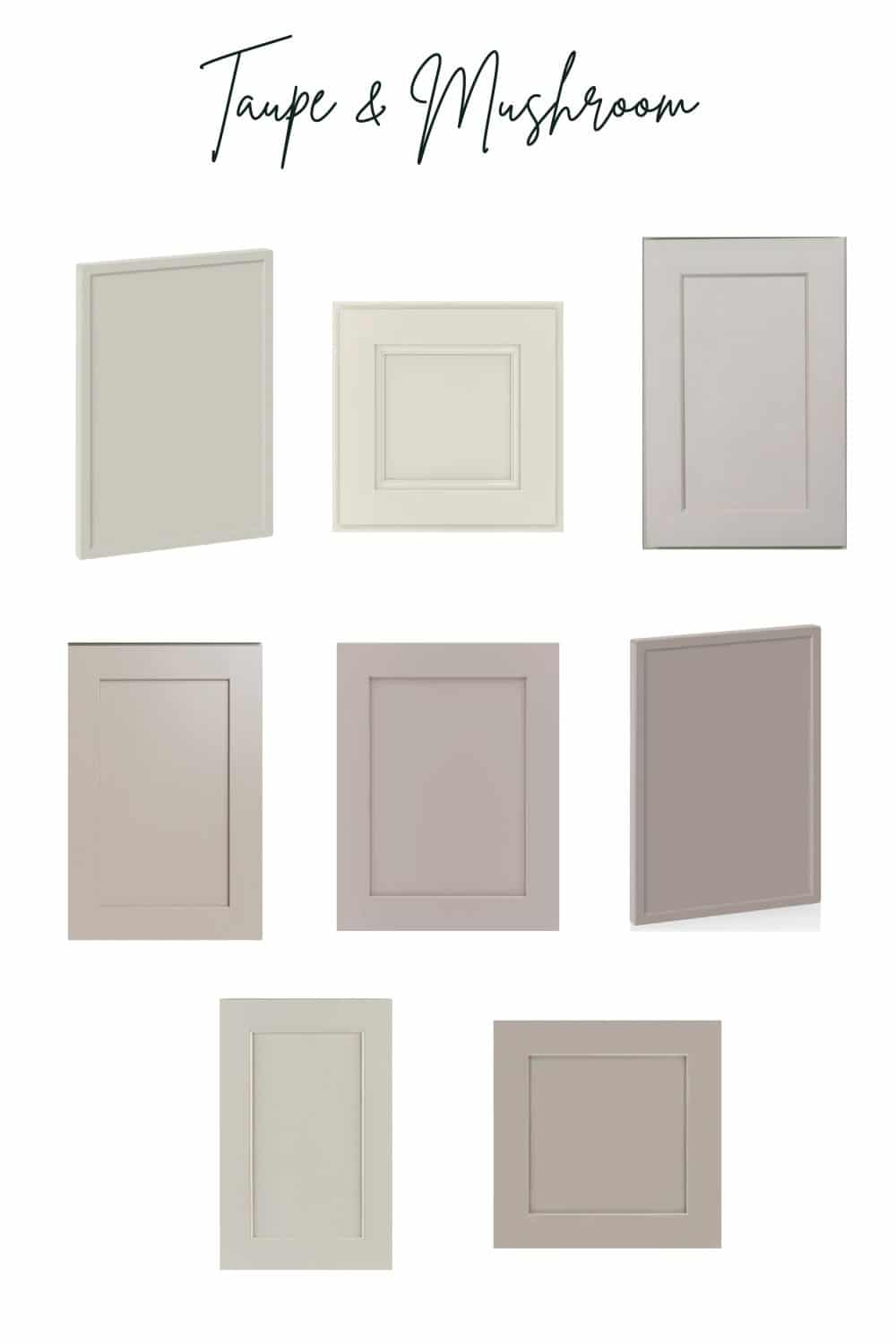 Mushroom, Taupe and Sand Cabinets
Beige by any other name is mushroom (still beige), ha!
As warmer whites and natural wood tones come back to cabinets, flooring and furniture, so do warmer cabinet colors. These taupe-ish colors have some depth to them and create a neutral background with nuances that make you question what color it really is.
The big distinction between these mushroom colors and beige is that they don't have overt yellow undertones, which gives them a cleaner more desirable look.
When searching for cabinets in this color range, use terms like mushroom, sand, taupe, beige, linen, warm gray, tan, putty.
Mushroom/Taupe cabinet color suggestions: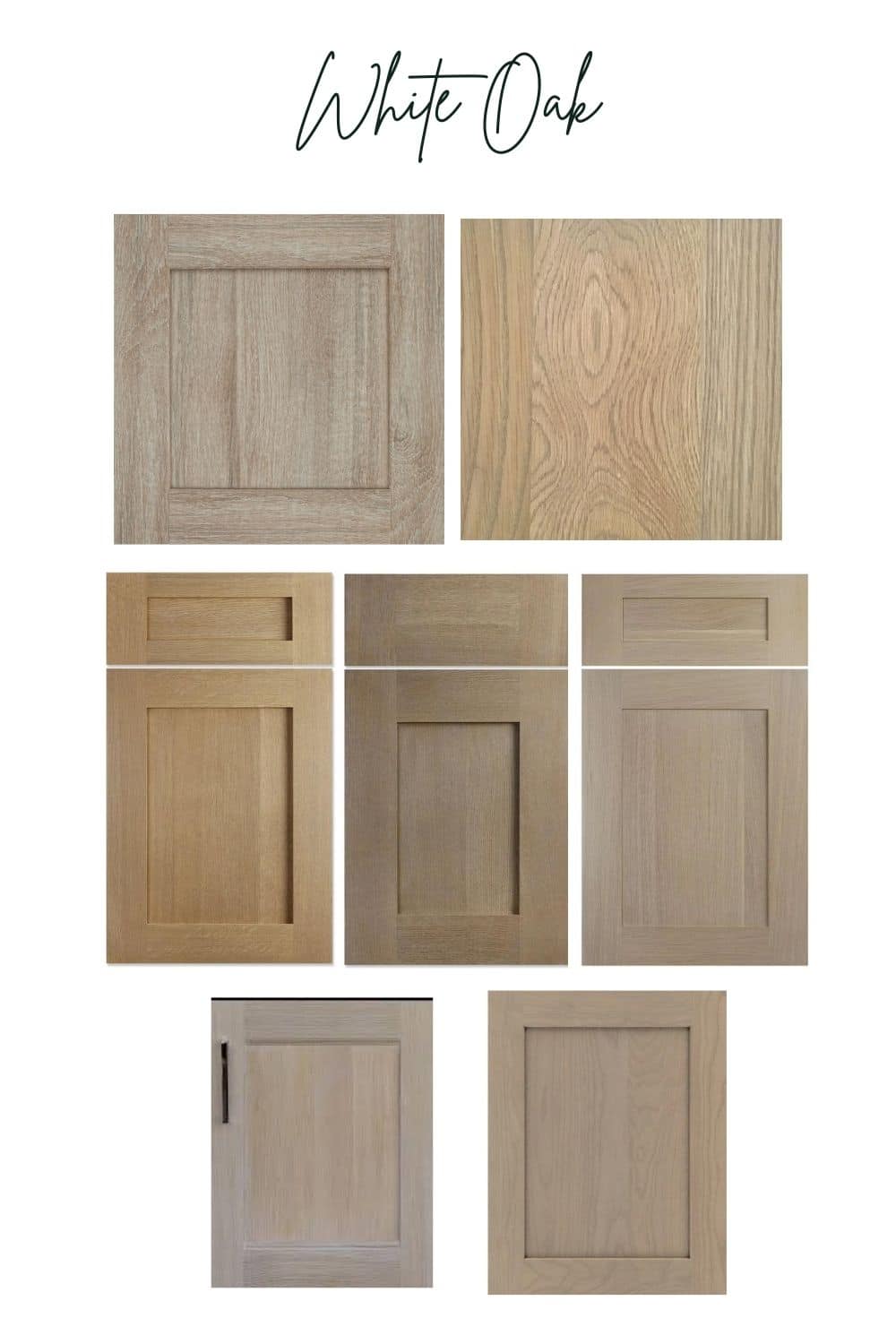 Natural Wood Stain Cabinets
It's no surprise with warmer, earthy colors trending in kitchens, wood stain is back with a bang. In general, light natural stain is more popular than dark espresso stains.
Clients are trending towards rift sawn oak cabinetry with a clear, water-based protective coat over top of the wood without adding pigment. Occasionally, a little bit of color is added with a penetrating stain like Minwax Fruitwood, Classic Gray or Simply White.
Read this post on the best Cabinet Stain Colors from the 3 most commonly used vendors.
Popular Oak Cabinet Colors
Oak cabinets are making a comeback, but not the builder grade orange oak with heavy, open wood grain. Instead we are seeing natural water based stain applied to rift sawn and quarter sawn oak panels.
We are also seeing darker stain colors making an appearance, paired with dramatic countertops and marble on the backsplash as well.
Need help making your builder grade oak cabinets work without replacing them, read this article.
Timeless Kitchen Cabinet Colors
White cabinets will always be in style. While the door style and details may change, a full overlay or inset white cabinet door is likely to always work.
Also, well made neutral stain wood cabinets will always look nice when you updated other elements around them, like countertops, hardware and flooring.
Kitchen Cabinet Colors FAQs
As an interior designer and decor blogger, I get a lot questions about kitchen cabinet colors and trends. Here are the most commonly asked questions I get when helping clients with a new build or kitchen remodel.
What cabinet colors are in for 2023?
Natural white oak, walnut stain, blue, green, mushroom and taupe and warm white cabinets are the most popular cabinet colors on the leading edge.
Gray, stark white, and very dark traditional cabinets are on the tail end of most kitchens in transitional and new traditional design.
Are wood cabinets coming back in 2023?
Backstreets back alright, and so is natural wood cabinets in kitchen design. But make no mistake, this isn't orange oak, builder grade or tuscan 2.0, it's rift sawn white oak or a walnut like stain color highlighting the natural properties of the wood.
Are oak cabinets Coming Back in Style 2023?
Rift sawn white oak cabinets in skater and modified shaker, with a small bevel are coming back string in 2022. Full overly and inset cabinet doors are the distinction that make these wood cabinets look expensive (and they are).
Builder grade oak and orange oak are still out. They look cheap and are the cheapest to manufacture.
Are white cabinets going out of style 2023?
White cabinets will always be in style. While the door style and details may change, a full overlay or inset white cabinet door is likely to always work.
With that said, there are a million white paints that dictate the style, hardware trends change, and if you are going white on the cabinets, you should add your personality into the backslash or countertops. A white kitchen shouldn't mean sterile or lacking style.
Should kitchen cabinets be painted the same color as the walls?
Yes, you can paint kitchen cabinets the same color as the kitchen walls. A similar or contrasting color is also a good option. The main decision will be the trim color.
Should kitchen trim be painted the same color as the walls or cabinets?
The trim touching cabinets should be the same as the cabinet color, however, the rest of the crown and trim in the room can be a different color, but doesn't have to be.
Should cabinets and trim be the same color?
Cabinets and trim don't have to be the same color throughout the entire house or kitchen, but trim touching the cabinets should be the cabinet color.
How can I make my kitchen look bigger?
Natural light is the best way to make a kitchen look bigger. If you don't have natural light, swap out fluorescent light for bulbs that are more natural light producing.
Making sure the space doesn't have too many busy elements will help the space look larger and let the eyes rest. You can still use color or pattern in a small kitchen, just choose one place to use it.
Take the cabinets to the ceiling, use gorgeous accent lighting and window treatments, because a finished space will always look better that a blank space.
What's the best color to paint kitchen cabinets for resale?
Undoubtedly, the most unassuming kitchen will sell best because the buyer can make any changes they want. White cabinets would be the best choice for selling a home.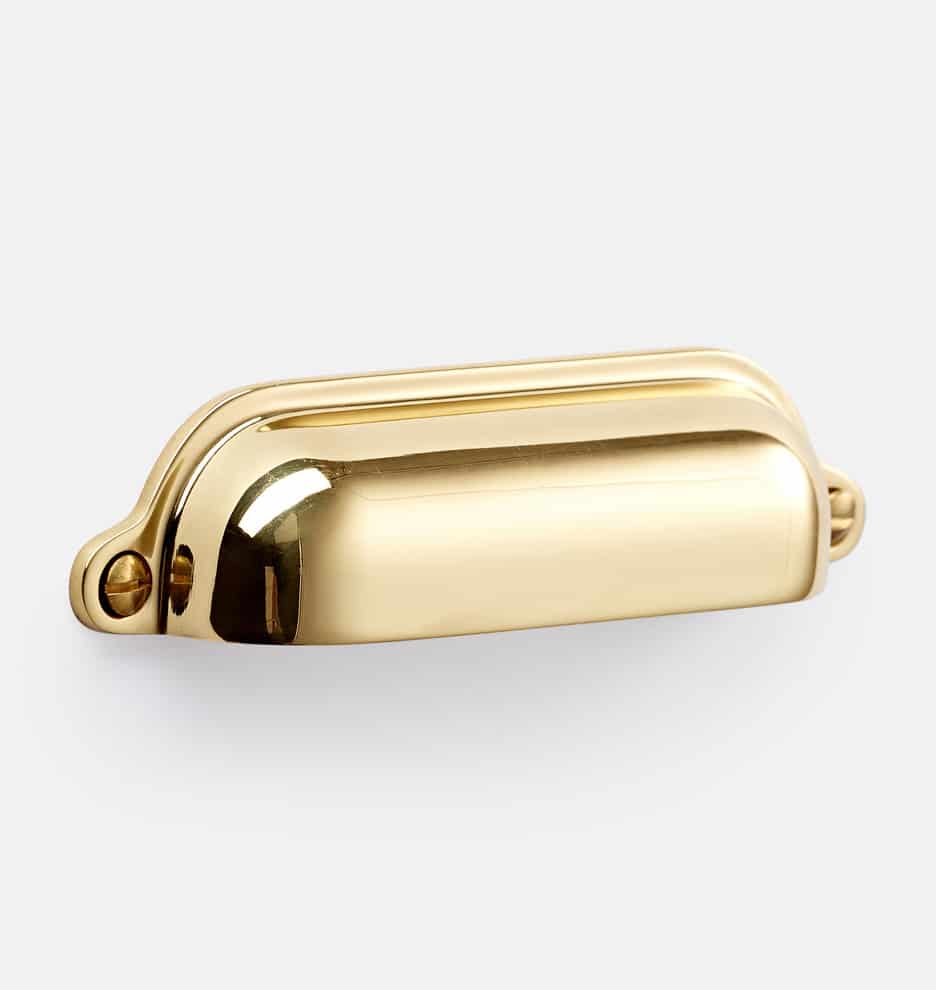 What is the most popular hardware finish color?
Brass is back in style, but we want to avoid the shiny gold and lean into brushed, aged or unlacquered brass for a warm, naturally aged look and feel. Brass is heavy and durable which will make your kitchen look expensive.
If you despise brass, opt for polished nickel which is real nickel, has a little shine and a lot of warmth and depth.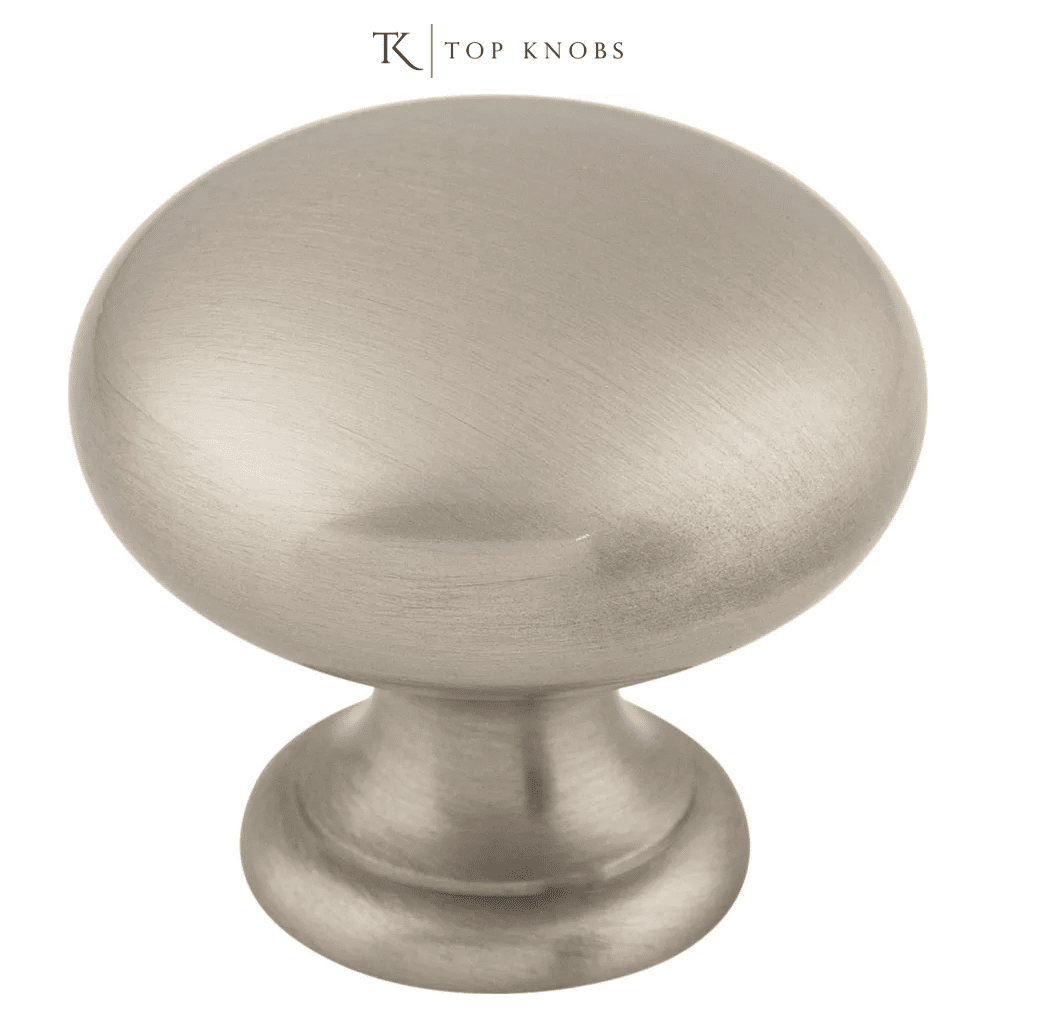 Is Brushed nickel out of style 2023?
Yes, brushed nickel hardware is out of style because it looks cheap. Instead of brushed nickel, we use polished nickel which has a natural depth and warmth to it.
Below is a comparison between polished nickel, brushed nickel and chrome cabinet hardware.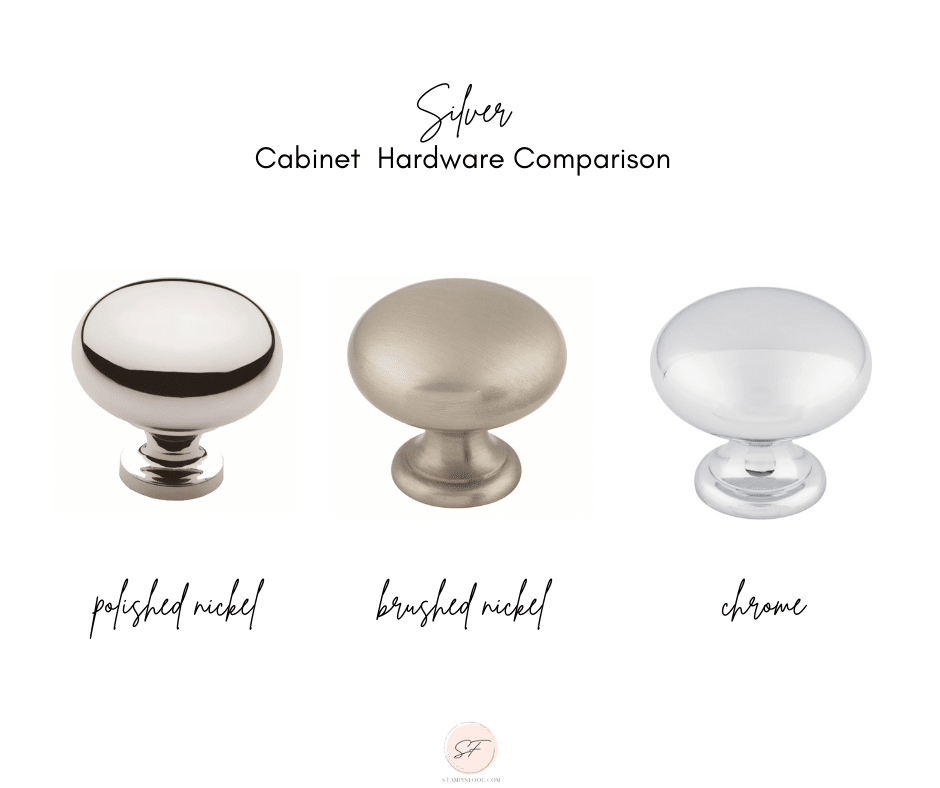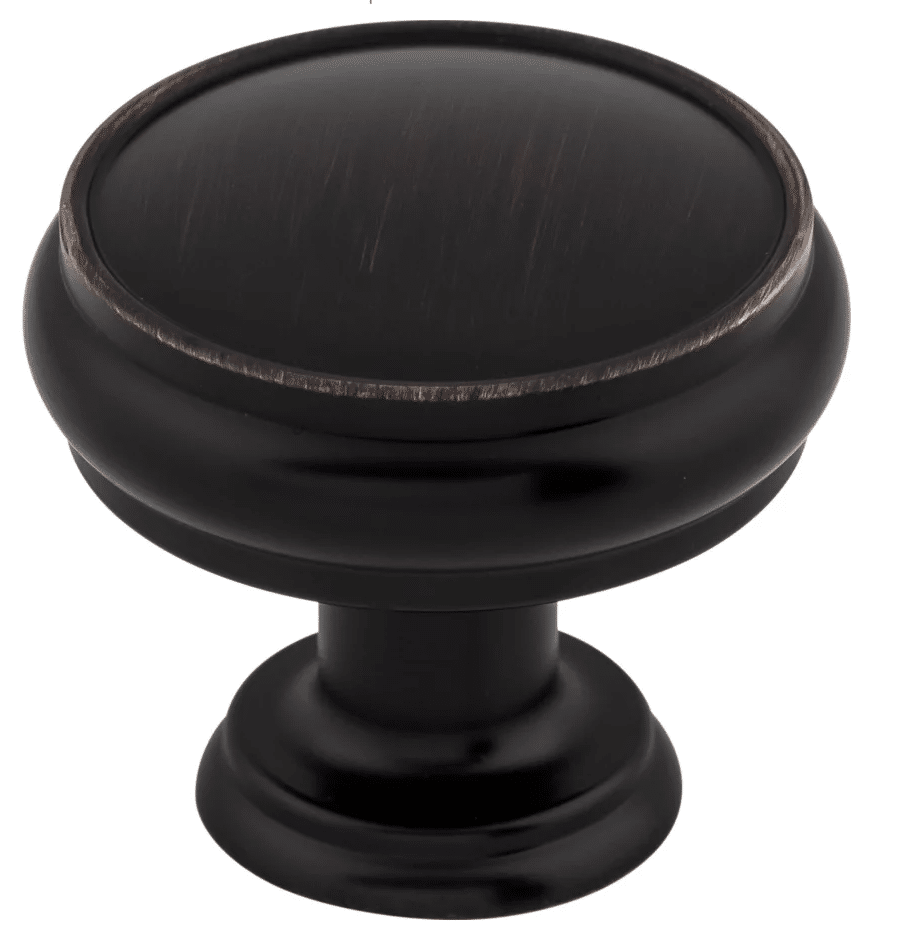 Is oil rubbed bronze out of style 2023?
Oil rubbed bronze tends to date a kitchen or bathroom or give it that tuscan feel, which is not in style anymore.
There are cleaner options like brass, black or polished nickel that don't require this two tone metal hardware finish.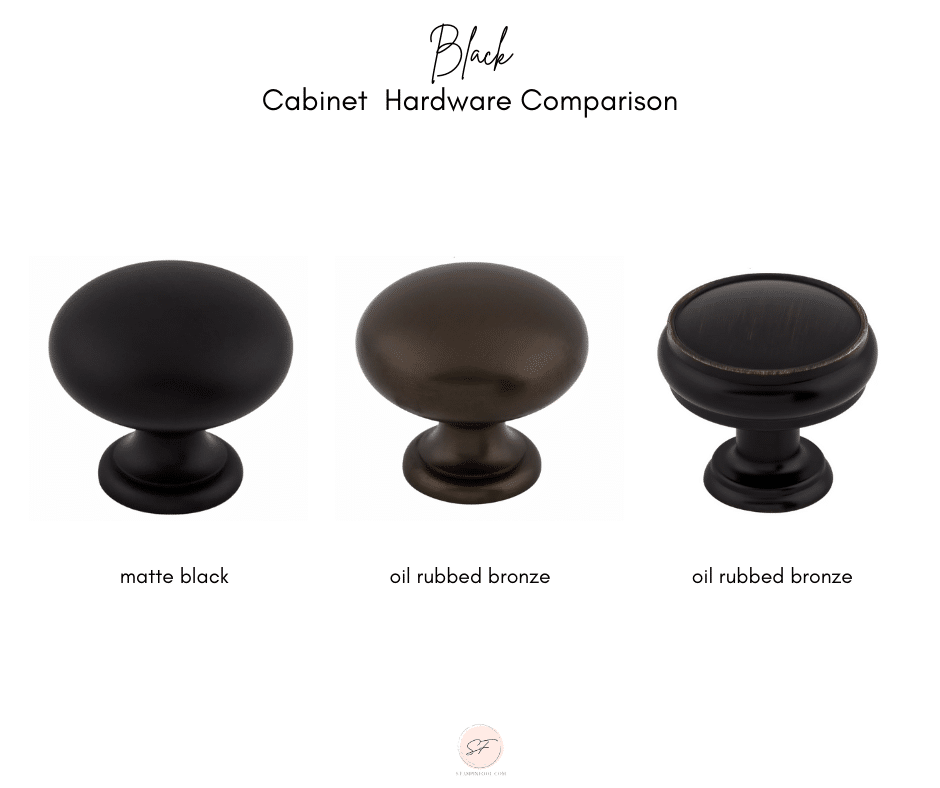 Is matte black hardware out of style 2023?
Matte black hardware is still going strong in 2022. While it typically screams modern farmhouse, it can read transitional, industrial or contemporary if the shape is correct.
What is the most popular countertop for 2023?
Quartz has taken the kitchen countertop world by storm and is by far the most popular countertop for 2022 and beyond. If your budget allows, quartzite and marble are the best upgrade you can make.
Are granite countertops out of style 2023?
Granite is out, quartz and quartzite are in. Granite countertops are now considered builder grade because the stone is so busy, it is very hard to pair well in kitchens. While it is hard and durable, it is dated and less than desirable.
Is quartz going out of style?
The good news is that quartz is here to stay! You can get a marble look at a better price and a more durable product. It holds up well to kids and cooking, but looks less busy than granite (which is a huge plus).
Conclusion: On Trend Cabinet Colors for 2023
To sum it up, you are the one paying for your remodel and you should be in love with the cabinet color you choose. White will always be in style if done right, but these colors and wood tones are coming in big and are here to stay!
So if you need a little style in your home, start with one of these cabinet colors.
Blue cabinets
Green cabinets
Mushroom, Sand & Taupe cabinets
Warm White cabinets
Natural White Oak cabinet stain
Kitchen trends come and go about every 7 years and most remodels are every 10-15 years. This means you will likely love your kitchen for the first 7 years and by year 8 trends have long since changed and you may be ready for a change as well.
You'll think about it and plan for the kitchen remodel. Then it's time to get started.
By this time you fall into one of 2 categories: the cutting edge of the modern kitchen or the contractor's suggestion of what's popular (which is 7 years behind the times).
Take the time to dig into what you love and why. Play with color and tile pattern, wood tones and lighting. Decide what makes you happy and lean into it.
Lastly, if you are struggling to pull together the kitchen scheme of your dreams or are scared to make a costly, outdated mistake, hire a designer to help. They aren't as expensive as you think- and certainly not as expensive as a kitchen remodel gone awry!
And, don't forget to test your paint colors!!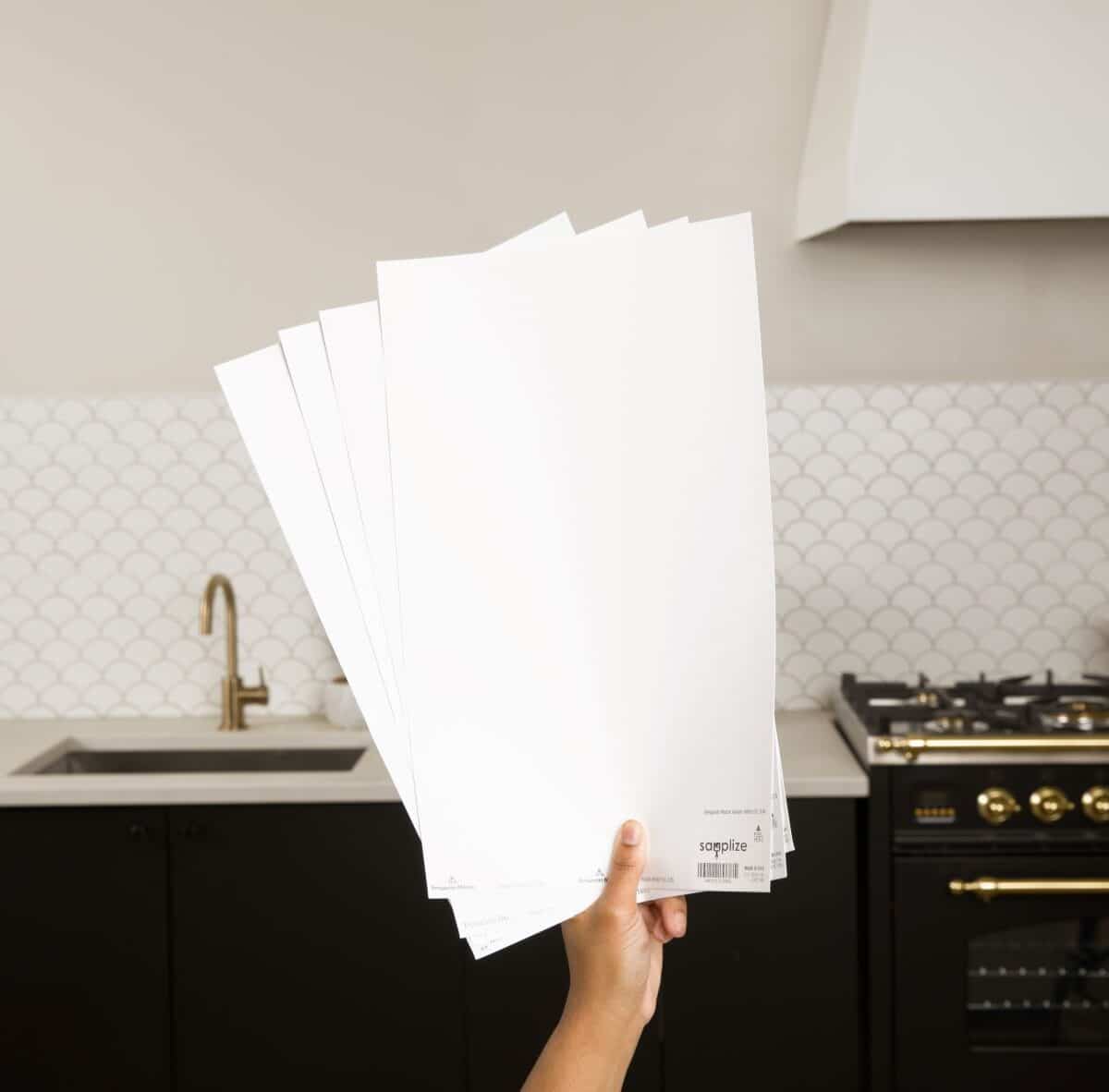 TEST PAINT COLORS
I ALWAYS recommend testing large swatches of your paint colors before committing to the entire house. It's an expensive mistake that you don't want to make, so I recommend using Samplize peel and stick swatches to test out your favorites.
Spending $25 on paint samples is always cheaper that a kitchen full of cabinets you hate and a heartache you can't afford to fix.
Delivered overnight so you can make those pressing decisions in a crunch
Crazy accurate color from my favorite paint vendors like BM, SW & Farrow & Ball
No painting, no mess, no clean up!
Peel and stick (and come off clean)
Or don't peel off the back and use over and over again!
So, don't forget to test your paint colors!!
The colors you see in other people's homes won't look the same in your home. Often times, photos are edited, lightened or color corrected.

Don't rely solely on photos to make your decision- trust the process and sample the paint.

*Expert Advice*