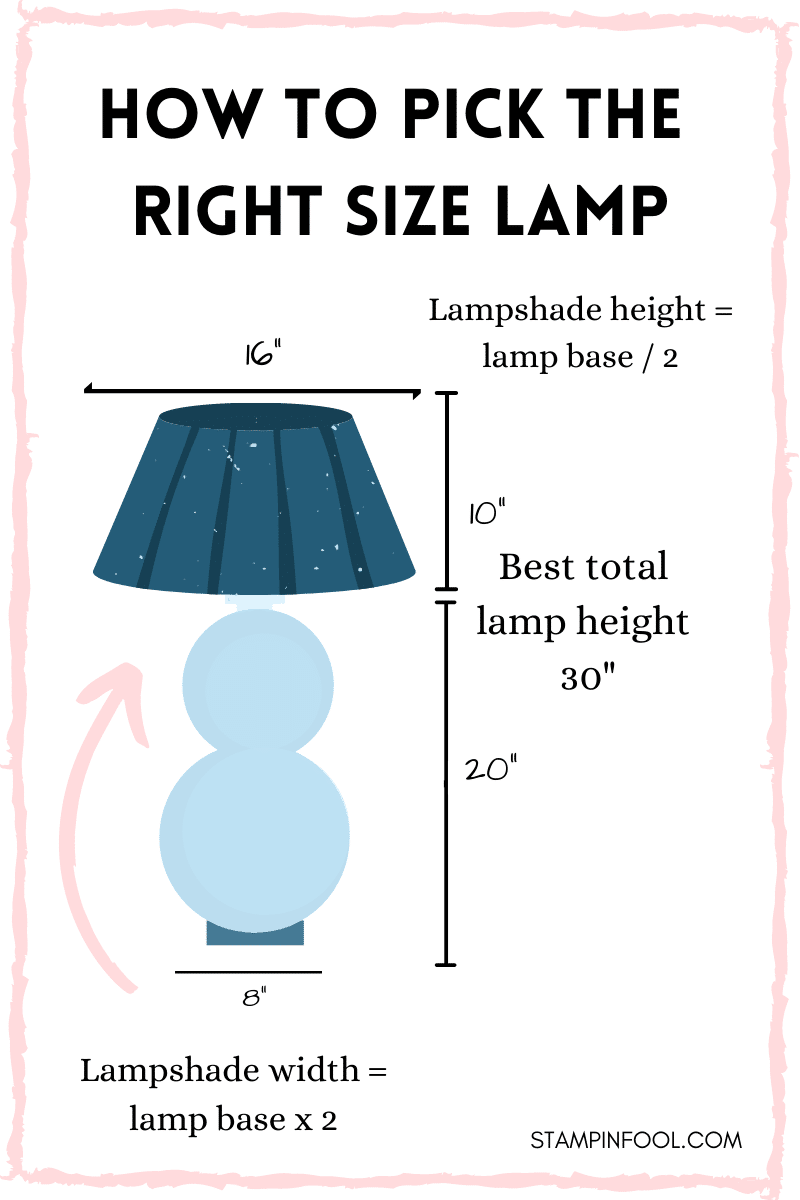 Simple Rules for the Right Size Bedside Lamps Every Time
We know that every nightstand needs a lamp, but do you know how to choose the right lamp? Look no further, I'm going to share the quick and dirty secrets for picking out the best bedside lamps for every bedroom.
A LONG STORY ABOUT THE PERFECT LAMPS
After we talk about the lowdown on the perfect lamp for your nightstand, we'll discuss a few styling tips. And your bedroom should be a retreat, so we'll cover the step by step styling tips to help you create the perfect bedroom nightstand that looks beautiful and checks all of the practical boxes too.
So why am I talking about bedside lamps? I'll tell you the saga of the $7 lamp that could.
Three years ago my best friend and I were wandering around Target on a lunch break shopping trip. We meandered to the back of the store and there was an entire wall of clearance lamps and shades. And I'm not talking about a few, slightly discounted lamps.
These were 70%- 90% off full size lamp bases with shades. My best friend and I looked at each other and said, "We're going to need a cart." After we rushed back with a shopping cart, we both loaded up on lamps.
I ended up with two large 28″ gold geometric table lamps and two large linen lampshades with gold detailing. The lamps were $14 and the shades were $7. I also bought two small gray lacquered table lamps with shades, which as it turns out, wasn't the best buy. But more on that later.
My friend also bought two table lamps with no plan in mind either, but we were happy to have deeply discounted lamps. We would figure out what to do with them later.
Like crazy people, after we cleared out the back wall of lamps, we hit the next nearby Target to see if they too had a lamp discount desert. They didn't.
There weren't any more lamps to buy, which is probably a good thing because the only thing worse than 4 lamps with no plan is 5+ lamps with no plan.
While I don't always have a plan, things usually go south when I buy without intention. Nonetheless, I used to make impulse buys wayyy to often. Can you relate?
Recently, I've made a conscious effort to 1) not make impulse buys, 2) have a whole house plan for each room and what it needs, and 3) don't waste money if it's not exactly what works with the plan.
Because in the end, if I waste money on many purchases that I "settled" on, I'm not able to splurge when finally find that perfect thing.
Now in this case, the 2 gold lamps happened to work out perfectly. I needed nightstand table lamps and even though I didn't know the proper sizing or style at the time, I lucked out.
The gold geometric lamps were perfect for one on each bedside table.
Are you dying to know what these genie in a bottle of a lamp looks like? Here's the stock photo of my beloved gold lamps.
As far as I can tell, they don't sell the large gold lamps anymore. The small size is available online, but like I mentioned earlier buying small lamps is just a waste.
It's one of those things like selling 84″ curtains, stores just shouldn't do it. It's a total disservice, but they sell them because the price point is lower and people are more likely to buy the item, but it's never going to look great in their space because the scale is all wrong. Same thing for small table lamps.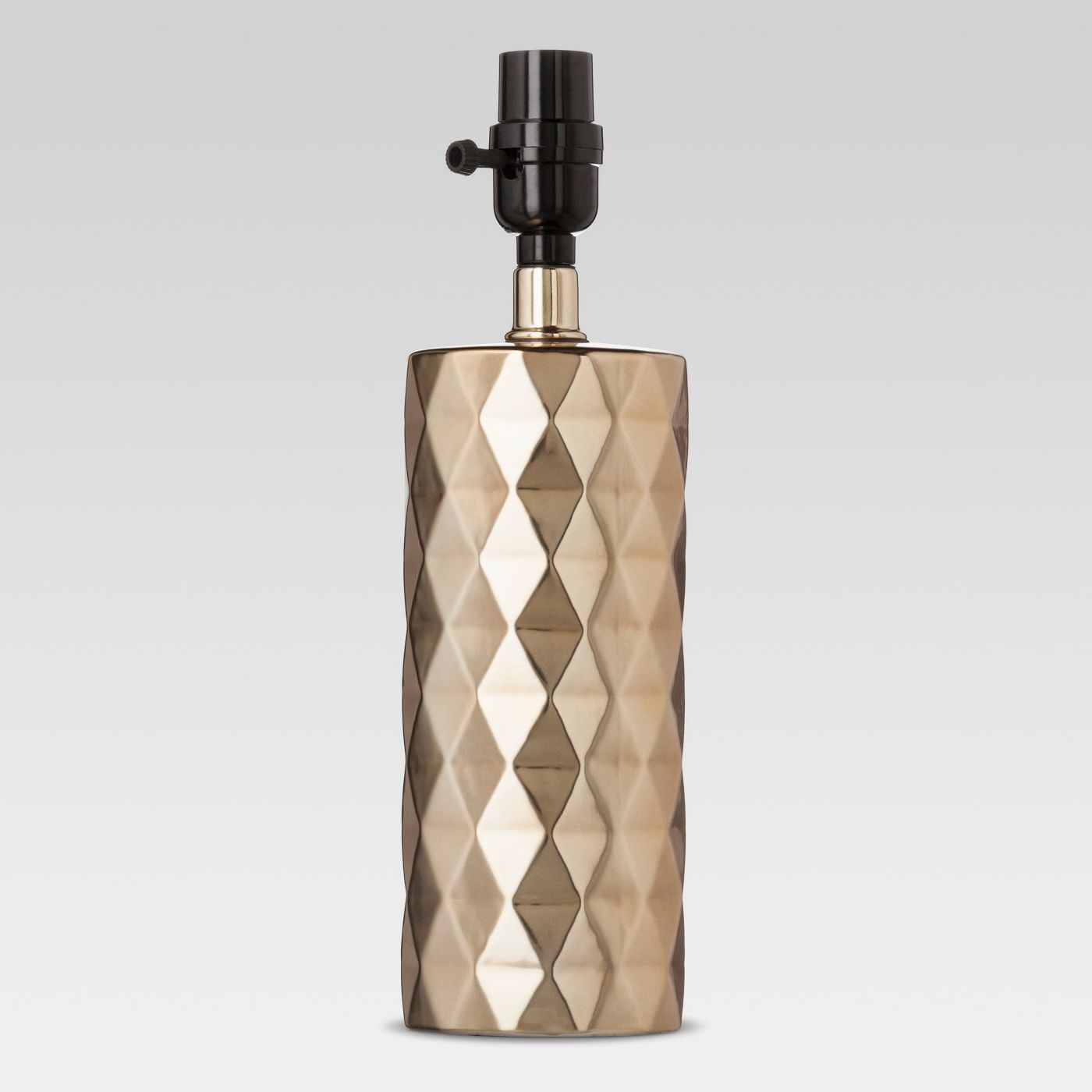 NEW BEDSIDE TABLE LAMPS
Even though I love my gold bedside lamps, there is a problem. The lamp on my husband's nightstand broke 2 years ago.
It's still functional, but the neck came loose so the shade is tilted and the entire top portion of the lamp is floppy.
It's been driving him crazy. He reads a lot and has asked me to replace it 1000 times and I keep saying I will fix it (because they are my beloved lamps) or find new ones.
In all honesty, I have been looking for new bedside lamps. In fact I have pinned hundreds of lamps and googled "blue lamps" until every ad is a blue lamp. But properly sized lamps are expensive.
I pinned a few favorites that I found along the way, but they were anywhere from $380 to $690 PER LAMP. At this point in my life, that is a crazy amount of money to spend on a lamp, especially when I am upgrading from a $14 lamp.
Fortunately, the Target ads were in my favor and showed me this gorgeous, two toned Threshold Dipped Ceramic Large Lamp which came in at $41 for the base. I'll have to buy new shades for these lamps, but in the immediate sense they work perfectly with our traditional, classic coastal bedroom.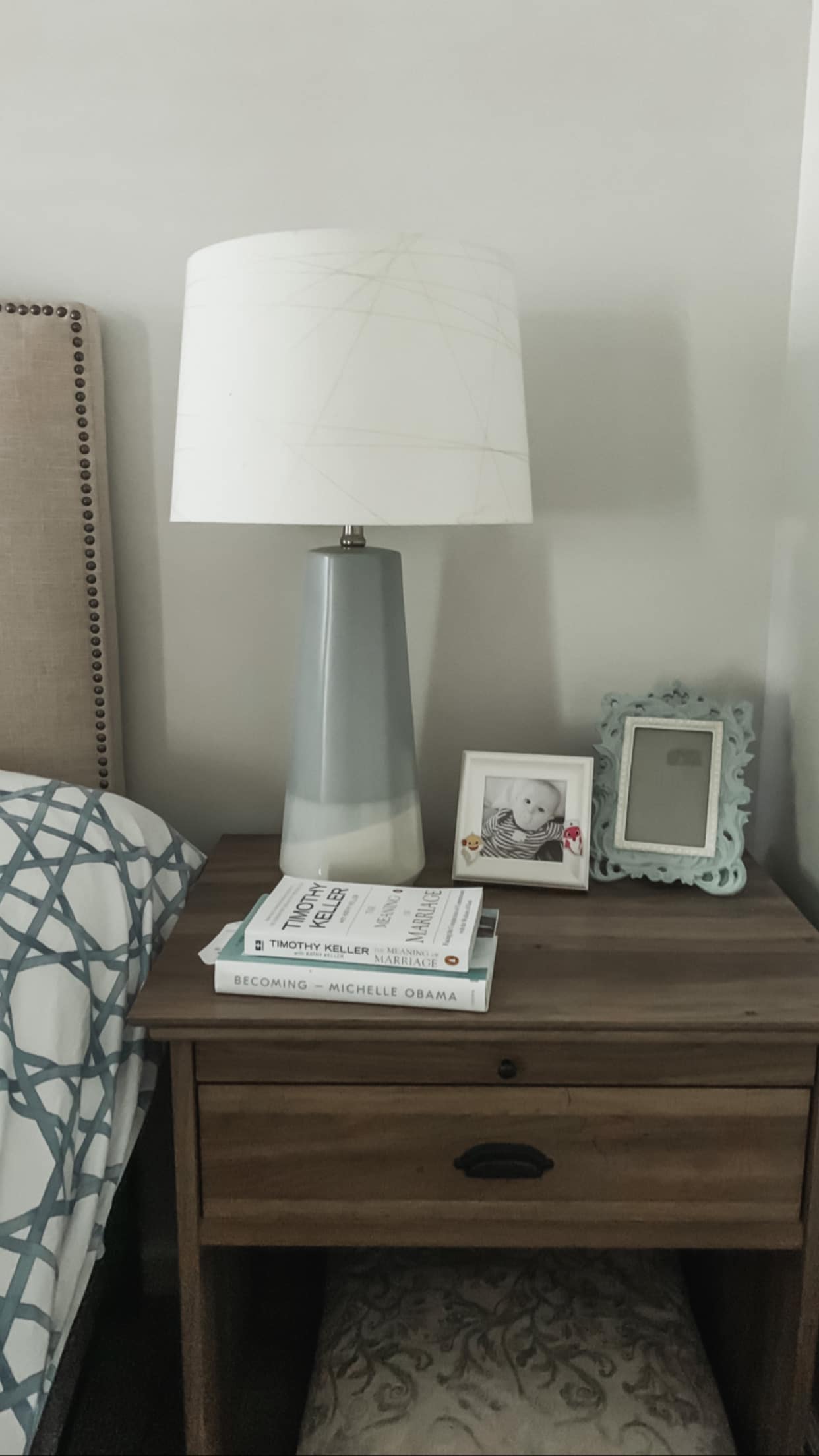 Now these photos are by no means professionally shot and styled. In fact, I snapped them with my phone while plugging them in and cutting off the tags. But, they are a perfect choice for this setting.
I'm not ready to give up on the gold lamps and I'll rehome them to another room, most likely the living room to get some more use out of them. As you can tell, I'm strangely attached to them.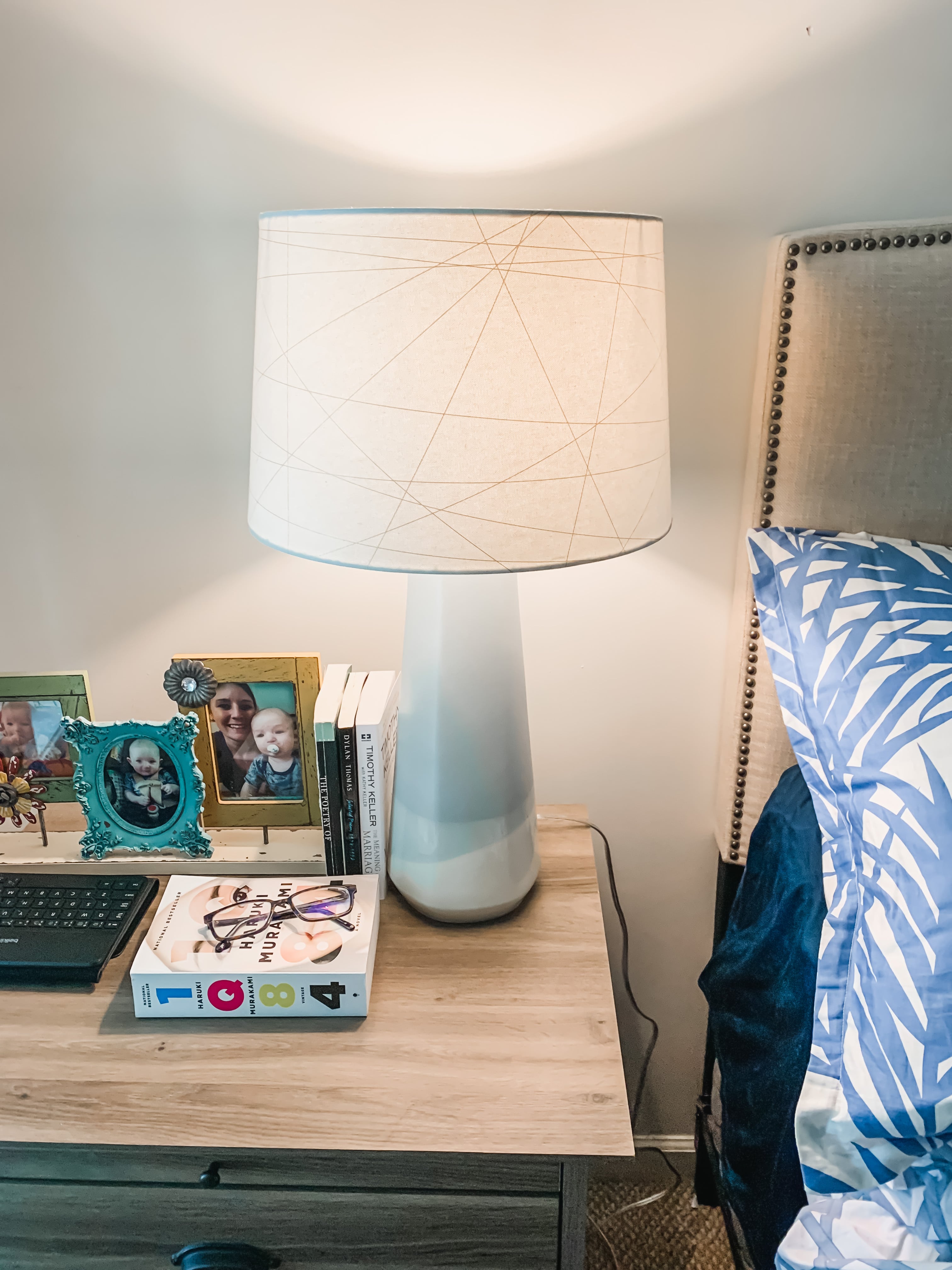 FAVS TALL LAMPS
This post may contain affiliate links- meaning when you purchase through the link and I receive a small commission. It feeds my Starbucks addiction & for that I thank you! You can see my full disclosure policy here.
Are you still with me after that novella on the tale of two best friends and their lamp shopping adventure? Ready to tackle the rules for table lamps that will rock your bedside tables and side tables?
RULES FOR BEDSIDE TABLE LAMPS
We know that rules are meant to be broken in the design world, and as is with everything there are exceptions to every rule. But if you want to have great looking bedside lamps, you'll want to keep these rules in mind, especially in your master bedroom.
How Tall Should Your Lamp Be?
Why does the lamp height even matter? Well, the primary purposes for the bedside lamp is to provide light for reading and ambiance. So, with that in mind, you'll want to have lamps that are at the proper height for reading in bed while sitting up.
We also want the lamps to be correct in scale. For this to happen, your nightstand should be within an inch or two of the mattress height.
The bedside lamp should be 28″-30″ tall. Your lamps should look large enough to handle the bed and nightstands. It should be substantial. If you have a tall headboard, aim for the top of the lamp to cascade down slightly from the headboard.
Like my grievances with stores selling 84″ curtains, most lamps you find on the shelf at a home decor store will be 20″-25″.
It is hard to find a 28″ lamp (shade included) in a store. So, bring your tape measure and if you have to order it online, order away. Because a too short lamp is a no go.
How Wide Should Your Bedside Lamp Be?
Now that you know the lamp should ideally be 30″ tall, how wide should it be? Often times if you find a lamp tall enough, it is skinny like a buffet or sideboard lamp. That's fine for the dining room, but not for the bedroom.
We want to choose a lamp that is wide because the bed is a large focal point of the room and a lamp will look dwarfed by the bed. The rule of thumb here is the wider the mattress, the wider the lamp.
So if you are buying a lamp for a twin bed, you can get away with a slightly shorter and thinner lamp. But still skip the buffet lamps please.
For a king size bed, the height should be around 30″ and the width should be 4″ -7″ for proper scale. The wider the mattress, the wider the lamp.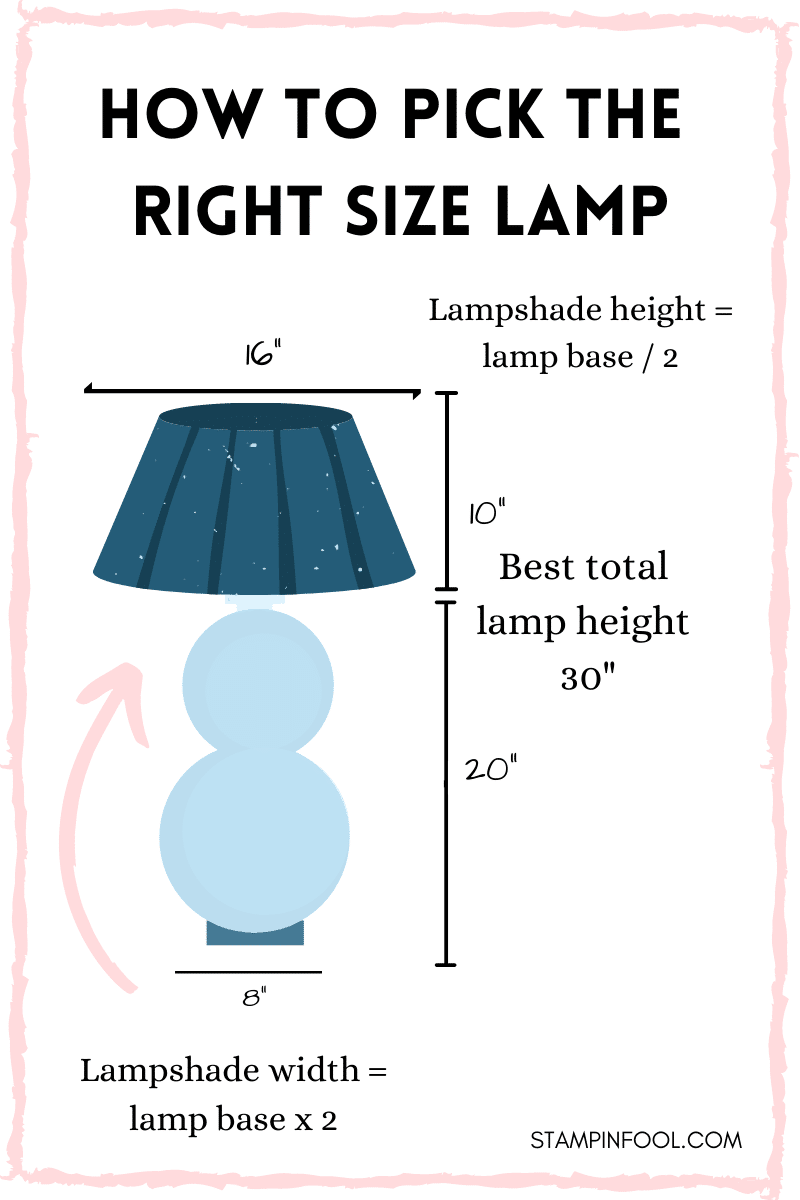 How Do I Pick A Lamp Shade?
Now on top of choosing the right height and width, you have to worry about the lamp shade. Did you know that lamp shades come in different sizes?
Get out your measuring tape, or be ready to double check the measurements before ordering online. The lamp shade should be 1/3 the height of the lamp & 2x the width of the base.
For this rule, I'll give you an example to apply the math. The dip dyed lamps above are 29″ with the shade. The lamp base is 19″ x 6.5″ and the shade is 10″ tall x 15″ diameter. Here the lamp shade is roughly 1/3 of the lamp height and 2x the width.
Should the Neck of the Lamp Show?
Should the what show? The neck of the lamp is the metal fitting that attaches the on/off switch to the base of the lamp. An inch or two of the neck SHOULD show.
If the lampshade is too large, it will swallow up the base and none of the neck with show. If the lampshade is too small, it will look like a tiny hat on top of the base.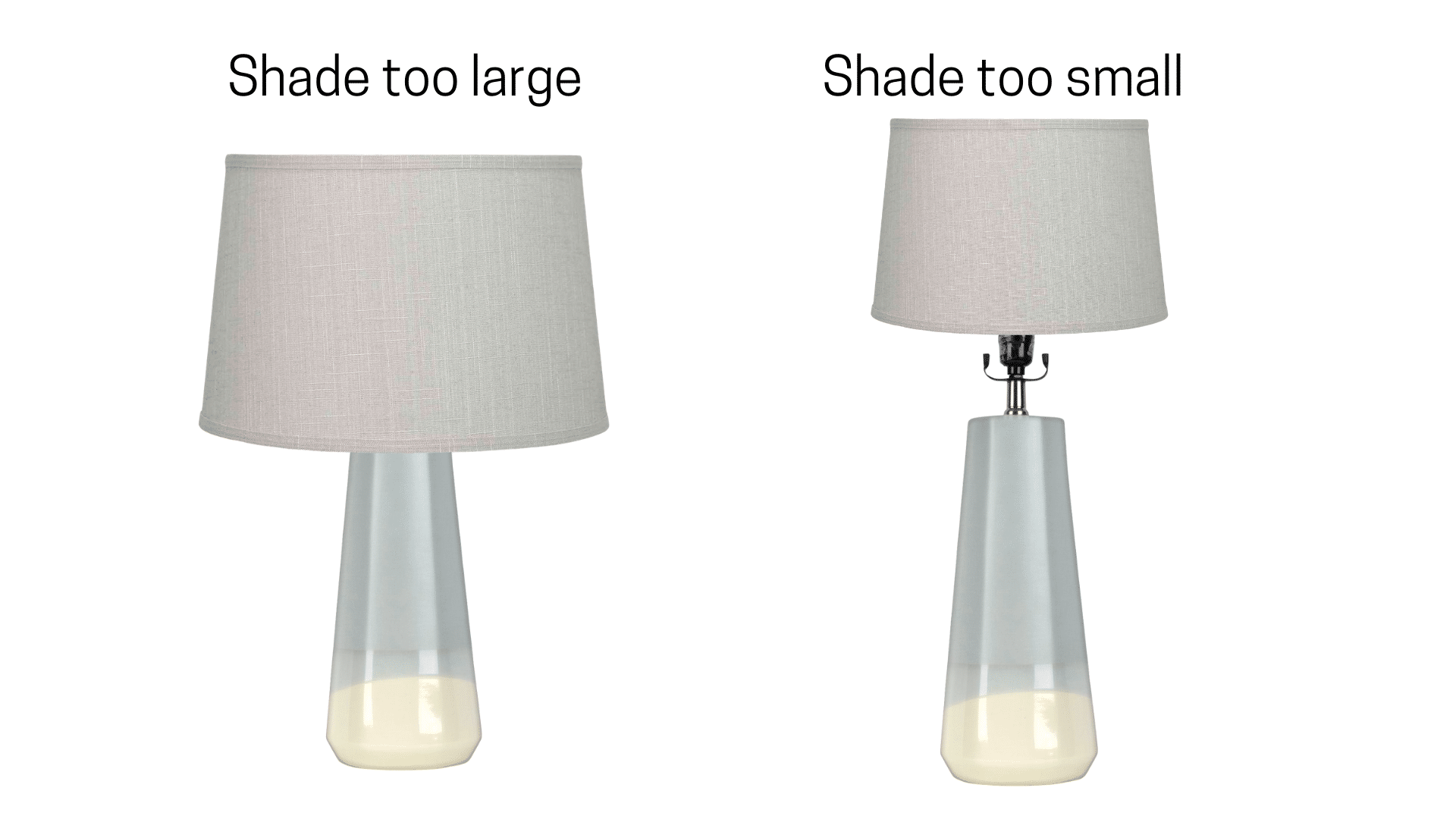 What Color Temperature Should the Bulb Be?
With LED light bulbs being the best energy efficient choice and also requiring less frequent replacement, we no longer refer to the wattage as the type bulb we should buy. Instead we refer to the color temperature.
While you may like a daylight bulb in the living room (although I don't recommend it), in the bedroom we want to install a softer, warmer light.
You should buy LED bulbs that are between 2700K – 2800K temperature with 200-400 lumens of output.
In short, a traditional watt expressed how much heat energy was expended to produce light, whereas LED's use less energy but produce the same amount of light.
Lumen measures how much light is produced, since LED's aren't producing as much heat. The 2700k (Kelvin) refers to the color temperature- which is how cool (blue) or warm (orange) a light bulb is.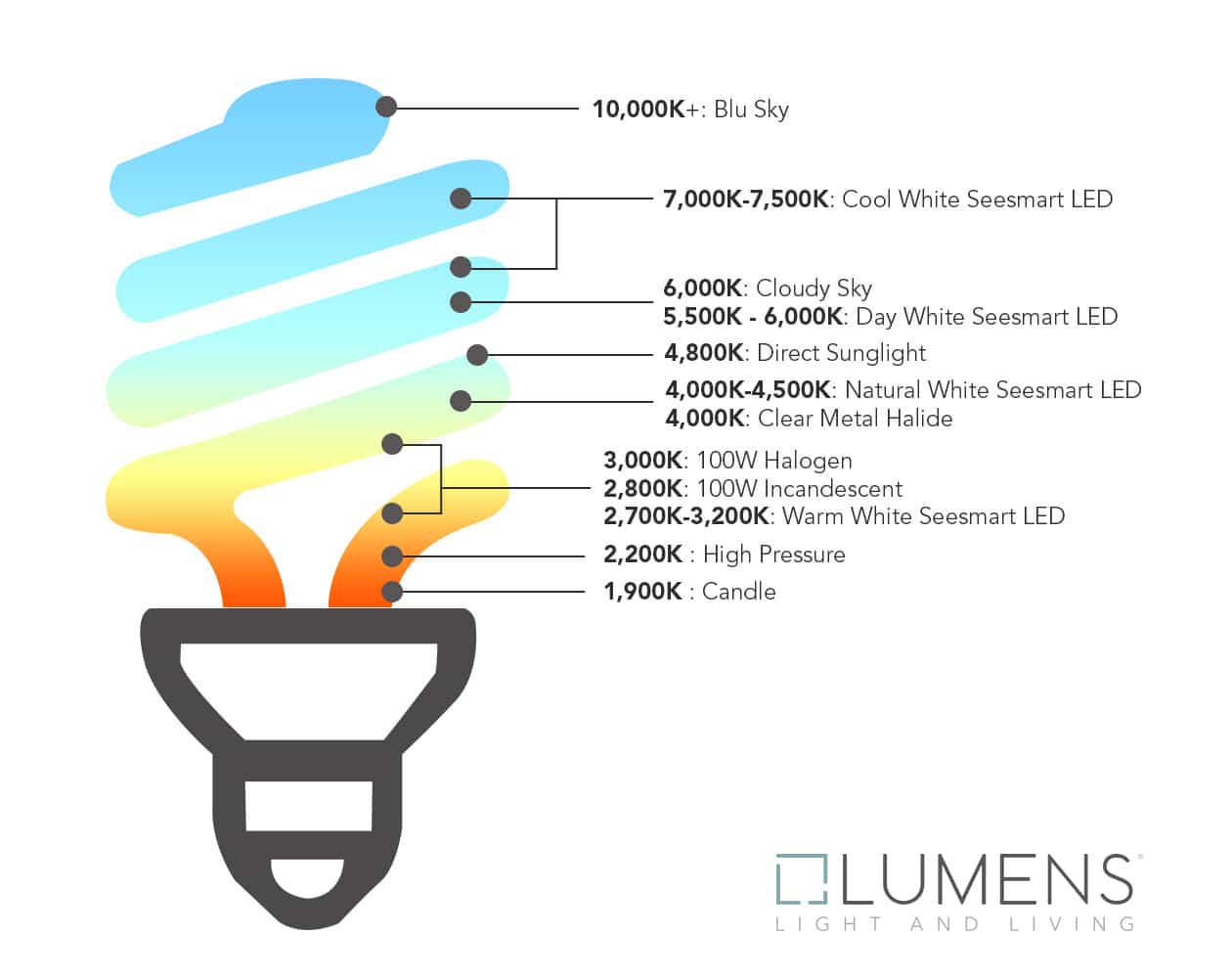 CONCLUSION
We've gone over the major pain points in choosing the right lamp for your nightstand or bedside table. So what are the key takeaways:
Bigger is better; Aim for 30″
The shade shouldn't swallow the lamp, show some neck
Don't buy a tiny shade either, 10″+ tall
Use lamps to add color to your bedroom
Choose 2700K LED bulbs
Happy lamp shopping!
This post may contain affiliate links- meaning when you purchase through the link and I receive a small commission. It feeds my Starbucks addiction & for that I thank you! You can see my full disclosure policy here.