AFFORDABLE BASKETS AND CRATES FOR HOME DECOR
Affordable baskets and crates are making a huge comeback in home decor. From practical storage to a decorative accent, these pieces are an inexpensive way to add your own personality to a space in your home. These aren't your average Longaberger baskets we're talking about. I've rounded up 18 of my favorite affordable baskets and crates to fit any style and size.
trays
woven baskets
crates and boxes
metal and wire baskets
uganda baskets
TRAYS
I'll start small, but mighty. My favorite decorative basket category is the tray! I love a colorful lacquered tray for holding a book, vase of flowers and a candle. If colorful isn't your thing, a wooden tray is a great addition to any coffee table to hold the remote, a wonderful smelling candle and a stack of your favorite magazines.
I love this article on the perfect marble tray from HarloweJames. I second her love for a white marble tray. I keep one (from Crate & Barrel) on my kitchen counter to hold the coffee press we use every morning and a sugar well. Its the perfect understated piece.
WOVEN
I can personally attest to my love for larger woven rope baskets. They make great toy storage. I have a few of them around, both our living room and playroom, to easily catch toys and make for quick cleanup. They are large decor pieces that serve multiple functions- laundry basket, toy basket, extra blanket and pillow storage, and a place to hide everything in the living room when an unexpected guest pops in. Coming in around $25, woven rope baskets are an affordable buy and fit with any style.
A natural seagrass basket is another type of woven basket that is a great addition to your home. I find they work especially well for plants (snake plants, fiddle leaf fig). To pick the right size, opt for a basket with an opening 4-6 inches wider than the current planter pot & 4″ deeper. Marshalls, TJMaxx, Ross, World Market, and Home Goods are loaded with natural grass baskets that are perfect for your plant. IKEA also has an affordable potbelly woven basket if you have an IKEA store nearby.
The best fiddle leaf fig resource: Where to find a basket for your fiddle leaf fig
CRATES AND BOXES
Up next, on my list of all time favorite decor pieces (next to anything leopard print) is decorative boxes! I cannot get enough of them. Boxes are perfect for storing jewelry in a bedroom, tv remotes or coasters in the living room and adding color to a bookshelf. A bone inlay box is the perfect minimal touch for any space.
Using boxes is a great way to add color to a room. If you're a neutral lover and scared to add color to your walls, windows or upholstery, adding in touches of your favorite color with a decorative box on the coffee table, bookshelf or nightstand is an ideal way to incorporate color and give your space a little extra dimension and life.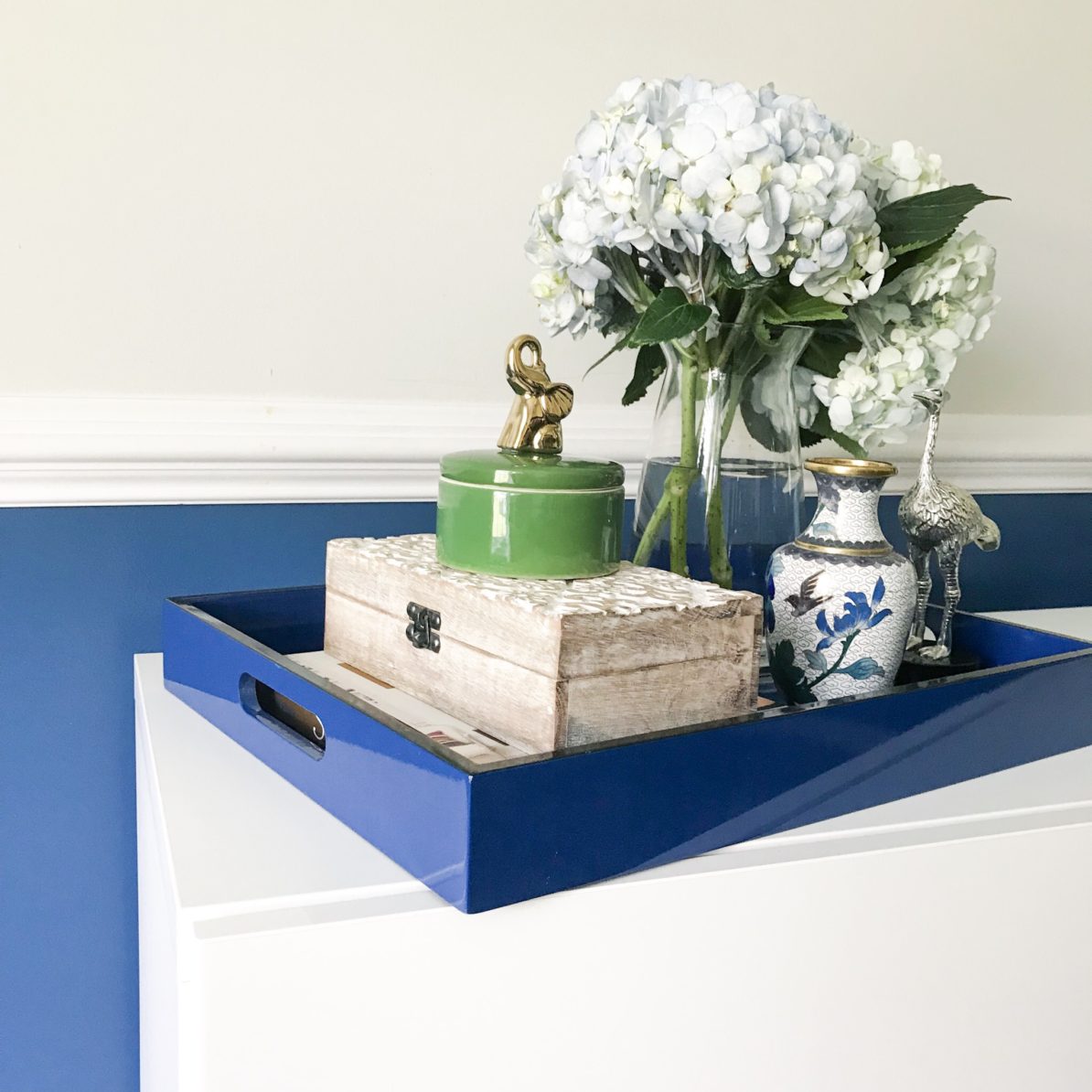 METAL AND WIRE BASKETS
If you're style is farmhouse, you're in the right category. Metal baskets are trending in farmhouse and rustic style decor. I've added a few square and round baskets to the roundup below that are perfect for blanket or magazine storage. Keep one next to your sofa to hold extra throw blankets and pillows.
In my home, I use a shallow, rectangular (gold) metal basket in the kitchen to catch mail that comes in until I have time to sort and file it away. Using a basket to catch clutter is a good way to collect everything in one place instead of allowing it to overtake the area (because let's be honest- that's easy to do). Keep one in a drop zone for mail, school papers (oh the hundreds of school papers), or to corral lunch boxes after school everyday.
Large, shallow metal baskets make good pantry storage. They are the right size to hold jars and dry goods while giving the pantry a decorative touch.
UGANDA BASKETS
Lastly, but certainly not least, are colorful, Fair trade woven Uganda baskets. These guys are making a HUGE appearance in home decor right now. They can be seen in shelter magazines and viral photos on Pinterest and I can see why.
While they provide livable wages for the women making them in their home countries, they are beautifully handcrafted pieces that can be used to catch keys and trinkets, or hung on a wall as art. These Uganda baskets are truly exceptional works of art and hold a dear place in my heart and home.
For my semi-traditional dining room, I have added a few shallow Uganda baskets to the plate wall for added texture and interest. They are conversation starters over dinner.
AFFORDABLE BASKETS AND CRATES
Now that we have talked about the uses and types of baskets best suited for your home, here is my roundup of my 18 favorite affordable baskets and crates. And the best part is they are all available through Amazon Prime, so you'll have them in no time.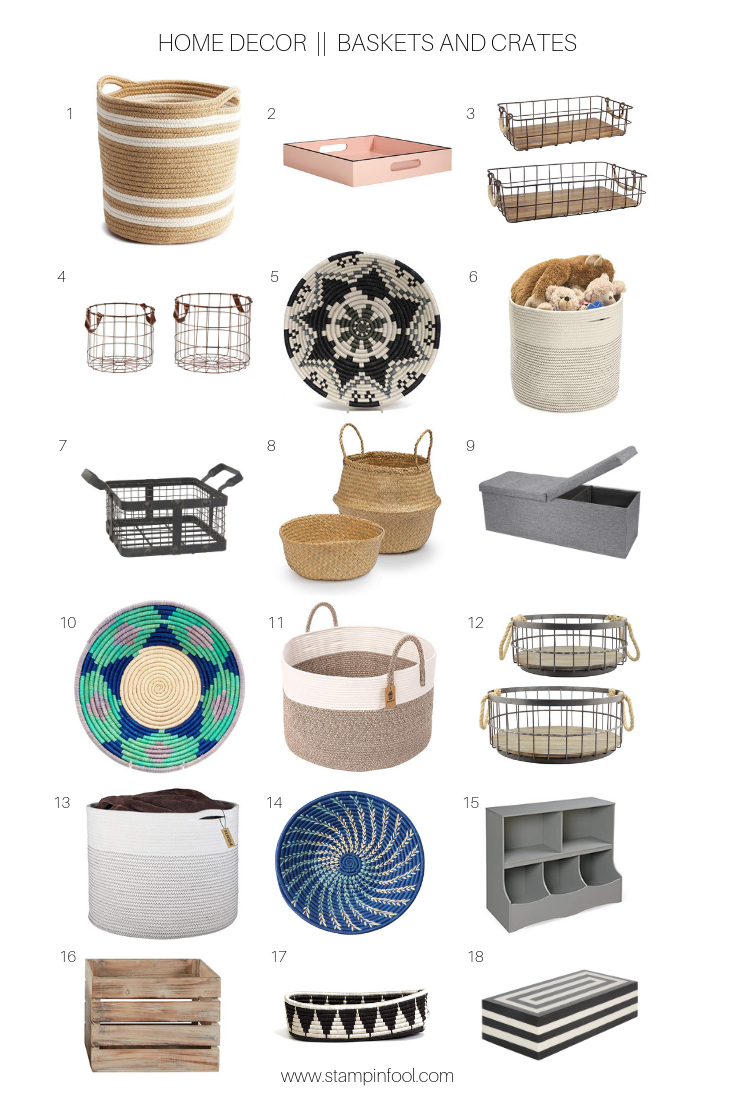 On that note, you can find the links to each item below. Choose a few to add a decorative touch to your home. Happy shopping!
Affiliate link disclosure: This post contains affiliate links. I receive a commission (at no cost to you) on any purchase you make with these links. Your purchases thru my links are truly appreciated, as it helps pay for my blog hosting so that I can continue sharing the things I love. There is no cost to you- or price increase for visiting amazon through my links.
MODERN_ TRADITIONAL BASKETS AND CRATES
MODERN/ TRADITIONAL BASKETS AND CRATES by aprilbailey04

Love it, Pin it!