NEW FAMILY ROOM RUG + Boutique Rugs Review
Are you looking for a Boutique Rugs Review on price and quality? Have you seen ads for Boutique Rugs but aren't sure if it's for you. Read on!
This post may contain affiliate links- meaning when you purchase through the link and I receive a small commission. It feeds my Starbucks addiction & for that I thank you! You can see my full disclosure policy here.

Hey! I'm April, a mom of two wild childs, and I LOVE interiors (which is why you are here too, right?). Most of my free time is spent flipping through decor magazines and dreaming up my next project. My style is best described as colorful, new traditional that can hold up to life with kids. When not decorating, I am drinking Starbucks while doing accounting work.
My Boutique Rugs BONHILL Area Rug Review
Here's What I Love & Hate!
WHY: We just got a brand new area rug for our family room and I have to say it is divine! I've had this idea of a leopard print living room area rug for a few years now, but it's a bold choice.
So we waited to find the right rug, something with leopard that wasn't too high contrast. Now, I could totally go for black and brown spots, but I think it's fair to tone it down for the boys that have to live in the house with my wild side too.
With that in mind, I decided on a muted, tone on tone leopard print area rug and the search began. Occasionally, I check the Boutique Rugs website, because after all I have a rug that I love from Boutique in the formal living room.
And at Black Friday, there was a sale going on and that made it time to search more specifically for leopard print.
WHAT: The not too bold leopard look is what I was going for and the Bonhill rug was the perfect pattern for the job.
THE BEFORE FAMILY ROOM
As a reminder, here is the BEFORE photo of our family room. It's from right before we moved in. And upon move in, I had 1 day to clean as many rooms as I could before our furniture arrived. Plus, the painted wasn't available until weeks later.
While I love the green paint color by itself, it was the first thing to go.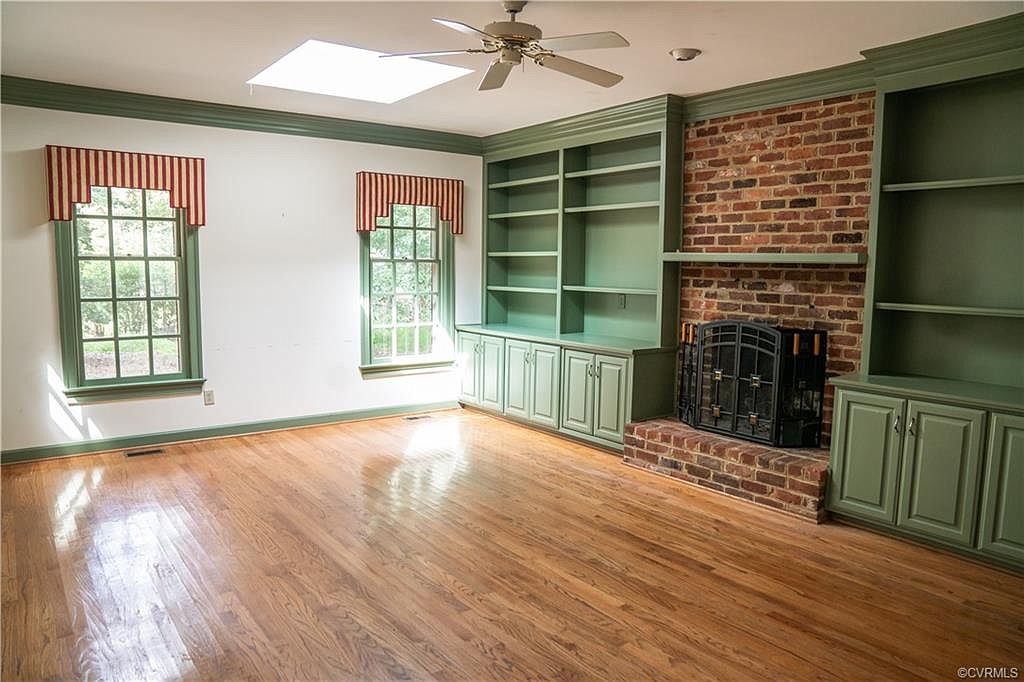 FAMILY ROOM AFTER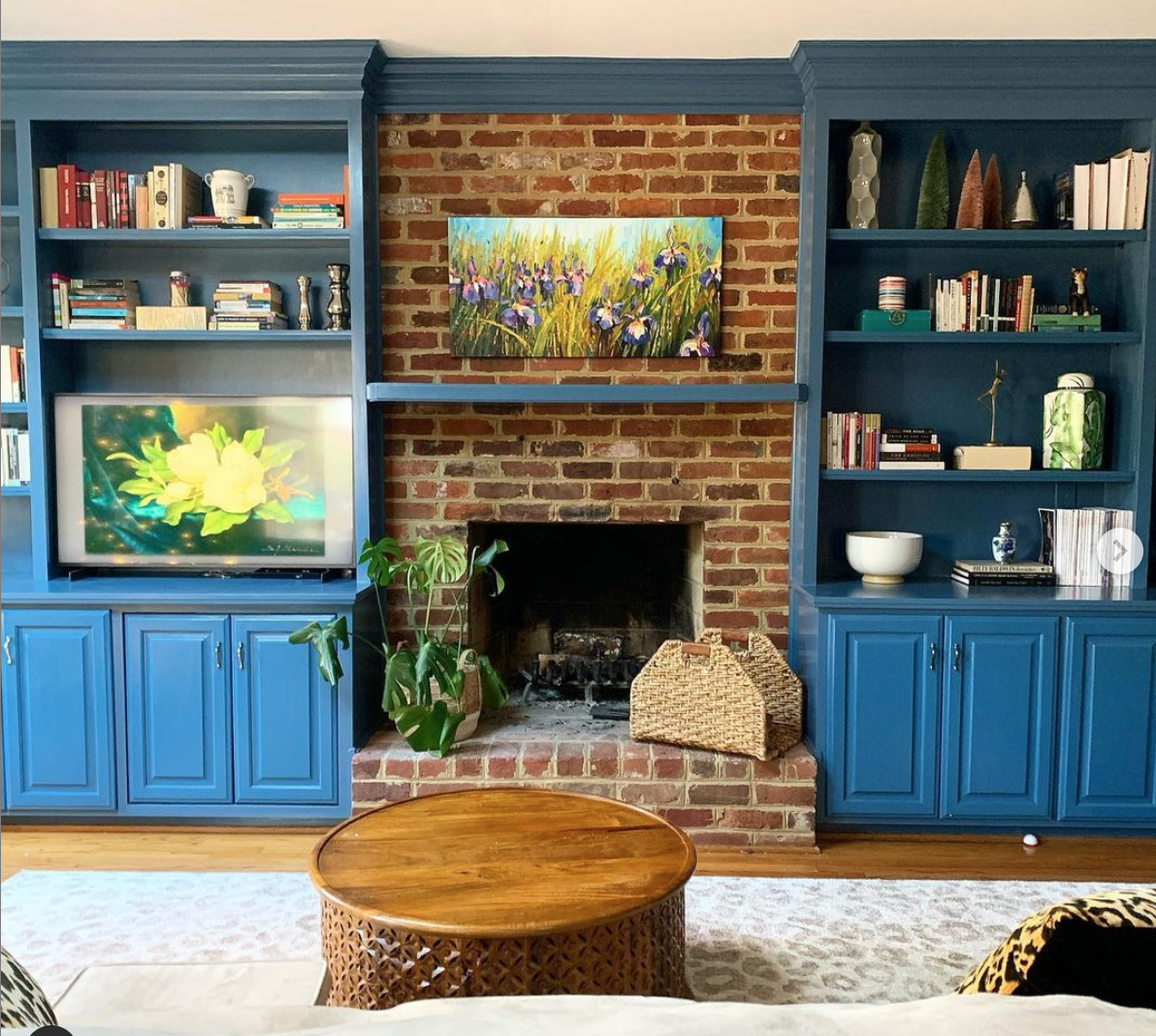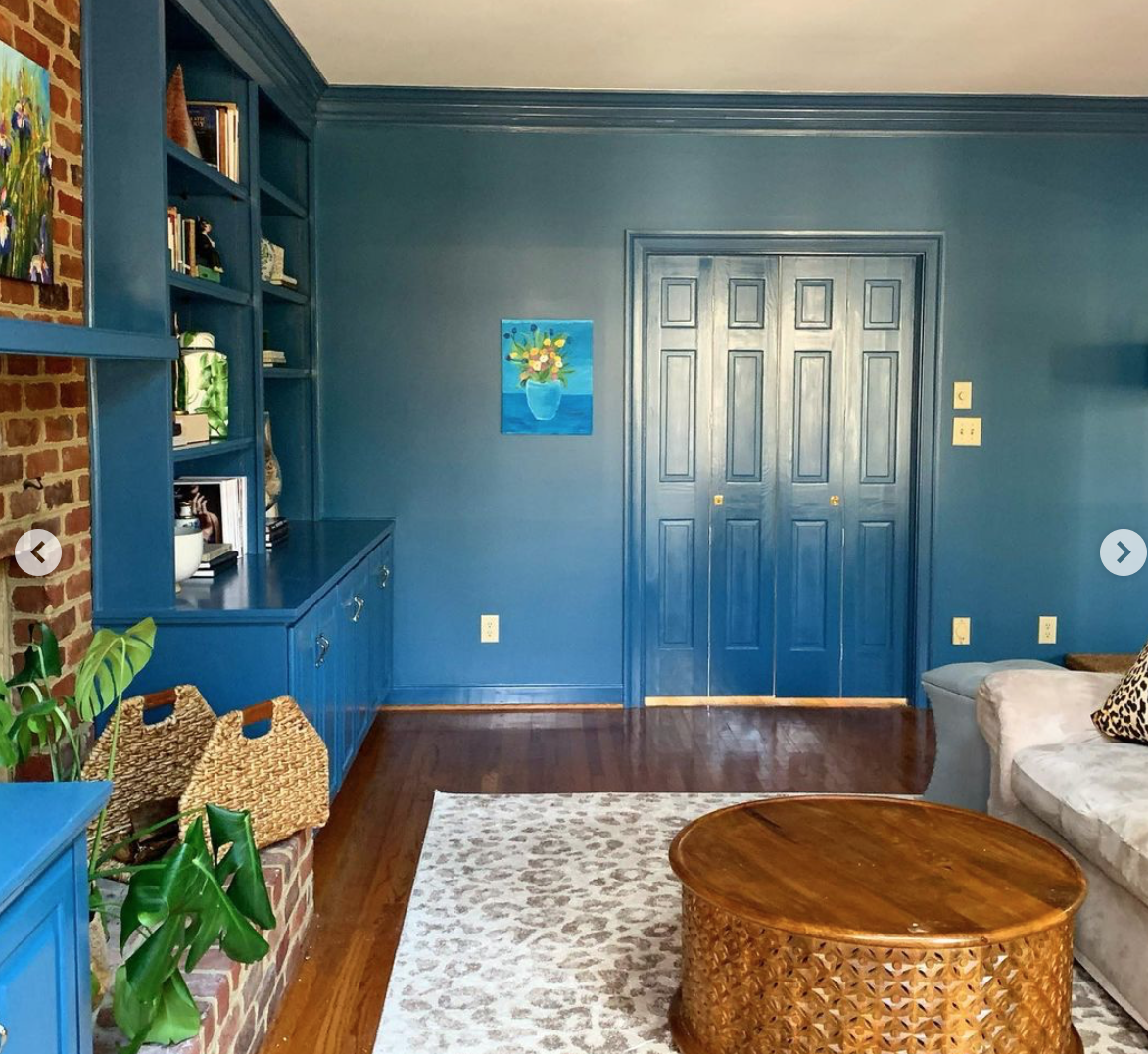 My Review: Here Are My Thoughts and Opinions On the BoutiqueRugs.com Bonhill Area Rug
STYLE
The Bonhill from Boutiquerugs.com is a low pile 100% synthetic Polypropylene rug. I ordered the 9′ x 12′ sized rug so that all of our family room furniture would fit nicely on the rug and leave some room for the kids to play on the floor as well.
PATTERN
The rug pattern is leopard of course! I love the wild, but traditonal vibe that leopard print bring to a room. For this particular rug, there pattern is lighter in some areas and darker in others. It is a large scale pattern meaning there are a few leopard spots in a 12″ x 12″ area as opposed to a tiny print where there are hundreds of spots in a small area.
COLOR
The BoutiqueRugs.com Bonhill rug is a warm ivory and light tan mixed with a very, very light brown in some areas of the spots.
If brown isn't your color, there are also charcoal and light gray versions of this rug!
FREE RUG SHIPPING
As always, shipping for Boutique Rugs is free and fast. Even during the high shipping times of "2020", my order arrived in less than 5 days. Perfectly packaged to unroll and lay out which was good because we just moved in and didn't have enough rugs!
SEE BOUTIQUE RUGS REVIEW AREA RUG IN MY HOME
My Boutique Rugs review wouldn't be complete without showing you photos of the rug itself. So here are photos of the Bonhill (leopard print rug) in our new family room.
Earlier I mentioned that our living room also has a rug from Boutique Rugs, and I love that rug as well. Here are some photos of it, right before we moved. (I haven't unpacked that room fully in the new house).
The Boutique Rugs Dibble Area Rug is a more traditional pattern than the Bonhill rug, but it's gorgeous nonetheless. The number one quality of this rug is it's softness. It is SOOOO soft. I cannot even put into words what it feels like to walk on. It's a real winner if you want an ivory/gray traditional style rug. Plus the fringe makes it a little extra special. You can read that review too.

AND HERE IT IS IN THE NEW FAMILY ROOM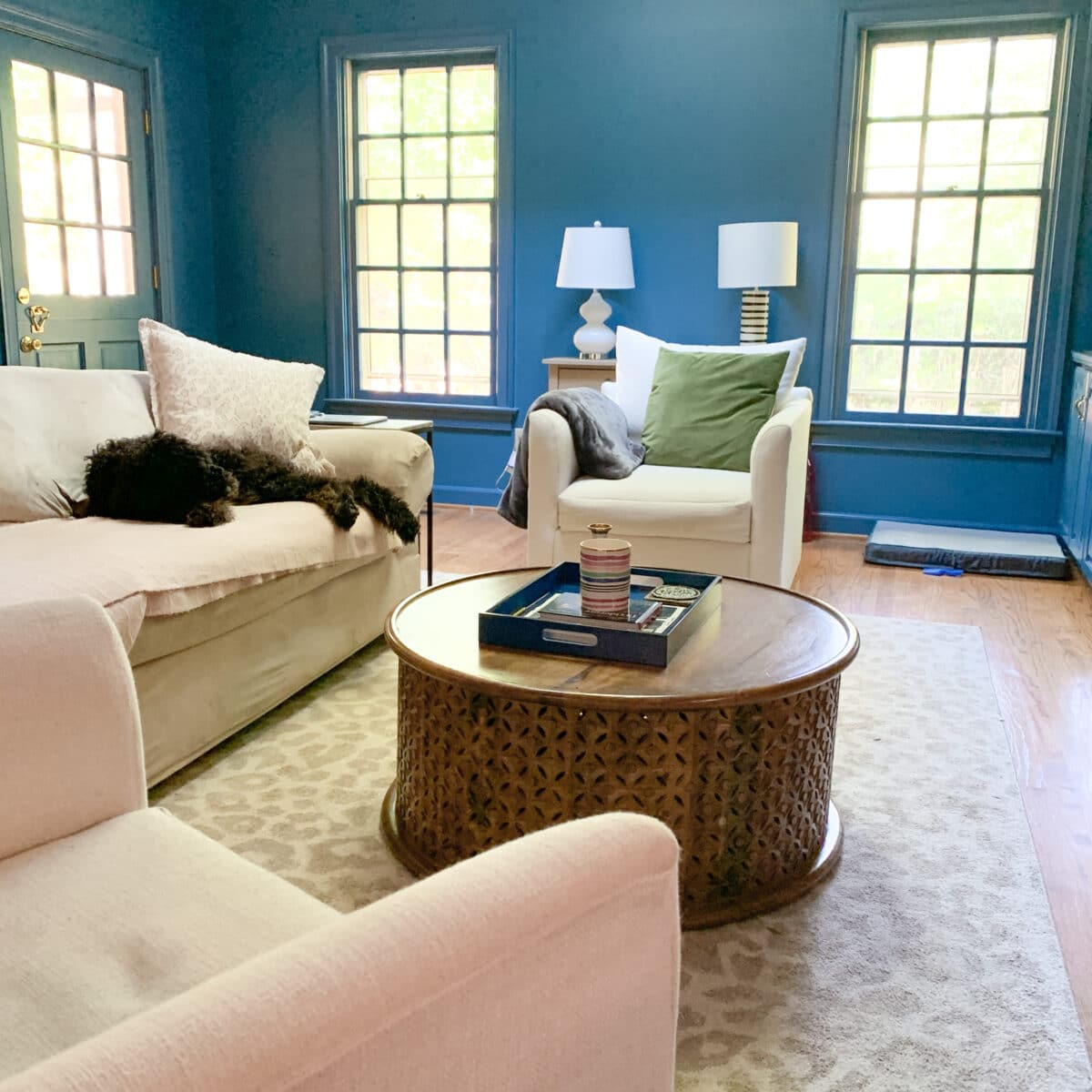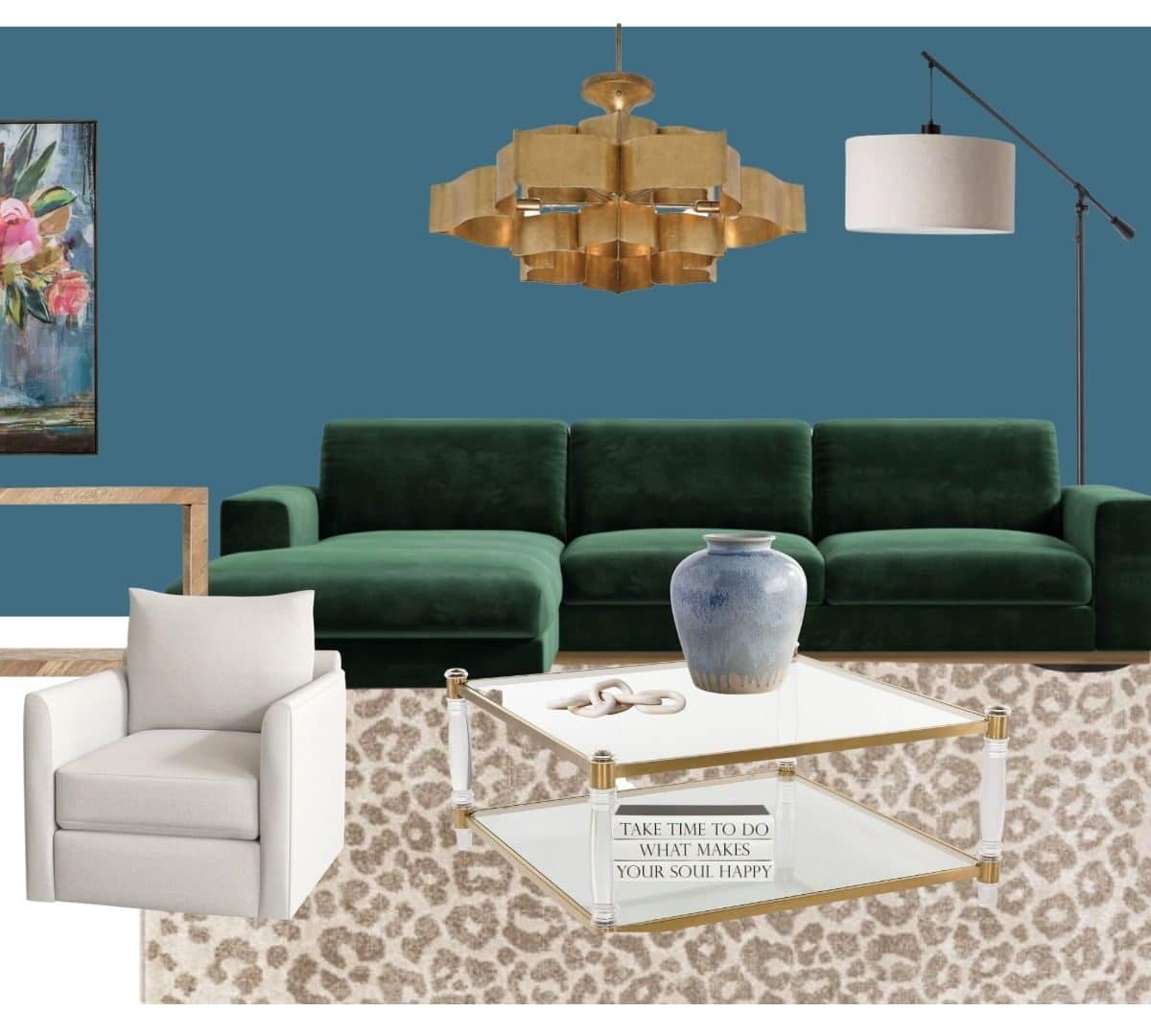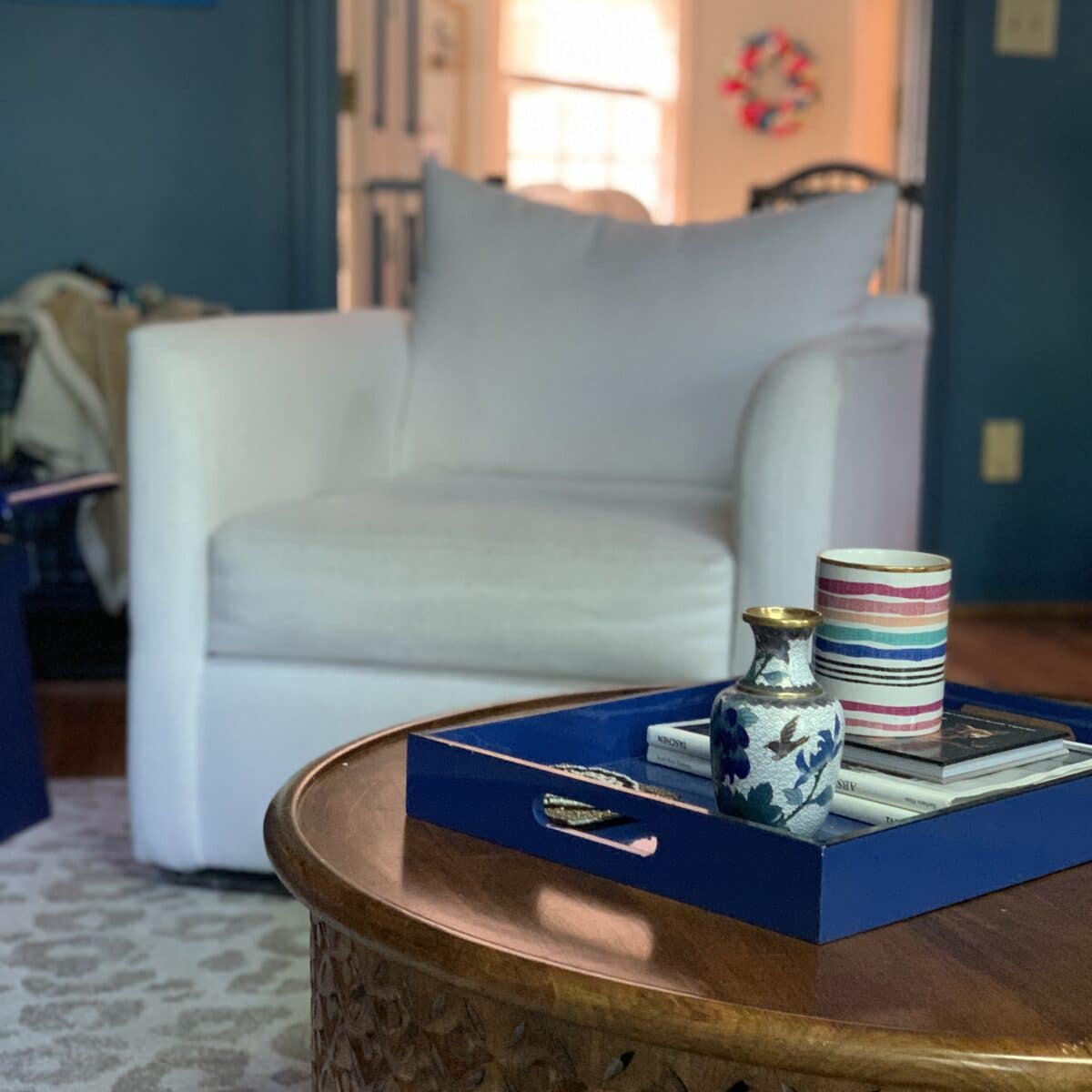 RUG CLEANING & CARE
Easy to clean. This is great if you have small children or pets that make messes!
Spot clean immediately with carpet cleaner. The good news is they don't stain easily, but always blot, never rub. (I use white vinegar + water for regular stains or rubbing alcohol for sharpie)
Vacuum regularly to keep debris off of it and keep the fibers fluffed.
Use furniture sliders & slightly move furniture over few months to avoid rug indentations.
Avoid direct sunlight to prevent fading.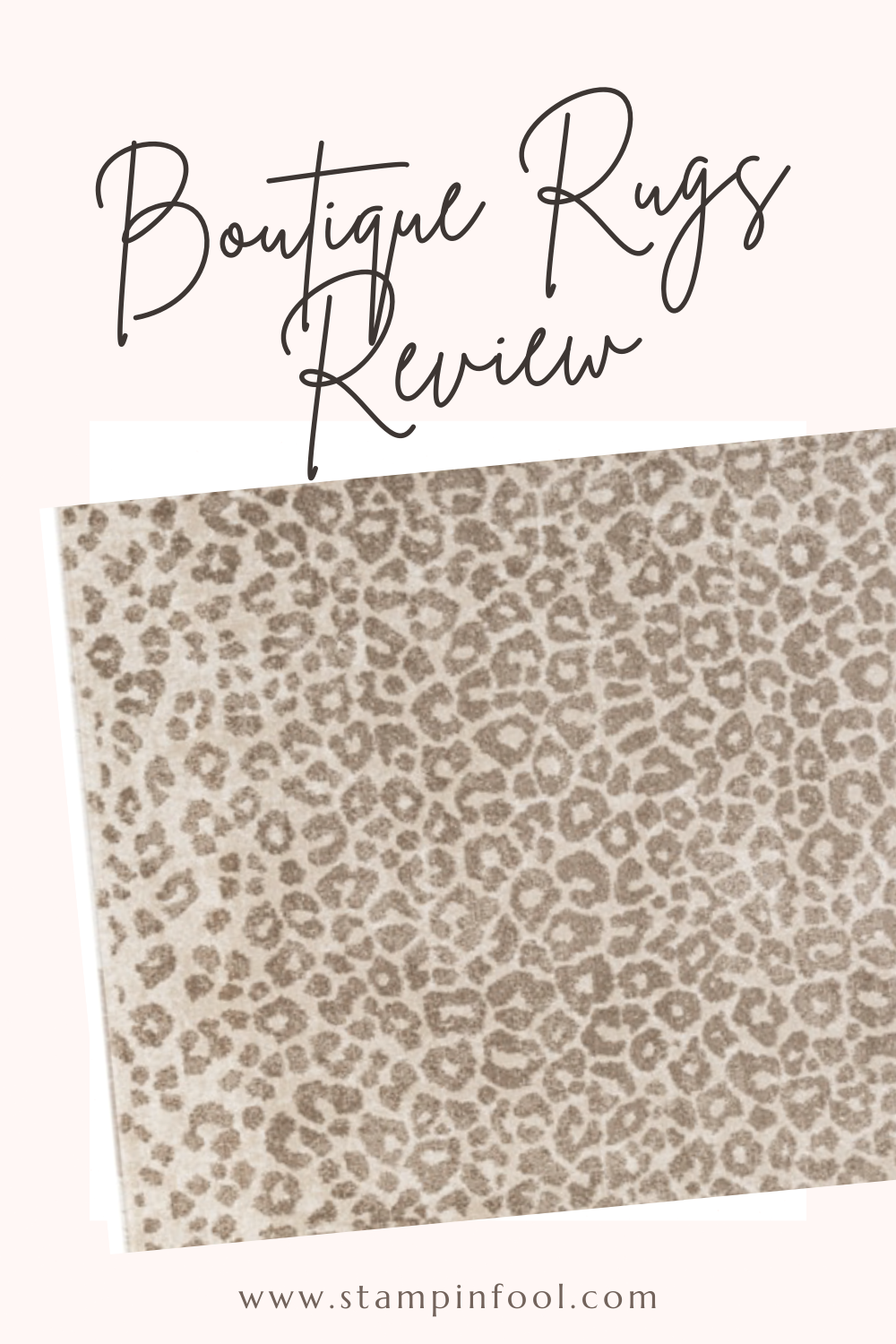 BOUTIQUE RUGS REVIEW COMPARED WITH OTHER ONLINE RUGS
I now have two Boutique Rugs rugs in my home. But they aren't my only rugs, I have a few from Ebay and Home Goods as well. So let's talk about the comparison and the why's and why nots for each.
COST
Your area rug should always be at least 8′ x 10′ of not 9′ x 12′. This automatically raises the price from the $39.99 advertised online rugs for a 2×3.
The typical price range for a synthetic area rug large enough for a living room or bedroom is going to be $299 to $1500 new. Exact amounts will vary based on vendor. Boutique Rugs falls into this range on hundreds of styles. Plus, when there is a sale code, you will save even more.
It's worth noting that if you buy a used or new "damaged rug" on Ebay, like two of my rugs, they come in at $100-$250 range. But they are imperfect. The value is definitely there for either shop.
Alternatively, rugs at Home Goods start at around $299 for 8×10 and $399 for 9×12 and you are limited to the styles and colors they have available. Great for an immediate need, but not for a style preference.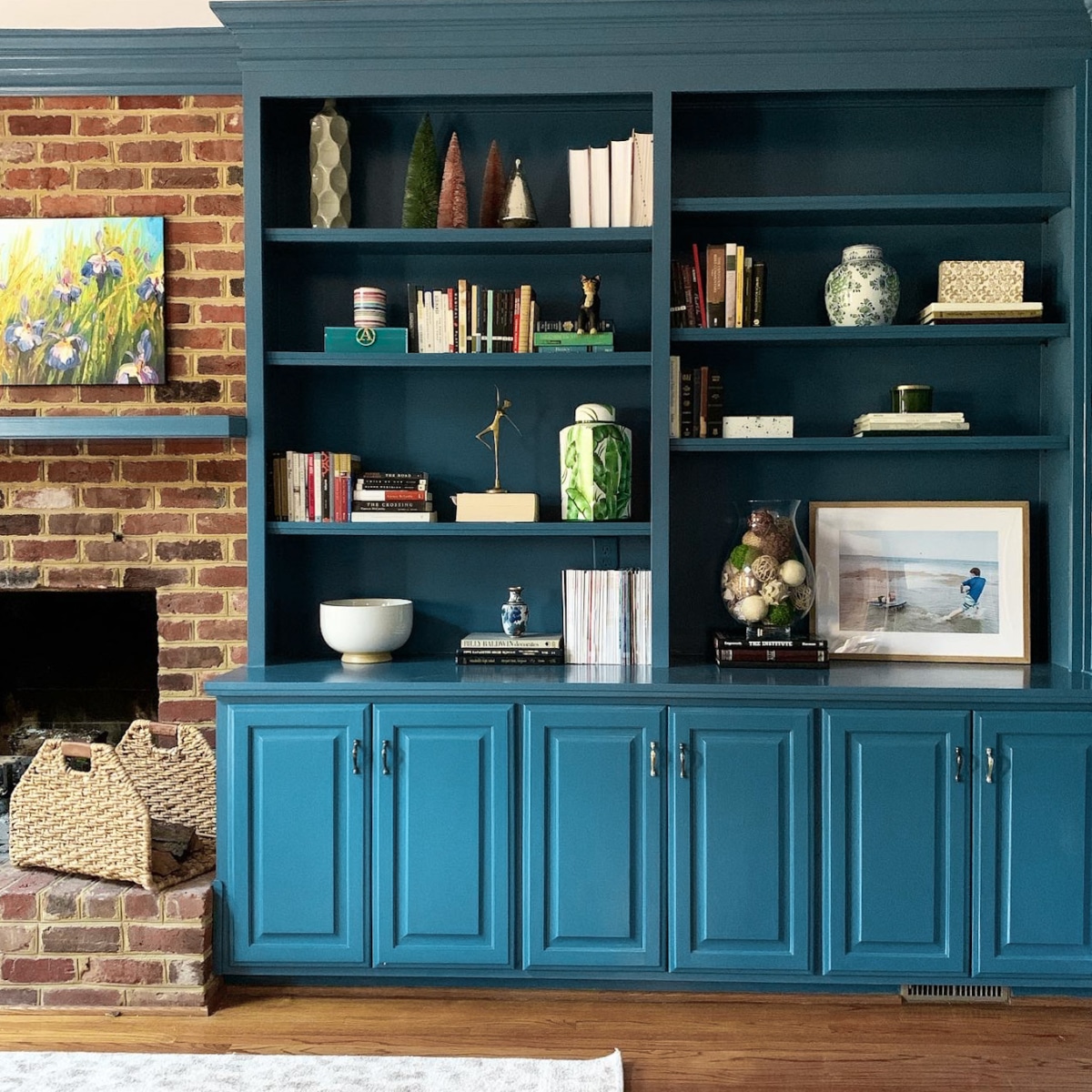 EXACT COLOR
When buying rugs online, from Boutique Rugs or anywhere else, it can be hard to tell the actual color of the rug. So to combat that, here are my tips!
Read the reviews. I never but a rug that hasn't been reviewed. In the user submitted reviews, there are often photos that have been uploaded to show the rug in those people's homes. This gives you a great idea of what the pattern looks like in real life and what the colors actually look like.
For me, this sealed the deal on the Bonhill Leopard rug because it looked amazing in the user photos. The color wasn't too bold and it had a nice faded look in some areas, exactly what I was aiming for.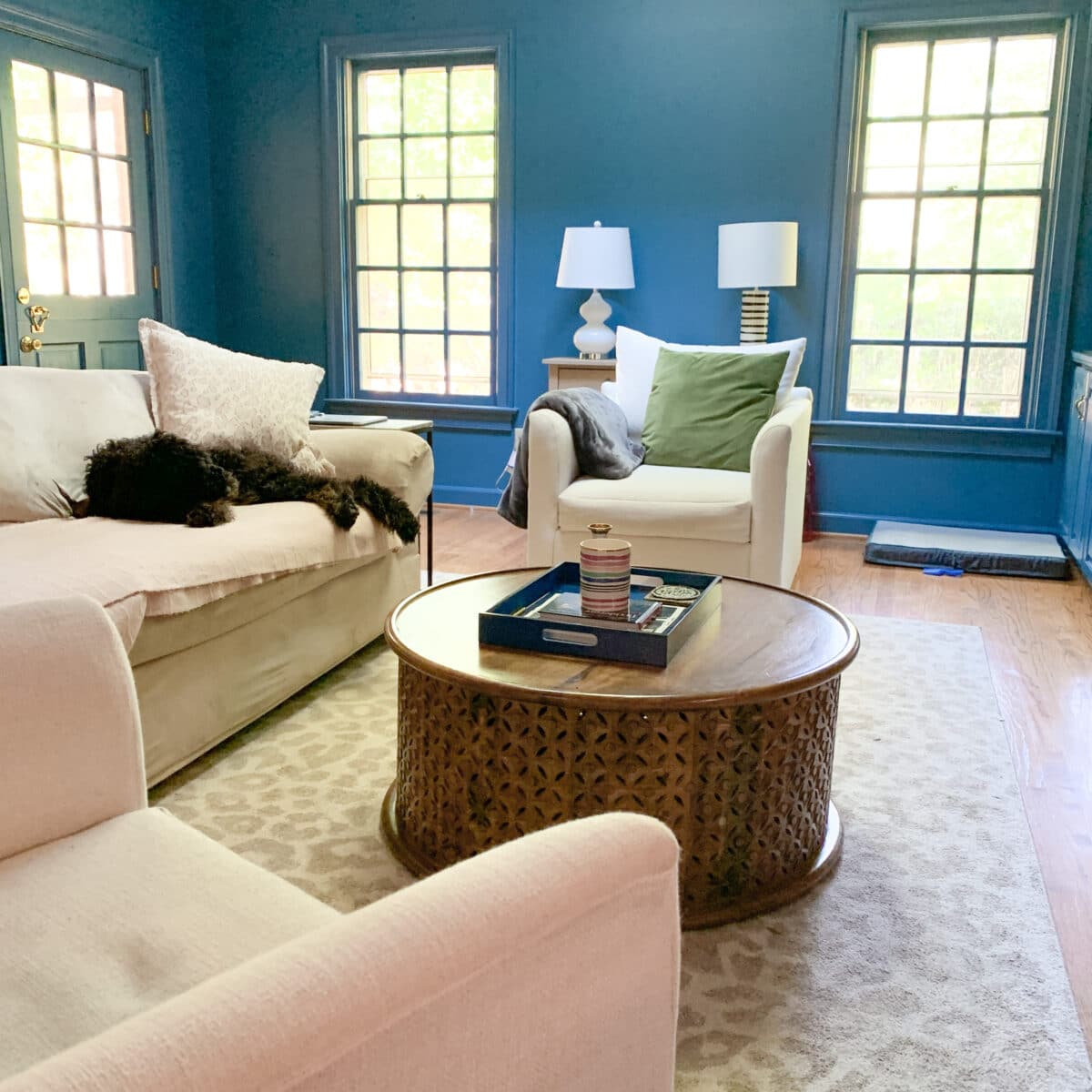 BOUTIQUE RUGS REVIEW PROS & CONS
PROS
Color was accurate and ivory warms up the family room against blue walls
A 9′ x 12′ was the perfect size to anchor the furniture in the room
It was $288 including free shipping
It arrived in 5 days!
The pattern is superb. Leopard is amazing, I love that it isn't too bold!
CONS
I didn't find anything that I didn't love about this rug, but in a perfect world here are a few things I would add:
It is soft, but not buttery soft like the Dibble Area Rug (you can estimate the feel by the materials used in the rug listing)
It doesn't include a rug pad, so you'll need to order that separately
The price point without a Sale may be cost prohibitive, so wait for a sale or code to shop!
Check user photos to see what it looks like in real use. The website photo of the rug doesn't do it justice.
BOUTIQUE RUGS REVIEW: WHAT A BARGAIN, HERE'S HOW I GOT MINE FOR ONLY $288
Boutique Rugs (BoutiqueRugs.com) is an online retailer that has really show up in Instagram and Facebook advertising lately. You know I am a sucker for a good IG add. I decided to give them a try.
Because they only have to have warehouse space and not retail stores, they can offer rugs at a lower price point than other stores. This works to your advantage!
They have typical sales throughout the year that will give you anywhere from 40% to 60% off. Retail is $600- $800, but with the BLACK FRIDAY or NEW YEARS CODE it's 60% off. Meaning I scored a 9×12 area rug for only $288 with free shipping!!
CONCLUSION: VERY HAPPY WITH BOUTIQUE RUGS AREA RUG
Overall, I really do like that Boutique Rugs has hundred of rugs to choose from in every style at an affordable price point. My review may seem glowing, but in reality, if you want the convenience of online shopping and lower prices, BoutiqueRugs.com is a great option.
I'll keep it in my Rolodex for my house as well as client projects when I'm searching for a rug!
BOUTIQUE RUGS REVIEW RECAP
Let me quickly summarize the important points of this Boutique Rugs Review, including tips for buying area rugs online.
Use a sale code for 40-60% OFF
Free Shipping Always
Buy a rug pad separately (7/16″ for extra cushion)
Area rugs should be 8′ x 10′ or larger
Always read reviews and look at the user submitted photos
Check the material list to understand what it will feel like: Polypropylene is courser, Polyester is softer
A FEW OF MY FAVORITE RUGS RIGHT NOW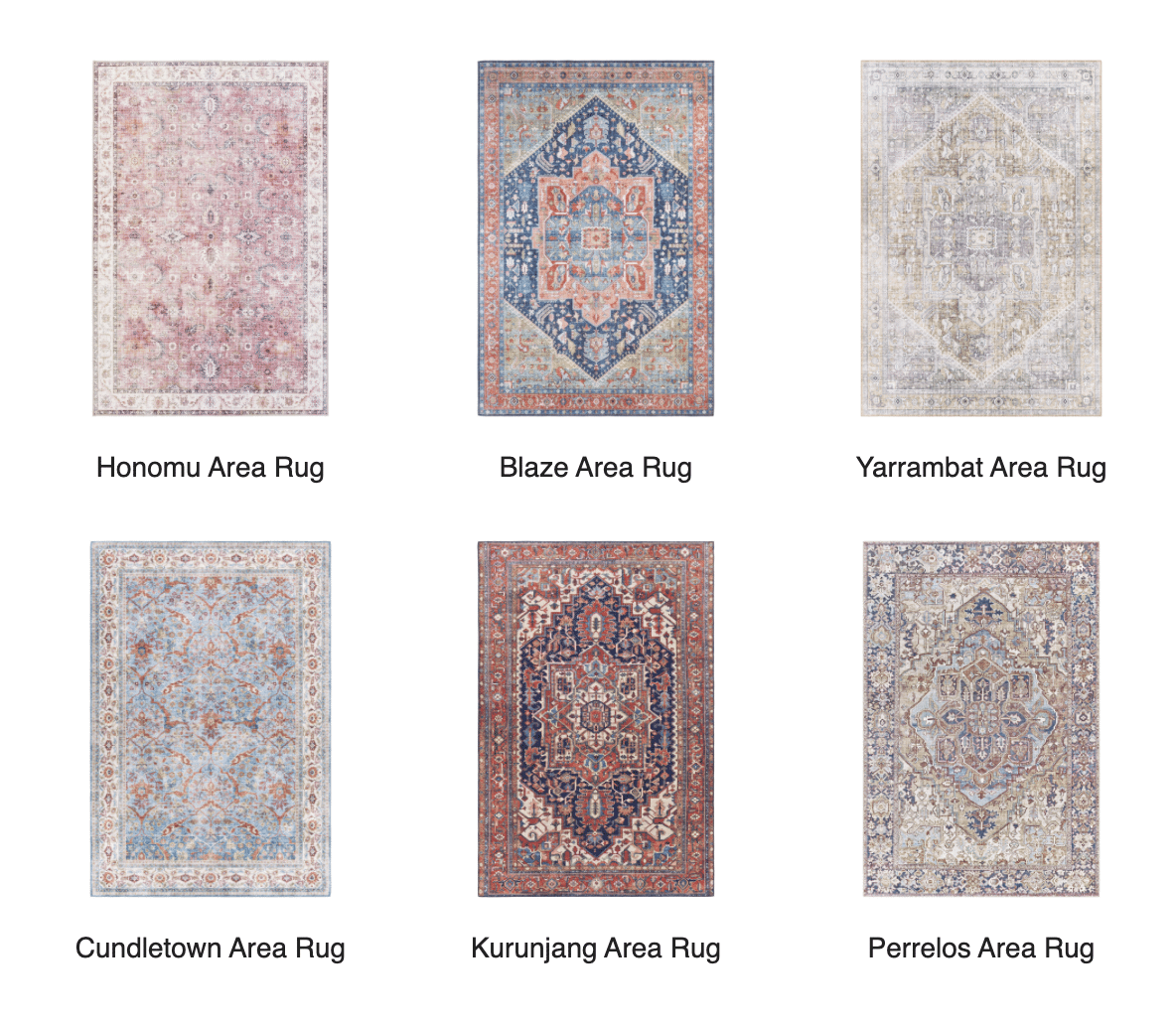 If you're searching for a great living room rug, head over and start shopping Boutique Rugs NOW & don't miss the 60% OFF CODE TODAY: "EARTH60" ! Happy Shopping! Comment below to tell me which rug you bought or are eyeing!!