MY BOUTIQUE RUGS DIBBLE AREA RUG REVIEW 2021: PROS & CONS FROM AN INTERIOR DESIGNER
Are you researching the Boutique Rugs Dibble Area rug and want an honest review? Do you want to know what I think of the Dibble area rug? Do you have kids or pets that are messier than a pack of wild animals?
This rug is for you! Keep reading to see how this rug hides all of the unwanted markings your pack of wolves leave behind.
This post contains affiliate links- meaning when you purchase through the link and I receive a small commission. It feeds my Starbucks addiction & for that I thank you! You can see my full disclosure policy here.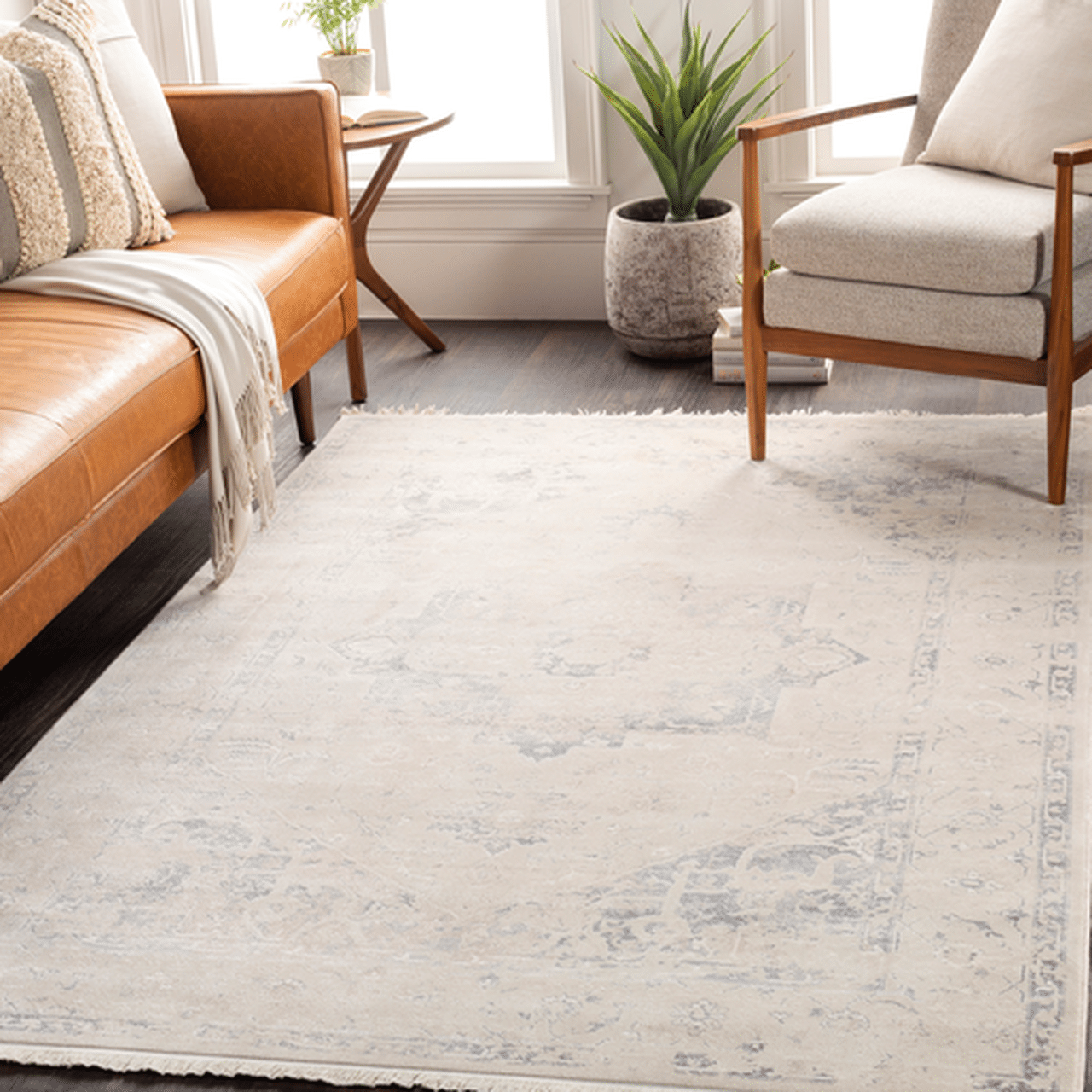 Before you trust what I say, I want to introduce myself and tell you a little bit about why this interior design advice matters.
---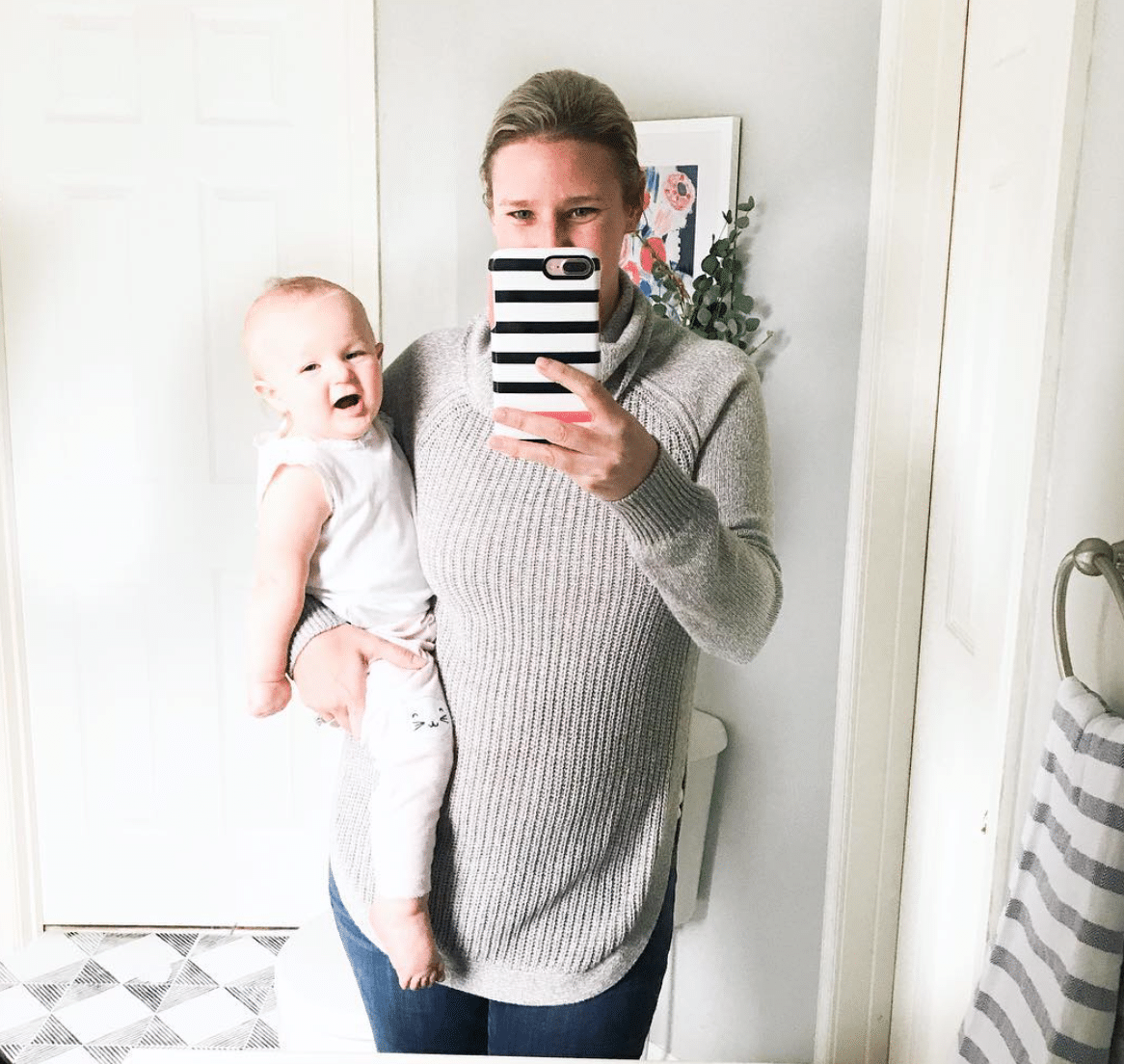 Hey Friend! I'm April, mom of two wild child's, dogs and chickens.
I love interiors. Hands down, the thing I think about all of the time is decor, furniture and paint. To fuel my obsession and inclination for design, I opened my own firm, April Waltrip Interiors where I help lovely people take their dream for an amazing home to a reality.
Most of my free time is spent flipping through decor magazines and dreaming up my next project. I lean towards colorful, classic decor that can hold up to life with kids.
While not decorating, I am drinking Starbucks while doing accounting work, blogging (here) and shopping for vintage furniture and art.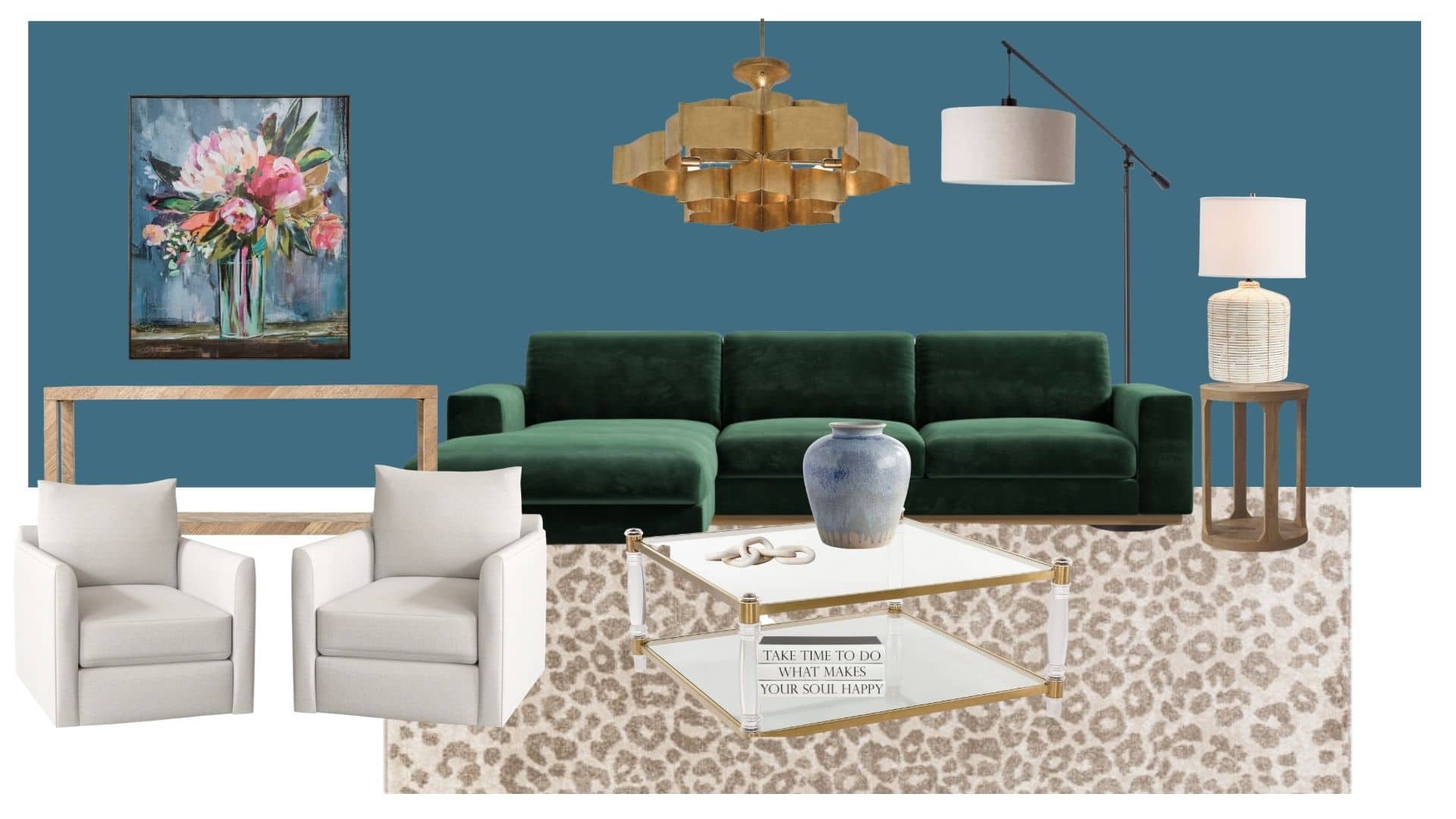 Recently, I ordered a new living room rug to replace the consignment find that I loved, but was past it's prime.
Today I am sharing all about that new Boutique Rugs Dibble Area Rug in this review.
---
Rugs, Furnishings & LIFE WITH KIDS
We have been in our house for 8 years (9 this September) and there are still a thousand projects to be done.
Four years ago I bought a large 11 x 13 ivory, textured rug from a consignment store. It was a steal at $150 for such a large rug. It had a large diamond weave pattern that gave it interest, but also a neutral base.
And that made it the perfect fit for our rugless living room. After years of kids bringing food into the room, and spilling coffee, and dirty shoes making past the door despite my efforts, the rug had had enough.
It was no longer ivory. The rug was now muddled and stained. I bought a steam cleaner in an attempt to revive it, but it only made things worse.
The BEFORE RUG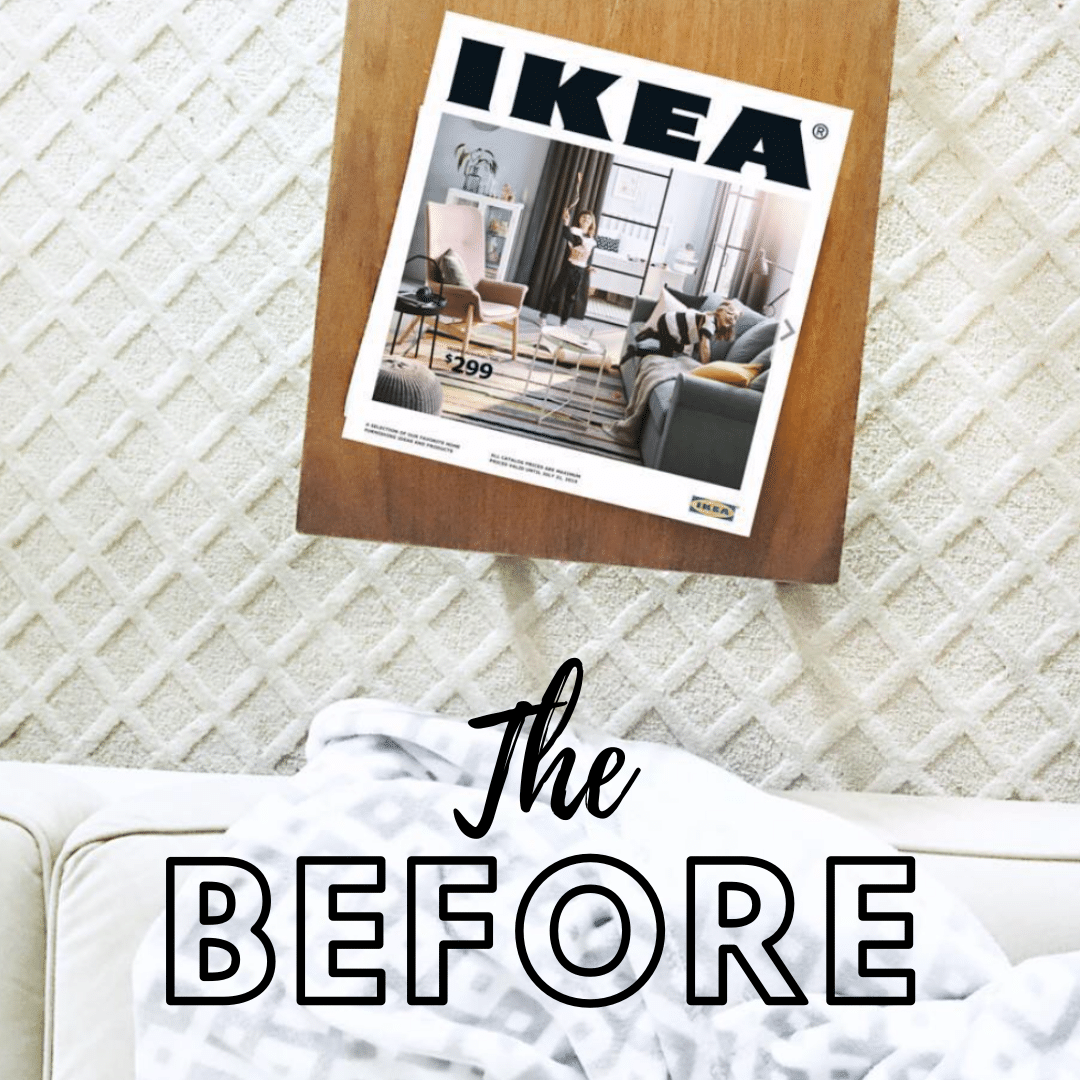 I knew the rug had lived a great, inexpensive life and it was time to find a replacement.
Then, I kept seeing Boutique Rugs on Instagram. So, I clicked on the ad and looked around the site a few times.
In my search, I knew I wanted a traditional looking Turkish area rug. But I was torn between a vintage Turkish rug layered on a woven sisal or a replica Turkish that would be easier to maintain.
Spoiler alert: I went with the traditional Turkish looking rug that I can easily clean and don't have to fear my kids ruining my beautiful rug.
When I saw one of my Instagram friends post a video of a her Boutique Rugs Dibble Area Rug and I fell in love. It was exactly what I was looking for.
Based on the photos, I thought it leaned a little too gray, but after seeing it in a room, with natural light and furniture I was sold. It would coordinate with my ivory sofa and green chairs perfectly.
So I went over to the Boutique Rugs website and ordered the Dibble Area Rug in 7″10′ x 10′. And eagerly awaited its arrival.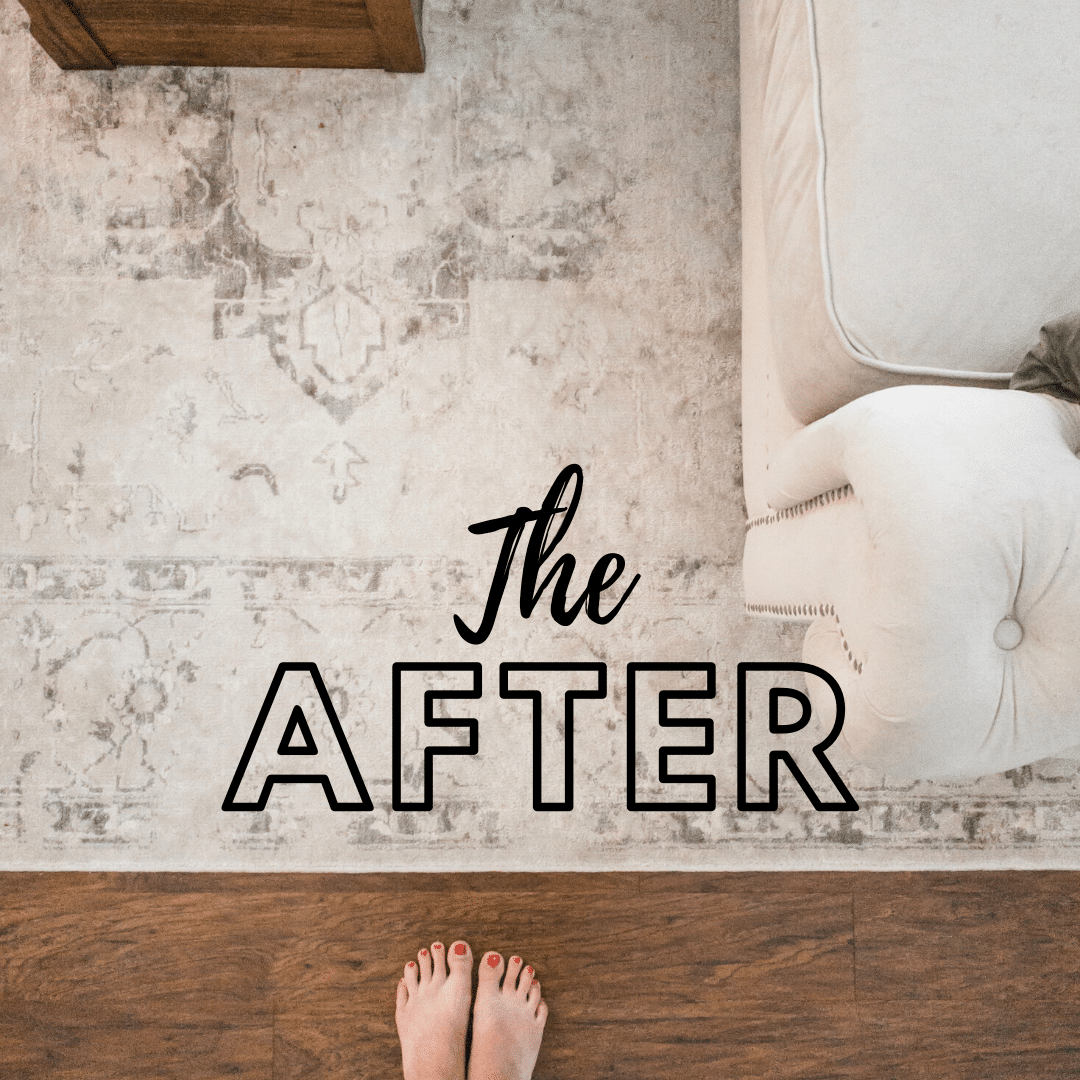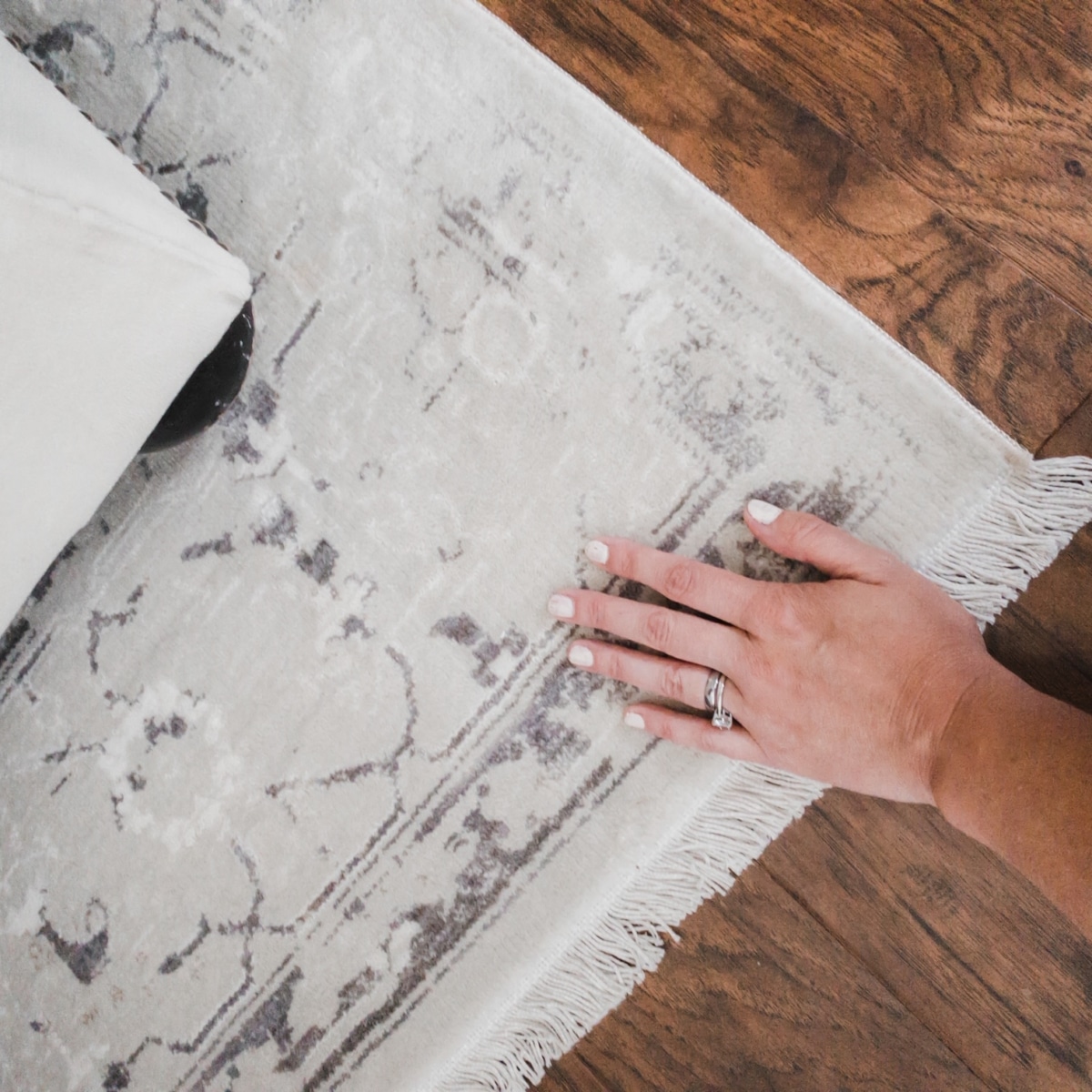 My Review: Here Are My Thoughts and Opinions On the Boutique Rugs Dibble Area Rug
How I came about ordering The Dibble Rug from Boutique Rugs
As you know, I'm an avid Instagram shopper (read all about it here). And I am also a sucker for really good ads.
Also, I really dislike poorly done ads. So when I kept seeing a Boutique Rugs ad, I clicked around.
I don't tend to impulse buy for my home anymore. Because I used to buy stuff without a plan, I realized what a waste of money that was.
So now, I am armed with a plan, and a master list of things I would like to replace in my home. As well as a list of dimensions of each room and item. Thank you iPhone Notes App where I keep all of this info at my fingertips.
Intentional Purchases
So from there on out, each purchase is really intentional. I generally mull over purchases, add to cart, and think about it for another few weeks.
I was browsing the rugs regularly, and kept seeing more ads. Because once you click an ad, you are likely to be retargeted.
For a while now, I have been marking vintage Turkish rug shops on Etsy. I was considering buying a vintage Turkish to layer over a jute rug for the living room.
Then, I saw another blogging friend post a photo of the actual Dibble rug in a living room and I was SOLD. It was on sale & it looked beautiful via video.
So I added to cart, measured the living room one more time, and bought it as quickly as I could.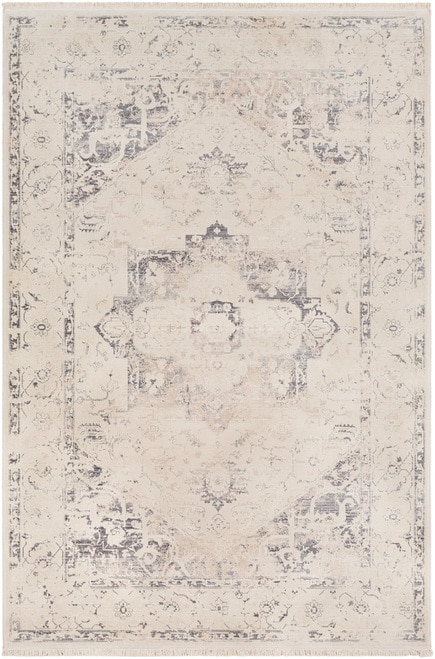 Rug Style
The Dibble Area rug is a traditional style, which fits with most of my house. I like traditional curved furniture legs, some wood, and painted wooden pieces.
But, I also love COLOR. And modern take on traditional blends curves and formal looking pieces with family friendly fabrics and colorful cheer.
As for the Dibble rug, it has a traditional Turkish rug pattern, but in modern material with grays and ivories, which are less traditional than colorful vintage Turkish rugs.
Color/pattern
It consists of grays, ivory, and a greenish blue undertone, which pairs well with both off-white, brown, or gray furniture/wall color.
The pictures don't do it justice. Take a few minutes to look through the customer photos for an accurate view of its true variance in color and pattern.
Rug Pile
This is a medium pile area rug with approximately .25″ pile. It is thicker than a flat woven rug, but not as thick as a shag.
Ideally, this is a great rug pile for longevity. Make sure you add a thick rug pad underneath to get the most out of it.
Tip: You can have a local carpet store cut professional installation rug padding to size and you can pop it under your rug.
Material
The Dibble area rug is 100% Polyester. It is easy to clean and maintain. The fiber construction repels many stains. So the quicker you get to them the better.
Polyester is superior to viscose. Viscose tends to wear out and change texture sooner than a polyester rug.
Softness
It is so soft underfoot and makes for a great floor playing area. It has fringe on the short edges that adds an extra element of interest to the rug.
The 7'10 x 10′ is just large enough to house a sofa and two chairs as well as coffee and end tables. The furniture fits fully on the rug, leaving a beautiful border of wood floors around the seating area.
Rug Pad
While the rug doesn't come with a rug pad, I recommend ordering one. It protects floors, prevents slipping and adds an extra layer of comfort under the rug.
Order the same as the rug size and slightly trim the rug pad to fit under the area.
Tip: You can have a local carpet store cut professional installation rug padding to size and you can pop it under your rug.
SHIPPING
Shipping is FREE for the 8×10 area rug. That's a lot of rug to ship, and if you've ever had to pay shipping on furniture you know it's generally $150+.
So getting free shipping was a huge bonus.
On top of that, I ordered it on the 22nd and it arrived on the 28th, which was fast for such a large delivery!
I can't say enough great things about this rug! You won't be disappointed with your purchase.
Read More: The Best Sherwin Williams White Paint Colors in 2020

HIGHLIGHTS OF THE Boutique Rugs Dibble Area Rug
I want to recap the highlights of the Boutique Rugs Dibble Area Rug in this review for you. These are the tops features of the rug, which ultimately led me to purchase the from Boutique Rugs over another.
Sizes

Fringe
Did I mention it has FRINGE! I don't think I mentioned this above, but having fringe on the ends adds a detail that makes this rug above and beyond.
Not only does it look beautiful, but it takes the classiness to another level. I love the fringe!

Color
Having a variety of grays and ivorys really makes this rug fit into any space. Whether you have warm or cool colors throughout your room, this rug is going to work. The undertones and subtle pattern lend well to any decor style and any existing undertones that you can't change.
Cleaning & Care
Easy to clean. This is great if you have small children or pets that make messes!
Vacuum regularly to keep debris off of it and keep the fibers fluffed.
Avoid direct sunlight to prevent fading.
Spot clean immediately with carpet cleaner. The good news is they don't stain easily, but always blot, never rub. (I use white vinegar + water for regular stains or rubbing alcohol for sharpie)
Use furniture sliders & slightly move furniture over few months to avoid rug indentations.
Boutique Rugs Dibble Area Rug Compared with Vintage Turkish Rug
I mentioned earlier in this post that I was considering a vintage turkish rug for our living room, but then I ran across the Dibble area rug.
Let's talk about the similarities and differences between Boutique Rugs and Vintage Turkish Rugs.
Cost
In terms of cost, a vintage area rug was going to run around $300-400 or $800+ for a large wool area rug.
Because vintage Turkish rugs are not standard sizes, I would need to purchase a jute or sisal rug to layer under the Turkish. The larger woven rug would anchor the furniture and the vintage would add color and pattern to the middle of the room.
When compared to the Dibble area rug, I was able to order an 8′ x 10′ area rug for $340.00 when a 60% off sale was running.
It was less expensive to buy the Dibble area rug over the vintage + woven I would need to make the layout work.
Durability
Vintage rugs hold up well enough over time, obviously because they are still around. Hands down, wool is the best rug material. However it is expensive and it is not completely stain proof.
Much like polyester, wool repels stains, but eventually it will absorb the color/soil unless you get to it quickly.
In terms of price and longevity, at this stage in life with young kids, I have no problem recommending polyester rugs for people with young kids and pets.
The modern fabric construction that is easy to clean. Kids make messes and having an easy to clean rug makes me feel less anxious about it getting ruined.
Cleaning
Earlier, I discussed the cleaning specifics of the Dibble area rug. A little vinegar and water goes a long way in keeping it clean.
From experience, the first week I had the rug, my 2 year old colored with Sharpie Highlighter on the rug. I panicked a little, but a rubbing alcohol did the trick to get the streaks out.
I'm confident the cleaning and care for this area rug is a good fit for my family.
Size
Taking the size into consideration came into play with the cost of a vintage rug versus the Dibble.
Because vintage rugs are often odd sizes and I knew for our living room I needed at least an 8×10 rug, a Turkish rug would actually require two rugs to cover the space. I would need to purchase a woven rug as the base and layer the Turkish rug. In terms of cost, it was less expensive to buy the larger Dibble area rug.
Exact color
When you buy a vintage rug, you can never be 100% sure of the color. The photos can be pretty close, but in reality, you won't know what it looks like until you get it. You are also limited to what already exists.
They are vintage and aren't make to order. Often you will find the vintage rugs in beige, pinks, greens, reds, but don't have control over what comes on the resale market.
The same can be said for any online order, but after seeing photos of the Dibble rug in people's homes, I felt like I had a pretty good understanding of the color.
Plus, ordering manufactured rugs, you are likely to find any color you want to fit your taste. Turns out I was right to order the Dibble.
The turkish is still on my list for a runner or entry rug, with less pressure to buy now.
Read More: What is performance fabric? Performance Fabric 101
Boutique Rugs Dibble Area Rug PROS & CONS
Boutique Rugs Pros
Color works well with almost any decor- warm, cool, ivory, browns, gray, green and blue
Size is perfect for a seating area of sofa and two chairs
It is SO soft. The word soft doesn't even describe how amazing it feels.
Fringe on the edges adds a touch of femininity and interest
It looks more expensive than it is
Boutique Rugs Cons
I didn't find anything that I didn't love about this rug, but in a perfect world here are a few things I would add:
It doesn't include a rug pad, so you'll need to order that separately.
The price point without a sale may be cost prohibitive for a large 9 x 12
The website photo of the rug doesn't do it justice. It definitely has a gray undertone as pictured and it reads slightly warm. Which in my case, was what I actually needed, so it worked in my favor.
Wool is clearly the winning material for long term durability. I always recommend wool as an investment. But Polyester is a great alternative.
SEE THE DIBBLE AREA Rug in My Home
The proof is in the pudding, y'all. If you weren't convinced that it is a beautiful rug, you have to be now. I get compliments every time someone walks into my home.
Then once we move into the room and sit down, my guests are blown away at how incredibly soft this rug is under foot.
Here are some photos of the Boutique Rugs Dibble Area Rug rug in my home, in use, because sometimes online website photos don't do it justice.

Boutique Rugs Dibble Area Rug: What a Bargain, Here's How I Got Mine for Only $300
Boutique Rugs is an online retailer. Because they only have to have warehouse space and not retail stores, they can offer rugs at a lower price point than other stores. This works to your advantage!
I have watched regularly, and every few months they rug really good sales that are anywhere from 40-60% off a purchase.
When I ordered the Dibble 8′ x 10′ rug it retailed for $810.00, but with a 60% discount code, it was $324.00 with free shipping. What a great deal!
If you are in the market for a rug, I suggest signing up for the Boutique Rugs email list and waiting for a sale. Chances are, you will be able to get a hefty discount within a few weeks of starting your search.
If you aren't in a huge rush, I am always a fan of making a wish list and waiting until you find the best deal.

Conclusion: interior designer recommends the Boutique Rugs Dibble Area Rug
Overall, I am blown away by the Dibble Area Rug every time I walk past my living room. It takes a drab room to another level, bringing all of the furniture together for a finished look that highlights my green velvet chairs and wood floors.
Especially if you are just beginning to select the pieces for your living room, this rug is for you. It is a great foundational piece that works well with anything.
If you're ready to take the plunge, get yours here.
Thanks for stopping by and reading my review of the Boutique Rugs Dibble Area Rug. I hope I answered all of your questions, but if you have any, please drop them in the comments. I'll answer them as soon as I can.
OTHER BOUTIQUE RUGS FAVORITES
Is the Dibble back ordered? If you can't get it in right now in the size you need, I have sourced these beauties. You're going to love them and I know one of them will be perfect for your home.
Traditional
Contemporary
Farmhouse
Striped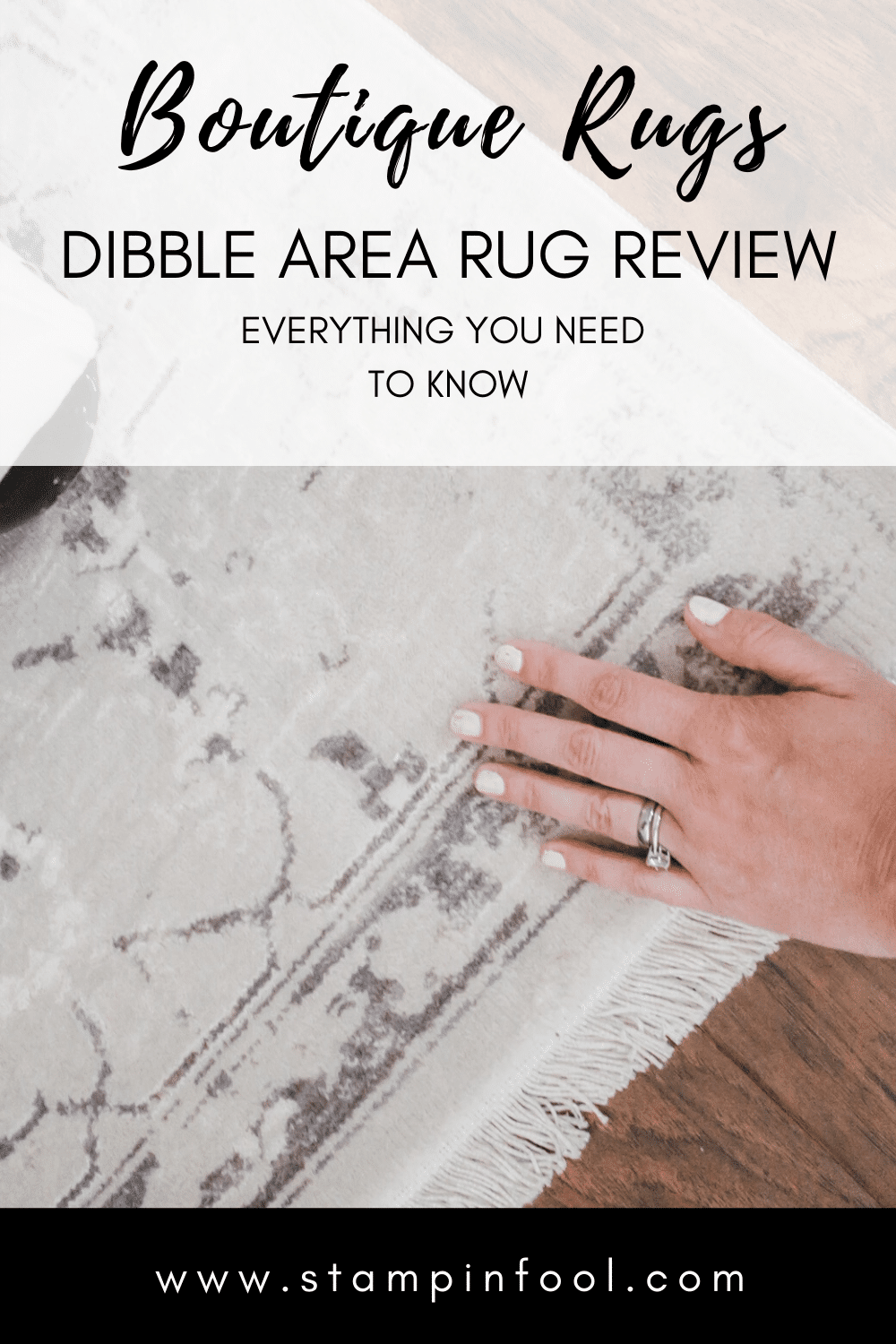 Need help finding the perfect selections for your home, become a client. Online or in person.