The Best Decorating & Interior Design Podcasts to Listen to in 2022
Are you looking for some fresh decorating or interior design podcasts to listen to this year in 2022? I am an avid podcast listener. And by that I mean, I listen to about 10+ hours a week of podcasts.
For me, it's so relaxing to have a podcast on while driving, doing dishes and laundry and cleaning the house. If I'm outside watching the kids play, I'm probably listening to a decorating podcast too.
But, it hasn't always been that way. In fact, I didn't know what a podcast was until a few years ago.
And even after I saw friends on Facebook asking for podcast recommendations in 2018, I didn't quite get it. I thought it may be good for roadtrips, but we don't ever go anywhere so it didn't make sense.
WHY PODCASTS?
But then, I finally decided to try it out. In September of 2017, I started listening to the How To Decorate Podcast from Ballard Designs, while in my car running errands.
While it started with me listening on occasion to the weekly release of How to Decorate, it became so much more. I started to search for other podcasts on other topics and used it as a way to enjoy driving.
I didn't realize how much I was in the car running errands and waiting in carline until I used the time to actively learn by listening to podcasts.
So if you are looking for a way to enjoy doing your chores or drown out the kids while you pick up groceries, look no further. Podcasts will change your life.
Similarly, podcasts are a great tool to learn new things. While decorating podcasts are my favorite, I have learned sooo much from other podcasts. A few of those topics are blogging, SEO, cleaning and organizing, business tips, social media and Pinterest topics, and more.
Top reasons to listen to a podcast:
Easier than reading
Can relisten if you missed a part
Allows you to multitask
Takes the mundane out of chores
It's FREE education
You can learn about ANYTHING!
They are conversational and you get to know the hosts
On-demand entertainment that you don't have to wait for
WHY LISTEN TO DECORATING PODCASTS?
Like I have learned a ton about these other random topics from Podcasts (and it's working, because you're here on my blog, ha!), I want to share how you can learn a whole lot about decorating in a short time. And learn in an easy to digest way.
You'll be able to apply the things you learn in the podcasts to your own home. After listening to many different podcasts who have a variety of guests, you'll also learn that rules are meant to be broken.
You will learn which rules and how to break them. And you will also get to know what things are really important to making your space look professionally designed.
SOME THINGS I LEARNED FROM DECORATING PODCASTS
I want to touch on a few things I have learned from listening to decorating podcasts for the last few years.
All about paint colors, undertones and the fifth wall (ceiling)
Rugs, area rug sizes and material selection
Furniture layout- many of these shows address listener dilemmas
The right amount of lighting for any room
So many functional kitchen design tips
& much, much more!
WHAT I DO WHILE LISTENING TO DECORATING PODCASTS
Before I turn you loose on my favorite decorating podcasts, I think it's important to touch on when I listen to them, for those of you that don't listen to podcasts yet.
So my favorite times to listen to podcasts are:
carline
when I'm driving to and from grocery store
when I need motivation to clean or do laundry
while doing dishes (almost every single morning & after dinner)
folding laundry
when it's slow in the office and I don't need to be 100% engaged in what I'm typing
while cooking dinner
as research when I am looking for an answer
As a bonus, you can enable the skill on your Alexa app and then ask Alexa to play the "____ podcast."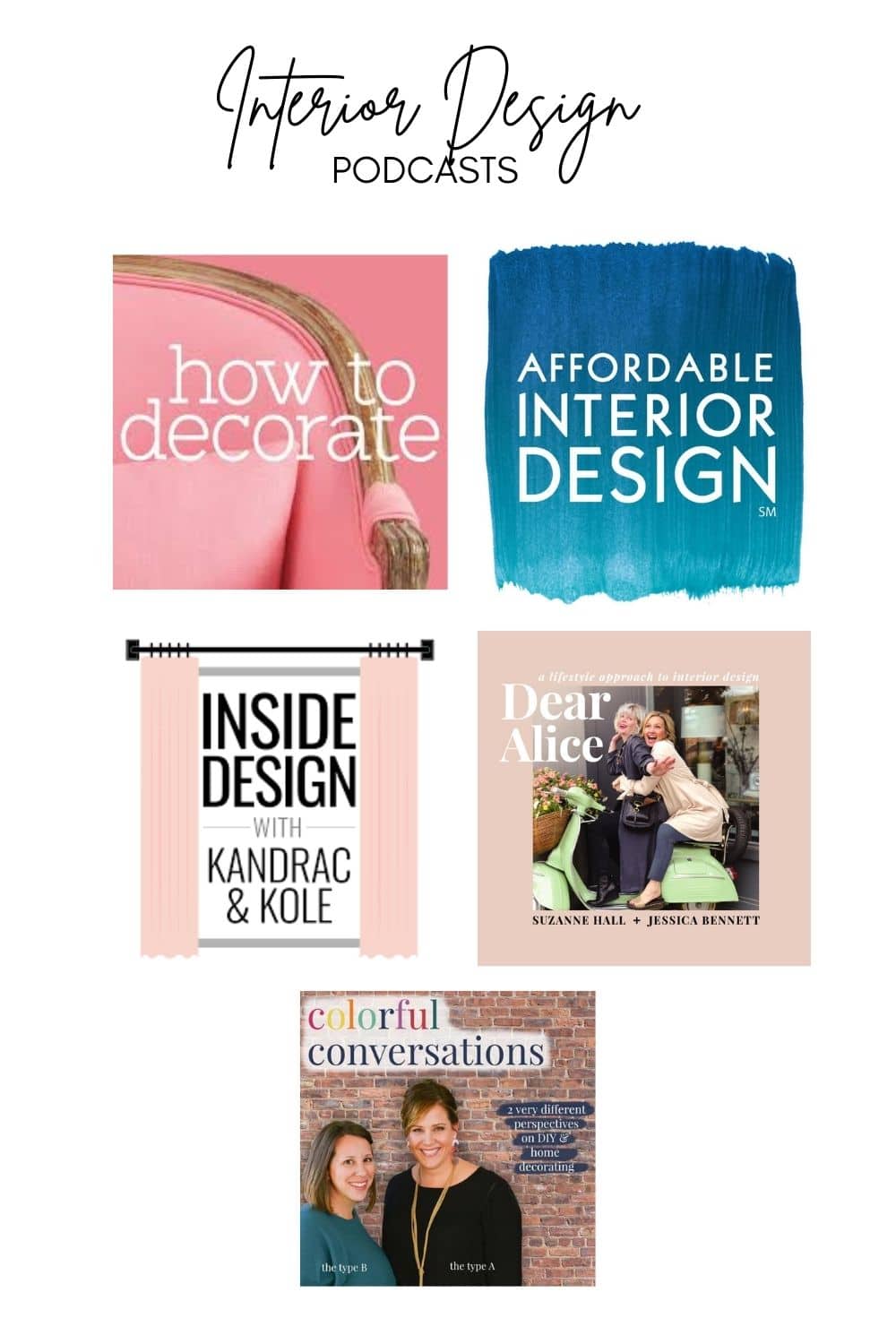 The Best Decorating Podcasts to Listen to in 2020
Grab your iphone and open the Podcast App or enable your Amazon Alexa skill to get stared with these awesome decorating podcasts!
YOUNG HOUSE LOVE HAS A PODCAST (retired)

* While this podcast is taking a pause, the old episodes are worth listening to!
John and Sherry have a blog Young House Love, among other things like a furniture & lighting line. They are DIY decorating pros and go to's for tutorials and step by steps.
I most like this podcast because they are funny and down to earth. You won't find a hoity toity get out of my interior design office vibe here. You'll laugh along with them, say ohh no more than once, and probably end up buying something they are digging from Amazon.
HOW TO DECORATE (from ballard designs)

The podcast that started it all, How to Decorate Podcast. To be honest, when I was searching for a decorating podcast, I saw How to Decorate, but the "from Ballard Designs" threw me off. I though it may be salesy.
Newsflash, it wasn't. And now I look forward to a new episode dropping every Tuesday. You'll hear from designers from all over the US and they will talk about their work, some of their best tips and advice, how to mix old with new, and solve decorating problems.
I'm so glad I clicked on the pink chair and started listening to how to decorate. I cannot even begin to name all of the things I have learned from the designers on their show. I feel like I can troubleshoot almost any problem now, and have the decorating bug in full force.
The best yet is that the girls also answer listener design dilemmas every episode. So if you have a problem space, send an email and some pics to the How to Decorate Podcast and Karen, Caroline & Taryn will answer your questions.
Plus, Ballard Designs is one of my favorite place to find new traditional pieces for my home.
THE BUSINESS OF HOME

Business of Home's host Dennis Scully interviews thought leaders, entrepreneurs, and creatives about the changes and challenges facing the interior design community.
Now the Business of Home podcast may not answer all of your burning DIY questions, like some of the other podcasts out there, but this one really resonates with me because you will learn a lot about the bigger picture of the industry.
You'll hear the history of corporations like House Beautiful, Phillip Jeffries and Rifle Paper Co.. Visual merchandising is often discussed as well as how to move from ideas to production in a furniture line.
If you are really into all things home, you'll enjoy learning the how and history behind the guests and businesses featured on Business of Home Podcast.
THE GREAT INDOORS
Do you love an English accent? Then you're going to love listening to The Great Indoors podcast. What I like most is that Sophie and Kate don't always agree or have the same taste and don't play hard and fast with design rules.
There is room to ebb and flow for what works in your home. Not everything is black and white, but it's definitely colorful.
You'll hear from guests on various topics from tile to shopping trends to Christmas trees and candles. Also, there will be a dose of discussion and debate on almost any room in your home.
Follow along for this light hearted, un-stuffy decor loving podcast, The Great Indoors.
DEAR ALICE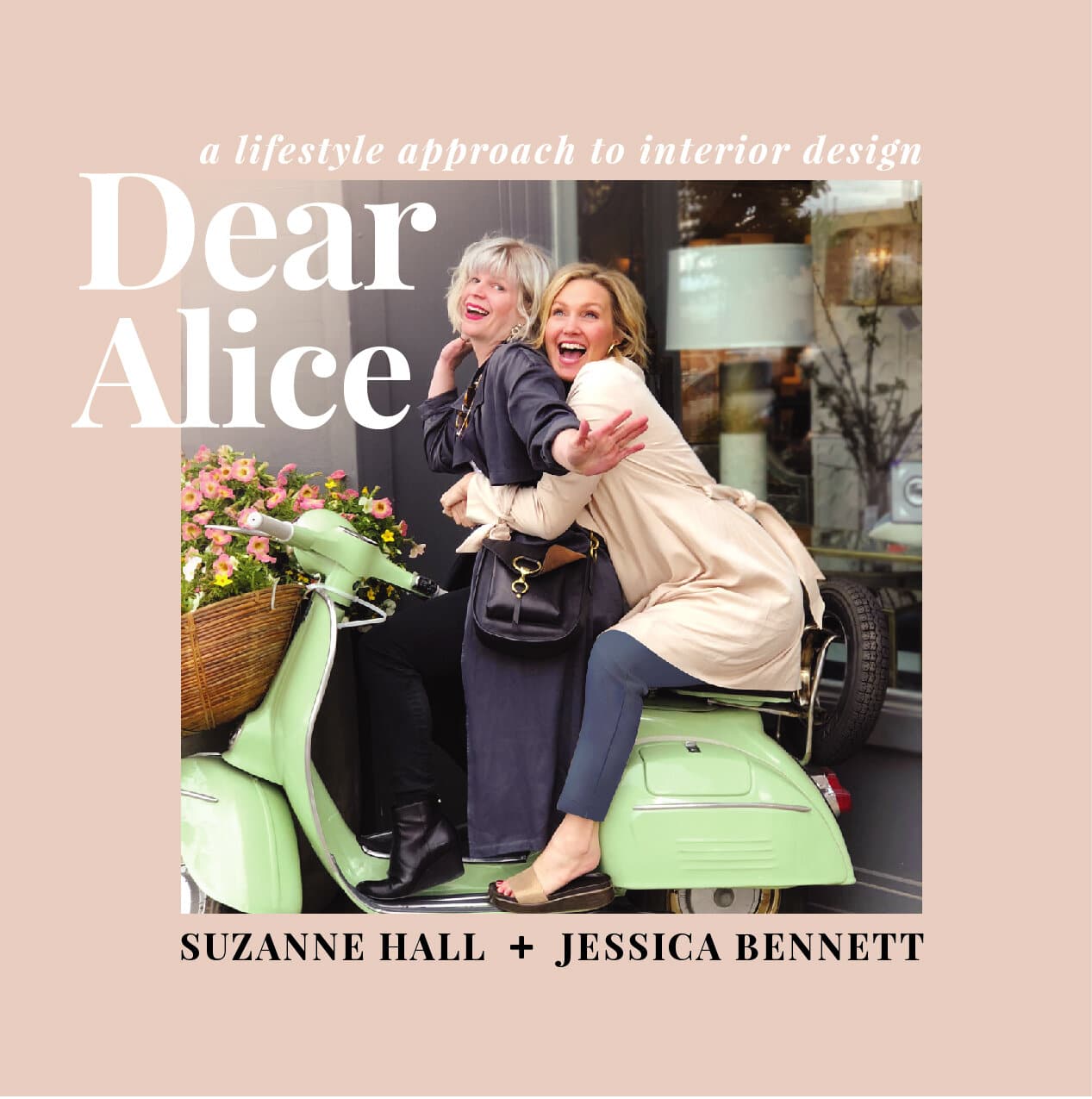 Last, but certainly not least is Dear Alice, which is a podcast with two dynamic designers who talk all things decor, furniture, and fixtures. It is hosted by Suz and Jessica, the owners of Alice Lane Interior Design firm.
I love that the purpose of the Dear Alice podcast is to educate you on design principles, answer your questions and help you pinpoint what isn't quite working in your space.
These two are great about bringing functionality to the discussion so that your design decisions aren't based on looks alone, but work for your space.
When I went back thru the first few episodes and browsed the reviews to see what listeners loved most, I kept seeing the thing that resonated most- BUY THE BIGGER RUG! This rings so true! Take their advice, buy the rug first and go big or go home.
You'll enjoy this conversational podcast that will answer your design questions that you didn't know you had.
*NEWLY ADDED*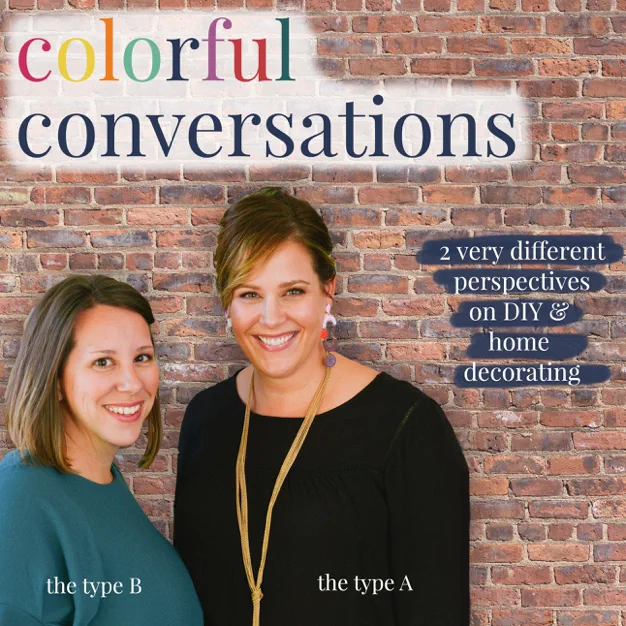 Colorful conversations
Follow along with Tasha and Thea as they talk about the practical aspects of DIY design in ways that you can apply to your own home. Down to earth, you won't feel like these gals are judging you no matter your style.
Help find what you love and how to bring it to life in your home.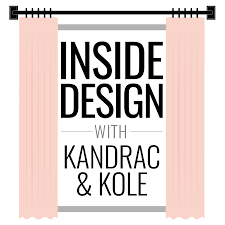 Inside Design with Kandrac and Kole
I recently added this to my list in 2022 and I have to say I am so impressed! These professional interior designers break it down for listeners on every topic that you'll need to make you home look spectacular. If you love decorating, or don't know where to start, this is a great place.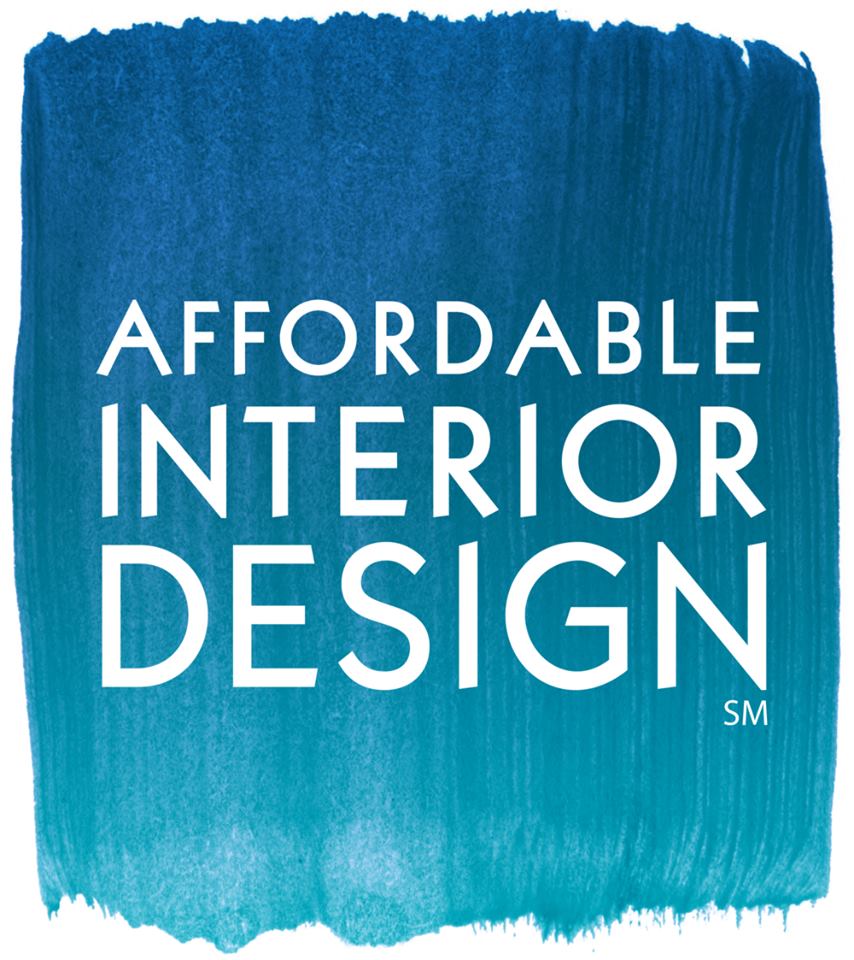 Affordable Interior Design
Looking for a way to decorate your own house, but don't have a million dollar budget for furniture? Listen to Affordable Interior Design to learn where to splurge and save and where to shop to have a well curated home, at a fraction of the cost.

How to listen to podcasts: everything you need to know
On a website
You can simply Google the name of the above podcasts and most will direct you to a website where you can listen to episodes.
On your iPhone or iPad
The Podcasts app should already be downloaded on your phone so search your apps for 'Podcasts'. If it's not, go to the app store and download it.
on Alexa or a Smart Speaker
Did you know??! You can ask your Alexa to "play the How to Decorate Podcast on Apple Podcasts". This is my go to when I'm cleaning in certain rooms or doing dishes.
Where to listen to podcasts
These other apps or websites will also allow you to listen to podcasts. I use Spotify on our boat, and Audible when I have an audio book, but they are also great for podcasts.
If you have one of these apps, you can load up your favorite podcasts without having to download a new app.
Spotify.
Audible.
Stitcher.
TuneIn Radio.
Summary
These podcasts really take the cake when it comes to Interior Decorating Podcasts. I have to say, I was surprised at how hooked on decorating podcasts I got.
After you start listening and learning, you also get invested in the hosts highs and lows. You start to feel personally connected to them and anticipate their answers on certain subjects, which means they have truly done a wonderful job of providing useful information and forming a relationship with listeners.
Happy Listening!!