DOCKATOT GRAND REVIEW: A Year Later + Plus How it Fits in a King Size Bed
I'm back to give you an update: DockATot Grand review and how it works for a king size bed. Last year, I blogged about buying a DockATot for Baby Hels (see it here) and how I planned to use it for her as an infant. But alas, she has grown into a toddler and it was time for an update.
Helen loves snuggle and laugh and play. But, from the time she was born, she did not want to sleep on her own at night. We tried. EVERYTHING. No one slept.
To recap, she cried in the bassinet, cried in a swaddle, cried in the swing. There was no sleeping situation that where the crying stopped or even slowed down unless she was being held. Hels never tired out or wore herself down.
For her, there was something lacking, isolating, about trying to sleep alone. In part, I think she needed the warmth to sleep. And she certainly craved the comfort.
So we had to make some difficult decisions, i.e. how would we sleep in the first months. You can read about that here (spoiler alert: we put the Dock in our bed), but i'm going to move on to the One Year Later update as promised.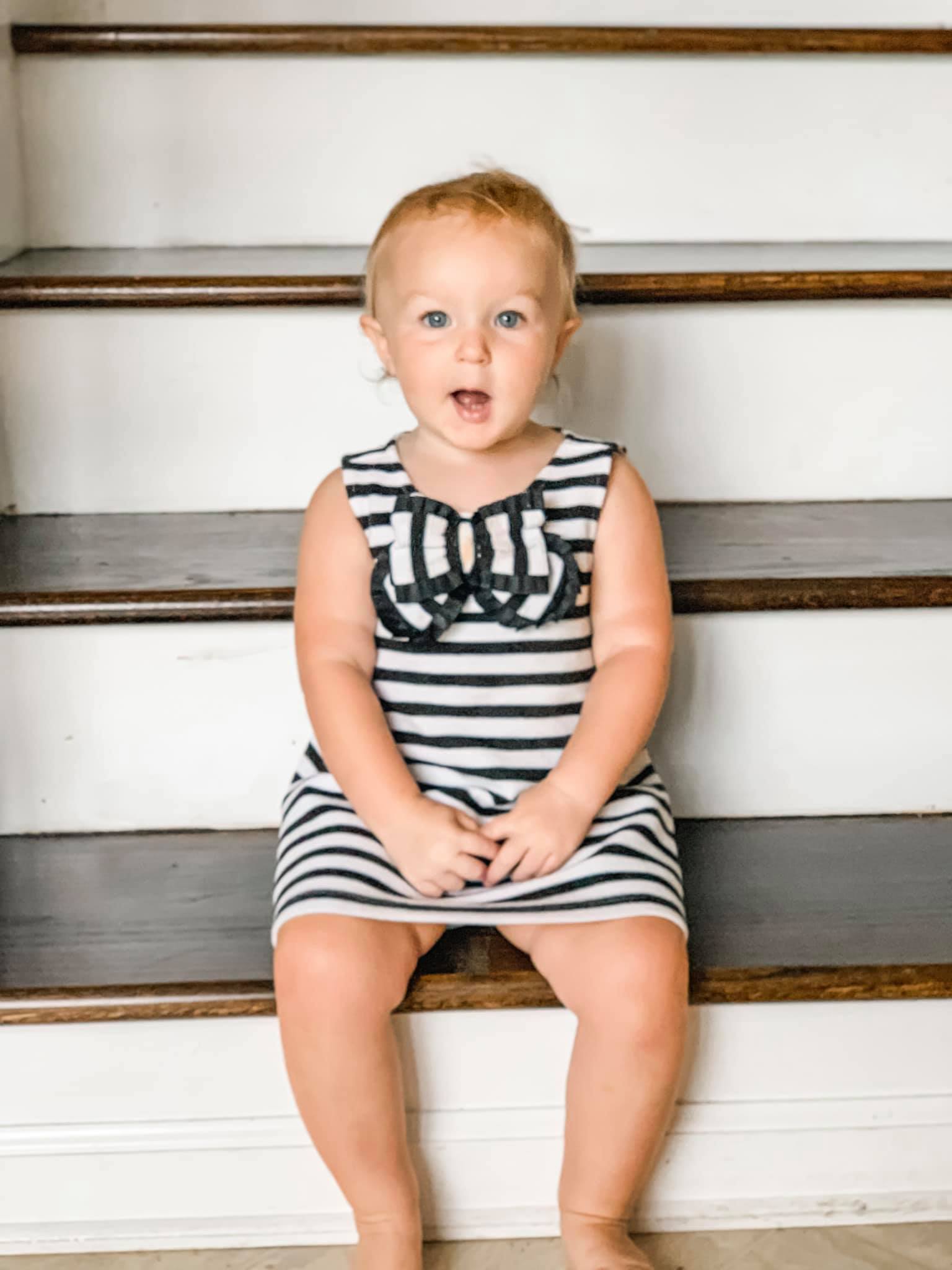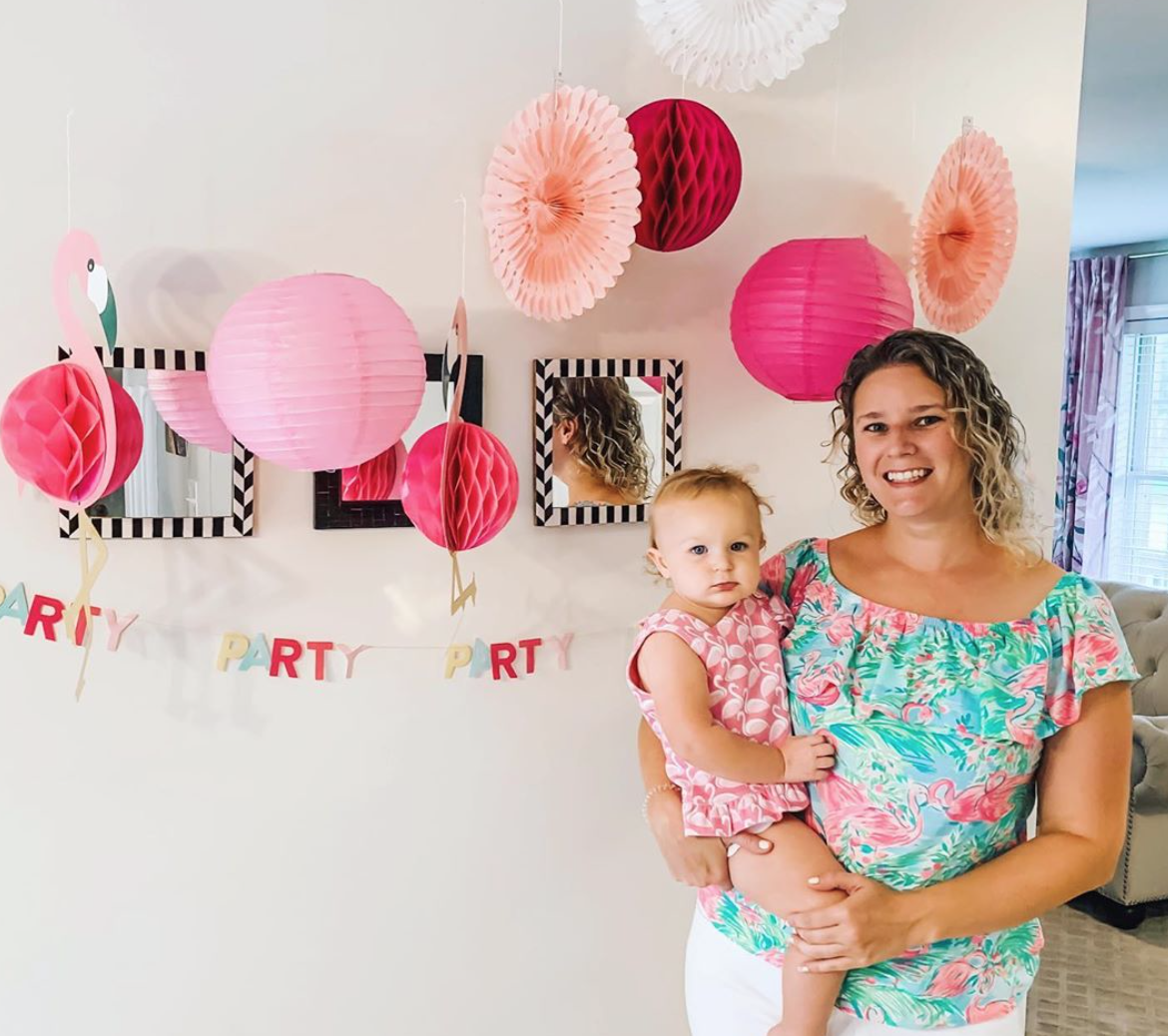 ONE YEAR LATER
Helen just turned TWO. And as all things ebb and flow, for the most part she sleeps really well. I transitioned her out of our king bed into her crib around 16 months old. We moved the crib to our room so that I could easily lay her back down at night if she awoke.
That has been helpful. It keeps us from groggily walking into her room and bringing her into bed because its easier than walking back and forth multiple times. Its much more convenient to lay her back down quickly than get her out. And we all know how well you sleep with a toddler in your bed- not at all.
The million dollar question: Do we still use the DockATot and was it worth it?
A resounding Yes and Yes. At 2 years old, we still use the DockATot Grand every night to put Helen to sleep in her own bed.
When we started transitioning her to a crib at 16 months, we put the Dock in the crib to help her fall asleep and supervised. I will note that this is controversial: Per the usage guidelines, you should not put it in a crib as an infant can get wedged between the side of the crib and suffocate.
However, you have to make your own informed decisions and weigh the risks. For us, supervision was key. Knowing her sleeping patterns was key. We were able to learn how she slept and moved when she shared a bed with us in the DockATot. Using a video monitor while she was falling asleep gave us the peace of mind that she was in fact not moving out of the Dock and was safe.
We are currently working on moving to a toddler bed. I 100% do not think she will stay in a toddler bed without her DockATot Grand. It provides a barrier that makes her feel safe and not in a wide open space.
It also creates a physical barrier that helps her stay put and not try and climb out. My hope is that within a few weeks she will no longer get out of her toddler bed 100 times in the first 5 minutes and will lay down peacefully and go to sleep like she does in a crib.
BEDSHARING WITH THE DOCKATOT GRAND
I have to admit, I really loved bed sharing. It was easy and convenient while I was nursing. I was at ease knowing I could check on her at any second (hello, mom anxiety). But we did have challenges.
When we were exhausted and she was still fighting sleep there was a long of crawling around in the middle of the bed and hitting, and trying to play while mom and dad wanted nothing more than to go to sleep.
KING BED FIT
The DockATot Grand in our King Bed helped with that as it provided a barrier and a designated place for her, but realistically it is not a magic pill that makes every child instantly fall into a deep spell cast princess sleep. Our sleep improved dramatically when she moved to a crib.
It is worth noting that we did have incremental sleep improvements along the way. In infancy, she didn't sleep more than 20 minutes at a time. It was exhausting and by 4 months old we had to bedshare in order for me to get any sleep.

For us, bedsharing was kicking out my husband, stripping the bed of all linens and pillows and swaddling her an arm length away from me.

When we added the DockATot Grand to our bed, we notice a change in how quickly she fell asleep and she was no longer climbing on us back and forth all night long.
Lastly, when she moved to her own crib, we had the best sleep to date.
I hope as she moves into her own room, we will sleep through the night every night. But, we have a 6 year old that still gets up occasionally so there's no hope, ha!
HOW DOES DOCKATOT GRAND FIT IN A KING SIZE BED?
Our take on the DockATot Grand in a King Bed: I am going to break this down for you by how my husband responded and how I responded to sleeping with the DockATot Grand in the middle of our king size bed for about a year.
He said: "It's kind of large and takes up space. I feel like I am on the edge of the bed and it makes me hot. But I like that she isn't on top of me and doesn't crawl all over me."
She said:"It fits perfectly. We are snuggly, but I am not falling off of the bed. I don't have to worry about rolling over onto baby."
There you have it. I think it's a great solution, but Husband would like a little more room. Ultimately, it saved all three of our sleeping patterns. We have defined spaces, we got a decent amount of sleep and she's happily on her own now, which was the end goal. Having a King size bed helped; had we still had a queen bed, I do not think the Grand would fit.
TAKING DOCKATOT ON VACATION
Ding, ding, ding. Admittedly, we don't get out much. Between work schedules and not wanting to be in the car with the kids for hours on end we don't take frequent vacations.
However, this spring we took the kids to DC and visited museums. We staying a the Grand Hyatt Hotel at the National Mall so that we could walk everywhere during the weekend- attractions, museums, and restaurants.
We opted for the King bed with a pull out sofa bed for the kids. We brought the DockATot with us. We knew getting her to sleep would be challenging because she is used to being put down, leaving the room and closing the door.
We agreed that Dad and brother would leave the room to go do something in the lobby, while I would sit quietly with the lights out. We put the Dock on the pullout and that didn't work. I moved it to the floor, on a towel from home because let's be honest, floors are gross.
It took longer than the normal 5 minutes for her to fall asleep. I would estimate 20-30 minutes for her to sleep deep enough that the boys could come back to the room without waking her up.
The benefit was that she was able to stay asleep in the DockATot and not climb back into bed with us.
VACATION #2
We took another Myrtle Beach vacation during the summer, where we stayed in a two room suite. We used the same method of putting her down in the Dock, Dad and brother leaving the suite to go do something for 30 minutes. This time, we had a living room so I was able to exit as well and sit on the couch while she fell asleep.
It was much quicker, although we had one night she was inconsolable so I took her out and held her until she fell asleep an hour later.
While sleep isn't always perfect, overall having the DockATot provides consistency and something comforting for Helen.
SAFE SLEEP GUIDELINES
Place the dock on a firm mattress only. Be sure it lays flat and remains flat with adult(s) in the bed.
Position dock in center of bed, near headboard. Each side of the dock should be at least 12 inches from edge of bed.
Make sure there are no extra pillows on the bed that can go over the baby while in the dock. Pillows and covers present a suffocation risk to your baby. Each parent should use only the pillow under their heads.
Make sure there are no covers (including blankets, sheets, pillowcases, shams, comforters, and other bedding) over the dock. Covers placed over the dock can end up over the baby's face. Covers can also cause overheating which is associated with increased risk of Sudden Infant Death Syndrome. Parents should use separate covers to reduce risk of blankets being pulled up over the baby.
OTHER USES
The Dock website suggests using it for play and for lounging. Perhaps if I had it when Helen was first born, I would move it around the house for baby naps. But, the short answer is that I don't use to DockATot as a baby lounger or play area or to move from room to room.
I tried it, but it was cumbersome and pointless. I want her bed to be a calm sleeping place, so we scratched the idea of play, left it in the bedroom and we only use it for sleeping. The only caveat being that we take it on vacation, for sleeping.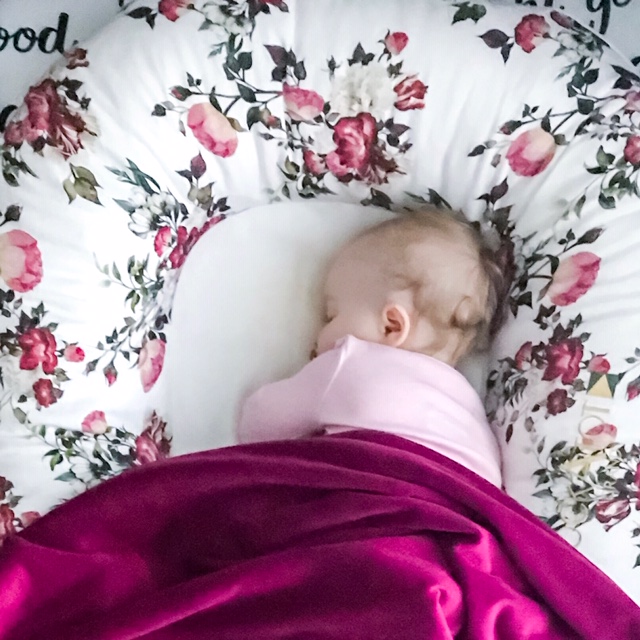 BUT IT'S SO EXPENSIVE
If you are reading this post, you have probably been searching for articles to sway you one way or another. You want to make sure the investment is going to be worth it. I understand, no one wants to spend $300 on a vacuum and it not work any better than the $50 brand.
I bought the DockATot Grand when they had a 500K Followers Instagram Sale. I had been eyeing it for months. I really wanted one, but it was expensive and with baby number two, I felt like we already had everything we needed. I was scared it would be money wasted.
Because there was a sale (25% off), which happened to be on my birthday, I grabbed my phone and ordered the Dock Grand in the beautiful En Via La Rose print. I paid $225 for the GRAND, which is the 9+ months larger DockATot.
I wish I would have bought it sooner. I wish I would have spent the money the day she came home from the hospital and bought the thing and started sleeping better sooner.
I feel as though I wouldn't have been petrified of SIDS. She would still been right beside me, but I wouldn't have to sleep sitting up holding her for short spurts.
THE COST OF A NURSERY
If I would have analyzed the situation sooner I would have realized the value it provided. The cost of a nursery on the cheap looks something like this:
Crib ($150)
mattress ($50)
Dresser ($120)
Diaper Genie ($50)
Swing (gift)
bouncer ($50)
play mat (gift)
nursing pillow (gift)
bassinet (borrowed)
Here is the list of the things I actually used (after having one baby and being minimal for the second) which were primarily things I splurged on because I already owned the big stuff:
Diaper bag ($100 splurge)
a few wooden toys ($30)
crib from 1st baby (free)
two new crib sheets ($20)
play mat from pottery barn (was a gift)
swing (borrowed)
Diaper Genie (free)
Rocking chair (hand me down)
Sound machine
Things I never used:
Changing table ($150- $500)
Rock n play
Lamp
Things I wish I bought:
Luxury rocking chair to sleep in
DockATot on day 1
Better closet system for clothes
DOCKATOT GRAND PROS & CONS

Lastly, before I recap all of the things you should consider before buying a Dockatot Grand for your little one, want to give you a quick pros and cons list to help you make a decision.
PROS
Safe sleeping place eases mom anxiety
Ease when nursing at night
Fits in middle of a King Size Bed snugly
Helps keep toddler safe and nearby, but not on top of you
Reduces the risk of rolling onto baby
Let's mom and dad get more sleep than without
CONS
Does not fit in the middle of a Queen bed well, but can be placed above where pillows rest
Isn't a magic pill cure all for sleep
Each child is different and babies sometimes still wake up
I can't promise perfect 9 hours of sleep for every night of the rest of your life, but if you are having major sleep struggles and you're exhausted like us, the Dockatot Grand really made huge improvements for us. We were able to get better sleep, more often, that didn't include being climbed on, kicked, or having severe anxiety at night.
CONCLUSION
In summary, if I would have looked at the amount I spent on the basics and offset it by the cost of not buying a changing table, I should have bought the DockATot with my first or at least before my second baby was born.
It was well worth the money and I would buy it again in a heartbeat. It's something we use every single night.
So if you are considering whether you should buy the DockATot I would consider these things:
Can you afford it?
Are you already having baby sleeping problems and looking for a solution?
Are you concerned about safe sleep?
Do you have a King bed?
If you answered YES to any or all of these questions, then I'm giving you a nudge to purchase it. Because chances are, you are truly considering it, but need that extra push to validate your instincts. GO BUY THE DOCKATOT. You won't be sorry.