THESE ARE THE BEST WORK FROM HOME DESKS
Get home office desk ideas for 2021. Start setting up the perfect space for virtual working or working from home for another year. We know 2021 is going to be different, so get prepared and create a space dedicated to helping you succeed with working from home in these crazy times.
Over the past few weeks, the most common question I have been getting is for desk recommendations fora home office. Honestly, they have been selling out quickly or are backordered, sometimes by the time I even make a suggestion.
But, I've been checking these sites daily and have a few pieces at every price point that are still in stock. Remember, things are going fast, so if you need a desk or chair for your home office or virtual working corner, order it now. If you are looking for a Homeschool desk, check this post.
DESK BUYING TIPS FOR WORKING FROM HOME
Storage
Always order home office desk (or homeschool desk) with at least one drawer unless you are super tidy. Because you need a place to corral papers and hold a stapler. It keeps the space clean and uncluttered with a drawer to stash stray things.
Pencil Cup
Second, have a pencil cup on the desk so that you always have something to write with.
Letter Tray
Probably the most important storage piece is the inbox. So, pick up a quality letter tray to hold the thousands of work papers that will accumulate.
Lighting
Lastly, while most home office desks are going to be narrow, try to make room for a tall table lamp or a floor lamp beside the desk so that you have adequate lighting. Ambient light can have a focused effect to draw you into the space you are working at.
What is the standard height of a desk?
The average home office or work desk is between 28 and 30 inches tall, which functions well for seated adults.
Is 32 inches too high for a desk?
Yes, unless you are over 6 foot tall, a desk 32″ is too high for a keyboard to be comfortably in reach.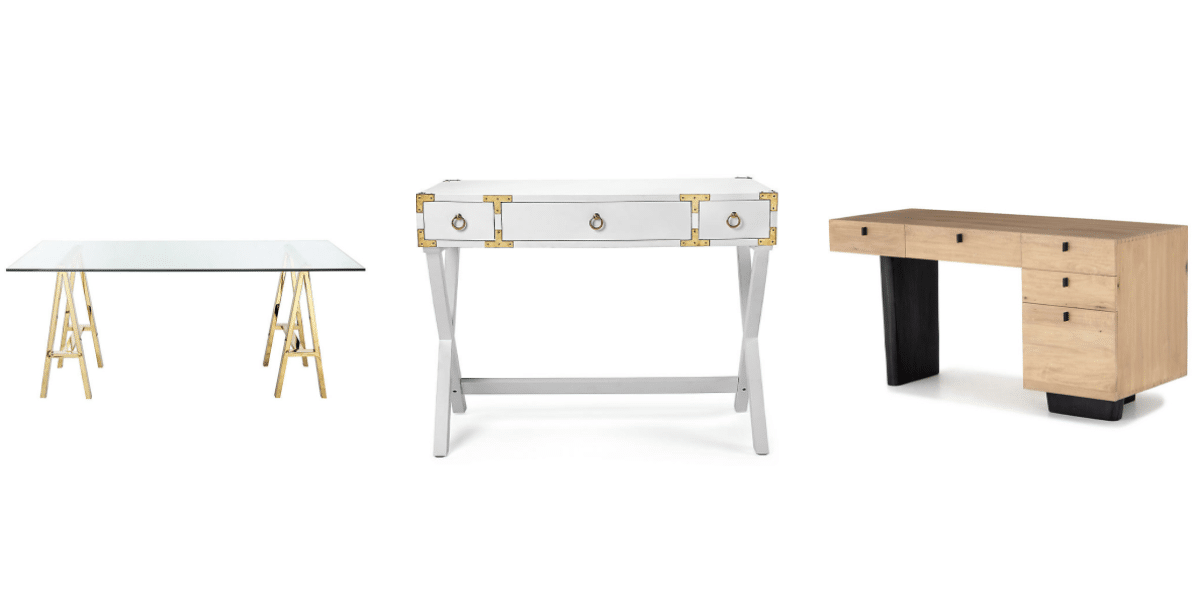 THE BEST Work from Home & home office DESKS AVAILABLE FOR QUICK ORDERING
Now on to the fun part, shopping for a home office desk. While I have chosen one color for each of these desks, most of them have an additional color or finish available. So make sure you head over to the website to check them out.
I have chosen mostly 28″ to 30″ tall desks, with a few writing desk options, perfect for good posture. However, I recommend picking one with the larger leg opening so you can comfortably move around. Be sure to double check those dimensions.
Last but not least, don't delay. As I mentioned earlier, home office and work from home desks are selling out like crazy in general. Or they have long waiting periods to deliver.
Alright, go check out these desks. Happy home office desk shopping!
This post contains some affiliate links for your convenience.