How Much Does It Cost To Decorate A Living Room? (2021 Edition)
So how much does it cost to decorate a living room from scratch? What kind of investment are you planning to spend on your new home?
If I rattled off a number like $30,000 would you have sticker shock or say, No way! There's a huge variation in how much it will cost you to decorate a your living room, but we're going to address three levels of decor.

WHY IS IT SO EXPENSIVE?
Furnishing and decorating a living room adds up quickly. Three main factors go into the expense of a room, which luckily means it can be scaled down to a budget version.
The 3 components that make the cost of decorating a living room expensive are quality, unique, and designer.
These three words may seem odd by themselves, but let's apply them to the living room. Quality hand-crafted furniture with solid wood, durable fabric and stain resistance make up the cost. Apply this to the rug, curtains, tables, lamps and accessories and you can see how it quickly adds up.
On top of that, if you want a room that is unique to you and not every house on the block has access to the furnishings, you'll pay more for vendors that only sell "to the trade" or to interior designers. This limits access to the general public, making the pieces more expensive.
Not only are the furnishings unique, but designers have the ability to customize every detail from the contrast trim, piping, nail heads, and any other tiny detail that makes every part of the room so unique to you that no one else will have the exact same space.
Lastly, designer, or to the trade, fabrics and wall coverings add a level of cost. While there are thousands of fabric and wallpaper brands and choices, if you want the high quality, exclusive designer brands, they come with a price tag.
SHOULD I HIRE A DESIGNER?
Let's be blunt about the cost. If you are reading this post, you probably like DIY projects, home improvement, and have a moderate budget for decorating. The point being, if you have to ask how much it cost, you probably can't afford it.
Now that isn't entirely true. A designer can pull of an amazing room plan with semi-custom furnishings from retailers that you can afford. And for that you should be excited. But more on that later.
For a high end design, you should expect to spend $30,000- $50,000 on a room. In order for it to be worth the cost, your home value should be commensurate with the cost of improvements. You don't want to put a $50,000 investment living room into a $100,000 house. It doesn't make sense.
So plan to spend no more than (liberally) 25% of your home's value on the total renovation cost. This means all of the rooms, furnishings, and contracting work. Does it fit into your budget?
For example, if your house value is $500,000 and you want to spend $15,000 on redecorating your living room, it is a good investment for you. Because you will get use out of the room and it doesn't exceed the value you will get back out of the renovation when you sell the home.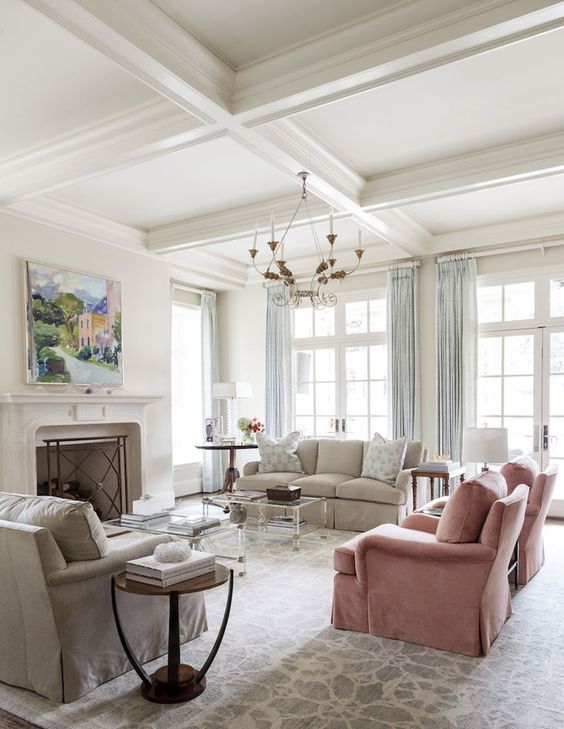 WHAT DO I NEED TO FURNISH A LIVING ROOM?
Let's go over a short list of things you will need to take in to account for the cost of furnishing a living room. We will start with the large items and work our way down to smaller specific items depending upon how you use the space.
area rug
sofa
2 chairs
console table
coffee table
end table
drinks table
2 occasional chairs
2 ottomans
bookshelf or etagere
3 table lamps
floor lamp
light fixture
pillows
drapery & hardware
mirror & artwork
accessories
Are you confused as to how you will fit all of that into your living room? Did you even know that you needed all of those items for a complete look?
In the next section, we will discuss the budget breakdown of each item and how it relates to the total cost of decorating a living room.
HOW MUCH DOES IT COST TO DECORATE A LIVING ROOM?
It's time to get down to the nitty gritty of decorating costs for your living room. Keep in mind that this breakdown doesn't factor in construction or renovation, and is solely the products needed to furnish the living room.
Your living room is likely the largest room in your house. I'm guessing you also you use it a lot. While some of you may have a formal living room that's rarely used or is only used for entertaining, most use their living rooms to live in. You may be watching tv, playing games with the kids, or hiding blankets and toy bins to the best of your ability.
1- Determine the purpose/use
So firstly, I want to make sure your living room is functional. That means that if you plan to watch tv, own it. We all know tv's are in living rooms, so don't try to hide it. Find the optimal height (hint, it's not above the fireplace) and wall mount the tv.
2- Plan the layout
From there, plan the room around it. It is 100% okay to not have the fireplace be the focal point. Let me repeat that, you are free to make the tv the focal point of your living room if that's how you use it.
On the other hand, if you have a playroom where the tv lives, make the living room a place for relaxation, family time and coffee.
3- Choose the furniture and decor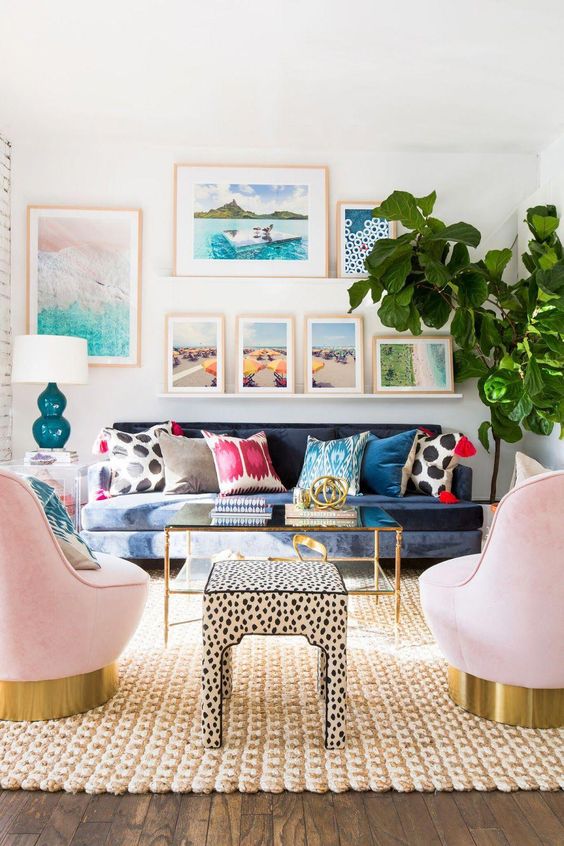 COST TO DECORATE A HIGH END LIVING ROOM
Not including construction costs, your higher end furnishings are going to cost you $30,000- $50,000. This amount figures in a custom sofa and chairs, custom drapery/curtains, a nice chandelier and exclusive to the trade tables.
See the formula for buying the perfect size light fixture for any room.
You'll also need to account for original sourced artwork. A large rug will ground the room. And like I've mentioned before, you'll want at least 4 sources of lighting.
You can expect that accessories account for around 10% of the total cost of the room.
Start with a custom sofa and rug and work in the other functional pieces, some high and some low cost until you have fully sourced the furniture and accessories for the living room.
$30,000 – $50,000+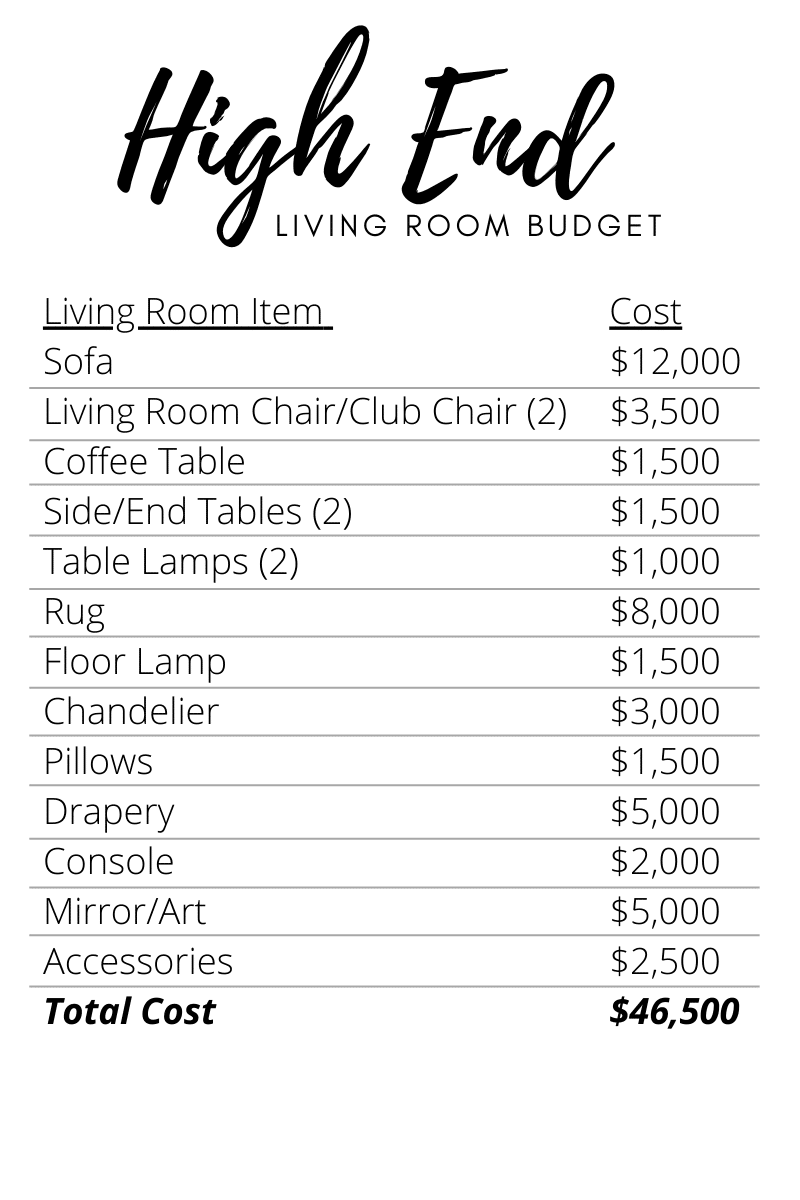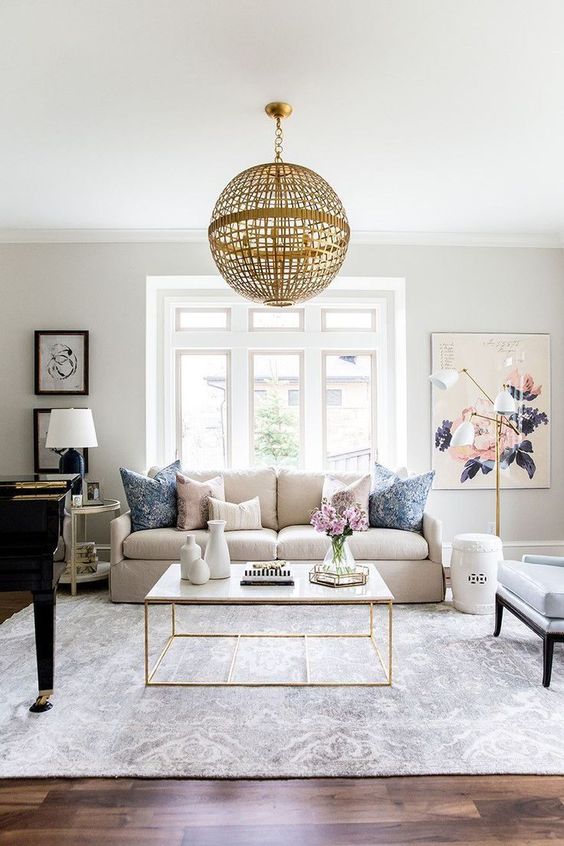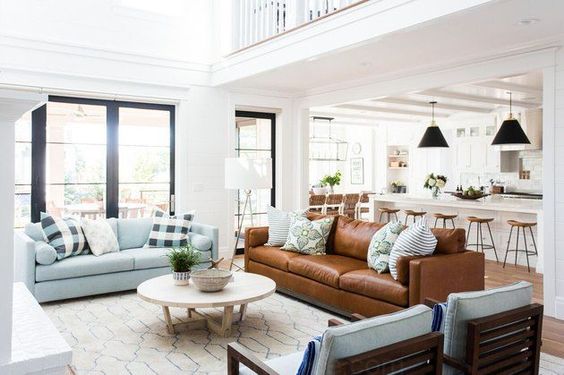 COST TO DECORATE A MODERATE LIVING ROOM
To fully decorate a moderately priced living room, you should again start by sourcing a semi custom sofa, two club chairs and a pair of ottomans. The next large purchase should be a rug large enough to ground the seating area.
You may want to splurge on a light fixture or really amazing piece of artwork. The other pieces should be a mix of high and low items from designer and readily available big box stores.
$15,000 – $20,000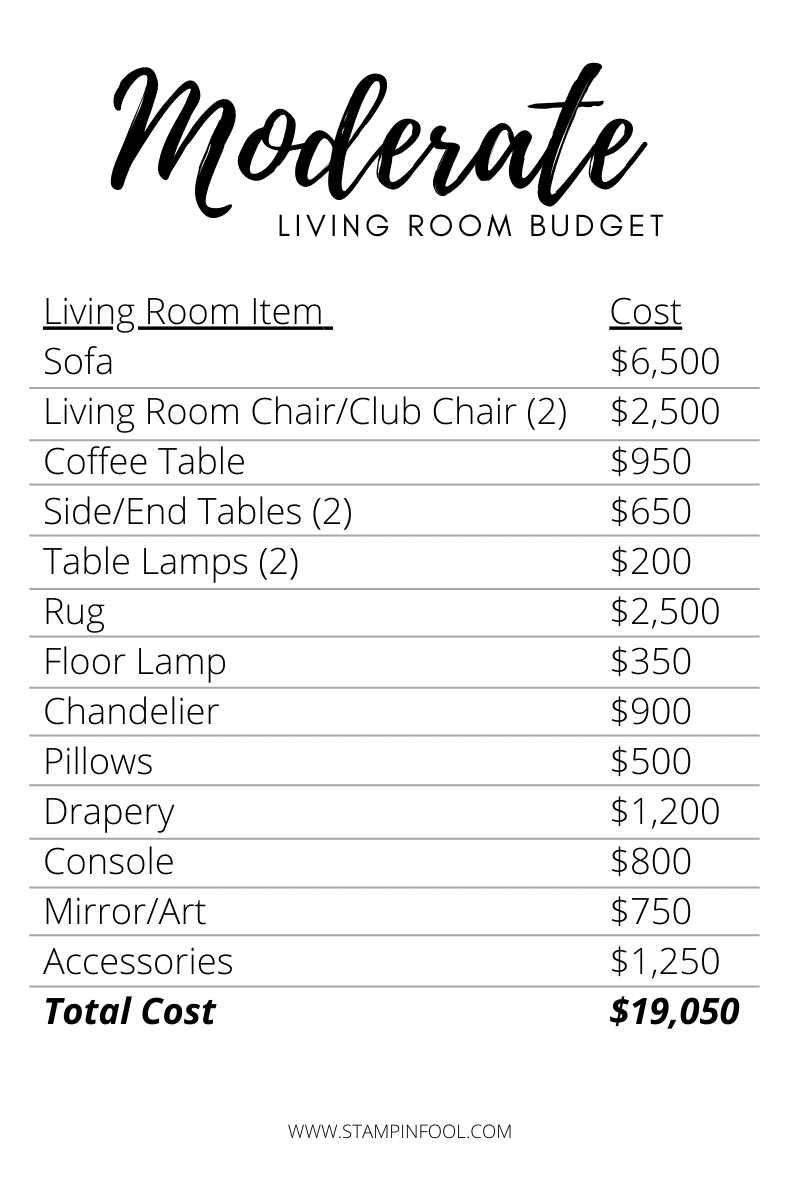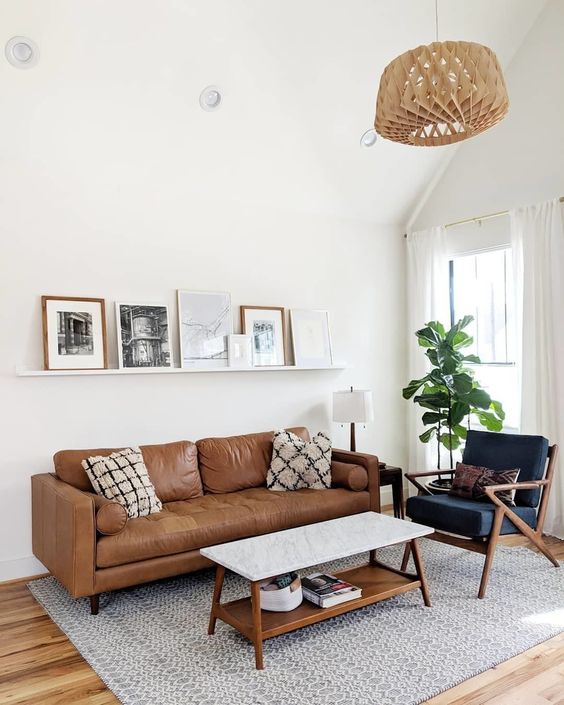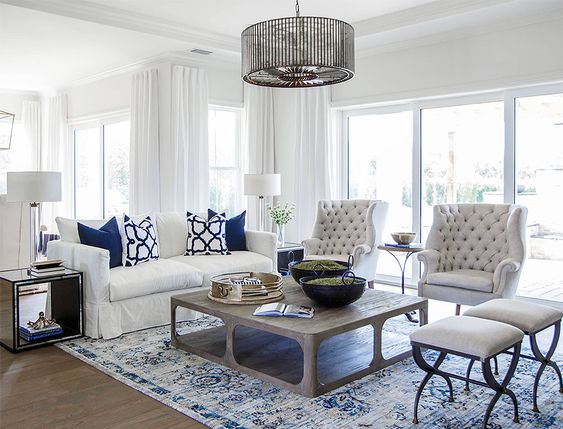 BUDGET/DIY LIVING ROOM COST
Are you still thinking that's a crazy amount to spend on decorating one room, or that the total cost of everything you own is $500.
Don't be discouraged! There are ways to save and places to splurge to make a really well designed living room on a small budget.
You'll notice a pattern with where to put your money. On your butt. Well, where you sit your butt, the sofa.
It may sound counterintuitive because you have young children who ruin everything, but investing in a solid wood frame sofa with a performance fabric or slipcover that can be washed can make all of the difference in how comfortable and how long the furniture lasts.
In the end, if you have to pay $1,500 every few years to replace your living room set because it is flat and hard to sit on, you would have been better off to save up and invest in a sofa that will last 20 years.
If we go back to the introduction of why it is so expensive to decorate a living room (or any room), the three main elements were the quality, uniqueness, and access to designer brands.
For a budget living room, we can eliminate designer and uniqueness, but I am going to push you out of your comfort zone to really work for that quality sofa. I know you will get use out of it and in the end it will be money well spent.
To meet the Budget living room makeover, I want you to spend the largest chunk on the seating and thrift the rest. Below I have listed 4 top ways to save money on living room furniture and accessories. By rehabbing and thrifting tables, bookshelves and accessories, you can make an inexpensive living room look WOW.
$5,500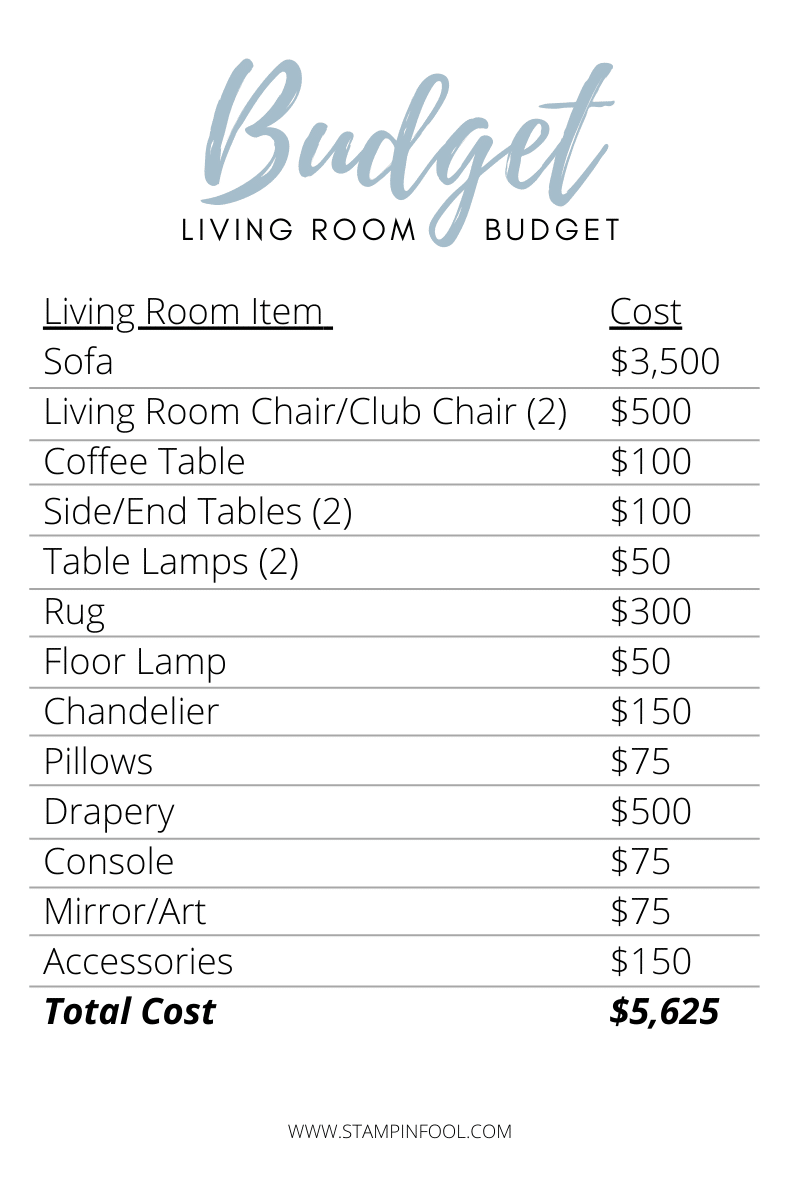 Read more about budgeting for a DIY interior design project + a free budget planner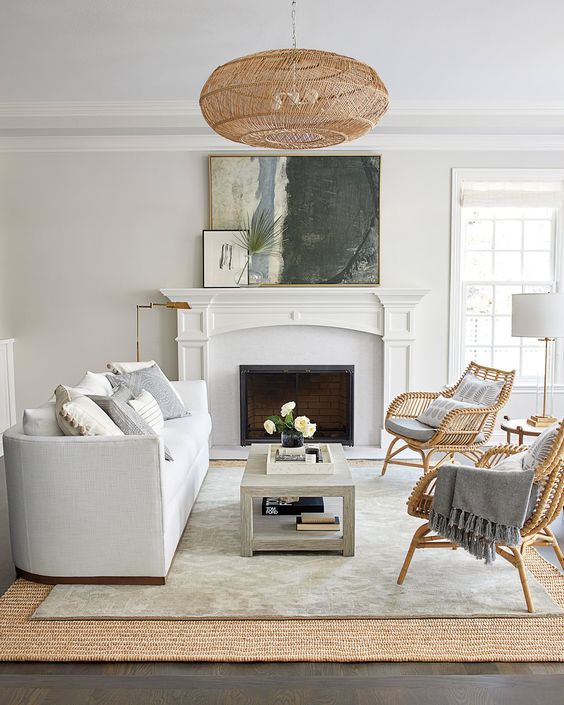 WAYS TO SAVE ON LIVING ROOM DECORATING
If you're feeling overwhelmed or surprised by the cost to totally furnish your living room with all new decor and accessories, I have some great secrets for you. Use these thrifty tips to save money and love your new space.
Shop Vintage
Buying vintage pieces is the best way to get quality furniture on a dime. Whether you get it from local garage and estate sales or check the local flea market, shopping used saves money.
Facebook Marketplace and Craigslist both have amazing finds for low prices. Let's go over what to search for and to find it.
What to look for:
Use the search feature of Marketplace and Craigslist to find furniture in your style. An example of terms I frequently use are: coffee table, sideboard, dresser, chippendale, dining table and chairs, wicker, rattan, woven, area rug, table lamps, end tables, side table, occasional chair, living room chair, sofa table, console table, entry table.
In your search you can add terms like traditional, modern, farmhouse, vintage, wood, and colorful to specify what you are looking for.
Start with broad search terms and narrow it down. When looking at the photos and descriptions look for solid wood pieces, not a lot of damage, smooth surfaces/sides, working drawers, no huge chips.
Don't worry about small dings, missing paint, ugly knobs and pulls or darks stained wood. All of these things can easily be repaired with a little bit of DIY love, wood putty, paint and new hardware.
I cannot tell you what amazing pieces I have found on Facebook marketplace for under $100 that rehab into wonderful additions to any room of your house.



Ebay
Ebay checks all the boxes for budget friendly decor. Because furniture is expensive to ship, I tend to stick to buying original or reprint artwork, lamps, vases, table decor, candlesticks, oil paintings, pillow covers, and rugs.
If you are in the market for a vintage rug, Ebay has beautiful turkish rugs that easily layer over a woven area rug to give your room a sophisticated, collected look.

Instagram Shops
We all go to Instagram for pretty things and finding vintage inspired decor is no different. When you don't have a nearby flea market or antique mall, head over to instagram for online shops that hold weekly sales. Use the hashtag feature to search for #vintage #chic #vintagesale
I have ordered many plates, vases, jars, trays, pendant and chandelier lights, front porch decor pieces, and tchotchkes for my handmade dog and cat collections.
Things look best in pairs and groups, so when shopping for accessories, buy groups of like things in different sizes and heights. Don't worry about buying them in sets, just stick to the same type items (from different sellers) so that it is a collection of like things, not too many small, random pieces that don't pair well together.
Painting Furniture
On this note, painting furniture goes hand in hand with buying vintage. So whether you buy it at a yard sale or on Facebook Marketplace, a little bit of sanding and painting goes a really long way to making $50 look like a designer piece of furniture.
See how I painted a bathroom vanity for a magazine worthy makeover.
BEST PLACES TO BUY LIVING ROOM DECOR
To wrap things up for this post on the cost of decorating your living room, I'll leave you with a list of places I like to shop for home decor. Aim for a mix of high and low items.
FURNITURE
Interior Define
Facebook Marketplace
Budgets can be tricky. Money is tough subject to talk about. And the reality of what you can afford can leave you feeling bummed out.
But, I don't want you to feel defeated. Having a solid idea of how much it's going to cost you will put you in a position to know what you can afford. It's also important to assess how much you should spend in relation to your home's market value.
You can begin planning the living room of your dreams, start budgeting according to what you plan to spend, and source your favorite pieces.
Happy Decorating
XOXO April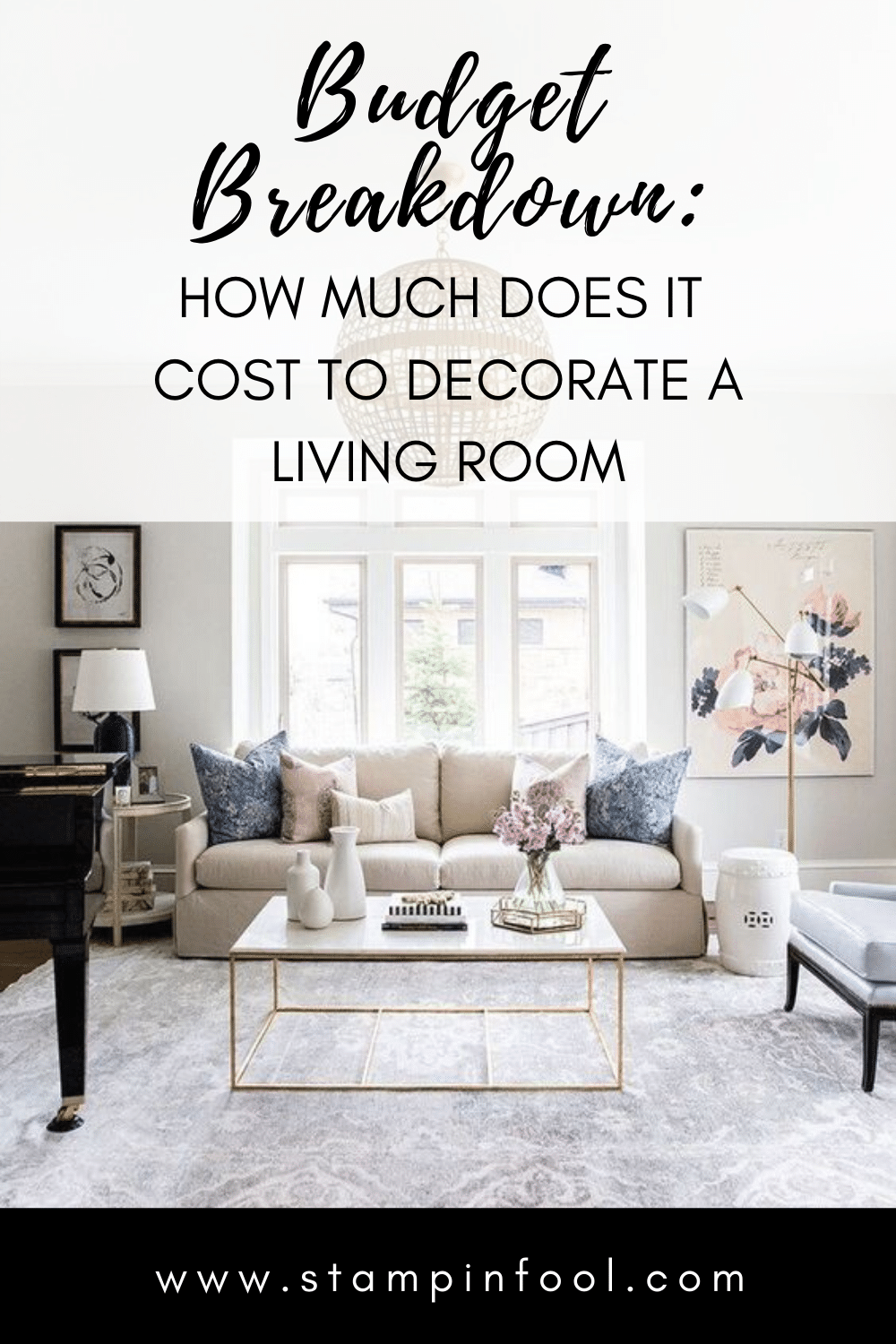 Posts You'll Love: