Ultimate GUIDE TO CHOOSE KITCHEN ISLAND LIGHTING in the right size, distance & More
What is the right size kitchen island lighting or pendants for your renovation? I've got a simple formula to nail kitchen island lighting every time.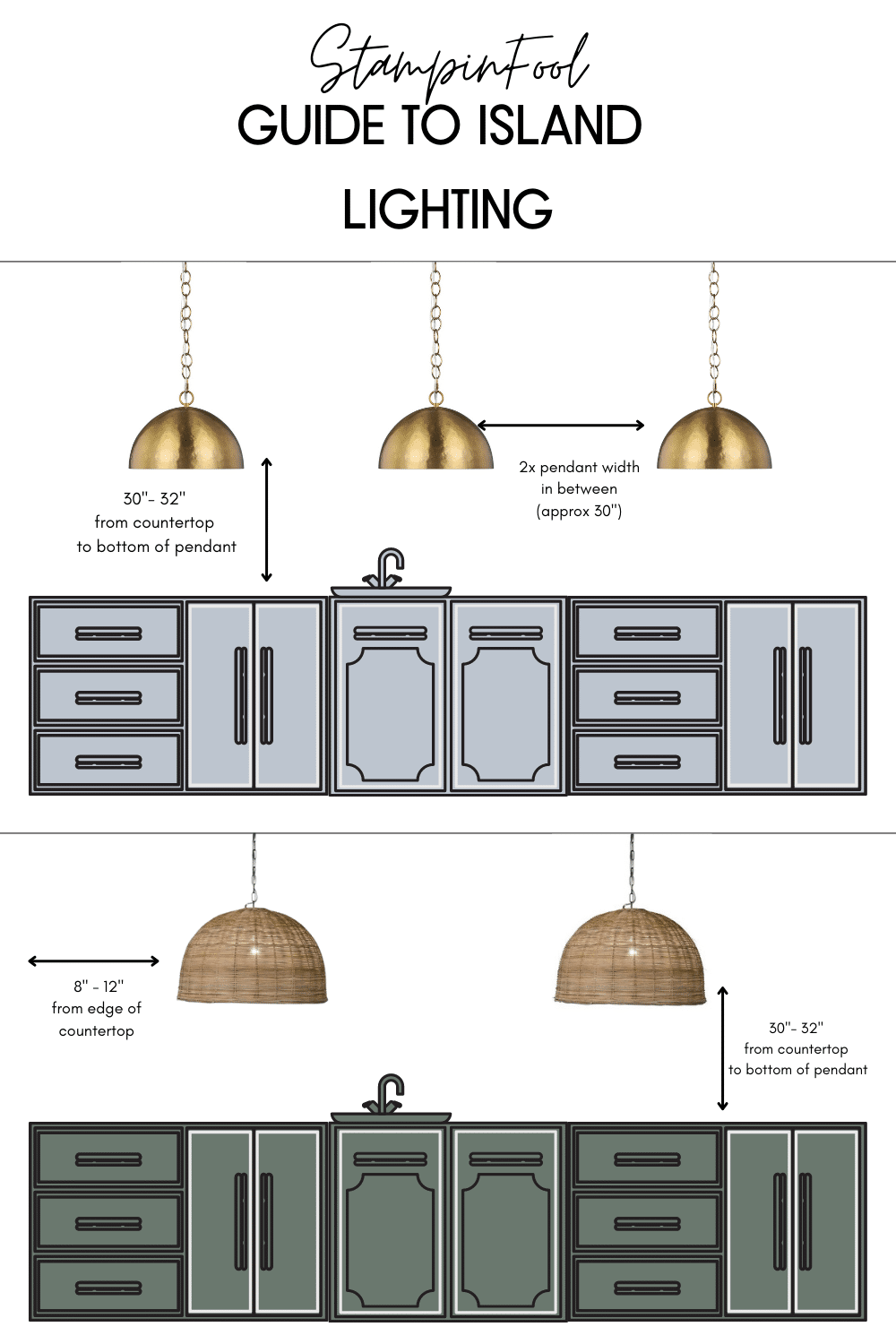 THE SUPER SIMPLE RULE FOR PICKING THE RIGHT SIZE LIGHT FIXTURE
What size pendants do I need over my kitchen island? While it's not as easy as the formula for the perfect chandelier with a little math and the graphic below, you can figure it out.
But there is one rule for pendant size and that is GO BIG or GO HOME!
Design Crime #1: Island Lighting is TOO SMALL
In 2021, the worst kitchen island lighting mistake you can make is purchasing those mini blown glass pendants. You know the ones I am talking about. They are standard to builder grade homes with island lighting, but let's face it- they are outdated and too small.
So, before you add that perfect looking kitchen pendant to your cart, make sure you review these rules. I want your light fixture to look as beautiful in your house as it does online (or in store). Ensuring that it is the proper size has a lot to do with that.
TYPES OF LIGHTING
But first, consider what the purpose of the light will be and how it relates to the types of lighting. As you know, in each room, you need multiple light sources to appropriately light the space. There are 4 main types of lighting: ambient, accent, task, and daylight.
Let's talk about each of them before you order the perfect fixture.
AMBIENT (OR GENERAL)
Ambient lighting is the general lighting in the room. It provides the overhead lighting, usually by a chandelier, recess lighting or ceiling (can) lights. The ambient lighting can be the "mood lighting" if you put the fixture on a dimmer. It provides the general light for a room or entryway.
ACCENT
Next we have accent lighting. Accent lighting is the decorative lighting in a room (or outside on the house). Examples of accent lights would be outdoor landscape feature lights, sconces on a dining room wall, lighting over a piece of artwork (i.e. art lamp). Table lamps are another source of accent lighting.
How do you know if it is accent lighting? An accent light will typically provide a decorative touch to the space, can be useful, but isn't the primary light source in a room.
You should use accent lighting sparingly so that it has a larger impact.
TASK
Task lighting has a specific purpose to help better light the space in which you are performing tasks. You will commonly hear designers refer to task lighting in a a kitchen, whether it be over the island or under cabinet lighting in the food prep area. Another common use for task lighting is in an office or studio, by a desk lamp or track lighting aimed towards an easel.
Task lighting should be an additional feature to help the room's function, but not the only light source.
DAYLIGHT
While you can't add a "daylight" to a room, it is a really important factor to consider when choosing the number of light fixtures and their placement. Natural light can produce feelings of warms and openness in a room when it is diffused.
However, it can also be harsh, glaring and produce heat if the room is facing into the sunlight and there are no window treatments to diffuse the light. A room that gets terrific daylight may not need as many task lights during the day.
Alternatively, a room that doesn't have any natural light can require additional lighting.
For your kitchen lighting, you will need:
Ambient lighting: 4 recessed lights (don't overdo it- your contractor will probably add more than you need. Remember, it's not a runway, you just need to see generally). Use 2700K LED bulbs. Skip the blue lights, please.
Accent lighting: sconces. These look great flanking the window over the sink or above upper cabinetry.
Task lighting: under counter lights for prepping food and island pendant lights.
Daylight: I hope you have some of it! A window or skylight can make a huge difference in how you feel, how the paint color and hardware look in the kitchen, and how large it feels.
HOW TO CHOOSE THE RIGHT KITCHEN PENDANT WIDTH
Picking out a new light fixture is a great way to update a room or add personality to it. You want to make sure you choose the correct scale light so that it looks like a good fit for the room and your money isn't wasted. Luckily, there is only one rule for choosing the right size kitchen pendant lights.
GO BIG. NOW GO BIGGER.
Surprised? Most of the pendant lights that come up in searches are 12″ to 13″. But you are going to need to go bigger than that. It sounds crazy, but with large kitchens and oversized islands, bigger truly is better here.
ISLAND PENDANT SIZE
Because kitchen island pendant lights are in the center of the room, they should be showstopping! You want to get the size and placement correct. This guide will help you out.
Let me forewarn you that this requires math. But I promise you can figure it out by reading the formula, looking at the helpful diagram below and jotting down the numbers on your own cheat sheet.
Measure the length of the Island.
Determine the number of pendant lights and add up their width. (You need this much space in between pendants).
2 pendants at 15″ diameter each = 30″
Subtract the pendant diameter from the island length.
Add 1 to the number of pendants (to account for space on each end).
2 pendants + (1) = 3 pendants
Divide the number of pendants +1 (3 in this example) into the Length calculated (50″).
Example: 80″ L // 2 pendants at 15″ diameter each = 15″ // 80″-30″ = 50″ // 50″ divided by 3 = 16″ between pendants over the island, leaving 10″ on each side from the counter edge.
You will want to aim for 30″ between each the two pendants over the island and leave a good 10″ or to the edge of the counter.
A good rule of thumb is to hang large to medium-sized pendants 30″ to 32″″ off the countertop to the bottom of each fixture.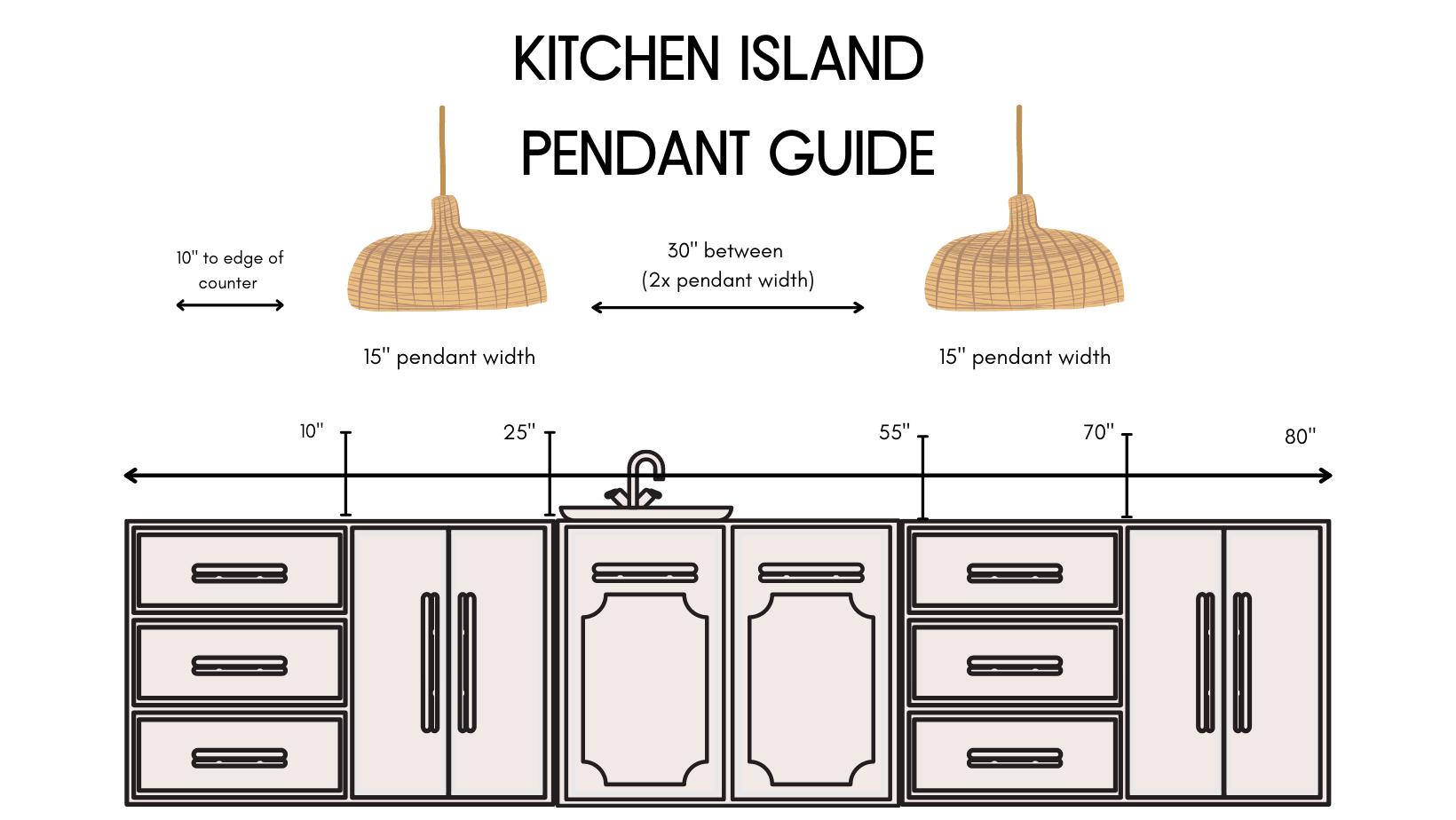 EXAMPLES OF BAD KITCHEN LIGHTING
Here this popular island pendant light trio is too large for that tiny island and too close together. However, if it were atop a larger island it would likely be too small because of how tight the grouping is.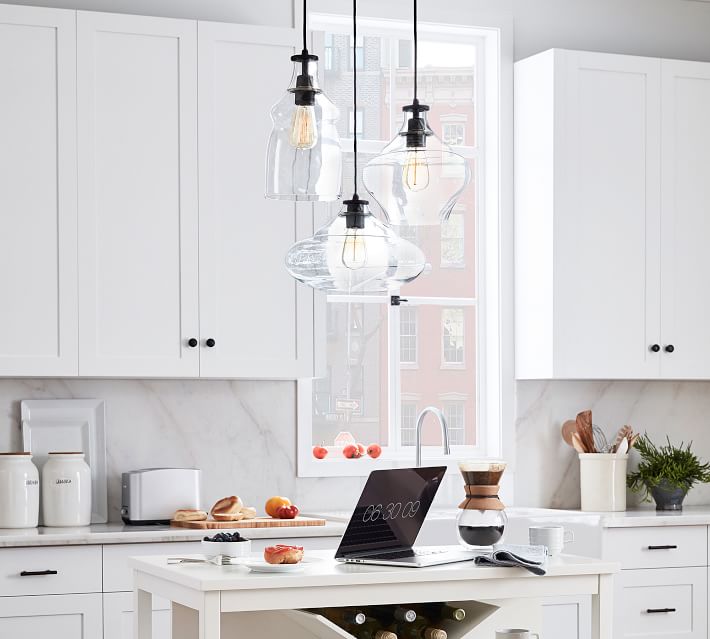 Below, in this real estate web listing photo, there are 3 large pendants, but they are not low enough to the island nor are the spaced wide enough.
A better approach would be to have 2 wider pendants and drop them down to 40″ above the countertop.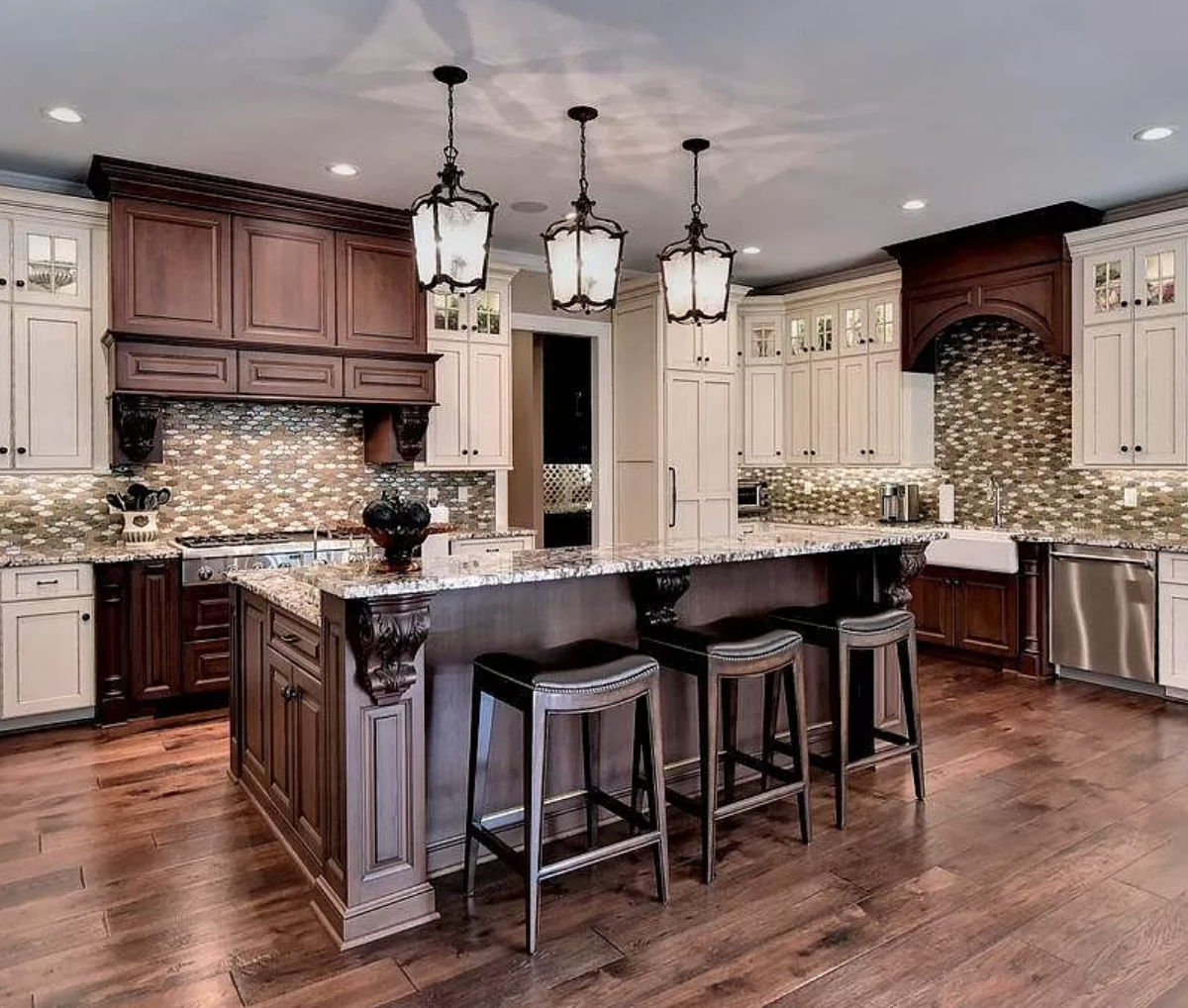 In the photo below, the kitchen island pendants are far too small and close together. They do not span the right width or depth of the island either.
I would want to see wider pendants spaced apart further, and not glass, more substance to really make an impact .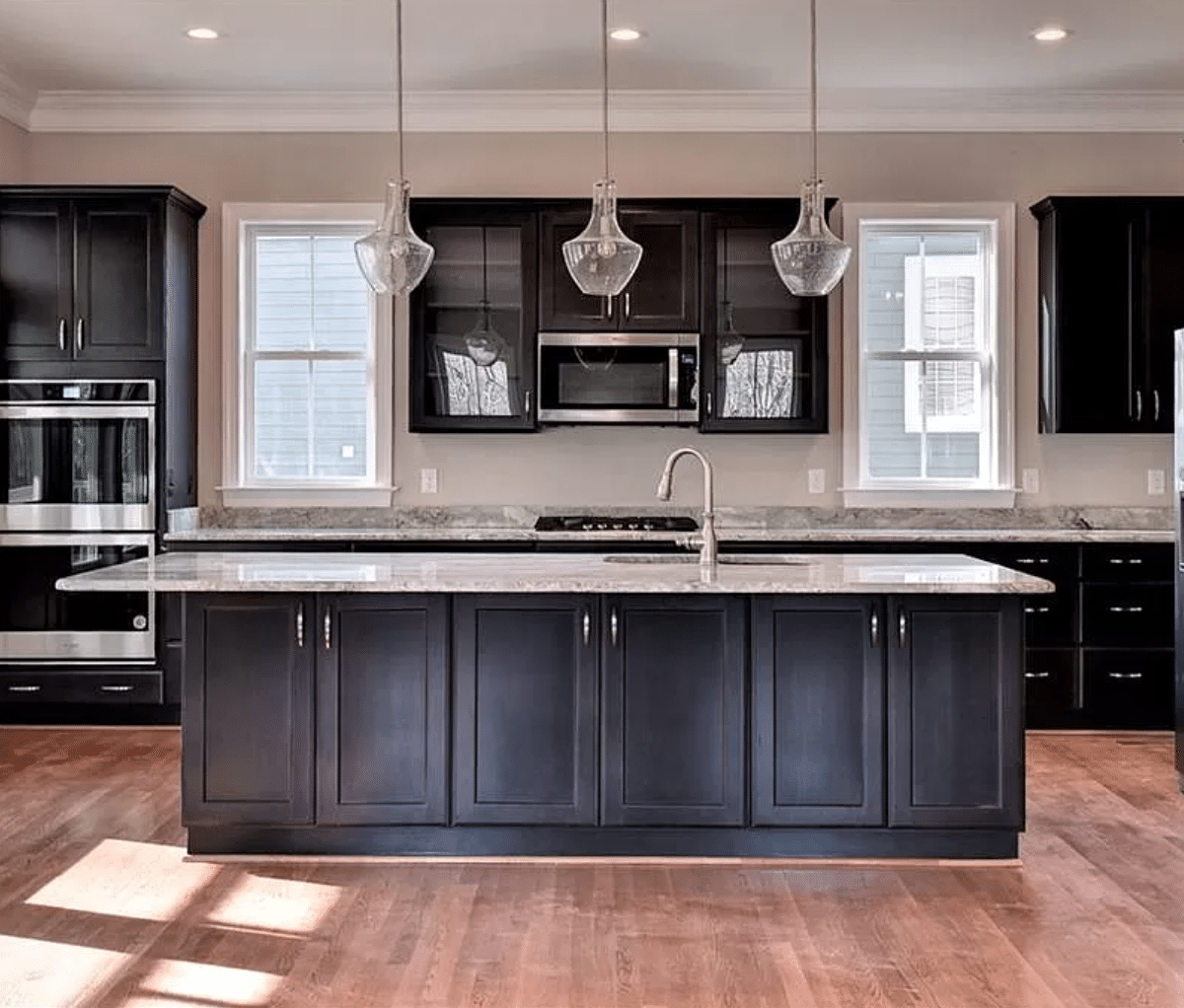 EXAMPLES OF PROPERLY SIZED KITCHEN ISLAND LIGHTING
Here are some visual examples of well scaled, oversized and great placement of kitchen island lighting.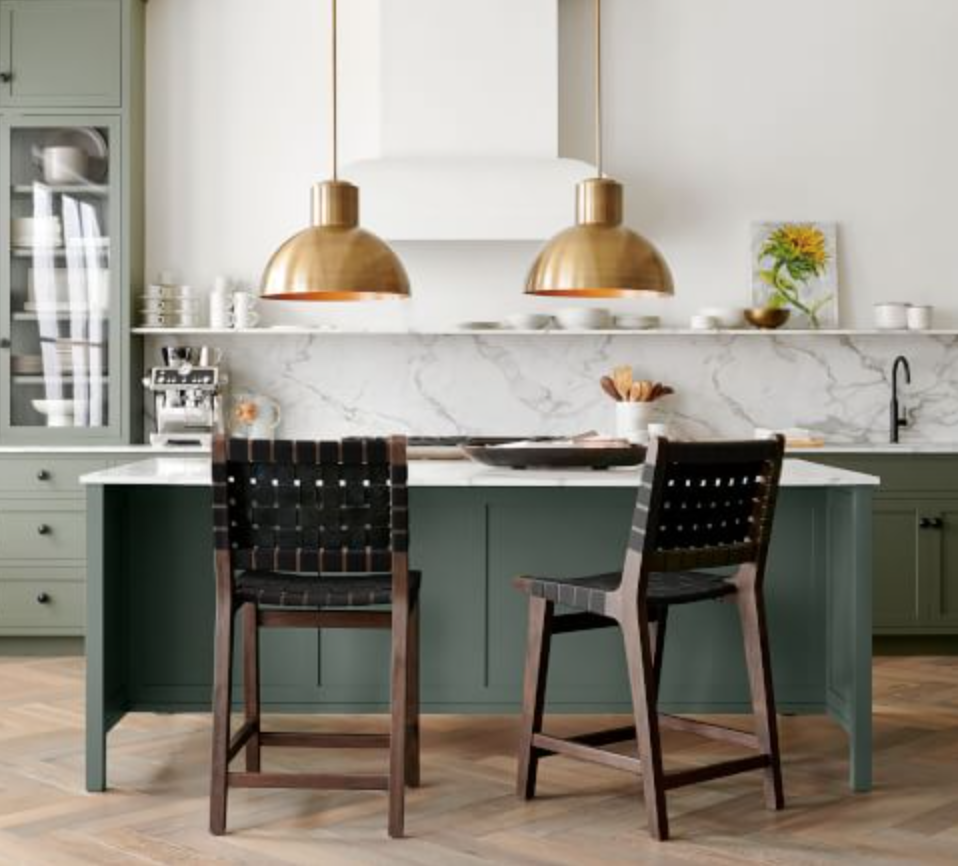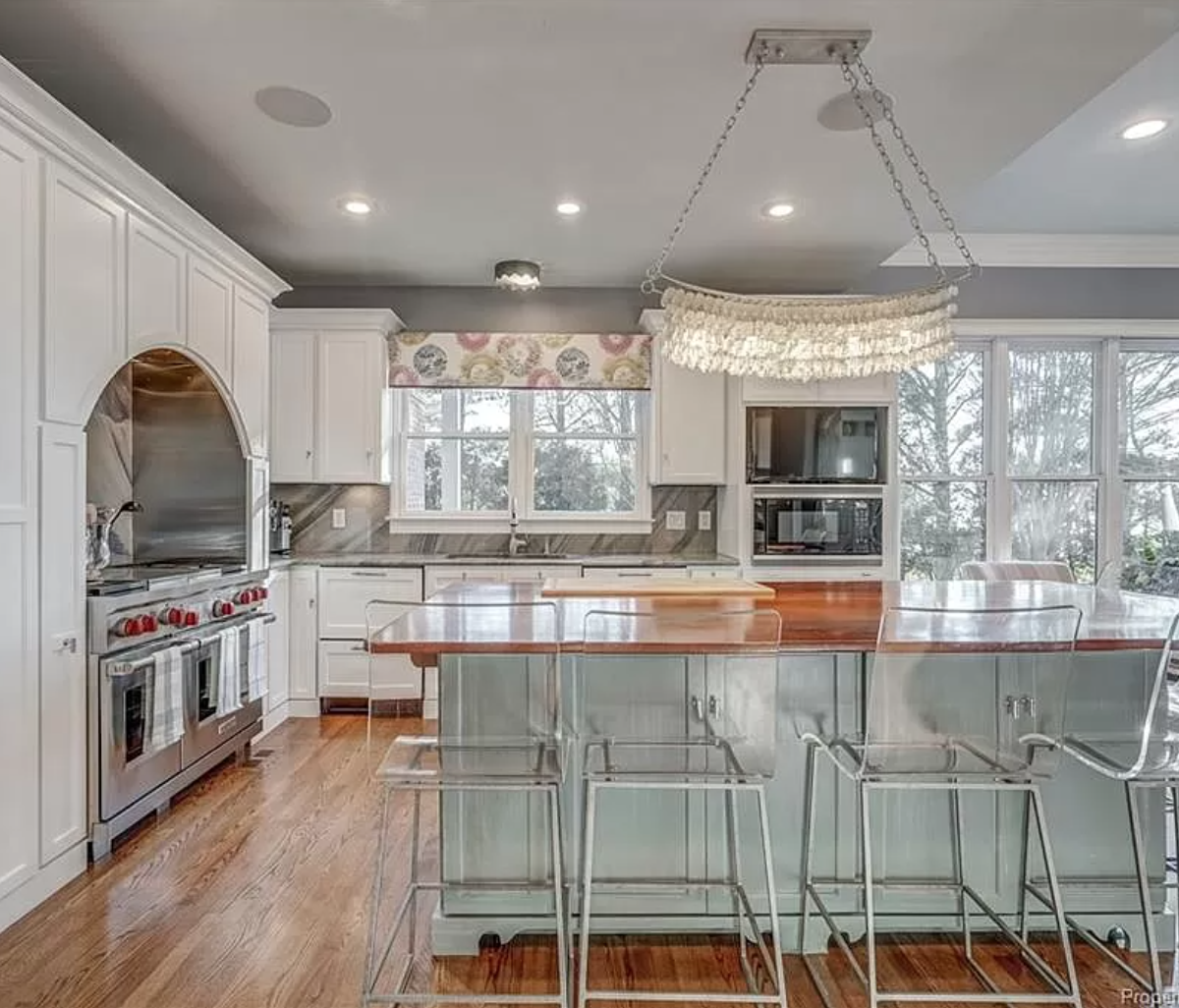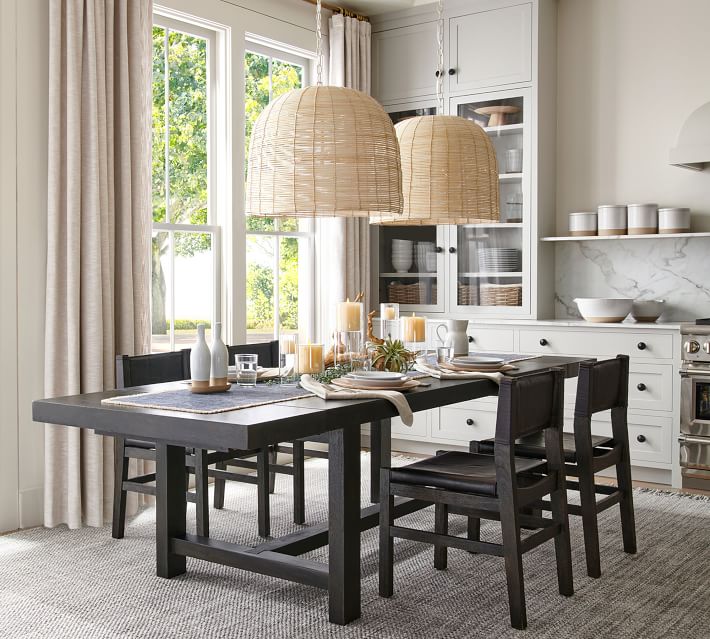 KITCHEN LIGHTING FAQ'S
Should I put pendant lights over island?
Yes! Large scale pendant lights are a great option for island lighting because they provide practical task lighting and aid in achieving your beautiful kitchen design. Because they are centered over the island, you can have a show stopping moment in the room without bumping your head.
How big should my pendant lights be over my island?
Bigger is better here. As a designer, I recommend the width be at least 12″ to 1″ inches wide for each pendant so that the scale is proportional to the island itself. Anything smaller than 12″ to 15″ will look miniature.
What height do I hang kitchen island lighting?
You should hang kitchen pendant lights 30 to 32 inches above the counter. Make sure to take the total measurement from the floor to the bottom of the pendant. The ideal height is 70 to 72 inches from the bottom of the pendant to the floor.
How close together should pendant lights be?
Pendant lights over a kitchen island should generally be 30 inches apart or double the width of each pendant light. If your pendant is 12 inches wide, you should leave 24 inches in between the lights.
How many pendant lights do I need for a 7 foot Island?
A 7 foot kitchen island should have 2 large pendant lights installed. Each pendant should be approximately 15″ wide for proper scale.
How many pendants do I need for a 8 foot island?
For an 8 foot island, 2 large 15″ wide pendants should be enough to light the space and be proper scale.
How many pendant lights do I need for a 10 foot Island?
You should install 3 island pendant lights over a 10 foot island that are approximately 15″ wide with 10″ on each end to the counter and 27.5 inches in between each pendant.
How many pendant lights do I need for a 12 foot Island?
You should install 3 island lights over a 12 foot island that are approximately 24″ wide. Center the pendants over the island spaced 25″ apart, leaving 10 inches on each end of the countertop.
What is the latest trend in kitchen lighting?
Larger kitchen island lights are replacing small mini pendants in a row that used to be popular. For recessed lighting, use fewer LED lights at a warm temperature of 2700K to create a natural glow to work in.
Is track lighting out of style?
Yes, track lighting is out of style. Instead use large pendants that are 15″ wide or larger to create a big impact in a space.
How To Clean Glass Pendant Lights
Turn off the lights
Use a microfiber cloth to gently wipe inside of pendant
Starting at the top, gently wipe the chain/cord down to the outside of glass with soft cloth
For regular maintenance, you can lightly vacuum lights with the brush attachment to keep dust free
WHERE CAN I BUY KITCHEN ISLAND PENDANT LIGHTING?
Luckily, there are a lot of great places to source kitchen island lights online for a great price that are big and beautiful. Here's a list of my favorite stores to check as well as some of my favorite lights.
Crate & Barrel
Rejuvenation
Ballard Designs
Ferguson/Build.com
FAVORITE KITCHEN ISLAND LIGHTING ROUNDUP
Here are a few of my favorite pendants for over your kitchen island. They are all large, interesting and can add personality to your next remodel.
This post may contain affiliate links- meaning when you purchase through the link and I receive a small commission. It feeds my Starbucks addiction & for that I thank you! You can see my full disclosure policy here.
CONCLUSION ON HOW TO CHOOSE THE BEST LIGHTS FOR YOUR KITCHEN ISLAND
You should have multiples sources of recessed and task lighting in your kitchen
Pendant should be large 12-15″+ wide and evenly spaced
Larger islands and higher ceilings call for larger lights
When in doubt, BIGGER IS BETTER ( You should be saying, "WOW this is too big" when you pull it out of the box)
Install pendants approximately 32″H from the countertop surface
Check the chain length and adjustability before ordering lights to make sure they will work in your kitchen
Measure twice and mark the locations with the electrician before installation
Don't overdo it on the cans (recessed lighting) or it will look like a runway and be blinding while you cook/entertain
Use dimmers!
Happy decorating!