How to Style a Coffee Table + How to Decorate a Coffee Table 15 Ways
I'm glad you are here to learn how to style a coffee table 15 ways and how to decorate the coffee table in your living room. I have a selection of the different style tables and ways to style them, from the pros who produce home decor magazines.
Before we jump into how to style a coffee table, I am giving a brief update on the One Room Challenge: Week 5. In case you've ever heard of the ORC, it's a great blog roundup where home decor and renovation bloggers take six weeks to finish one room. It's a great way to get to know other bloggers, share your progress and have accountability.
See the final reveal of my traditional blue and green dining room.
Insomuch as, this week I accomplished: the chair rail was installed (thanks to my father in law and husband), filled, sanded and painted; the rug was put down, sideboard legs were swapped out.
Here's a glimpse of the wall color and chair rail thus far.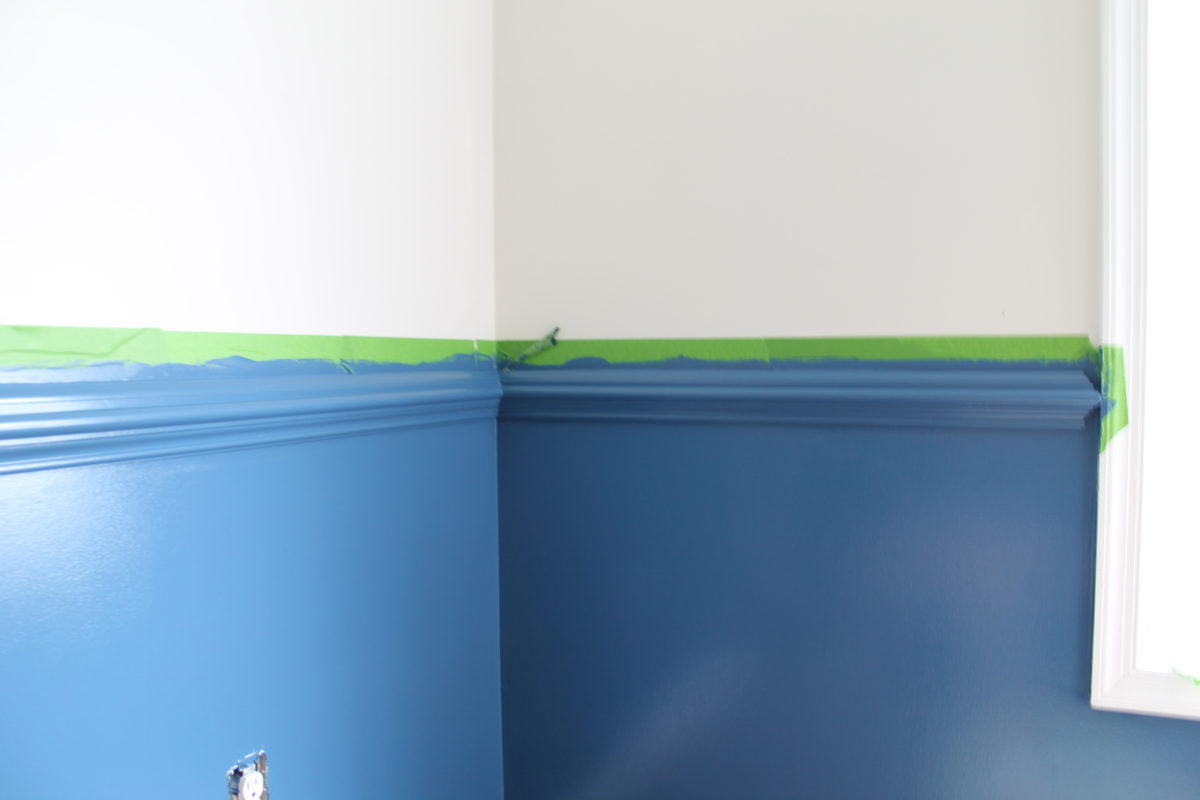 CHALLENGES OF WEEK 5
Consequently, this week also brought a huge mishap. It was bound to happen. On a day that started out with work stress & tears, and having been up all night with a sick kid, I hear a strange clacking noise while I'm pulling frog tape off of the walls from my late night painting job.
What is that noise? Oh sweet baby, the baby is rolling the paint roller back and forth on the rug and hardwood floor of the dining room! In my late night haste, I left the paint tray and roller on the floor and in the time it took to pull the tape off of the wall, she found it, carried it into the dining room and started painting.
Consequently, here's what I learned:
ALWAYS CLEAN UP no matter how late or how tired
HOW TO CLEAN PAINT OFF OF A RUG. Clean the spot immediately with water. Blot paint with a microfiber cloth to get off as much excess as you can. Then lightly spray water. Spray with OxiClean, let sit for 10 minutes and then blot it up again. Repeat. Don't rub the fibers, it spreads the paint and pushes it down into the fibers.
USE OUTDOOR RUGS in dining areas. My saving grace on this one was choosing the right rug for the space. I have always heard (okay, I read it at Pottery Barn) that if it's a high traffic eating area, you should place an outdoor rug because it is easy to clean. And that advice is true.
TAKE RESPONSIBILITY. This is unrelated to DIY or design, but it's a reality check. I could blame the baby, but it was my fault. I left the paint out and wasn't watching her. She did what she does, explores things. It's not her fault. It is 100% my fault. And while that sucks, I am not agonizing over it. Although, I tend to stress about mistakes I looked at the disaster, though "oh crap, it is my fault" and as I said it out loud a weight was lifted. Now I am able to move on without having any bad feelings about it. I'm not beating myself up over it. Accidents happen!
HOW TO STYLE A COFFEE TABLE
Now that I've shared my blunders of the week, we are ready for great tips on styling a table or styling a tray to set on a coffee table or dining room table. Let's get started on the formula for a good looking table and 15 examples from magazine quality design.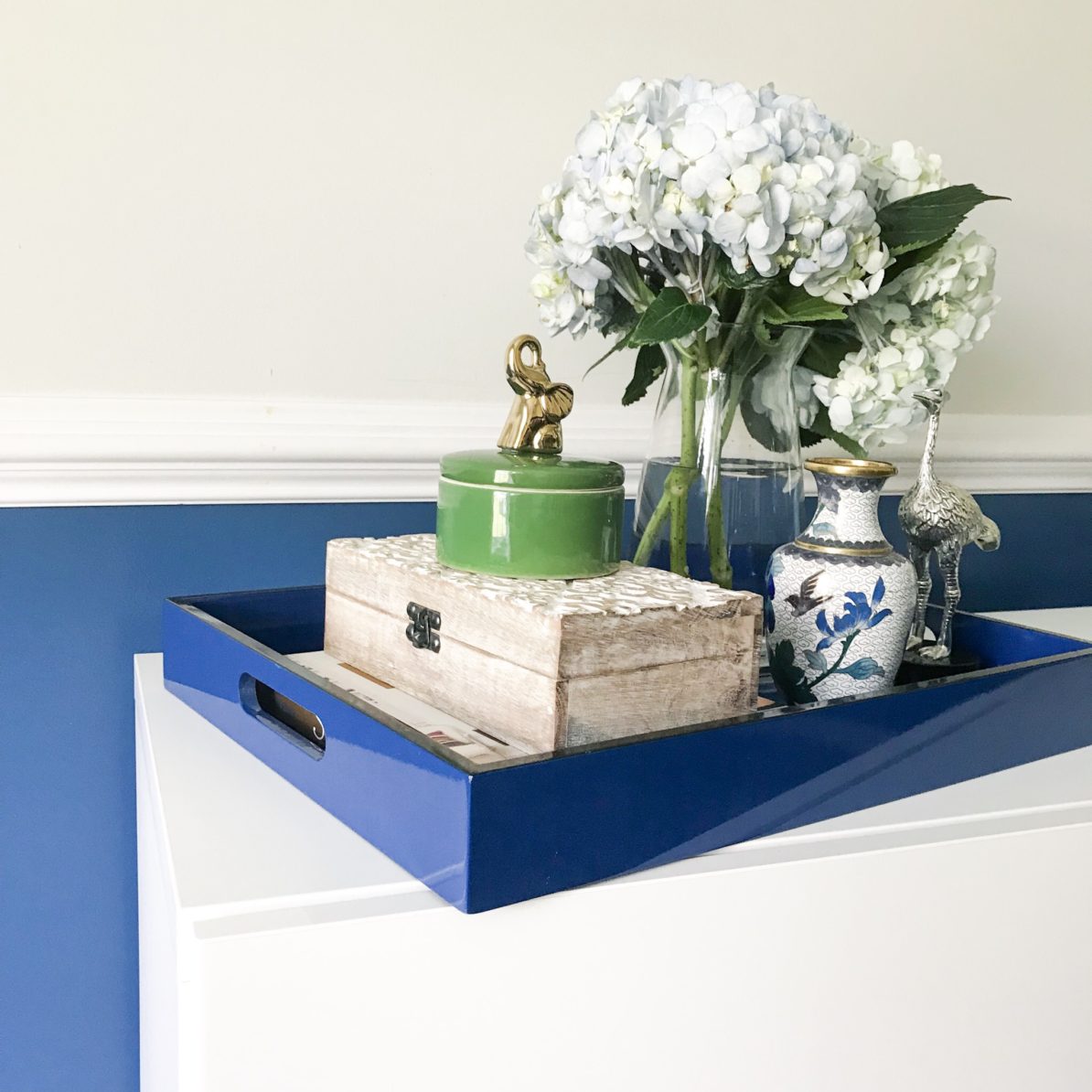 THE FORMULA
First, I will give you the formula for what to include in every table styling for the perfect balance. Then, we will talk about a few Don'ts of table styling. Next, I've linked 15 styled coffee tables that use these principles. You can use them as inspiration for your coffee table styling. Lastly, a few of my favorite decorative Amazon sources are linked at the end of this post for your convenience.
Something tall. Candlesticks, a hurricane or vase are a classic way to add height to the vignette.
Something living. Flowers!! A living, green plant can make the whole room feel complete. When choosing flowers, go with a bunch of the same flower rather than an assortment of random flowers (unless you're a flower stylist).
Interesting Object. A sculptural object like a glass orb, quirky animal statue or small ginger jar adds interest to the table. It also makes for good conversation when you have guests.
Stack of Books. My go to for having a place to put that decorative object is a stack of coffee table books. Place them strait on the table and set the decorative object on top. If you have a round table, make two stacks that are straight across from each other and in line with the furniture.
Pop it on a tray. Optional. Adding all or some of the elements above to a tray is a way to add color or texture if you have a neutral space. Example: My dining table and chairs are dark so to add variation, I used a large colored tray to hold the elements and included a carved wood box of a lighter tone for texture.
Work in 3's. Groupings of three make for a great vignette. Pop a stack of books, a tall candle holder, and a clear bowl of flowers on the table for the perfect trio.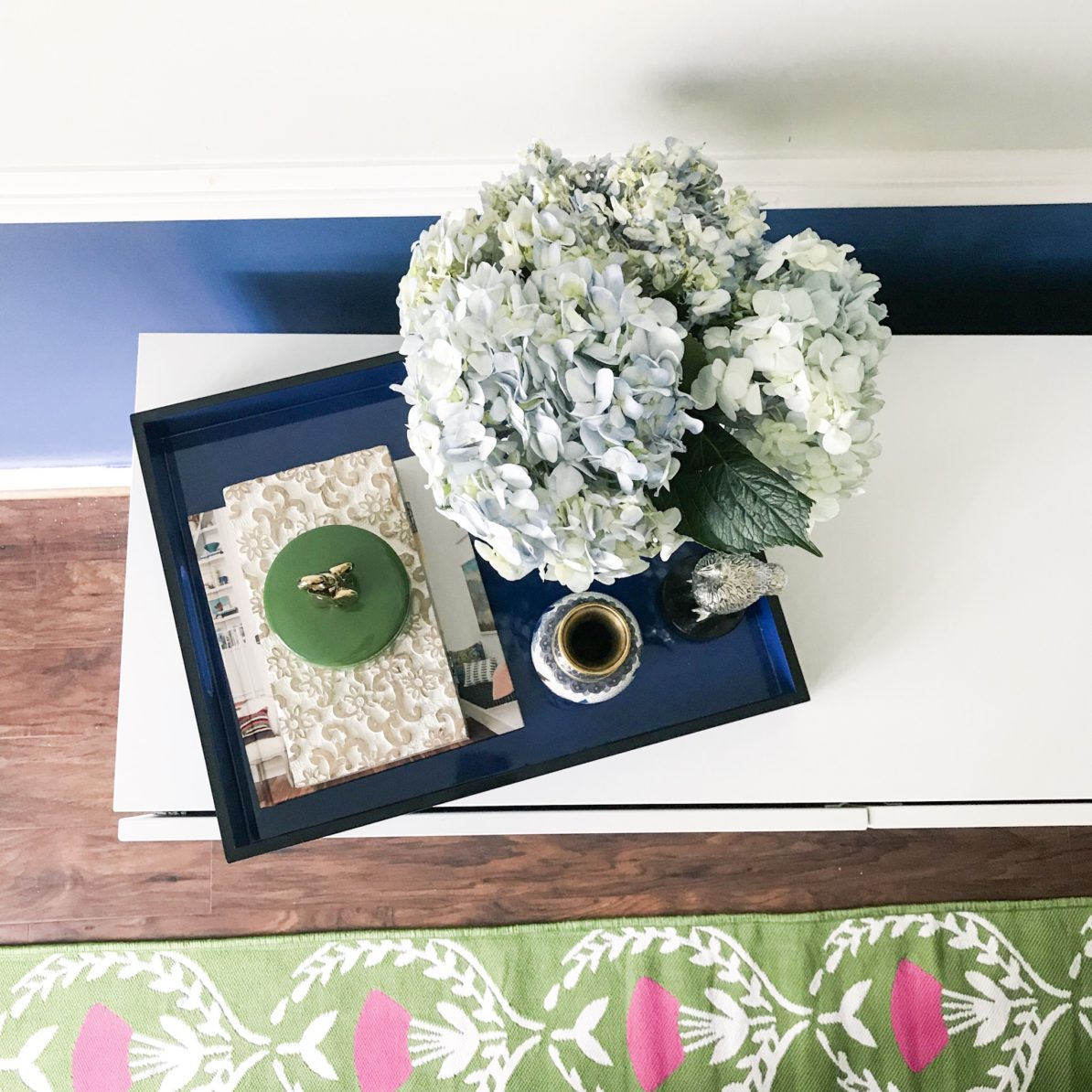 TABLE STYLING DONT'S
DON'T Place books or art at a Diagonal. Straighten them to align with the edges of the table. If you have a round table, place objects in a cross pattern, in direct lines.
DON'T Leave shelves empty. If you have a shelf below the table top, opt to store a small stack of books/magazines or a natural weave basket. Don't go overboard.
DON'T Overcrowd. Make sure there is room to breathe. Not every inch has to be filled.
DON'T Leave out Clutter. You can use a small decorative box to hide tv remotes or drink coasters. Keep the clutter boxed up. It will also make it easy to find the things you need when they have a home in the box.
DON'T Place the coffee table far away from the sofa and chairs. While this tip isn't about the table styling itself, the general rule is that your seating should be 18″ from the coffee or side tables. While seated, you and your guests should be able to easily set a drink down from any location you're seated. You wouldn't push your dining room chairs against the walls, so avoid doing it in the living room as well.
15 WAYS TO STYLE A COFFEE TABLE
We've reached the best part of this post. I've picked out 15 of the best styled coffee tables from retailers like Pottery Barn, Anthropologie and Ballard Designs. They are professionals, so you know they have done a knock out job. Use the examples for inspiration and take notes on your favorite table arrangements.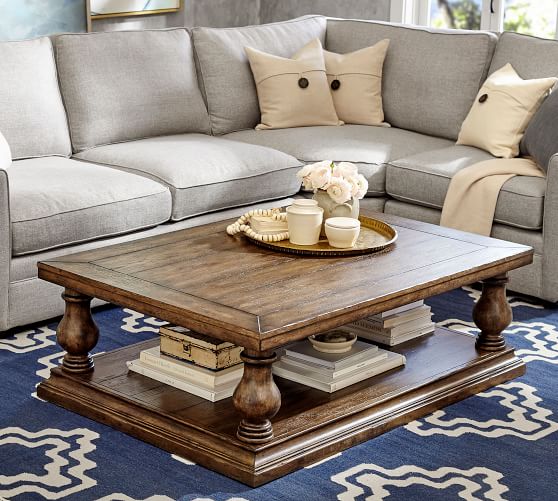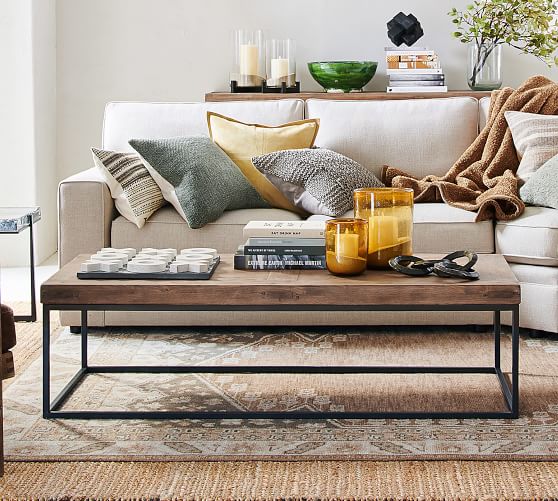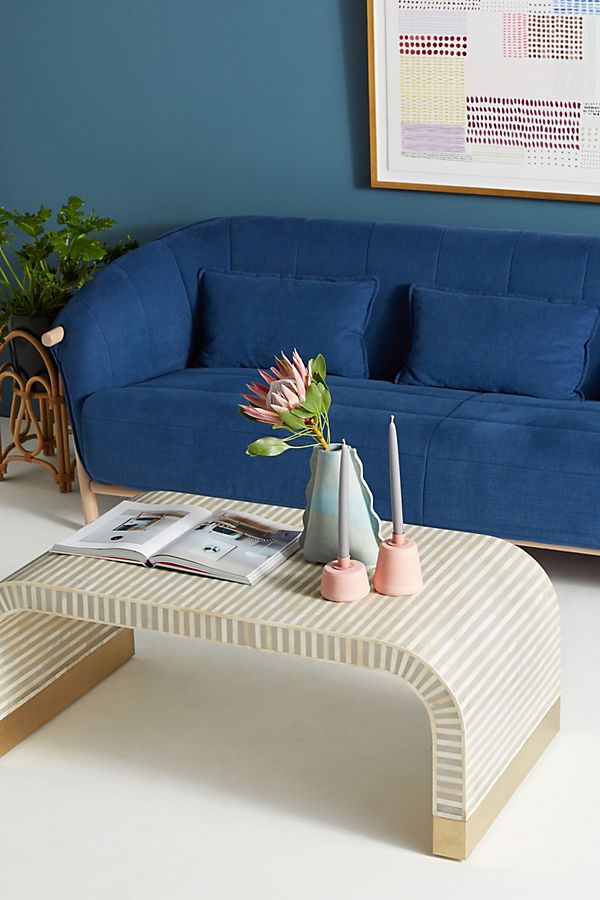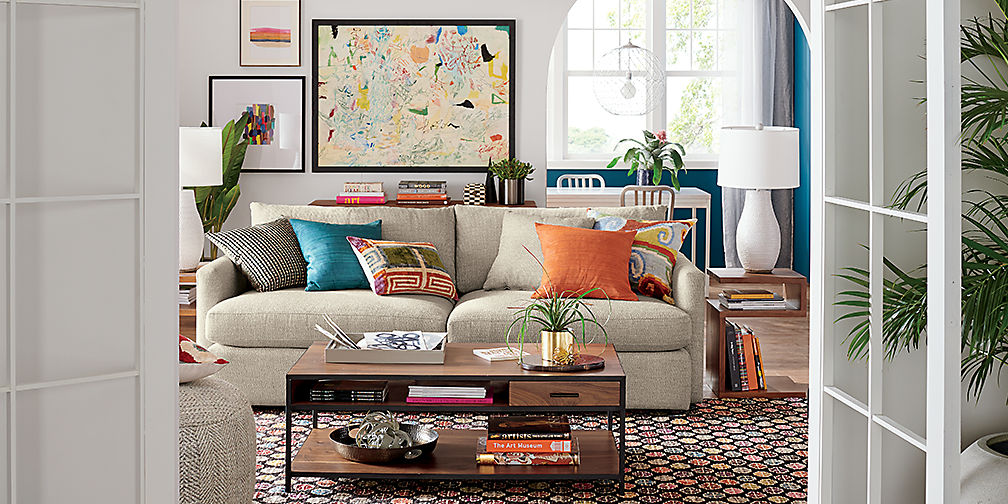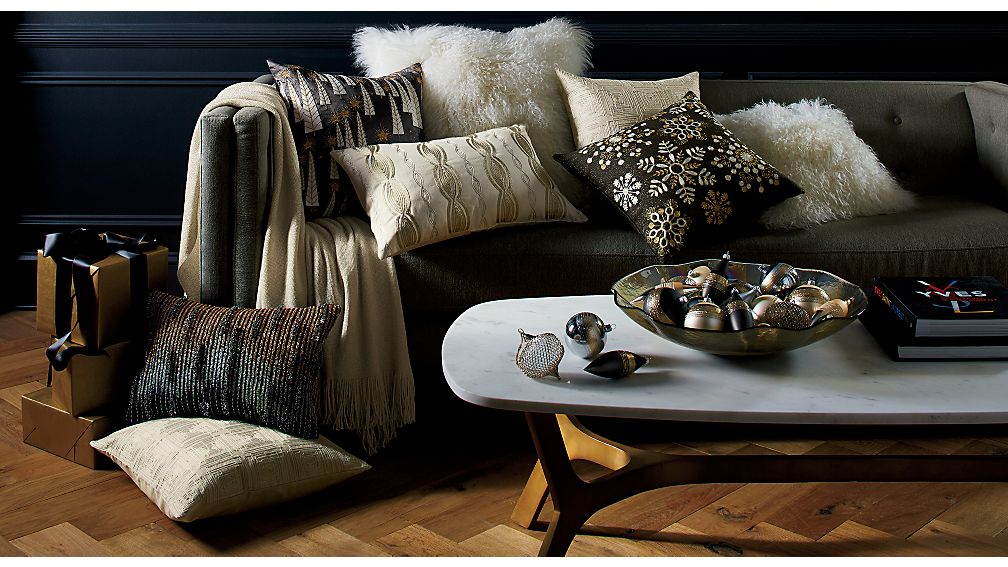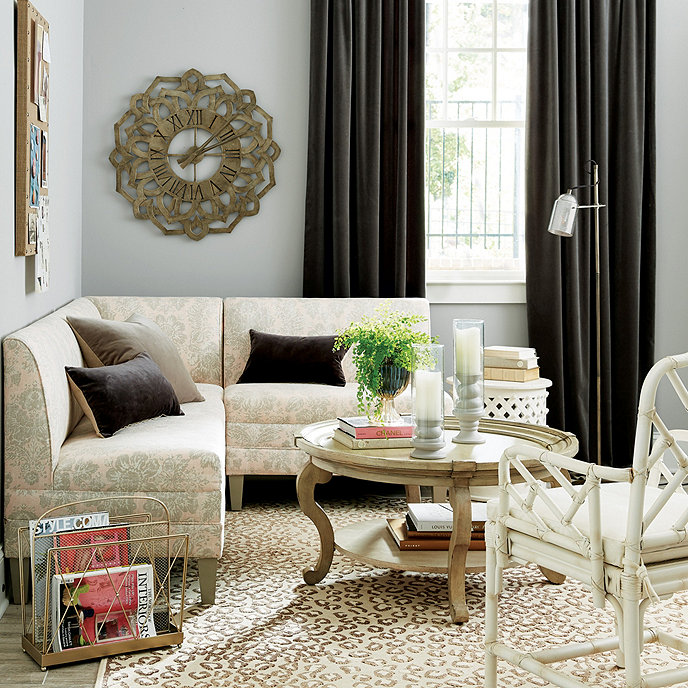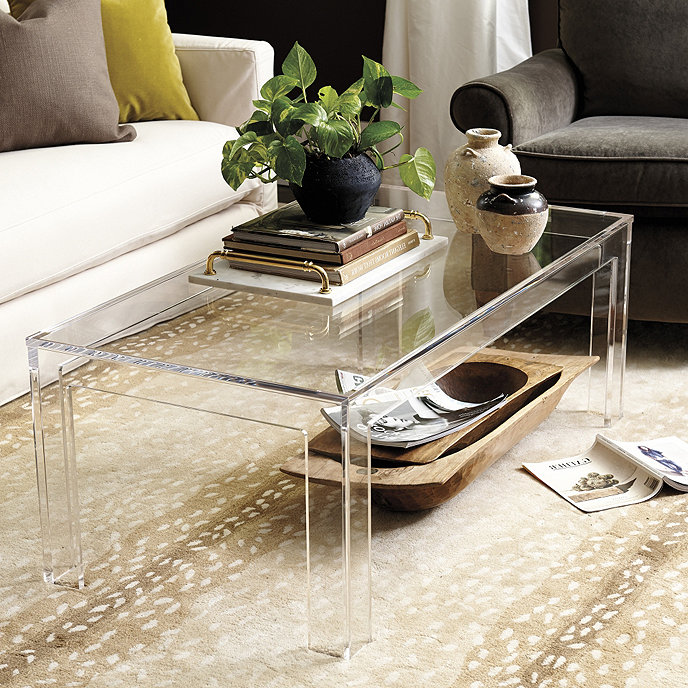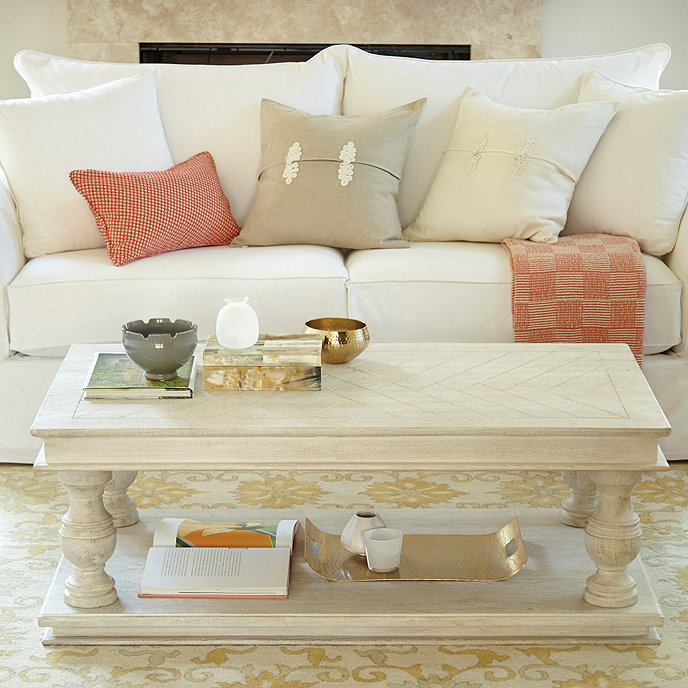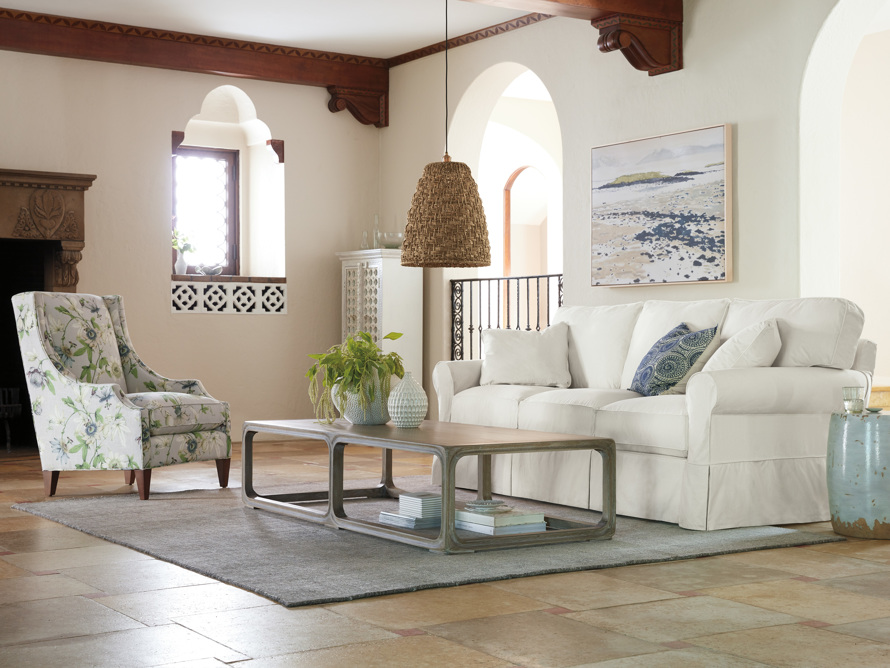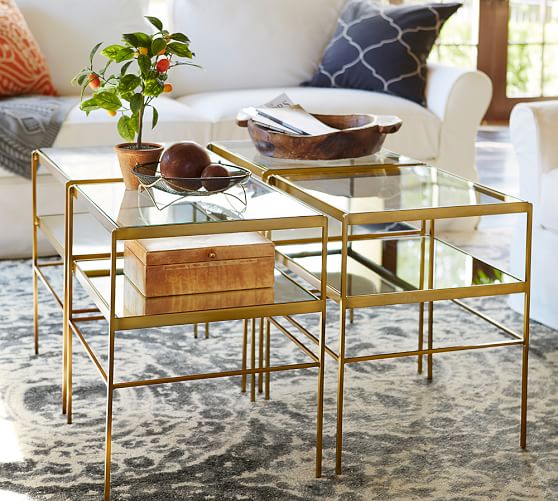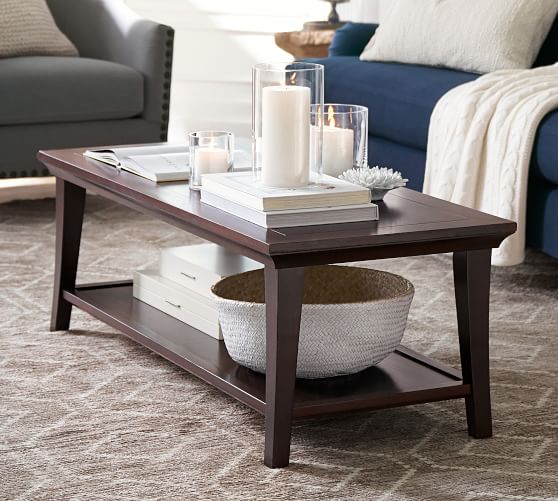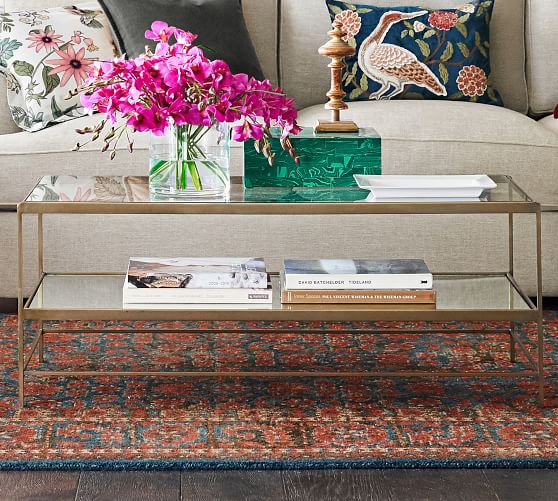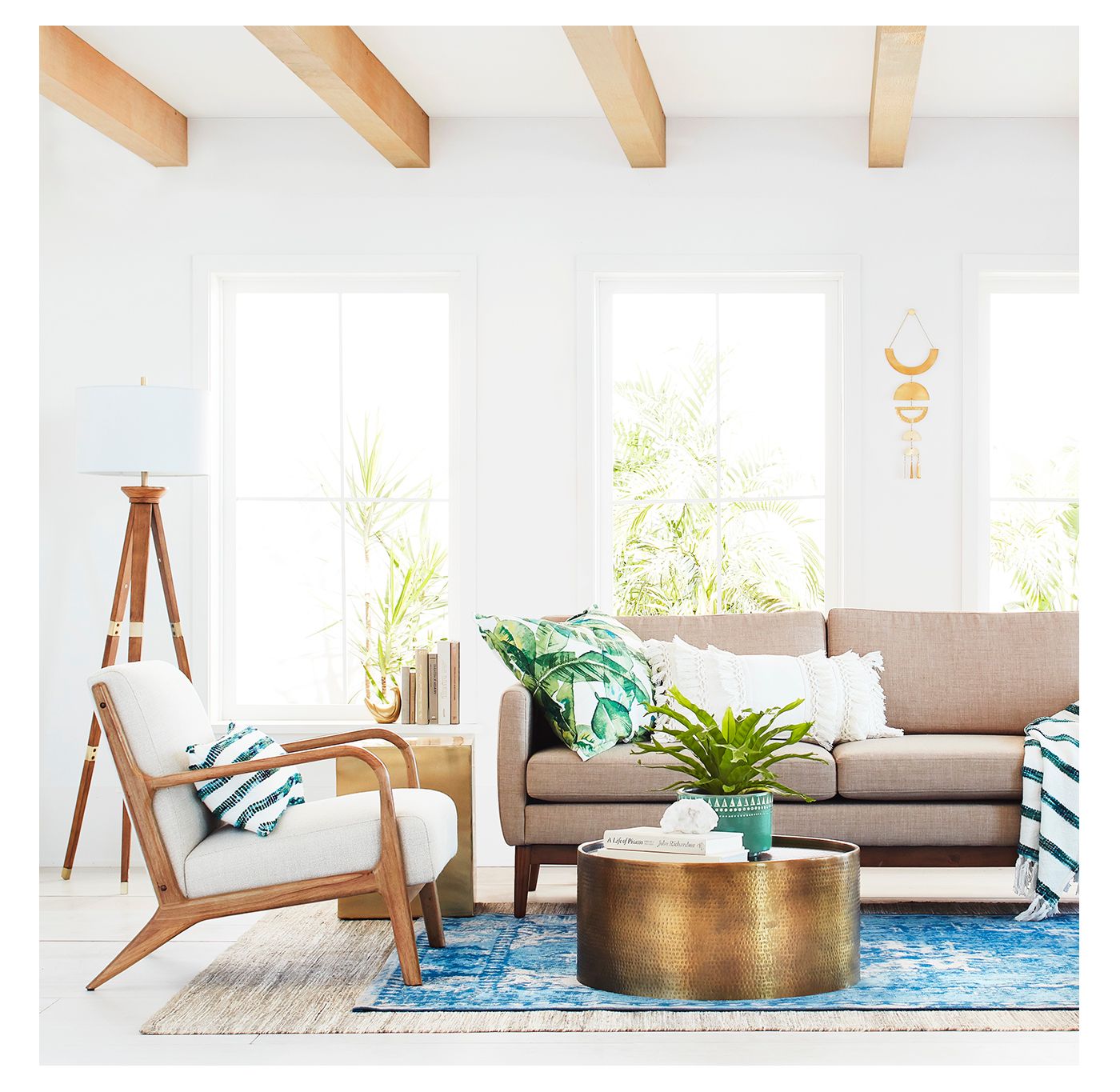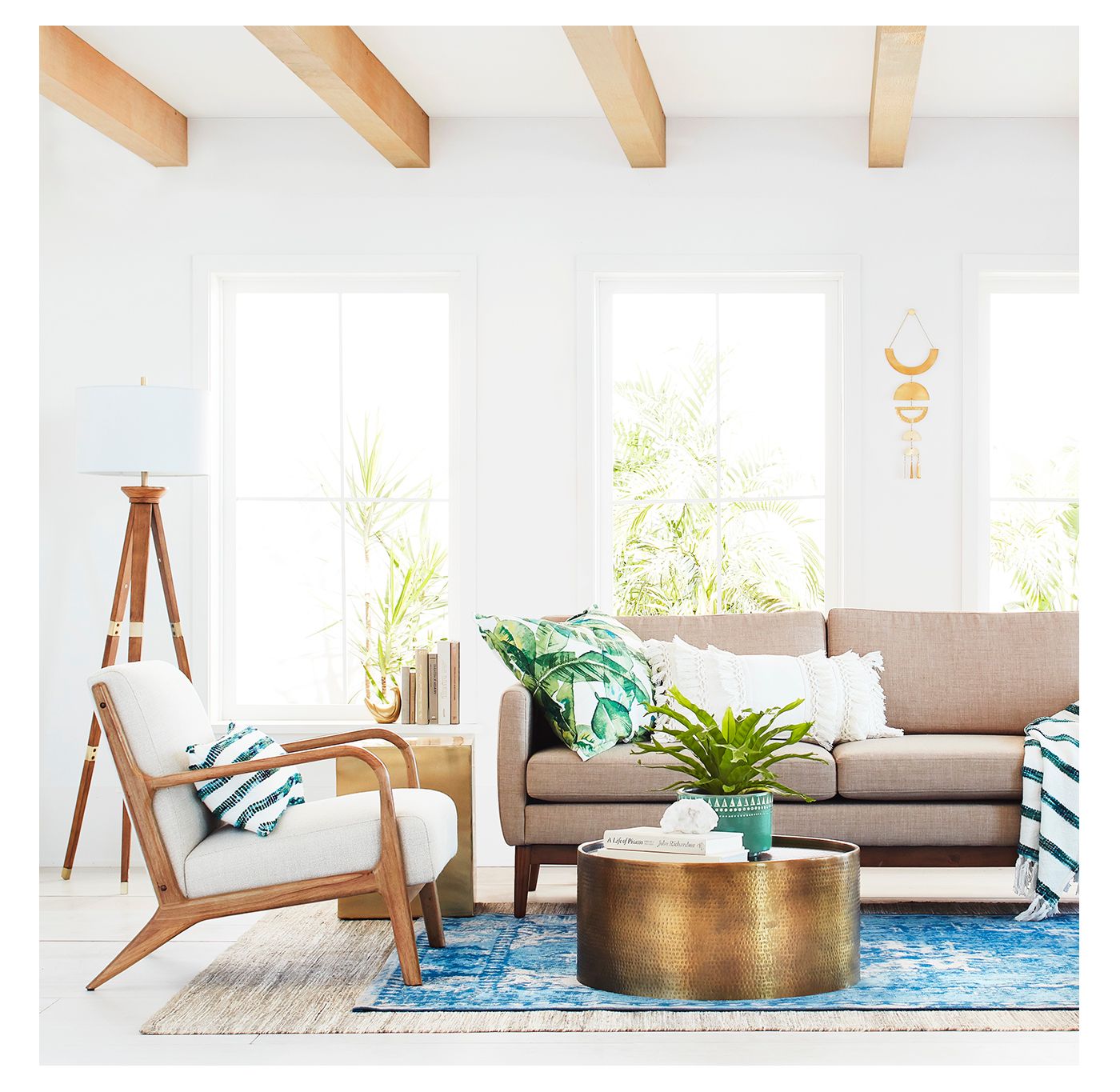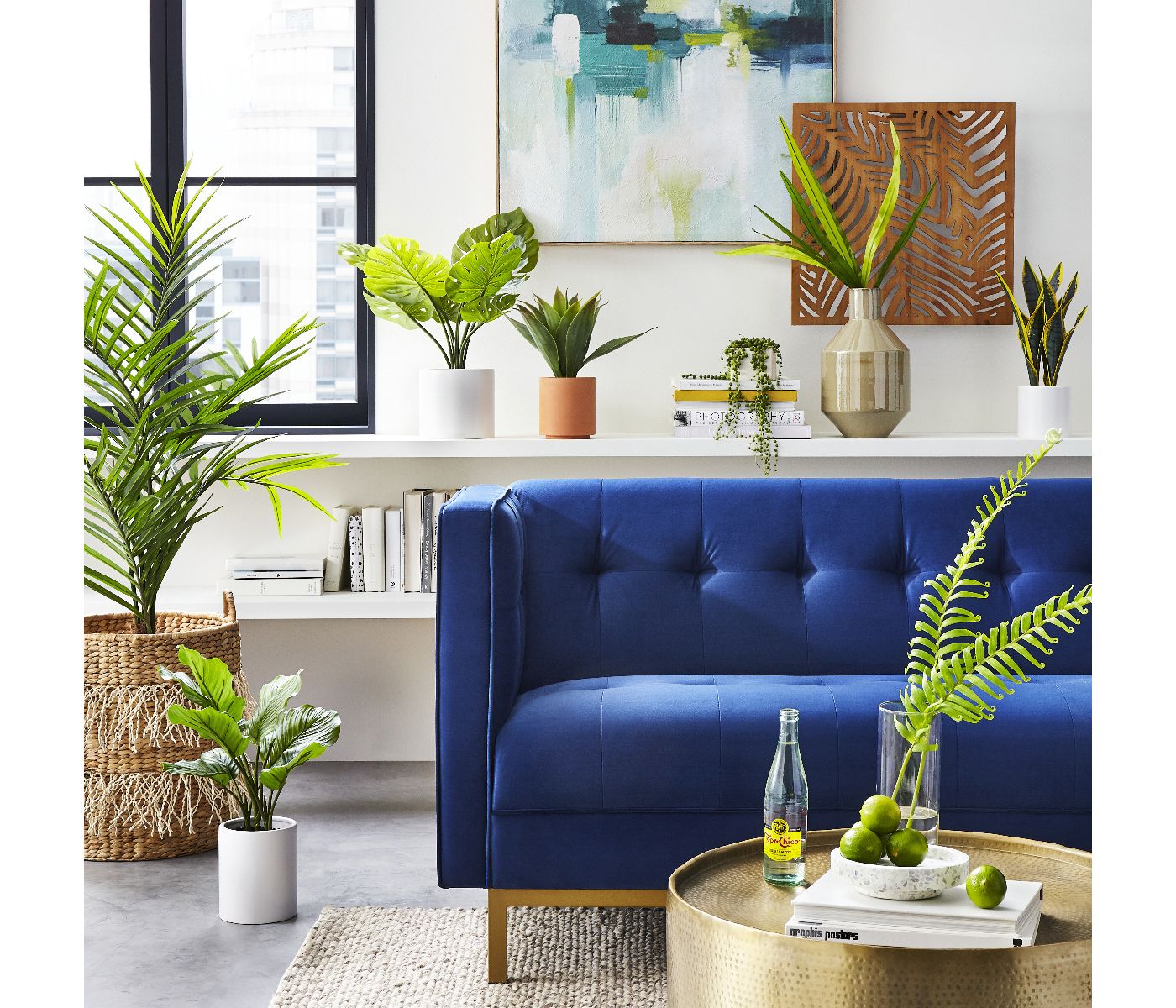 PATTERNS IN TABLE STYLING
Did you notice the patterns in the 15 table stylings above? Regardless of the vendor, the tables from these retailers have similarities. The objects used to professionally decorate the tables fall into the same few categories.
stack of 2-3 books
vases
living flowers
candle sticks or tall hurricanes
natural wooden or woven bowls
something gold, silver or shiny
wooden beads
decorative object
tray
FAVORITE SOURCES
I'll leave you with my favorite Amazon objects to style a table (this contains affiliate links at no cost to you). I like a combination of store-bought decoratives, vintage finds from the thrift store or estate sales, and interesting consignment items to fill the space. So grab one or two of these items and pair them with a Goodwill find for the perfectly styled table.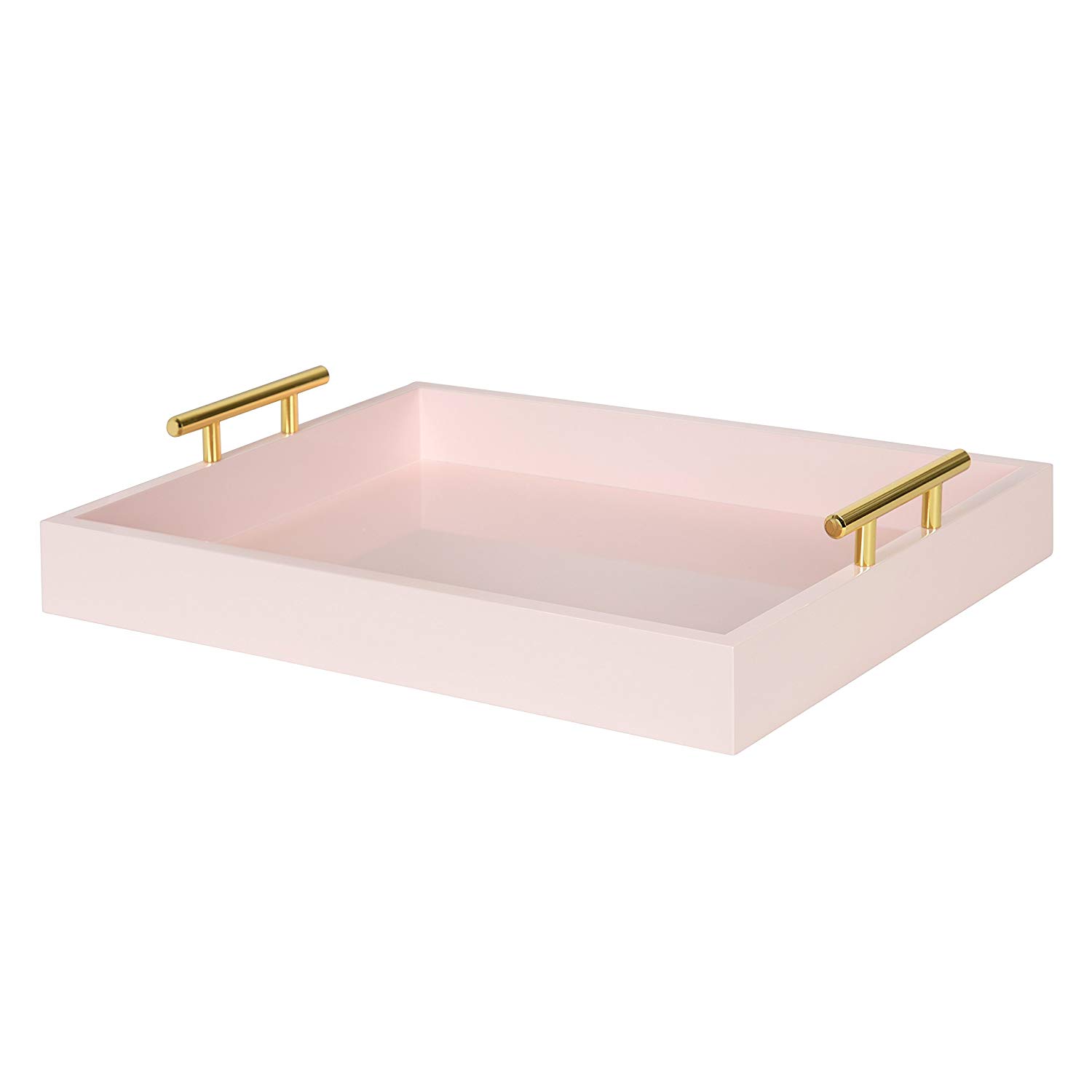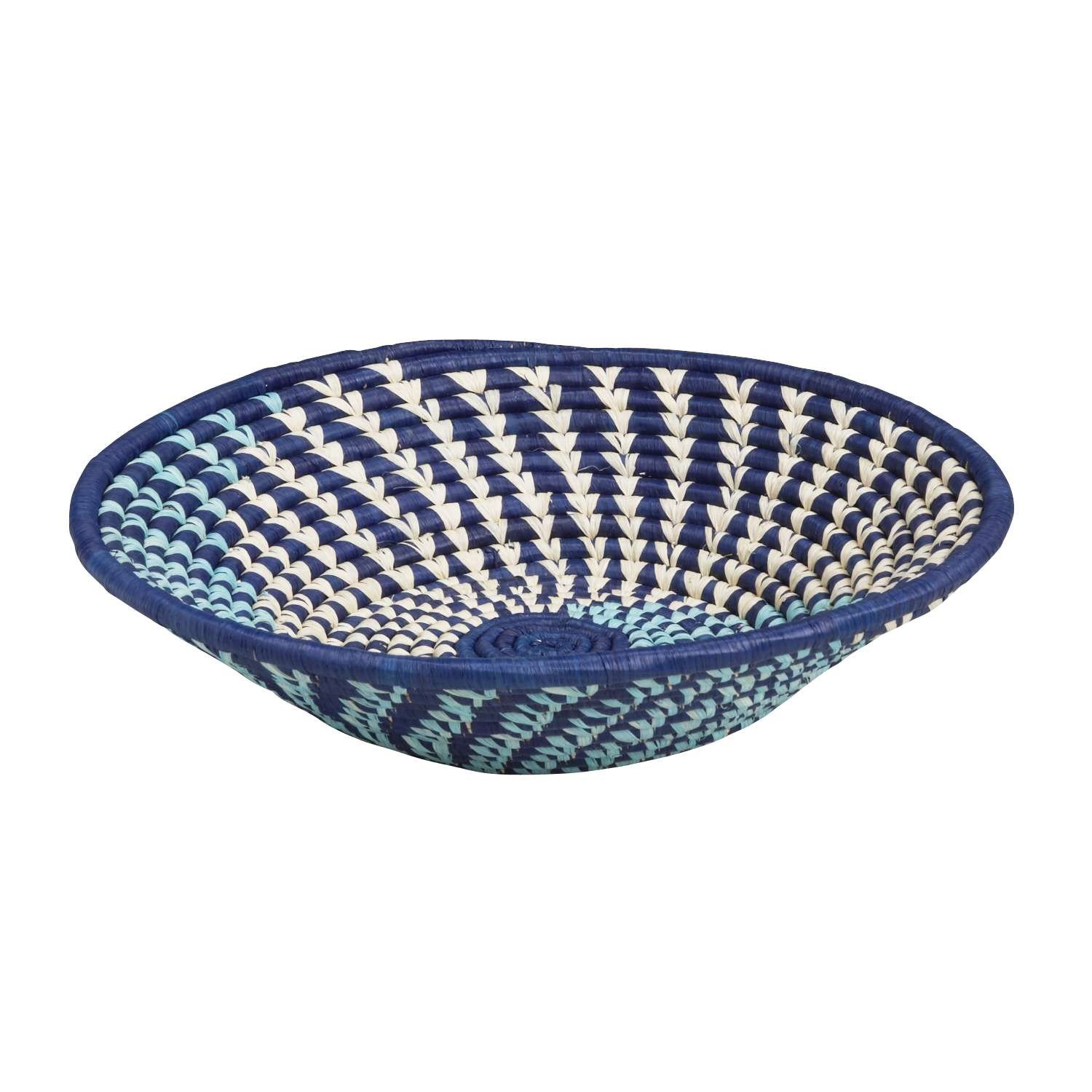 ---
With the right objects, your living room coffee table can be as stylish as a magazine shoot and the focal point of the room.
Related posts: How to Pick the Perfect Size Chandelier & The Best Baskets and Crates in Home Decor
LOVE IT, PIN IT