25 ULTIMATE MASCULINE HOME OFFICE IDEAS
Are you ready to create a sophisticated, work from home masculine home office for yourself or your spouse? Use these elements to achieve look.

Still working from home? Or working from home some of the time? For me it's nights and weekends at home while I may be in the office or traveling during the week.
Use these 25 design tips to create the masculine home office of your dreams from your spare bedroom down the hall.
GET THE LOOK
While most of these examples are created by designers and they are staged for photography, aka the computers are put away, I understand you have to work in your office. So, here are my tops tips:
keep the clutter to a minimum
paint will make a huge difference
paint the trim the same as walls
choose great statement lighting and task lighting
go BIG with art
pattern on the carpet brings in a masculine feel
blues, greens, and blacks complement wood wonderfully
use cord keepers and floor outlets to handle lamp and computer cords
PAINT WINS IT ALL iN a HOME OFFICE
1 . Paint the walls and bookcases a deep semi gloss blue and use light accents for the rug and seating.
This will make the room feel enveloped by color, but calm because it's only one big player and all of the other elements are neutral.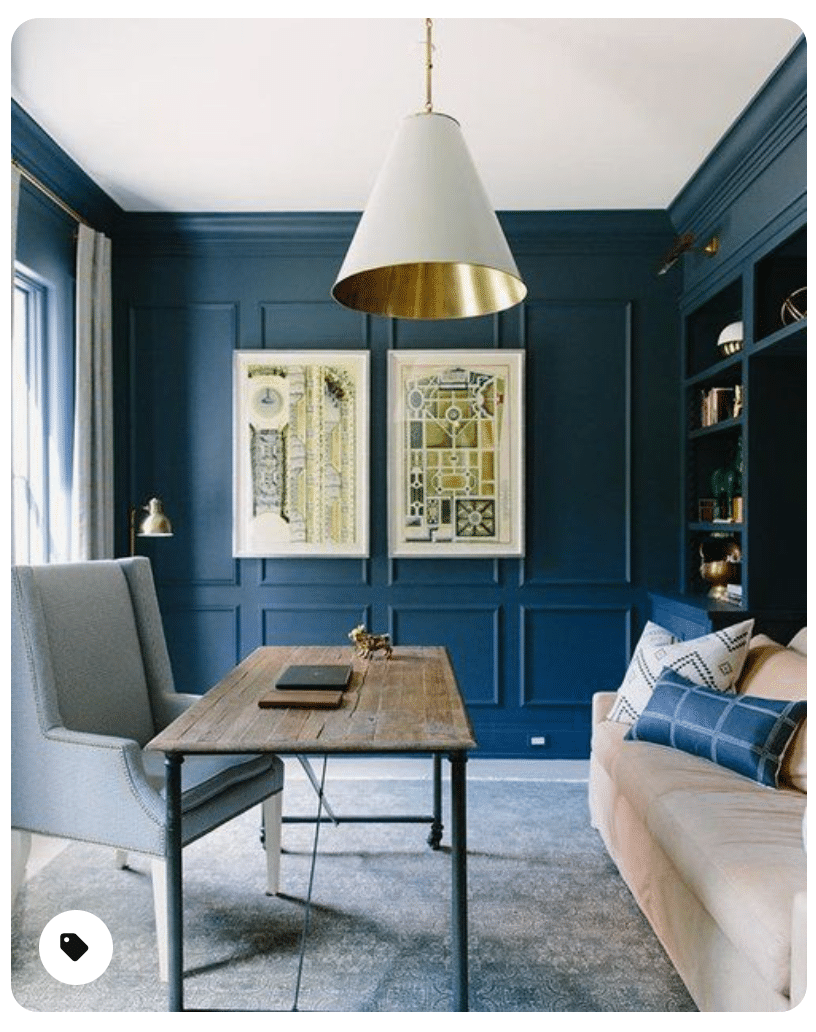 TEXTURE
2. Use a faux grasscloth wallpaper like this one (amazon link) to give the walls a textured masculine look. Add in brown furniture and a large patterned rug to complete the space.
Don't forget to add window treatments- faux roman shades are a great custom alternative with a much lower price tag, but a luxe look.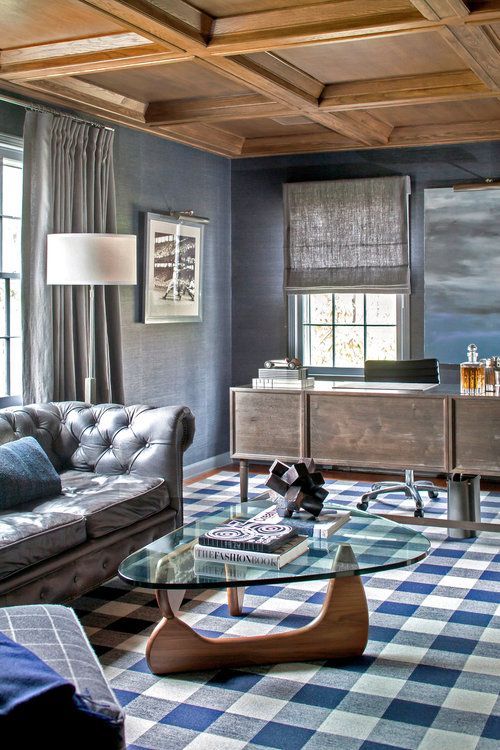 HIGH GLOSS
3. If your look is sophisticated and you like a little extra luxury in your life, paint those bookcases a shiny high gloss black, add an open legged desk, big artwork and a pair of 35″ gold desk lamps.
For the rug and chair, go for a crisp white. Paint the walls white as well.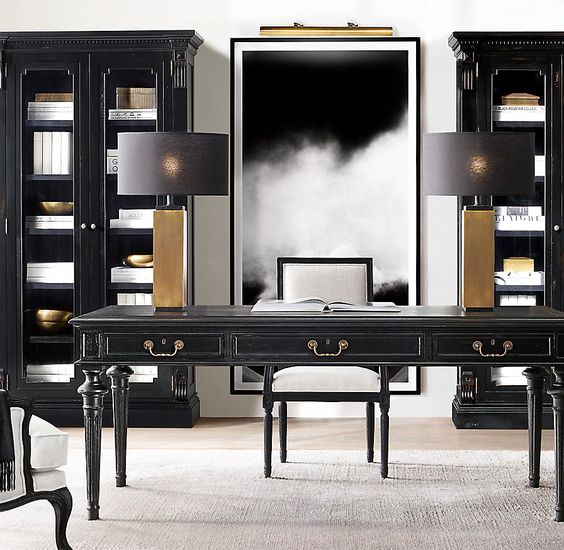 RUSTIC INDUSTRIAL
4. Are you into the rustic look? Have pipe shelving like this (link) delivered overnight, thanks Amazon. You can add a leather chair and get to work the next day.
Don't forget to add a live plant and stock the shelves by rounding up all of your books laying around the house.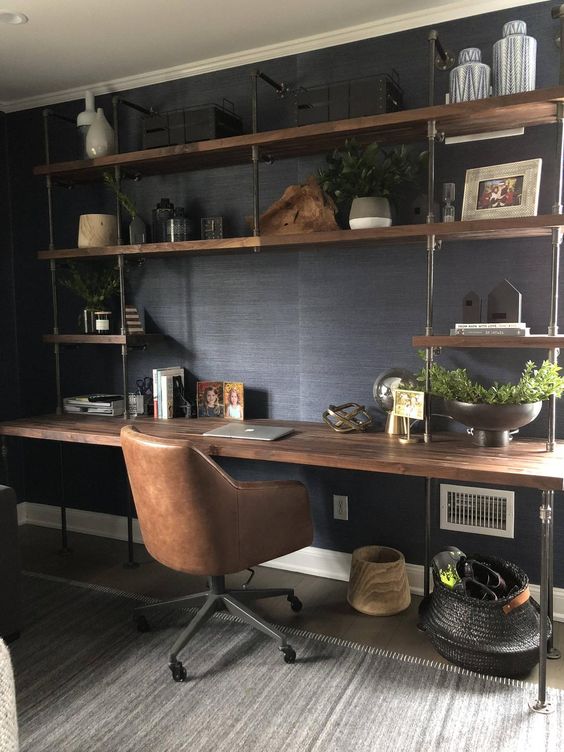 CURATED ART
5. Nothing says masculine home office more that a deep green room with natural wooden elements and a great art collection. A few of my favorite green paint colors are: Sherwin Williams Isle of Pines and Hunt Club.
As for the artwork, hang your children's latest drawing on a pinboard above the desk.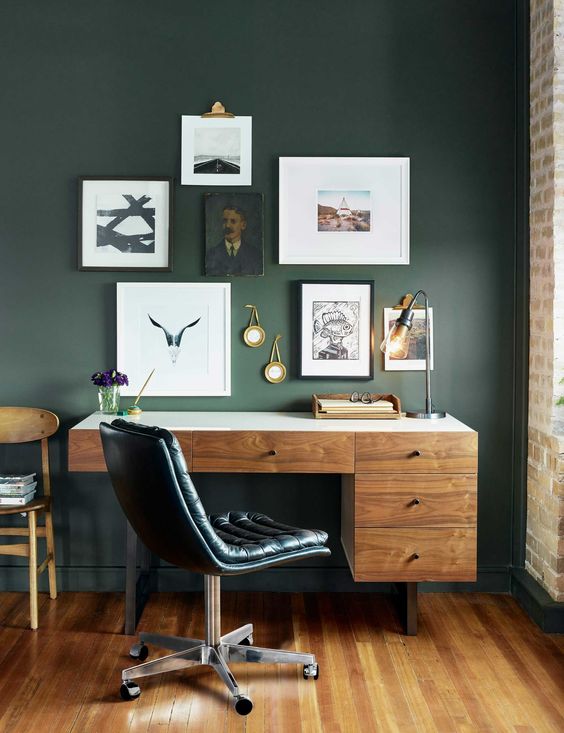 BLACK PAINTED WALLS
6. Again, in this masculine home office, black walls are the key. All of the other pieces of the room are a warm white, but the dark moody wall really makes it feel luxurious. Don't discount amazing natural light either.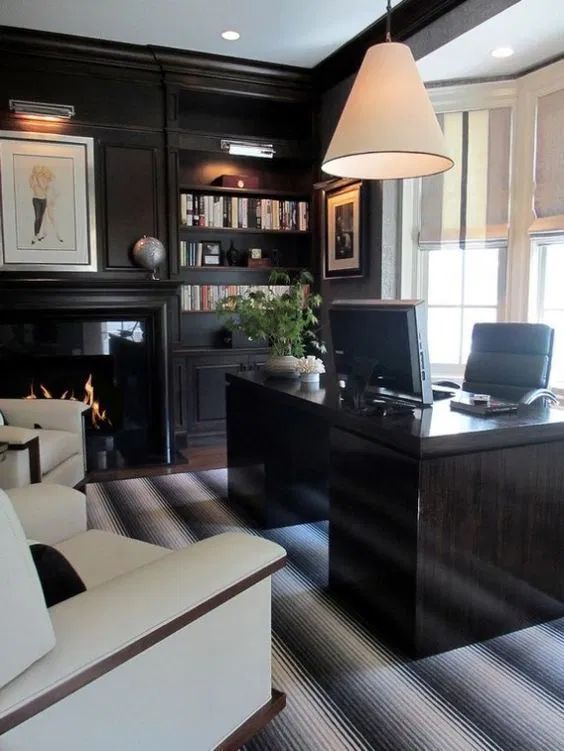 DARK PAINTED CABINETRY
7. Dark bookshelves are a dream in this masculine office setup. To achieve this look for less, IKEA has Billy bookcases in black that you can install floor to ceiling to hold all of your man's books, files, and supplies.
The glass door add ons make it look expensive, but come in at a much lower price point than you'd think.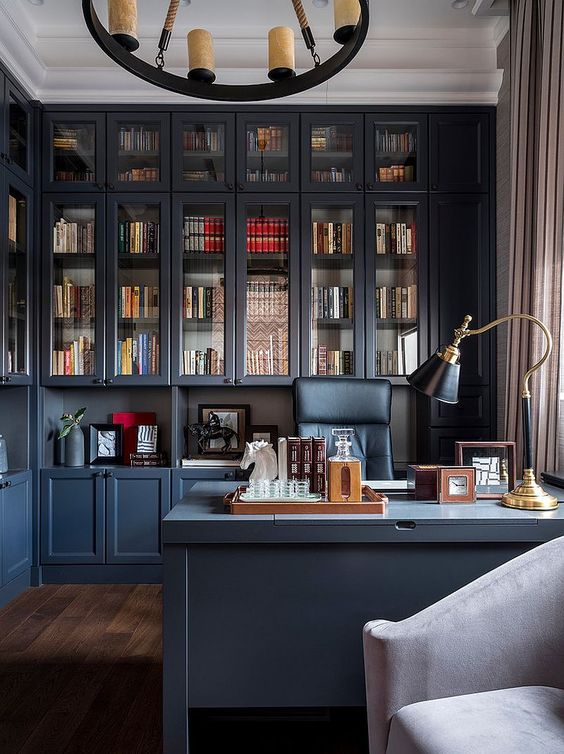 A FIREPLACE
8. A fireplace in the office? Yes! If you've found yourself working from home permanently, it may be worth using your main living area as an office.
These blue gray hues on the walls paired with the sable/cognac leather chairs in front of the fireplace make for a regal office setup.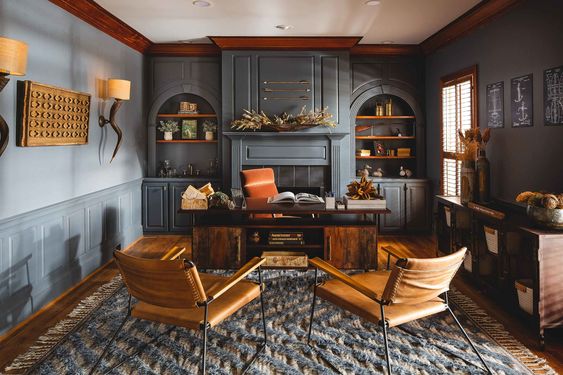 WHITE WALLS, LARGE ART
9. If white walls is your forte, adding great oversized art can elevate your space.
Choose are that meets one of your interests like these whiskey bottle images, paired with a bar cart below and simple black office furniture. (I get requests for these artworks all of the time, here they are.)
Add warmth to the space with a supple, brown leather chair.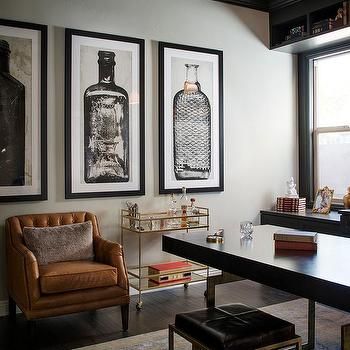 CHANDELIER
10. We've already noted before that a moody color of paint on all of the walls, cabinets and ceiling can make a bland space feel and look amazing. But add in the perfect chandelier with glass bulbs & oversized art on the walls for perfection.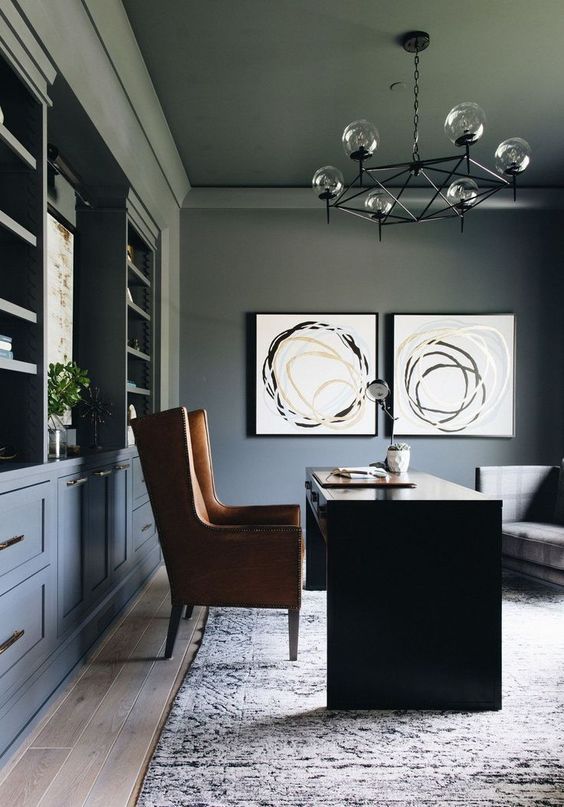 GOLD & GREEN
11. Are you seeing a pattern with boldly colored green, black and blue spaces. Paint makes the largest impact, especially when it is applied to the walls and the built ins (or even bookcases the same color).
The color palette is kept to green, black and gold, which makes each element stand out on its own. They work together to create a cohesive space.
So if you are going to paint, go bold, and keep things to a simple color scheme!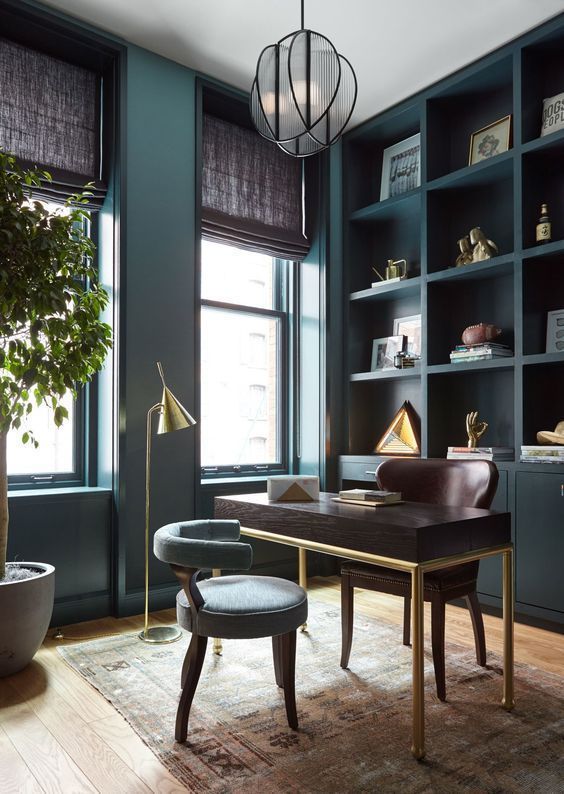 THE EAMES CHAIR
12. Have you heard of the mid century modern Eames chair? If you haven't heard of this Herman Miller classic lounge chair, you've probably seen it everywhere. It retails for around $4,600, but luckily there are great dupes out on the market.
And I have to say that the Amazon dupes (affiliate link) are just as comfortable as the real thing, have great style and come in at a fraction of the price. So head over to Amazon and order an Eames look a like for your masculine office as both a functional and comfortable piece for your new work from home office.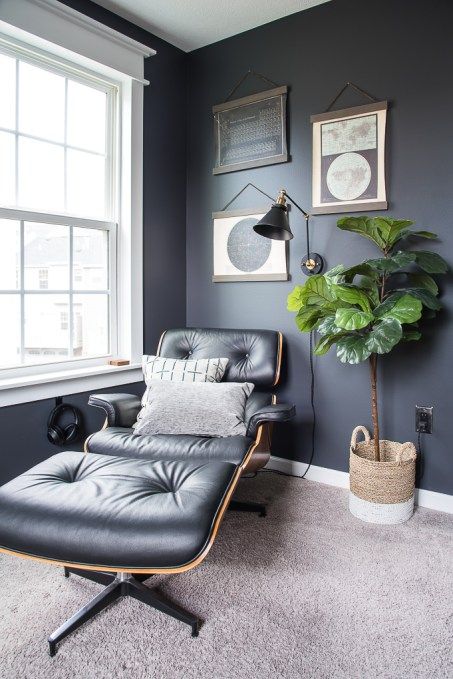 CONTEMPORARY HOME OFFICE
13. If you like a lighter, brighter more contemporary feel for your masculine office, choose a lighter paint color like a color from Farrow & Ball.
Add a great chandelier and simple curtains for a simple scheme. To handle the practical aspects of keeping a home office organized, opt for closed storage on bookcases and a desk with a drawer for storage.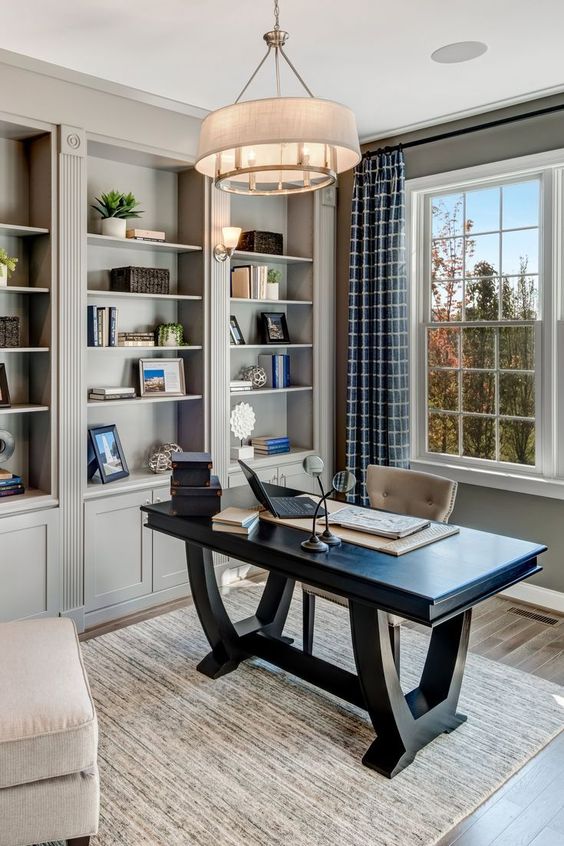 MASCULINE OFFICE STORAGE
14. Whether you go light or dark with the paint, you'll still need a storage system for loose papers and supplies. Wire baskets are a great way to corral the mess while still maintaining a decorative look.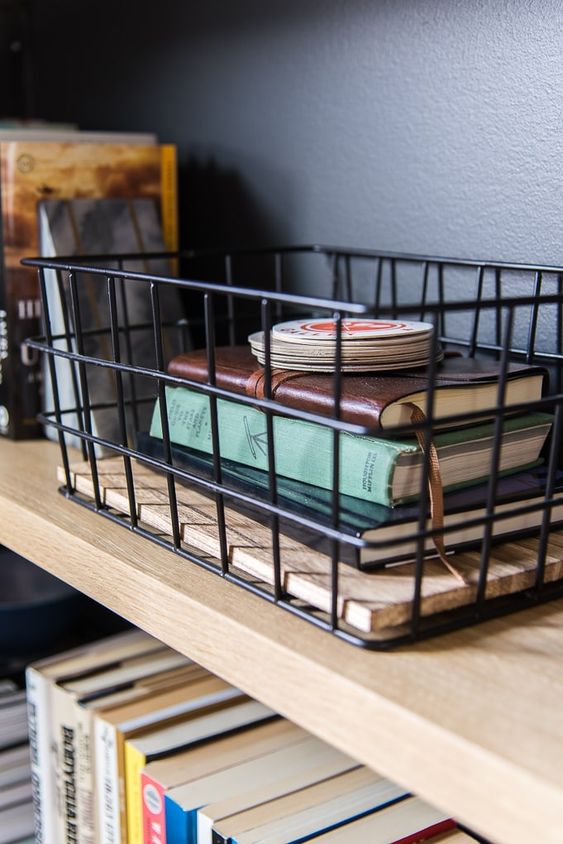 BUILT-INS
15. The key to any bespoke, custom look is the built in. So whether you choose to add trim around your IKEA bookcases or opt for a custom desk & file cabinets, built-ins elevate the room.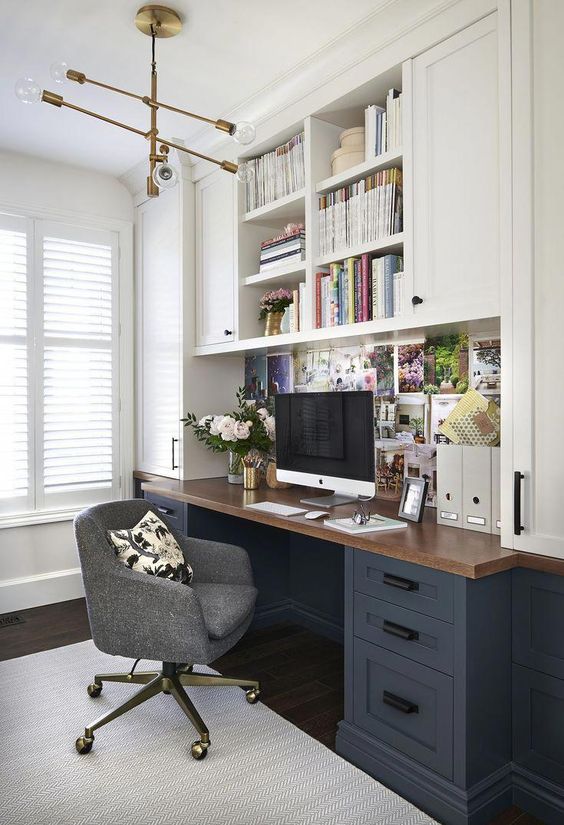 BOARD & BATTEN
16. Board and Batten trim refers to the square paneling on the wall shown below. In addition to the dark paint encasing the walls and ceiling, the board and batten mill work ads another layer of interest. You can easily DIY board and batten trim with pine boards, a level and a circular saw.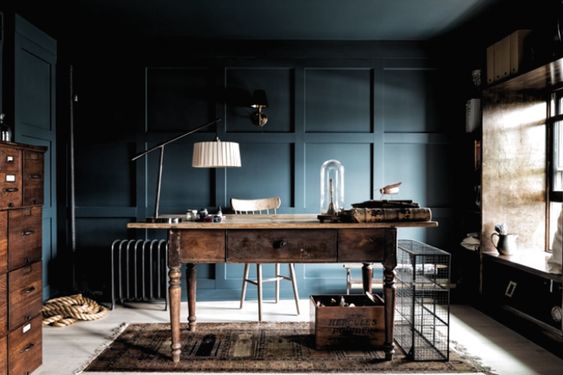 BLACK & WHITE
17. Black and white play well together and this glossy black trim paired with a white ceiling and walls is no exception. Add in metallic lighting and a desk with leather for texture and your home office will be a respite.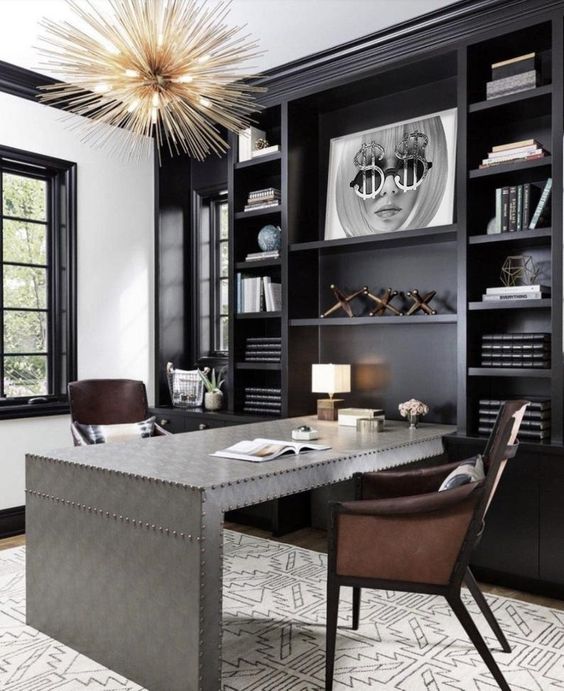 PAINTED BOOKSHELVES
18. Studio McGee and Co. is one of the top design firms on my list for a great use of color in office spaces. They can achieve a masculine look in almost any room by painting the bookcases a bold color.
You can replicate the look with paint as well.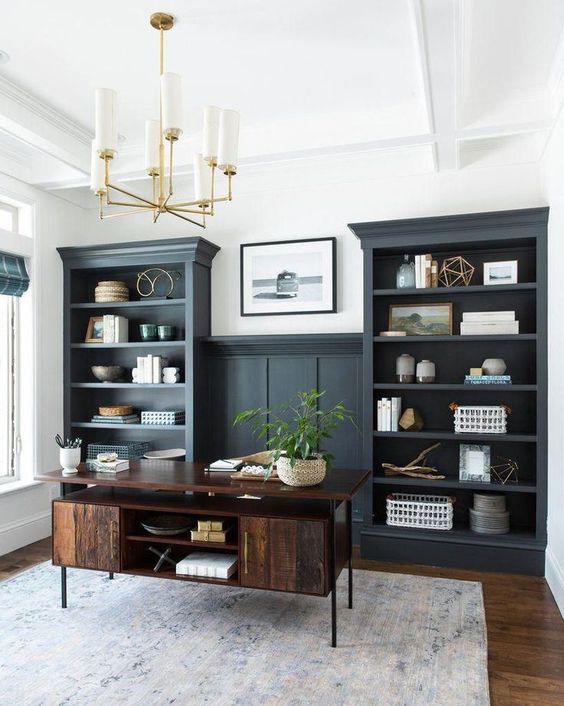 SIMPLE, BUT GREEN
19. Are you feeling overwhelmed by this list? Are you unsure that you can actually implement any of these changes to your spare bedroom to make a home office?
Here's an example of a simple room with a great light fixture and a mid tone green paint. The key is to paint the trim the same color as the walls for an enveloped look. Add an animal hide rug and a simple rood desk to complete the look.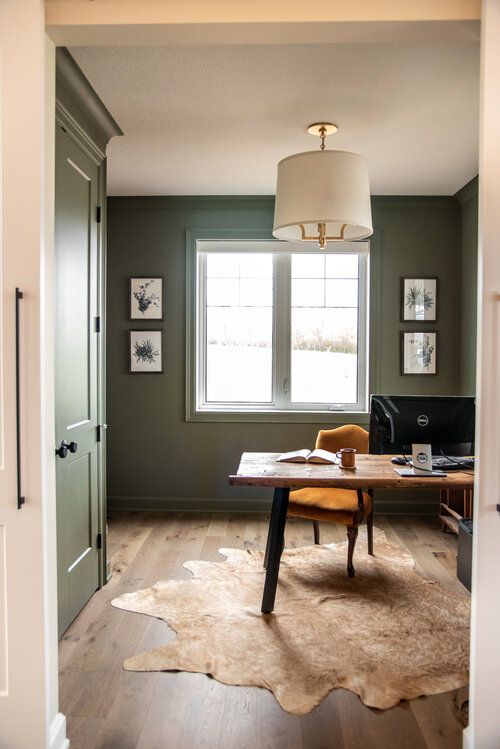 IKEA FOR THE WIN
20. If you thought custom furniture and a massive remodel was the only way to achieve a masculine home office look for your work from home situation, I can prove you wrong with this inspiration.
The white IKEA desk with drawers and a wood counter is an inexpensive way to add a semi-custom desk to your office. With an added can of paint and a new light fixture, your spare bedroom will be a magazine ready office.
Don't forget the leather chair for some warmth and comfort.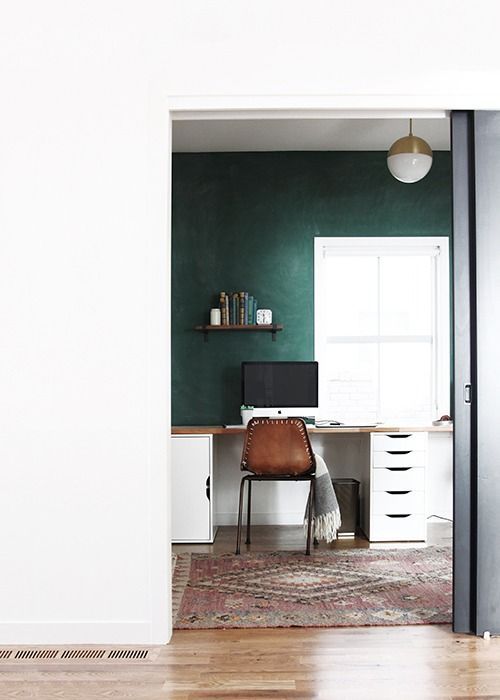 GREEN IS KING
21. Built ins still rank at the top of my list for making a space look custom and taking it from blah to brilliant. But add color to your cabinetry or bookcases and you've added yet another level to your home office.
green built ins https://pin.it/5gJqpkg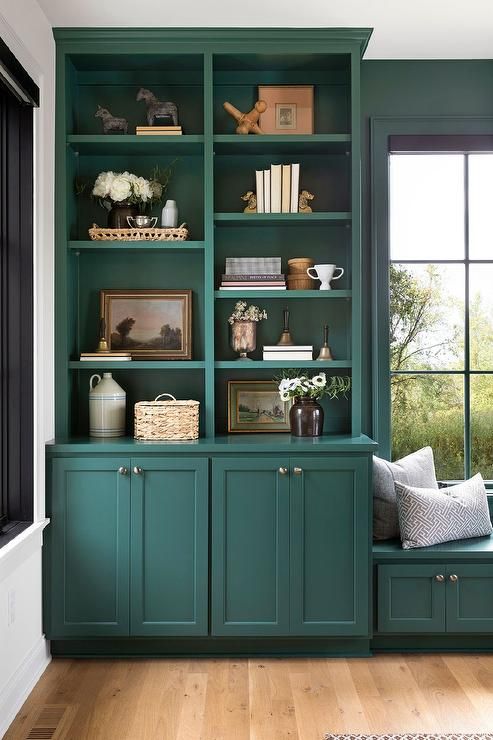 EXECUTIVE DESK
22. No home office is complete without the executive desk which features file drawers on both sides and natural wood or wood veneer for a solid feel. This is the work horse and staple of any masculine home office.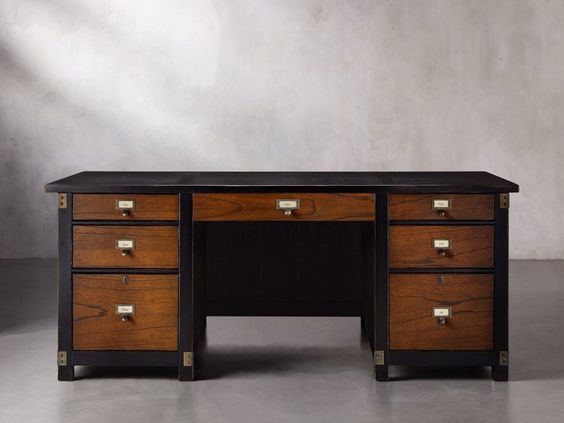 DIY FILE CABINETS
23. If you prefer to DIY your home office, adding a bench top to 2 file cabinets is the best way to ensure you have enough storage and a desk that works for your needs.
Don't forget to fill the walls above with large, personal art.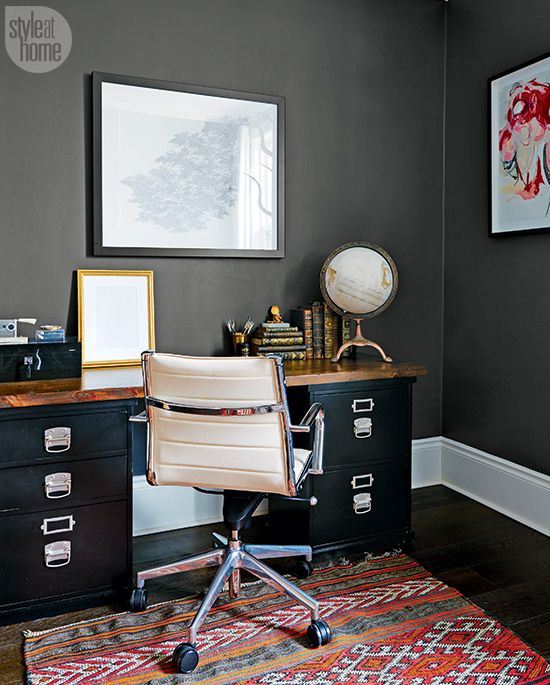 LACQUER
24. Blue lacquer built ins will make any home office better than all the rest. There's something about that shiny paint and great natural light bouncing off of the cabinets that says classic.
Don't forget to add art and books to complete the look.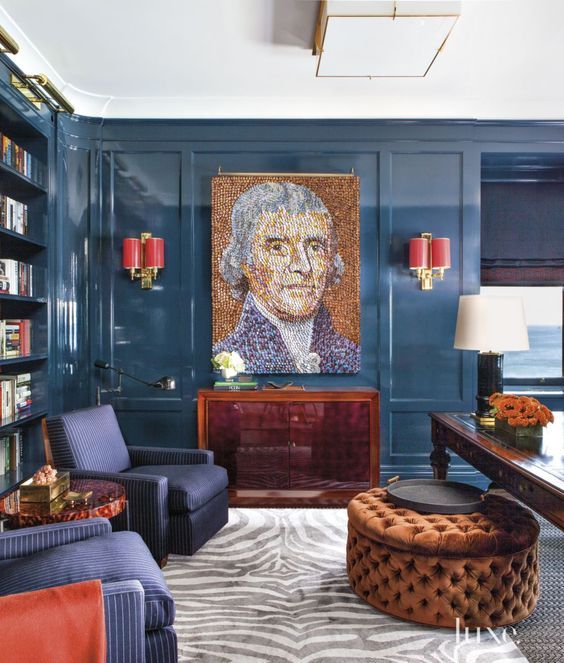 COW HIDE RUGS
25. No masculine office is complete without a cow hide rug. So thrown down a textured rug that adds a natural, but manly element to your home office.
Hide rugs can be layered over sisal, hardwoods, or even carpet to fit into your existing space seamlessly.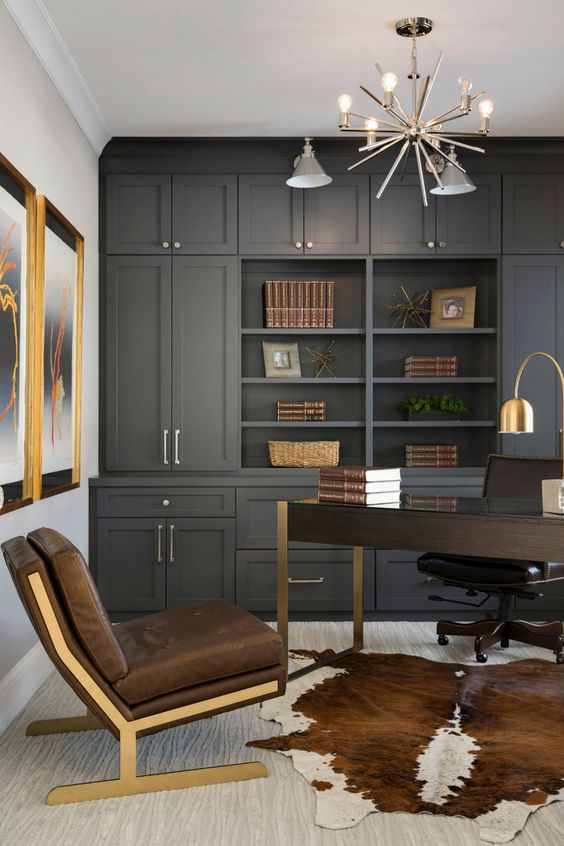 GET THE PAINT COLORS
It's no surprise that most of these rooms have one thing in common (other than computer free desks) and that's a great paint color to bring the whole room together.
Here are my top picks for masculine paint colors: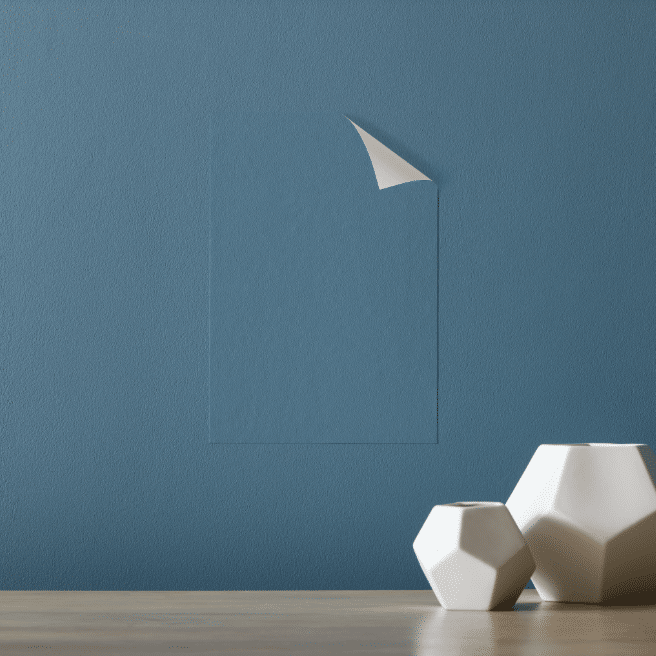 TEST PAINT COLORS
I ALWAYS recommend testing large swatches of your paint colors before committing to the entire house. It's an expensive mistake that you don't want to make, so I recommend using Samplize peel and stick swatches to test out your favorites.
Spending $25 on paint samples is always cheaper that a kitchen full of cabinets you hate and a heartache you can't afford to fix.
Delivered overnight so you can make those pressing decisions in a crunch
Crazy accurate color from my favorite paint vendors like BM, SW & Farrow & Ball
No painting, no mess, no clean up!
Peel and stick (and come off clean)
Or don't peel off the back and use over and over again!
So, don't forget to test your paint colors!!
The colors you see in other people's homes won't look the same in your home. Often times, photos are edited, lightened or color corrected.

Don't rely solely on photos to make your decision- trust the process and sample the paint.

*Expert Advice*
COMPUTER MONITORS, CORDS &WIRES
This post contains affiliate links- meaning when you purchase through the link and I receive a small commission. It feeds my Starbucks addiction & for that I thank you! You can see my full disclosure policy here.
While I recognize the photos above of masculine home offices are professionally designed and most don't have computers, there are some things we can do to work around computers and cables.
First, cable management is key. Let's contain those cables and cords with these tools.
Under Desk Cable Organizer | Web Cable Box
Next, another great addition to a home office is a standing desk. Here are two, a very basic standing desk and a more custom desk.
Standing Desk | Executive Standing Desk
Lastly, the best way to hide cords and computers is to actually distract the eye from them by saturating the room with color and adding large scale artwork to the walls.
MY FAVORITE WORK FROM HOME DESKS
I've sourced a few of my favorite desks for home offices. These check off both boxes for functional and nice looking.
The Ultimate Masculine Office
Have you found yourself working from home either permanently or for an extended time?
Taking a few days to order bookcases and a functional desk, painting the walls and trim and maybe even upgrading the light fixture will give you a space to work that feels like you.
As studies have proven that employees who work from home are more productive, make sure you're not burning yourself out working at the dining room table with no designated space to yourself.
You need to corral your paperwork and have supplies like earbuds, your laptop, files, and paperclips handy.
You can ensure a smooth WFH environment by implementing the above design tips to create your ideal masculine home office in a weekend.