$10 Mini Lamps NEW at Target that You Don't Want to Miss
The mini lamps you didn't know you needed, now at Target, to add to your home decor collection. Perfect to tuck into a bookshelf, light the kitchen counter, or swap out with the traditional night light.
Target just dropped these new lines that include mini lamps. And if you've ever tried to find mini lamps, it's both hard and expensive to find. But now, with this new collection, you can buy one of the many style mini lamps in the color of your choice to decorate that special spot.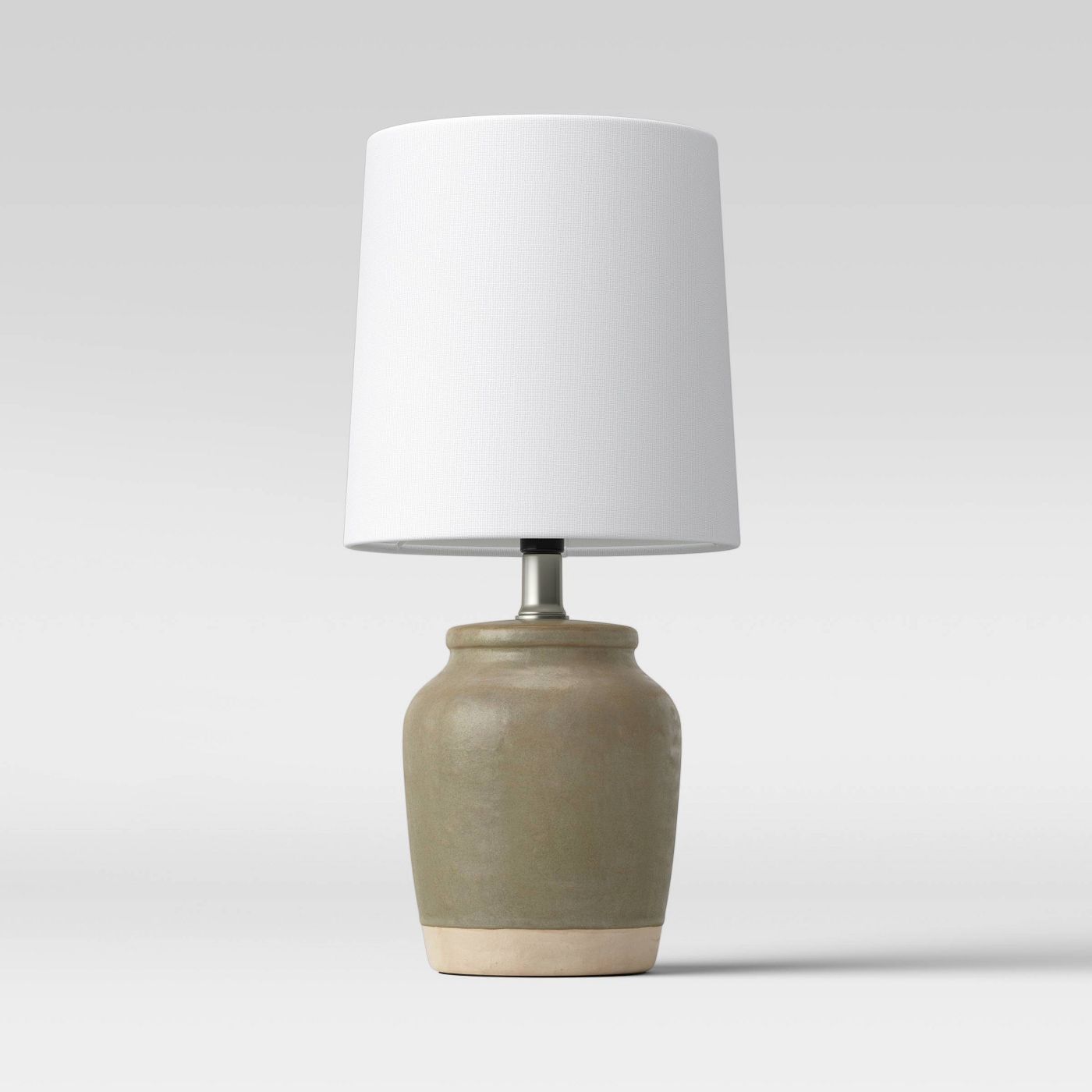 USES FOR MINI LAMPS
One of my favorite places to stash mini lamp is in a bookcase or on a bookshelf, but that's not the only use. Here's a quick list of ways to use these cute little lamps to turn your home decor up a notch.
In a bookshelf
Open shelving in kitchen
Kitchen counter/built in desk area
Over the laundry room washer
Instead of a nightlight
On the mantle
Very narrow table (hallway, dark corner)
What Not to Do
While I've shared my favorite uses for mini lamps around your house, I want to reiterate that these little gems aren't meant to replace normal lamps and lighting. They are extras, special pieces tucked in small spaces. You should still follow the lighting rules for lamps that provide function and layers to your normal spaces.
As a quick reminder, lamps should be 28″ tall + and ideally a 30″ lamp gives off that substantial feel that makes the room look complete. You can read more on lamp and chandelier guidelines in these articles.

My Favorite Mini Lamps New to Target
Let's jump into the line up of my favorite little mini lamps now available at Target stores and online. Last week I ran into my local Target east store (we have two in town) to grab an under the sink container and saw a display with these new lamps.
They are 12.5″ tall, which is more than half the height of an acceptable size standard lamp for an end table or console table. It makes them perfect for placing in smaller spaces or to add an unexpected little decor piece to an area you wouldn't normally think needed a lamp.
Because these particulate lamps, mostly from the Target Threshold line, have different textures and colors available it makes them an even better mini lamp choice.
My favorites range from black to olive green, to a deep cognac colored brown lamp that has a pottery type look, to an off white with textured stripes. They look expensive, but are $10- $15 which is perfectly affordable for any space.

TARGET MINI TEXTURED LAMP
For our newly painted family room, I snagged the striped texture mini lamp, which was in stock at my nearest Target! It looks perfect tucked into the built in bookcase. Plus, it provides much need light in a room that gets great natural light during the day, but is basically a batcave at night with no ceiling fixtures, ha!
Tips to Make Mini Lamps Look Expensive
Ten to $15 is crazy inexpensive for a lamp, so these are a great deal. But there are ways we can make sure to buy to most expensive looking lamps for the best price.
Opt for a linen colored shade instead of stark white
White looks cheaper than linen colored
Texture adds more impact than smooth
Two tone or dipped look handcrafted and unique
Avoid shiny, bright white as it looks mass produced (there's a place for it, just not in mini form)
Now that I've shared the best of my lamp size, placement and style tips, I'll showcase the individual mini lamp choices from Target. At the bottom I'll give quick links to purchase them.
Polyresin Wood Accent Lamp – Threshold™


Metal Stick Lamp Mini Lamp – Threshold™

Textural Ceramic Mini Lamp – Threshold™
Embossed Striped Pattern Ceramic Mini Lamp – Threshold™
Textural Ceramic Mini Lamp – Threshold™
Ceramic Glaze Accent Lamp White – Project 62™
Traditional Wooden Accent Lamp – Threshold™
Quick Links to Buy Mini Lamps at Target