30 Day Challenge Printables for 2021
Use these 30 Day Challenge Printables to track your progress in 2021. With the new year around the corner, now is the time to start goal setting.
So whether you have a fitness & health goal, a decluttering challenge or to drink more water, these 30 day habit trackers will be perfect to keep up the motivation.
I've created various 30 day habit trackers so that you can choose the one that fits you best! I've rounded them all up at the bottom of this post. Let's get tracking.
WHY I CREATE THESE FREE PRINTABLE 30 DAY TRACKERS
Do you ever look for something and can't find it. Sometimes it's a piece of furniture other times it's a cleaning list. No matter what it is, there are times when you need something and can't find that perfect thing to meet your need.
That's why I created these printable 30 day trackers. I couldn't find ones that looked the way I wanted them to, so I create one. I like florals, so I made a floral printable. And I really like rainbow colored printables. They are bright and fun to keep me motivated, so I created one of those too!
I hope you will find a 30 day tracker that you like too! You can download them below.
WHAT TO USE A HABIT TRACKER FOR
While you probably have in mind how you will be using this Free Challenge Tracker Printable, there are a thousand things you could use it for. I've made a list of different ways you can put this 30 Day Challenge Tracker Printable to use:
cleaning
decluttering
sleeping habits
healthy eating
meal planning
exercise log
daily bible reading
daily work goal
medication tracker
meal tracker
water consumption tracker
finance tracker
quit smoking
daily house cleaning
take vitamins/supplements
water plants
save money
daily reading
avoidance:

no alcohol
no snacking
cut out sugar
no caffeine
quit smoking
HOW TO PRINT THESE FREE PRINTABLE CHALLENGE TRACKERS
Download the PDF files
Open the PDF files in Adobe Reader
Print out your habit tracker page at home (with a color printer!)
Put the page where you will see it & use it EVERYDAY!
DOWNLOAD YOUR 30 DAY CHALLENGE TRACKER BY CLICKING THE GRAPHICS BELOW
To Download the PDF: Click the desired graphic and it will download. Don't right click and save, the quality will be poor :)
GOLD 30 DAY HABIT TRACKER
This original 30 day challenge habit tracker printable is tried and true. You can read all about how to use a habit tracker and how to meet your goals here in this post.
BLUE 30 DAY CHALLENGE PRINTABLE
New this year for 2021 is this blue and gray printable challenge tracker to keep up with your daily goals.
PINK FLORAL 30 DAY HABIT TRACKER PRINTABLE
I love a good floral printable so I created one for keeping up with 30 days worth of habits or a 30 day challenge push. Grab it below by clicking on the graphic to download it.
30 DAY RAINBOW HABIT TRACKER
Next up is the Rainbow Printable 30 Day Challenge tracker. It's bright, colorful, and cheery!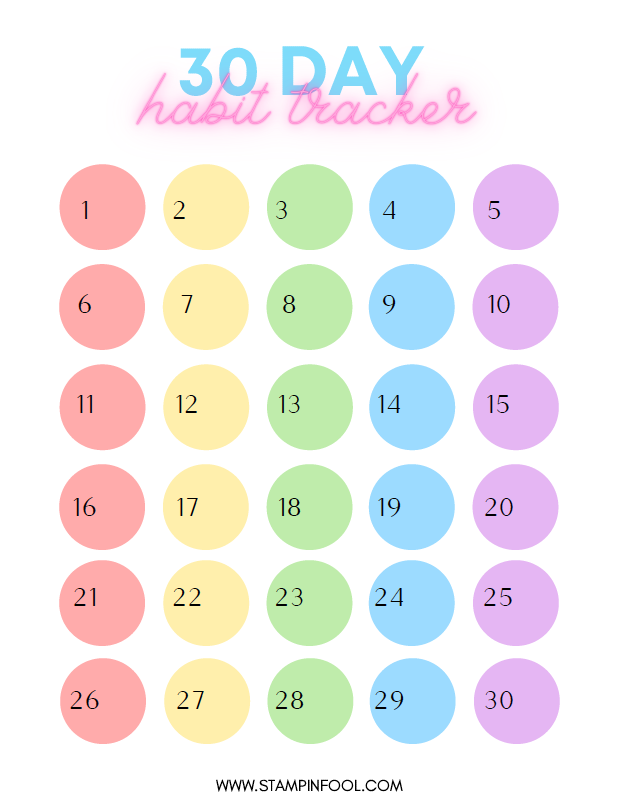 30 DAY CHALLENGE TRACKER
Another free printable tracker that mixes neon and rainbow! It's like the 80's transformed into a habit challenge tracker.
PRINTABLE 30 DAY TRACKER


CIRCULAR HABIT TRACKER
https://www.journalfreaks.com/bullet-journaling/free-printable-bullet-journal-pages-the-basics/attachment/circle-circular-31-day-habit-tracker/
2021 HABIT TRACKERS