Need Help Reaching Your Goals? Use This FREE 30 Day Habit Tracker Printable
Guess What? I've made this awesome FREE 30 Day Habit Tracker Printable to help you reach your goals. Bad habits don't happen overnight, and breaking them overnight doesn't happen either. So whether you want to start a NEW habit or want to end a bad habit, this printable will keep you going.
Why I Made the Free 30 Day Habit Tracker Printable
Last week, I gave you a quick update that was starting the Whole 30 eating plan. You know I struggle with seeing things through. I have a thousand unfinished projects. I don't want to fail at this project. So in order to keep myself disciplined about it, I made printables to share with you!
You can use these babies to track your progress, stay on the wagon, and countdown to push through. I am excited to check off all 30 days of the Whole30 and then start again.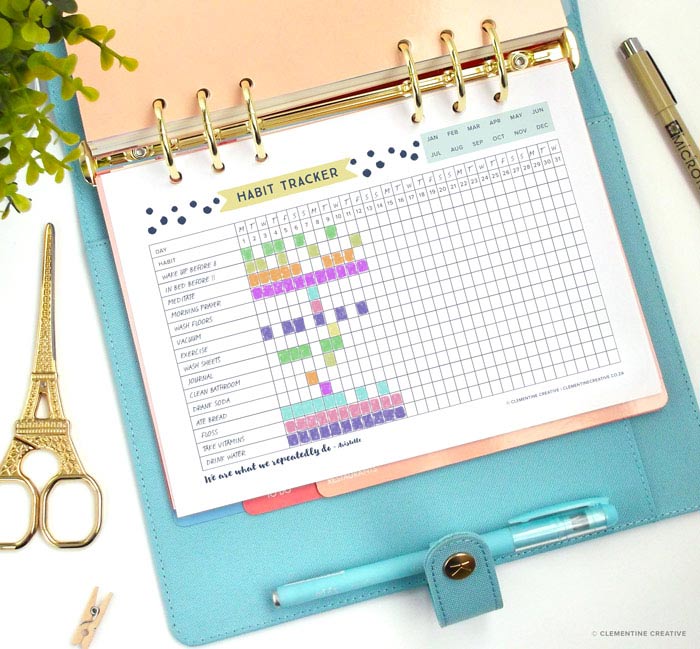 30 Day Habit Tracker Printable: WHAT IT IS & HOW IT WORKS
A habit tracker is a visual way to measure whether or not you are keeping up with a goal. The best example of a habit tracker in its most basic for is a calendar. For this, you can print out a calendar and cross off the days with an "X" as you complete them.
Set A Goal
You can use any means of tracking a habit. There are apps, there is the old school form of a calendar and there are printables. For me, using a printable is the best course. It's great because it's visual. I can keep it out on the kitchen counter so that I see it every morning. It keeps me motivated to stick with the plan!
But before you start using the habit tracker, you need to set a clear, measurable goal. Write down your goal using the SMART method. I'm sure you have heard of the SMART acronym before, but here's a quick recap of what it means to set smart goals that you will be tracking with your habit tracker printable.
S – specific
M – measurable
A – attainable
R – relevant
T – timely
Specific
Setting specific goals means they should be well defined. Where do you want to end up? Examples
Lose 10 pounds in 30 days
Cook dinner every night for one month
Go to lunch with a friend each week
Write 4 blog posts every week
Measurable
Amounts, dates, percentages, pounds, dollars, number
How much ____ by what time frame ____
Attainable
When writing down your goal, make sure it is attainable or you will be discouraged. If you only have enough time to do X, don't make your goal to accomplish XYZ. Bring your goal down in scale so that it is still something to work towards, but not so far off that you can't realistically reach it, i.e losing 100 pounds in a month.
Correct: I will cook dinner 5 nights this week.
Unattainable: I will cook dinner at home every night this year.
Relevant
Keep your goals relevant. The best way to do this is to create specific goals for each thing you want to achieve. If it is a health related goal- keep it to health. If you want to get $5,000 in savings, make that your savings goal. It's better to have multiple goals than to combine multiple unrelated things into one goal. It is easier to achieve specific goals and to stay focused on the work that you need to do to reach that goal.
Timely
You goals need a deadline. Create a realistic timeline to complete your goal in increments. A great way to plan out a goal strategy is to break it down into three parts over 90 days. Break the 90 days down into 3 months of focused strategy points. Each month you add a new task(s) to the strategy to work up to the final plan and achieve the goal in a realistic timeframe.
Now that you know how to set SMART goals, you are ready to put those goals to paper and use the printable habit tracker to keep up the hard work every day!

3 REASONS TO USE A HABIT TRACKER PRINTABLE
Did you know that it takes 66 days for a behavior to become automatic (Psychology Today)? That's two months+! And that's just the start of creating a new habit or breaking an old one (goal). The takeaway here is that it can take far longer than the old adage of 21 days to make or break a habit.
So to keep up with your habits and goals, you should use a habit tracker printable to keep track of your progress. Here are three things that using the printable will do for you:
It reminds you to act daily
Provides immediate satisfaction & positive reinforcement
Motivates you to keep going
HOW TO USE THE HABIT TRACKER
It's super simple to use the habit tracker. Like in the calendar example, you check off the box daily. You can color it. You can X it off. Or you can highlight it. Which ever way you choose, you will want to print out a physical copy of the 30 day habit tracker.
After you print off the habit tracker, put it somewhere you will see it EVERY DAY. Keep it on the kitchen counter, in the bathroom where you get ready, by the front door or in your planner. Wherever that place is for you, pick somewhere you will definitely see it daily.
Make sure you check it off daily. Part of keeping up with a habit is keeping track of it as well.
So use those highlighters or sharpies and check off a box each day to show the progress you are making. It's going to keep you motivated and moving on with your good habits!
USES FOR A HABIT TRACKER
While you probably have in mind how you will be using this Free Habit Tracker Printable, there are a thousand things you could use it for. I've made a list for you of ways you can use this free 30 Day Habit Tracker Printable:
healthy eating
meal planning
exercise log
daily bible reading
sleep log
daily work goal
medication tracker
meal tracker
water consumption tracker
quit smoking
daily house cleaning
take vitamins/supplements
go outside & get fresh air
call a friend/family member
practice self-care
do a load of laundry
water plants
review finances
save money
meditate
read something encouraging
habits of avoidance:

no alcohol
no snacking
cut out sugar
no caffeine
quit smoking
HOW TO RECOVER FROM A MISSED DAY
Missed days happen. Sometimes that day isn't a win and you fall off the wagon. But we want to get you back on the wagon. This simple rule will keep up your good habit:
Never miss twice.
If you miss one day, let it go, give yourself a break and get right back to it the next day. If you miss more than one day in a row its sooo hard to restart. That's why when you miss a day, make an intentional effort to do it right the next day.
If you eat pizza, make sure you get back to the healthy eating the next day. Don't beat yourself up over it, but commit to making a change the next day.
I find that its easy to fall off on the weekends, regardless of what it is- because it's two days, its a spiral of repeated mistakes. The repeating is what gets you. So commit to only messing up one day in a row. Jump back on the wagon on the next day and keep at it.
You will reach your goals and you will kick that bad habit if you keep with it! So, print off two or three of these free 30 day habit tracker printables and get started on your way to meeting that new goal.
How long should you track your habit (on a printable)?
Because the research answers come back with a wide range between 21-100 days depending on the person, and 66 days comes in as the accepted average, you should aim for 90 days or three months. This gives you a chance to solidify the habit and a good chance of long term success. With this 90 day timeline, if you are on track after 30 days, it gives you the ability to add more tasks towards reaching your goal.
How to print this free printable habit tracker:
Download the PDF files below
Open the PDF files in Adobe Reader
Print out your habit tracker page at home with a color printer
Place the page where you will see it & use it DAILY
Download your habit tracker by clicking the buttons below:
To Download the PDF: Click the desired photo and it will download. Don't right click and save, the quality will be poor :)
CONCLUSION
We've talked about what a habit tracker is and how to use it. Let's sum things up one more time.
Set a SMART GOAL

Specific
Measurable
Attainable
Relevant
Timely

Write down your goal
Print out the 30 Day Habit Tracker (or 3 for 90 days worth)
Place the Tracker where you will see it DAILY
Keep a marker, pen, or highlighter next to the tracker
Mark it off every day.
After 90 days, Celebrate success.
There you have it. A perfect FREE 30 Day Habit Tracker Printable to help you keep on top or you new habits and goals. Have fun tracking them and enjoy the free printable!