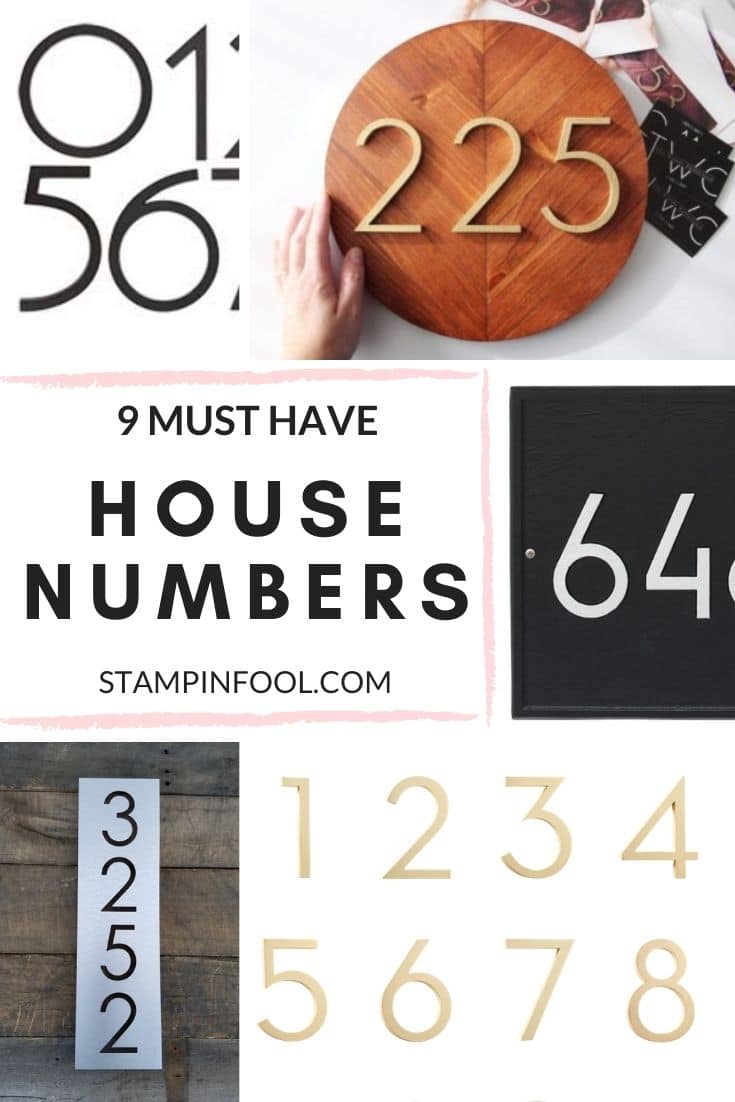 9 MOST POPULAR MODERN HOUSE NUMBERS & ADDRESS PLATES IN 2021
Recently, I've been thinking a lot about curb appeal and where our house is lacking. While plants and hardscapes take time (and money) to grow into place and organically change the appearance of your house, updating your house numbers or address hardware is an inexpensive way to add major curb appeal.
Not only does having a beautiful set of house numbers add instant curb appeal, it also makes finding your house easier for friends and visitors (and let's be honest, the pizza guy).
I've scoured major retailers and artisan shops on Etsy to round up 9 0f the best house address numbers I could find. You're going to love them as much as I do.
From modern to traditional, we have a little bit of everything. We've even linked where to buy them so that you can add your own dash of curb appeal.
HOW TO CHOOSE THE BEST STYLE ADDRESS PLAQUE FOR YOUR HOME
Before we dive into my favorite places to order house numbers and address plaques, let's discuss what makes a house number a good fit.
We want the numbers to complement the house, not compete or look out of place. In order to have a great fit, you'll want to choose the proper size and style as well as buying a great quality product.
Here are the main points to address (pun intended):
Style of the Home
Outdoor/weather proof
Large enough to be visible
Perfect Placement
Color Choice
STLYE OF THE HOME
We talked a lot about keeping with the style of your home in the article Planning and Budgeting for a Home Decor Project and it's definitely worth mentioning again.
If the outside of your home is a Craftsman, you should be true to that in your design choices. The same goes for your landscape and hardscape choices.
Here are a few more examples of congruent decor:
New England Coastal Home
Exterior: Cape Cod or Shingle style home; wooden shingles, steep roof lines, large windows, centered front door, symmetrical shutters, white trim, hydrangeas, brick walkways
Interior: traditional architectural wainscoting and trim, traditional color schemes, columns, white kitchens, hardwood floors, wicker, lounge and groove or planked walls in a cottage style home
Suggested Finishes: Blue and White, plaid, stripes, gingham, brass door knocker, nautical themes, pineapples symbolize hospitality, natural woven rugs, cast iron accents
Farmhouse
Exterior: Crisp colors with contrasting door, sprawling wooden porches, black lantern lighting, square columns
Interior: Open shelving, wood floors, harvest style table, mixed furniture that is neutral and informal, barn doors, slipovers, painted furniture
Finishes: butcher block, apron sink, Light walls w/ wood floors, natural textiles, beaded chandeliers, black iron basket style lighting, iconic farmhouse style pendant
Craftsman
Exterior: Horizontal lines with a roof that extends past the exterior walls forming the iconic columns and rafters, thick tapered columns over a large front porch or portico, painted wood siding or stone accents, multi paned six over one windows, top paned front door, exterior paint earthy colors: sage green, sand, brown, maple, burnt red;
Interior: Thick straight edge trim around windows and doors, boxed ceiling beams, originally cozy rooms (now often made into open plan), fireplaces, square post staircase
Finishes (historically): dark or midtone wood, flat panel cabinetry, stone, beige, interior columns, ceiling beams and flush mounts, heavy black hardware
Finishes (contemporary): white painted beams and built ins, clearing beams, neutral palate, black iron fixtures, mission style wainscoting, straight or globe lighting (no floral or gilt) straight legged furniture
You can see how some of these elements overlap, namely, black and iron lighting, wood floors, white walls, and shiplap. However, there are elements that separate the two styles. Adding mid century numbers to a Coastal home would feel out of place. Choosing back traditional numbers would look great on both a cape cod or a farmhouse.
OUTDOOR USE/WEATHER PROOF
Purchasing house numbers that will hold up to weather goes without saying. You want your money to be well spent, so do a little research and make sure the material you choose is going to hold up to your climate.
Next, wood doesn't hold up well in the extreme heat and scorching sun, so if you're in that climate, opt for something metal or concrete that will withstand the elements.
Lastly, wood doesn't hold up as long to salt, so choose a finish like aged brass and skip the aluminum fixtures.
LARGE ENOUGH
Next, you'll want to choose the correct size. Most house numbers begin at 4″ tall. If you have oversized columns or a massive double height front entryway, you may be able to use 6″-8″ numbers or a plaque that accommodates 6″ numbers.
It's a good idea to test out the dimensions with painters tape before purchasing.
Apply tape in 4″ increments or with 4″ numbers written in permanent marker. Step back to the curb to make sure the numbers are readable and visible from the street/driveway. They should be noticeable, but not oversized.
PERFECT PLACEMENT
Perfect placement will depend on the style of the front of your house. Typically, you will hang the numbers on the column closest to the front door (for a deep porch), next to the front door horizontally- below the light fixture, or vertically beside the door frame. You may also opt to place them above the door frame with a large casing so long as it remains visible from the street.
COLOR CHOICE
As for the color, choose a contrasting color so that they numbers do not blend in so that they are unreadable. If you have a dark exterior, use gold numbers or a light colored plaque. If the exterior or columns are white, opt for black numbers.
In conclusion, keeping with the current style of your home's exterior is best inexpensive way to up your curb appeal and provide an extra bit of personality to your home. Without further ado, I give you the top 9 list of house numbers.
THE BEST HOUSE NUMBERS IN 2021
Now that you know how to choose the best size and placement for your house numbers, let's look at those 9 out of this world house and address numbers.
I'm starting off with a traditional shop, Pottery Barn, that has added some modern elements. These clean lined white numbers are set on a perfectly square black plaque and would pop against a white house with black shutters. You'll want to hang this plate beside your front door for best placement.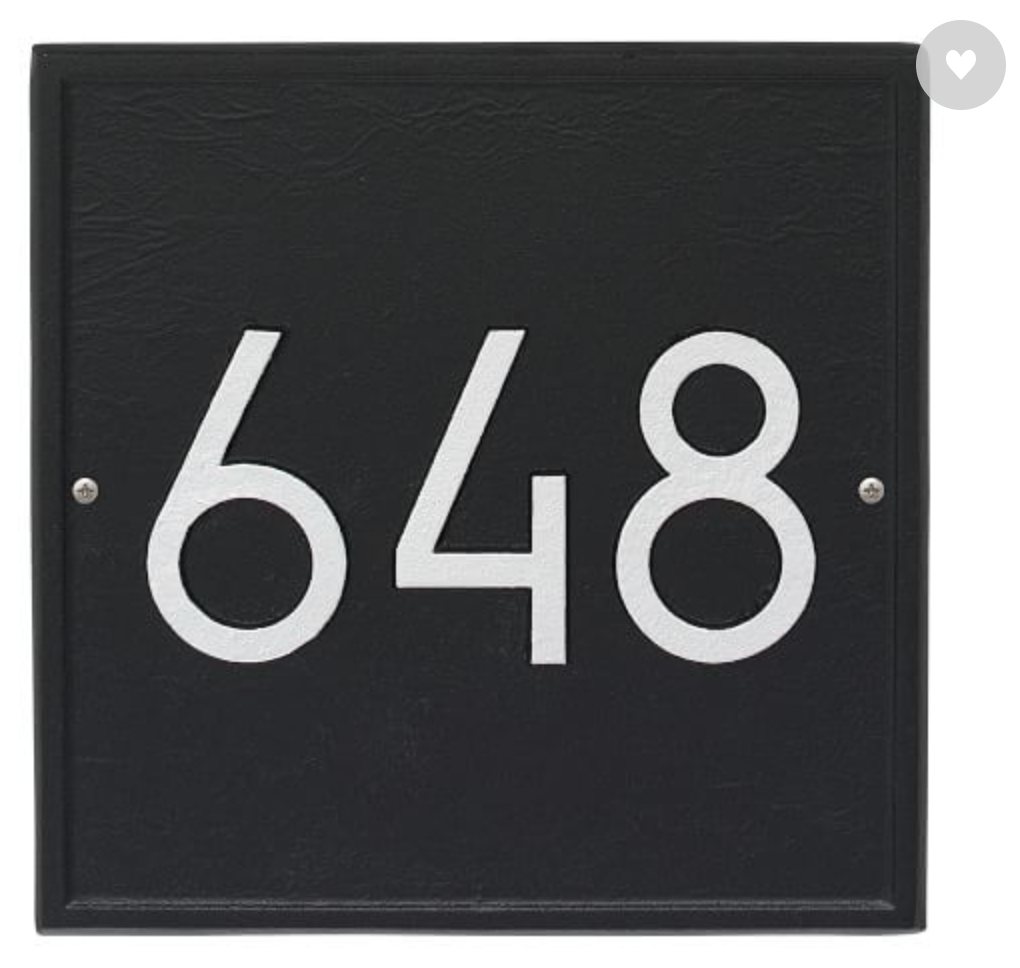 These large aged bronze address numbers from House of Antique Hardware are reminiscent of Studio 54. The font has that mid century modern appeal that would look great on any house, but especially on a mid century style one story home.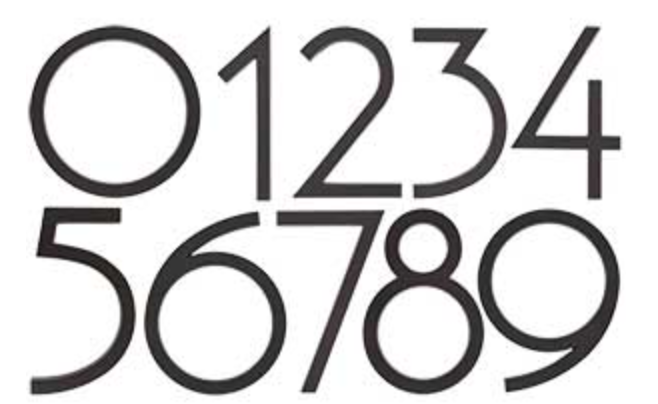 Rejuvenation has done it again! As far as Brass goes, these are the gold standard, pun intended. The modern crisp style is beautiful under the sconce, flanking the front entry door as seen below.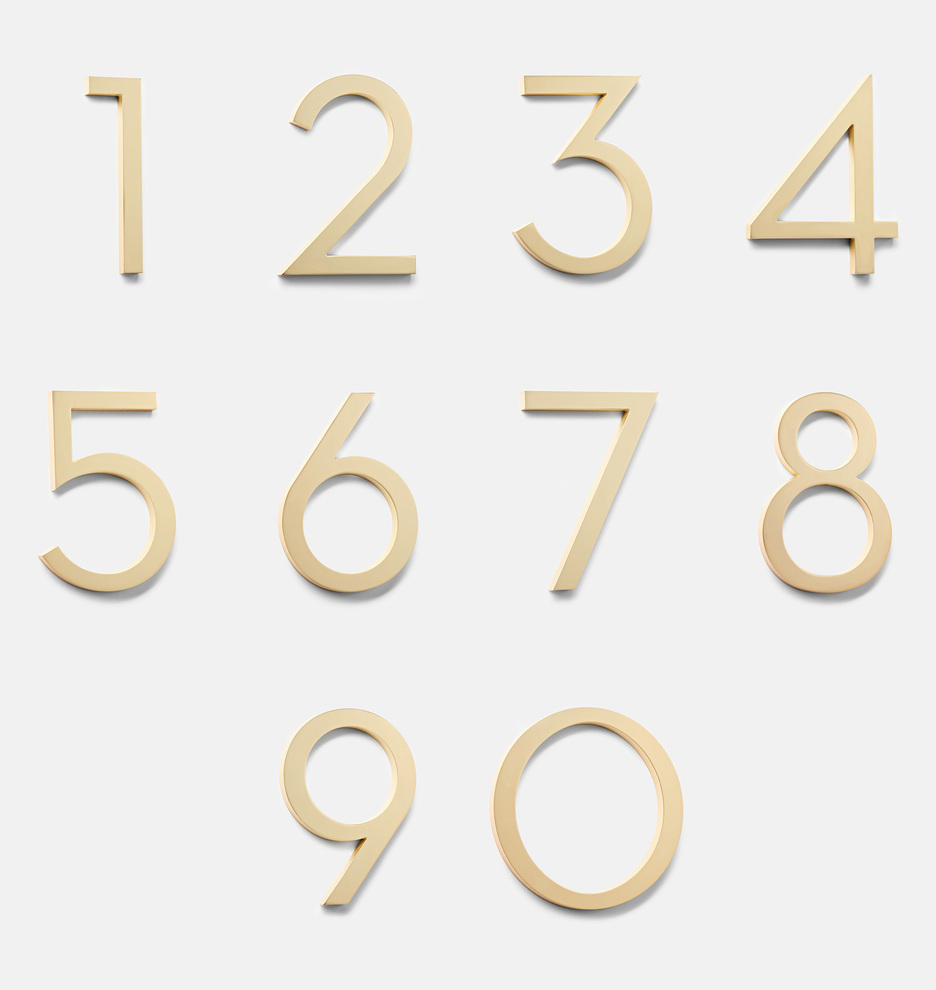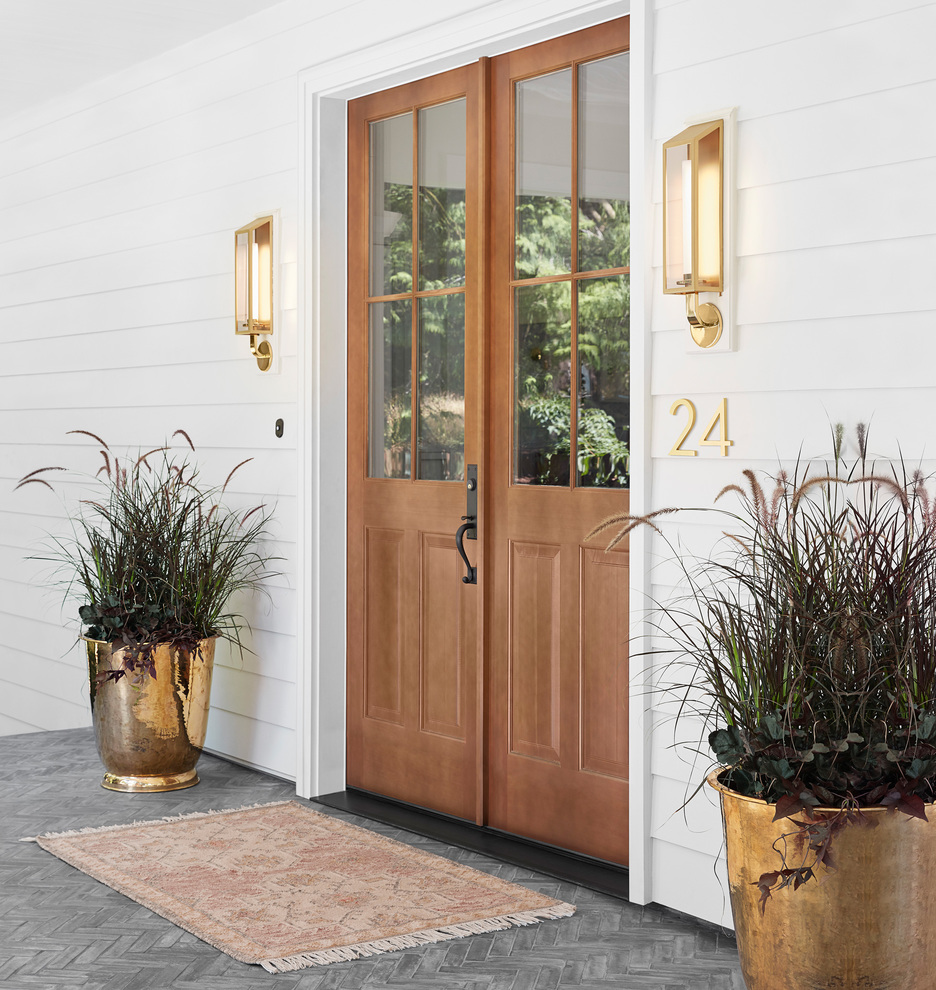 It's all in the name for these standard, traditional address numbers and letters. We've searched high and low for address letters as well as numbers and these classic 4″ letters will complement your arts and crafts or colonial home perfectly.
Plus, having a letter in my address bar, I know it's not easy to find letters in the same style as the house number.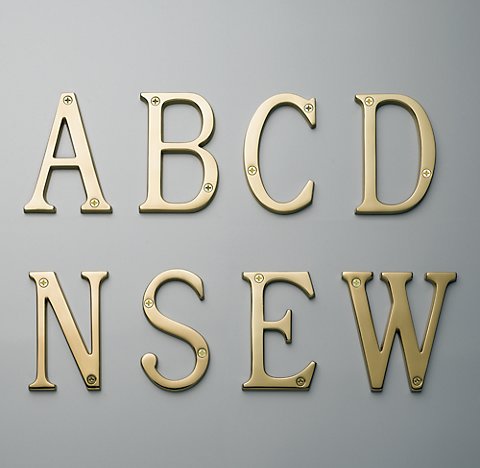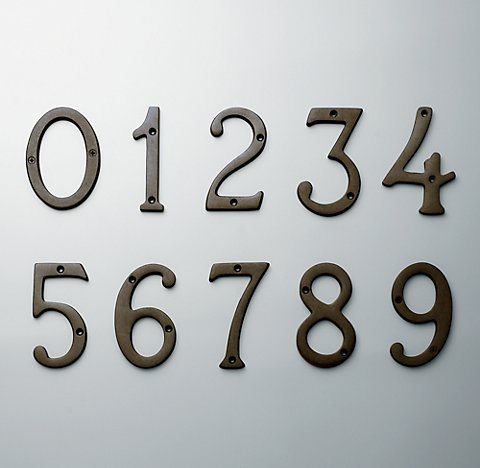 I tend to turn to Etsy when looking for antique or unique home decor. The site has an abundance shops that make home address plaques. The concrete + wood in this sign fit well with mid tone wood that is currently trending.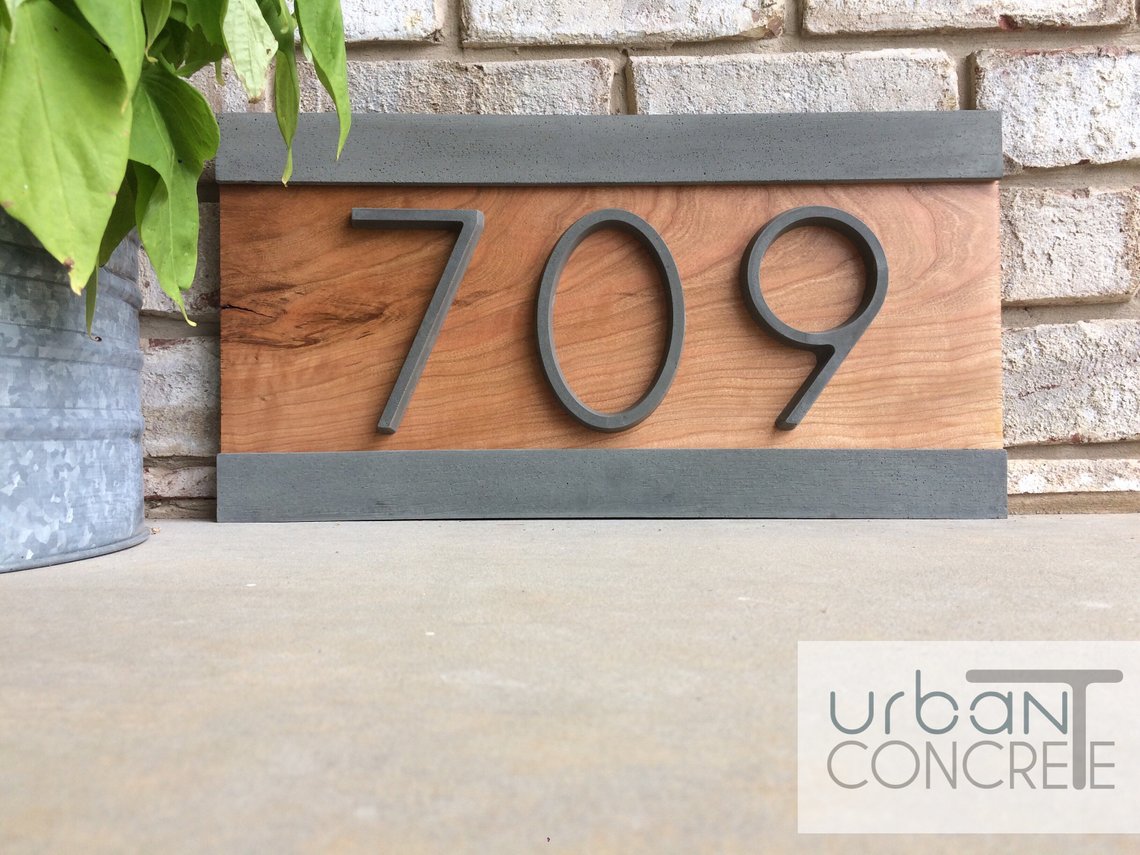 I was struck again on Etsy by these craftsman style number and directionals for your front door or porch posts, in a deep bronze. They measure slightly larger than standard 5″ height. From BreganMetalWorks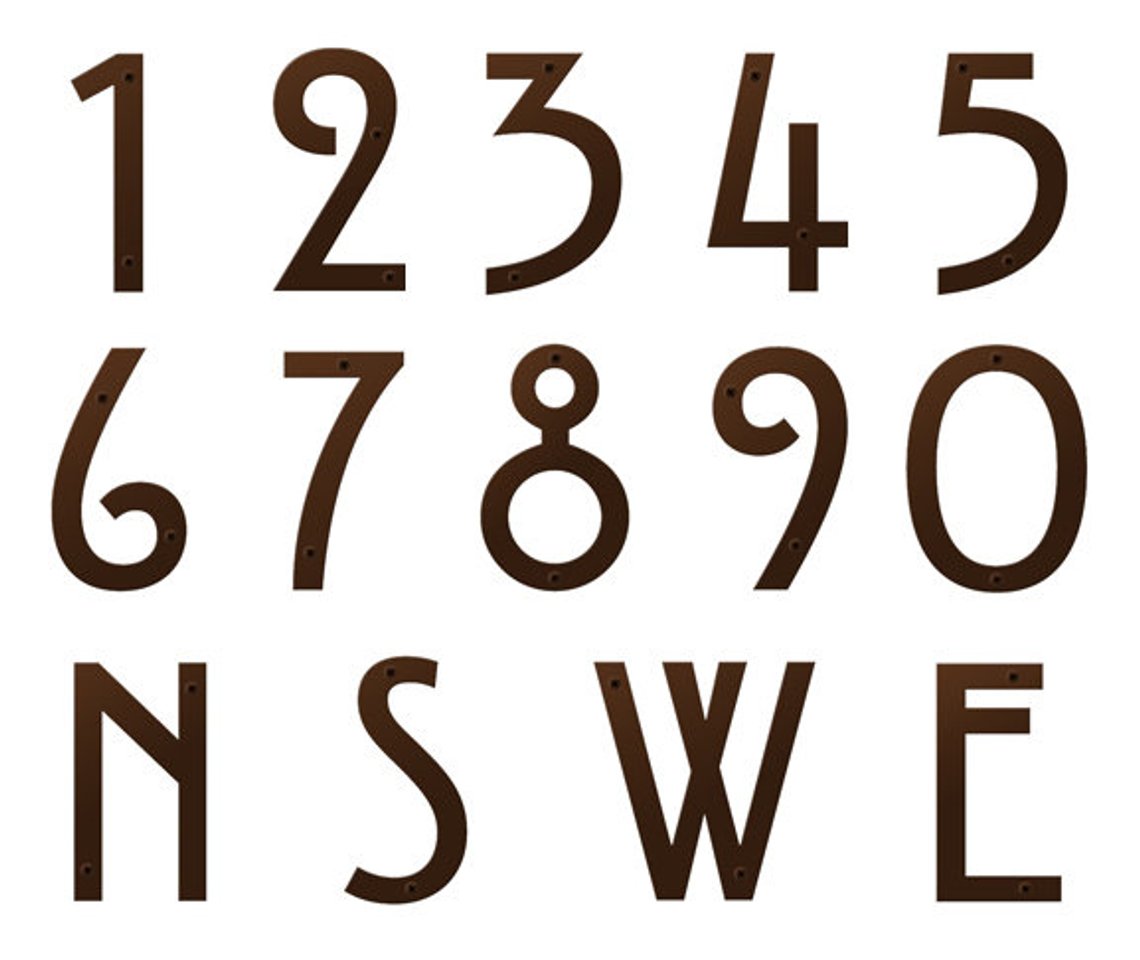 I'm loving the warm wood tone mixed with the matte brass numbers. The diagonal wood planks add interest to this round house number plaque.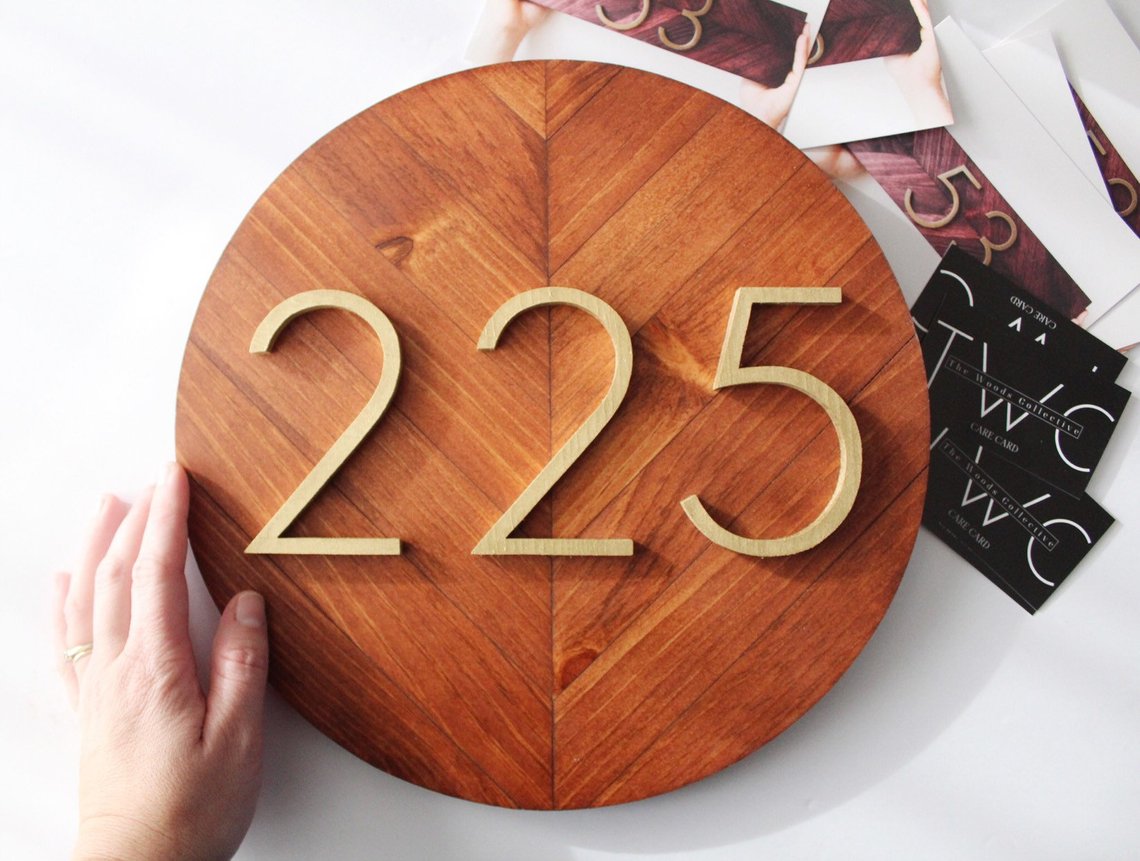 If you have porch posts or a narrow entryway, you may need a vertical address plate. This modern cutout sign post checks all of the boxes: clean lines, sans font, brushed metal and the ability to rear mount and conceal the hardware. It's a win-win.
I am loving the Urban Mettle Etsy shop when it comes to showing off your house address in a clean, sophisticated way. If you have a dark exterior paint color you have to have this white and gold plaque to contrast. Alternatively, pair it with your white house to make the numbers stand out, but the hardware blend in.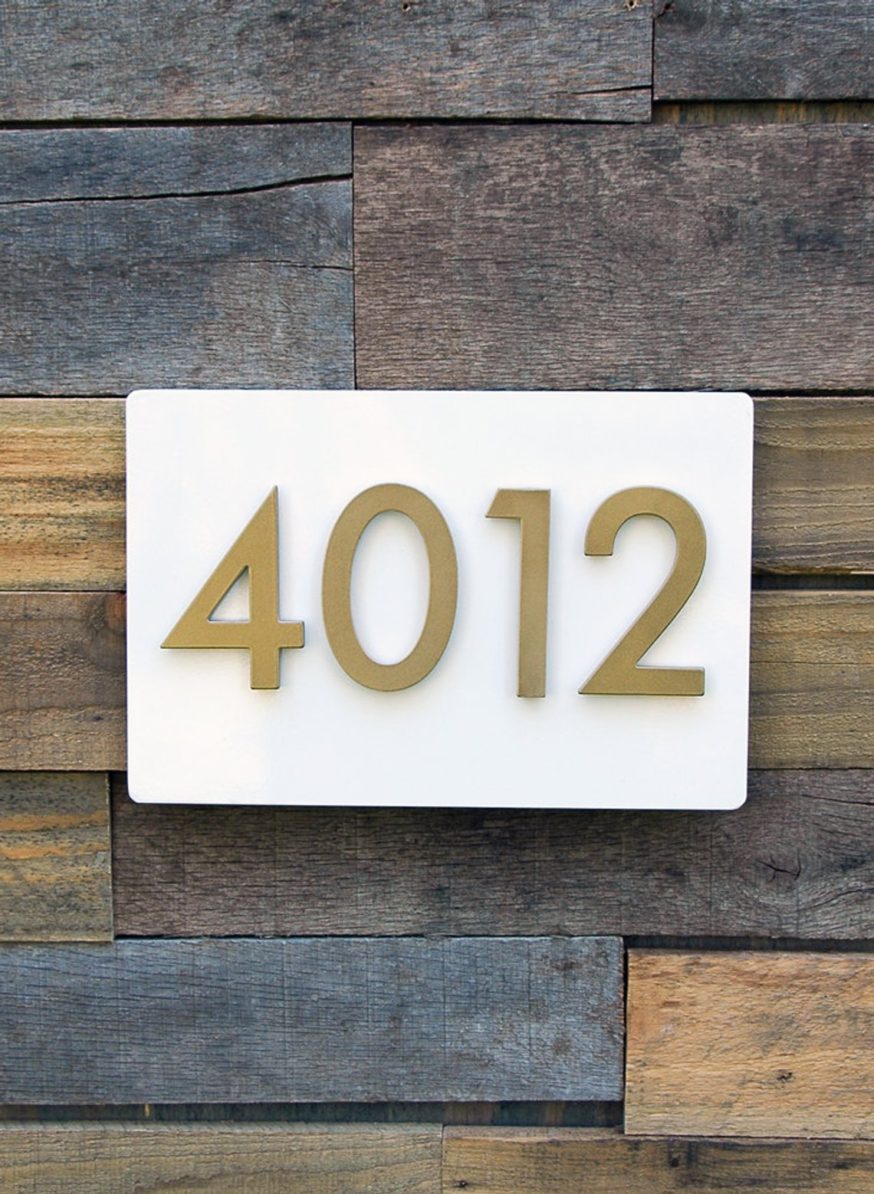 WHERE TO BUY HOUSE NUMBERS
If you are looking for an elevated curb appeal, skip the hardware or office supply store number and opt for a custom sign.
Etsy
Rejuvenation
Restoration Hardware
CONCLUSION
There you have it, our Top 9 to help you choose the perfect address numerals for your home. Which style do you like most? Traditional address numbers or modern plaques? Let us know in the comments below. Don't forget to send in photos of the house numbers you chose to be featured on the blog!
ADD TO YOUR CURB APPEAL WITH THESE POSTS
How to Pick the Perfect Size Light for Any Space
THE ONLY WHITE PAINT YOU'LL EVER NEED