THE ONLY WHITE PAINT YOU'LL EVER NEED
BENJAMIN MOORE WHITE DOVE
I've done my fair share of writing about the best paint colors, painting all the rooms, and really studying why colors work. In all of that time, I always come back to one color, Benjamin Moore White Dove.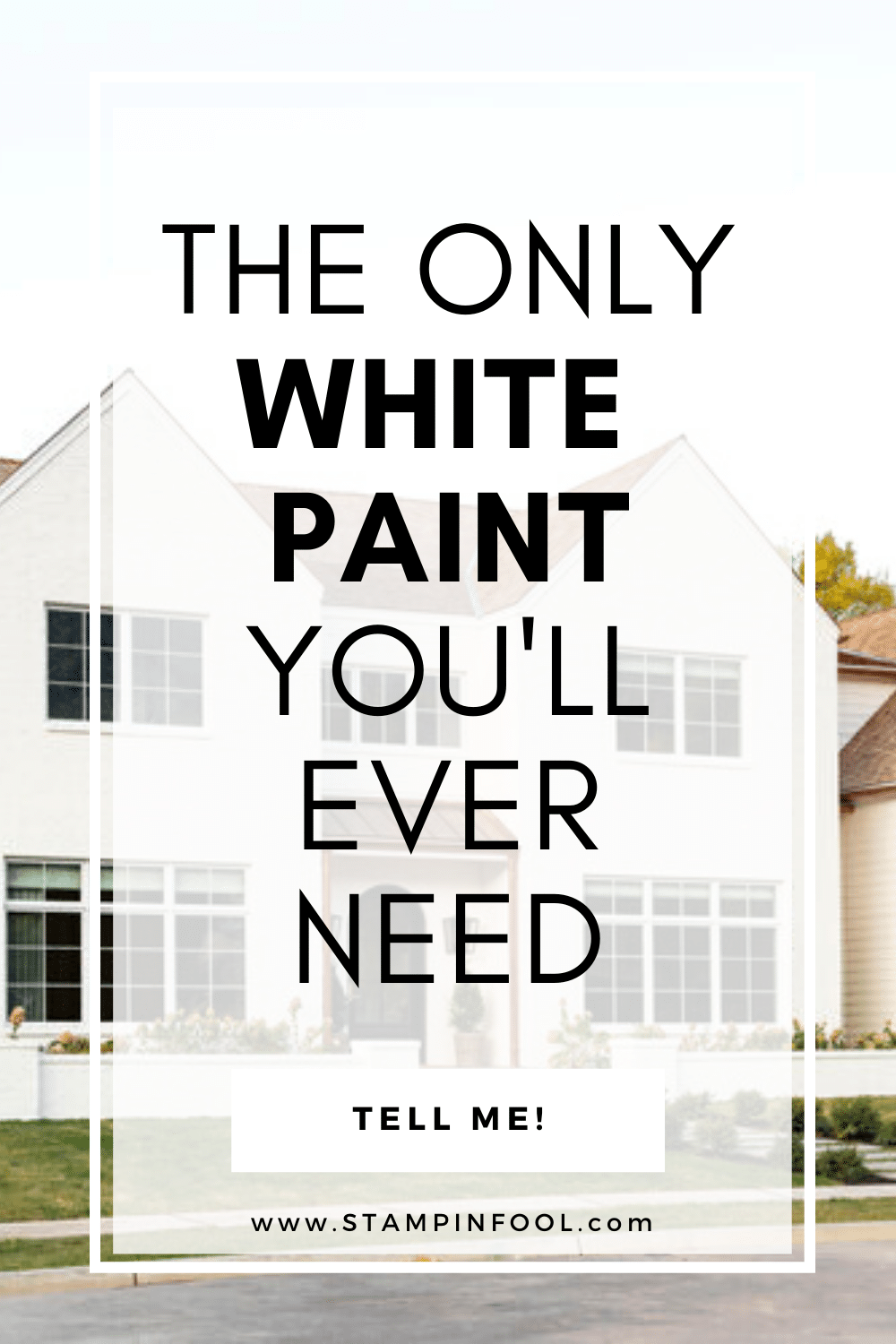 Now you should know that there are many factors that go into selecting the perfect white paint color for any room of your home and we'll discuss those. But, before you paint the entire house Benjamin Moore White Dove, you need to paint a sample board. I'm going to say it again. YOU MUST PAINT A LARGE SAMPLE BOARD.
White BM White Dove, really is my favorite white paint and works in almost any situation and can correct any other color issues in a room, there are a few times it may not be what you're looking for. So, we need to sort that out by using a sample board to verify. I'll even give you a backup color if this one doesn't work out.
WHY I LOVE BENJAMIN MOORE WHITE DOVE
White Dove is the best white paint color in almost any circumstance because it can mitigate existing decor issues. What I mean by that is that if you have a stone fireplace, orange oak floors and a beige (or gray) sofa, White Dove has the slightest warmth to it that will pair perfectly with the warm toned floors, but not conflict with the cool gray tones of the stone.
UNDERTONES
What are Paint Undertones? Undertones are the result of blending more than one color together, like blue with a black tint (for indigo) or blue with a green tint (making turquoise). The dominant color, sometimes called a mass tone or overtone, is the color you perceive. The color you don't see is the undertone. From paintzen.com
When we talk about undertones, we are really talking about how the colors relate to one another. White Dove is warmer than gray and cooler (or cleaner) that beige. We want the undertones in our existing rooms to work together, not make each other look bad.
This is especially important, because often times we can't afford to replace our entire home and furnishings at once. And if you are lucky enough to have a new build, you should still compare your paint samples to flooring, cabinets, countertops (kitchen and bath) and any stone work.
WHAT ARE YOU LOOKING FOR IN A WHITE PAINT?
White Dove works because it marries warm and cool tones well. It can handle a room with multiple colors and finishes because the warmth is subtle. It also looks good in low lit rooms without a lot of natural light because it isn't yellow and it won't look gray when shadows inevitably hit it.
So how do we know the colors work together? Complement.
The paint color needs to complement the other colors. It should look CLEAN and CRISP next to the flooring, brick, stone, tile etc. If it looks dirty, muddy, too warm, or yellow, it's not the right white. You can use my (free) paint undertone printable to take note of your existing undertones and elements in the space.
CHOOSING THE BEST BENJAMIN MOORE WHITE PAINT COLOR
Now I claim White Dove is the only white paint you will ever need. And while it works almost all of the time, if you paint a sample board and your cold marble tile is looking too white and the White Dove is muddy or yellow in comparison, you need to pick a cooler white.
The backup color I would suggest first is Benjamin Moore Chantilly Lace. It is slightly cooler and has less of a true undertone. It works well when you want a very sterile, stark white Scandinavian feel.
If you aren't in search for the quick fix and you want to play around with color, you can see my list of the best 8 Benjamin Moore White paint colors here or is Sherwin Williams is your local paint company, here are the best SW white paint colors.
FIRST STEPS
Before you pick up a paintbrush, use these steps to get started in your entire plan room. Here are the simple steps to work on before painting your walls white.
Create a room plan

Assess the tones of furniture

Consider lighting

Narrow down the choices

Test paint samples

Paint!
CONCLUSION
Now that you have planned the room/house layout, fixed elements, furniture and lighting schemes, you are ready to try paint samples.
The BEST white paint to try is Benjamin Moore White Dove. It truly looks beautiful in almost every case. So grab a paint brush and a poster board and try a sample on your walls.
Lastly, you can download my free WHOLE HOUSE PAINT TRACKER to keep track of all of the paint colors and finishes you are using in your home! Happy Decorating!
EXAMPLES OF BENJAMIN MOORE WHITE DOVE
Before I leave you on your own to choose a paint color, here are a few of my favorite examples of the Benjamin Moore White Dove used on walls, cabinets, and even the stunning painted brick exterior of Studio McGee's home.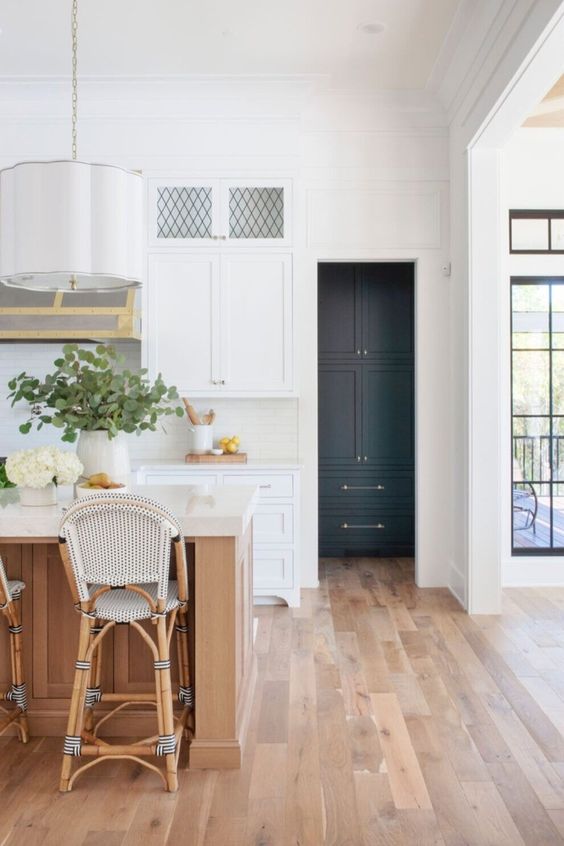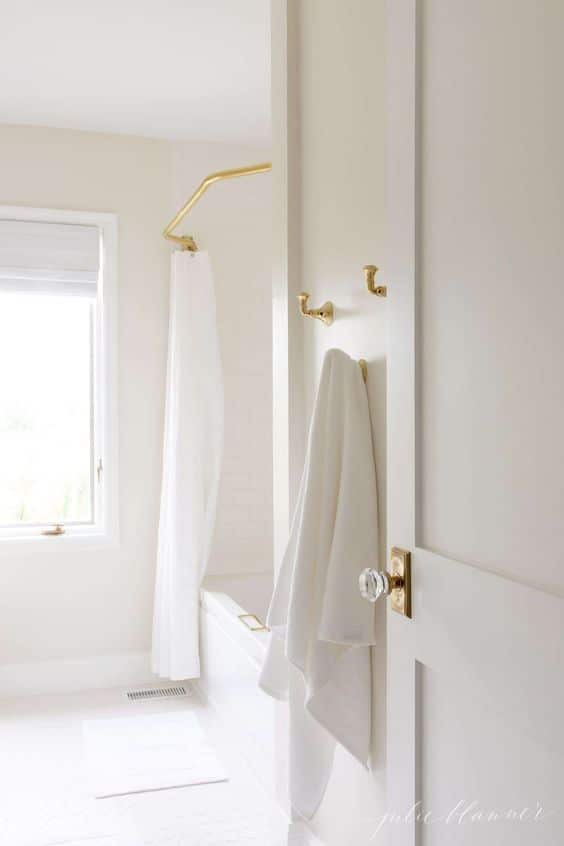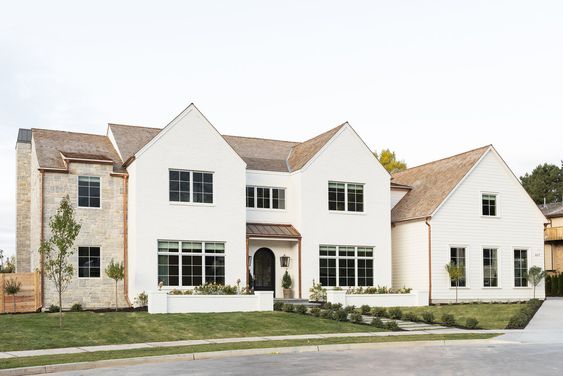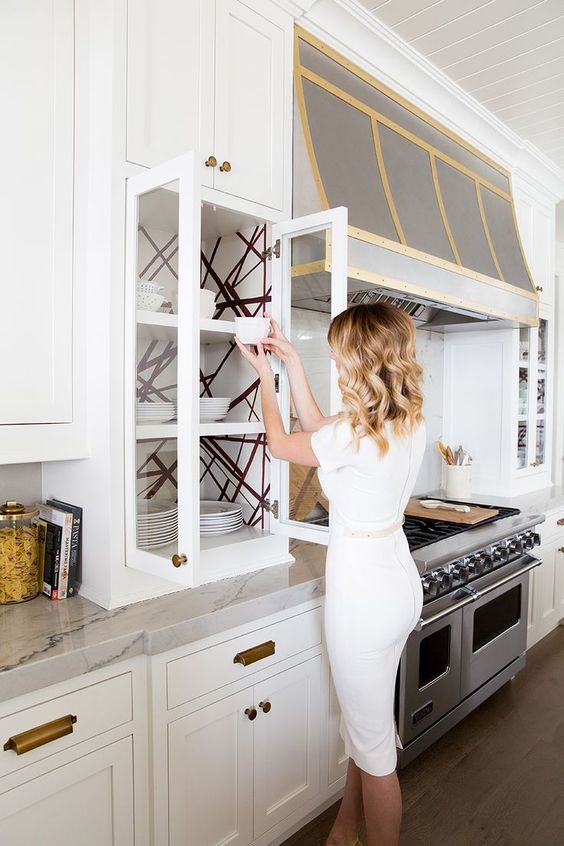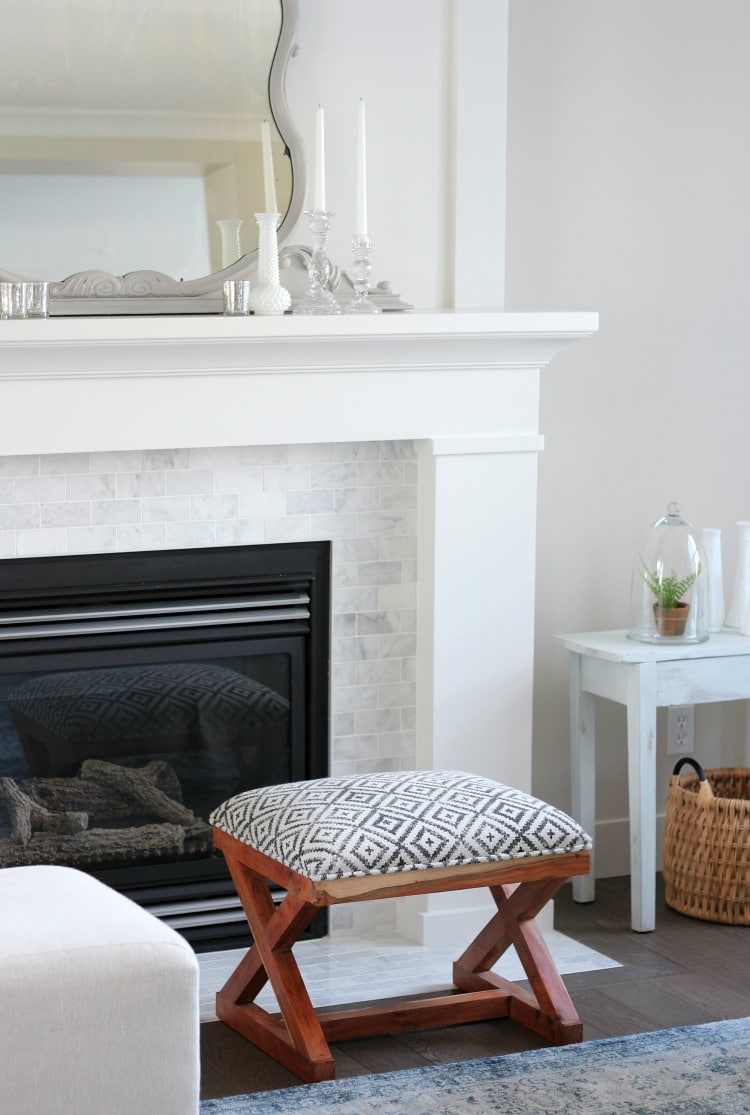 ---
WHITE PAINT FAQ'S
HOW DO I PICK FROM MY FAVORITES?
Two words. Sample Boards. The best way to figure out what your favorite paint color is will be to paint a huge poster board and hang it on the wall.
Monitor it in different light until you find your favorite.
WHAT SHEEN SHOULD I USE?
Semi gloss & high gloss is great for trim and built-ins. Painting the baseboards and cabinetry the same sheen will give the room a high style look.

Ceilings should be painted flat. Unless you have them professionally lacquered. If you are going with a dark color, always paint the ceiling. Don't leave it white.

For walls you can opt for a premium flat if you don't want any sheen. Use a satin finish for a scrubbable- high durability wall paint.

Skip the Eggshell finish altogether because it can't be touched up like other finishes.
Cabinets- Satin or high gloss depending on the room.
WHAT WHITE PAINT LOOKS GOOD WITH WOOD TRIM?
Assuming the wood trim isn't gray, you'll want to choose a slightly cooler (than the trim) white paint so that it doesn't look "dirty" next to the warm trim baseboards (aka a dated orange trim next to a yellowy warm white will look dated, not crisp). In the same way, orange walls or a warm green wall color may look dated against orange trim.
Try the sample board of White Dove. If it doesn't look right in your home, opt for a sample of Chantilly Lace.
SMALL ROOM WITH NOT A LOT OF NATURAL LIGHT, WHICH WHITE SHOULD I USE?
None! In all seriousness, if your goal is to make the room feel larger, a bright white isn't going to add square footage.
So embrace the intimacy of a small unlit room by adding 4-6 light sources- table, floor and sconces, and paint it a saturated color. Don't forget to paint the ceiling the same color for an enveloped feel.
This technique works great for offices, a library, den, study, bathrooms, and small bedrooms.