BEAUTIFUL VINTAGE TURKISH RUGS YOU NEED RIGHT NOW + HOW TO BUY RUGS ON EBAY
This post may contain affiliate links- meaning when you purchase through the link and I receive a small commission. It feeds my coffee addiction & for that I thank you! You can see my full disclosure policy here.
Lately, I've been on the hunt for an authentic, beautiful vintage Turkish rug for our master bedroom. They style is "trending" right now, and I say trending because it has taken off on Instagram and Pinterest, but has been around as a classic foundation piece for any room in design for a long time.
In my search for the prefect rug, there were a few places I kept seeing amazing handmade Anatolian rugs. I started on Instagram because there are so many shops that have vintage inventory of the prettiest rugs (learn all about how to shop on Instagram here).
And lastly, I stalked eBay and saved numerous rugs to my favorites list and watchlist until I find the perfect rug to fit under the foot of my bed.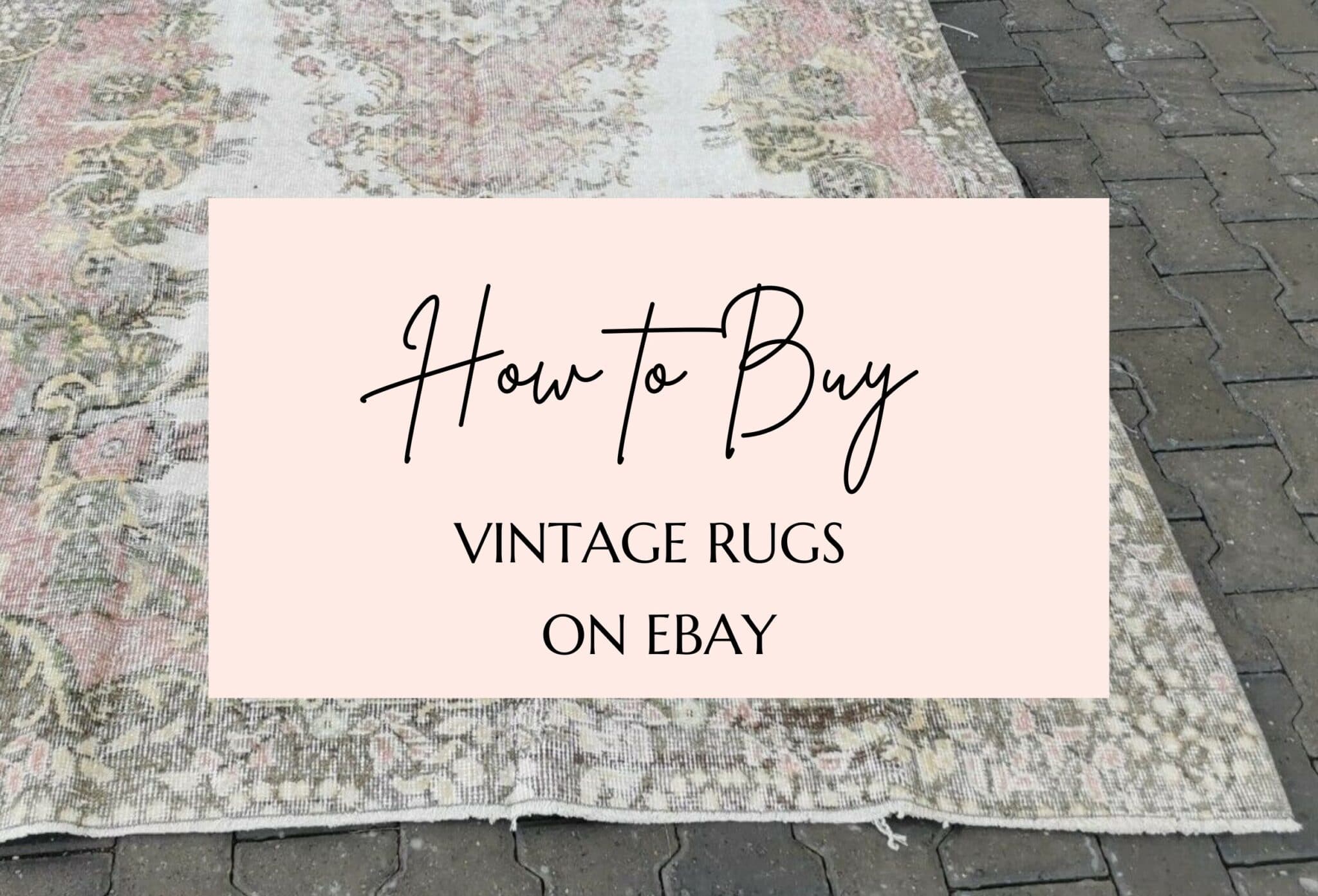 Where to Buy Turkish Rugs
On my search for the prefect rug, I stopped into a local rug shop. It has a huge sign out front advertising 60% off Turkish rugs. I guess out of ignorance or naivety, I thought it would be a viable rug source.
But, every single rug was $10,000- $20,000, which at this point in my life just isn't feasible. I am sure these are quality rugs that are handknotted, but I can't have chocolate stains on a $10,000 rug. I could buy a car for that price!
With that said, I did more research on buying vintage rugs. These are the 3 best places to guarantee you will find a gorgeous, quality vintage Turkish rug.
Tips for FINDING THE PERFECT vintage rug
Layer a smaller area rug over a large (9′ x 12′) sisal or natural fiber rug
Get a great rug pad
Look at the photos carefully
Read the seller's reviews & criticisms
Turkish rugs make great hallway, kitchen, & bathroom runners
These rugs are very thin & often handmade, so don't expect a plush rug (hence a great rug pad)
Scared of color? Go BOLD on the rug and keep everything else neutral!
On eBay you can "make an offer" and often get them even lower than list price
GORGEOUS VINTAGE TURKISH RUGS ON EBAY
---
NEUTRAL TURKISH VINTAGE HANDMADE TRIBAL BOHO STYLE WOOL AREA RUG ANTIQUE RUG – 5.5'x9.5′
"Old Handmade Wool Turkish Rug. Condition is Very Good. Washed with professional carpet shampoos." (BUY NOW)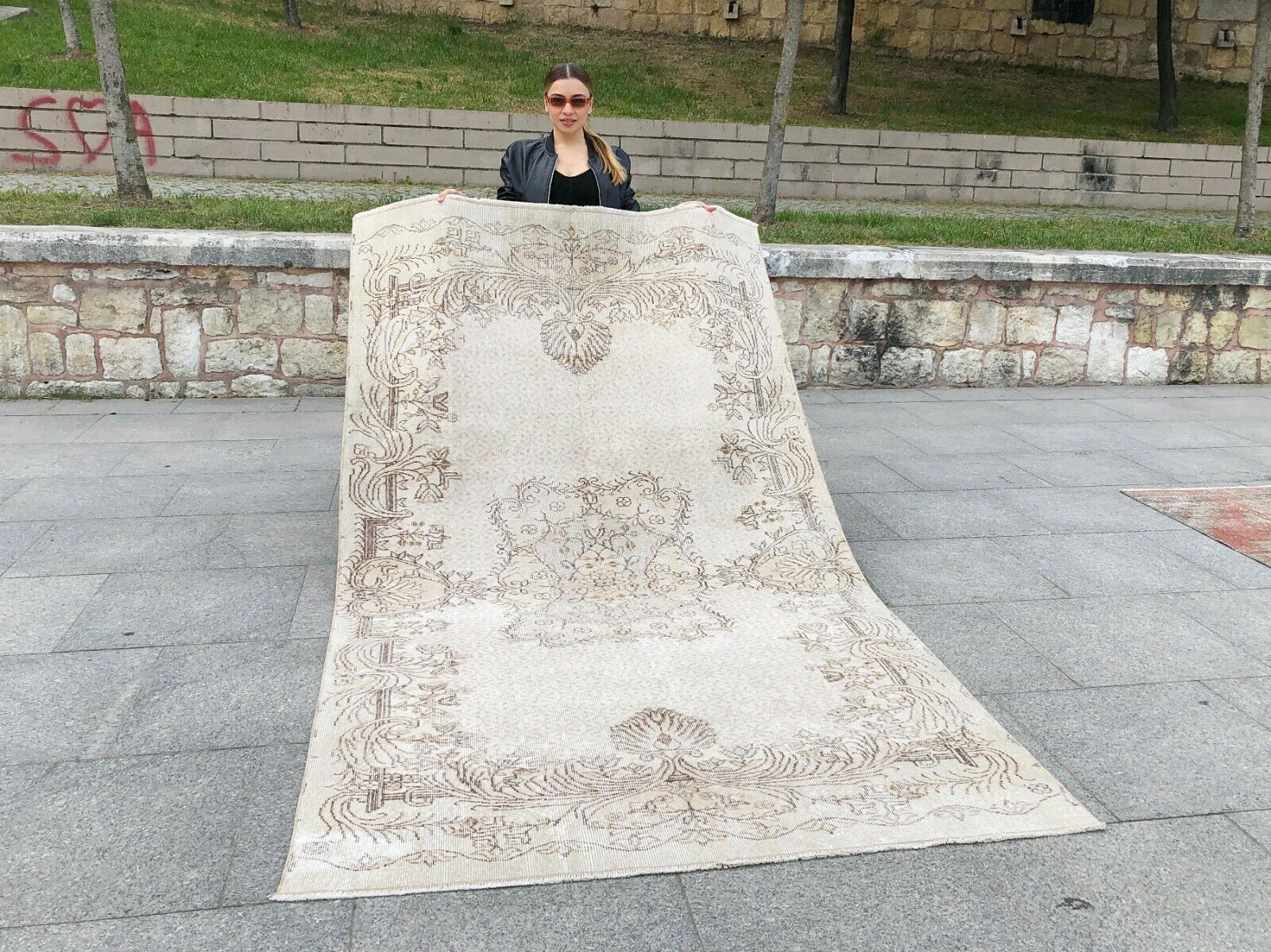 VİNTAGE Pink TURKİSH RUG, 5′ x 9′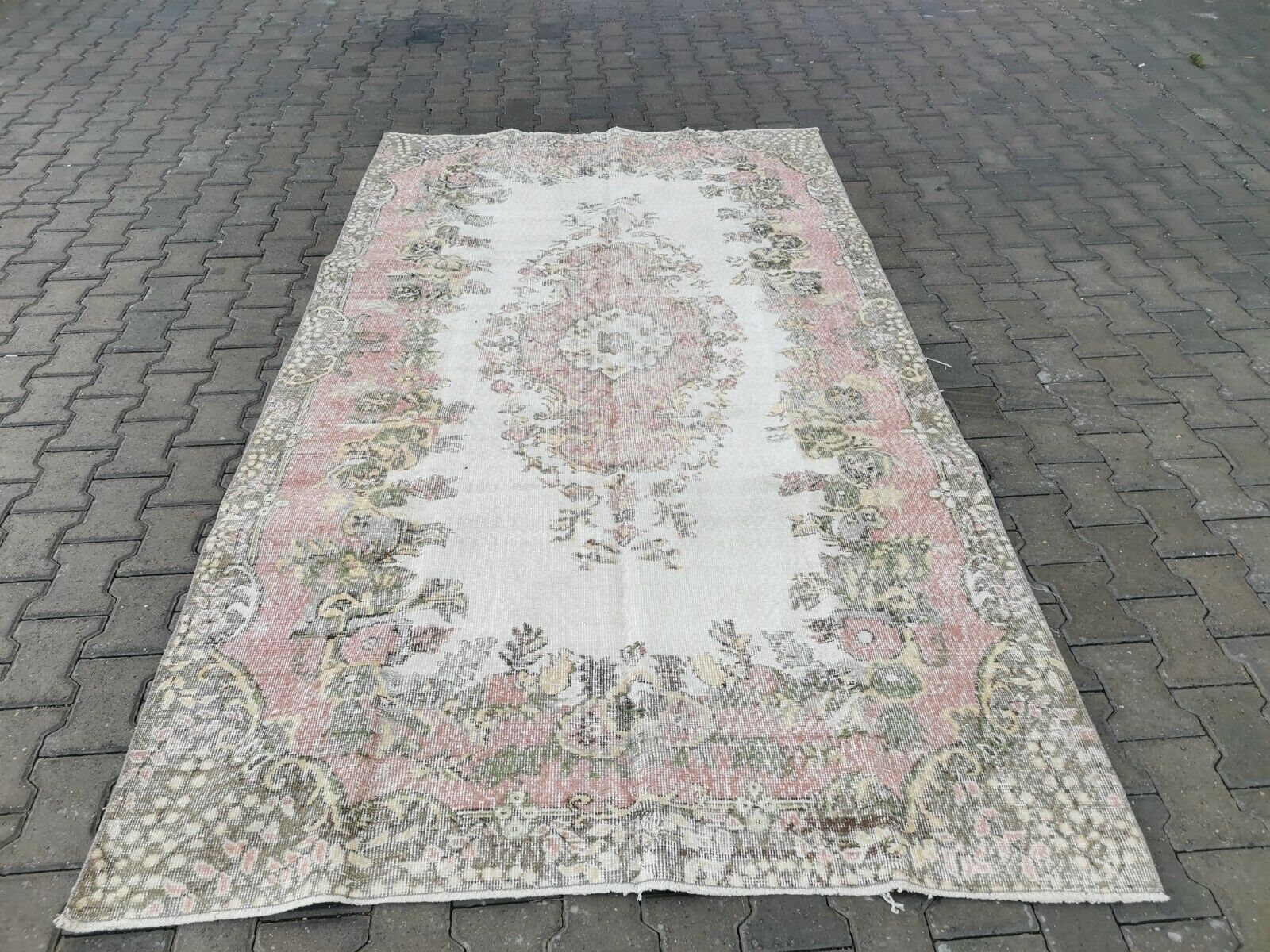 Blue & Red vintage Turkish Oushak, 6′ x 10′
The vivid blues and reds (almost salmon colored) hues of this vintage Turkish Oushak rug make it the perfect statement piece for your living room. Need a little more width, layer it over a natural jute or sisal rug. (BUY ME)
Gorgeous green tribal print Vintage Turkish Rug, 8′ x 10′
This vintage rug is a true gem. Green tribal patterns are hard to come by and the condition on this piece is excellent. (GET IT)
Purple & Green, Vivid Vintage Runner 2′ x 4′
Stop the presses! This rare emerald green and purple over-dyed rug is gorgeous. It comes in at 2×4 which is perfect in front of bathroom vanities or in front of the kitchen sink. (BUY NOW)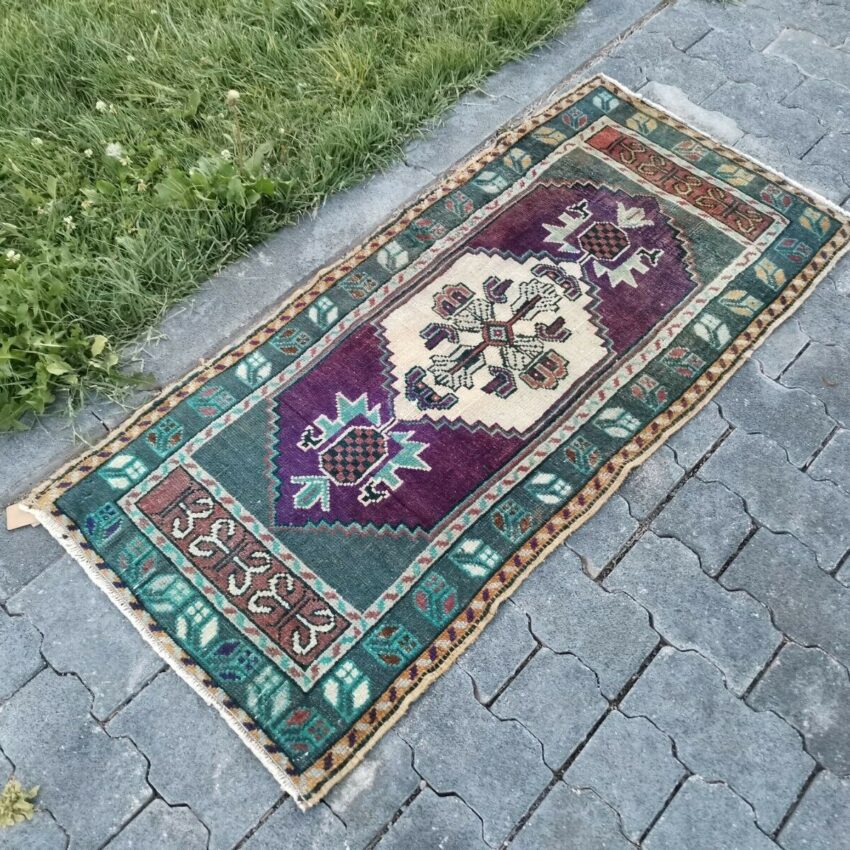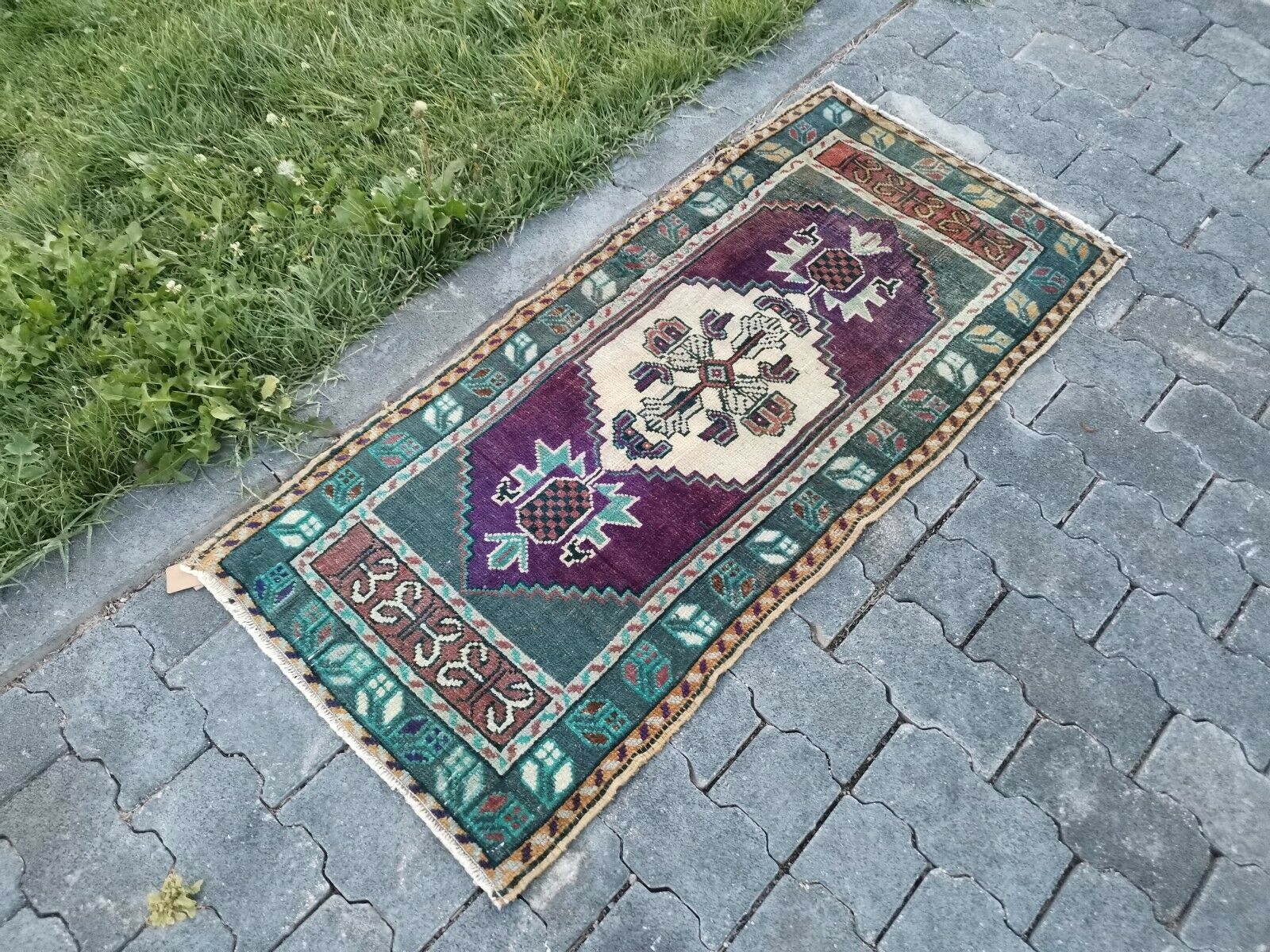 Oversized Turkish area Rug, 6.1′ x 9.8′
This next vintage Turkish rug is subtle, but stunning. While it's understated and neutral, it would make a great layering piece in your living room. (BUY ME)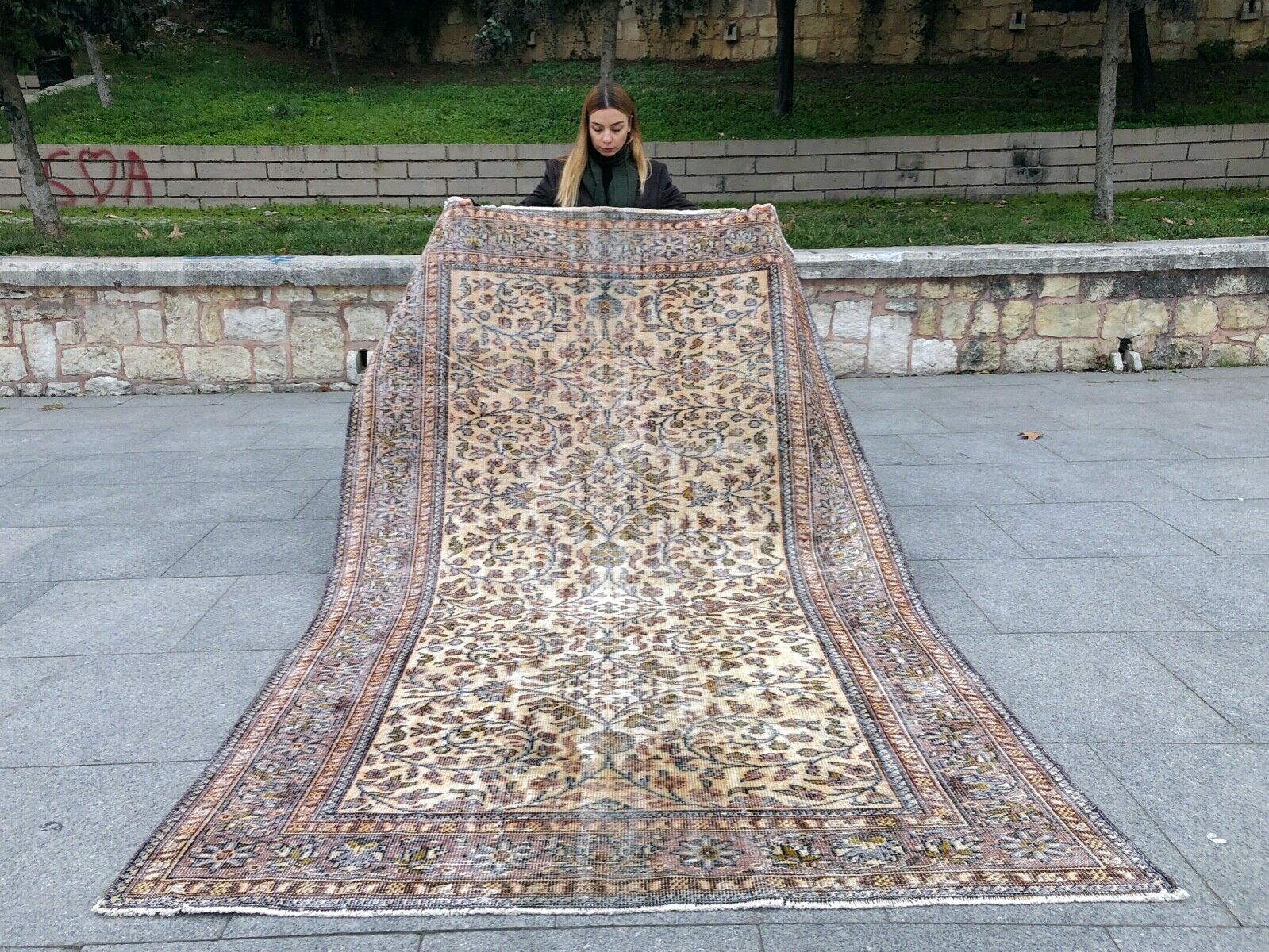 HOT pink Vintage Turkish Runner 2.5′ x 13′
If you were impressed by some of the earlier rugs, this one is going to blow you away. With it's bold hot pick knotted design, you can add a punch to any boring hallway or small set of stairs. (BUY ME)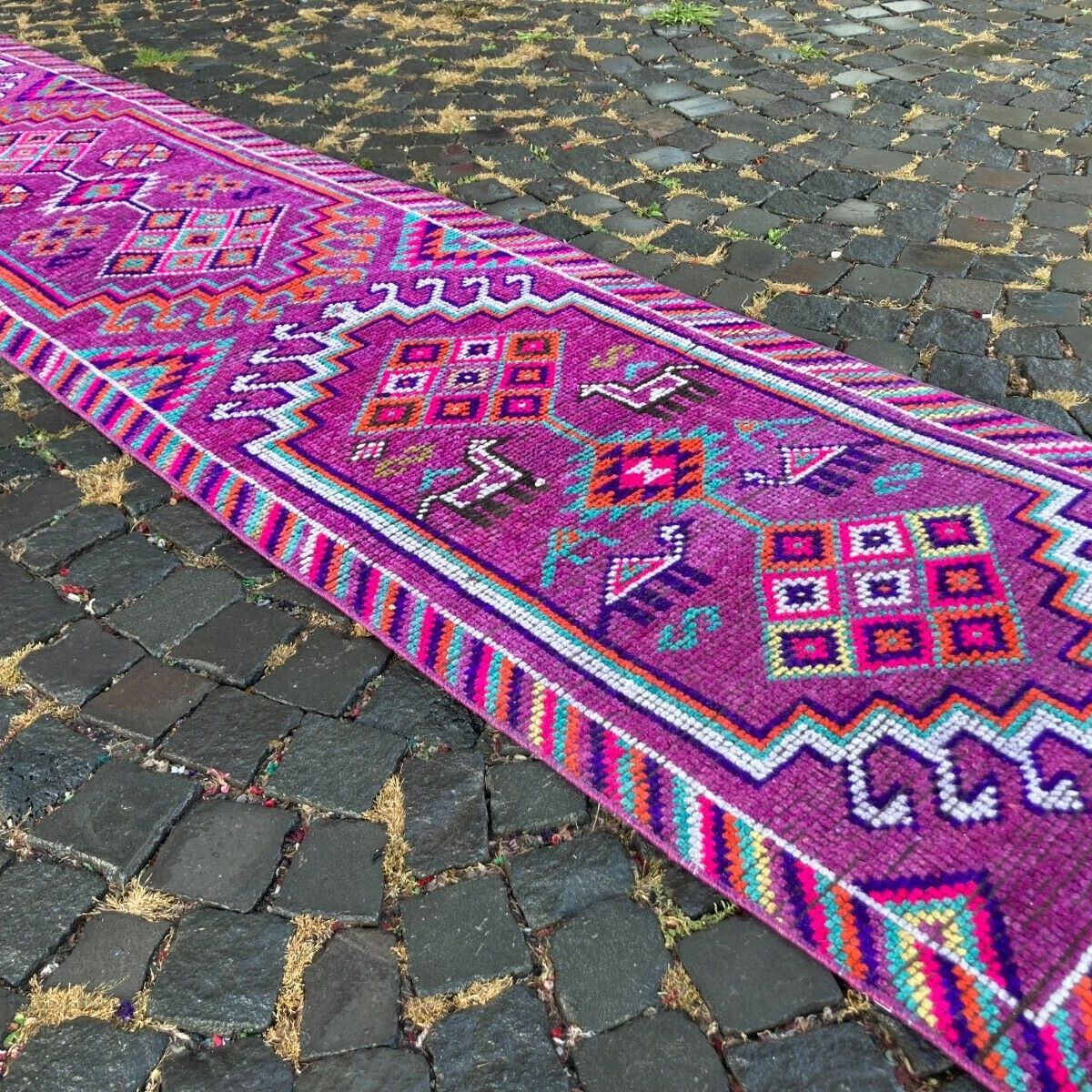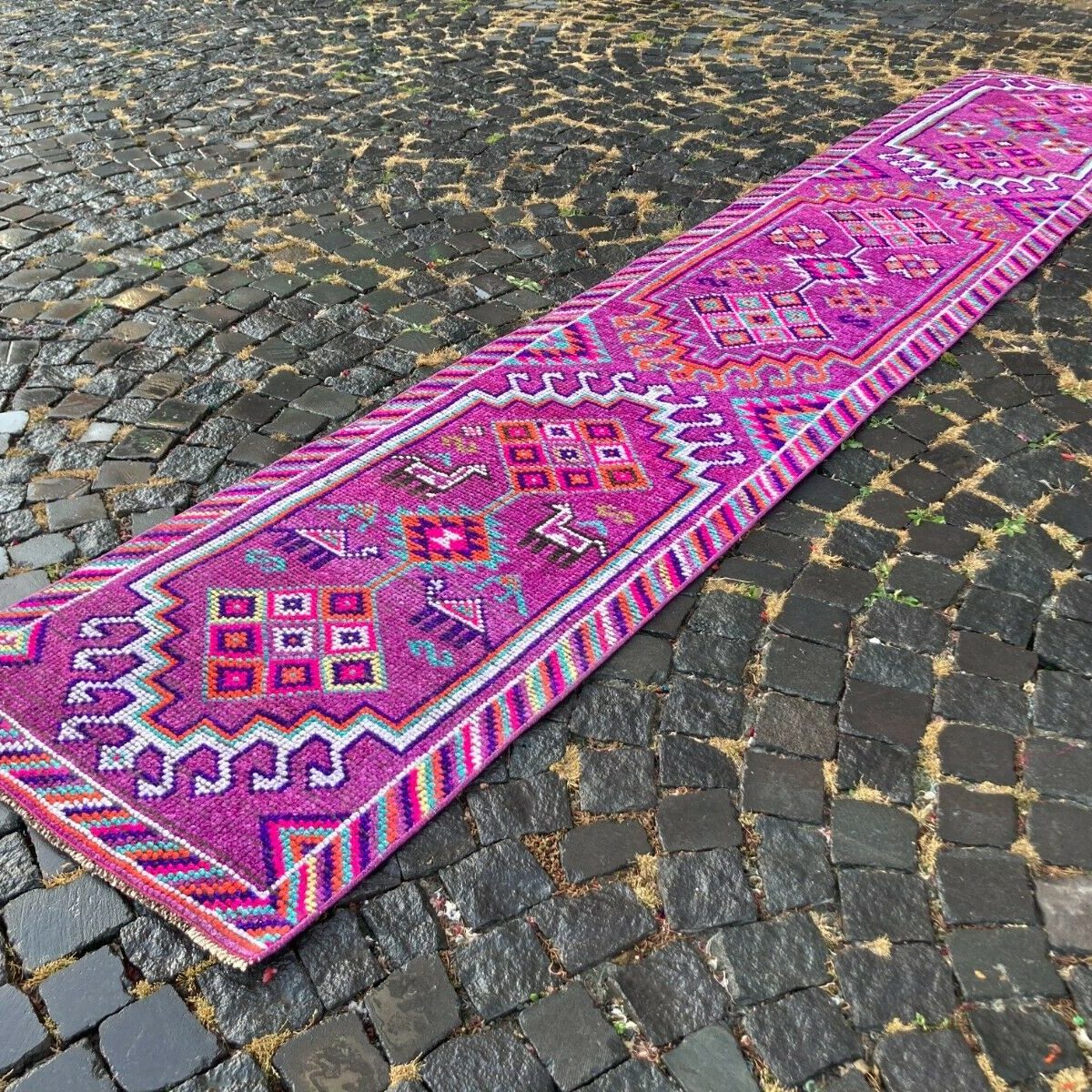 CONCLUSION ON VINTAGE TURKISH RUGS
That's all for today's Turkish rug roundup, but there are hundreds more on eBay and the inventory changes daily.
BEST TIPS FOR SHOPPING VINTAGE RUGS ON EBAY
Sign up for an Ebay account
Search terms like "vintage Turkish rug" "vintage Oushak" "vintage Turkish runner or area rug"
Save a few rugs to your favorites by clicking the heart on the listing
Use the watchlist
Read the description for sizing & condition notes
Make an Offer or use the Buy Now feature if you don't want to wait
Read the seller reviews and look for good delivery criteria
Manage your expectations- these are beautifully hand crafted, vintage rugs (i.e. imperfections are inherent)
Use a credit card when purchasing in the event you have to file a claim (Talk to the seller first, then file with Ebay, and lastly resort to filing with your CC company)
Don't let the previous tip scare you! I've ordered hundreds of items from eBay and have not been disappointed
When you pair a vintage rug with new furniture, it helps the room feel as though it's always been lived in. Unique pieces take away that cold showroom feel.
I encourage you to try it out. And if you aren't ready to make the leap for a vintage rug, at least stalk a few of these to see what it's all about. You never know what you'll fall in love with. Happy Decorating!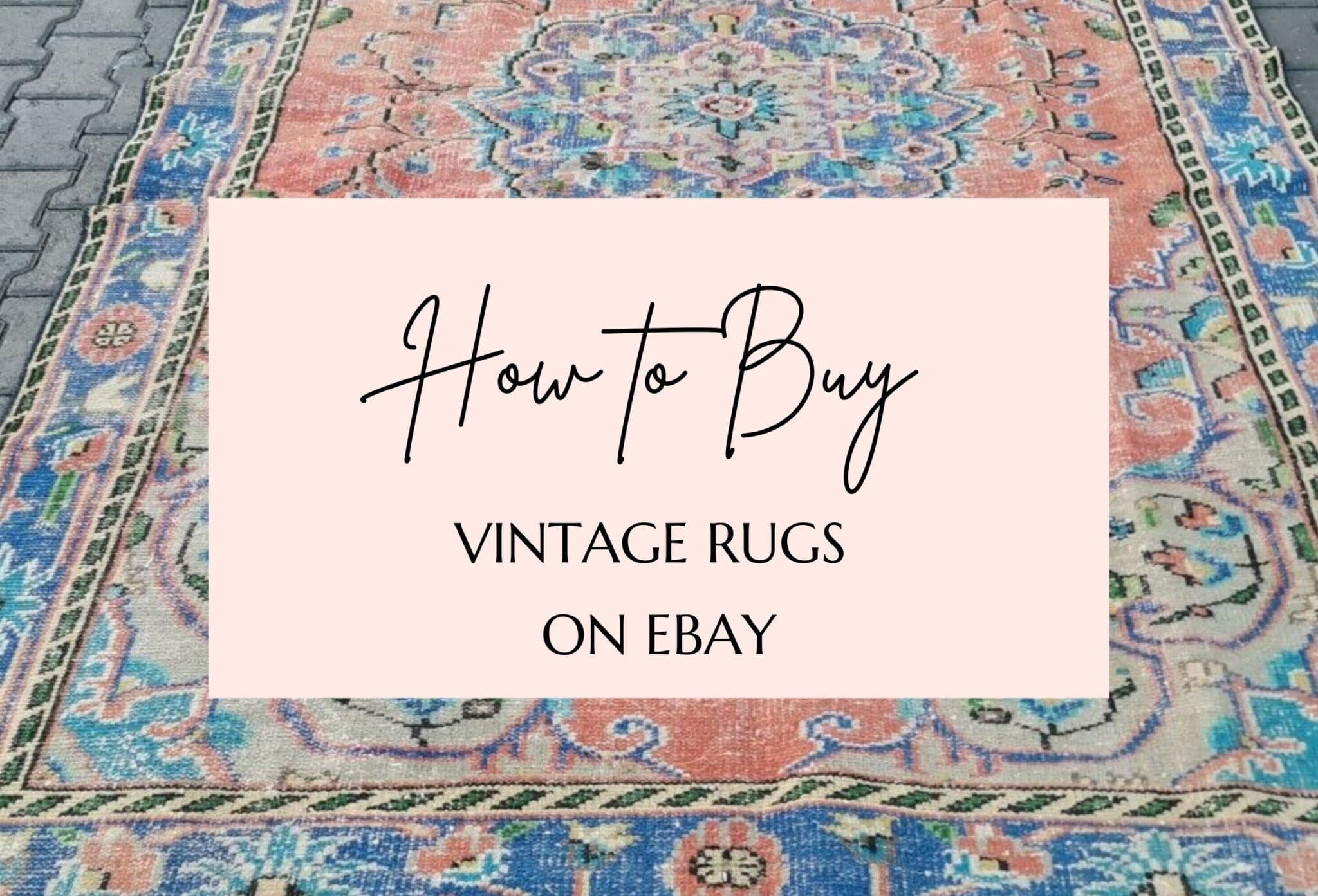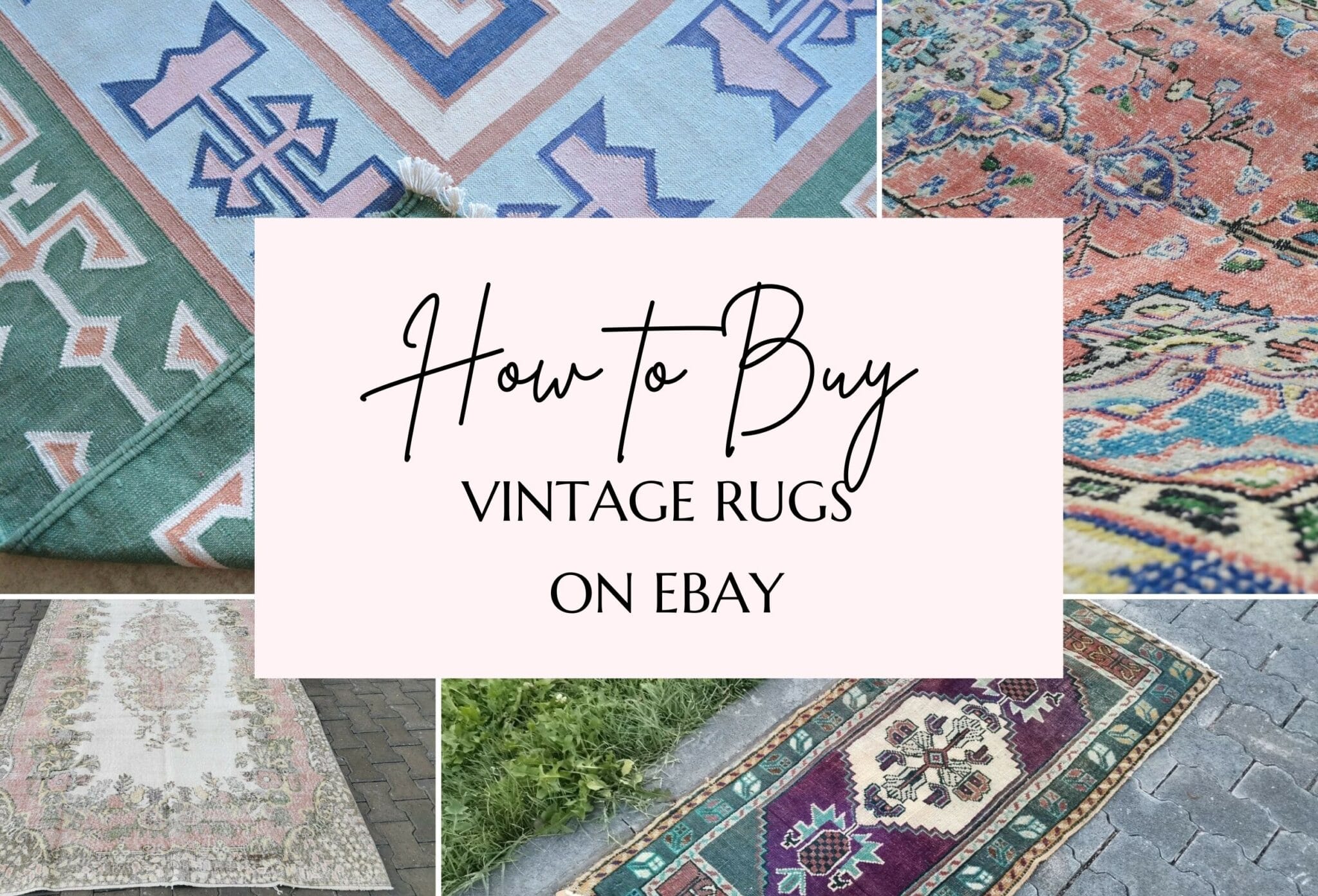 ---
POSTS YOU'LL LOVE