Beautiful Vintage Turkish Rugs
This post may contain affiliate links- meaning when you purchase through the link and I receive a small commission. It feeds my coffee addiction & for that I thank you! You can see my full disclosure policy here.
Lately, I've been on the hunt for an authentic, beautiful vintage turkish rug for out master bedroom. They style is "trending" right now, and I say trending because it has taken off on Instagram and Pinterest, but has been around as a classic foundation piece for any room in design forever.
In my search for the prefect rug, there were a few places I kept seeing amazing handmade Anatolian rugs. I started on Instagram because there are so many shops that have vintage inventory of the prettiest rugs (learn all about how to shop on Instagram here).
Then I found Boutique Rugs, where I purchased the Dibble area rug, the softest living room rug I've ever felt. It had a vintage look, but was made from easily cleanable modern day materials which was important to me because my kids are monsters with chocolate covered handprints.
And lastly, I stalked eBay and saved numerous rugs to my favorites and watch list until I find the perfect rug to fit under the foot of my bed.
On my search for the prefect rug, I stopped into a local rug shop. It has a huge sign out front advertising 60% off Turkish rugs. I guess out of ignorance or naivety, I thought it would be a viable rug source.
But, every single rug was $10,000- $20,000, which at this point in my life just isn't feasible. I am sure they are quality and handmade, but I can't have chocolate stains on a $10,000 rug. I could buy a car for that price!
The perfect bedroom rug
So at this point in my vintage Turkish rug journey, I am back to hunting on eBay for the perfect finds. And in the meantime, I will share some of the favorites that I've run across and hopefully one will be the missing piece to your room!
Tips for loving your vintage rug
Layer a smaller rug over a large (9′ x 12′) sisal
Get a great rug pad
Look at the photos carefully
Read the seller's reviews & criticisms
Turkish rugs make great hallway, kitchen, & bathroom runners
These rugs are very thin & often handmade, so don't expect a plush rug (hence a great rug pad)
Scared of color? Go BOLD on the rug and keep everything else neutral!
On eBay you can "make an offer" and often get them even lower than list price
No living room is complete without a large room to anchor all of the furniture and design elements. Coming in at 7′ x 10′, a rug like this muted blue vintage anatolian would look gorgeous layered over a larger natural jute rug. (link)
Blue Vintage Anatolian Rug Turkish Handmade Rug, 10×7

Vintage Pink and Purple Oushak Runner, 8′ x 3′
If pink and purple are your thing, this vintage turkish has sooo much color to offer. Most rugs I find are muted, but this gem has maintained it's color.(link)

Hallway Runner, 7x 3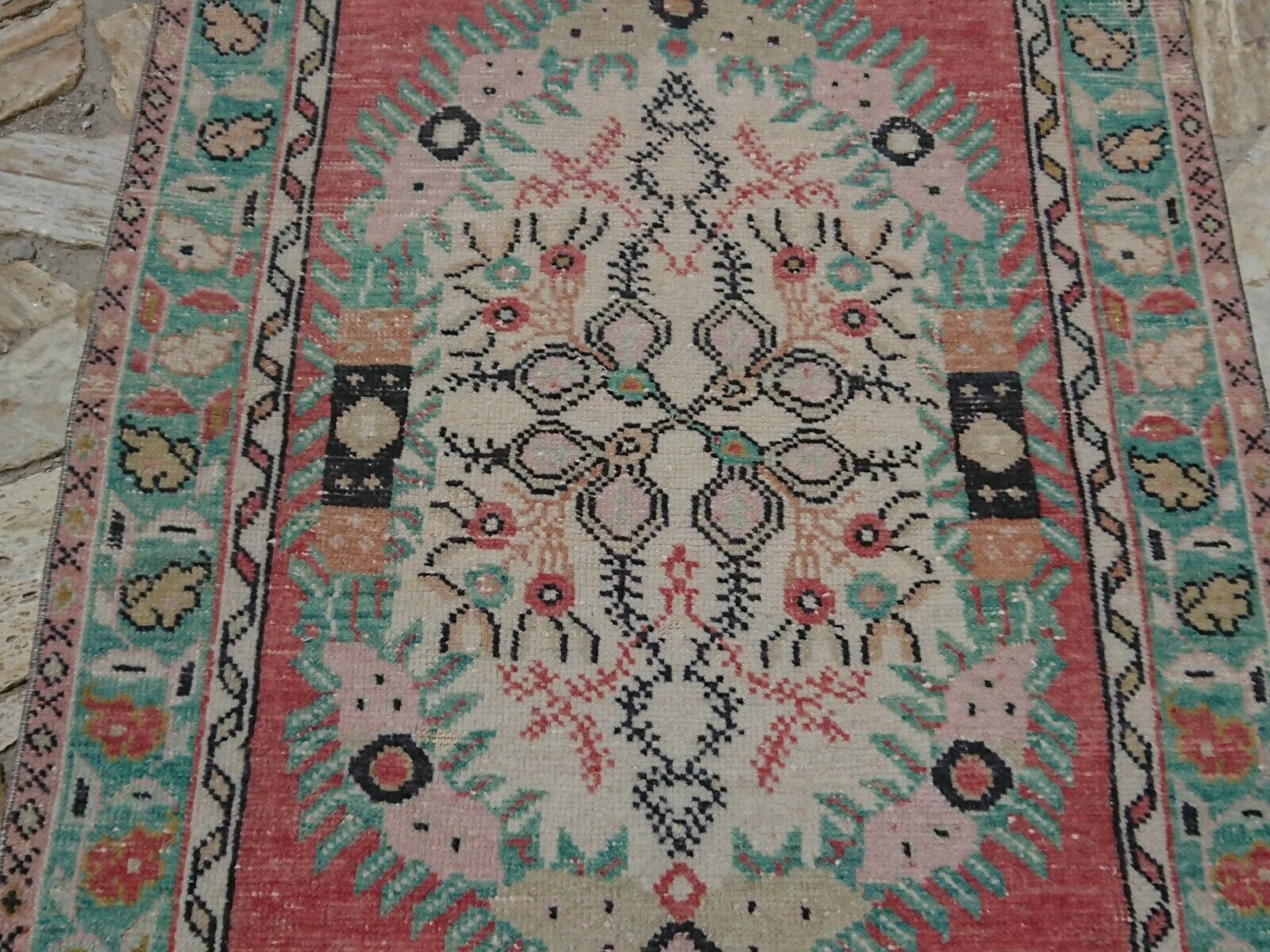 I love that this rug is brightly colored and full of coral and aqua elements. It would make an amazing hallway runner or placed in front of a double bathroom vanity. (link)
Runner Vintage Turkish Rug, 3×7
This vintage rug would make a great entry hall or kitchen runner. (link)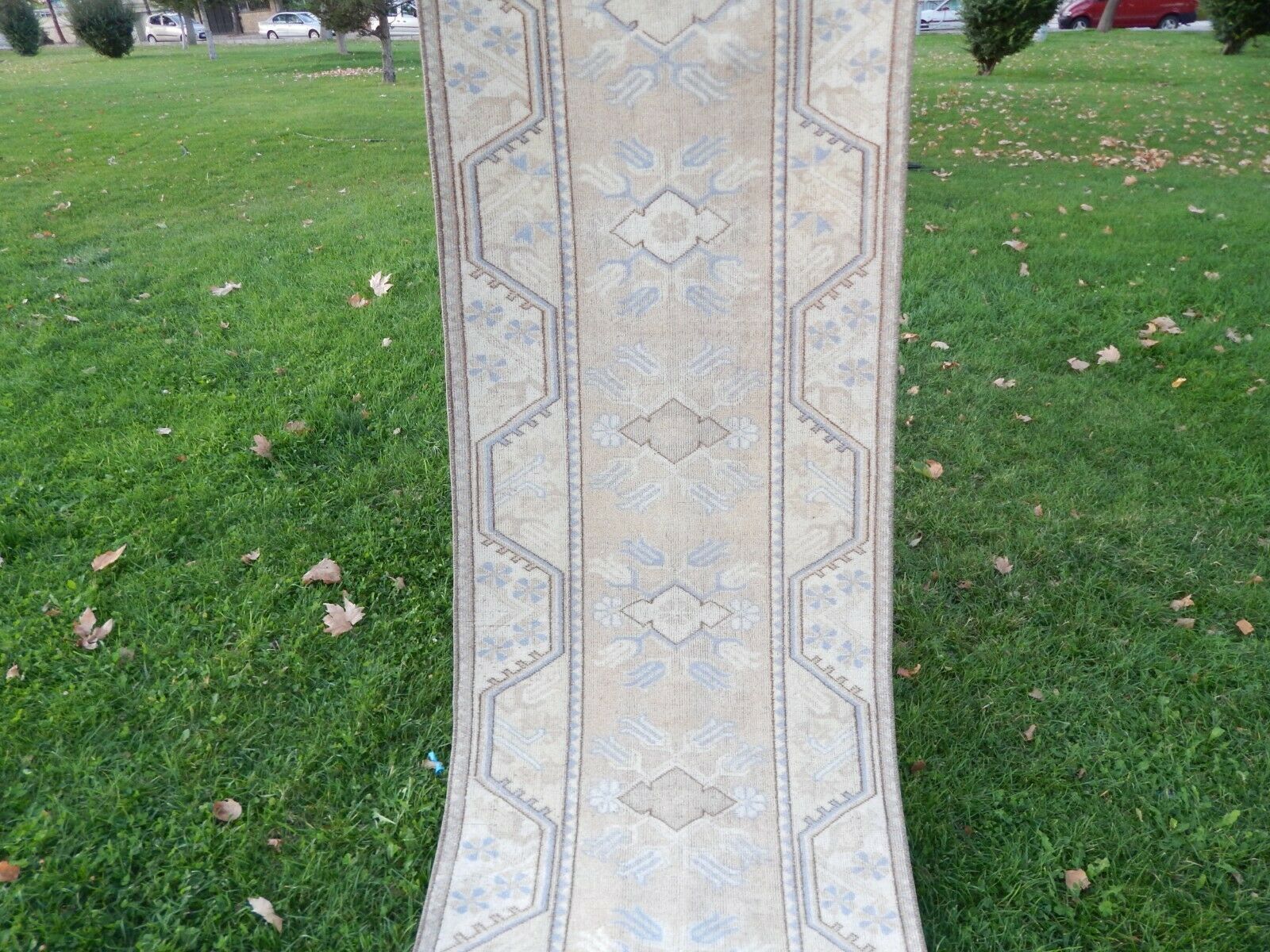 Long, Vivid Vintage Runner 11′
It's hard to choose a favorite rug, but this vibrant pink, fuchsia and orange rug is quickly making it's way to the top of my list. If I had a hallway long enough for this 11′ foot beauty, I would swoop it up. I can't get over how well the colors work together. (link)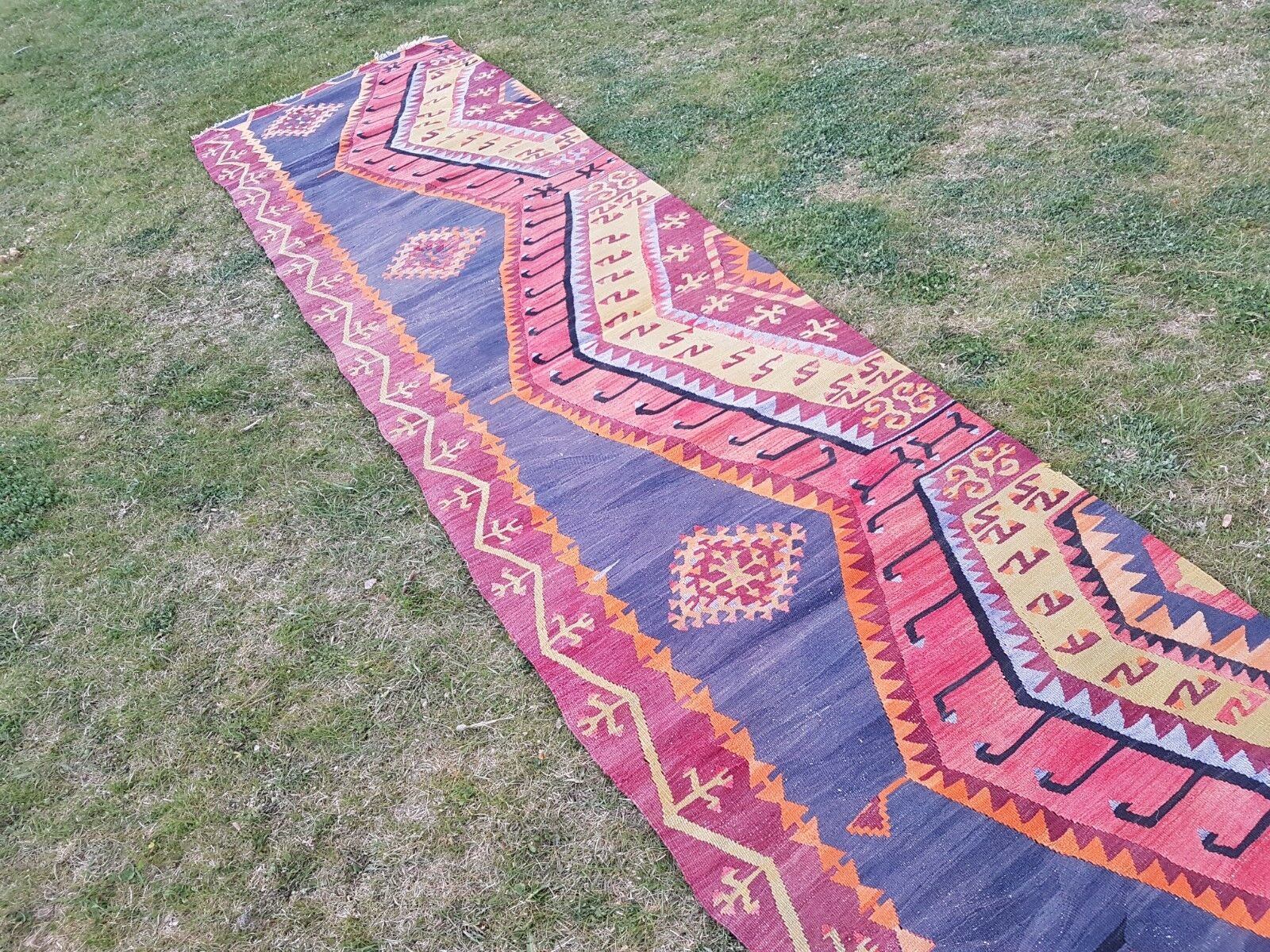 Purple Anatolian Turkish Rug, 4′ x 7′
This next vintage turkish is a beauty. While it isn't understated or neutral by any means, it could really up the style in a living room. (link)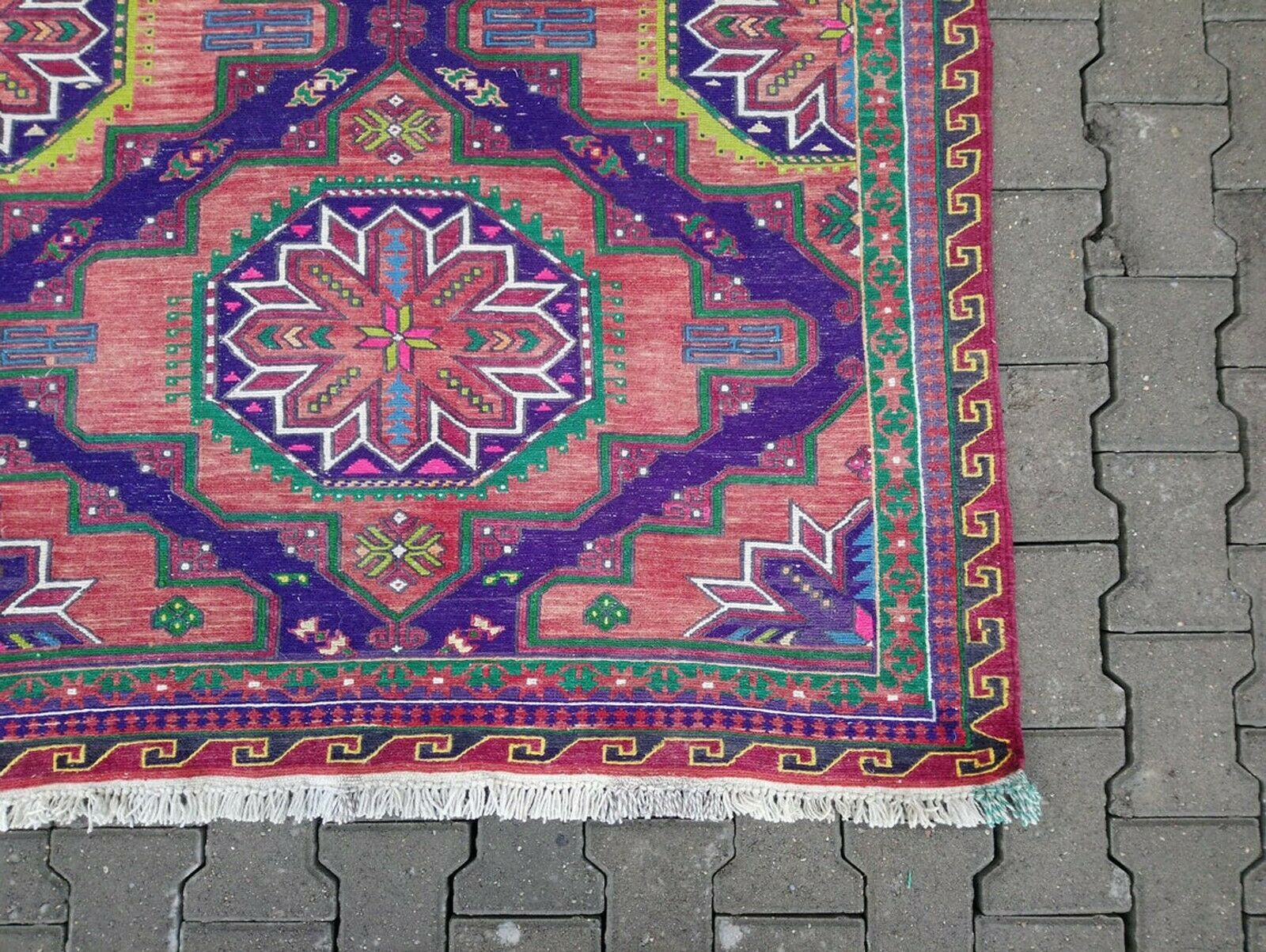 Yellow Striped Runner 2 x 9
While this rug seems totally atypical of what I think of when I see vintage Turkish rug, it's a perfect match for a white kitchen with a bowl of lemons on the counter or an entryway runner, saying a warm welcome. (link)
Alright, that's all for today's Turkish rug roundup, but there are hundreds more on eBay. And it's a really great way to add that collected over time look to your home. When you pair a vintage rug with new furniture, it helps the room feel as though it's always been lived in. Unique pieces take away that cold showroom feel.
I encourage you to try it out. And if you aren't ready to make the leap for a vintage rug, at least stalk a few of these to see what it's all about. You never know what you'll fall in love with. Happy Decorating!