The Best Round Coffee Tables for Every Budget
Finding the perfect coffee table for your living room is like placing the last piece of a puzzle. It completes the entire room and brings it all in into the center. It's the gathering place, the conversation area. And you want the best round coffee table to make that space shine.
So, I'm going to share my favorites round coffee tables at every price point so that you can find the table that's perfect for you. Decide whether you are a glass top, fancy table lover or a kick your feet up and spill your coffee table type, or you need a "quick, hide the kid's toys guests are coming" kind of table.
But, even though this piece of furniture is decorative, it's purpose is functional too. You want to be able to set down a drink from every seat and have a place to corral the remotes.
WHEN TO USE A ROUND COFFEE TABLE
The short answer to when you should choose a round coffee table is when you have a large sectional. The round coffee table will provide a resting place for almost every seat, while being less intrusive than a rectangular one. It also softens the space with a curve, when the sofa is square (sectional pieces).
You can also use round nesting tables in front of a sofa and chairs that are very boxy. Again, this adds a round, soft element when the majority of furniture in the living room is square or hard, straight lines.
You can read about 15 ways to Style A Round Coffee Table here.
Lastly, if you have young children, working up a furniture plan that includes a round table may be a good idea for safety. While you may not need to baby proof your house, a round coffee table in a highly used area might ease your mind and prevent some bumps and bruises.
In contrast, in large seating areas with two sofas and four chairs, positioned in a square, an oversized square table is usually the better choice to fill in the space.
Use a round coffee table:
With a sectional
Straight lined furniture
When you have small children
COFFEE TABLE SIZE
Next, let's discuss the proper size for a coffee table. Because the point of the coffee table is to have a place to put your drink down, the size should be conducive to this.
So grab your measuring tape and measure the sofa height and length. The height of the coffee table should be within 2″ of the sofa seat height, ideally 1-2″ lower than the seat not higher.
The standard coffee table height is between 16″ and 18″.
It should be approximately 2/3 of the length of the sofa or of the middle of the sectional. Once you have ordered the table, you should place it 12″- 18″ away from the sofa so that it is still within reach. Any additional seating should be pulled in the same distance.
Coffee Table Quick Measurement Guide:
16″-18″ tall
2/3 length of sofa
Place 12″ – 18″ from the sofa & chairs
BUDGET FRIENDLY ROUND COFFEE TABLES
Alright, now that you are up to speed on all of the round coffee table "rules", we're ready to shop. Let's jump right into those budget friendly round tables for your living room.
BEST ROUND WOOD COFFEE TABLES &
ROUND CARVED WOOD COFFEE TABLES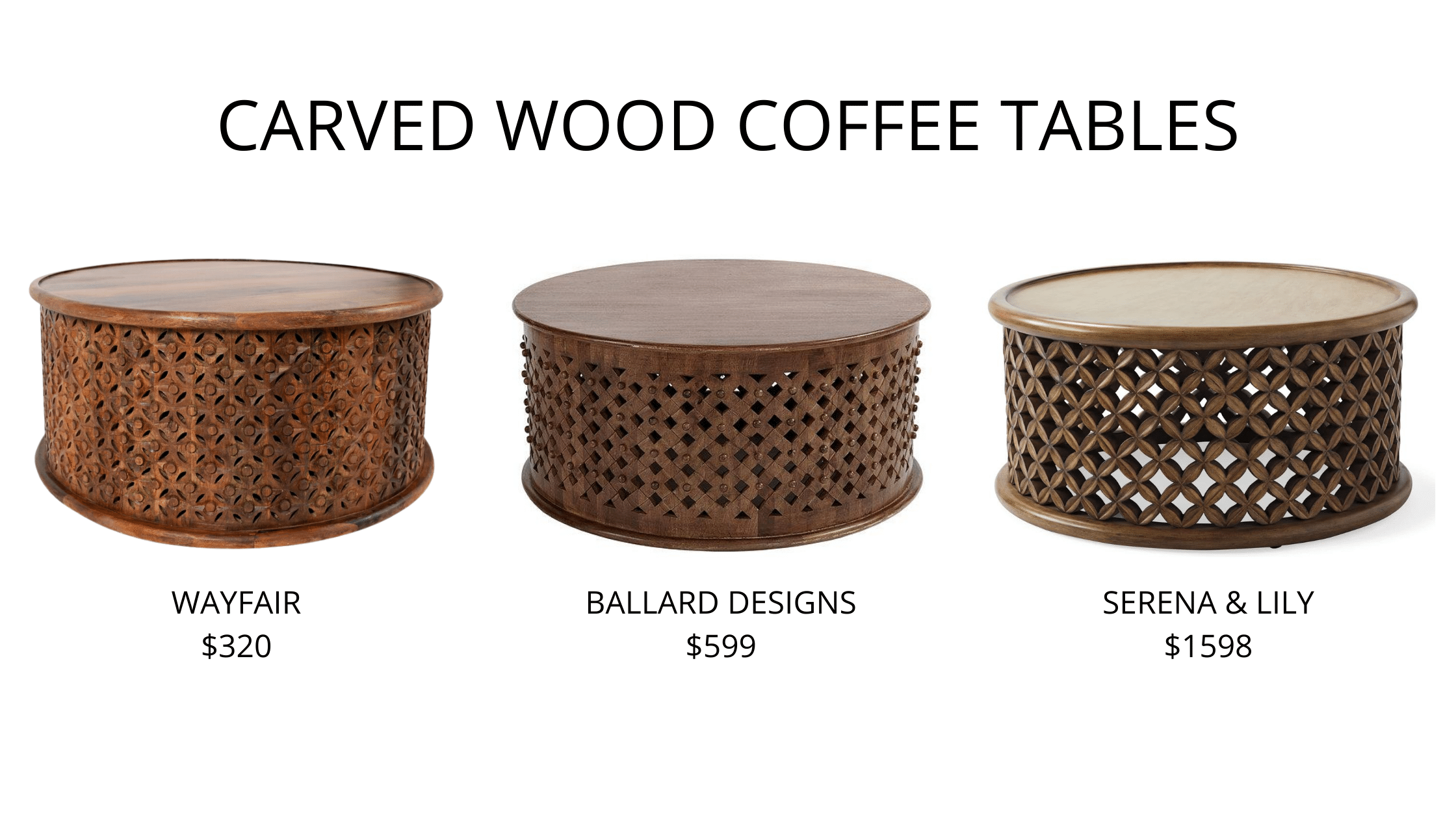 Wood Carved Round TablesWayfair Lorraine Drum | Ballard Designs Bornova | Serena & Lily Bamileke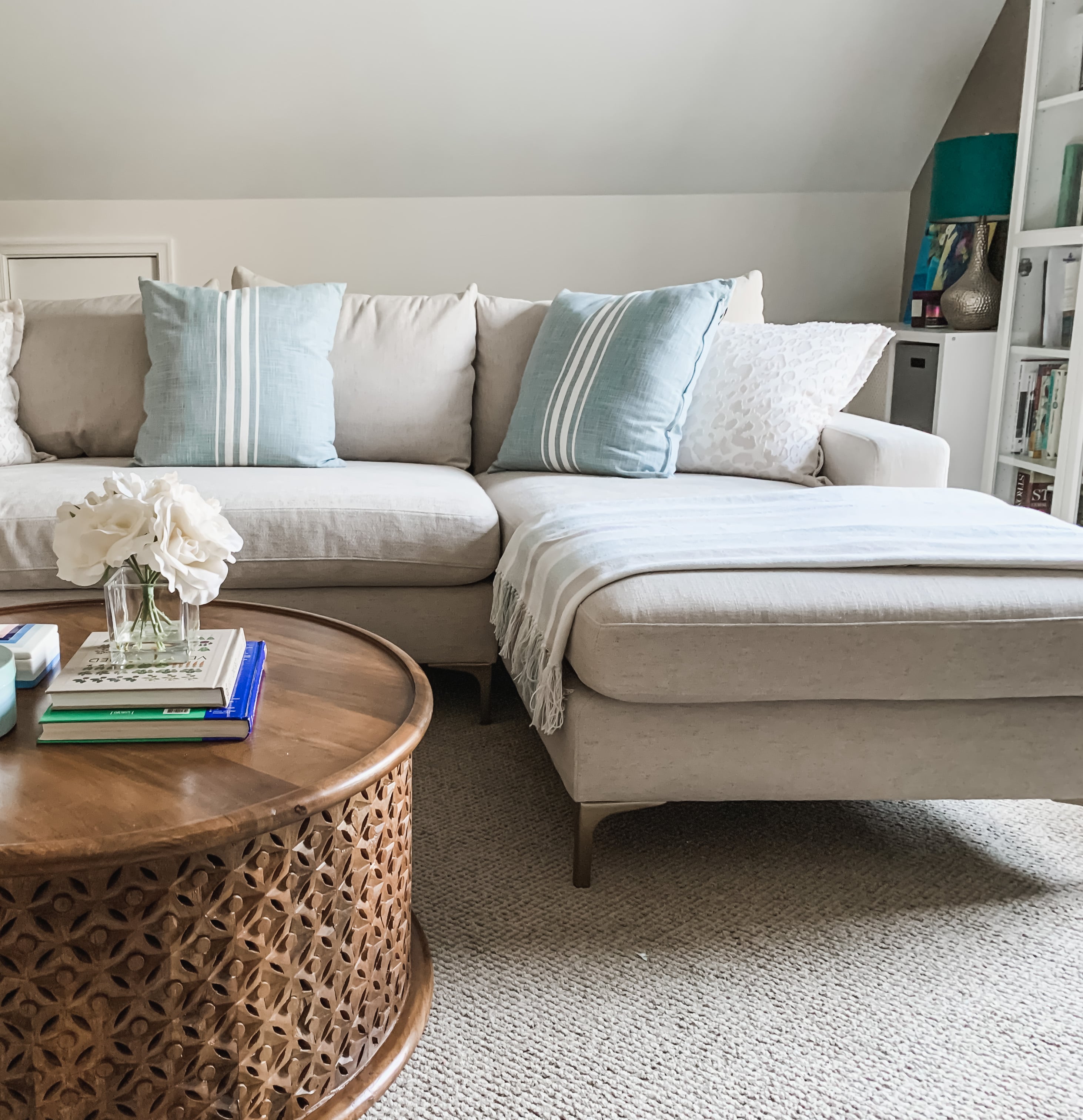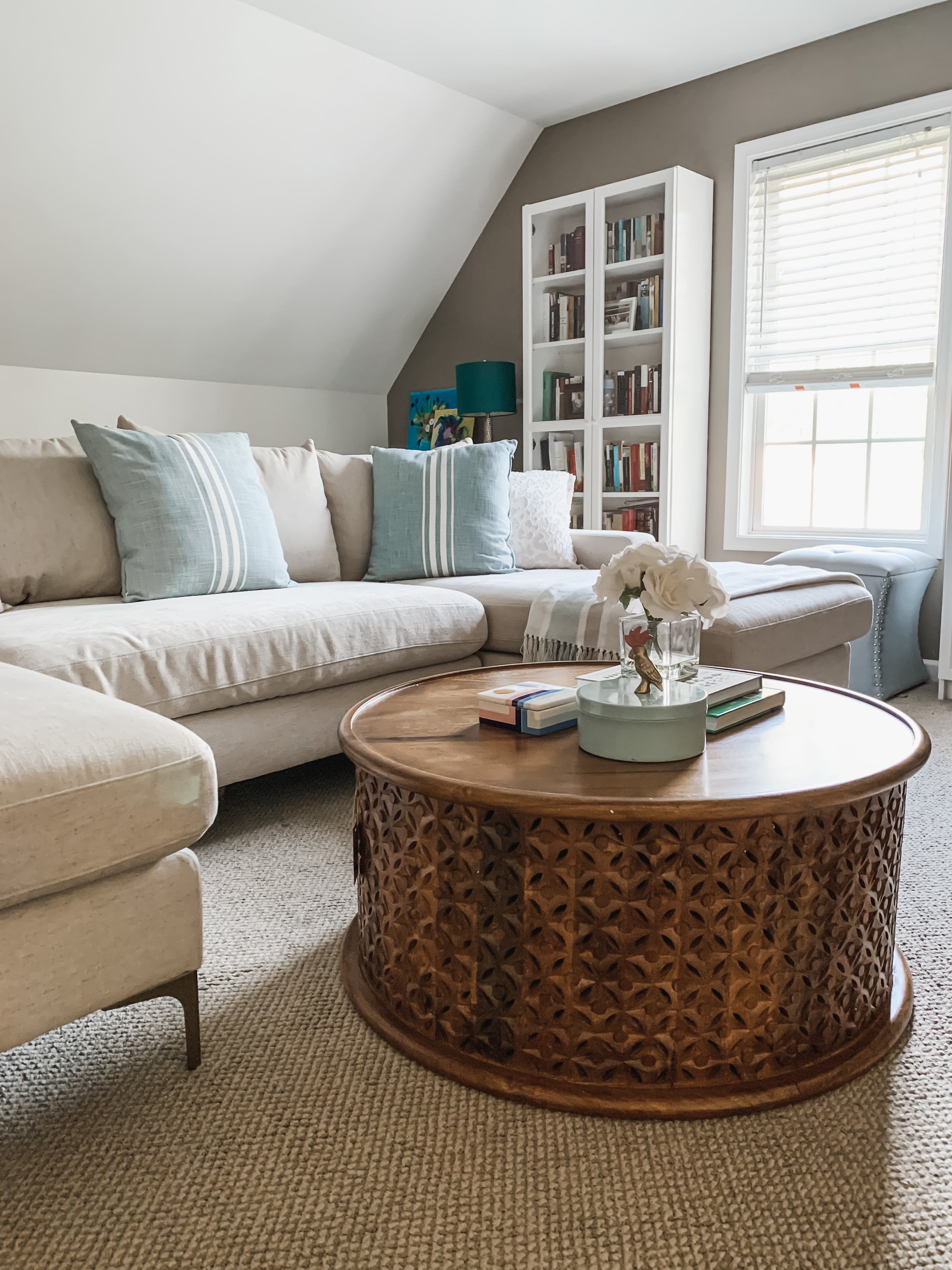 GOLD & MARBLE ROUND COFFEE TABLES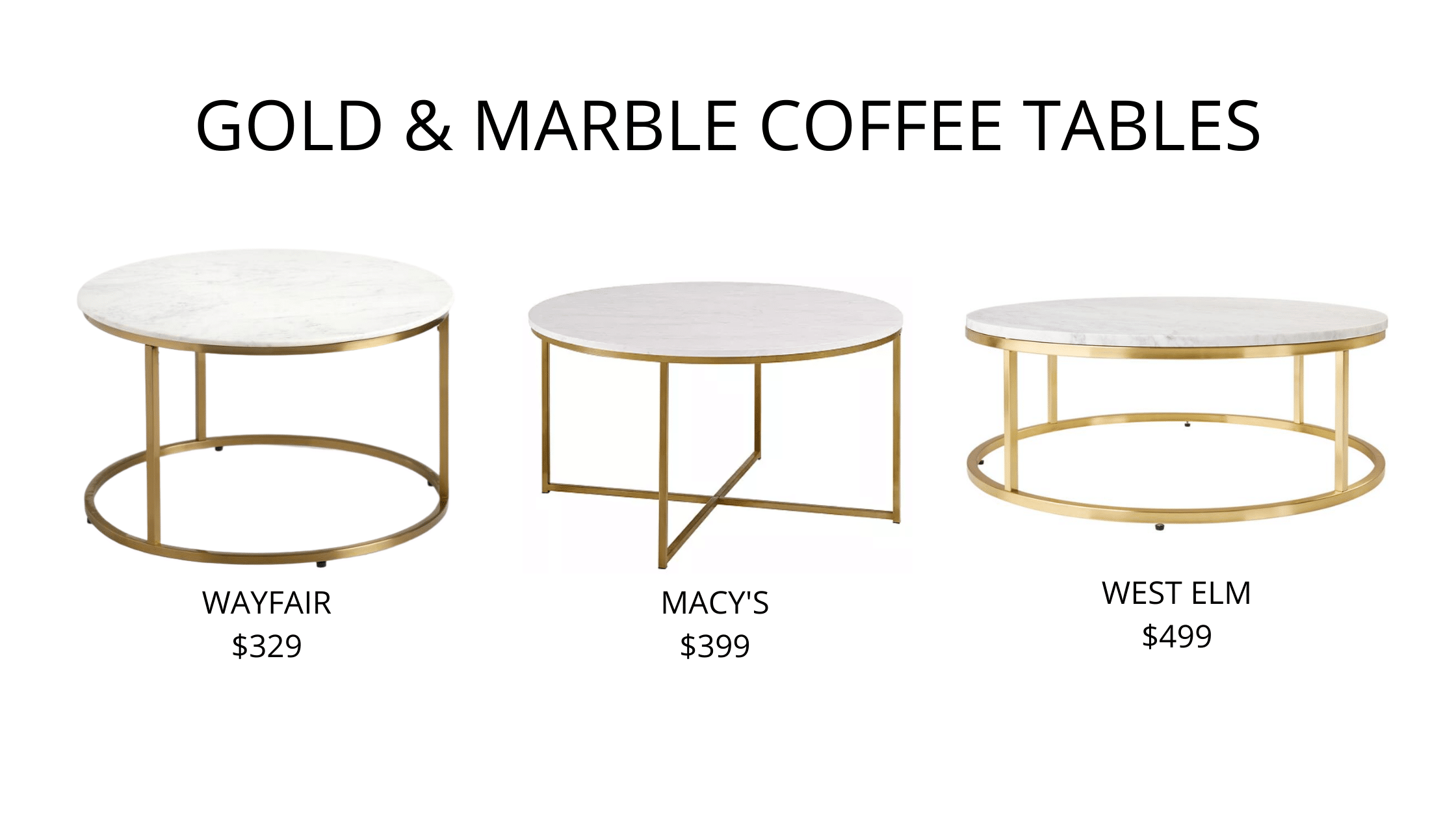 GOLD & MARBLE COFFEE TABLES
READ MORE: Splurge vs Save Coffee Tables in Every Style