Pottery Barn AND Serena & LilY coffee table DUPES
These Serena and Lily and Pottery Barn coffee table dupes will blow your mind. It's an Add to cart!kind of day!
This post may contain affiliate links- meaning when you purchase through the link and I receive a small commission. It feeds my Starbucks addiction & for that I thank you! You can see my full disclosure policy here.
Hello, hello! I'm back with another part of the splurge vs steal series with a focus on coffee tables. This new series, Splurge vs Steal, has been fun sourcing must have interior decorating products for your home at different price points!
We all love a good deal! I'm going to show you high style home decor at good, better, and best levels. You'll get to see what's out there and a few affordable look alikes aka dupes.
We know quality can suffer as price goes down, but I've scoured for the best pieces that are well rated. But, be sure to read the most current reviews and look for real life photos of the decor pieces before you buy. I want your expectations to be realistic & for you to have the best experience.
Everyone's budget is different and where you want to spend and save will vary. So, grab a cup of coffee and check out this week's splurge versus steal deals on coffee tables.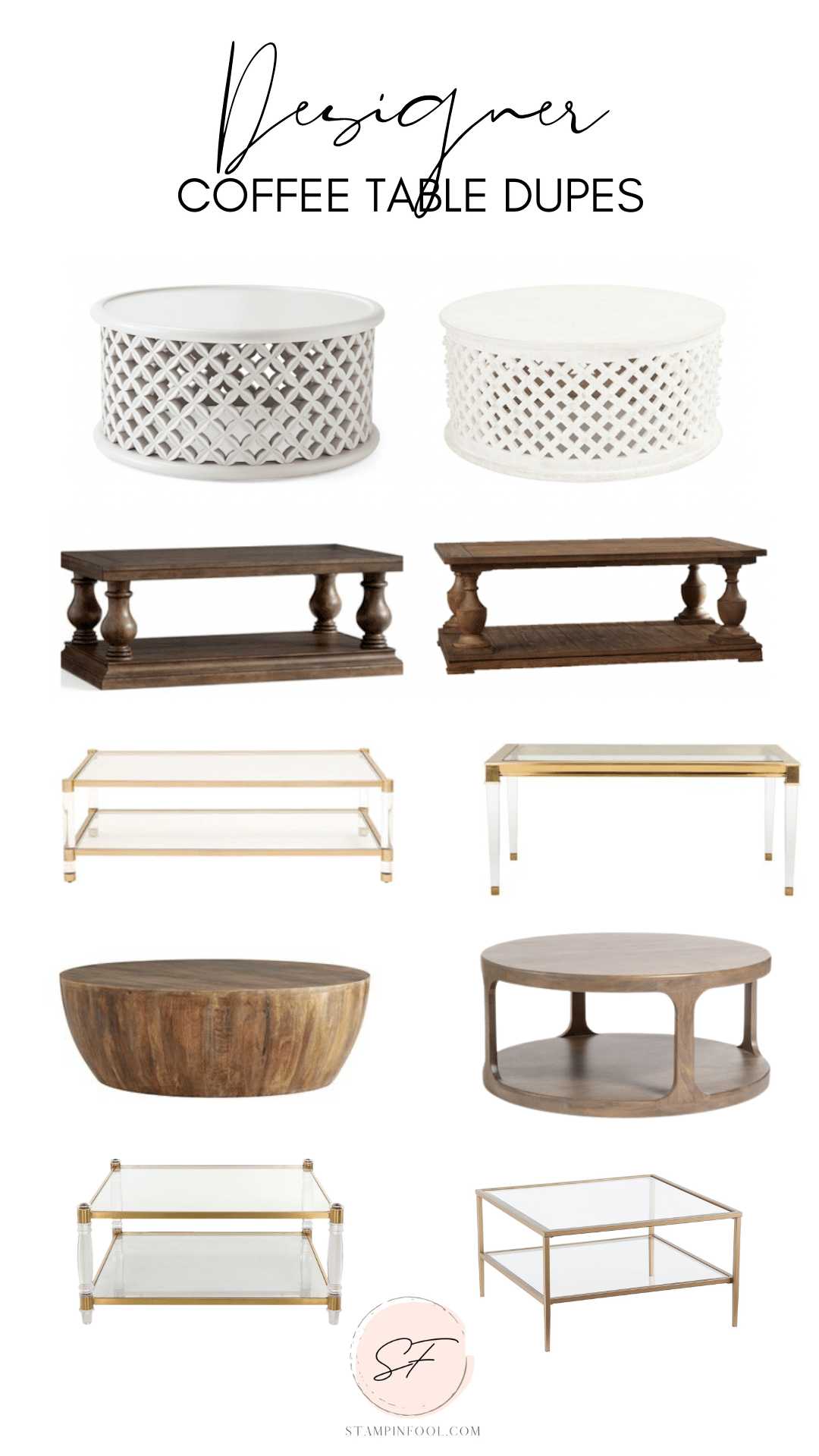 COFFEE TABLES
For this week's splurge vs steal, we're talking about an assortment of coffee tables. Usually I pick two or three similarly styled tables, beds, chairs, etc. But today, I've done five different styles with a splurge and a steal for each style.
These coffee table styles vary from marble top to traditional, acrylic to coastal. Keep reading to find the perfect coffee table for your living room!
Previous splurge vs steal posts you'll love: chandeliers, canopy beds & green velvet accent chairs.
Below, I've sourced two coffee tables in each style for you at a good and best quality and price point. As always, I recommend using a space planner (like this one), check the measurements of your space, and double check the dimensions of the coffee tables before you buy.
ROUND MARBLE TOP COFFEE TABLE

Splurge: CB2 Marble Table
CASUAL WOODEN COFFEE TABLE
The most well known wood turned leg coffee table is the Pottery Barn Lorraine table, but with a price tag of $1,000, it't note for everyone.
So if you are looking to save a few dollars, but still get that Pottery Barn look, this PB Lorraine dupe is a great alternative.

Splurge: Pottery Barn Lorraine Table
Steal: Wayfair Pottery Barn Dupe Coffee Table
ROUND COASTAL COFFEE TABLE
If you've seen this Serena & Lily Bamileke whitewashed wooden coffee table, you've probably fallen in love with its coastal feel. But this table comes in at $1598. So if you are looking for a splurge, here's where to make it.
But, if a deal on a coffee table is more your style, this Ballard Designs Bornova white wood carved coffee table is a great dupe alternative to the Serena & Lily.

Splurge: Serena & Lily Bamileke Outdoor Coffee Table
Steal: Ballard Designs Bornova Coffee Table
SQUARE GLASS TOP COFFEE TABLE

Splurge: Wayfair O'Harra Coffee Table
Wayfair: THIS ONE $679
Pier One (already discontinued). Pier One is going out of business. I have substituted with the Target table below which is similar in size and price.
Target $159: Emerson Coffee Table
SPINDLE LEG COFFEE TABLE

Splurge: $999 or $799 on sale Ballard Designs Willow Coffee Table
Steal: Wayfair Kenbridge Table (out of stock)
CONCLUSION
These designer coffee table dupes are great alternatives to the Pottery Barn and Serena & Lily tables if you need a more affordable version.
Always check the dimensions before ordering!