How To Choose the Best Sherwin Williams Blue Paint Colors of 2023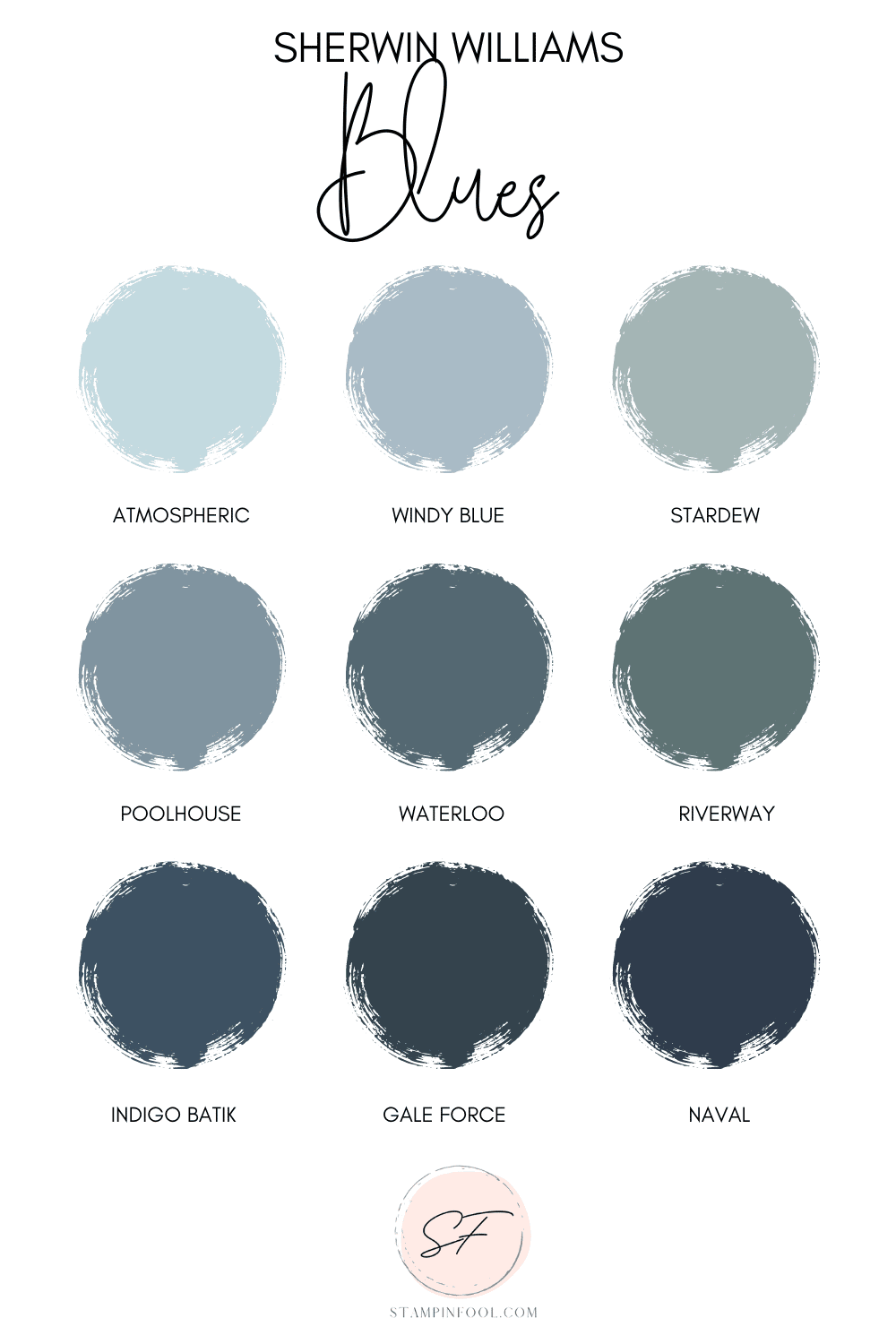 Best Sherwin Williams Blue Paint Colors of 2023 (Updated)
In my search to find the best Sherwin Williams Blue Paint colors, I came across two graphics from SW with their top selling blue colors. Then I took some time to track down a few other time tested blue paint colors that give a great finish to any room.
We're talking about paint colors because it's the number one thing I get asked questions about. Usually, I get asked about white paint colors (you can read all about the best SW White Paint Colors here), but when people want to venture out, it's usually to blues.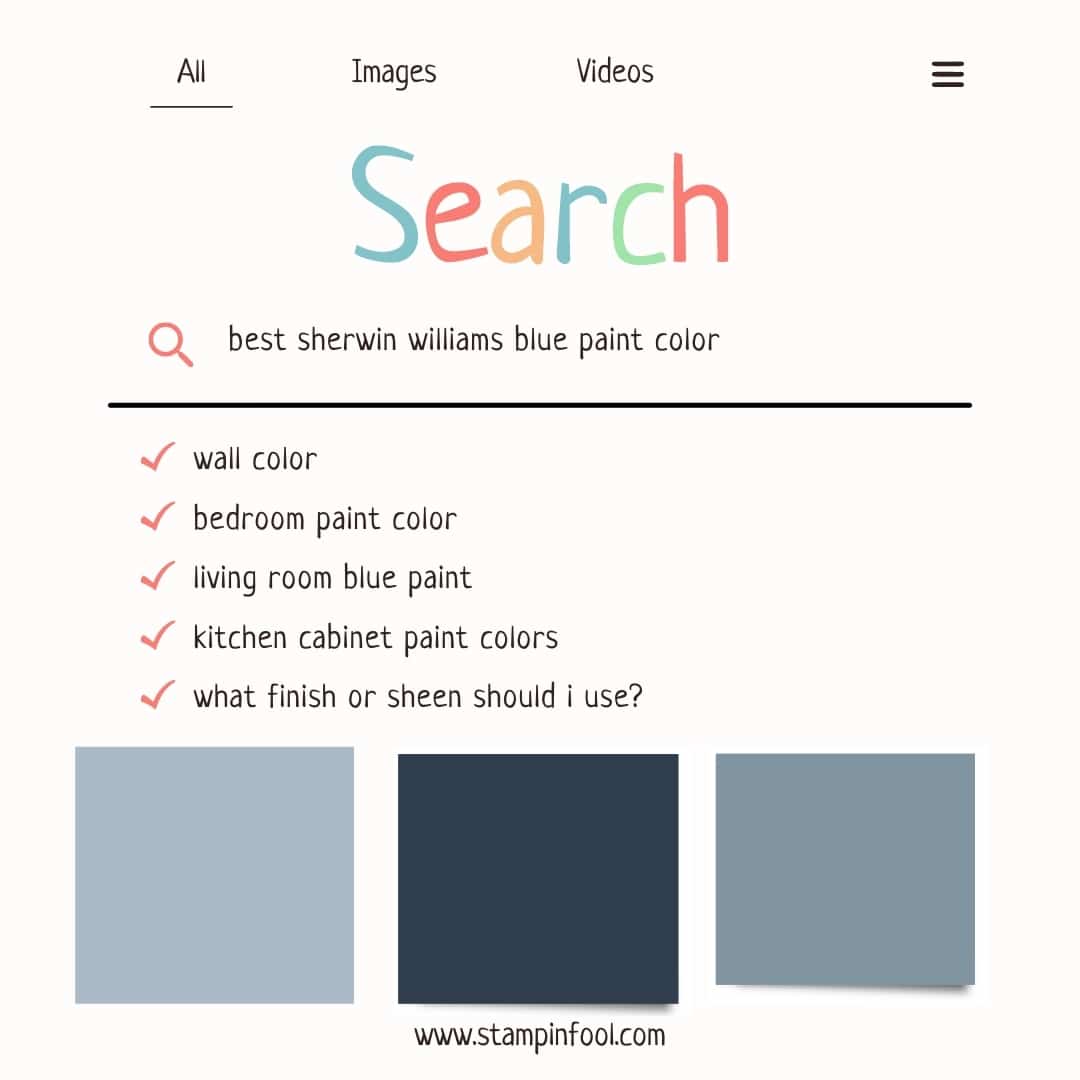 WHY WE LOVE BLUE PAINT
First, blue is a safe color. It sets a great neutral backdrop or can be punchy when paired with fun patterns. If you are just starting to dabble in adding color to your walls, blue is a great starting place. I goes well with virtually everything.
Next, if we look at fashion, next to black and white, blue is also a safe color. Jeans, suits, ties- blue is the natural go to choice for these clothing items outside of b&w.
So, I'll show you with Sherwin Williams blue inspiration. Then, I'll give you the full list and go over some examples of each color in a real room.
Lastly, we'll recap the list of these top 8 Sherwin Williams blue paint colors.
Sherwin Williams Blue Paint Posters THAT NAILED IT
Now, here are the two graphics that Sherwin Williams put out showcasing their most popular, best selling blues. And I have to say, I love them. Which is no surprise.
They spend a lot of time on market research and reviewing sales to be able to determine what people love and where trends are going. We have a great variation of light and airy blues and deep moody blues, like Naval.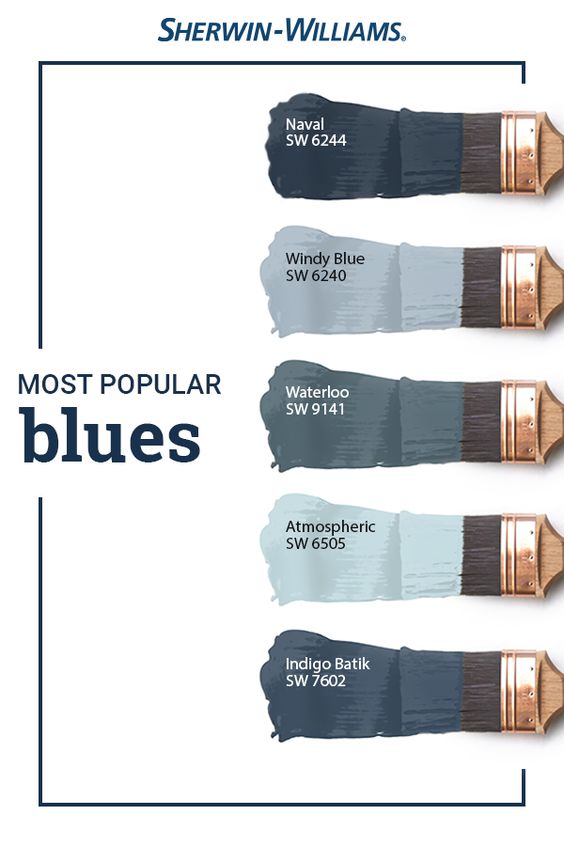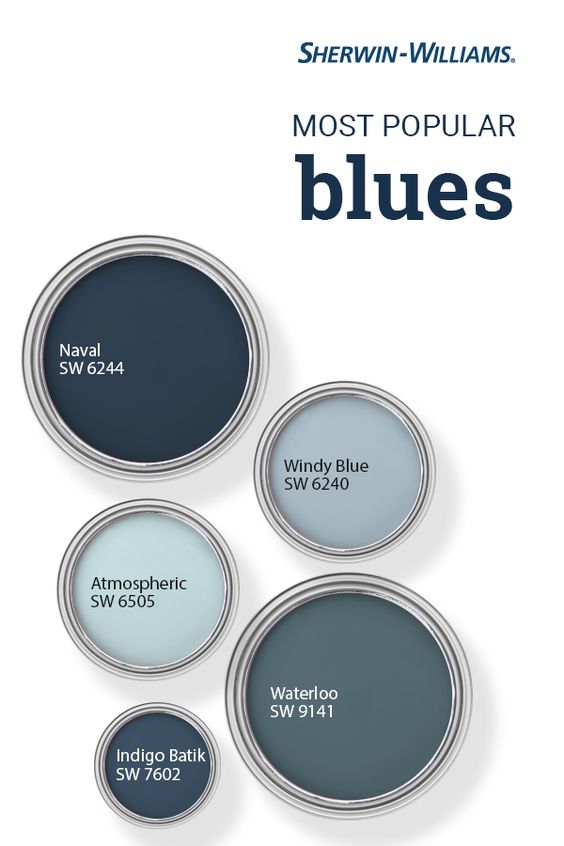 BLUE PAINT UNDERTONES
Before we get into the specifics of the best blues according to Sherwin Williams (and my own personal leanings and experience) you have to understand paint undertones.
Most paint colors have undertones. They are the subtle color towards which the main color leans.
Usually undertones for blues can be purple blues or green blues. Occasionally, you'll have a gray blue as well.
What are Paint Undertones? Undertones are the result of blending more than one color together, like blue with a black tint (for indigo) or blue with a green tint (making turquoise). The dominant color, sometimes called a mass tone or overtone, is the color you perceive. The color you don't see is the undertone. From paintzen.com
Let's explore undertones and compare the colors below.

Above, Sherwin Williams Windy Blue leans slightly gray whereas Sherwin Williams Stardew has green-gray undertones. Can you see the green in Stardew?
To determine the undertone, compare the paint chip to a primary color and then secondary color. When you compare it to the color of the same undertone, it will bring out the undertone in the sample and you should be able to easily identify it.
These subtle colors will show when lighting changes and when paired with undertone color in furniture or fixtures.
In contrast, when you compare the colors below, Sherwin Williams Gale Force looks slightly green and Indigo Batik has a gray haze. Naval has the purest color and doesn't have a noticeable undertone.
When you compare the colors to each other, Naval also looks the "cleanest" or purest color compared to Gale Force or Indigo Batik.

THE LIST OF BEST SHERWIN WILLIAMS BLUE PAINT COLORS
Are you ready to see the line up of best blue paint colors? Drumroll please…..
For the short list of best blues from Sherwin Williams, these are the colors that made the cut. I'll share photos of each one so you can see how they relate to an entire room.
Atmospheric
Windy Blue
Poolhouse
Stardew
Waterloo
Indigo Batik
Gale Force
Naval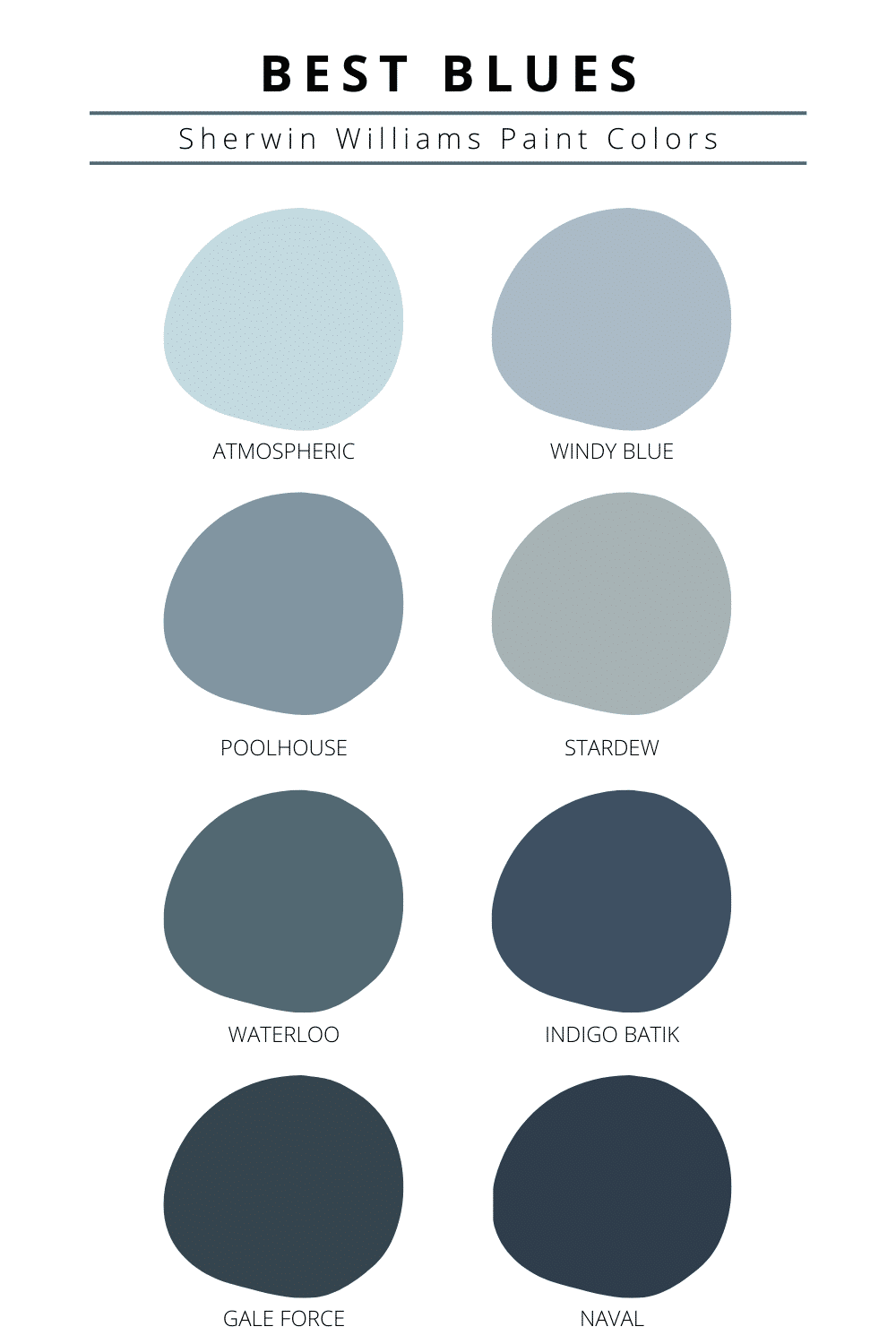 Sherwin Williams Atmospheric SW6505
Sara at @simplysoutherncottage painted her porch ceiling with atmospheric blue and it is the perfect delight when you look up from the porch swing to this faux sky paint scene.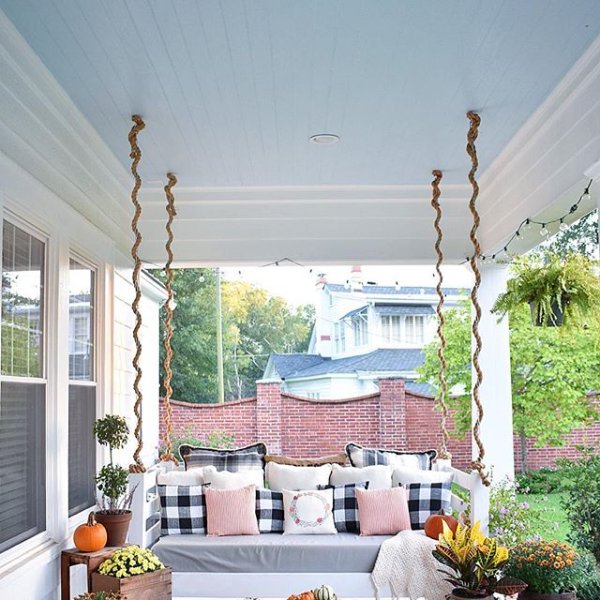 Sherwin Williams Windy Blue SW 6240
This bathroom vanity and mirror frame are the perfect examples of Sherwin Williams Windy Blue. The color pairs wonderfully with a natural light filled room of white and marble tile.
Home Exterior in Sherwin Williams Windy Blue paint
Gorgeous built in mudroom cabinets in Windy Blue by Sherwin Williams
---
Sherwin Williams Poolhouse SW 7603
From decorandthedog.net, is Sherwin Williams Poolhouse. Here I'm showing the same space from at two different times and angles to point out how lighting and time of day change the way a color looks.
Regardless of the time of day, this color is beautiful and calming.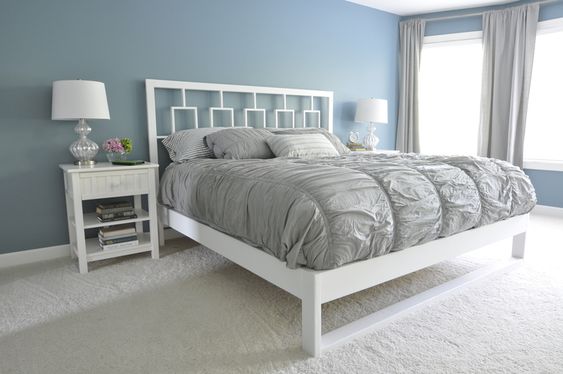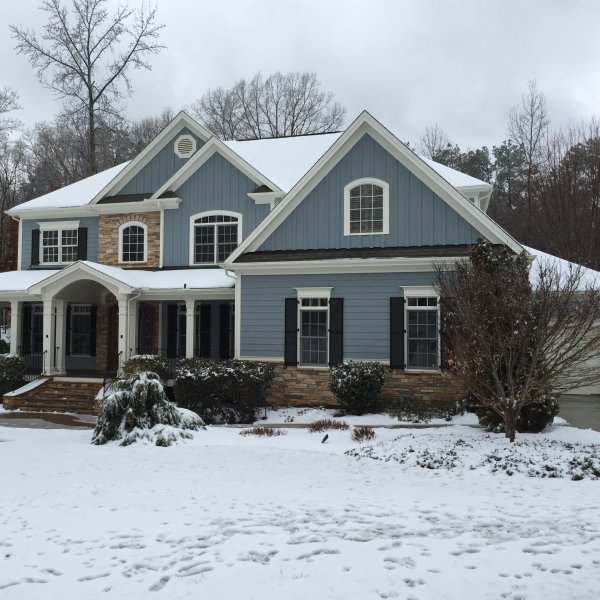 Sherwin Williams Stardew SW 9138
SW Stardew is one of my favorites blues. Personally, our upstairs hallway is painted this color (but I won't show you because the space isn't finished yet).
The first photo is a digital mock up from Sherwin Williams.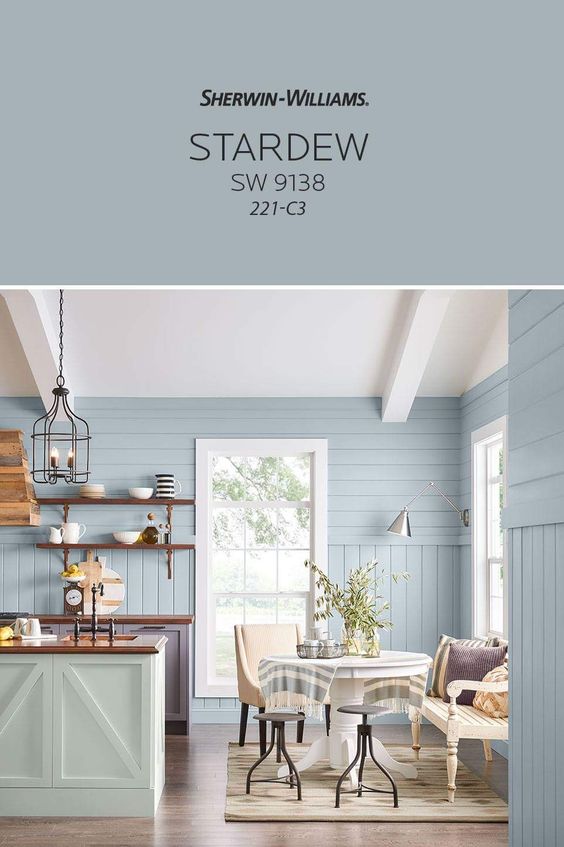 This gorgeous powder bathroom has SW Stardew trim and beadboard for a classic look!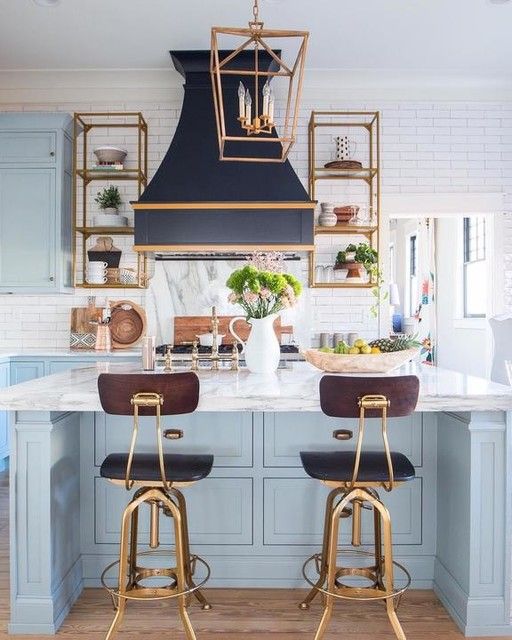 The second photo is kitchen design that used 50% of Sherwin Williams Stardew and 50% Uncertain Gray for the cabinets. It showcases the Stardew blue beautifully, even at 50%.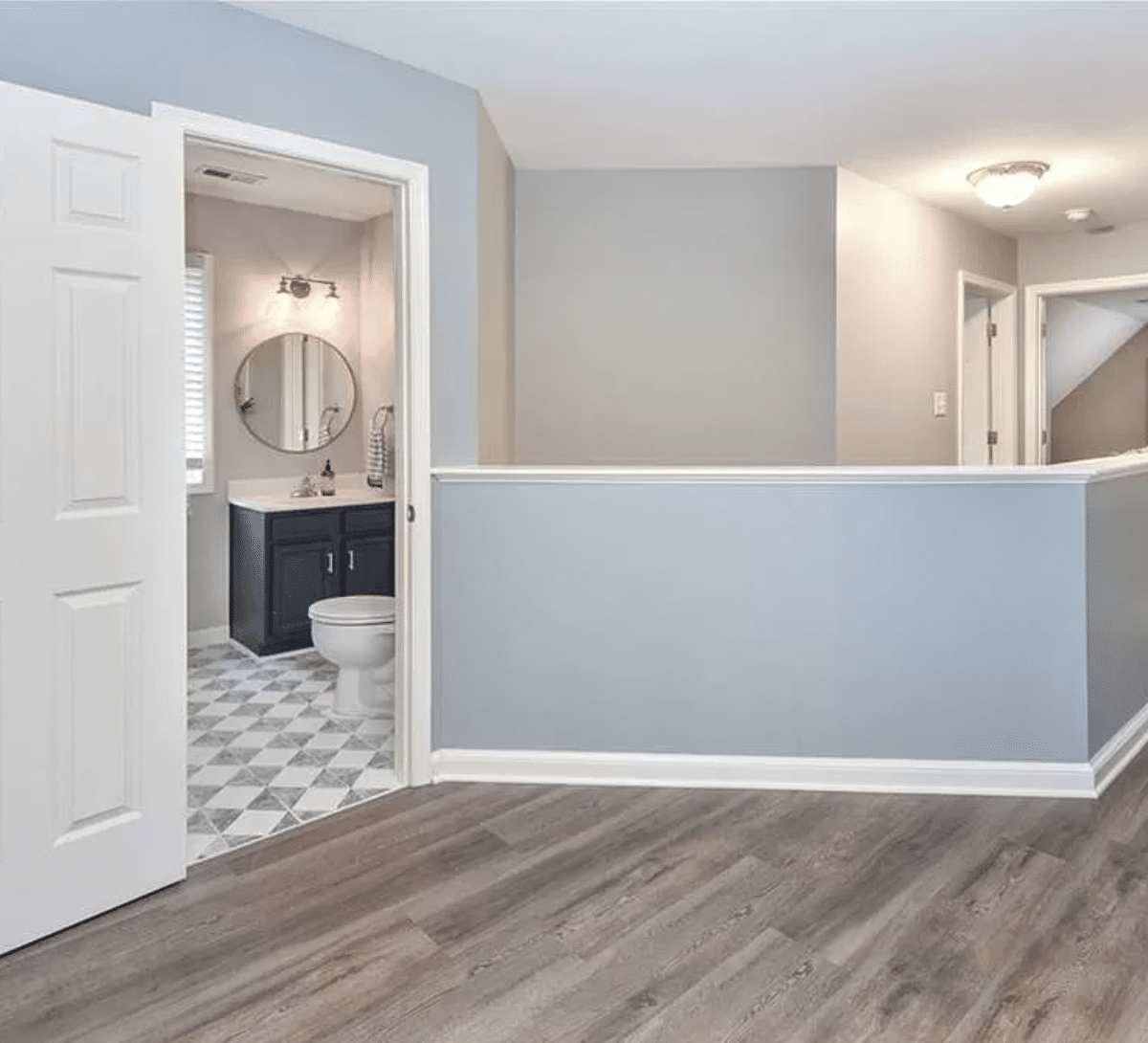 Another peaceful mudroom with Sherwin Williams Stardew paint- doesn't it make you want to start paining today?!?
Sherwin Williams Waterloo SW 9141
We recently painted an office in Sherwin Williams Waterloo and it is a great sophisticated color for the space.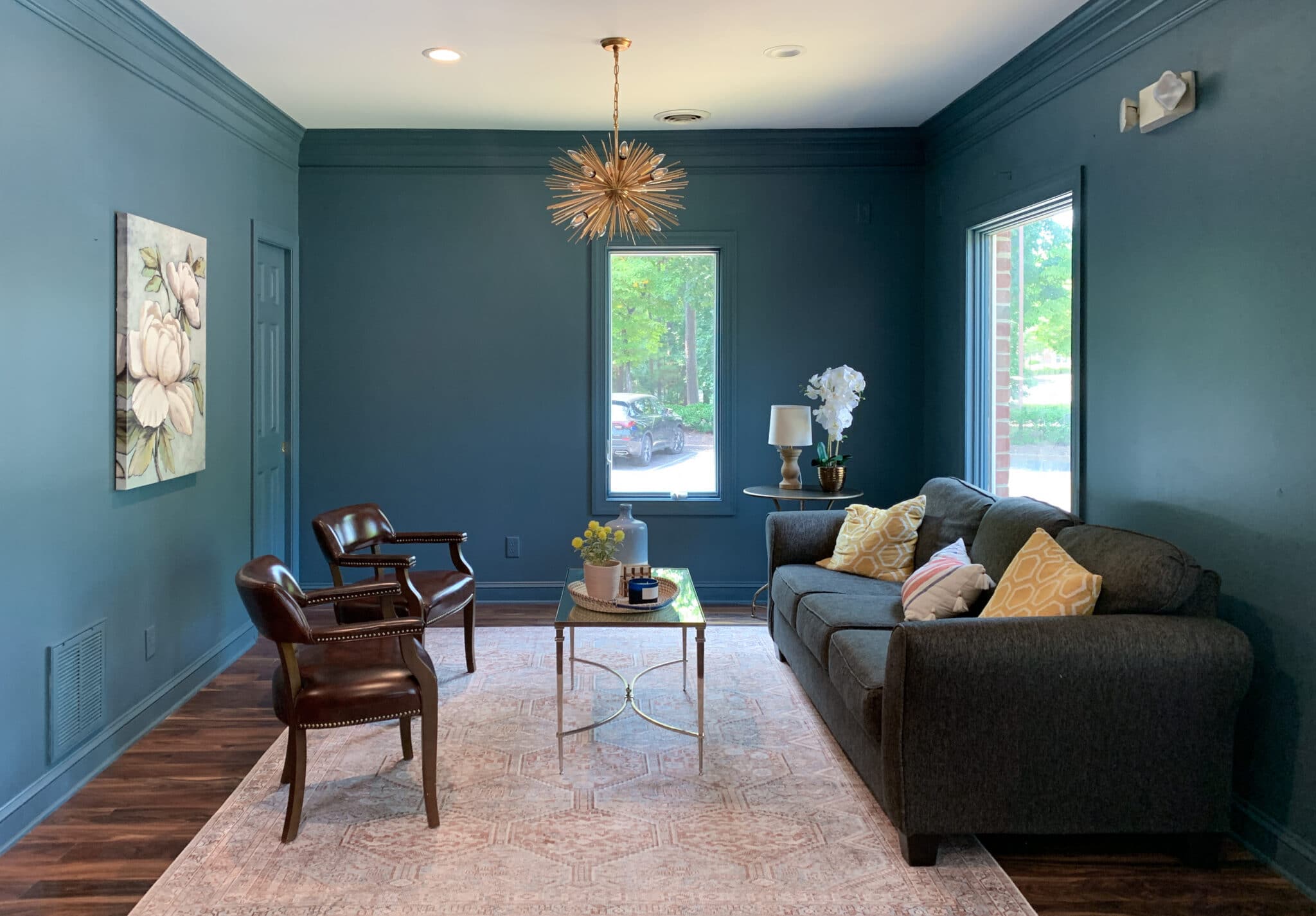 Emily Henderson nailed the Waterloo paint in this family room and wet bar. The natural light pouring into the space, with warm linen and natural woven furniture make this space feel comfortable and amazing.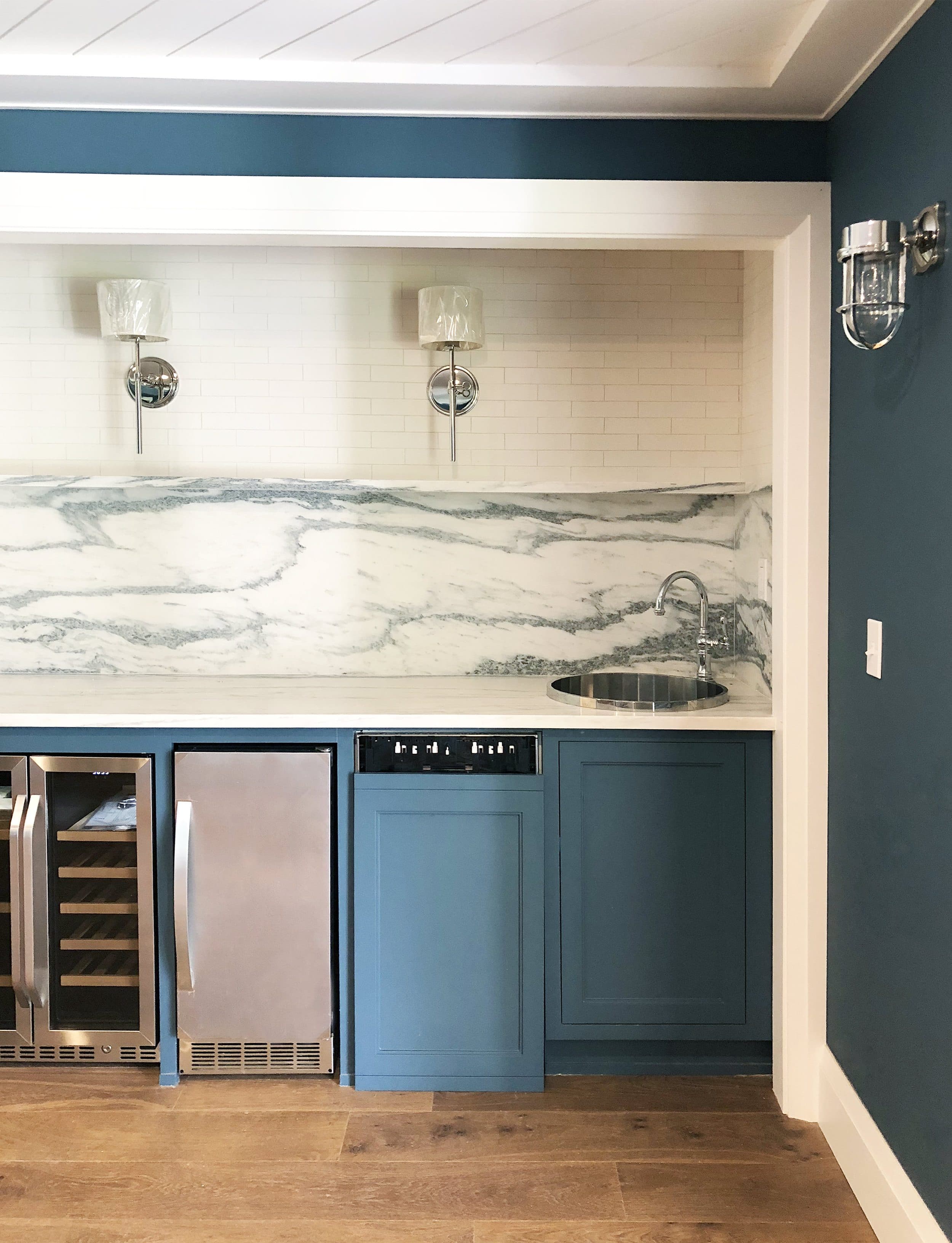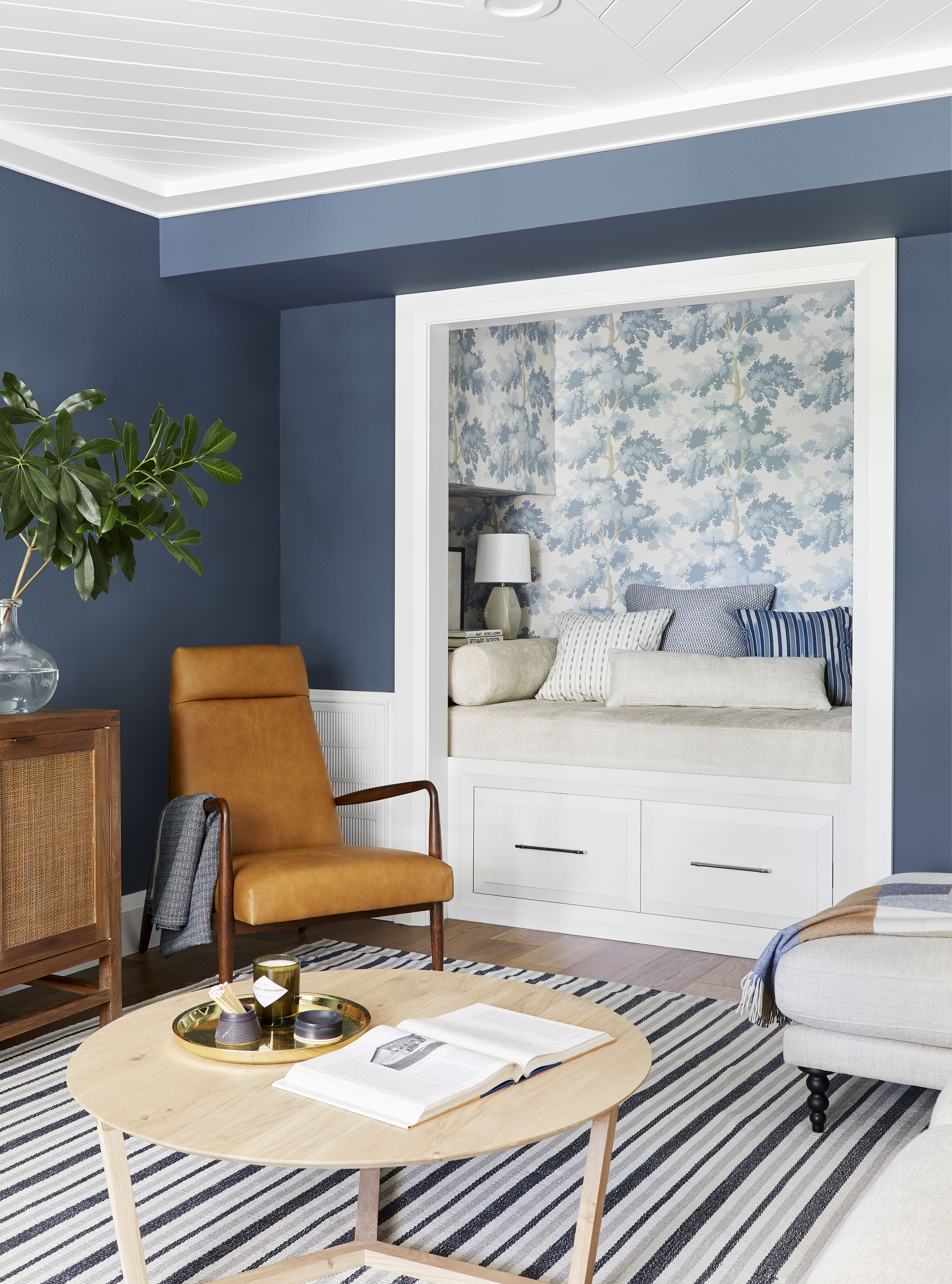 Built-ins? Say no more- Waterloo is the perfect moody blue for your room. Take it a step further and paint the ceiling also for a designer trick to feel enveloped by the room.
Sherwin Williams Indigo Batik SW 7602
This Sherwin Williams blue, Indigo Batik works as a solid blue for any wall or cabinetry. While it appears lighter on the well lit walls than on the cabinets, it's beautiful no matter the use.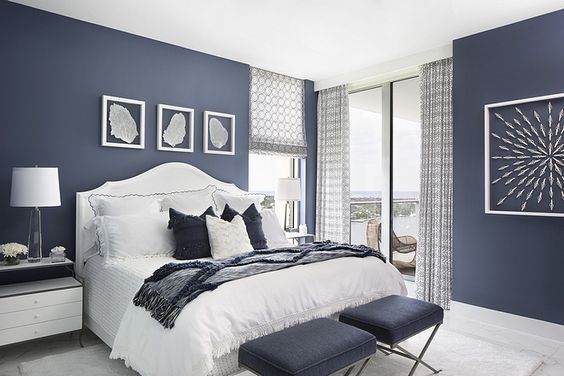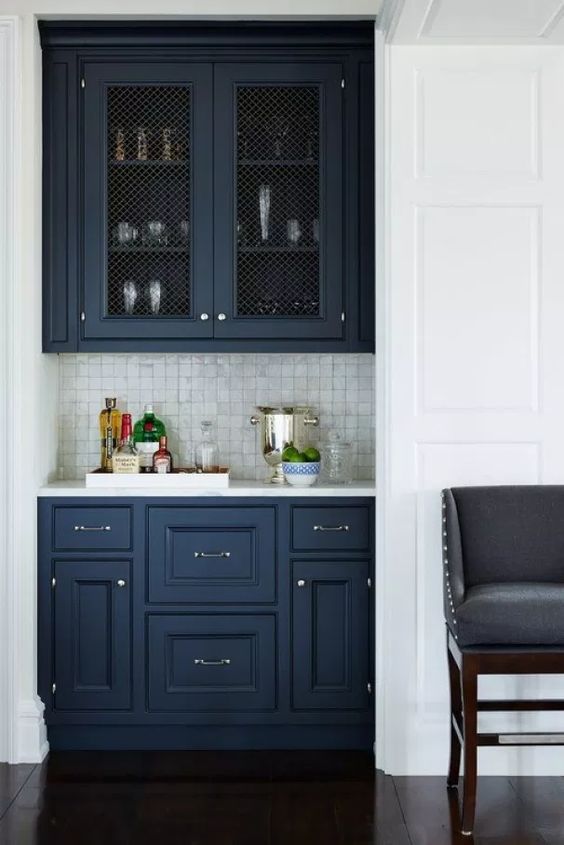 Sherwin Williams Gale Force SW 7605
I'm undecided if this is actually the #1 Sherwin Williams blue. I may love it more than Naval!
Gale Force is what I would consider a chameleon color. It changes with the lighting and the pieces around it. Below are beautiful built ins painted with SW Gale Force.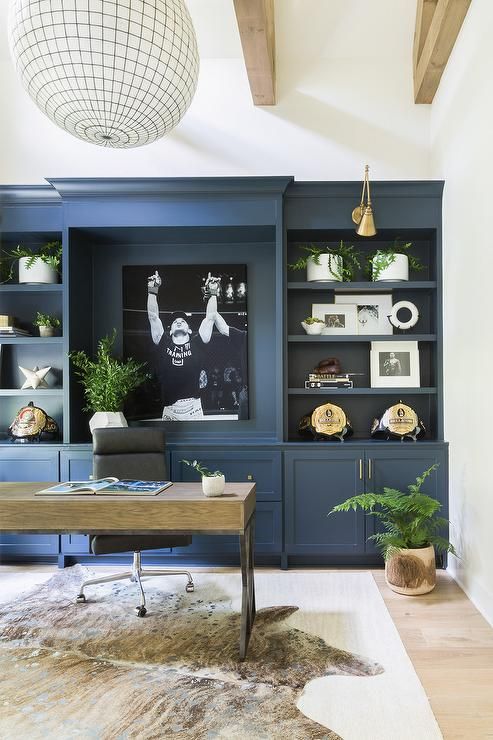 Next, you'll find yourself enveloped with this blue-ish green, teal wall color. It pairs so well with those large floral prints and shiny brass accents.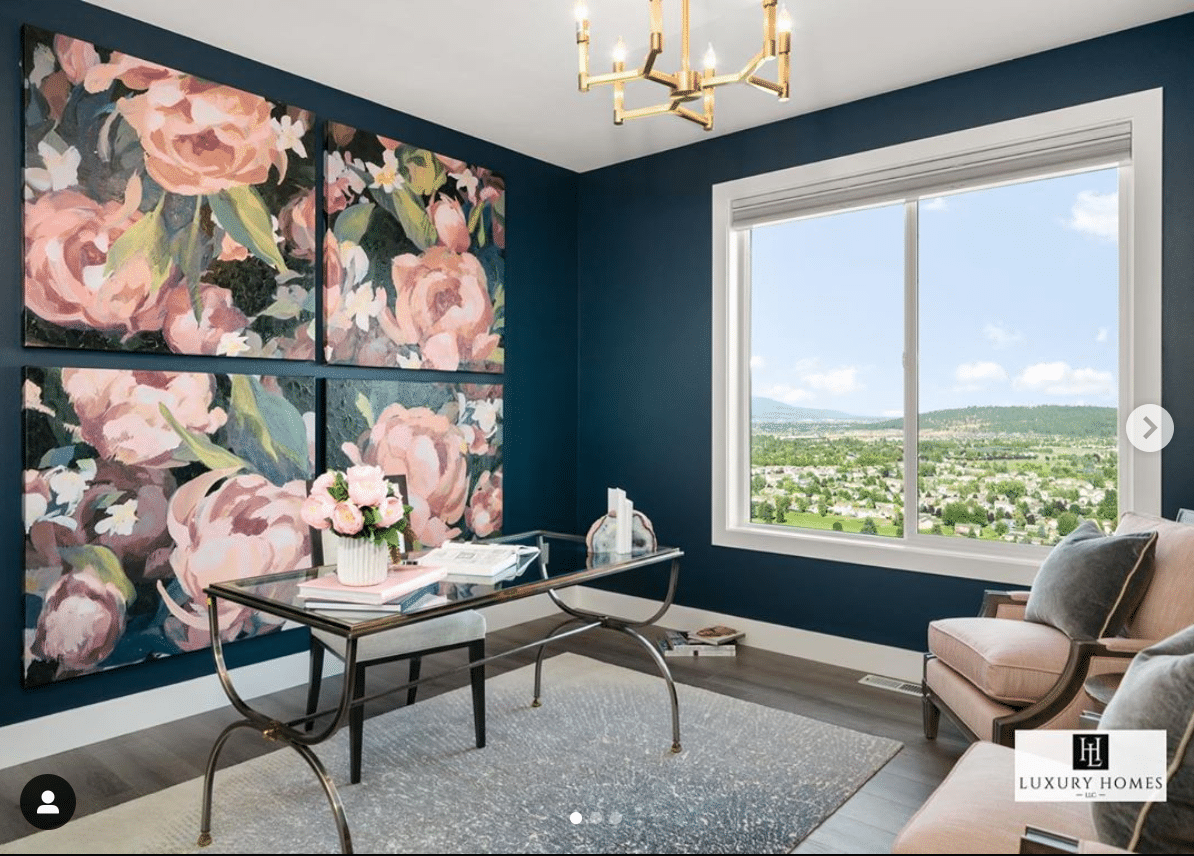 Lastly, I can imagine myself sitting in front of this fireplace with a cup of coffee and a book. This version of Gale Force has such an amazing impact on the overall look because the trim is also painted the same color and there isn't any white paint to break things up. It is perfection!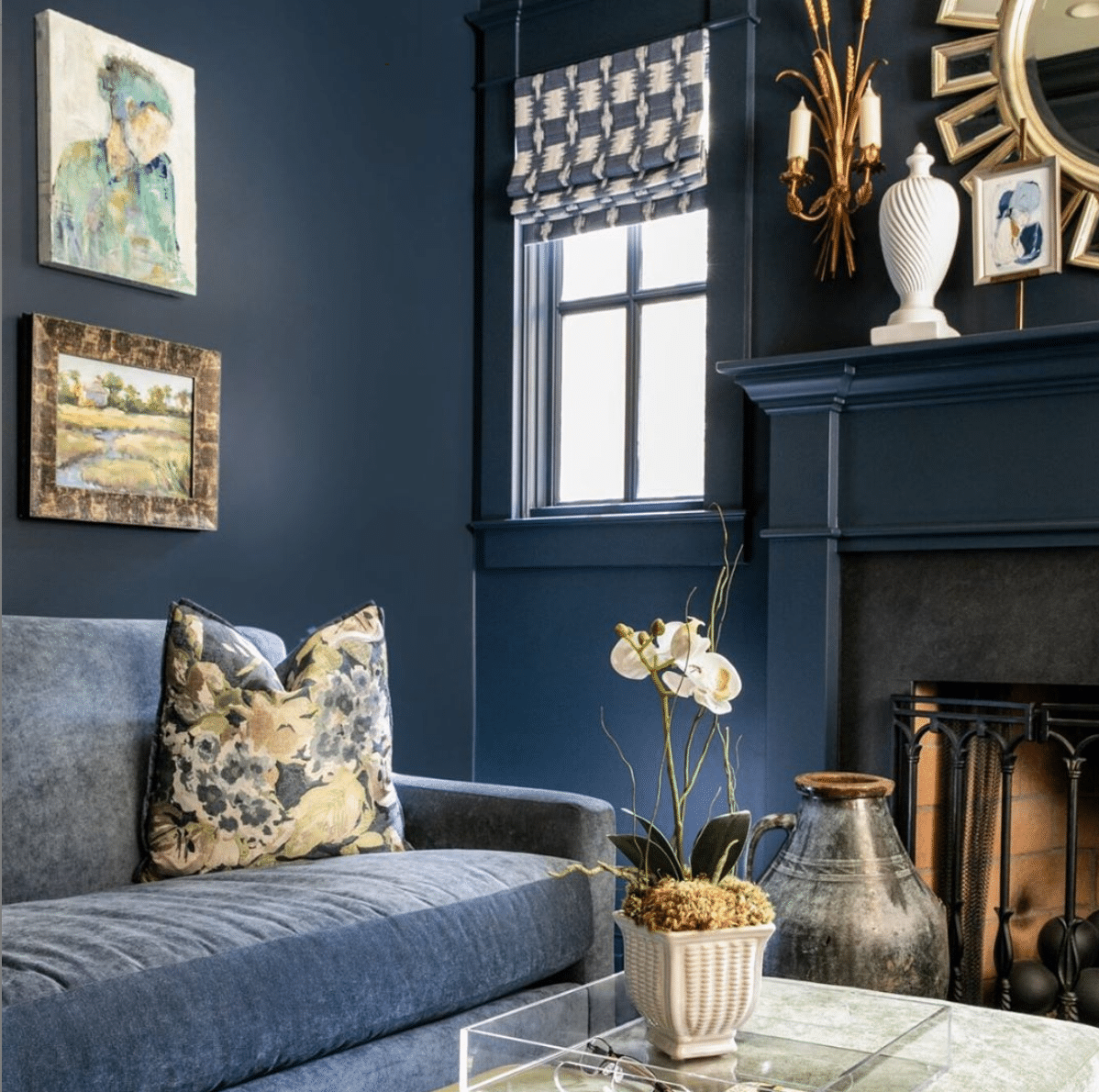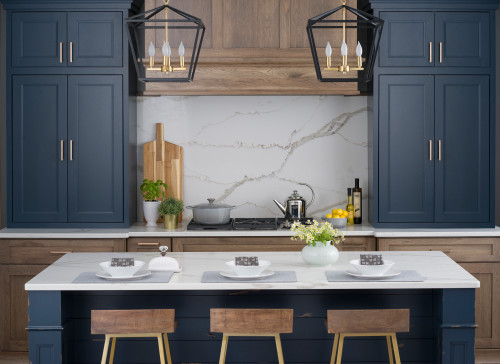 Photo by Dura Supreme Cabinetry – More kitchen ideas
Sherwin Williams Naval SW 6244
Sherwin Williams Naval is the 2020 Color of the Year, so it's no surprise that this one made it into the top Sherwin Williams Blue paint colors.
In 2015, I painted our front door with Naval exterior paint. Can we say I was ahead of the times? I'm kidding, but in reality it is the color of the year likely because people are loving dark, bold, moody spaces, clean classic colors and moving away from gray everything.
Naval provides a true blue backdrop with no weird purple undertones. In the photos below, you'll see it in a few different ways from walls to cabinets.
While this color is a winner every time, it looks great in southern exposure rooms with natural light. If you plan to paint it in a room with little to no natural light, opt for the moody look by painting the ceiling also and adding lots of lamps and wall sconces for mood lighting. You'll get a library-esque feel that's a warm cocoon of color.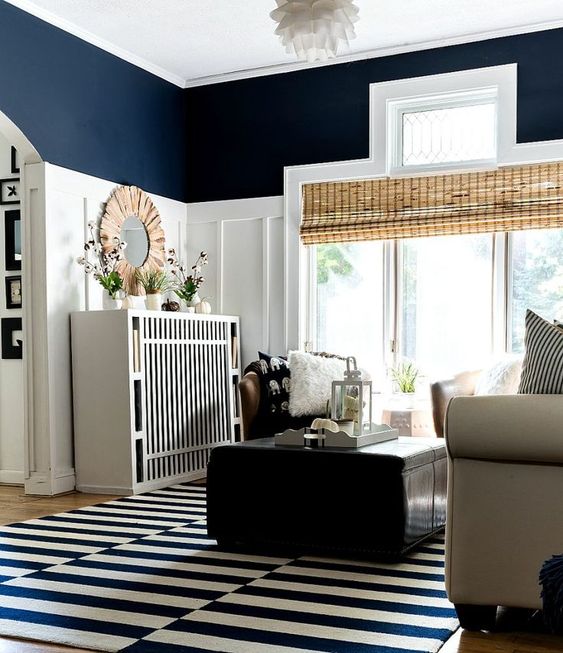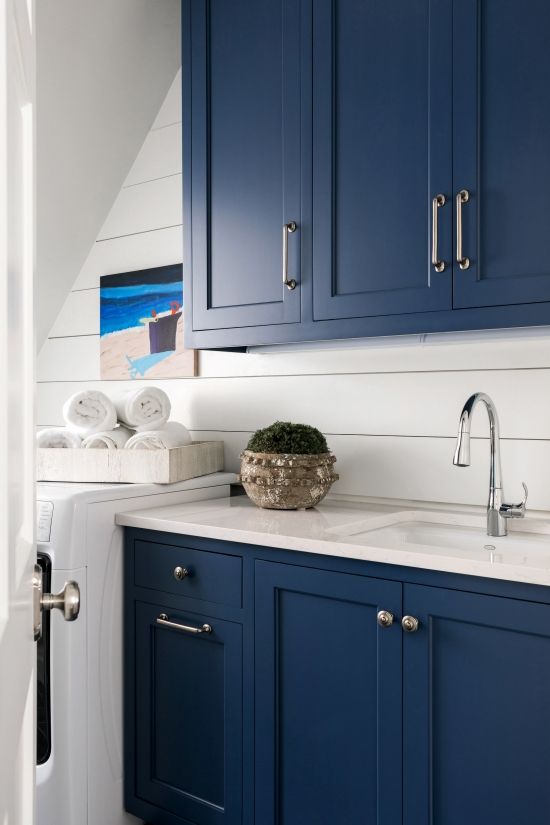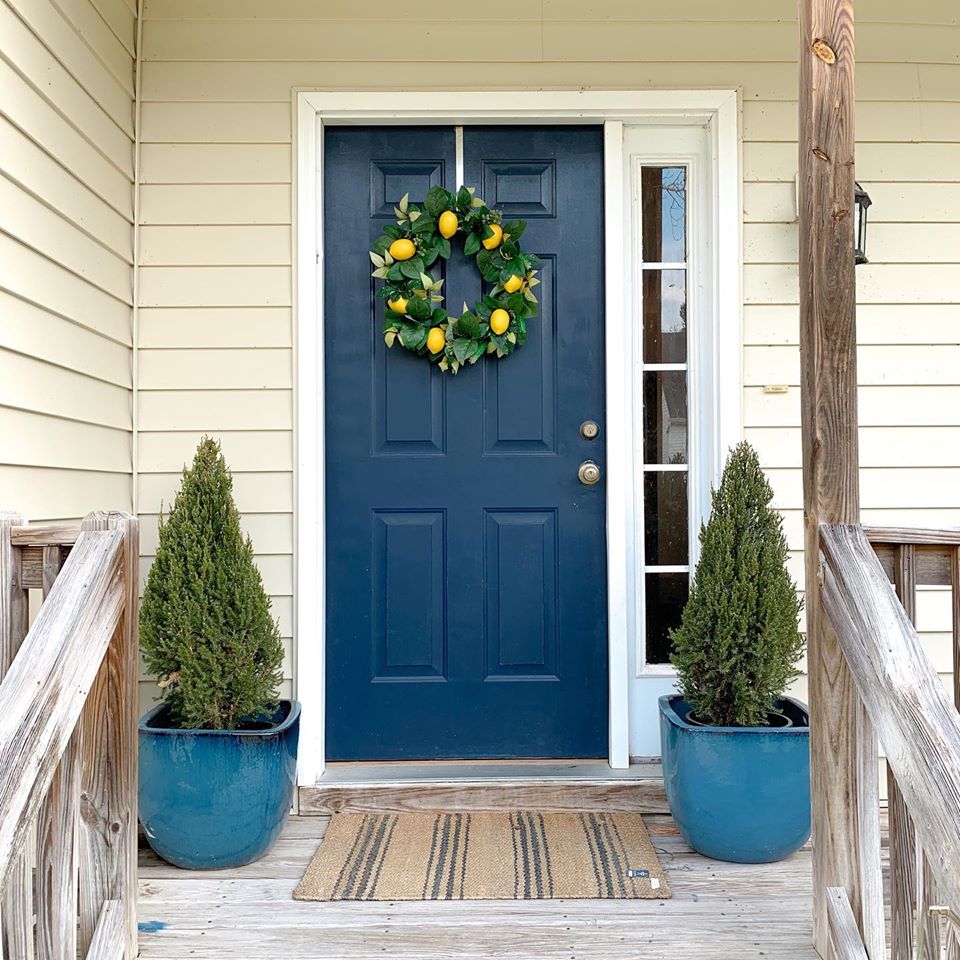 BEST BEDROOM BLUE PAINT COLORS
After reviewing the blue paint colors above, these colors are great to use in bedrooms:
Poolhouse
Waterloo
Indigo Batik
Gale Force
Naval
BEST LIVING ROOM BLUE PAINT
For living rooms, lighter blues are great choices. If you have high ceilings or large rooms, you can pull off darker colors.
Poolhouse
Waterloo
Stardew
Gale Force
BEST EXTERIOR BLUE PAINT COLOR
Undoubtedly, darker colors look great on exteriors of houses and front doors. Sometimes the lighter color blue paints can look baby blue in natural light.
Make sure to sample your paint in a test area first!
Indigo Batik
Gale Force
Naval
Waterloo
FREQUENTLY ASKED QUESTIONS ABOUT BLUE PAINT COLORS
What sheen blue paint should I use?
Trim paint should be semi-gloss or high gloss, and wall paint looks great in a satin or flat. For darker paint colors with smooth walls, Emerald flat is the best paint.
When can I use flat paint?
If you have smooth walls, the Sherwin Williams Emerald line is high quality, durable flat paint.
How do I paint cabinets Sherwin Williams blue?
If you think you may have oil based painted cabinets, use a Sherwin William alkyd paint to paint over the oil based paint. You should de-gloss and lightly sand the sheen, but you do not need to prime when using an alkyd paint.
CONCLUSION OF BEST BLUE PAINT COLORS
Do you now feel confident in choosing a blue paint color for your space? Let's go over a few quick rules to help you choose that perfect color.
Choose a muddier color when going light to avoid the baby blue look
Dark colors look great on exteriors of homes- doors, shutters, and siding
Atmospheric is a great haint ceiling blue
Built-ins and mudrooms look great in these blues
Paint the ceiling for a moody, designer feeling in your room!
To recap, here is the list of the best Sherwin Williams blue paint colors that you're going to want to try:
Atmospheric
Windy Blue
Poolhouse
Stardew
Waterloo
Indigo Batik
Gale Force
Naval
Don't Guess, Test!
Did you pop by to find the perfect paint color or were you curious? If you are in search of more paint colors, check out these posts on the best Sherwin Williams White & best Benjamin Moore White paint colors for more info.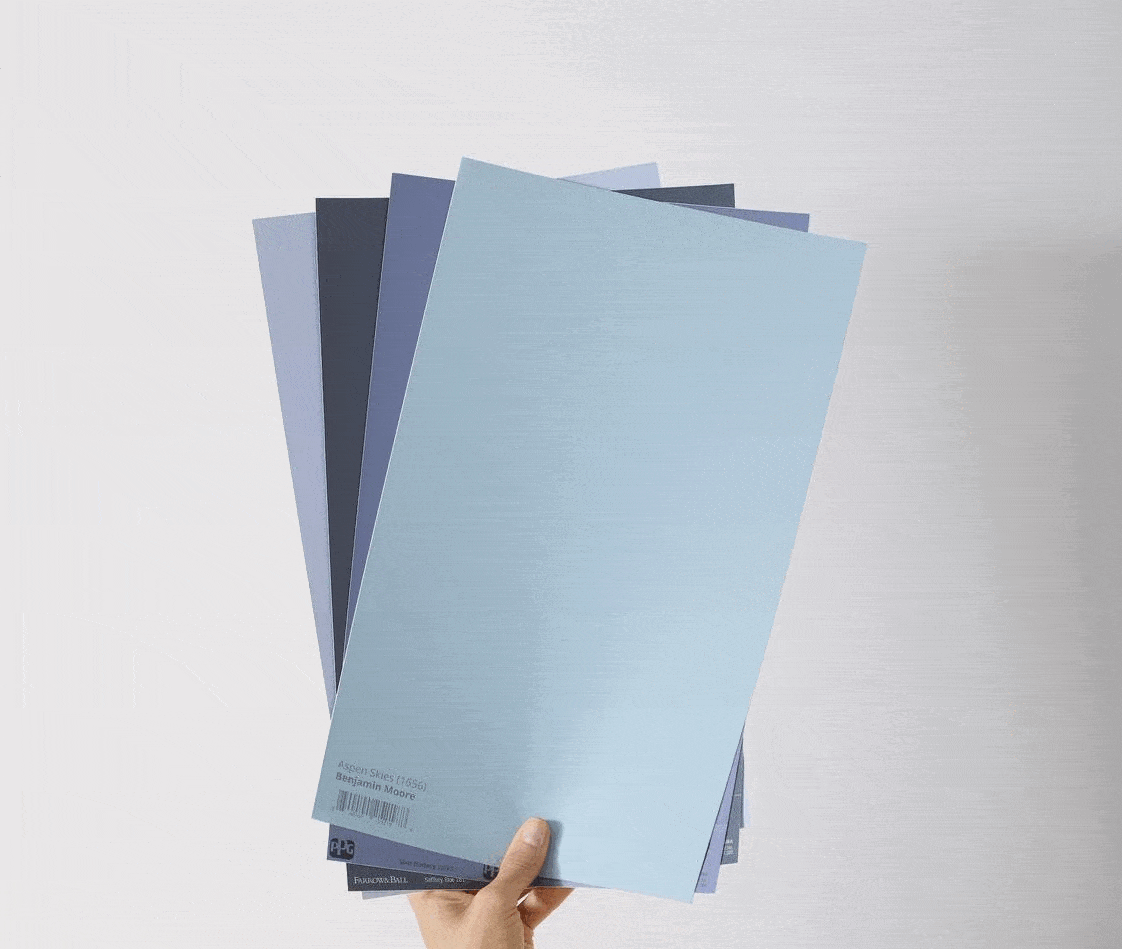 I ALWAYS recommend testing large swatches of your paint colors before committing to the entire house. It's an expensive mistake, so I recommend using Samplize.
Ships within 24 hours
Simple peel-and-stick application
No painting, no cleanup
No wasted material, no storage
Real manufacturer paint
Displays color just like a wall
Repositionable
Or don't peel off the back and use over and over again!
Don't Forget to test your paint colors!
Finally, as always the colors you see in other people's homes won't look the same in your home. Often times, photos are edited, lightened or color corrected. Don't rely solely on photos to make your decision- trust the process and sample the paint
So choose a few colors you want to try LARGE swatches of those colors!
Choosing the wrong paint color is an expensive mistake you do not want to make!