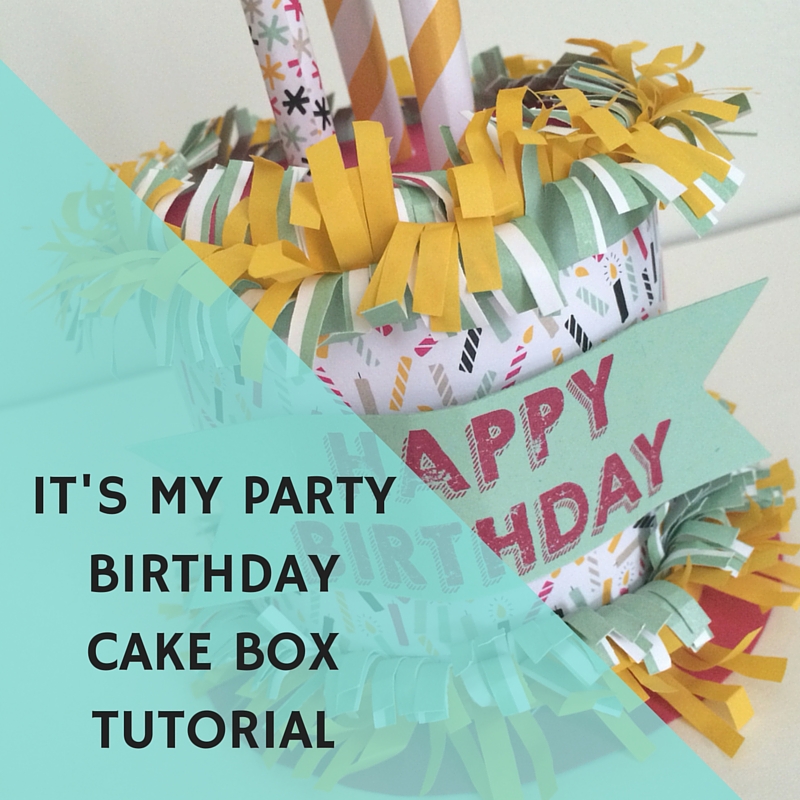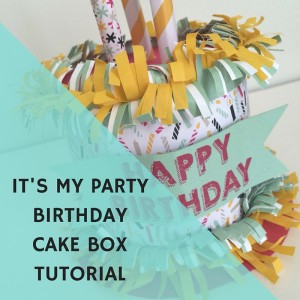 HOW CUTE IS THIS CAKE?
Seriously, isn't it adorable! Well, luckily I have a great little tutorial for this sweet little treat box. It features the It's My Party Designer Series Paper and with a little bit of cutting and gluing you'll have a cake birthday box too. Alright, here we go- below I have a supply list, directions, step by step photos, and a visual supply list at the very bottom. Happy Crafting!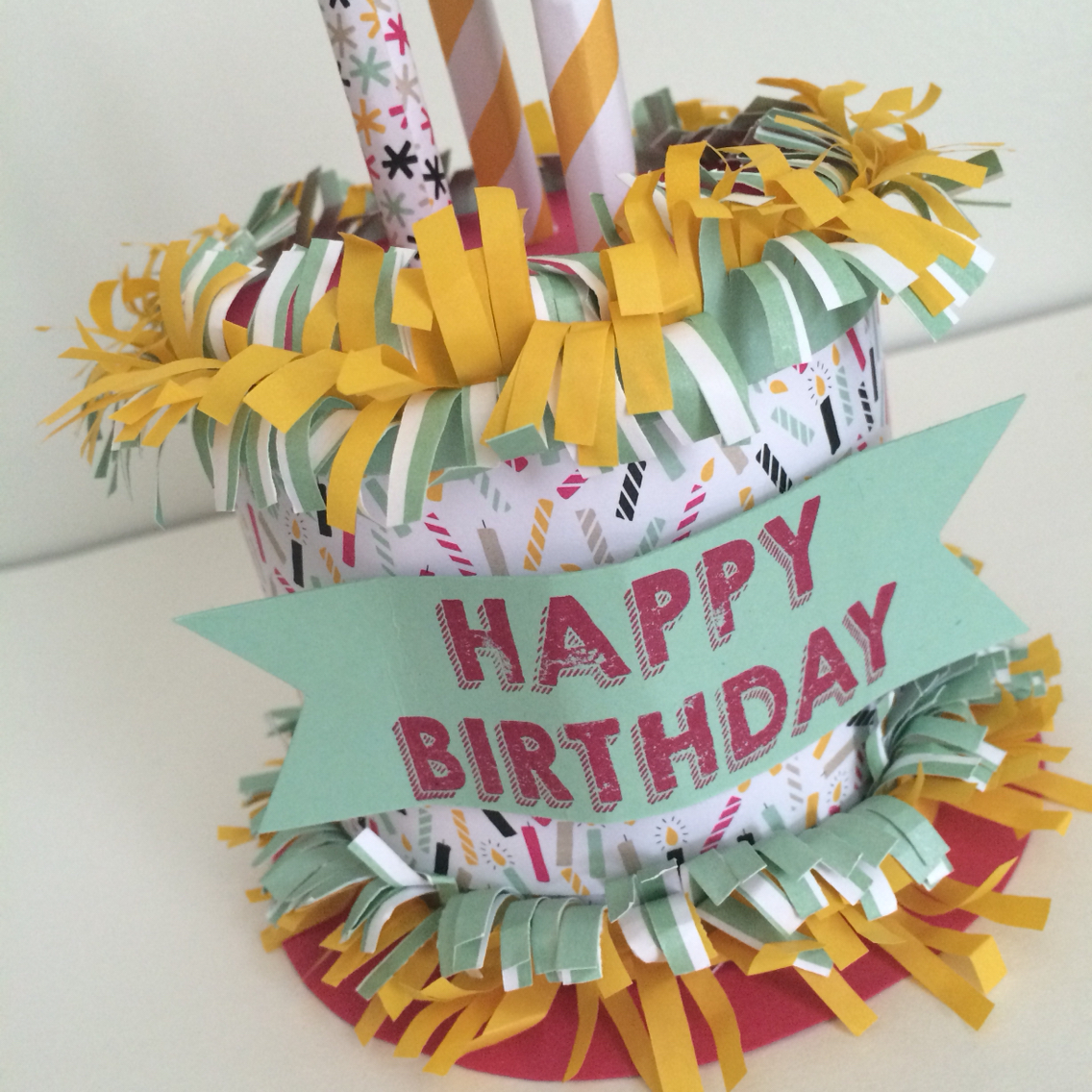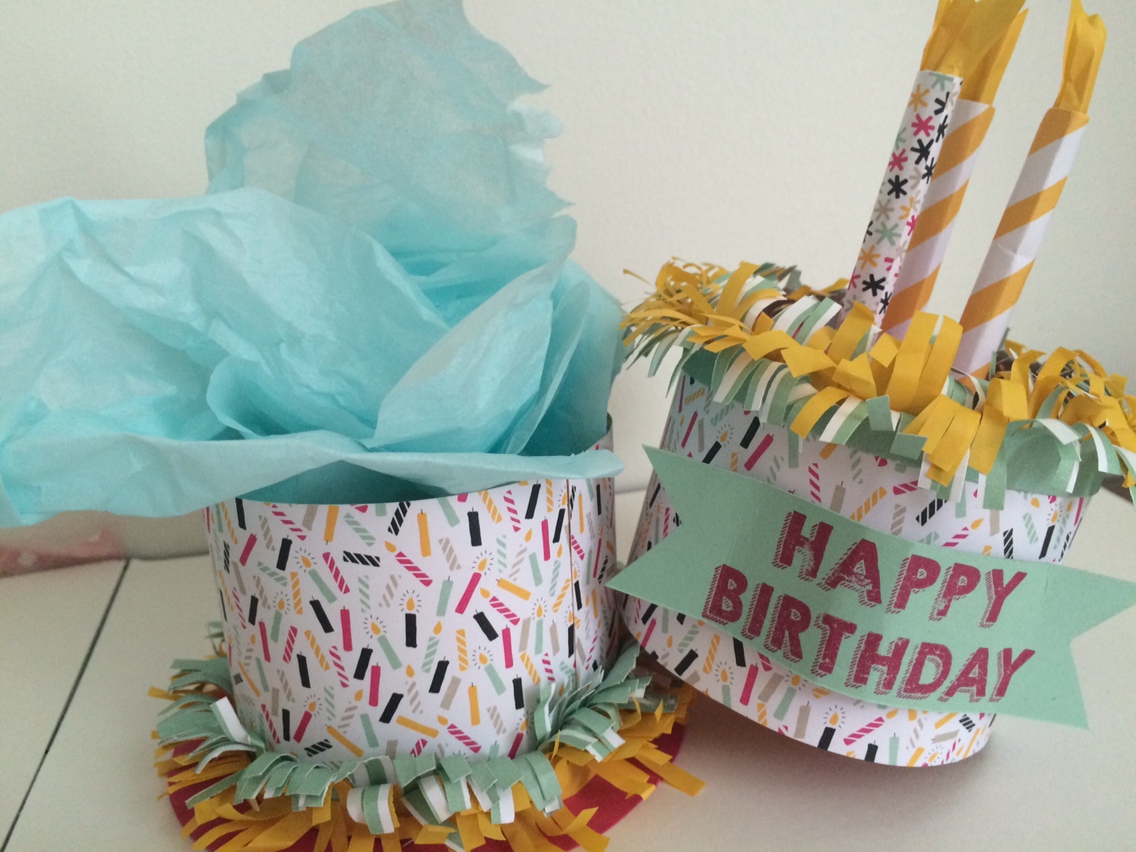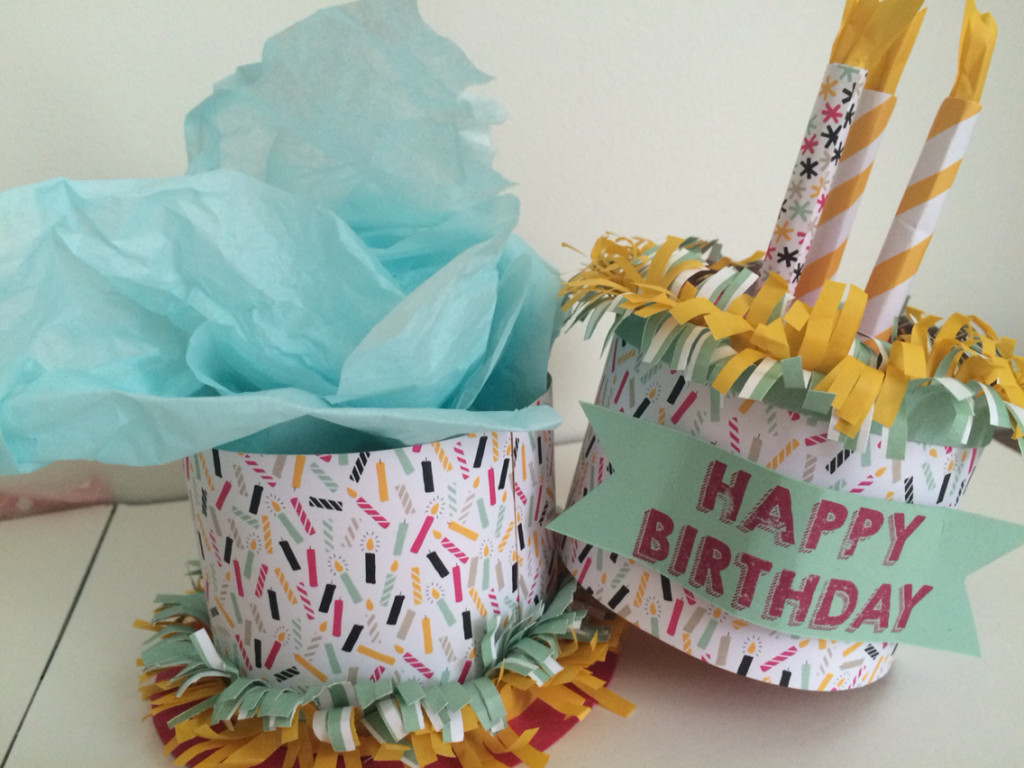 Supplies:
It's My Party 12″ x 12″ Designer Series Paper stack
Party Wishes Stamp Set
Melon Mambo card stock
Crushed Curry Cotton paper (Cherry on Top pack)
Mint Macaron Envelope Paper
Crystal Effects Glue
Fringe Scissors
Tear Tape
Paper Trimmer
Dimensionals
pencil
Directions:
Cut two 3″ x 11″ strips of It's My Party DSP.
Score each strip at 1/2″ from the edge of one long side.
Cut tabs to the scored line along the 11″ edges about 1/4″ apart.
Crease all tabs so the fold down.
Roll each strip into a cylinder and use Tear Tape to adhere, overlapping by 1/2″. Make sure one cylinder is slightly larger than the other so that it fits over the smaller one.
Use the larger cylinder to trace a circle (about 3 1/4″ diameter) onto Melon Mambo card stock and cut it out. Trace the outside of the Tear Tape roll onto Melon Mambo card stock and cut it out (about 4 1/2″ diameter circle).
Using Crystal Effects Glue, attach the smaller circle of Melon Mambo card stock to the larger cylinder (top) by gluing the tabs, folding them flush to the circle. This will be the box top. Use the same method to adhere the smaller cylinder to the middle of the larger 4 1/4″card stock circle (bottom of box). The bottom of the box will have a lip around all sides to be able to pull the box apart.
Cut four 2″ x 11″ strips of Crushed Curry and Mint Macaron envelope paper. Score in half at 1″ the 11″ length of each strip.
Layer one of each color together (adhere one to the other with tear tape) and cut with fringe scissors the entire length. Use a pencil to curl & fluff the fringe. Repeat with the second set of strips.
Add tear tape to the back of both sets of fringe and slowly adhere to the top and bottom of the box lid.
Cut 3 small scraps of Crushed Curry cotton paper and scrunch them into a small flame.
To make candles: Cut 2 1/4″ x 3″ pieces of It's My Party DSP, adhere tear tape to one 3″ (longer) edge and roll into a circle. Repeat for each candle. Attach to the top of the box by squeezing a small line of Crystal Effects along the bottom of each candle and hold in place on lid for 30 seconds to set. Add crystal effects to the flame and place inside of the top of the candle.
Stamp the Party Wishes sentiment in Melon Mambo ink onto a scrap of Mint Macaron card stock and cut out in the shape of a banner. Adhere with dimensional foam dots.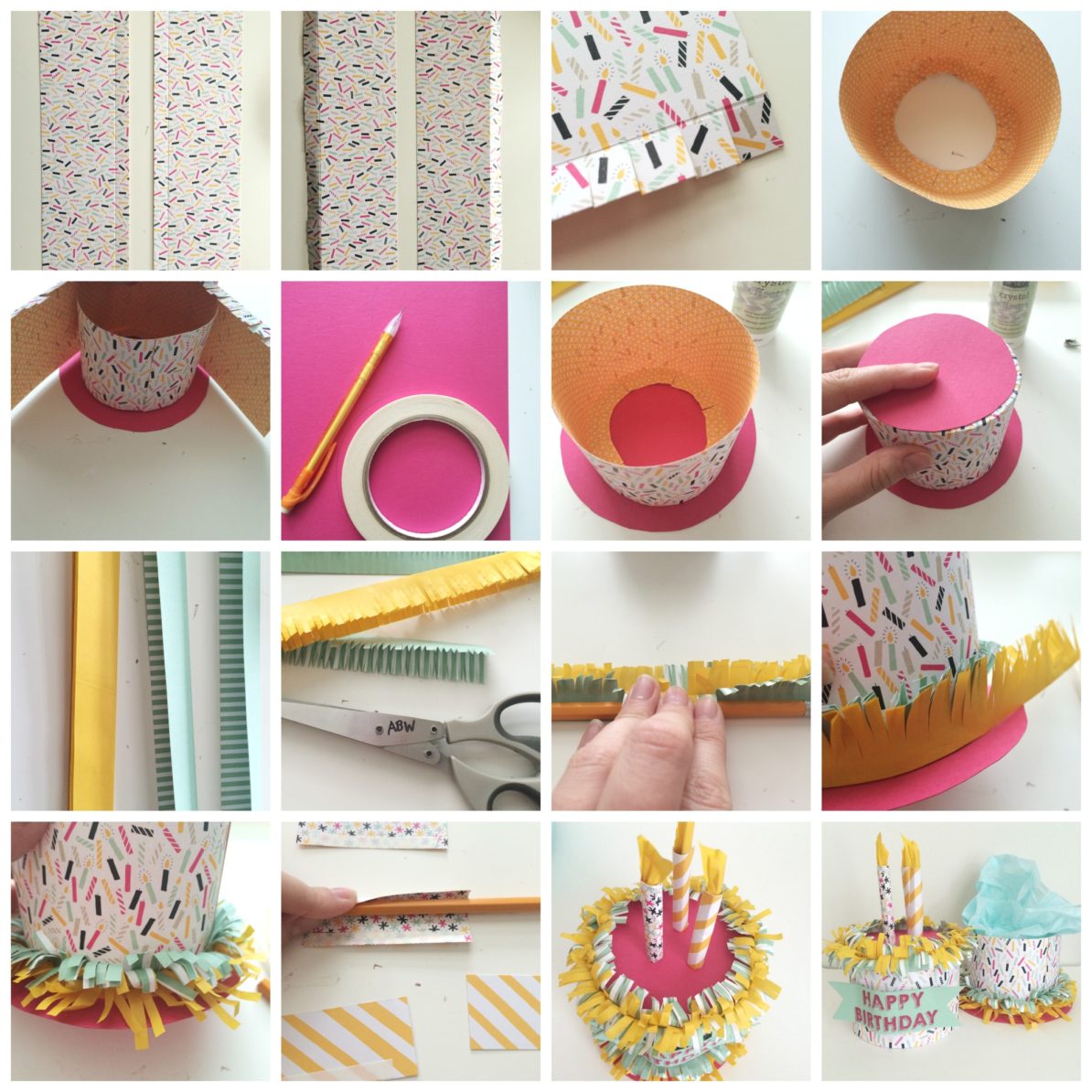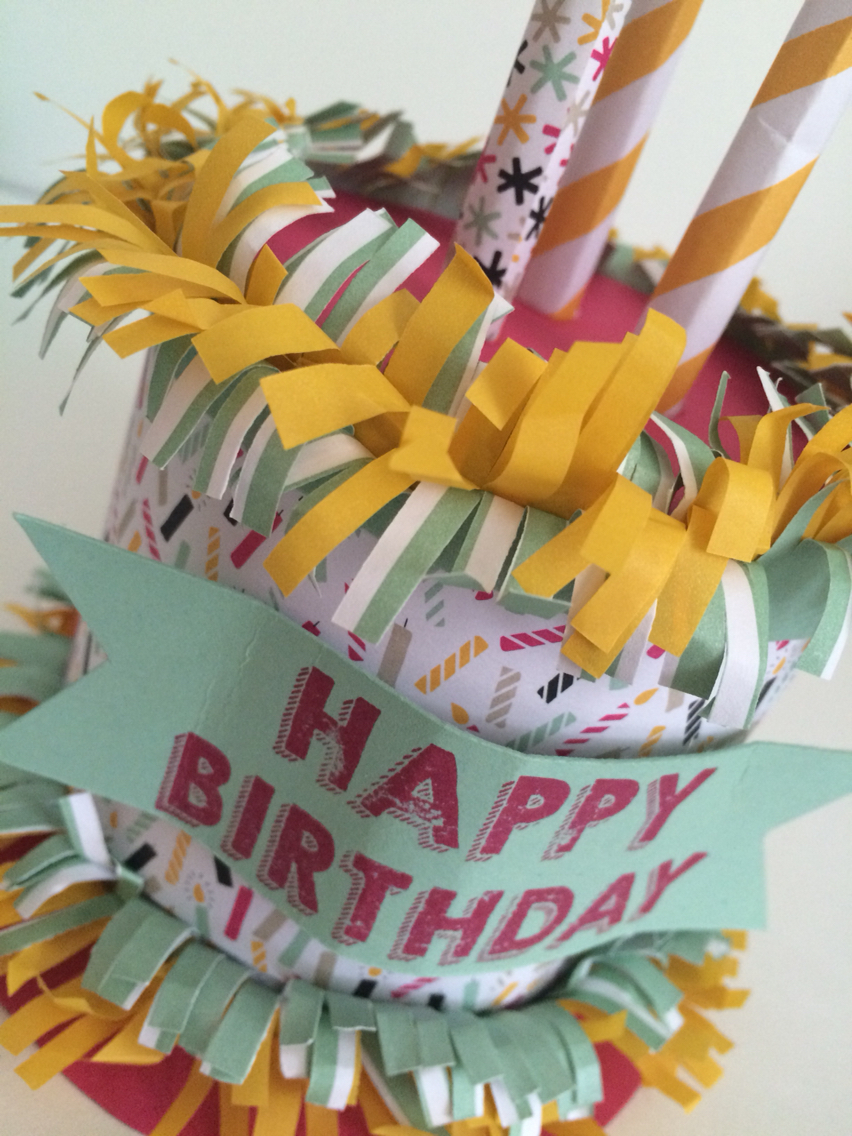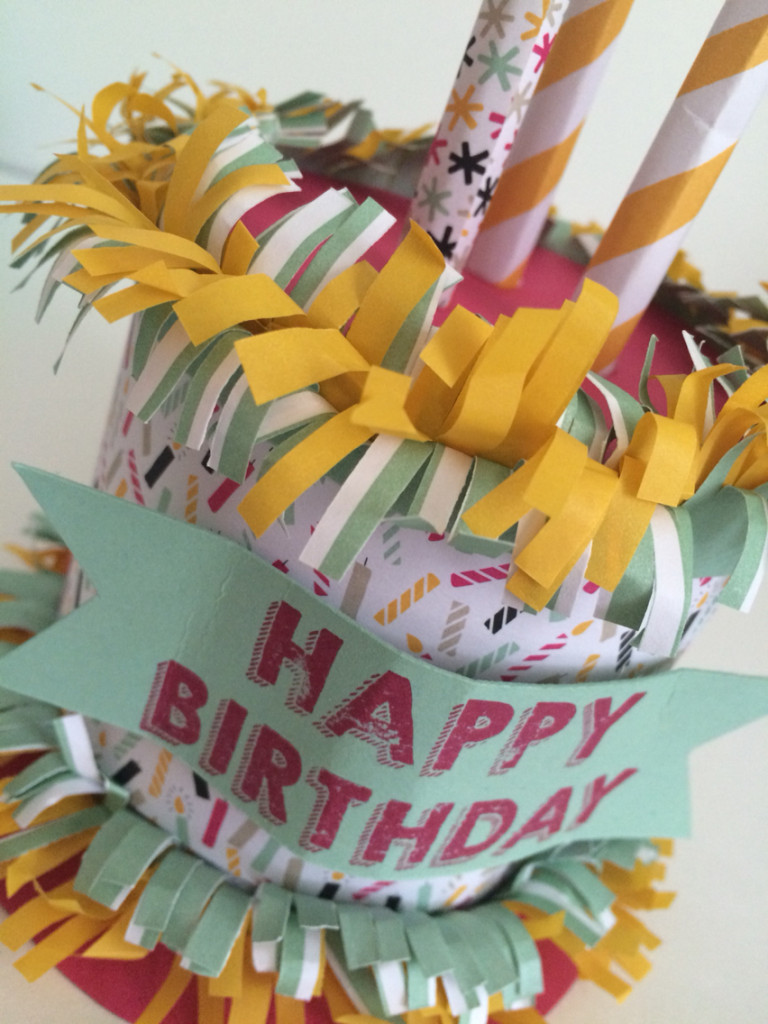 What do you think? It was a lot simpler to put together than I thought. I cut, stamped, and adhered the entire project during my little guys hour long nap time. Enjoy the tutorial and let me know if you love it by commenting below!