The Best Dark Wall Color for Oak Cabinets
Are you stuck trying to find the perfect wall paint color to for you oak cabinets? Look no further, I'm here to give you all of the information on what color, how and why you should use these colors to balance out the builder grade oak kitchen situation.
Last month, I wrote a post on an entire kitchen scheme to work with your oak cabinets instead of against them. Give it a read after you choose the best paint color for your oak kitchen.
Before we dive into my two bold color choices, we're going to talk about a few factor to consider before you grab a paint brush.
Common Complaint
The most common complaint I hear when it comes to oak is that wife wants to paint the cabinets or trim, but husband loves the wood and refuses to paint it.
So we are stuck in a situation where despite knowing that painting those cabinets or trim white or cream to lighten things up and modernize your kitchen, you simply can't.
In this case, I say change the locks and get rid of your husband. I'm kidding. Mostly!
First, show your dear spouse how much of a change painting cabinets can make, via Pinterest photos or taking him to a restaurant, home improvements or kitchen showroom. But sometimes this isn't enough and you don't want to beg for forgiveness instead of ask for permission.
And that's 100% okay. So let's minimize the oak overload.
HOW MUCH OAK?
The first question we need to ask is how much oak do you have? Are the baseboards, floors, trim, cabinets, island, counters and all of your furniture oak?
If the answer is yes, we need to break up some of that oak. With the materials being the same wood tone (or variations of a wood) we want to highlight some parts of the kitchen and downplay others. We also need to create a visual break in all of the oak.
And even if the only oak in the room is the cabinets, we still need to add color to offset the oak because cabinets take up a lot of space in a kitchen. This can leave them feeling heavy and overwhelming.
So whether it is just the cabinetry or just the floors and trim, you need to decide how much oak you can live with. I am going to recommend that if you have all of the above list in wood tones, you need to eliminate some of it.
We know we will be painting the walls. My next recommendation is to paint the trim a warm white like this one. Then you should swap out some oak furniture for painted wood in black, cream, white or even a color.
I'm not going to ask you to change the flooring, but we can minimize the oak overload by adding a runner in the kitchen and an area rug under the eat in kitchen table. If there is an adjoining living room or dining room, you should buy a large area rug for that space too.
CAN YOU PAINT THE OAK CABINETS?
Next, is the question of painting cabinets. If you have the option to 1) pay a professional to paint them or 2) paint them yourself with professional directions, I always recommend this first.
I am linking the Paint them yourself option to Kayla Payne's course because she is #1 when it comes to teaching proper cabinet painting technique.
Additionally, because you have existing warm oak tones to work with already you should not choose a stark white, rather a warm white, like this one.
Avoid gray cabinets as the undertones will not play nice with the oak floors and trim. Unless the only oak in the room is the cabinets, in which case, paint away.
Again, if you choose to paint you oak cabinets, make sure you follow solid directions and take the time to properly prep them. It will save you time and money in the long run. While it is a long, grueling process, you will be so glad that you did it right the first time.
DO YOU HAVE NATURAL LIGHT?
Lastly, you need to determine how much natural light your kitchen receives. Does it get northern exposure or southern? Southern exposure provides far more light, whereas northern exposure is often dim and shadowy.
Your kitchen may lack natural light altogether. If this is the case, I do not recommend painting the walls a dark color because it will envelope the room with no escape and there won't be any light to bounce around and create depth.
So if you have adequate natural light, note that high ceilings help, then keep reading and get ready for a bold look.
BENJAMIN MOORE HUNTER GREEN
The first color up is Benjamin Moore's Hunter Green. It complements those rich wood tones beautifully.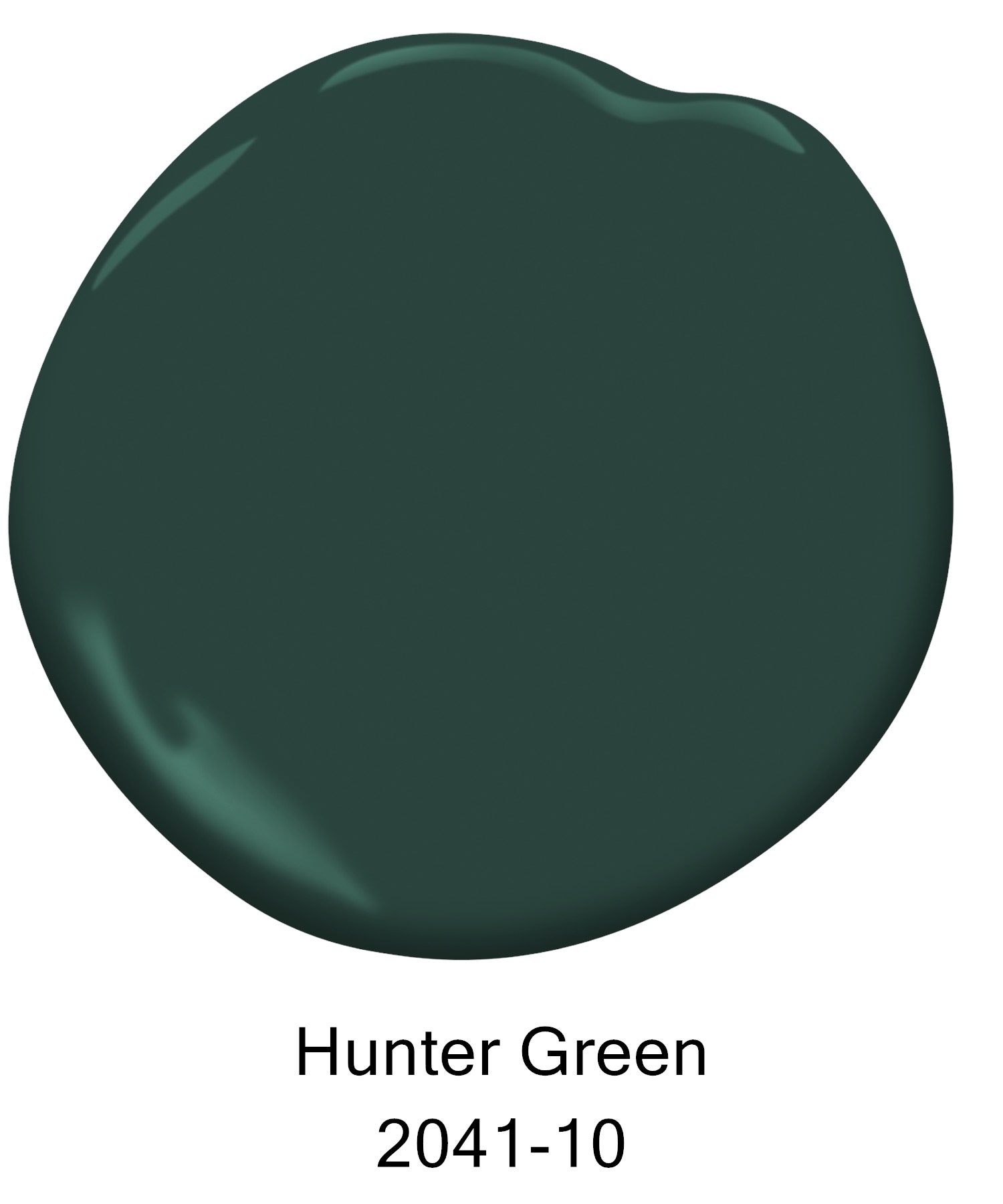 Here are two examples of painted cabinetry in darky, moody green and then two examples of walls painted green in a kitchen.
In both ideas there are wood floors, but the countertops help offset all of the brown wood tones. You'll also notice that the brass hardware really plays well with both the wood, marble and wall color.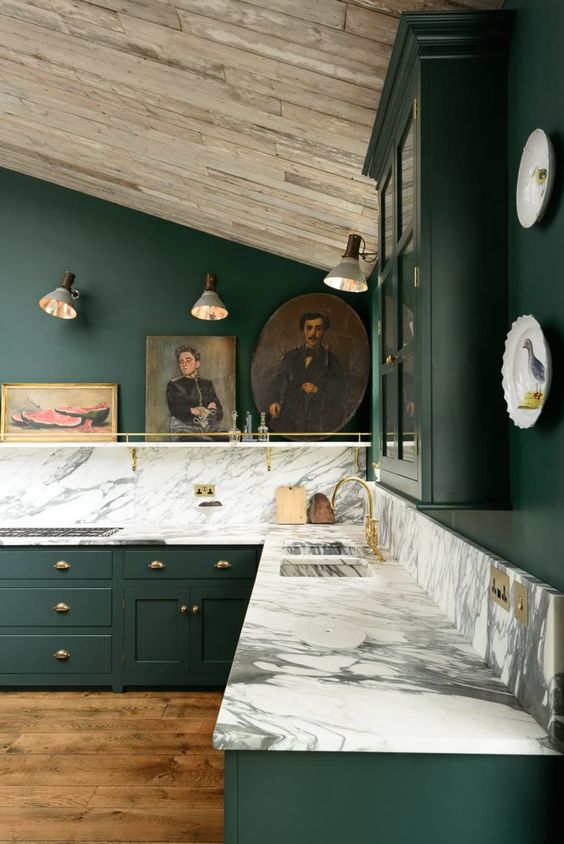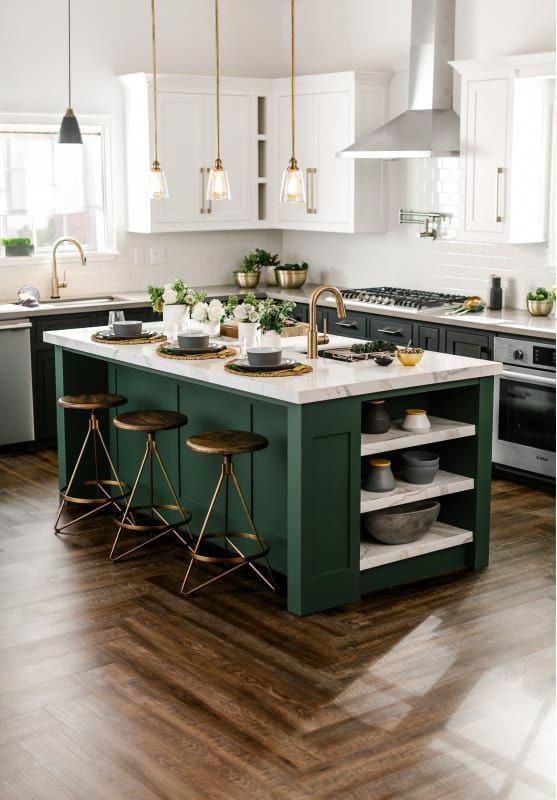 I have included the Sherwin Williams snapshots to show you how the walls come into play in a kitchen, as well as coordinating colors.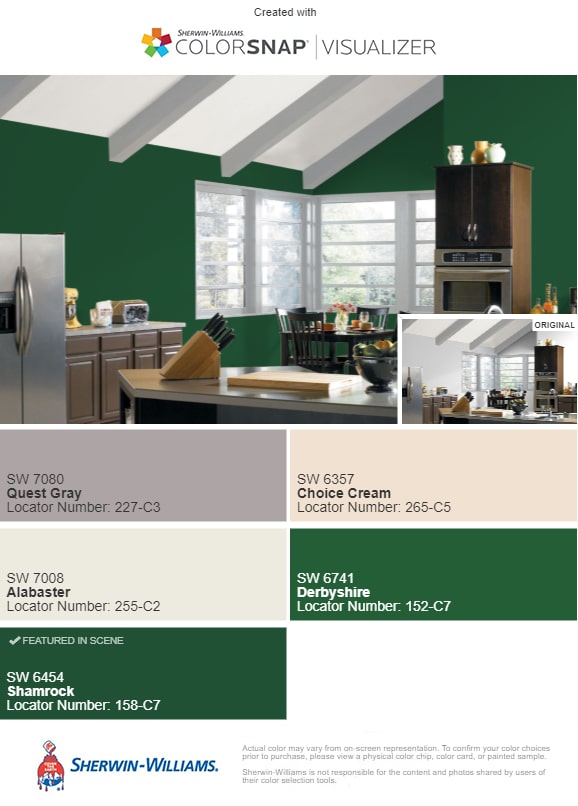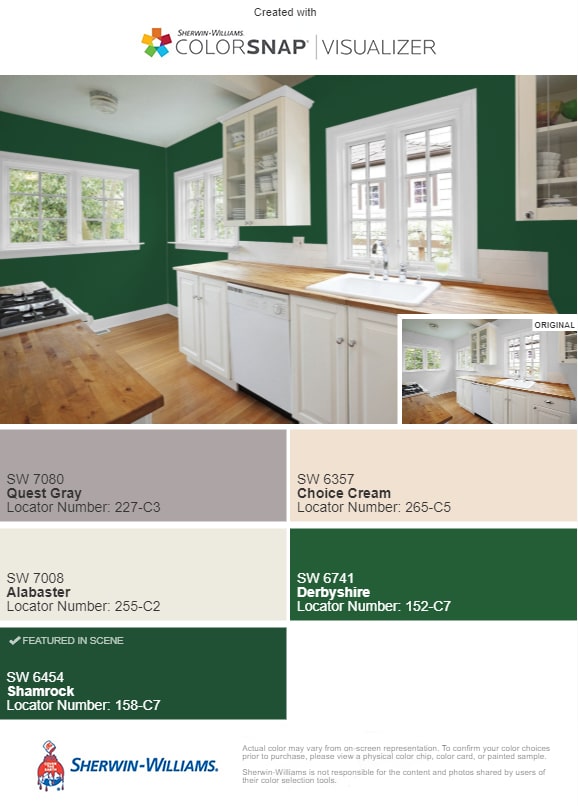 BENJAMIN MOORE WROUGHT IRON
Next, I have selected Benjamin Moore's Wrought Iron wall paint to pair with oak cabinets.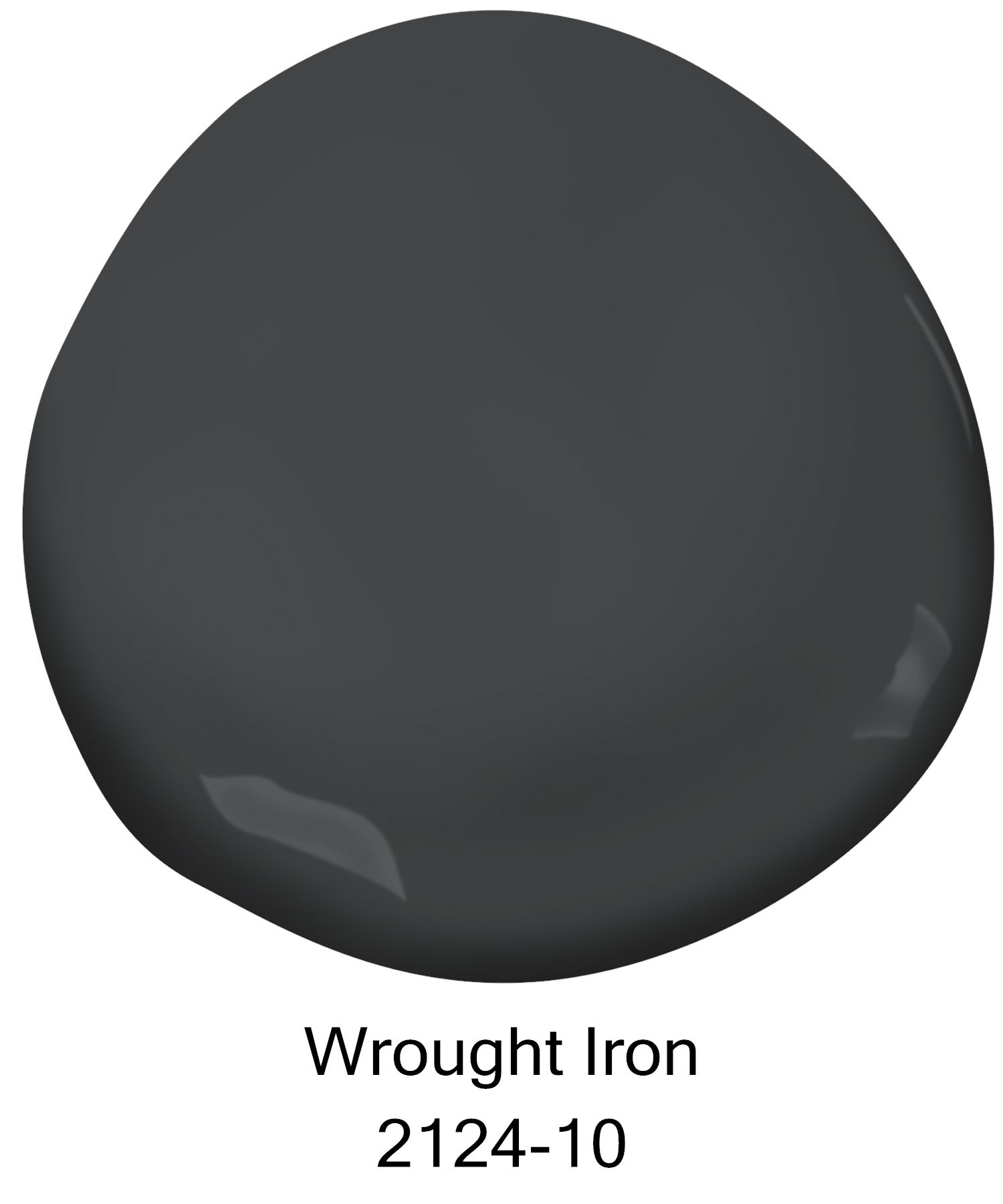 For the color Wrought Iron, I have sourced three examples of cabinetry, stair trim and painted walls with oak cabinetry.
I love how the cabinets painted black really shine in this kitchen.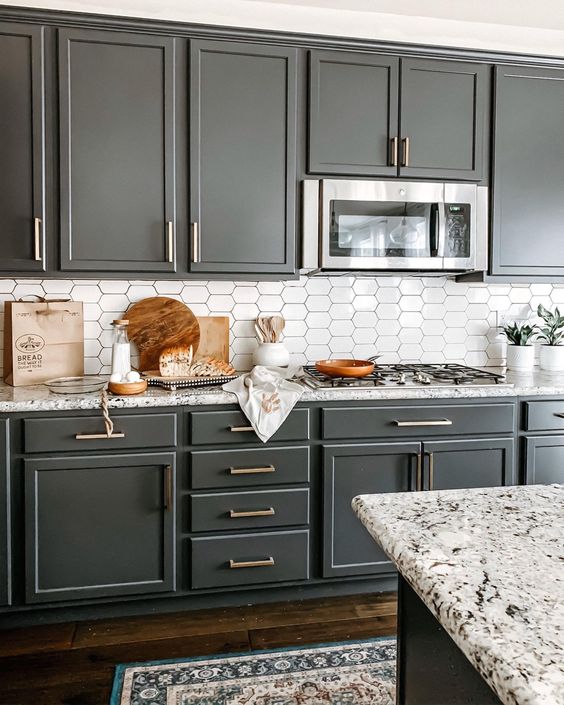 While this unconventional application of Wrought Iron paint is on the stair trim, I think it's a great visual representation of how Oak floors play well with this paint color. It can easily be applied to a kitchen.
And last, but certainly not least, my favorite example of Wrought Iron painted walls with oak cabinets in a kitchen is from The Sweet Beast. She painted her kitchen coffee nook walls Benjamin Moore Wrought Iron and left the oak trim. And it is stunning. The natural light is soaked up by the dark wall color and the shiny oak bounces the light back around.
This is the perfect combination of natural oak trim and cabinetry and dark wall paint. It is further lightened up by glass, brass and black accents with the coffee supplies. It is truly a showstopper!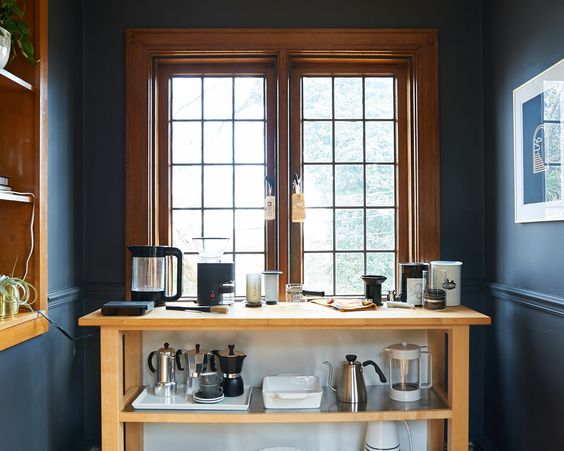 THE SAFEST BET
As a result, Hunter Green or Wrought Iron may not be a good fit if you have a tiny kitchen with no natural light. They key is that these dark colors absorb the light and the orange oak and you feel enveloped by a clean, modern space.
So, if green and black aren't your cup of tea, you'll want to paint your walls the only white paint color you'll ever need.
It's also featured in my Oak Cabinet Kitchen Design Plan post. It's okay to play it safe!
TEST PAINT COLORS
I ALWAYS recommend testing large swatches of your paint colors before committing to the entire house. It's an expensive mistake that you don't want to make, so I recommend using Samplize peel and stick swatches to test out your favorites.
Spending $25 on paint samples is always cheaper that a kitchen full of cabinets you hate and a heartache you can't afford to fix.
Delivered overnight so you can make those pressing decisions in a crunch
Crazy accurate color from my favorite paint vendors like BM, SW & Farrow & Ball
No painting, no mess, no clean up!
Peel and stick (and come off clean)
Or don't peel off the back and use over and over again!
So, don't forget to test your paint colors!!
The colors you see in other people's homes won't look the same in your home. Often times, photos are edited, lightened or color corrected.

Don't rely solely on photos to make your decision- trust the process and sample the paint.

*Expert Advice*