21 Designer Ways to Store & Decorate with Bath Towels
Do you want to learn how to decorate with bath towels like a pro? Use these 21 ways of bathroom towel storage to make your bathroom a spa like retreat.
We all know that spa like feeling when you walk into a fancy hotel room bathroom and the bath towels are so fluffy and white. Or when you visit a friend who has perfectly folded striped bath towels hanging in the guest bathroom. There may even be guest towels rolled up in a cute basket waiting for you. You can smell how fresh they are and feel how soft those hand towels are.
Let's recreate that feeling and look in our own bathroom spaces with these storage solutions and towel bars. Then I'll share my favorite bath towels to complete your spa like bathroom experience.
BATH TOWEL STORAGE
Use these bath towel storage solutions to turn your bathroom into a luxurious, spa like space that temps all your senses.
1. STANDING TOWEL RACK
If you have a large bathroom, the standing bath towel rack is a great storage solution because you can hold fresh towels and lay freshly used towels out to dry. This piece can also be used to hang clothing while you are getting ready. It adds additional storage to the ground level for toiletries.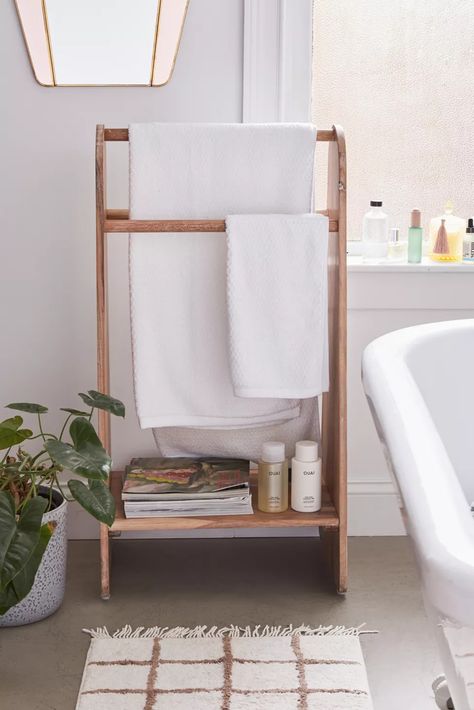 2. WALL TOWEL RACK
On the other hand, if you have a small space bathroom, the wall rack is a classic way to store towels neatly and cleanly without getting in the way. To use the rack, fold towels in half or thirds and then roll them tightly and slide into the rack starting at the bottom.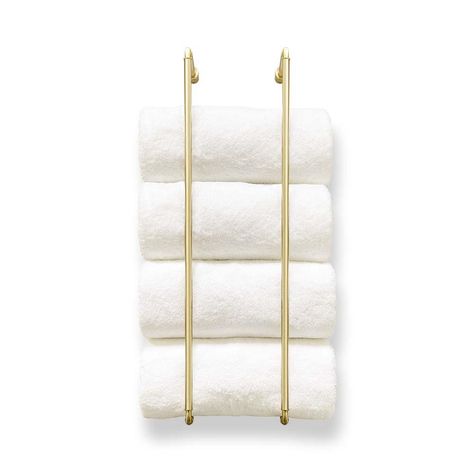 3. DIY BUILT IN BATHROOM SHELVES
I love this DIY shelf tutorial because, well, just look at it! These are gorgeous built in cabinets that make great use of a small unused space in the bathroom. After adding a few baskets and neatly folded towels, it creates the perfect storage solution for your bathroom problems.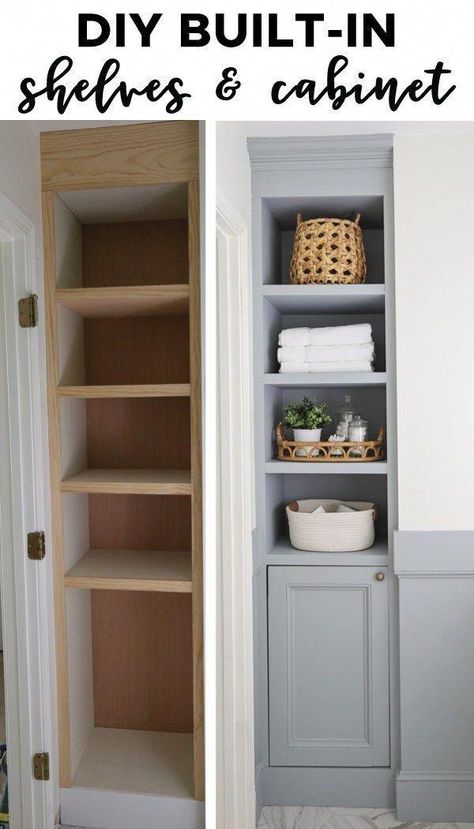 4. THE WOVEN TOWEL BASKET
Woven baskets are an easy and inexpensive way to store bathroom towels for guests and kids.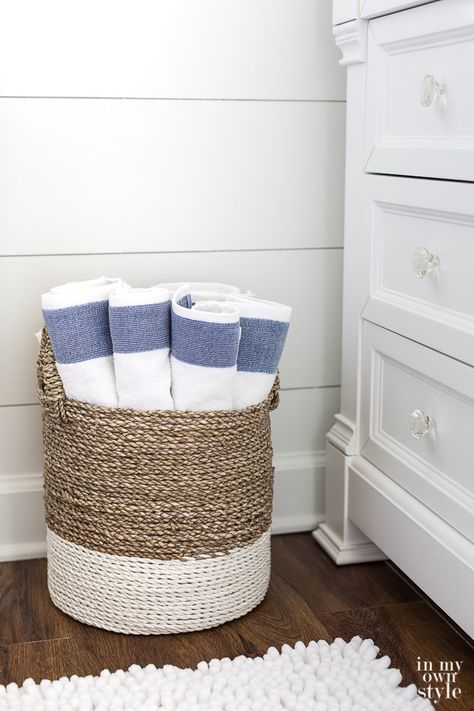 5. GALVANIZED BIN FOR FOLDED HAND TOWELS
Get the Pottery Barn look with a galvanized bin for storing hand towels.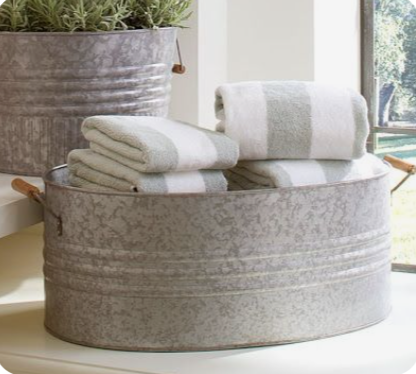 6. DIY BATHROOM TOWEL SHELF
Make this DIY shelf with the plans in the post below.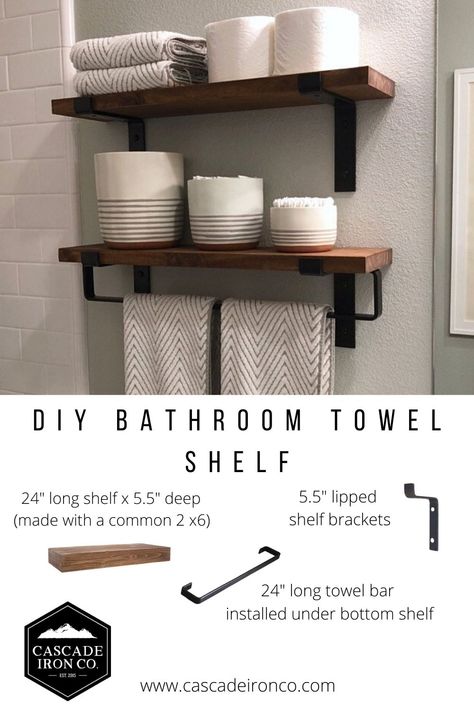 7. ROLLED TOWEL COUNTERTOP BASKET
Roll up hand towels and keep them on the counter in a small basket. This is great for a guest bathroom.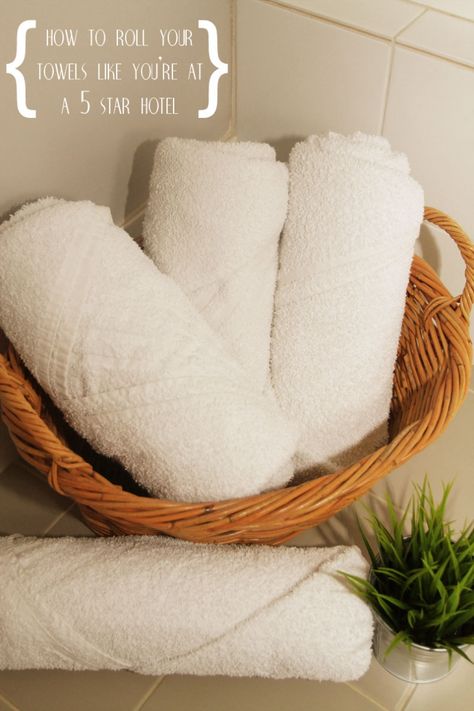 8. WOOD STORAGE SHELF
The IKEA wooden shelves provide storage in a bathroom that lacks a closet. Neatly fold towels and store on the shelf. Use plastic bins for holding smaller items.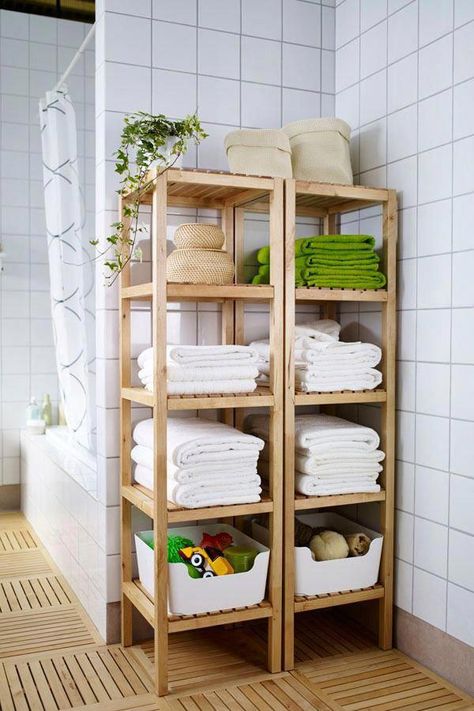 9. THE SWING ARM TOWEL BAR
Signature Hardware has this great swing arm bar for towels that also comes in brass and nickel. I love that it has multiple arms for holding towels, but is flush against the wall which is a great space saver for small bathrooms short on storage. It has great design and quality behind its name.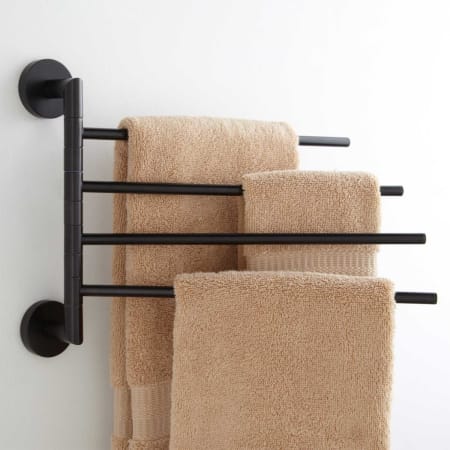 BATH TOWEL DECORATION
Even though bath towels and and hand towels are functional necessities in a bathroom, they can also be part of your bathroom decor. So choose fresh white towels or a nice striped towel and pair it with the perfect towel rack or hanging towel bar like of these below.
10. Jardin Towel Bar
Not surprisingly, the Anthropologie Jardin towel bar is up first. It has a world traveler look and makes any towel shine.
11. The Darwin
Next, I love the contrast of this black and brass when it comes to storage for hand towels. The collection has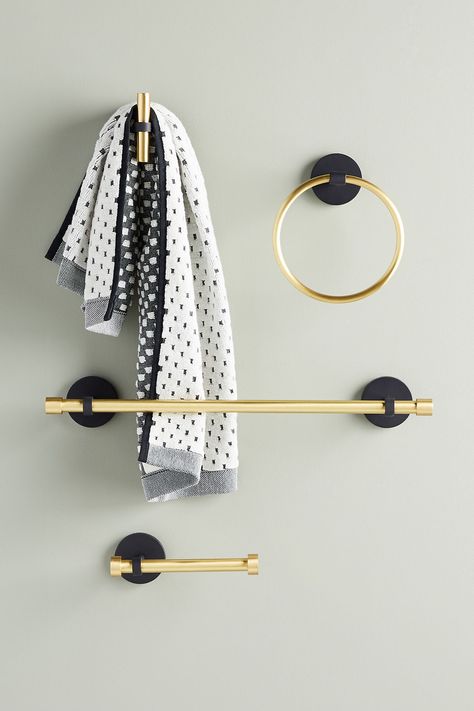 13. Polished Nickel Bar Cart
I bet you didn't think a bar cart would play well in a power room! But the shine and glam this adds to the bathroom makes me believe it's a great way to store bathroom essentials like towels, sponges and extra soap bars.
Choosing a metal and glass shelving piece keeps it light and airy and not too heavy for a small room.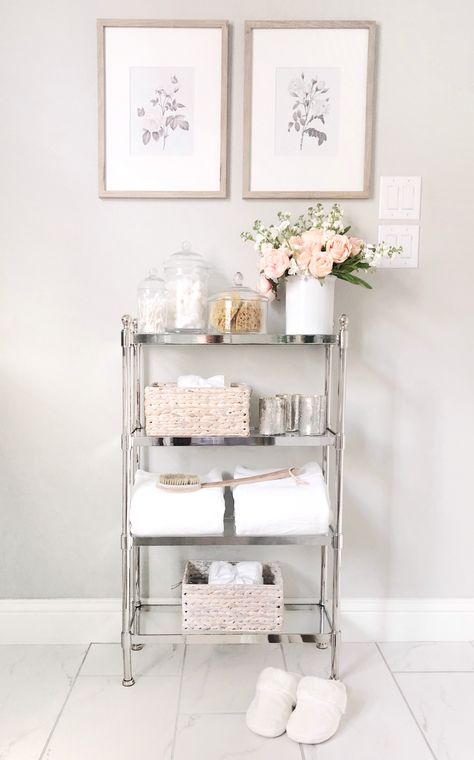 14. Anchors Away
Try pairing hooks with a bench and under bench storage in woven baskets. Hanging art over the hooks completes this bathroom storage solution.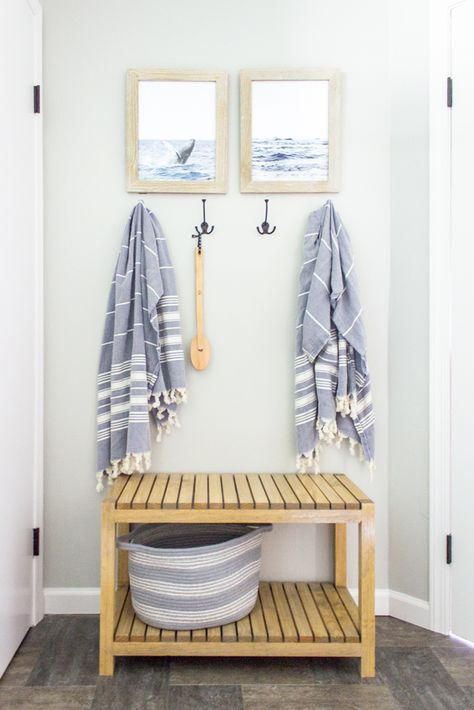 15. The Open Console
Having an open bathroom console vanity isn't for the messy. But if you are exceptionally tidy or have an infrequently used guest bathroom, and open vanity is the perfect way to store neatly folded white towels.
For additional storage, use a woven basket like one of these.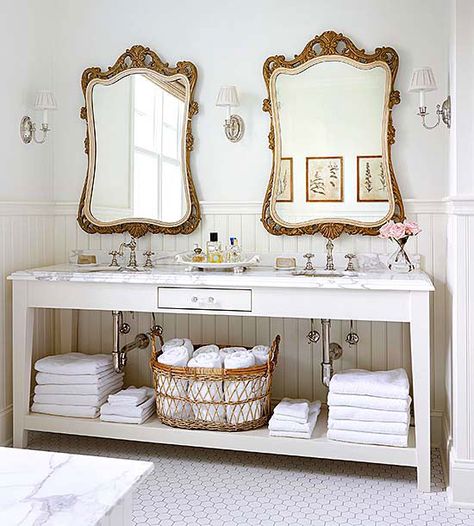 16. Botanist
Another Anthropologie find is the Botanist collection of hooks and towel bars. These are heavy weight hooks and can really set the feel of a space.
Personally, I use them in our kids bathrooms and in the laundry room for towel storage and to catch things that need hanging like coats and sweaters.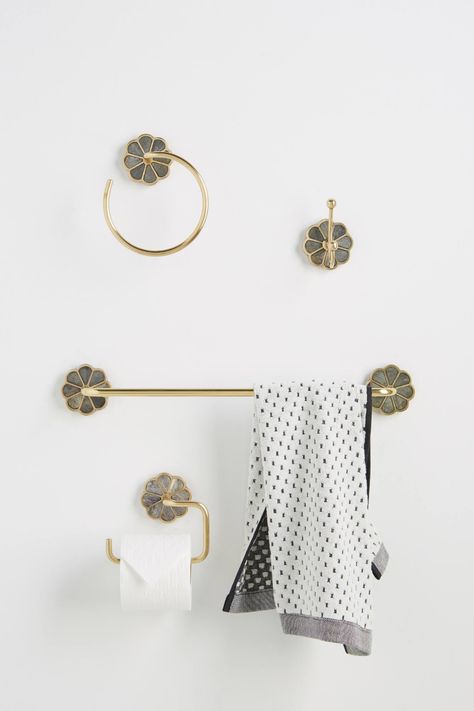 17. CB2 Marble Hook
It's no secret that marble and bathrooms work wonders together. If you can't afford the whole marble slab floor to ceiling, using marble towel hooks and bathroom counter trays is a great start to add some sophistication to your bathroom.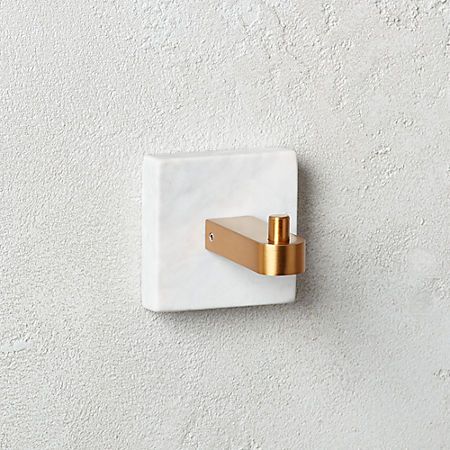 18. Woven Counter Tray
Having a woven countertop tray is the ultimate bathroom luxury. Fold a washcloth or two for guests, add a special bar soap and hand cream and it feels like a hotel or spa.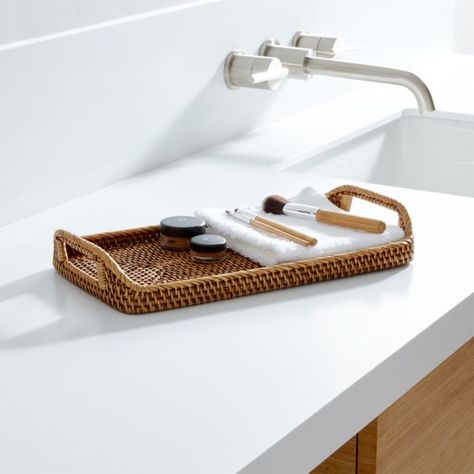 19. Train Rack
I know, I know. I've probably said a few hundred other things are my favorite. But HANDS DOWN, I love the train rack in a bathroom. It is practical for storing towels, having a place to hang bath towels to dry or even hang your clothing while you get dressed.
You cannot go wrong with this small space storage solution.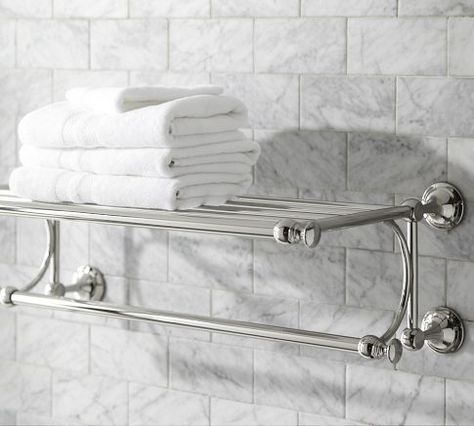 20. Towel Bar
Next, the towel "Bar" gives a whole new meaning to towel bar- this mini bar table turned bathroom storage is a real life way to store towels. Roll white towels tightly and stack on the bar shelves.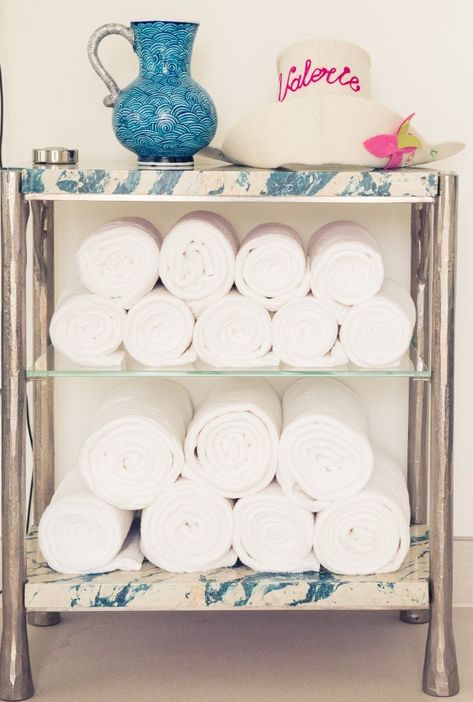 21. DIY Hook
Below, this DIY towel hook is simple, but useful and modern. It looks great against the moody green paint in the powder room below. To make this DIY, follow the link for a tutorial.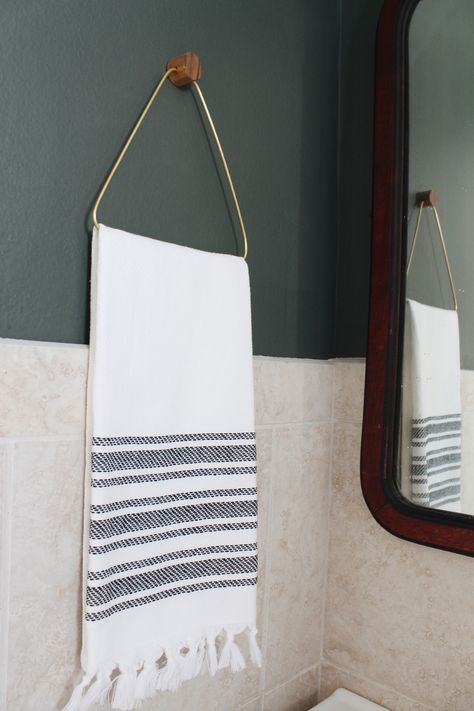 22. Woven Floor Basket
Last, but certainly not least is the woven floor basket. If you've got a small amount of floor space to spare, rolling guest bath towels and placing them in a woven floor basket is a chic way to store them.
Choose a basket that doesn't shed too much and opt for large bath sheets for guests.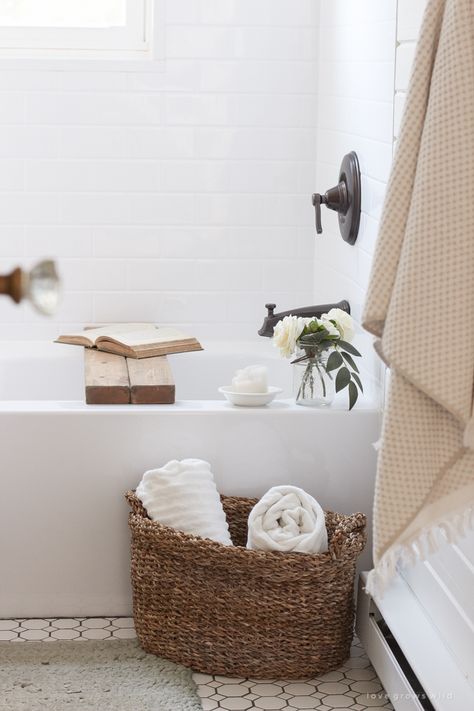 That concludes the example portion of the bathroom towel storage and decor roundup. But I've linked all of my favorite bathroom towel storage solutions for easy shopping below.
BATHROOM TOWEL STORAGE QUICK LINKS
I've collected the best and favs of bathroom hardware for storing towels from wall hooks to towel racks, these products will make your bathroom towel storage look spectacular.
BEST LUXURY BATH TOWELS
Since we're on the topic of great towel storage, let's dive into the great bath towels themselves.
What makes a great bath towel? Is it soft? Clean looking? White and fresh? What does it smell like? Is it decorative and striped? Or thin, fast drying flax linen?
Ultimately, it's up to you to find your favorite qualities in a bath towel and bathroom guest towels. But, I'll tell you my best tips for a welcoming guest bathroom to help you decide which one is right for your bathroom decor or guest welcome basket.
Offer a Bath Sheet for showering
White towels look cleanest
Linen drys fast, but is thin
Stripes add decoration while still looking clean
Don't forget a fresh bath mat or runner
Select a signature scent for your bathroom and diffuse it
Light a calming candle for guests
Place fresh florals on the counter
Store extra tp and soap under the counter
Have 3-5 bath towels, 6-7 hand towels and 5-7 washcloths available for weekend guests
Luxury Bath Towel Top Picks of 2021
Finally, you'll need somewhere to start when sourcing the best bath towels for your guest suite or primary bathroom, so here are my tops picks in each category with Best Overall being affordable and plush.
All the way down to the most luxurious splurge from Matouk.