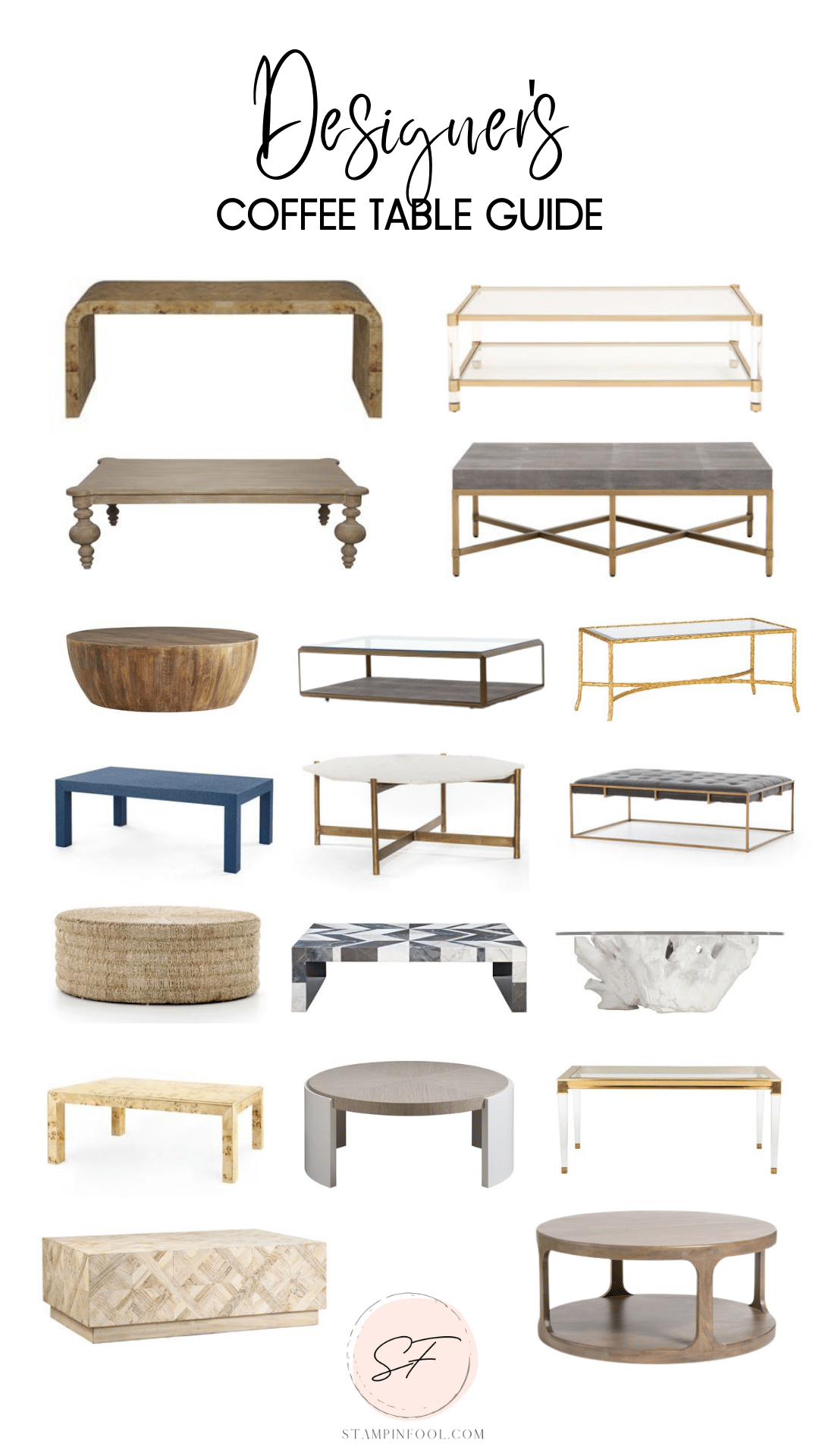 50 INTERIOR DESIGNER APPROVED COFFEE TABLES FOR YOUR LIVING ROOM IN 2021
Curated designer coffee tables in every shape and style: round, acrylic, wood carved, marble, metal coffee table. You must have these designer coffee table options.
This post may contain affiliate links- meaning when you purchase through the link and I receive a small commission. It feeds my Starbucks addiction & for that I thank you! You can see my full disclosure policy here.
I have something new for you today as another part of the splurge vs steal series with a focus on coffee tables. In my other Splurge vs Steal posts we tackled chandeliers, Serena & Lily tables, green velvet chairs and more.
It's been fun sourcing must have interior decorating products for your home at different price points! The same goes for today's round up of designer coffee tables.
You'll find all kinds of coffee tables from brands that only sell to designers (also called to the trade), but I have the exciting opportunity to offer them to you.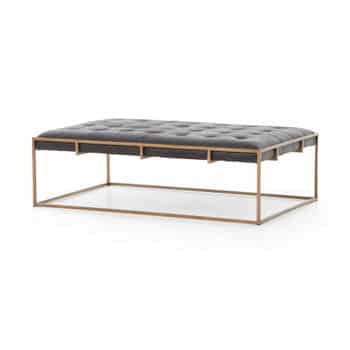 WHY BUY A DESIGNER COFFEE TABLE?
So what's the difference between buying a coffee table from a designer versus Pottery Barn? Well, you essentially cut out the store. I have accounts with these manufacturers who make a prototype, test it and then sell it wholesale or at a designer to both stores (like Pottery Barn) and directly to designers to then acquire for their clients.
Why we love these tables: They are made to order in small batches, often times handmade, not mass produced. This makes the quality much higher.
The way in which they are crafted, they have dovetail joints, made of real wood and not typically all veneer over particle board. Making coffee tables with these real materials means they will last much longer.
Types & SHAPES of Coffee Tables
Rectangular
Square
Round/Oval
Upholstered/leather
Tufted
Brass
Glass
Wood / Raw wood / live edge
Bone inlay
Burl wood
Acrylic
THE RIGHT SIZE COFFEE TABLE FOR YOUR LIVING ROOM
Who knew there was a system to choosing a coffee table. Have you ever been seated on a sofa and you can't reach the coffee table to put down your drink?
That's why choosing the right size table is important! So I will go over the tips to choosing the best table for your setup.
Coffee table height
The height of the coffee table should be 1″-2″ shorter than the sofa cushion height.
Measure the sofa from the floor to the top of the seat cushion. Then subtract 1″-2″ inches to get the proper table height.
Coffee table Length
How long should the coffee table be?
Your coffee table should be approximately 2/3 the length of the sofa. For example, most sofas range from 80″ to 90″, so the coffee table would be 52″ to 60″. This is much longer than you would typically think.
Coffee table shape
What shape coffee table is best?
There are many options for the best coffee table for your particular layout, but let's review my favorites.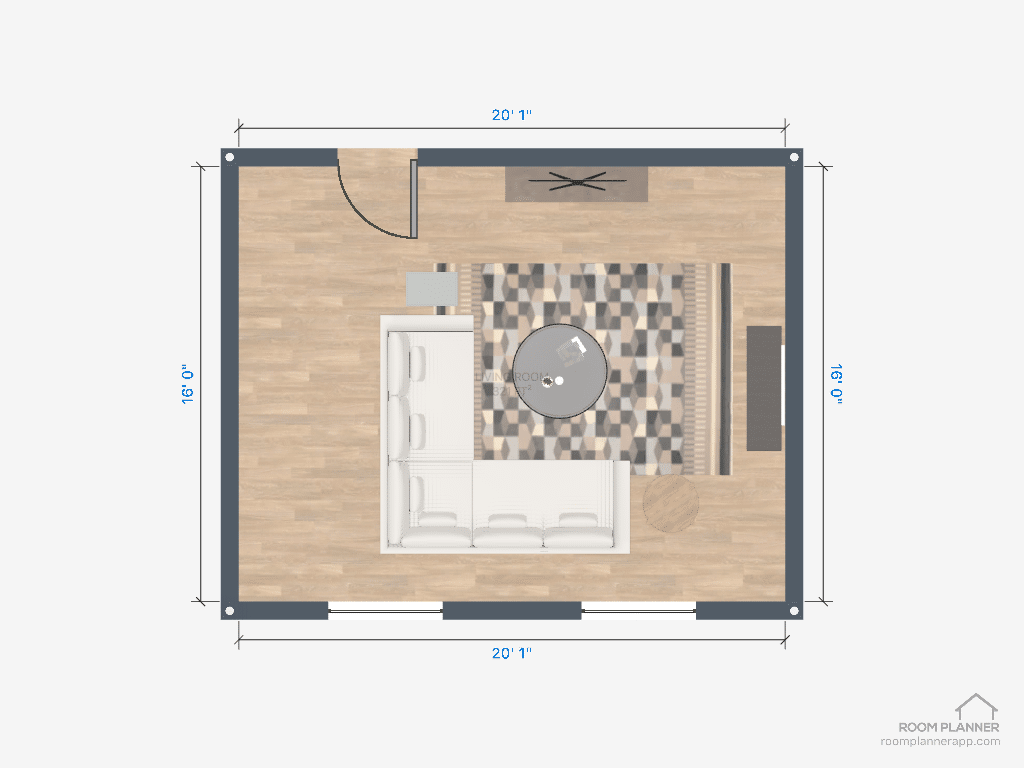 For a sectional sofa, a rectangular or round table tucks in perfectly. I like the large round table because you won't hit your shins on hard corners while maneuvering around.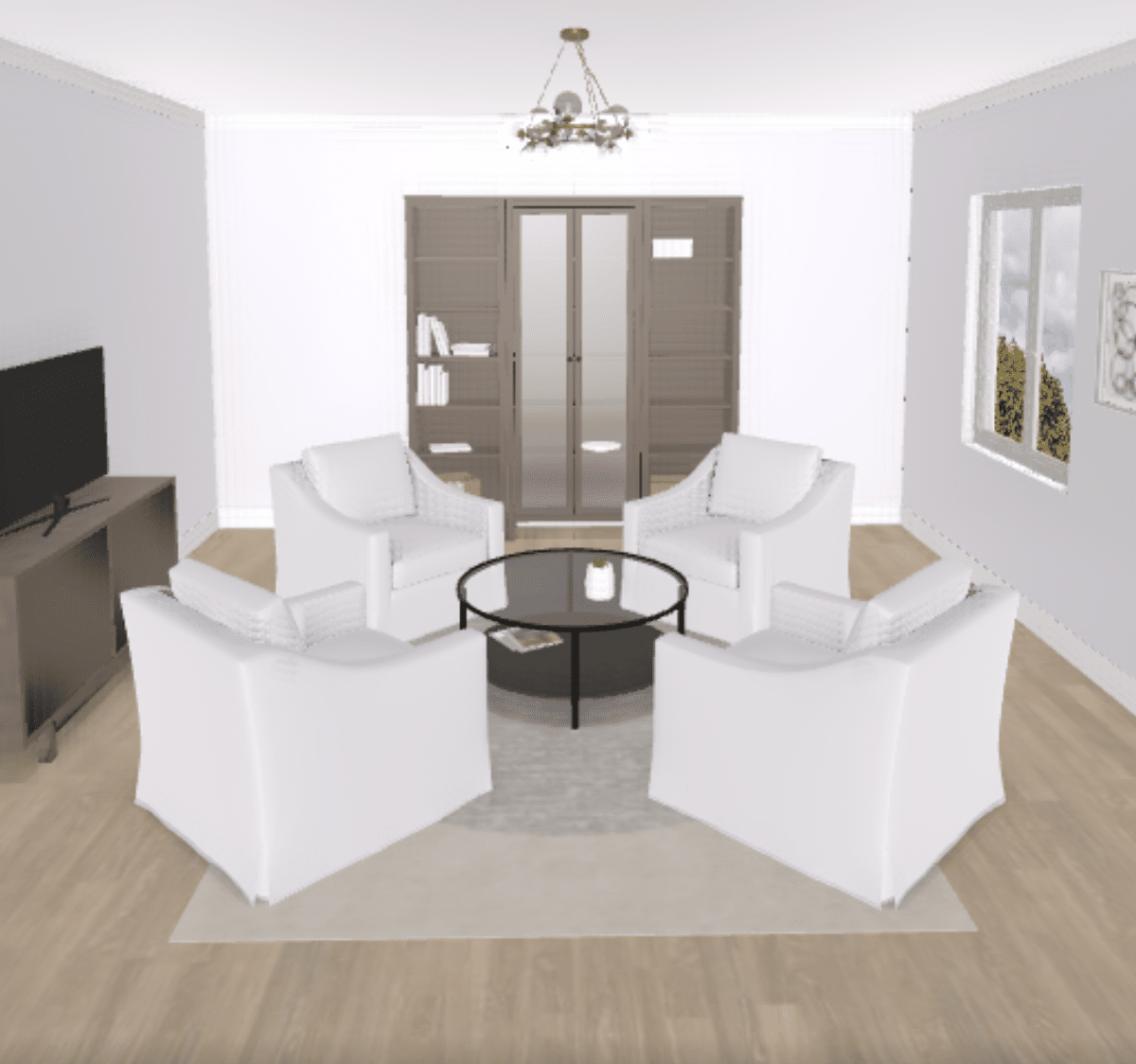 When you have a layout of four club chairs in a circle arrangement, I tend to choose the round coffee table. It fits well in between the chairs and allows plenty of walking room.
If your room has a standard sofa across from sofa or sofa and two chairs, a rectangular or 2 square tables fits best in this arrangement.
Best Designer Coffee Tables
We all love a good deal! I'm going to show you high style home decor at good, better, and best levels. You'll get to see what's out there and a few looks we love.
Everyone's budget is different and where you want to spend and save will vary. So, grab a cup of coffee and check out this week's splurge versus steal deals on designer coffee tables.
HOW TO BUY A DESIGNER TABLE
Below is a collection of designer coffee tables. These come directly from a manufacturer, unlike when you buy it from a retail store like Pottery Barn.
When you purchase furnishings through a designer, they are the store. In this case, you are using the designer's account with the manufacturer to purchase a coffee table!
You will see the price listed, the dimensions (make sure you check them), and the availability date. The status will be something like: "In Stock", "Available 12-16 weeks", "Available in 3 weeks".
AVAILABLE DATES
Many companies have 16+ week lead times (see the sections below on delivery & delays). These "Available" dates are estimates of when manufacturing will be done. They don't often account for shipping, warehousing times and delivery.
We don't like to go out past 16 weeks (that's 4 months), but with the current manufacturing and shipping delays, be aware that if you order something 16 weeks out- you may want to verify if that is a realistic timeline or if they are delayed further.
52 AMAZING DESIGNER COFFEE TABLES
Are you ready to see my top picks for designer approved coffee tables for your home?
Jump right in and enjoy these gorgeous, high quality coffee tables that will last a lifetime.
ALL ABOUT DELIVERY/SHIPPING
Here's the mind blowing part- when designers order through their vendors, they can't ship it to your house, directly. In fact, because these are manufacturing companies, they truly specialize in creating and making the high quality piece of furniture.
On the opposite side, if you order from Pottery Barn, they coordinate the warehousing and shipping and add that into your cost of the item + shipping.
They leave the rest to companies better suited- so a shipping/logistics company will pick up your coffee table from the factory and deliver it to a warehouse. These warehouses have loading docks, which is usually a requirement for delivery, which is why they can't deliver to your house.
Receivers
Luckily, designers have what are called "receivers". Receivers are local (usually within the state/region) warehouses that accept the delivery at their own warehouse and then coordinate a local trucking company to deliver the item to your home.
When the item arrives from the factory, the receivers unwrap and inspect the furniture for quality to verify there was no shipping damage. They then rewrap the item and store it while waiting on delivery to you!
The great part about a receiving company is that they contact the designer to handle to damages right away. So rest assured if there was damage, the vendor is contacted to remedy the situation immediately- before it gets to you!
Delivery
Delivery will be white-glove delivery, meaning they bring the item into your home, unwrapped and assemble it. They will remove all of the packaging/trash and leave you with a gorgeous piece of furniture ready to enjoy and no hassle.
You will want to be present for delivery to let the movers in and show them where to place the item.
Note: The delivery guys/girls are not responsible for removing your old furniture, so make sure you arrange for it to be gone prior to delivery.
MANUFACTURING AND DELIVERY DELAYS
I'd be remiss if I didn't tell you about the state of the furniture industry right now (2019 to 2022). When the world shut down in 2019 it created a chain that started with facilities not being able to produce the furniture that was already ordered.
And because other countries were also affected, there became shortages on the materials to actually produce what was ordered- things like fabric from India, foam for sofas, paint for lacquered tables, and WORKERS.
Workers were getting ill once returning to work, factories were at 1/2 to 1/4 or less capacity, slowing the process.
So let's assume we finally finish hand crafting the bed frame. Now we have to ship the piece to a receiver. The shipping companies are on overload with jobs for every sector of public needs. Then, on top of that, they are working at a reduced capacity.
Warehouses are bogged down with 2 years of items being received at lightening speed, ships are stuck in port with imported items and no one is available to unload them.
Movers cannot enter your home for deliver due to local restrictions. You can see where there are delays each step of the way. And the level of impact is different for each company.
Company size often has nothing to do with it- large companies have high volume and are understaffed and the same goes for small companies who now have to follow up on every part of the chain when there didn't use to be a need for entire departments dedicated to tracking down materials, shippers and delivery statuses, much less communicating regularly with every customer in a three year span about the delay.
SHIPPING, RECEIVING, WAREHOUSING, & DELIVERY FEES
In full transparency, the prices listed are the item price you will pay- it does not include what is typically called "freight and shipping". Freight is listed separate from shipping. Freight is the delivery to a warehouse, inspection, holding at the warehouse and coordinating the local movers.
The shipping cost is typically to transport the item from the warehouse to your home, assemble, install in the proper location and remove packaging.
These fees plus sales tax if applicable are calculated when you input your address at checkout. Your location will determine the cost.
WHAT IS SIDEDOOR?
A note on buying: You will see a note that says "Powered by SideDoor" at checkout, a service which handles vendor accounts for me and in turn allow you to purchase the furniture exclusively through me, they handle the ordering and shipping process and will take care of everything from the second you click buy.
So, direct any customer service or shipping inquiries to SideDoor. I am so appreciative of your orders. They support my business and ability to share with you through this blog. I'm truly thankful.
I'm excited to have a partner in this like SideDoor which allows me to show you my favorite products in the furniture and home decor category and be able to offer them to you as if you were in my studio and we were picking them out together! As always, if you have any questions, don't hesitate to reach out.
INTERIOR Designer Coffee Table FAQ's
What size coffee table should I buy?
The table should be 1-2″ lower than the seat top and 2/3 the width of the sofa. Position the sofa 18″ from the sofa so there is room to sit and walk past the coffee table.
What heigh should a coffee table be?
The coffee table should be 1″-2″ lower than the top of the sofa seat cushions.
Can a coffee table be taller than the couch?
The short answer is yes, slightly. The coffee table should not exceed 3-4″ above the sofa seat height or it will be an obstruction to the seating & entertaining area.
What is the best height for a coffee table?
The height of a coffee table should generally be between 14 to 20 inches tall.
Should end tables be taller than a coffee table?
Yes, the end tables should be taller than your coffee table. End tables are closer to the arm height of the sofa, while the coffee table is close to the seat height.
How long should a coffee table be?
Your coffee table should be approximately 2/3 the length of the sofa. For example, most sofas range from 80″ to 90″, so the coffee table would be 52″ to 60″. This is much longer than you would typically think.
Do I center the coffee table in the room or to the sofa?
While you can center an entire seating area within a room, a room can call for an asymmetrical arrangement. If the room is broken up into multiple seating or entertaining areas, you should center the coffee table on the sofa.
What type of coffee table is best for a sectional?
If you have a sectional sofa, you should opt for a rectangular or round coffee table. If your sofa has two chaises, a round table tucks into the sofa perfectly.
Need personalized advice? Submit a questionnaire here and I'll reach out (or pop it into the chat box on that page)!