Splurge or Steal: Green Accent Chairs
Hey there! Today we're talking about a splurge vs steal on green accent chairs. I'm so excited to continue this new series called Splurge vs Steal where I'll give you some great options for your next interior decorating project!
We all love a good deal! I'm going to show you high style home decor at good, better, and best levels. You'll get to see what's out there and a few affordable look alikes.
As always, when we move down a tier to a lower price point, quality can suffer over the long term. So be sure to read the most current reviews and always look for real life photos of the decor pieces before you buy. I want your expectations to be realistic. But I will also do my best to share pieces with overall positive reviews.
Everyone's budget is different and where you want to spend and save will vary. Grab a cup of coffee and check out this week's splurge versus steal on green accent chairs.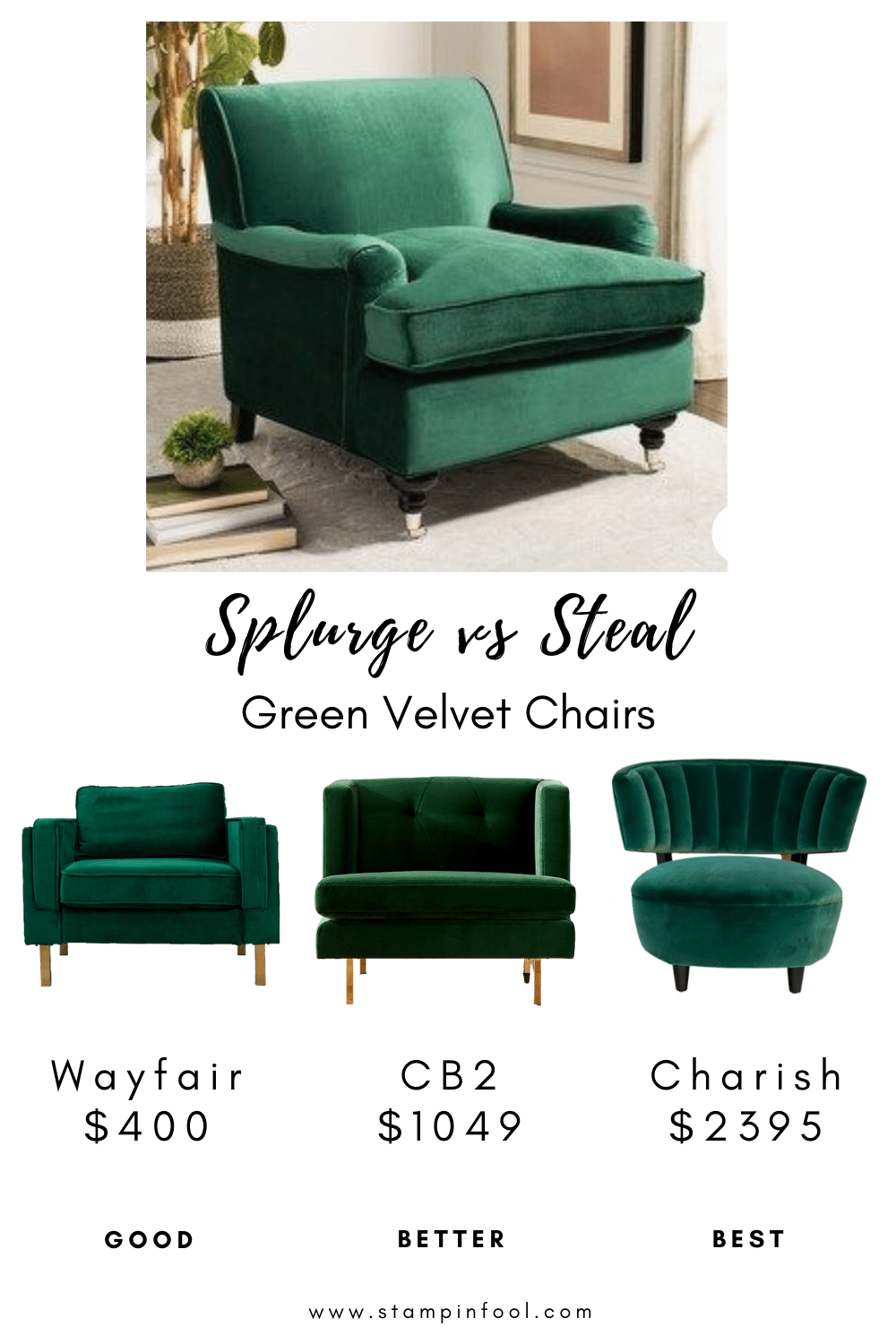 THE DETAILS: GREEN VELVET CHAIRS
For this week's splurge vs steal, we're talking about green velvet accent chairs which add color and luxe to any living room or master bedroom.
I've sourced three green accent chairs for you at a good, better, and best price and quality point. See: How much does it cost to decorate a living room? and you'll also want to know all about performance fabrics before you choose.
First is the All Modern (a subset of Wayfair) green chair with gold legs. It is affordable at around $400 and has a solid 5 start rating. It is solid wood kiln dried with a synthetic polyester velvet.
Next up is the CB2 Avec emerald green chair, which is made of a solid kiln dried wood frame with brass legs. This green accent chair has a beautiful tufted back and square arms. While it comes in double the price at $1049, it has real wood construction and should stand the test of time.
Lastly, is a pair of Velvet Chanel back chairs in the style of Billy Haines, which I sourced on Charish. While these pieces are vintage and preowned, as you can see, they hold value and quality over time. Often times when I am in search of a high quality accent chair, I will look to Charish for a vintage piece.
GOOD: All Modern Astral Chair
BETTER: CB2 Avec Emerald Green Chair
BEST: Charish Velvet Chanel Back Chairs After Billy Haines
Happy Decorating!
XOXO April
Other Splurge vs Steal's
Splurge vs Steal: Beautiful Canopy Beds
Splurge vs Steal: The Best Floral Rugs