Affordable Gold Flower Petal Chandeliers
See the best affordable gold flower petal chandeliers here. From the Grand Lotus to the Petal chandelier, these lights are show stopping chandeliers for any room.
It's time for another Splurge or Steal roundup! Today, I'm going to help you find the best show stopping flower petal themed chandelier at the price that's right for you. You'll have three options, at different price points, for your next gold flower petal chandelier purchase!
Are you trying to find the best light for you living room or entryway? Do you want something unique, interesting and that not everyone else has?
This is the key to having a professionally designed looking space- using pieces that are truly show stoppers. So, look no further, I'm going to show you gold petal chandeliers at good, better, and best price point levels. You'll have an affordable lighting looks to choose from that will fit into whatever your price point may be.
As always, here are a few tips for shopping with online retailers:
Be sure to read the most current reviews and always look for real life photos of the decor pieces before you buy.
I want your expectations to be realistic.
But I will also do my best to share pieces with overall positive reviews and 5 starts!
Everyone's budget is different and where you want to spend and save will vary. So, grab a cup of coffee and check out this week's splurge versus steal on affordable gold flower petal chandeliers.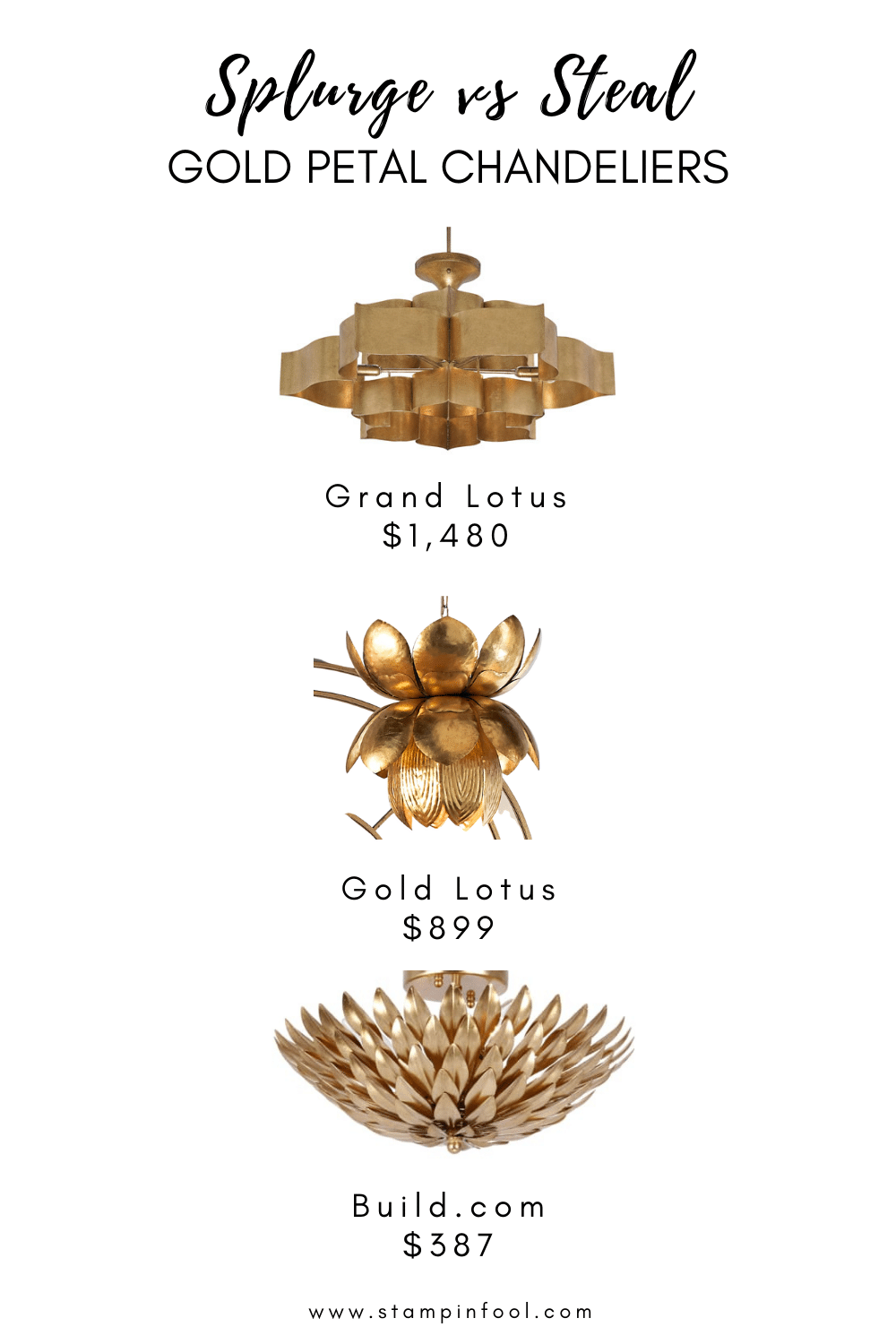 THE DETAILS: GOLD PETAL CHANDELIERS
We know that gold chandeliers can really make an impact on your decor, using one in a living room or entry can be the perfect spot. For more info on choosing the perfect size read this post.
TIPS ON USING CHANDELIERS
While you should go read the above post on choosing the perfect chandelier size, I'll give you a few chandelier tips.
Warm up a white or gray room with gold/brass lighting
You can almost never go too big with lighting
Formula: Width in feet + Length in feet = Chandelier width in Inches
Example: 12′ x 14′ room = 26″ chandelier width
CONCLUSION
Here are your splurge or save options one more time:
OTHER SPLURGE VS STEAL POSTS
Splurge vs Steal: Must Have Full Size Chandeliers
Splurge vs Steal: Gorgeous Velvet Green Accent Chairs