How to Mix-and-Match Outdoor Furniture Materials
Learn how to mix-and-match outdoor furniture materials like a pro with these interior designer styling tips.
No patio is complete without a place to enjoy a hot cup of coffee at sunrise or a cold glass of lemonade on a summer evening. One of the keys to having a magazine ready outdoor entertaining area is to mix and match furniture materials and styles rather than buying a whole set from a big box retailer.
I'm going to walk you through the materials to mix and pieces you should buy to have a perfectly collected outdoor patio space.
Mix-and-Match Outdoor Furniture Materials with These Tricks
Below we are going to tackle the different patio and outdoor furniture finishes that look great together. You'll want to mix and match these materials like wood, rattan, metal and concrete for a personalized look. Something unique to your space, not a catalog or store bough set (despite the fact that you can buy the pieces from a store).
OUTDOOR FURNITURE MATERIALS
Wood- teak, mango wood
Metal
Concrete
Glass
Ceramic
Woven- wicker, rattan, bamboo, cane
Upholstery- fabric cushions
Wood and Concrete
Adding in a table with a concrete top to an outdoor area with wooden furniture is a great way to mix in another material.
You can also add concrete side tables to a seating area that primarily has wooden outdoor furniture.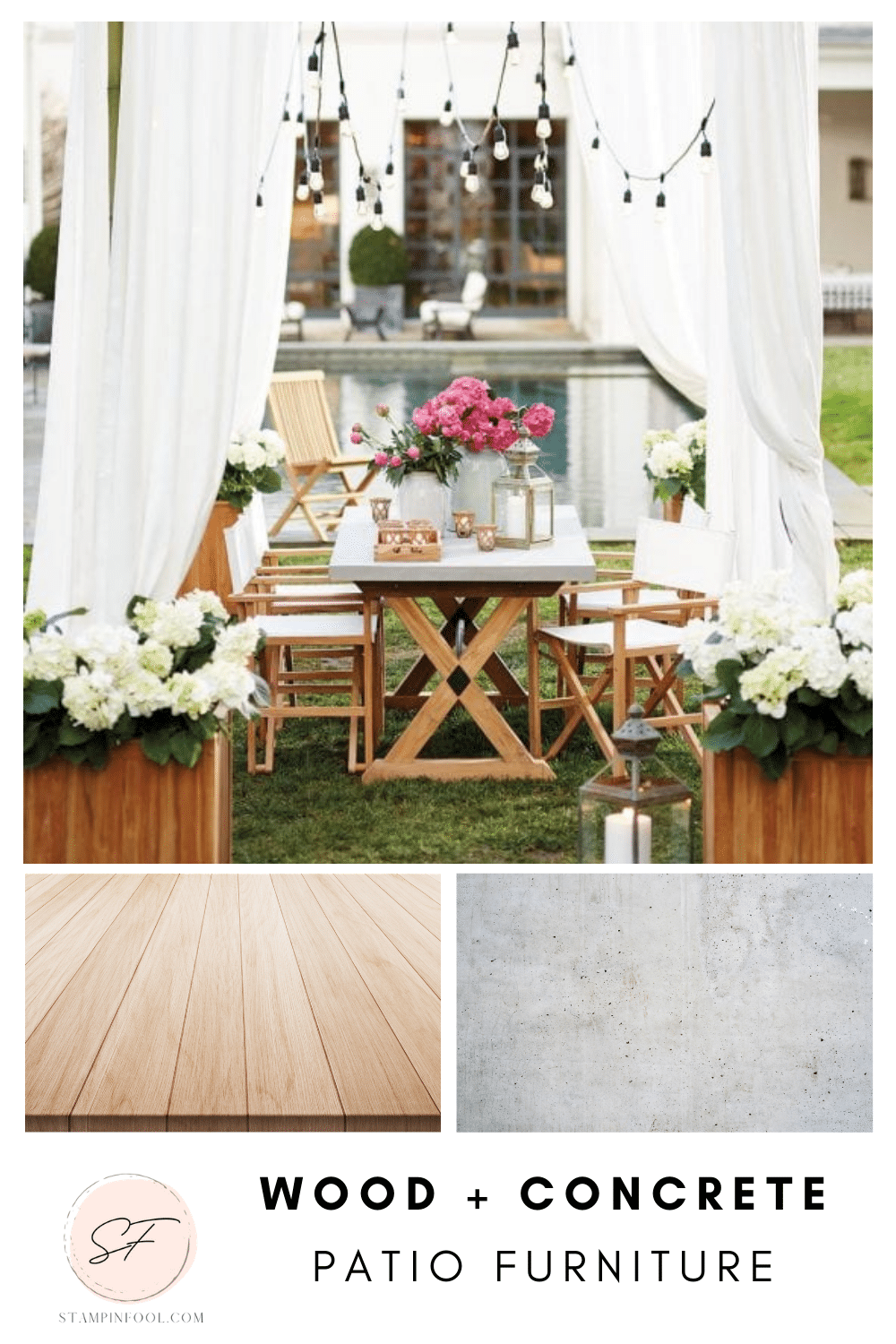 MIX AND MATCH WOOD + METAL OUTDOOR FURNITURE
The next great mix on the list is adding metal elements along with wooden or woven pieces. Start with a wooden dining table and add in chairs with metal arms and legs.
Conversely, you can start with teak or acadia wood seating and add in a table with metal legs and a metal patterned top. But be careful, metal heats up fast, so don't do a solid metal table in the blazing sun.
You can incorporate metal side tables beside an outdoor sofa that is wooden with upholstered cushions.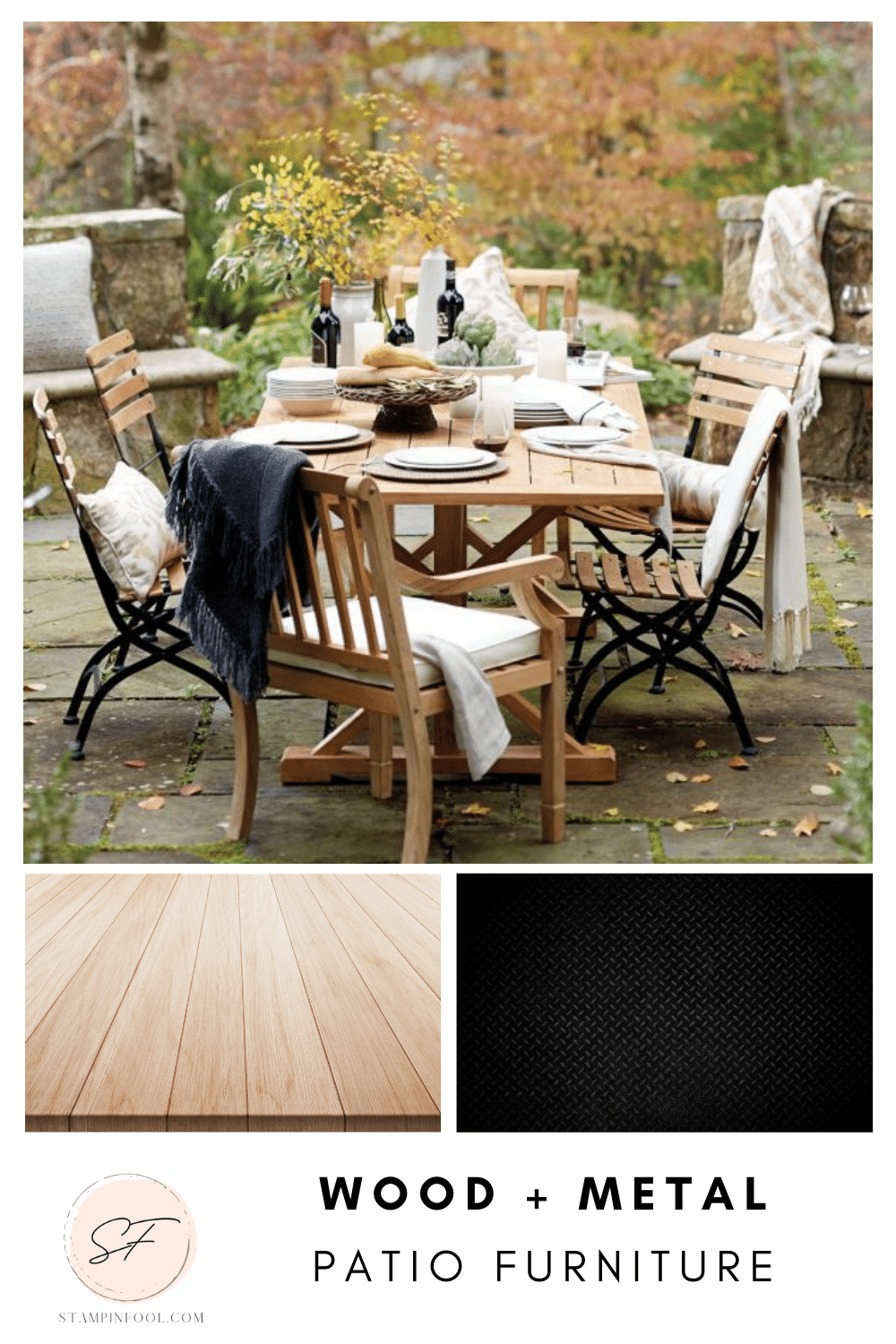 Woven Rattan and Metal
Just like mixing and matching wood with your metal outdoor furniture, adding woven or rattan elements with wood and metal adds in another layer of texture.
Try adding in woven side tables with metal outdoor seating furniture. If you have mostly upholstered seating, add a metal bar cart and a woven basket to vary things.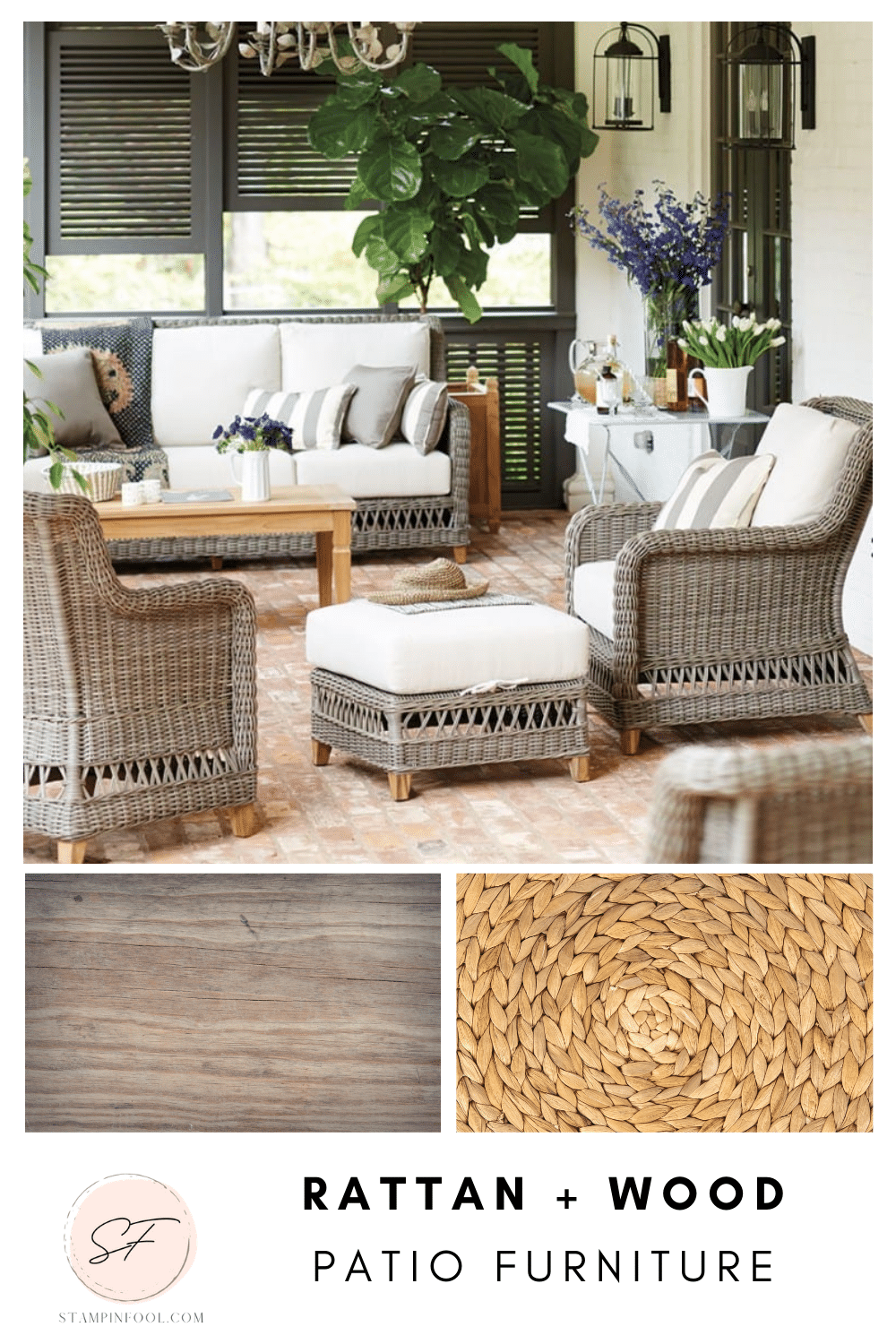 Glass and Wood
Lastly, pairing glass and wood always works. It adds a lightness to the area. Glass gets hot and reflective so save if for small side tables or bar carts.
If you are going to use it for the main outdoor dining table, make sure it's in a shaded area like a pergola or screened porch so you don't get burned.
WAYS TO ZHUZH YOUR PATIO DESIGN
Now that you're a pro at mixing materials for your outdoor patio furniture, you're going to love these other ways to up your patio design. By adding these things, your patio will come together beautifully to make an outdoor space as nice as your indoor spaces!
Here are the patio design topics we are going to cover:
Upholstery
Outdoor Lighting
Curtains
Garden Stools
Planters
Umbrellas
Outdoor rugs
Add Upholstery
If you have chosen metal, woven or wood furniture, adding cushions is a great way to add softness, color and pattern along with comfort. Make sure you opt for outdoor performance fabric like Sunbrella that can withstand the rain and sun without being damaged.
Adding upholstery adds to the comfort of your outdoor space.
Stick to 2-3 colors for the cushions and pillows to keep coordination.
Add a contrasting color to the piping (welt) of the cushions for a designer look.
Opt for fast drying cushions if you plan to keep them outdoors in a climate with rain.
Lastly, choose the box edge for an expensive look as opposed to knife edge.
Add Outdoor Lighting
Lighting is the key to making any space feel intimate and exclusive. Patio lighting or outdoor lighting can be added in a few ways.
Ground lighting can light pathways and edge the patio.
Lights can also be added under or along outdoor patio steps for safety.
Sconces hung at eye level can be affixed to the house or screening or flanking outdoor windows facing the patio.
Deck lights can be hung on deck railings to provide light.
Outdoor patio string lights can be hung overhead to light the patio or deck space.
You can string lights on posts, the house, trees or other outdoor structures like pergolas and planters so long as they can hold the weight. Make sure the string lights are outdoor rated and useable in rain and watery conditions. These come in a variety of options and shapes. Aim for 2700K temperature LED lights for a warm, cozy feel. Cooler temperature lights will feel too cold for outdoor spaces at night.
Add Outdoor Curtains
If your patio has sides or is partly attached to your home or a structure like a pergola, adding outdoor curtain panels is a great way to provide shade, soften all of the brick and woodwork and create an enclosed outdoor space.
Choose panels long enough to almost touch the ground. Performance fabric is best- and they need to be outdoor curtains. It's best to double up on the panels so it looks thick and flowy, not skimpy on the sides.
Add Ceramic or Concrete Garden Stools
Adding concrete or ceramic garden stools to your patio decor is a great way to add in additional materials. It also provides extra seating for guests or kids, and they make great end tables to plop down a drink.
I tend to want to see 2-3 garden stools in an outdoor space either tucked in as end tables or as extra seating that can be pulled up around the coffee table. Because they are smaller and round, you can use them in a place that is normally a walkway on the patio without causing too much interruption to the traffic flow.
Planters
We all know that adding potted greenery makes any space feel alive. Do the same thing with your patio and outdoor living spaces by outlining the area with large planters.
Use the planters to separate eating and dining areas or to denote a space. You can place them at the outer corners to create a "room" or down the sides of a path to create a walkway.
Outdoor Umbrellas
Next on the list of way to make your patio area prime for entertaining is to use large 9′ to 11′ outdoor umbrellas to add color, interest and protect your family and guests from too much sun.
Sun protection is essential to having great skin, so why not add in another layer of protection by using umbrellas.
Choose something solid with a colorful scallop, or wide stripes to coordinate with your patio colors, or even a fun fringe. It's a great way to make the space pop.
Anchor with an Outdoor Rug
Adding an outdoor rug to your patio or deck space is a great way to anchor the area. The benefit off outdoor rugs is that they can handle the elements, but you can also power wash them annually to keep them clean easily.
To make sure all of the seating legs can fit on the rug you will need at least an 8×10 area rug. If you have a large outdoor seating area, go for the 9x 12 rug. If you have multiple entertaining areas like seating, dining, fireplace– make sure to have separate rugs to denote each space. You should purchase coordinating, but you don't have to but the exact same style and pattern. (If it's easier, buy the same rug twice). What you want to avoid is totally different rugs within sightlines of each other.